Richard Cordray's Surprise Donors: The Lending Industry
Co-published by International Business Times
Cordray resigned as the head of the Consumer Financial Protection Bureau in November. Almost all the contributions from the lending industry came between December 2017 and January 2018.

Co-published by International Business Times
As director of the Consumer Financial Protection Bureau, Richard Cordray racked up a record of enforcement actions against major lenders. That record, however, has not prevented Cordray's Ohio gubernatorial campaign from reaping a financial windfall from donors in the lending industry — including some who work at firms that had business before the CFPB, according to campaign finance records reviewed by Capital & Main.
Seeking the Democratic nomination for governor of the Buckeye State, he has raised more than $82,000 from donors in the lending industry. Almost all the contributions to Cordray, itemized by the National Institute on Money in State Politics, came between December 2017 and January 2018. Cordray resigned his CFBP post in November.
The latest polling shows Cordray has a double-digit lead over former U.S. Rep. Dennis Kucinich, his closest challenger in the May 8 primary. Polls also suggest he would perform better than Kucinich against the likely Republican candidate.
Asked about the donations, Cordray spokesperson Mike Gwin pointed to the candidate's reputation as a "tough but fair regulator."
Indeed, the perception on Capitol Hill was that Cordray was tougher than he should have been. He "enraged big financial institutions and their supporters in Washington," The New York Times observed. And at a recent United States House Committee on Financial Services hearing, chairman Jeb Hensarling (R-TX), declared that the CFPB under Cordray "was perhaps the single most powerful and unaccountable agency in the history of the republic."
But not all affected by the CFPB feel the same. On a single day, Sanjiv Das, CEO of Caliber Home Loans, and his partner Kusum Das, donated more than $25,000 to Cordray. Caliber has faced a barrage of consumer complaints alleging that the company has been unresponsive to struggling homeowners who are trying to renegotiate the terms of their underwater mortgages.
In 2014, documents obtained by the Legal Aid Society of Southwest Ohio showed that Caliber used money from public pension funds administered by its parent company, Lone Star — which also owns a check-cashing and payday loan business — to purchase over 17,000 distressed mortgages at an auction held by the U.S. Department of Housing and Urban Development in a five-month span, The New York Times reported. Caliber foreclosed on more than 1,500 of those mortgages; one in 10 of them was in Ohio.
Another major Cordray donor is Steven Streit, CEO of Green Dot, which issues prepaid debit cards and was at the center of a 2016 controversy after a technical  glitch caused account balance issues for 58,000 people for a few days. The glitch — slammed by Ohio Democratic Senator Sherrod Brown and New Jersey Democratic Senator Bob Menendez — did not result in any enforcement action from Cordray's CFPB; earlier, a separate outage at another debit card company led the agency to issue fines. (Note: An earlier version of this story misstated the number of people affected by the 2016 outage.)
Other donors from the finance industry include Meredith Fuchs, a senior vice president and chief counsel at Capital One. She previously served as Cordray's former chief of staff at CFPB and has donated $8,000 to his gubernatorial campaign. David Stevens, CEO of the Mortgage Bankers Association, has donated $2,500, as has PayPal CEO Dan Schulman.
The Cordray campaign declined to comment on the specific contributions. Gwin, the campaign spokesperson, noted that Cordray obtained consumer relief far in excess of the financial industry donations he has received. "At the CFPB, [Cordray] fought ferociously for people who were getting cheated, ultimately putting $12 billion back in the pockets of 30 million Americans who were mistreated by predatory financial institutions," he said. Gwin added that Cordray "is committed to implementing robust payday lending reform in Ohio to protect workers and families"; legislation that would cap payday loan interest rates is currently making its way through the Ohio legislature.
Cordray has raised more than $3 million for his campaign, while Kucinich has raised just over $592,000, none of which has come from the lending industry.
Republican frontrunner Mike DeWine, Ohio's attorney general, has raised just under $5 million, with more than $262,000 coming from players in the financial industry. Republican Lt. Gov. Mary Taylor has raised $2 million, none of it coming from the financial sector.
But one of Taylor's top donors has made it clear who Republicans would like to face in November. On May 2, BuzzFeed News revealed that a television ad seeking to sway Democratic primary voters — portraying Cordray as a "Republican Lite" — is underwritten by Thomas George, one of the top donors to Republican Lt. Gov. Mary Taylor's campaign. George has given $12,7000 to Taylor directly, according to BuzzFeed News, and $250,000 to a pro-Taylor political action committee.
The preference for Cordray's Democratic rival may be in part due to controversies surrounding the latter's own finances. Kucinich's campaign recently came under fire after it was revealed that the former congressman initially failed to disclose that he had received $20,000 in speaking fees from the Syria Solidarity Movement, a group that supports the government of Syrian dictator Bashar al-Assad. The committee was originally founded to facilitate the North American tour of Mother Agnes-Mariam de la Croix, a Syrian Catholic nun who denies the government's responsibility for chemical weapons attacks.
According to the Committee to Protect Journalists, in 2012 Agnes set up a reporting trip to the Syrian city of Homs — a trip that one of its participants told the CPJ was a government "trap" for foreign journalists, resulting in the killing of one.
On April 26, Kucinich announced he was returning the money, writing in a letter to Cleveland's The Plain Dealer that he does not support the Assad regime, "its repressive practices, its brutality to political opponents, or its security state apparatus."
---
Copyright Capital & Main
Seven Restless GOP Districts Revisited
This week, in a run-up to the June 5 primary, we are re-highlighting our profiles of seven Republic congressional districts whose flipping would signal a fundamental groundswell against the Trump administration.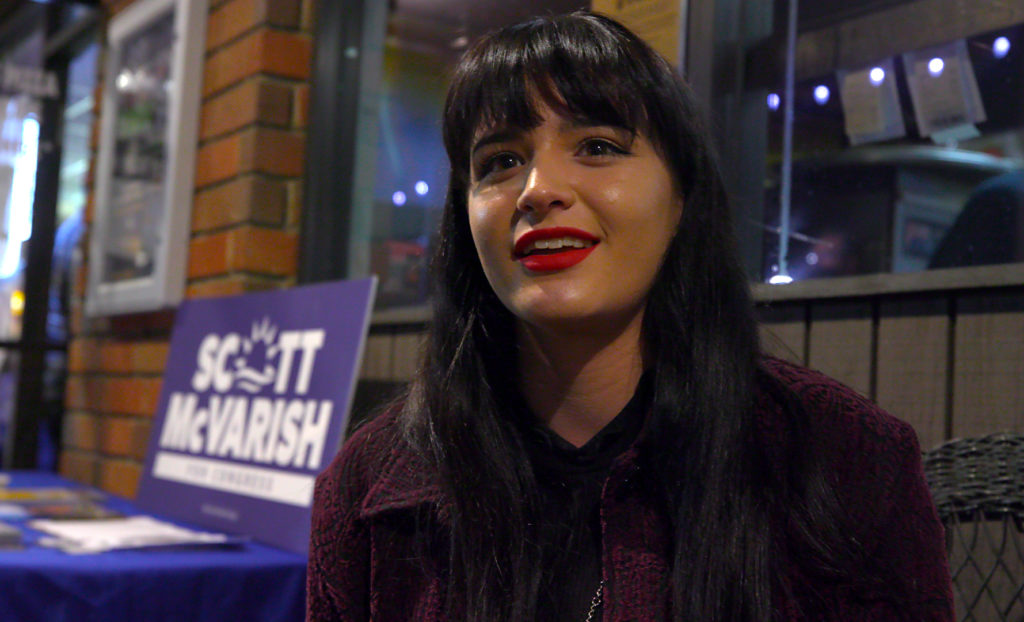 On February 1 Capital & Main launched its Blue State/Red District series profiling seven Republican-held congressional red districts — specifically, the challenges shaping their destinies and the policy rifts between the districts' representatives and their constituents. We began the series because, in 2016, seven of California's 14 Republican-held congressional districts returned all GOP incumbents to the House of Representatives, yet majorities in seven of those districts chose Hillary Clinton over Donald Trump for president. The districts were located in places long associated with rock-ribbed conservatism: The High Desert, Orange County, interior San Diego County and the Central Valley.
This week, in a run-up to the June 5 primary, we are rerunning these stories in the hope of returning attention to these key districts, whose flipping would signal a fundamental groundswell against the Trump administration and its policies.
---
CA 49 (Northern and Central San Diego County) — Kelly Candaele. Co-published by International Business Times.
CA 48 (Coastal Orange County) — Judith Lewis Mernit. Co-published by The American Prospect.
CA 10 (Central Valley) — Larry Buhl. Co-published by International Business Times.
CA 25 (High Desert) — Steve Appleford. Co-published by International Business Times.
CA 21 (San Joaquin Valley) — Larry Buhl.
CA 45 (Orange County) — Judith Lewis Mernit. Co-published by International Business Times.
CA 4 (The Gold Country) — Kelly  Candaele.
---
Copyright Capital & Main