Residents and Lawmakers Fight Aliso Canyon Reopening
As California regulators decide whether to reopen the Aliso Canyon natural gas storage facility, the site of the largest human-caused release of greenhouse gasses in U.S. history, residents and activists vow to redouble their fight against its reopening.
One-year anniversary protest of Aliso Canyon gas blowout. (Photo: Hannah Benet/ Hannah Benet Photography)
---
Copyright Capital & Main
As California regulators decide whether to reopen the Aliso Canyon natural gas storage facility, the site of the largest human-caused release of greenhouse gasses in U.S. history, residents and activists – often one and the same – vow to redouble their fight against its reopening.
The battle pits residents of Porter Ranch, Chatsworth, Granada Hills and other regions of Los Angeles County's western San Fernando Valley – along with school districts, fire departments, and local and state lawmakers – against Aliso Canyon's owner, Southern California Gas Company, and its parent, San Diego-based Sempra Energy.
SoCalGas says the infrastructure enhancements it completed should allow the 3,600-acre gas field beneath the hills north of Porter Ranch, idled since the October 2015 blowout, to go back online as soon as possible.
Some residents are dismayed by what they characterize as a rush to reopen, and that it's hard to trust a company that was found to have removed a safety valve without informing regulators — a valve that could have prevented the blowout. They also point to blunders in cleanup efforts and what they characterize as inaccurate safety assurances.
Former Chatsworth resident Andrew Krowne, a staff accountant by profession who says he's added "unpaid environmental activist" to his resume, told Capital & Main that the company's history of negligence has rendered it untrustworthy.
"This entire experience has shown [SoCalGas'] complete disregard for people and sheer incompetence in handling every aspect of this disaster," he said.
Krowne said his family, which relocated for six months on its own dime, is still having health problems, though not as severe as during the initial gas leak.

Health Problems, But No Health Study
In the wake of the 2015 blowout, there were numerous complaints of health issues both mild and serious, from residents living miles from the disabled Aliso Canyon facility.
What's fueling residents' efforts to shut down Aliso for good is fear that they are still at risk of long-term health problems. And some say mysterious respiratory illnesses they experienced before the blowout suggest the facility had been leaking something toxic long before October 2015.
Last February, a local physician, Dr. Jeffrey Nordella, spoke out against reopening the facility, referring to it as "an act of negligence." Nordella pointed to testimony of residents who said they have severe headaches, dizziness, nosebleeds, rashes, respiratory irritations and a variety of other ailments.
Granada Hills resident Jane Fowler relocated for seven months after the blowout, telling Capital & Main that she and her husband are still getting sick. "My husband developed extreme anemia, and the doctors couldn't figure out why. I asked the doctor to find if anyone else was suffering from anemia, and he said many were."
Lori Aivazian, who speaks about ongoing and serious health problems from the blowout, didn't even know about the gas storage field when she and her husband bought a home in Porter Ranch in 2000.
"Even since the blowout there have been three fires and numerous leaks, and we're afraid of what could come next," she said, pointing to occasional failures at the facility, sometimes due to other companies operating at the field. "A gas storage field has no business being under a residential neighborhood."
Last week residents' claims of illness got celebrity backup as Cedric the Entertainer sued SoCalGas over illnesses he claimed his family continues to suffer from the gas leak.
But all of the recurring health problems – many documented by the L.A. County Board of Health — remain anecdotal until a comprehensive health study is completed.
In February, SoCalGas agreed to pay $8.5 million to settle a lawsuit with the Air Quality Management District (AQMD) over the blowout, an amount that includes $1 million to fund a three-part health study of the communities impacted by the leak. Many residents say that's inadequate for conducting serious epidemiological studies of the blowout's health effects.

Residents: No Analysis, No Reopening
Residents and their lawmaker allies say a true autopsy about the disaster, which spewed natural gas for four months and which displaced thousands of residents and two Los Angeles public schools, has barely begun.
Senate Bill 57, co-authored by state Senator Henry Stern  (D-Canoga Park), requires the California Public Utilities Commission and the Department of Oil, Gas and Geothermal Resources (DOGGR) to make lifting Aliso Canyon's moratorium on natural gas injections conditional on completion of a "root cause analysis" (RCA) of the source of the 2015 blowout. In a February letter to Stern, U.S. Senator Dianne Feinstein (D-CA) announced her support for the bill.
SoCalGas has been opposed to the RCA, which would take at least six months to complete. In an email, company spokesperson Fiorella Canedo said SB 57 was "unnecessary because the results of the root cause analysis are independent from the safety of the facility."
"Extensive testing and comprehensive safety enhancements at Aliso Canyon that meet or exceed established legal and regulatory requirements to begin full operations have been verified as complete by DOGGR and California Public Utilities Commission (CPUC)," she continued.
Public Utilities Commission meeting, Woodland Hills. (Photo: Larry Buhl)
Many residents aren't buying it. A February meeting attended by hundreds at the Woodland Hills Hilton was disrupted as Matt Pakucko, the head of the community group Save Porter Ranch, said his organization was disrupting the state officials' "dog-and-pony show." DOGGR officials had planned to present their safety review findings at the meeting.
"If you cannot state with a root cause analysis what caused the blowout then you cannot state that the facility is safe," Pakucko said through a bullhorn as stony-faced state officials looked on.
In late May SB 57 was tabled when four Democratic senators abstained from voting on it, despite intense lobbying from Save Porter Ranch members who traveled to Sacramento and met with lawmakers several times. (The Senate can still vote on the measure again this summer.)
Even if SB 57 passes and a root cause analysis is completed, SoCalGas still faces a legal challenge to reopening the storage facility.
Earlier this year the Los Angeles County Board of Supervisors filed suit to keep Aliso Canyon closed until the completion of the RCA, as well as a comprehensive environmental review that would explore alternatives to the facility. The lawsuit also demands a comprehensive emergency response report for future blowouts at Aliso, as well as a seismic report. The Santa Susana fault line runs directly under Aliso Canyon.

Activists Decry "Blackout Blackmail"
SoCalGas has consistently maintained that the Aliso Canyon storage field is critical to providing energy to more than five million residential customers and dozens of power plants in the L.A. basin. And the company has continually predicted that without Aliso Canyon operating at full capacity, the region would be in danger of rolling blackouts. Residents call that threat "blackout blackmail," noting that no blackout has occurred since the facility has been idled.
In an email, company spokesperson Canedo claimed that California was lucky to have had a mild summer and winter last year, "and even with favorable weather, natural gas storage was needed on several occasions to help avoid energy shortages."
Those occasions were January 24 and 25, when state oil and gas regulators allowed the utility to withdraw gas from Aliso during the moratorium to meet an increasing "hourly demand" during a cold snap.
But advocacy groups call that two-day withdrawal a fake crisis. In January, Food and Water Watch, and Consumer Watchdog, both petitioned California Attorney General Xavier Becerra to investigate a possible manipulation of gas supply to influence regulators.
San Diego engineer Bill Powers, who has testified as an expert before state regulators that SoCalGas is trying to manufacture a shortage in order to justify use of Aliso Canyon, has written that Aliso would not be needed if SoCalGas conducted daily balancing of supply and demand.
"SoCalGas allowed the supply-demand balance to drift substantially before and during each of three cold spells in the winter of 2016-2017, by as much as 30 percent," Powers wrote, criticizing the Aliso Canyon Summer 2017 Risk Assessment, which was prepared by the CPUC to determine how to prevent blackouts.
"If they see a cold snap or heat wave coming, they can easily tell generators in other locations to bring gas to the L.A. basin," Powers told Capital & Main. But instead they let the balance get out of whack, let the system drift and have an excuse to draw gas out of Aliso Canyon."
Powers added that SoCalGas is eager to reopen Aliso so it won't lose its capital investments in infrastructure upgrades, as well as the money it gets from being a natural gas "broker."
"Aliso Canyon is a cash cow. SoCalGas lets big customers park gas there, and rate payers are paying for them to do that." Powers added that he estimated rate payers could save $70 million a year if Aliso closes, through suspension of work on upgrading existing wells, ending new drilling at the facility, and on not having to pay for the company's new Turbine Upgrade Project that's nearing completion.

Next Steps
Regulators from DOGGR could give the green (or red) light on reopening Aliso Canyon at any time. Governor Jerry Brown has the ability to overrule their decision, but he hasn't said which way he's leaning. Several activists and residents told Capital & Main they're concerned that Brown's familial ties with Sempra could cloud his judgment.
That's why those intent on seeing Aliso Canyon shuttered permanently are not waiting for regulators and the governor to decide its fate. They've spent 20 months calling, emailing, facebooking, lobbying, analyzing engineering reports and rallying outside lawmakers' offices. They even installed their own neighborhood methane monitoring system, out of distrust of SoCalGas' Fence Line System.
"We saw that by letting others do the job, we get screwed," Andrew Krowne said. "The governing board of AQMD settled for a pittance to do a so-called health study. So we're working every avenue possible to get rid of this facility."
---
Copyright Capital & Main
Former EPA Official Finds Hope in the Middle of the Climate Crisis
"Those of us who've been working on environmental justice and climate justice," says Mustafa Ali, "understand we're talking about housing, transportation, the environment, public health and jobs."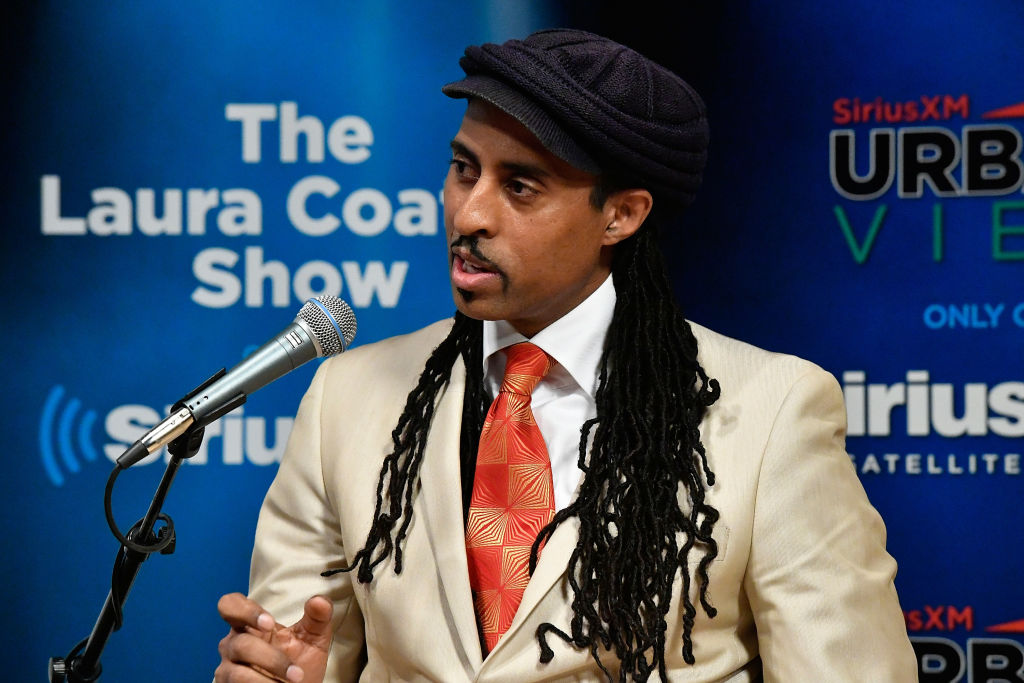 ---
"Because the current administration is so anti-science, so anti-environment, so anti-climate, people who weren't paying attention before are paying attention now."
---
Until he resigned last year, Mustafa Santiago Ali served as the Senior Advisor for Environmental Justice and Community Revitalization at the U.S. Environmental Protection Agency, where he'd worked since 1992. Under the direction of the agency's first administrator of the Office of Environmental Equity, Dr. Clarice Gaylord, Ali helped begin the EPA's effort to recognize and address the disproportionate impacts of pollution on communities situated closest to industrial polluters, communities where people — often people of color — live in poverty. He worked with the Clinton administration on Executive Order 12898, which established a federal program to address environmental justice in communities of color and low-income communities, and in 2007, he went to Capitol Hill to work as a Brookings Institution Congressional Fellow with Rep. John Conyers. He returned to the agency the next year, and stayed until the Trump administration proposed cutting nearly $2 billion from the EPA's already meager $8.2 billion budget, and a leaked memo revealed plans to eliminate the Office of Environmental Justice that Ali had helped found. (Congress ultimately rejected the cuts in the current federal budget, passed in March of 2018).
Ali is now the Senior Vice President of Climate, Environmental Justice & Community Revitalization for the Washington, DC-based Hip Hop Caucus, a national nonprofit that joins the hip hop community to the civic process of politics, social change and the environment. At the recent Climate Reality Conference in Los Angeles, he spoke on a panel of environmental justice advocates, which included Catherine Flowers and mark! Lopez of East Yard Communities for Environmental Justice. Ali had audience members join hands and reaffirm their collective power to effect social and political transformation. I spoke with him afterwards in the over-air-conditioned lobby of the Los Angeles Convention Center.
---
Capital & Main: You spent 24 years at EPA, beginning when George H.W. Bush was still in office, and stayed through the second Bush administration, too. How did you weather other more conservative administrations?
Mustafa Santiago Ali: When I started, at the end of [then-EPA Administrator] William Reilly's administration in 1992, we were really blessed that there was a lot of energy around environmental equity, which became environmental justice. A number of the leaders had gotten together in 1991, through the first National People of Color [Environmental Leadership] Summit in Washington, DC, and put together a set of recommendations before they began to engage with the federal government. One of those recommendations was the creation of an Office of Environmental Equity/Environmental Justice. Those recommendations drove a lot of work that happened in both Republican and Democratic administrations in the early days.
We began to move forward on the creation of the environmental justice small-grants program during the first Bush administration. In the transition to the Clinton administration, we were able to move things forward because an executive order came that I was blessed to be able to work on. Out of that executive order came the interagency working group, which means there are now 17 federal agencies – back then it was 11 — and a couple of White House offices that have distinct responsibility for environmental justice.
There had been successes under all of those administrations. There were challenges in that certain administrations were more tied into business and industry. But all of them made progress before this administration we're in now.
So even Bush II. They had an office to doctor studies done by scientists within Fish and Wildlife, for instance. But you're saying there was still progress on environmental justice then?
There was. It was incremental, and I don't want to oversell it. But without a doubt, it existed. No one ever talked about eliminating the Office of Environmental Justice under Bush.
How hard was it for you to leave?
I had to struggle with it. I prayed, I talked to my parents, I talked to my mentors. There were a couple of times I was going to jump out right at the beginning [of the Trump administration]. Maya Angelou has that great quote about how when someone tells you who they are, believe them. But there's always that thing, you know, maybe they'll have a road to Damascus moment. Maybe there'll be this transition. But it wasn't going to happen. That was being overly hopeful.
I knew the policies they were moving forward on literally could kill people. I knew that, because even when things are moving in a somewhat positive direction, people are still very vulnerable. And I knew that these folks, they just didn't care about all of these leaders, these grassroots leaders and others, who sacrificed everything to try and strengthen environmental laws, to try to get real enforcement actually happening. They've put into their own reports that they know their policies are going to kill people – especially people of color.
Enforcement of environmental crimes is almost non-existent.
I knew that was coming. They were very clear about what they wanted to do around air pollution issues. And since I led the inter-agency working group, I knew that the cumulative effect is that more people were going to get sick and more people were going to die.
You've addressed in your career an overlooked part of environmental justice: the impact of natural and man-made disasters on disadvantaged communities. We saw it in Katrina, in Harvey, and we saw it in Irma and Maria. There are vulnerable people who suffer a disproportionate share of the impacts of these events.
The reason for that — we saw it in Hurricane Maria, all the lives that were lost — is if you don't have a specific focus and understanding of the additional impacts that happen in vulnerable communities, you can't protect folks and help them recover. Flint, the BP oil spill, the hurricanes — we can go down the line in terms of disasters. It doesn't matter if you're talking about low-income white communities, communities of color or indigenous communities. You've got to be thinking, What are the additional things we need to do to help those people?
The Trump administration has been trying to weaken many regulations for chemical facilities and hazardous waste facilities that were written to protect the public. That will also affect vulnerable communities when disasters happen.
They're actually extracting wealth from these communities. Lots of times people think, Oh, these communities in Appalachia. These communities in the Rust Belt. What wealth is there? But when [industries] continue to put these [dangerous facilities] in these communities, housing values plummet, while everyone else's are going up. So you're taking wealth from these communities.
In the same way, when people say climate change isn't real, that means [those communities] can't invest in renewables. That means that communities in the Rust Belt that really need new jobs never get a chance at them. So once again you are taking wealth away from these communities.
How do you get those people to care — the people in the Rust Belt, for instance, who may not understand how they're being harmed by these policies? You tweeted a story about people in Kansas whose water had been contaminated for seven years, and the state health department knew about it but didn't bother to tell them.
That was intentional. It was intentional because sometimes we've set up these barriers in our country around environmental justice. That's a shame. It's about those black people, brown people, maybe indigenous people, and white brothers and sisters [who] sometimes don't think they're going to be impacted also. When we don't help everybody understand that these impacts affect everybody, then we allow people to put these boxes around it and say, "Well, I care, but that's something that's happening to these other folks."
Even in some of the disadvantaged communities of color, it can be hard to get people to care. People are busy feeding their kids. I heard Van Jones make the point years ago at the Bioneers Conference that you can't knock on doors in marginalized communities and scream about how the polar bears are dying. How do you reach out to those people who are already stressed just getting through a day in their lives? How do you talk to them about pollution, let alone climate?
I like to anchor my message in what's going on in people's lives. Normally I would talk about how 27 million people in our country have asthma. Seven million kids. Most folks of color in the urban setting can relate to asthma. They have kids or grandchildren or nieces or nephews [with] asthma. Then we have a conversation about, Okay, where's that coming from? How is this situation being exacerbated? It's because of pollution that's coming out of these plants and pollution coming from the backs of cars. Then I link them into, "Well, did you know that there's currently policy being made that's going to let more pollution come out, so there's going to be more health impacts?"
Those of us who've been working on environmental justice and climate justice for a while understand we're talking about housing, transportation, the environment, public health and jobs. So I talk to people also about their vote, not only in the environmental context, but in the context of the violence that continues to happen in some communities. And how your vote makes the decision about who's the police chief, who's the district attorney. I bring all that together. Then people are like, "Yeah, I got power. And my power's tied up in my vote. And the vote will determine the resources coming into my community, and who's leading that process."
In California the climate fight on the environmental justice front lines and the legislative space are often at odds. It's frustrating, because as mark! Lopez of East Yard Communities for Environmental Justice said on your panel, the frontline communities in the environmental justice fight are where our climate problems begin.
I've noticed that [about California]. Legislators can't do something because of how it will affect business or industry, [but] people in the environmental justice space are saying, "We're the ones who are going to be affected by pollution first. We're the ones who have to deal with this first." [The answer lies in] creating authentic collaborative partnerships.
If we're in a relationship, it means you care about me, and I care about you. In a good marriage, a healthy friendship, many times you care more about the other person than you do about yourself. We've got to get to that. That will get to a greater understanding of how to create a policy that's truly protective of everyone.
You mentioned that 200,000 people die every year prematurely because of air pollution. Can you imagine if 200,000 people were dying of bird flu?
It would be a public health emergency.
But we don't move like we would move if it were a public health emergency. How do you convince people who are making the laws that it is?
We've got two different dynamics going on. One, we really need to accelerate the creation of renewable energy jobs, to create a just transition for the workers in those industries, and to get new people into that space.
Two, we've got to get the money out of politics. We know that's an even harder fight than getting renewable energy jobs in place. There's an addiction to that money. I was at Netroots Nation and many of the political leaders who came to that signed the no fossil-fuel money pledge. If you don't have any accountability to the fossil-fuel world and that money that exists there, then you're less likely to make decisions based on a monetary thing, and you're more likely to be basing your decisions on public health.
You say you're a realist, but also an optimist. What is your cause for optimism right now?
This is an interesting time. I think that our country had to go through this. If we're going to have real talk, we have to acknowledge that there's been no administration that's lived up to what they should be doing on these issues. But now because the current administration is so anti-science, so anti-environment, so anti-climate, people who weren't paying attention before are paying attention now. Foundations are saying we've got to shift our portfolios to better support this work. We have a common destiny that's tied to this.
Even scientists. I have a science background and it hasn't always been the case that scientists [were involved in public policy]. There've always been good scientists, but it's not like the larger scientific organizations were saying we need to do more. Now that is happening. For all the craziness the current administration tries to do and does, [it has] also been a catalyst for people saying we've got to start honoring each other. We've got to start working together. That's what keeps me going — I see these new relationships forming.
---
Copyright Capital & Main