Residents and Lawmakers Fight Aliso Canyon Reopening
As California regulators decide whether to reopen the Aliso Canyon natural gas storage facility, the site of the largest human-caused release of greenhouse gasses in U.S. history, residents and activists vow to redouble their fight against its reopening.

One-year anniversary protest of Aliso Canyon gas blowout. (Photo: Hannah Benet/ Hannah Benet Photography)
---
Copyright Capital & Main
As California regulators decide whether to reopen the Aliso Canyon natural gas storage facility, the site of the largest human-caused release of greenhouse gasses in U.S. history, residents and activists – often one and the same – vow to redouble their fight against its reopening.
The battle pits residents of Porter Ranch, Chatsworth, Granada Hills and other regions of Los Angeles County's western San Fernando Valley – along with school districts, fire departments, and local and state lawmakers – against Aliso Canyon's owner, Southern California Gas Company, and its parent, San Diego-based Sempra Energy.
SoCalGas says the infrastructure enhancements it completed should allow the 3,600-acre gas field beneath the hills north of Porter Ranch, idled since the October 2015 blowout, to go back online as soon as possible.
Some residents are dismayed by what they characterize as a rush to reopen, and that it's hard to trust a company that was found to have removed a safety valve without informing regulators — a valve that could have prevented the blowout. They also point to blunders in cleanup efforts and what they characterize as inaccurate safety assurances.
Former Chatsworth resident Andrew Krowne, a staff accountant by profession who says he's added "unpaid environmental activist" to his resume, told Capital & Main that the company's history of negligence has rendered it untrustworthy.
"This entire experience has shown [SoCalGas'] complete disregard for people and sheer incompetence in handling every aspect of this disaster," he said.
Krowne said his family, which relocated for six months on its own dime, is still having health problems, though not as severe as during the initial gas leak.

Health Problems, But No Health Study
In the wake of the 2015 blowout, there were numerous complaints of health issues both mild and serious, from residents living miles from the disabled Aliso Canyon facility.
What's fueling residents' efforts to shut down Aliso for good is fear that they are still at risk of long-term health problems. And some say mysterious respiratory illnesses they experienced before the blowout suggest the facility had been leaking something toxic long before October 2015.
Last February, a local physician, Dr. Jeffrey Nordella, spoke out against reopening the facility, referring to it as "an act of negligence." Nordella pointed to testimony of residents who said they have severe headaches, dizziness, nosebleeds, rashes, respiratory irritations and a variety of other ailments.
Granada Hills resident Jane Fowler relocated for seven months after the blowout, telling Capital & Main that she and her husband are still getting sick. "My husband developed extreme anemia, and the doctors couldn't figure out why. I asked the doctor to find if anyone else was suffering from anemia, and he said many were."
Lori Aivazian, who speaks about ongoing and serious health problems from the blowout, didn't even know about the gas storage field when she and her husband bought a home in Porter Ranch in 2000.
"Even since the blowout there have been three fires and numerous leaks, and we're afraid of what could come next," she said, pointing to occasional failures at the facility, sometimes due to other companies operating at the field. "A gas storage field has no business being under a residential neighborhood."
Last week residents' claims of illness got celebrity backup as Cedric the Entertainer sued SoCalGas over illnesses he claimed his family continues to suffer from the gas leak.
But all of the recurring health problems – many documented by the L.A. County Board of Health — remain anecdotal until a comprehensive health study is completed.
In February, SoCalGas agreed to pay $8.5 million to settle a lawsuit with the Air Quality Management District (AQMD) over the blowout, an amount that includes $1 million to fund a three-part health study of the communities impacted by the leak. Many residents say that's inadequate for conducting serious epidemiological studies of the blowout's health effects.

Residents: No Analysis, No Reopening
Residents and their lawmaker allies say a true autopsy about the disaster, which spewed natural gas for four months and which displaced thousands of residents and two Los Angeles public schools, has barely begun.
Senate Bill 57, co-authored by state Senator Henry Stern  (D-Canoga Park), requires the California Public Utilities Commission and the Department of Oil, Gas and Geothermal Resources (DOGGR) to make lifting Aliso Canyon's moratorium on natural gas injections conditional on completion of a "root cause analysis" (RCA) of the source of the 2015 blowout. In a February letter to Stern, U.S. Senator Dianne Feinstein (D-CA) announced her support for the bill.
SoCalGas has been opposed to the RCA, which would take at least six months to complete. In an email, company spokesperson Fiorella Canedo said SB 57 was "unnecessary because the results of the root cause analysis are independent from the safety of the facility."
"Extensive testing and comprehensive safety enhancements at Aliso Canyon that meet or exceed established legal and regulatory requirements to begin full operations have been verified as complete by DOGGR and California Public Utilities Commission (CPUC)," she continued.
Public Utilities Commission meeting, Woodland Hills. (Photo: Larry Buhl)
Many residents aren't buying it. A February meeting attended by hundreds at the Woodland Hills Hilton was disrupted as Matt Pakucko, the head of the community group Save Porter Ranch, said his organization was disrupting the state officials' "dog-and-pony show." DOGGR officials had planned to present their safety review findings at the meeting.
"If you cannot state with a root cause analysis what caused the blowout then you cannot state that the facility is safe," Pakucko said through a bullhorn as stony-faced state officials looked on.
In late May SB 57 was tabled when four Democratic senators abstained from voting on it, despite intense lobbying from Save Porter Ranch members who traveled to Sacramento and met with lawmakers several times. (The Senate can still vote on the measure again this summer.)
Even if SB 57 passes and a root cause analysis is completed, SoCalGas still faces a legal challenge to reopening the storage facility.
Earlier this year the Los Angeles County Board of Supervisors filed suit to keep Aliso Canyon closed until the completion of the RCA, as well as a comprehensive environmental review that would explore alternatives to the facility. The lawsuit also demands a comprehensive emergency response report for future blowouts at Aliso, as well as a seismic report. The Santa Susana fault line runs directly under Aliso Canyon.

Activists Decry "Blackout Blackmail"
SoCalGas has consistently maintained that the Aliso Canyon storage field is critical to providing energy to more than five million residential customers and dozens of power plants in the L.A. basin. And the company has continually predicted that without Aliso Canyon operating at full capacity, the region would be in danger of rolling blackouts. Residents call that threat "blackout blackmail," noting that no blackout has occurred since the facility has been idled.
In an email, company spokesperson Canedo claimed that California was lucky to have had a mild summer and winter last year, "and even with favorable weather, natural gas storage was needed on several occasions to help avoid energy shortages."
Those occasions were January 24 and 25, when state oil and gas regulators allowed the utility to withdraw gas from Aliso during the moratorium to meet an increasing "hourly demand" during a cold snap.
But advocacy groups call that two-day withdrawal a fake crisis. In January, Food and Water Watch, and Consumer Watchdog, both petitioned California Attorney General Xavier Becerra to investigate a possible manipulation of gas supply to influence regulators.
San Diego engineer Bill Powers, who has testified as an expert before state regulators that SoCalGas is trying to manufacture a shortage in order to justify use of Aliso Canyon, has written that Aliso would not be needed if SoCalGas conducted daily balancing of supply and demand.
"SoCalGas allowed the supply-demand balance to drift substantially before and during each of three cold spells in the winter of 2016-2017, by as much as 30 percent," Powers wrote, criticizing the Aliso Canyon Summer 2017 Risk Assessment, which was prepared by the CPUC to determine how to prevent blackouts.
"If they see a cold snap or heat wave coming, they can easily tell generators in other locations to bring gas to the L.A. basin," Powers told Capital & Main. But instead they let the balance get out of whack, let the system drift and have an excuse to draw gas out of Aliso Canyon."
Powers added that SoCalGas is eager to reopen Aliso so it won't lose its capital investments in infrastructure upgrades, as well as the money it gets from being a natural gas "broker."
"Aliso Canyon is a cash cow. SoCalGas lets big customers park gas there, and rate payers are paying for them to do that." Powers added that he estimated rate payers could save $70 million a year if Aliso closes, through suspension of work on upgrading existing wells, ending new drilling at the facility, and on not having to pay for the company's new Turbine Upgrade Project that's nearing completion.

Next Steps
Regulators from DOGGR could give the green (or red) light on reopening Aliso Canyon at any time. Governor Jerry Brown has the ability to overrule their decision, but he hasn't said which way he's leaning. Several activists and residents told Capital & Main they're concerned that Brown's familial ties with Sempra could cloud his judgment.
That's why those intent on seeing Aliso Canyon shuttered permanently are not waiting for regulators and the governor to decide its fate. They've spent 20 months calling, emailing, facebooking, lobbying, analyzing engineering reports and rallying outside lawmakers' offices. They even installed their own neighborhood methane monitoring system, out of distrust of SoCalGas' Fence Line System.
"We saw that by letting others do the job, we get screwed," Andrew Krowne said. "The governing board of AQMD settled for a pittance to do a so-called health study. So we're working every avenue possible to get rid of this facility."
---
Copyright Capital & Main

Can the EPA Roll Back California's Clean Air Standards?
Co-published by The American Prospect
The Trump administration wants to argue that California has no special right to regulate greenhouse gas emissions from cars and trucks. But their case, experts say, is weak.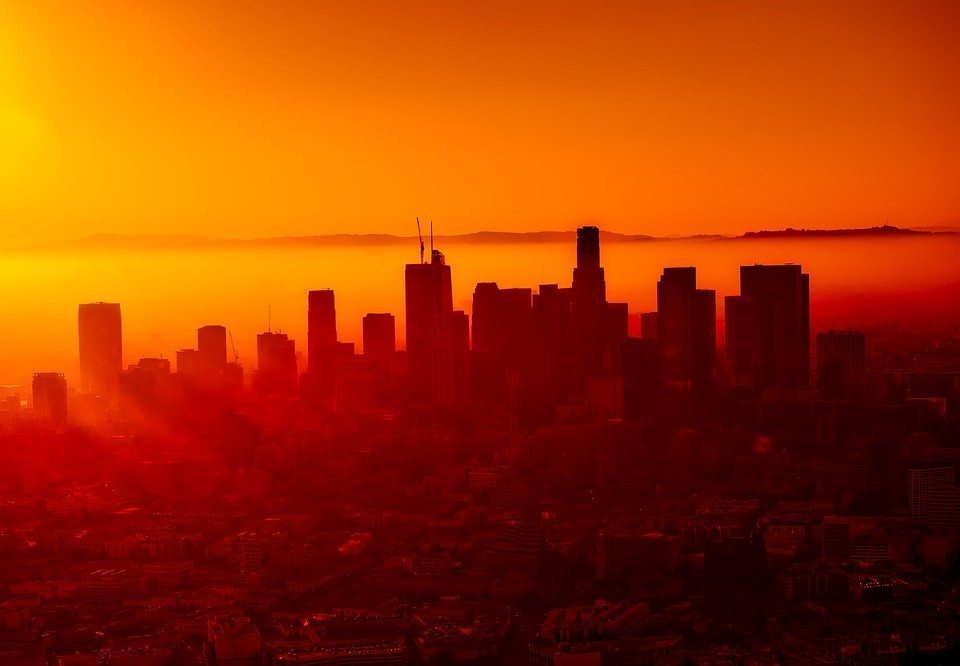 ---
The new Safer and Affordable Fuel-Efficient Vehicles rule would nullify California regulations to reduce greenhouse gas emissions from tailpipes and its zero-emission vehicle program.
---
Co-published by The American Prospect
When officials within the Trump administration, on August 2, proposed scaling back Obama-era fuel-economy standards and revoking California's authority to regulate greenhouse gas emissions from tailpipes, they were betting on the chance that courts can't tell the difference between a law against gas guzzlers and one against carbon belchers. Low-mileage cars and low-emissions cars are often one and the same, they may have reasoned. If you're requiring a car to emit less carbon dioxide, you're also asking that it burn less fuel.
That part might be mostly true, although there are emissions controls that have nothing to do with gas mileage. But from a legal standpoint, fuel economy and tailpipe emissions take distinctly different routes to regulation. Fuel-economy standards, known as the Corporate Average Fuel Economy, or CAFE standard, as defined in the Energy Policy Conservation Act, forbid states from making their own rules. The National Highway Traffic Safety Administration enforces them; states have no control.
The 1970 Clean Air Act, on the other hand, gives California the explicit authority to regulate air pollution, albeit with EPA sign-off in the form of a "waiver" each time the state wants to impose a new standard. Other states can adopt California's stricter rules (12 of them and the District of Columbia, have). Or states can stick with the standards set by the federal government. Tailpipe emissions of other pollutants from cars and trucks — carbon monoxide and nitrous oxides, for starters — have long been a chief source of air pollution, and California since 1961 has acted to curtail them.
---
"California regulators were the first to understand how smog was formed, the first to act on how to control that smog."
---
That's one of the reasons why the administration might lose its coming battle with 19 states and a host of environmental groups gearing up to fight the "Safer and Affordable Fuel-Efficient Vehicles" rule, as the Environmental Protection Agency calls its apocalypse-hastening rollback, which would freeze the CAFE standard at 37 miles per gallon instead of aiming toward the 54.5 miles per gallon by 2025 that the previous administration had set. It would nullify not only California regulations to reduce greenhouse gas emissions from tailpipes but also California's zero-emission vehicle program, which requires carmakers to market a certain number of all-electric or hydrogen vehicles in the state.
But the rollback doesn't pass legal muster, says Irene Gutierrez, clean-energy attorney with the Natural Resources Defense Council. Among its many legal and factual flaws, the proposed rule seeks to revoke California's authority over tailpipe emissions of greenhouse gases on the grounds that "the environmental problems it addresses are not particular or unique to California." Yet nowhere does the Clean Air Act mention "particular or unique" as a waiver requirement.
---
California's transportation sector puts more carbon-dioxide and its equivalents into the atmosphere than any state but Texas.
---
"The EPA has not in the past looked at California and said, 'Prove to us that your ozone problems are worse than any other place in the country,'" Gutierrez says. "It's not like there aren't polluted air basins in other states." When past waivers were granted — there have been more than 50 — it wasn't because California and California alone had an air-quality problem. It was because California was seen as particularly aggressive about cleaning up its air and, in 1970, was far ahead of the federal government in doing so.
"California regulators were the first to understand how smog was formed, the first to act on how to control that smog," says Meredith Hankins, a legal scholar at the University of California, Los Angeles. So it allowed the state to forward with what's known as "technology-forcing" regulation.
"Technology-forcing means regulators aren't picking the technology, aren't picking the winners and losers," Hankins says. "They're saying 'You figure it out — you're the technology experts. All we care about is public health.'"
---
Climate change is undeniably hitting the state now with a particular and unique dose of fury.
---
But even if the law said California had to be unique in its suffering from greenhouse gas emissions, it would not be hard to make the case that it is. For one thing, with its glut of cars, California has an urgent responsibility to reduce its contribution to greenhouse gas pollution from cars and trucks. Forty-one percent of California's greenhouse gas emissions come from transportation, according to the California Air Resource Board's latest climate inventory. The state's transportation sector puts more carbon-dioxide and its equivalents into the atmosphere than any state but Texas.
Plus, climate change is undeniably hitting the state this moment with a particular and unique dose of fury. "There are 18 fires burning in the state right now, and none of them are contained," Gutierrez says. Several more have already leveled neighborhoods. One of them, near Redding, in Northern California, burned so hot that it scorched away a layer of earth.
It's an odd time, then, for the Environmental Protection Agency to be fighting against environmental protection. Especially in California.
California's climate gas waiver for cars was first denied by the Bush administration in 2008, when then-EPA Administrator Stephen Johnson made basically the same case: That California does not "need to meet compelling and extraordinary conditions" with respect to greenhouse gas pollution. Six months into the Obama administration, the EPA officially reversed that decision. "Opponents of the waiver have not demonstrated that California does not need its greenhouse gas emission standards to meet compelling and extraordinary conditions," EPA Administration Lisa Jackson wrote at the time. She also affirmed that "Congress recognized that California could serve as a pioneer and a laboratory for the nation in setting new motor vehicle emissions standards."
"Trump is trying to rehash those old Bush administration arguments," Gutierrez says. Trump's administration is also adding a bonus caveat: that clean vehicles are, by definition, small and unsafe. The proposal claims that canceling out both national fuel standards and California's waiver will reduce traffic fatalities by 12,700 from 2021 to 2029.
Never mind that it's possible to produce a substantial, low-emissions plug-in hybrid, such as Chrysler's Pacifica minivan, just as it is to make a smaller car that pollutes (the 2009 model of the Ferrari F430, for instance, isn't particularly big, but it packs the same climate wallop as the 2001 model of the hulking Ford Explorer.) Carmakers are getting better all that time at designing more substantial, longer-range and affordable cars that qualify as clean. Nearly every manufacturer has a plug-in hybrid crossover SUV on the line for 2019. Even Ford, which has been slow to the EV game — dutifully churning out "compliance" vehicles just to qualify for the strict California market — has announced a plug-in hybrid model of its crossover SUV, the Escape.
Besides, the goal of saving 12,000 lives rings a little hollow when you consider that heat, according to the Centers for Disease Control and Prevention, is the leading cause of all annual weather-related deaths in the U.S. The World Health Organization predicts that between 2030 and 2050, 250,000 people will die globally due to climate-related health impacts. Maybe we could all just drive a little more carefully.
---
Copyright Capital & Main