Redding's Homeless Ride a Wave of Very Tough Love
California Gov. Gavin Newsom calls homelessness an emergency akin to a major earthquake, but his proposals do not prevent cities from sweeping people off the streets.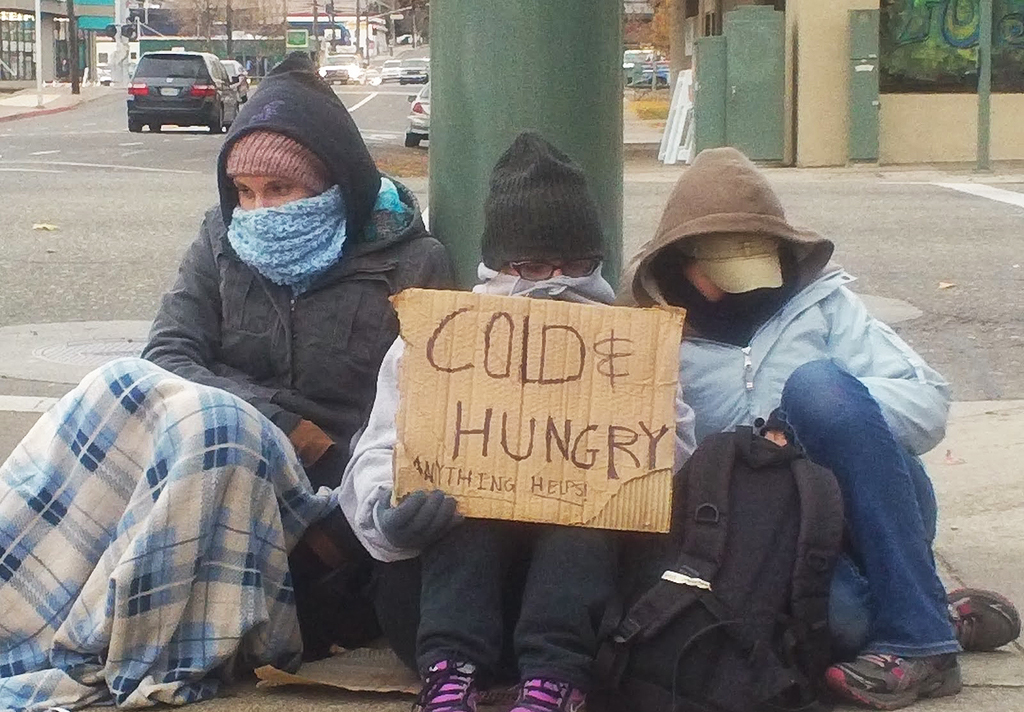 On a damp, dreary day, about two dozen men and women with nowhere to live huddled under oak trees outside the Redding Public Library, wondering where they might spend the night.
Security guards would kick them off the library lawn at dusk. South City Park next door, once a refuge, sat behind iron gates. So did the alcoves of the businesses across the street. Even the tunnel under a nearby road, a creepy crawl space that always offered a last resort, was cut off: An elaborate metal barrier, almost sculptural, criss-crossed its length, blocking access.
California Gov. Gavin Newsom calls homelessness an emergency akin to a major earthquake. His latest budget, which the legislature will vote on by July, calls for $1.4 billion in fixes, including $750 million that would go directly to service providers for monthly rent payments, additional housing units and board-and-care facilities. But Newsom stresses that individual communities would determine their own priorities. His proposals do not preclude cities from continuing to enact and enforce policies designed to sweep people off the streets. The basic need to sleep in peace at night is a challenge for California's unsheltered, as those who had gathered in front of Redding's library know all too well.
The group, most of whose members were in their 50s and 60s, and were lifetime or longtime residents of Redding or the surrounding area, dispersed as a spotty drizzle turned to cold, hard rain. A few would head to the Good News Rescue Mission, the only general shelter in this city of over 91,000, and all of Shasta County, a green mountain landscape more than three hours north of San Francisco — where an estimated 3,000 to 4,000 people are unsheltered. Some in the group were banned from Good News and would have to seek reconsideration during the shelter's weekly appeals meeting. They had violated rules—had been caught with a beer, or found loitering near the shelter or with pot in their room. Still others had used up their 30-day maximum stay at the mission, and had to wait a month before being allowed another stint.
Beyond the elements, they would have to worry about the R.A.T. Patrol— the Redding Area Transient Patrol— a group of organized "concerned citizens" "fed up" with "violent criminal transient bums," as its Facebook page says. Members have advocated spraying sleeping people with urine — or acid — tossing them in dumpsters or chasing them out of town.
By daybreak, a police unit dedicated to rousting or citing people for breaking the city's "no camping" law would make its rounds. A new link on the Redding Police Department site for people to report campsites from their cellphones has made their job easier.
"We're treated like scum," said Tani Kelley, a 44-year-old mother of two. She lost her housing to a series of misfortunes, she said, including the 2018 wildfires that ravaged Shasta and neighboring Trinity counties. Her children now stay with their grandparents and she in her car. "No one," Kelley said, "wants to be out here."
* * *
Twenty years ago, Redding, a once-sleepy logging town along the Sacramento River, didn't have a homeless crisis. Now, with 10,000 more residents and a housing vacancy rate of about two percent, Redding is like many big and small cities up and down California, where housing is at a premium. It's a place where renting keeps getting more expensive, poor people are getting literally left out, and the down and out are resented and reviled.
The National Law Center on Homelessness and Poverty, a Washington, D.C.-based nonprofit advocacy group, has found that laws banning sleeping in public have increased 50 percent and those banning loitering or loafing have jumped 103 percent across the United States since 2006, when it started keeping track of them.
Las Vegas has passed a street-cleaning ordinance that makes it a misdemeanor to sit, sleep or obstruct city crews from cleaning the sidewalks during designated times. Denver banned blankets from the streets between 11 p.m. and 8:30 a.m. — part of a camping ban the Ninth Circuit Court of Appeals ruled unconstitutional but which the Supreme Court let stand. Sacramento last year sued seven homeless people for being "a public nuisance," seeking to ban them from the city.
In California, with more than 150,000 unsheltered residents, nearly half the nation's total, compassion fatigue is rampant. San Francisco's 311 line, designed for people to report civic nuisances like potholes and broken lights, has become the "snitch line" for 4,000 monthly complaints about homeless people.
Last November, then-Mayor Julie Winter made headlines and earned Redding a place in the National Law Center's "Hall of Shame" for mentioning a seemingly radical approach: a shelter where homeless people could be forced to stay for up to 90 days.
"[It] might be a low-security facility," Winter told Jefferson Public Radio, which covers the Shasta Cascade region of Northern California and southern Oregon. "But it's not a facility you could just leave because you wanted to…You need to get clean, you need to get sober, you need to demonstrate self-sufficiency. And once you do that, you're free to go."
Winter took a viral beating. But her branding of those reduced to living on the streets as drug addicts and other undesirables not fit to walk them is not radical. President Donald J. Trump, who has goaded Gov. Newsom over California's homeless crisis, has complained that homeless people are ruining property values "with their filth" and has also threatened to issue an executive order to forcibly "remove" people from the streets." His comments hark back to the nation's first "ugly laws," more than a century ago, which banned disabled, diseased and destitute beggars from public view. Trump's new homelessness "czar," Robert Marbut, has recommended that cities stop giving out free food, ban sidewalk sleeping and force homeless residents into punitive structures similar to the one Redding's mayor envisioned.
In fact, before Winter drew the wrath of homeless advocates, Shasta County law enforcement officials argued against the city council's idea for a "low-barrier" shelter, one that would have fewer rules and more services than a traditional shelter. Instead, they insisted, the county needed a jail-like facility to detain people for misdemeanor offenses related to being homeless.
The new mayor, Adam McElvain (who took office in December through Redding's yearly rotation of city council members to the executive chair), has called enforcing "quality of life" crimes — those that homeless people commit by living on the streets — his priority.
He referred questions about homelessness to City Councilmember and former Mayor Kristen Schreder, who told Capital & Main: Redding is "[attempting] to balance the need to provide assistance to vulnerable community members and the need for accountability for some other members of our community."
The city has been actively working with local developers to create affordable housing, with over 500 housing units either under construction or initially approved for construction, Schreder claimed. "We have also partnered with Shasta County to construct a 75-unit affordable housing complex," she said," that also includes over 20 units set aside for tenants who have mental health conditions." But many of the proposed 500 housing units may never be built. Housing costs have never been higher. Prices surged after the 2017 Northern California wildfires and continue to soar, making low-cost housing a losing proposition for developers.
Redding, a conservative Republican city that voted for President Trump by a two-to-one margin, hardly fits his tweets about "Democrat-run" towns full of homeless people. (Trump frequently blames California for the nation's spike in homelessness, which rose 16 percent in the state versus 2.7 percent nationally last year. (He does not mention that housing experts blame record housing prices driven by both development and construction costs not keeping up with housing demand.) Like San Francisco and Los Angeles, Redding has become too popular for its housing stock to handle.
* * *
Shasta County's most recent official one-day count of homeless people, in January 2019, found 827, most in Redding, a nearly 20 percent jump from 2018. But city officials and service providers say the actual numbers, based on those seeking services, are much higher: between 3,000 and 4,000.
Public officials often call homeless people "transients," and see them as an influx of outsiders to the city. But it has welcomed other outsiders, including the Bethel Redding mega-church, which draws students from all over the world. Its current enrollment is 2,000 students from 64 countries, according to the church website.
It is also expanding with a $96 million campus, no dormitories included, though Redding's Craigslist is full of ads from its students and devotees looking for housing.
Chris Solberg, a Redding native and director of the Redding Coalition for the Homeless, says as visible homelessness has increased, attitudes against homeless people have grown progressively more hostile, with "criminalization, scorn and vigilantism." (The R.A.T. Patrol did not respond to numerous requests for comment.)
"There is a dynamic of hatred," said Solberg, who has posted scores of videos on YouTube documenting the city's responses, from police encounters with homeless people to the caging of park benches.
Those who camp by day at the Redding Public Library include a blind man with a seeing-eye dog, Vietnam War veterans and a 57-year-old woman with a traumatic brain injury who lost everything to the 2018 Carr fire that claimed eight lives and nearly 230,000 acres in Shasta and Trinity counties. She has a 10-year-old son, a straight-A student, she said, despite more than a year of depending on the kindness, and couches, of others. "I try all the services," she said, "but I'm also on a waiting list."
---
Copyright Capital & Main