Reasons for the Winter Seasons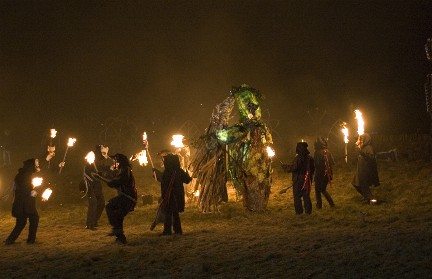 Even before Santa Monica became infamous for the atheists taking over most of the holiday kiosks at Palisades Park, I thought the season was bigger than merely Christmas. After all, December 25 marked the turning of the sun for the Romans – what they called Saturnalia. The whole season of festivals hinges on Solstice, not a baby's birth – although a pregnant girl giving birth in a stable makes for a great story.
So my wife Susan and I think the season begins with Halloween and ends with what Americans call Ground Hog Day, an entire quarter of the calendar in which the daylight shortens and the nights lengthen in the northern hemisphere. The experience was so traumatic for our forbearers that they clustered a bunch of holy days around it.
Halloween, or Samhain in the ancient calendar, marked the narrowing of the veil between the world of light and the world of darkness – so the spirits could slip across more easily. Christians focused on November 1 and named it All Saints Day – a time for remembering the people who shaped our lives as well as our times. So up go the skeletons and the candles, not to mention marigolds and other harvest bounty, which people from Mexico weave into altars for the Day of the Dead.
Then, in quick succession, a batch of moon-cycle based holidays that, given the year, might include Al Hijra, New Year's Day, and Ashura, a day of fasting, from the Muslim tradition or Diwali from the Hindu religion, or Bodhi Day from the Buddhists, followed by Thanksgiving and the first Sunday of Advent, New Year's Day in the Christian liturgical calendar. So far, nothing in these cultural holy days suggests spending or buying, although the decorations change.
Next come the preparation stages for Solstice itself – lots of candles and shiny trinkets and images that reflect the forms winter days conjure. The ancients brought in a tree from the forest if one was nearby, partly to make sure there was enough wood to keep the fireplace full, partly to keep hope alive that the sun would not go out. Virgin de Guadalupe Day and the Posada processions over several nights keep people busy in Mexico and in Los Angeles, the largest Mexican city outside of Mexico. Somewhere in there, depending on the lunar calendar, Chanukah arrives. An eight-day cycle of lighting candles, it was a minor ritual until the American Jewish population became large enough to require something significant during the all-pervasive buying splurge.
My wife Susan and I celebrate Solstice itself with friends and food and music and stories and laughter and candles. After Christmas Eve and Day, Kwanzaa begins. A first fruits festival created by African American cultural leaders in L.A., each day affirms a different value: unity, self-determination, collective work and responsibility, cooperative economics, purpose, creativity and faith. It concludes on New Year's Day when most Americans take down the ornaments and throw out the tree.
Not at our house. We wait until January 6 Epiphany in the Western Christian tradition, (or Christmas Day, in the Eastern Orthodox calendar) which ends the Twelve Days of Christmas everyone has heard as a song at the mall. Only then can stuff get packed away for another year, but it does not end the holy days. The national holiday marking the birth of Martin Luther King Jr. offers Americans an opportunity to reflect on the meaning of their lives and the purpose of our national life together, so we do.
Finally, February 2 arrives, halfway through winter, predicting how many weeks until the first crops will provide food again. The ancient Celtic women's traditions marked it as Imbolc, a holy day of fire. The Irish celebrate St. Bridget who kept an eternal flame alive, and Catholics perform a liturgy called Candlemas. In Mexico people named it Lava Day, when the baby Jesus gets taken from the manger, bathed, and given adult cloths to begin his life work. That's when we take down the crèche and put away the last remembrances of the day that the sun came up again so that life – our lives – could go on. So maybe Santa Monica needs to add a few more kiosks in the park to tell these stories.

Blindfolds: Iranian Hostage Drama Offers Few Surprises
One of the play's weaknesses is the surfeit of soap-operatic family exchanges that spill into melodramatic shouting matches.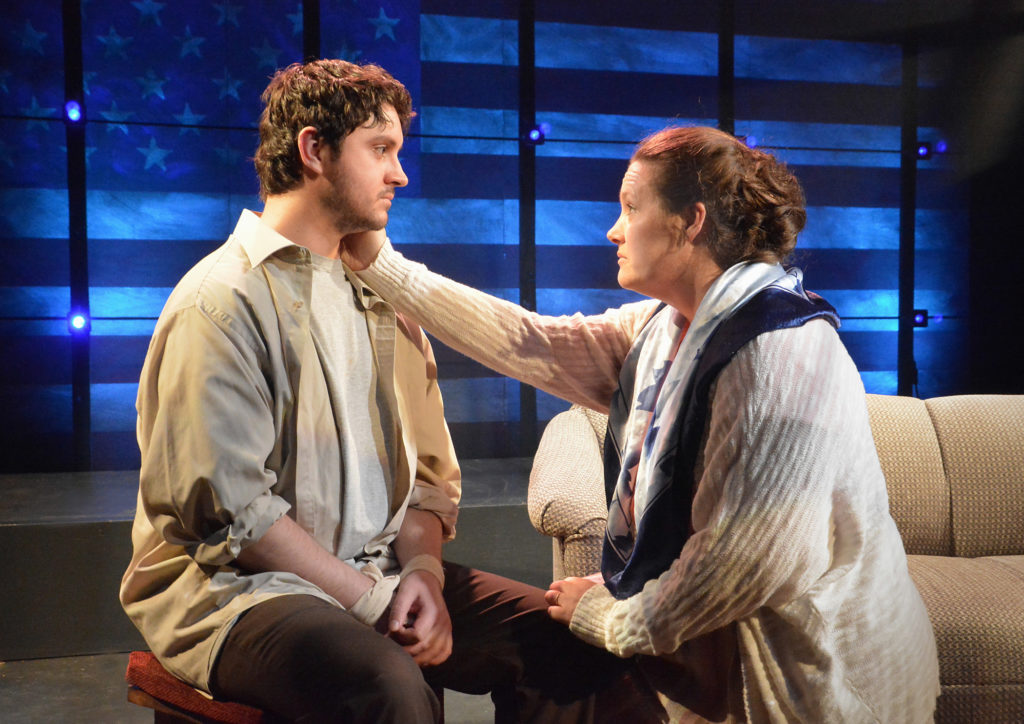 On November 4, 1979, several hundred Iranians, mostly students, stormed the American embassy in Tehran and took 60-odd hostages — 52 of whom were held captive for 444 days. It was a humiliating event for the U.S. government and, in general, a wake-up call for Americans heretofore unaware of the antipathy of many Iranians towards the United States.
Against the wishes of the Carter administration, a mother of one of the hostages, Barbara Timm, flew to Tehran to see her son. Hostage, by Michelle Kholos Brooks, re-imagines the exchange that took place among Barbara (Tracie Lockwood), her captive son Kevin (Zachary Grant) and two of his captors: Tehran Mary (Vaneh Assadourian), a media spokeswoman for her cause and Ebrahim (Satiar Pourvasei), a rifle-wielding guard swift to anger. The drama, some of which takes place in Barbara's mind, shifts between the embassy, where a handcuffed, blindfolded and barefoot Kevin has been doing his best to survive, and Barbara's Wisconsin living room, where she struggles to cope with both a controlling ex-husband and an angry mob outside her home. The latter has gathered to protest a public statement she made critical of the failed rescue attempt to free the hostages — a statement interpreted by "patriots" as her having taken the side of the revolutionaries.
As the drama progresses, scenarios begin to overlap; Kevin, always on Barbara's mind, is physically present onstage as she disputes with her former spouse about the latter's parental responsibility — or lack of it — and whether or not he betrayed her when they were teens, salaciously spreading the word about their intimacy. An argument also ensues between Richard and Barbara's current husband, Ken (Jack Clinton), who accompanied Barbara to Iran and has open-heartedly raised Kevin as his own.
Directed by Elina de Santos, Hostage aims to explain and garner sympathy for both sides, but it offers few surprises or depth. One of its weaknesses is the surfeit of soap-operatic family exchanges that filter attention away from more vital dramatic themes: how far a mother is prepared to go to protect her child and the distance its pivotal character, a Midwestern matron and a Republican, will ideologically travel before the play's catharsis (the dynamic most interesting to us). While these threads, as well as the propensity for intolerance of people on both sides of the cultural divide, are clearly most central, they get obscured for long stretches by melodramatic shouting matches between Kevin's two fathers or the past marital problems of Barbara and Ken.
Grant turns in a well-grounded performance as the palpably fearful Kevin, drilled in compliance and anxious for his mother to understand how precipitous his situation is. But other performances on opening weekend were less persuasive. Lockwood, usually an excellent actor, did not seem entirely comfortable as the maternal lioness the playwright aims to conjure. One problem is the script, which calls for her to assertively challenge Kevin's captors' motives and beliefs — a device for getting us to understand where they are coming from. Some of these confrontations appear as the artifices they are. None of the other actors were able to get past the polemical nature of their roles, either. One hopes they will evolve.
Designer Stephanie Kerley Schwartz's no-frills set features an American flag splayed across the back wall — albeit behind a scrim, an apt reference to the covert power wielded (this time not so successfully) by our government.
Skylight Theatre, 1816½ Vermont Avenue, Los Feliz; Fri.-Sat. & Mon., 8 p.m.; Sun., 2 p.m.; through June 24; (213) 761-7061 or (866) 811-4111.
---
Copyright Capital & Main