Reality TV Bites: "Blue Collar" Show Fires Its Workers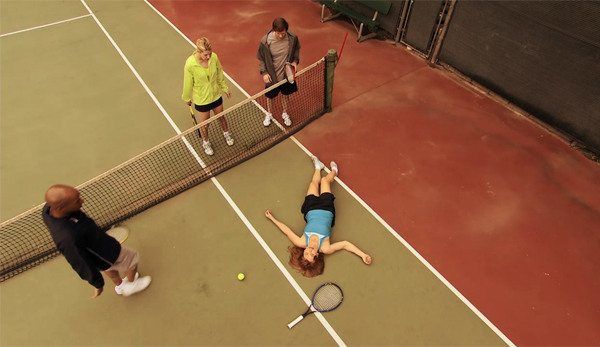 The ball is in management's court: Scene from "1000 Ways to Die."
By Johnny 5 Hanrahan
I, along with 30 other talented, hardworking crew members, was fired recently from a successful, internationally popular TV show called 1000 Ways to Die. Our crime: Trying to unionize. Joining the union would allow us to have health insurance — something that is not asking for too much, especially from a hit show. It is easy to take advantage of a reality TV crew in this economy, especially for low-ball rates, by having members work 70-plus hour weeks on their feet, as they make nearly minimum wage in a non-union atmosphere. We wanted the opportunity to live the better, healthier lives which we deserve; hence we contacted unions to help us with that. "Together we are what we cannot be alone. United we stand, divided we fall."
Reps from the Teamsters and IATSE (International Alliance of Theatrical Stage Employees) came to the set on our behalf — and that's when we were told by executives and producers to pack up our things, turn in our walkie-talkies and go home. This was a devastating moment. Most of us had been with the show for several seasons and the set was like our second home. Throughout the years us crew members have become like family — it is not unusual to see crew give one another hugs as a genuine gesture of support; perhaps it's because when you deal with the content of creating death all the time, it's easy to cherish life.
The company cancelled filming that was scheduled for the following week and went into hiatus. During that time, they re-crewed with intentions to resume shooting the week after. But it was hard for the company to maintain the replacement crew, because there were people who did not want to work on a show that turned its back on the unions. Once a week of hiatus passed, they were crewed back up and tried to film. They were unable to film yet again, though, because several other crucial people walked and joined the picket line that had been set up outside the production office.
That's when the company pulled the plug on the remaining episodes rather than talk to us. They still had to pay for the camera, grip, and lighting equipment, along with several specialized trucks that weren't used during that week in between for the hiatus. They also paid whatever other crew that stayed on for that week to accomplish nothing. The amount of time and money the company spent fighting the unions perhaps could have been used  to pay for health benefits.
With its other shows like Deadliest Catch, Ice Road Truckers and Ax Men, the company claims to represent and cater toward "working class heroes," although it is questionable if they practice what they preach; we the workers, being truly heroic, are not being represented. The producers did not even talk with the unions before they decided to terminate us. 1000 Ways to Die is a profitable show and I strongly believe it has potential to film more episodes under a union contract.
Solidarity is a powerful tool! I thought it was touching for people, even those who weren't in a union, to turn down jobs in this economy to show their support by not crossing our picket line. It truly shows the power of the people. I really have to hand it to Steve Dayan with the Teamsters and Vanessa Holtgrewe with IATSE for going the extra mile for us.
This has been a life-changing experience. The other day I was riding my bicycle down Sunset Boulevard and noticed Andaz Hyatt hotel workers forming a picket line. I felt a tingly sensation in my heart and decided to walk it with them to show my support.  Perhaps I would not have done this before my experience with this show.
Even though production halted for the remaining episodes in the season, the dispute is not over until the company recognizes the union and all the employees that were fired are reinstated with a union contract.
"Johnny 5" Hanrahan is an Eagle Scout from Clermont, Florida who moved to Los Angeles in 2004 to pursue a career in the entertainment industry. He has worked in various capacities on the following productions: The Surrogate, Fear Factor and 1000 Ways to Die.

'Skeleton Crew' Is a Play With a Moral Spine
Set in a Detroit automobile outfitting plant, Dominique Morisseau's drama grabs you from the start with its focus on blue-collar men and women, and their struggle for dignity and self-respect.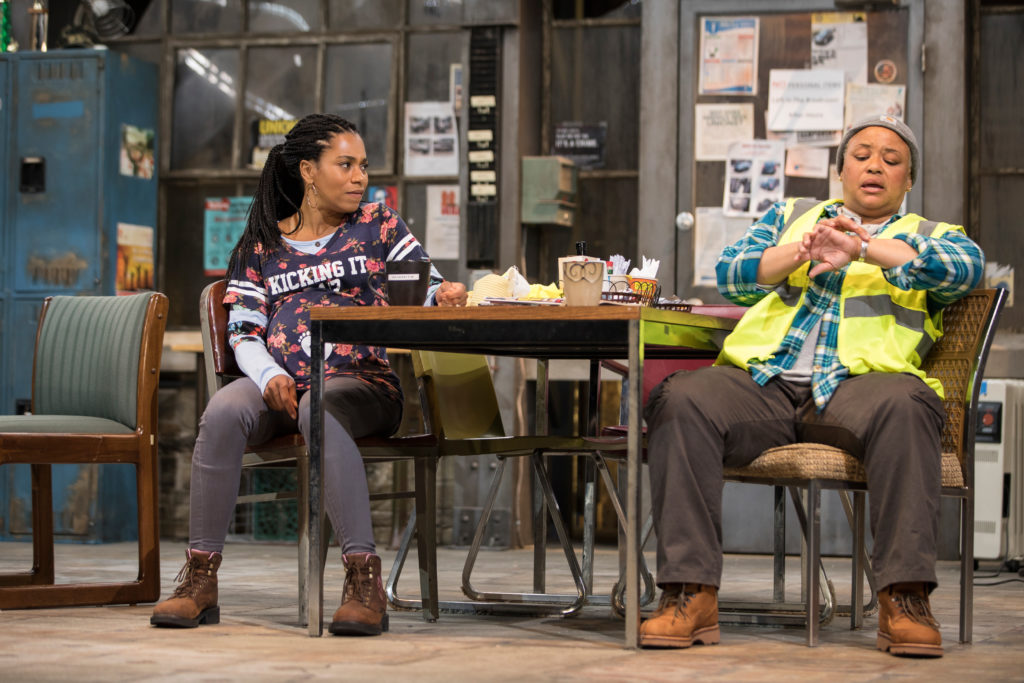 Working-class men and women of color are rarely front and center in today's media and, likewise, are presented all too occasionally on the American stage. So it's buoying to see that trend bucked in playwright Dominique Morisseau's percipient and well-crafted drama, Skeleton Crew. The play is the final installment in her Detroit  Project Trilogy; the first, Paradise Blue, is set in the 1940s amidst displacement caused by urban renewal and gentrification, while the second, Detroit '67, transpires on the eve of the 1967 Detroit riots sparked by a police action.
Directed by Patricia McGregor at Los Angeles' Geffen Playhouse, Skeleton Crew is a play with a moral spine. It takes place in 2008, when the shrinking U.S. auto industry is being further downsized. Morisseau's engaging quartet of characters — Faye (Caroline Stefanie Clay), Dez (Armari Cheatom), Shanita (Kelly McCreary) and Reggie (DB Woodside) – are employed at an automobile outfitting plant. Faye, Dez and Shanita are workers on the line while Reggie (who has a wife and kids, and has pulled himself together after a troubled youth) is their supervisor.
The first three customarily mingle in their break room (designer Rachel Myers' impressively cluttered, dingy and detailed set), trading the sort of familiar barbs and genuine concern for each other common among longtime co-workers. They also face off on philosophy: Upper-middle-aged Faye and the younger, pregnant Shanita take pride in their labor, while Dez, though a good worker, is a malcontent scornful of management and firm in the belief that everyone needs to watch out for himself. He's a thorn in Reggie's side, for while Reggie wants to be supportive of his workers, he must act at the behest of higher management. For his part, Dez resents Reggie's authority, and a palpable unease exists between them.
Besides this male matchup, we're made privy to Dez's attraction to Shanita, who mostly turns away his advances, but every now and then displays a hint of interest. Most poignant is Reggie's regard and affection for the lesbian Faye, which has roots in his boyhood when she loved, and lived, with his now-deceased mom.
These people's various predicaments intensify when rumors spread of the plant's shutdown — a disaster for all, but a particular calamity for the already near-broke Faye who, one year short of retirement, would lose her pension. The crisis forces each of these people to make a choice.
A sound piece of social realism, Skeleton Crew grabs you from the start in its focus on blue-collar men and women, and their struggle against odds for dignity and self-respect. Morisseau not only furnishes these characters a platform for their travails, she endows them with strong values, big hearts and the opportunity to choose between right and wrong.
Unfortunately, the performance I attended did not soar. Many exchanges lacked a fresh edge. The actors certainly had their characters down, but too often they appeared to be coasting on technique. (This seemed particularly true of Clay, who performed the role to great accolades in Washington, DC in 2017, also under McGregor's direction). Additionally, some of the stage movement was not entirely fluid; in confrontations, actors sometimes would just stand and face each other in an artificial way. And Cheatom's interpretation of Dez struck me as a bit overly churlish and depressive: I needed more glimpses of the intelligence and edge that would secretly attract the strong, self-directed Shanita.
The most compelling moments belong to Woodside, well-cast as a man trying his best in difficult circumstances to do the right thing.
---
Gil Cates Theater at the Geffen Playhouse, 10886 Le Conte Ave., Westwood Village; Tues.-Fri., 8 p.m.; Sat., 3 & 8 p.m. Sun., 2 & 7 p.m.; through July 8. (310) 208-5454 or www.geffenplayhouse.org