Raising the Minimum Wage for the Most Good
Business groups and their political allies have consistently attacked the idea of a minimum wage ever since President Franklin D. Roosevelt proposed it during the Depression to help stimulate the economy. And yesterday — the 75th anniversary of the Fair Labor Standards Act (FLSA), which FDR signed on June 25, 1938 to establish the minimum wage as well as the eight-hour day, paid overtime and child labor protections — their contemporary counterparts are still at it.
A recent report by the National Employment Law Project and the Cry Wolf Project, Consider the Source: 100 years of Broken Record Opposition to the Minimum Wage, chronicles the history of unchanging sky-is-falling rhetoric by business interests opposed to minimum wage laws.
Even today, business groups and their political allies still complain that the minimum wage violates employers' freedom to set pay levels, forces business firms to cut jobs or even file for bankruptcy, and destroys employees' drive to work hard. The fact that there is no evidence for these statements hasn't stopped them from whining about the minimum wage. But after 75 years of success, we should no longer take their complaints seriously. They are just crying wolf.
In 1937, soon after FDR first floated the idea of a federal minimum wage, the National Association of Manufacturers (NAM) warned that it "constitutes a step in the direction of communism, bolshevism, fascism, and Nazism." Congressman Edward Cox, a Georgia Democrat, said that the law "will destroy small industry." These ideas, Cox claimed, "are the product of those whose thinking is rooted in an alien philosophy and who are bent upon the destruction of our whole constitutional system and the setting up of a Red Labor communistic despotism upon the ruins of our Christian civilization." Roosevelt and most members of Congress ignored these warnings and adopted the FLSA, which established a minimum wage of 25 cents an hour.
Since then, each time Congress has considered raising the minimum wage, business groups and conservatives have repackaged the same arguments. In 1945, NAM claimed that, "The proposed jump from an hourly minimum of 40 to 65 cents at once, and 70 and 75 cents in the following years, is a reckless jolt to the economic system. Living standards, instead of being improved, would fall — probably to record lows." Instead, the next three decades saw the biggest increased in living standards in the nation's history.
In 1975, economist Milton Friedman, a conservative guru, said: "The consequences of minimum wage laws have been almost wholly bad, to increase unemployment and to increase poverty. In my opinion there is absolutely no positive objective achieved by minimum wages." While campaigning for president, Ronald Reagan said, "The minimum wage has caused more misery and unemployment than anything since the Great Depression."
In 1993, the owner of Mega Management Company that owned 95 Burger King franchises in the U.S., Canada and the Netherlands said that "creeping socialism begins at the $5.05 level." In 1995, Jack Farris, president of the National Federation of Independent Business, claimed that President Clinton's proposed 90 cents per hour minimum wage hike from $4.25 to $5.15 was "a regressive and job-killing scheme which will put a big dent in small-business hiring." According to County Business Patterns data, employment in businesses with fewer than 20 employees grew by almost two million workers between 1995 and 2000. Oops. In 2004, David Brandon, the CEO of Domino's Pizza, declared: "From our perspective, raising the minimum wage is a job killer." Earlier this year, Jason Riley, a Wall Street Journal editorial writer, called the minimum wage a "proven job killer" on the newspaper's cable talk show.
Last January, as soon as President Barack Obama called on Congress to raise the minimum wage to $9 an hour in his State of the Union address, business representatives and conservative media pundits echoed the same talking points. Analyzing Obama's speech for Fox News, Nina Easton, an editor for Fortune magazine, repeated the claim that increasing the minimum wage is a "job killer." Michael Saltsman, research director at the business-backed Employment Policies Institute, told Fox Business News that "minimum wage hikes lead to job losses." Bill Herrle, executive director of the National Federation of Independent Business' Florida affiliate, told Sunshine State News that Obama's plan was a "job killer. Congressman Paul Ryan said that "history is very clear" that it "costs jobs." Senator Marco Rubio said that "We have a lot of history to prove" that "raising the minimum wage does not grow the middle class."
In fact, such dire predictions have never materialized. That's because they're bogus. In fact, raising the minimum wage is good for business and the overall economy. Why? Because when poor workers have more money to spend, they spend it, almost entirely in the local community, on basic necessities like housing, food, clothing and transportation. When consumer demand grows, businesses thrive, earn more profits, and create more jobs. Economists call this the "multiplier effect." According to Doug Hall of the Economic Policy Institute, a minimum wage hike to $9 would pump $21 billion into the economy. And contrary to the corporate lobby's propaganda, only 9.3 percent of the workers who would benefit from a minimum wage increase are teenagers; 90.7 percent are adults.
Moreover, since most minimum wage jobs are in "sticky" (immobile) industries — such as restaurants, hotels, hospitals and nursing homes and retail stores — that can't flee overseas, raising the level doesn't lead to job flight. Not surprisingly, the National Restaurant Association is, along with the U.S. Chamber of Commerce, one of the fiercest opponents of a minimum wage hike.
In recent years, the nation's job growth has been concentrated in low-wage sectors, led by Walmart, the nation's largest private employer, whose pay levels are so low that many employees are eligible for food stamps. More than one-quarter of all jobs pay poverty-level wages. According to a National Employment Law Project study, the majority of new jobs created since 2010 pay just $13.83 an hour or less. This has contributed to the nation's widening economic inequality. Nobel laureate economist Joseph Stiglitz recently said, "Increasing inequality means a weaker economy" for all of us.
Meanwhile, of course, the incomes of the wealthiest Americans — including the corporate CEOs who lobby against raising the minimum wage — have skyrocketed. Since 1993, the incomes of the richest 1 percent of Americans increased by 57.5 percent, while the incomes of the bottom 99 percent increased by only 5.8 percent, according to studies by economist Emmanuel Saez at the University of California at Berkeley. Since 2009, as the country was emerging from the recession, the wealthiest one percent saw their incomes grow by 11.2 percent while the rest of Americans watched their incomes shrink by 0.4 percent. In other words, the richest 1 percent — those with incomes over $600,000 — captured almost all of the income gains in the first two years of the recovery.
The last time Congress raised the federal minimum wage was in 2007, when President George W. Bush reluctantly signed the bill passed by the Democratic Congress to raise the federal minimum wage from $5.15 an hour (where it had stood for ten years) to $7.25 an hour (phased in over several years). It has remained at $7.25 since 2009.
A full-time worker who earns the current minimum wage makes only $15,080 a year. That is 19 percent below the official poverty line for a family of three According to "Out of Reach," a report sponsored by the National Low-Income Housing Coalition, in no state can an individual working full time at the minimum wage afford an apartment for his or her family.
Frustrated by Congress' intransigence, a growing number of states have made an end run around Washington. Nineteen states now have minimum wages over $7.25 an hour. The highest is in Washington State, where the minimum wage is $9.19 an hour.
Cities, too, have enacted laws raising pay for low-wage workers. In 2003, Santa Fe, New Mexico adopted a citywide $8.50 an hour living-wage law with regular cost-of-living increases. At the time, Sam Goldenberg, a business leader, predicted that the law "would be a disaster for the businesses in Santa Fe." And restaurateur Al Lucero called the plan economically irresponsible and argued that "people will be so content with $8.50 or $10.50 an hour that they'll have no desire to improve themselves."
Now, 10 years later, the rate is now $10.29 an hour, and Santa Fe has one of the lowest unemployment rates in the state at 5.1 percent. Jeff Mitchell, a senior research scientist at the University of New Mexico's Bureau of Business and Economic Research, found "no evidence of adverse effects" from the wage hike. Santa Fe's tourism industry is doing fine. Travel + Leisure magazine last year listed Santa Fe in its top 10 U.S. and Canadian travel destinations for the 11th consecutive year.
In 2003, San Francisco voters also adopted a citywide minimum-wage law. The Golden Gate Restaurant Association called it a job killer that would "bankrupt many restaurants." The Association of Realtors said that many hospitality industry workers were "likely to receive pink slips and join the ranks of the unemployed."
Wrong again. A 2007 study by University of California economists found that after San Francisco's minimum wage went up, restaurant growth was higher in the city than in neighboring East Bay cities. In December 2012, the city's unemployment rate was 6.5 percent, well below the statewide average, and job growth in bars and restaurants has led the region's post-recession recovery.
Last November, voters in Albuquerque and San Jose passed ballot measures that will raise the minimum wage for workers in those cities. Albuquerque's citywide minimum wage rose from $7.50 to $8.50 per hour last month and will automatically adjust in future years with inflation. In San Jose, the minimum wage increased from $8 per hour — the current minimum wage in California — to $10 per hour and will adjust automatically in future years to keep pace with the rising cost of living.
Since 1994, about 200 cities have passed "living wage laws" that set minimums for workers for private companies that have municipal contracts, get local tax breaks or rely on city facilities. In November, for example, voters in Long Beach, California passed a ballot measure that raises the minimum wage for hotel workers in that tourist city to $13 per hour and guarantees hotel workers five paid sick days per year. A recent study by William Lester of the University of North Carolina and Ken Jacobs of the University of California-Berkeley found no difference in employment levels between comparable cities with and without living wage laws. They disproved the claim by that these laws drive away business or lead to reduced employment.
Despite business critics' constant predictions of doom, the minimum wage remains wildly popular in the eyes of the American people. They understand basic economics — when wages go up, people spend more. Without minimum wage laws, employers would pay less.
Some enlightened business voices understand that a robust minimum wage is good for the economy. In April 2012 Bloomberg News noted that: "[A] wave of new economic research is disproving those arguments about job losses and youth employment. The studies find minimum-wage increases even provide an economic boost, albeit a small one, as strapped workers immediately spend their raises." In November 2012, The Economist magazine observed that: "Evidence is mounting that moderate minimum wages can do more good than harm."
Most Americans already believe that workers who toil full time shouldn't be stuck in poverty. According to a national poll conducted last year, almost three-quarters (73 percent) of Americans support increasing the minimum wage to $10 per hour and indexing it to inflation. The same poll showed 50 percent of Republicans and 74 percent of Independents favoring an increase in the minimum wage. Majorities of every major religious group support raising the minimum wage to $10.
What should the minimum wage be?
The real value of the minimum wage peaked in 1968, when it was $1.60 an hour. That is $10.50 an hour in terms of purchasing power today. That wage obviously had no disastrous consequences for the economy at the time. In fact, the U.S. economy was booming and the American middle class was the largest in world history. Of course, that didn't stop the doomsaying from business groups and their political friends.
So why not restore the minimum wage to its peak level? Earlier this year, Sen. Tom Harkin (D-Iowa) and Rep. George Miller (D-California) introduced the Fair Minimum Wage Act of 2013, which would raise the federal wage to $10.10 and index it to inflation so it would increase with inflation. Congressman Alan Grayson (D-Florida) has introduced a similar measure, the "Catching Up to 1968 Act of 2013," which would raise the minimum wage to $10.50 per hour, and with automatic increases indexed to inflation thereafter.
Over the past 50 years, the productivity of America's workers has surged, but the minimum wage has fallen further and further behind. In fact, if the minimum wage had kept pace with increases in worker productivity since 1960, it would now stand at $21.72 per hour.
At a recent hearing of the Senate Committee on Health, Education, Labor and Pensions, Sen. Elizabeth Warren (D-Mass.) cited those statistics and asked: "With a minimum wage of $7.25 an hour, what happened to the other $14.75? It sure didn't go to the worker."
Warren wasn't proposing a $21.72 an hour minimum wage, but she was pointing out that the nation's widening economic inequality was due in some measure to Congress' failure to raise the wage to something closer to a living wage.
In his State of the Union address in January, Obama proposed to gradually raise the minimum wage so that it hits $9 an hour in 2015. "Let's declare that in the wealthiest nation on earth, no one who works full time should have to live in poverty," he said. In fact, a full-time employee earning $9 an hour would make about $18,720 a year, slightly below the official poverty level of $19,530 for a family of three.
Under Obama's plan, at least 15 million workers would directly benefit from a higher minimum wage. Millions more would get pay raises as the entire wage scale moves up.
Corporate America and Congressional Republicans are particularly upset that Obama's plan includes a cost-of-living adjustment, which would automatically increase the minimum wage each year to adjust for inflation. Most businesses don't like the idea of having to give employees regular pay hikes. And the Republicans hate the idea because it would eliminate their ability to keep the wage flat by refusing to raise it legislatively. Ten states — Arizona, Colorado, Florida, Missouri, Montana, Nevada, Ohio, Oregon, Vermont and Wisconsin — include a cost-of-living adjustment in their minimum wage laws. This is not a radical idea. Since 1975, Social Security has had an automatic cost of living adjustment for benefit levels.
Although the evidence supports the advocates of a higher minimum wage, the battle to raise the federal minimum wage won't be easy, because business lobby groups have put enormous pressure on members of Congress to resist this common sense policy. In addition to pouring big bucks into campaign contributions and lobbying, they've also paid huge sums to conservative economists and business-sponsored think tanks like the American Enterprise Institute to come up with misleading arguments about why giving Americans a raise is a bad idea. They generally argue that a minimum wage increase will particularly hurt small businesses — a view that the media often repeat with misleading anecdotes.
For example, the day after Obama's State of the Union speech in January, NPR interviewed a California restaurant owner (who now pays workers the state's $8 per hour minimum) who claimed that he'd have to lay off employees or cut back their hours if Congress raised the federal minimum wage to $9. But while this may be true of a handful of small businesses, the overall impact of lifting the minimum wage is good for business. Restaurants may have to slightly increase their payroll expenses, but they'll benefit when customers have more money to spend, thanks to a minimum wage increase.
House Speaker John Boehner (R-Ohio), who opposed the last minimum wage boost in 2006 when the Democrats controlled the House, said , "When you raise the price of employment, guess what? You get less of it…. Why would we want to make it harder to small employers to hire people?" Sen. Marco Rubio (R-Florida), who delivered the Republicans' response to Obama's State of the Union address last January, said "I don't think a minimum-wage law works," on CBS This Morning.
But contrary to the rhetoric of corporate lobbyists and their political friends, studies reveal that that higher minimum wage levels do not force employers to lay off workers. In a study published in the Review of Economics and Statistics, economists Arin Dube, William Lester and Michael Reich compared counties adjacent to state borders, where one state raised the minimum wage and another did not, between 1990 and 2006. They found conclusively that raising the minimum wage had no impact on employment. A similar study by Alan Krueger — now the head of the Council of Economic Advisers — came to the same conclusion. A recent study by economist John Schmidt at the Center for Economic and Policy Research, reviewing the past two decades of research, concluded the minimum wage increases did not impede job growth. Some companies, such as Costco, have supported raising the minimum wage, saying it reduces employee turnover and improves workers' productivity.
These positive arguments won't stop business lobby groups and Republican leaders from trying to block President Obama's modest proposal. But if democracy is about translating public opinion into public policy, Americans are overdue for a big raise.
(This post first appeared on Huffington Post and is republished with permission.)

The 'Amazon Tax' Ruling: Disrupting the Disruptors?
Amazon's continuous resistance to collecting sales taxes made it the first major American company to build its business based on tax avoidance. Contrary to popular belief, the company is still resisting today.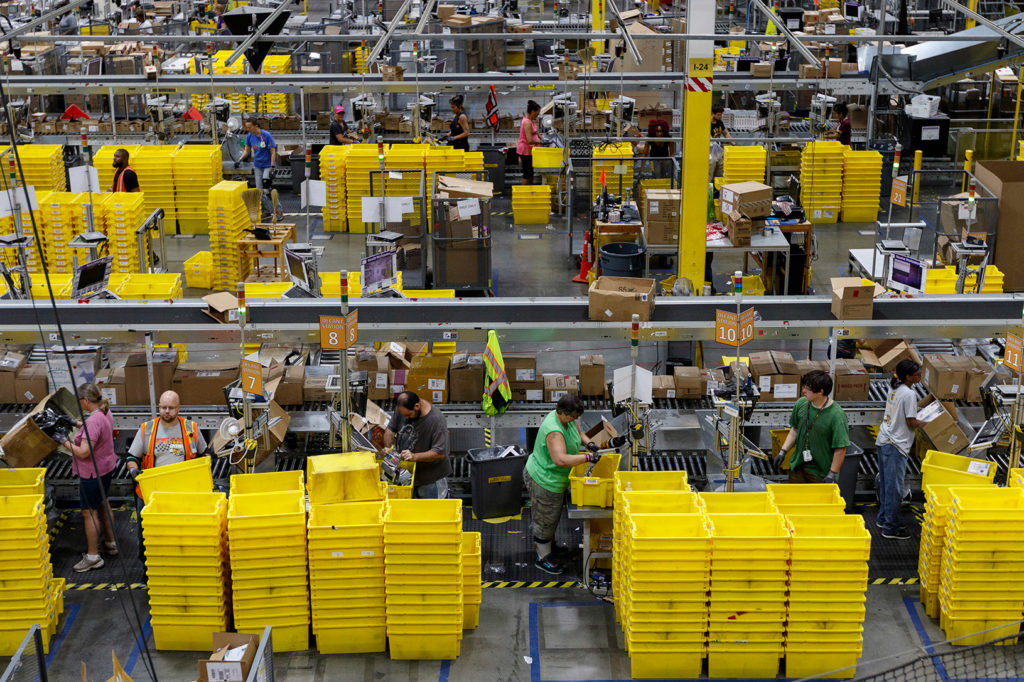 ---
Amazon gathers sales taxes on products it manufactures and sells directly, but doesn't collect on behalf of third-party businesses that use its marketplace.
---
On June 21, the Supreme Court changed the face of online retail, upholding a South Dakota law requiring any business making at least 200 transactions or $100,000 in sales to collect state sales taxes, even if it has no physical presence within a state's borders. This ends a structural pricing advantage that made the Internet the world's largest duty-free shop, at the expense of every restaurant, clothier, hardware store and pharmacy whose e-commerce rivals could always charge less.
The decision came too late for brick-and-mortar businesses wiped off the map in the retail apocalypse. It came too late for state and local governments losing between $8 billion and $26 billion per year in never-collected sales taxes — money that could have built roads, improved schools or bolstered the safety net. But now that it's here, states have choices to make.
---
Thin profit margins and cutthroat practices pit Amazon's third-party sellers against each other.
---
The Supreme Court merely validated South Dakota's law; other states must pass their own legislation to enable sales tax parity between online and offline businesses. And given the burden of complying with state tax laws, it seems at first blush tricky to design something that allows smaller retailers to still compete with the big boys.
But one California official has a solution that she's been advocating for several years. It would maximize revenue for states, reduce the load on small sellers, and create a truly level playing field. However, Board of Equalization member Fiona Ma's strategy requires that California join the tiny number of states willing to stand up to the 800-pound gorilla of online shopping, the source of nearly half of all e-commerce sales: Amazon.
Amazon often receives plaudits for voluntarily collecting sales tax in all 45 states that have one. But such praise ignores Amazon's scofflaw history. "Amazon was the first major American company that built its business based on tax avoidance," said Oren Teicher, CEO of the American Booksellers Association, referring to the company's continuous resistance to collecting sales taxes. Contrary to popular belief, the company is still resisting today.
---
Jeff Bezos notes that third-party sales represent
more than half

of the total units sold on Amazon.
---
While Amazon gathers sales taxes on products it manufactures and sells directly, it doesn't collect on behalf of third-party businesses that use its marketplace. (Technically, online shoppers are supposed to report untaxed items and pay the taxes; in reality, nobody does.) This may sound like a minor point, but in his annual letter to investors, CEO Jeff Bezos notes that third-party sales represent more than half of the total units sold on Amazon.
Amazon offers essentially no tax assistance to third-party sellers, save for a couple of dry documents on its website. Third-party Amazon merchants can theoretically sign up for tax calculation services, but they must still register with states and file taxes on their own, in potentially thousands of jurisdictions. When states tried to get third-party sellers to collect, Amazon didn't want any involvement with the effort and refused to publicize it.
The American Booksellers Association recently described the Amazon marketplace as the "Wild West." Third-party sales on the website doubled in volume from 2014 to 2016. The marketplace puts legitimate, authorized re-sellers and brick-and-mortar retailers alongside counterfeiters, scavengers who re-sell liquidated inventory, and Chinese and Indian importers. It's nearly impossible for consumers to tell the difference. Thin profit margins and cutthroat practices pit sellers against each other; a merchant who decides to collect sales taxes will lose out to tax-avoiding rivals.
With Amazon reluctant to police its marketplace, such tax avoidance is rampant. A 2017 Government Accountability Office report estimated that third-party sellers collect tax on only 14 to 33 percent of all sales. Sellers have basically followed Amazon's tax-avoidance path, determined to run afoul of the law.
---
There's a simple fix to all of this, says the Board of Equalization's Fiona Ma: 'Whoever's collecting the money should collect the sales tax.'
---
The big winner in all this is Amazon, which reaps large fees from third parties for access to its platform. Amazon typically takes 15 percent of gross third-party sales and sometimes as much as 20 percent, with fees on top of that for handling and shipping through the "Fulfillment by Amazon" network. This revenue pot has grown from $16 billion to $31 billion in just two years, according to Amazon's financial disclosures. It's highly likely that Amazon clears more profit than marketplace sellers on their transactions. So Amazon, by proxy, benefits financially from third-party tax avoidance, and the pricing advantage it provides. And, by not collecting tax, Amazon even avoids liability for mistakes made by third-party sellers that could trigger audits.
There's a simple fix to all of this, as Fiona Ma stated plainly to me: "Whoever's collecting the money should collect the sales tax."
Ma, who is likely to become California's next treasurer, spent years working on state tax issues as an Assemblywoman. In May 2016 she was serving on the Board of Equalization, which at the time oversaw state sales taxes. A Delaware business that used Fulfillment by Amazon (FBA) services told her it only learned it was responsible for sales tax collection after receiving a bill for three years of back taxes.
---
Amazon VP on the company's duty to collect sales taxes:  'Well, if the state of California forces us to, I guess we can.'
---
"I found out that third-party sellers don't actually know they should be collecting and remitting taxes to California," Ma said. And while researching the matter, she learned that through its website and FBA, Amazon handled storage, packaging, payment processing, logistics, delivery, customer service and returns. That Amazon wouldn't also collect the sales tax seemed odd.
In January 2017, Ma flew to Seattle to meet with Kurt Lamp, Amazon's Vice President of State Tax and Tax Operations. She began by asking Lamp how third-party sellers were supposed to know about sales tax collection. "He said they sign an agreement and there's a website," she recalled. "I said, 'Are you sure everyone's doing this?' He said, 'We don't know — we tell them to go to the website.'"
Ma found Amazon's reticence alarming. "I said come on guys, that's ridiculous, why can't you collect the sales tax? You're dealing with everything on the customer level. He said, 'Well, if the state of California forces us to, I guess we can.'"
---
Some state officials put the annual amount of revenue lost to uncollected third-party sales taxes at $1.8 billion.
---
Two months later, a report from a news publication, The Capitol Forum, estimated that California loses $431 million a year on third-party seller tax avoidance. Other state officials have put the number even higher: $1.8 billion in lost revenue every year. Ma couldn't believe that Amazon's attitude was essentially, Who cares?
Last August, Ma wrote to state Cabinet Secretary Keely Bosler, asking that Governor Jerry Brown demand Amazon collect sales tax on all orders within the state, requiring California to audit only one company, Amazon, instead of thousands of third-party sellers. This would also pull in millions of transactions that wouldn't otherwise be captured; just 20,000 third-party sellers generated over $1,000,000 in revenue last year, according to Amazon, and most states wouldn't audit businesses smaller than that. Plus, taxing all sales would create more equal treatment between Amazon and the state's local businesses, which create far more jobs and property taxes than Amazon's handful of warehouses.
Other states have gone this route. In Washington and Pennsylvania, Amazon and other platforms are responsible for collecting all relevant taxes on third-party sales. A similar law in Minnesota kicked in July 1, after the Supreme Court decision.
---
Why has California been reluctant to force Amazon's hand? "Number one," says Fiona Ma, "the governor's office has been trying to woo Amazon into putting a headquarters here."
---
Tellingly, Amazon does not charge sellers anything for this service in Washington and Pennsylvania. The tax itself is just a pass-through to customers, and since Amazon already collects on its own purchases, collecting for third parties represents merely flipping a switch. "They have all the infrastructure, it can't be very difficult to do," said Darien Shanske, a law professor with the University of California, Davis.
Amazon has argued that the company is prevented from collecting on behalf of third parties unless states pass marketplace laws like Washington's or Pennsylvania's.
But California has not taken Ma's advice and forced Amazon's hand. In fact, over the past year the state has become more aggressive against third-party sellers.
Last July responsibility for sales tax oversight shifted to the California Department of Tax and Fee Administration (CDTFA). That department has been threatening third-party sellers with fines and even prison time if they didn't start collecting sales tax. "Operating unlawfully you can be prosecuted," reads one email to an Amazon seller, who asked that his name be withheld. The back taxes demanded would bankrupt his business, the seller claimed. "The whole thing is taking a really hard toll on me," he said. "It's stressful, I wake up in the night, I cannot get back to sleep."
CDTFA spokesperson Paul Cambra would not tell Capital & Main how many threats like this have gone out, but the Sacramento Bee put the total at 2,500. Cambra admitted that the agency has not referred any Amazon sellers for criminal prosecution. But several posters on Amazon-seller message boards have complained and posted communications from the state. This January, the CDTFA sent letters to third-party sellers, citing sections of the state tax code to prove that they were liable for collection. A header in the letter, from November 2017, reads "Amazon Fulfillment Services, Inc. and Affiliates."
---
Amazon has willingly handed over third-party seller data to states like Rhode Island and Massachusetts — helping them target its own marketplace partners.
---
Paul Rafelson, an attorney for third-party sellers, believes this indicates that Amazon drafted or supplied content for the letter. Cambra responded that the letter "was authored by CDTFA staff members" and "at no point was this letter reviewed or edited by outside individuals or entities." That doesn't totally answer whether Amazon had initial involvement in the drafting. Cambra added that the header "was inadvertently left from a previous document." CDTFA denied a Freedom of Information Act request to obtain communications between its office and Amazon, terming it "confidential taxpayer information."
Amazon spokeswoman Jill Kerr also said that the company "had nothing to do with that communication. Amazon did not play any role in that."
In March Rafelson started the Online Merchants Guild, an association advocating for e-commerce sellers. He argues that registering with states and remitting dozens of income tax returns overly burdens small businesses, and that having Amazon collect is the simplest remedy. But he hasn't had much luck convincing state officials. "When I go to a state like Massachusetts, Illinois, New York and say, 'You can get Amazon to collect,' they're fighting me like I'm the problem," he said. "Nobody wants to tick off Amazon."
Amazon has even willingly handed over third-party seller data to states like Rhode Island and Massachusetts, helping them target its own marketplace partners. "It's striking to me as a citizen that your state's tax enforcement resources would be deployed [to] going after small fry instead of doing the obvious thing of getting Amazon to collect sales tax," said Stacy Mitchell of the Institute for Local Self-Reliance, a frequent Amazon critic.
Ma finds the aggressive enforcement of small sellers, when Amazon controls practically every aspect of the transactions, to be unconscionable. But why has California been so reluctant to force Amazon's hand? "Number one," Ma explained, "the governor's office has been trying to woo Amazon into putting a headquarters here. I've been pushing and they haven't wanted to do anything up front." Indeed, Los Angeles is on the shortlist for the massive HQ2 project.
California's legislature must author a solution, after the Supreme Court ruling, if the state intends to collect online sales taxes. But Ma wonders whether it will melt under pressure as well. "Republicans are not going to want to do it, and Democrats would have to go against Amazon," she said. "No one wants to do anything in an election year to stick their neck out."
A spokesperson for Senate President pro Tem Toni Atkins said her chamber was "looking into next steps" on the issue. Assembly Speaker Anthony Rendon's office didn't respond to requests for comment.
This dynamic of apparent subservience to Amazon has played out throughout the country. When Amazon first agreed to collect sales tax, it cut deals with states to delay collection or forgive back taxes, dangling warehouses and jobs as incentives. Mississippi's Department of Revenue admitted to a local TV news station last year that its agreement with Amazon to collect sales tax didn't cover "any sales made by an independent third-party seller, even though made through the Amazon marketplace." That enabled one Mississippian, Keith Bennett, to buy a laptop, mouse and bag worth several hundred dollars off Amazon and pay only $1.87 in sales tax; the computer sale went through a third-party business that literally named itself "Buy Tax Free."
---
Sellers have been the foot soldiers for Amazon in avoiding sales taxes for years. Now Amazon has abandoned them to fend for themselves against aggressive state governments.
---
Backroom deals are bound to occur when a giant company with armies of lobbyists intimidates states from implementing simple solutions. Rafelson, the attorney for third-party sellers, called their plight ridiculous. "It's like saying if you go to a Walmart in Georgia and buy a Coke, it's not Walmart's responsibility to collect the sales tax, it's Coke's!"
That's not to say sellers are blameless. Many willingly followed Amazon's model of avoiding sales tax to gain pricing advantage over rivals. "Sellers have been the foot soldiers for Amazon on this issue for years and years," said Stacy Mitchell. Now Amazon has effectively abandoned them to fend for themselves against aggressive state governments. "If you sleep with thieves, they may well steal from you," Mitchell said.
Only one state, South Carolina, has argued that existing law requires Amazon to collect sales taxes. The state filed a motion in state court, seeking as much as $500 million in uncollected taxes. Amazon is challenging the case, and a hearing is scheduled for November. "Under South Carolina law third parties are not considered sellers but suppliers or consignors; Amazon is the seller," said Bonnie Swingle, public information director for the South Carolina Department of Revenue.
If South Carolina prevails, other states could potentially seek back taxes from Amazon, creating significant monetary risk, as Amazon has acknowledged in financial disclosures. But states focusing on third parties would relinquish a small fortune, while allowing Amazon to continue to undercut competitors.
Ma has devised an alternative strategy. She's working with a number of attorneys, including Rafelson, who are considering filing a lawsuit against Amazon on behalf of third-party sellers. But the Supreme Court heard arguments that third-party sellers would suffer from the compliance burden, and dismissed them. Justice Elena Kagan suggested sales tax collection "would be essentially taken over by companies like Amazon… they would do it for all the retailers on their system." Somebody might want to inform Amazon.
---
Copyright Capital & Main