Promise Breakers: How Pew Trusts Is Helping to Gut Public Employee Pensions
Illustration: Lalo Alcaraz
When Kentucky's legislature adopted a bill intended to transform the Bluegrass State's troubled pension system last spring, state officials were ecstatic. Signing the bill into law on April 4, Democratic governor Steve Beshear hailed it as groundbreaking legislation that would "solve the most pressing financial problem facing our state – our monstrous unfunded pension liability and the financial instability of our pension fund."
Not everyone was convinced.
Critics, who include pension-fund experts, lawmakers and AARP Kentucky, claim the new law will hurt workers, taxpayers and retirees. What's more, they say the law was largely crafted behind the scenes by an unusual alliance between two out-of-state organizations: the Pew Center on the States and the Laura and John Arnold Foundation. Some detractors go further and assert that the Arnold Foundation is using Pew's sterling reputation for academic integrity as a fig leaf to hide its own free-market agenda.
According to its website, the Center on the States focuses on policy initiatives that include early education, prison sentencing and corrections, and the electoral process. The center is one of seven arms of the influential Pew Charitable Trusts, which is headquartered Philadelphia, Pennsylvania, with offices in Washington, D.C. The Houston-based Laura and John Arnold Foundation is in the vanguard of nationwide efforts to limit pensions for state and municipal workers; it was founded by billionaire John Arnold, a onetime Enron trader who later made his fortune as a hedge-fund manager.
"We want to bring to your attention . . . the deceptive work that the Pew Center on the States is engaged in across the country in order to promote their cash balance overhaul policy," a group of 10 Kentucky state senators and representatives cautioned in an open letter to legislators in other states. The letter warned lawmakers "about the ramifications of letting Pew into your state," as well as "its unholy alliance with the Arnold Foundation."
Critics of that alliance charge that Pew and Arnold share a mission for giving an academic veneer to a partisan belief that the nation's massive public employee pension funds should be invested directly in costly "cash balance" plans rather than be professionally managed as traditional defined benefit plans by the public agencies that currently administer them.
Jordan Marks, executive director of the Washington, D.C.-based National Public Pension Coalition, says that the cash-balance plans promoted by Pew could dramatically reduce the pensions of workers. Under such plans, Marks says, employee pensions would be based on an average of all years of an employee's service, instead of the highest three to five years of earnings – which is currently the norm. Moreover, in Kentucky new workers covered under the plan would be guaranteed only a modest four percent rate of return on investments. "It's an extraordinary loss for middle class workers," Marks says.
Pew may be mostly known for its financial support of PBS programs, which has given the foundation the kind of publicity that reflects the self-described "non-partisan and non-ideological" nature of Pew's work.
Yet Pew has become a key player in one of America's most partisan issues as cities and states tackle the complex problems involving public worker pensions. Pension reformers present their cause as a bipartisan good-government crusade, but a visitor landing on the website of nearly any one of this movement's myriad organizations quickly falls down a rabbit hole of interlocking conservative organizations — whose unifying theme seems to be reflexive hostility toward workplace protections and the union contracts that guarantee them.
As a battle cry, "pension reform" has joined the ranks of "paycheck protection" (see 2012's Proposition 32 in California) and "educational choice" (i.e., national parent-trigger laws). All three movements aim to seriously weaken organized labor and the benefits it has won for all employees. And, as the economy stumbles along in the wake of the 2009 recession, activists from these causes have exploited fears of diminished state and municipal coffers to create a climate of crisis in which their various "reforms" are presented as painful but necessary solutions.
Earlier this month Pew senior researcher David Draine spoke in Florida before the Jacksonville Retirement Task Force and offered his organization's help in dealing with that city's public employee retirement plan.
Draine, the lead researcher on several studies looking at state-run public employee retirement systems, strongly defends Pew's involvement with states and municipalities that are confronting pension issues, on the grounds that Pew is serving the public interest. He also justifies Pew's partnership with the Arnold Foundation.
"While pension reform is arguably one of the most daunting financial problems facing states and cities today, we do not have a one-size-fits-all solution," Draine wrote Frying Pan News in an email.  "Every city and state has a unique set of policy preferences and budgetary challenges; what is critical to achieving lasting reform is an open, inclusive, data-driven process."
He added:
"Pew has partnered with the Laura and John Arnold Foundation to help states and municipalities face their growing pension liabilities and continuing funding challenges. In some states, if changes are not made every retiree, worker and taxpayer will be burdened with rising costs and unpaid promises for years to come. Our partnership supports efforts to pursue data-driven reform of pension systems that will be fair, affordable, and fiscally sustainable."
While few budget experts would deny there are problems with funding public employee pensions, there is nothing resembling a consensus that supports the solutions proposed by Pew and the Arnold Foundation – whose warnings of imminent pension bankruptcy complement similar apocalyptic scenarios sketched by conservatives about Social Security's future.
Marks says that the Pew-Arnold axis threatens Pew's longstanding reputation for non-ideological work in the public sphere.  "The Arnold Foundation is using Pew's brand to take on retirement security," he says.
And the head of the largest trade association for public sector plans finds serious flaws in Pew's figures. Hank Kim, executive director and counsel of the National Conference on Public Employee Retirement Systems, says that "generally our position is that we are very disappointed in Pew. Since 2010, we've expressed to Pew that its methodology for reports is flawed. Their reports incite fear."
Kim says that the cash balance plans being pushed are complex and somewhat hard to understand, but that they will cost states more to administer and provide employees with lesser pensions than defined benefit plans. He sees the former as opening the door for 401(k) plans, which are known as "defined contribution plans" and not to be confused with the current defined benefit plans.
"Pew and Arnold will not be satisfied with cash balance plans," he says. "That's the first step toward defined contribution plans."
With its $5.6 billion endowment, the Pew Charitable Trusts ranks number 19 on a list of the world's wealthiest charitable foundations. Originally called the Pew Memorial Trust, the foundation was created in 1948 by the heirs to the Joseph N. Pew Sun Oil fortune and hewed far more closely to the family's conservative, small-government political beliefs.
Pew first thrust itself into the national debate on public sector pensions when its Center on the States released a headline-grabbing 2010 study claiming that the combined pension shortfall for all the states was a staggering $1 trillion.
"It's an eye-popping number," Kim says of Pew's claim. "But that trillion dollar deficit covers both pension and health care costs, and health care costs are at least 60 percent of that figure."
Whether the report reflected actual history or hyperbole, it launched Pew into the public-sector fixit business in a big way.
To date, Pew has partnered with the Arnold Foundation in Illinois, Montana, Kentucky and Rhode Island, wading in with actuarial studies and polling data to prod municipal and state lawmakers into incorporating Pew-authored restructuring plans.
In the case of Kentucky, Pew's efforts resulted in bill language calling for a so-called "hybrid plan design" employing costly 401(k)-styled cash balance accounts that would be substantially more expensive for new workers than the state's existing defined benefit plans.
Pew's promotion of technocratic-sounding solutions to pension shortfalls, especially its mantra about "data-driven" problem-solving, lends its white papers the texture of dispassionate scholarship. Its partnership with the Arnold Foundation, however, has created intense controversy and provided ammunition to its critics.
Jim Wayne (D-Louisville), who has been a member of the Kentucky House of Representatives since 1991, says that Pew played a crucial role throughout the legislative process.
"They had a tremendous influence," says Wayne. "The parties interested in change needed to rely on an outside source. Pew drew up the proposal, they did the analysis and presented the information to a [legislative] task force."
Wayne says that Pew generally pushed the positions favored by his state's Chamber of Commerce and League of Cities, working both behind the scenes and publicly.
"Pew gave them credibility," Wayne says of these two groups. "Pew is recognized nationally as experts, with facts and figures." As a result of Pew's work, Wayne adds, "new workers have a much weaker pension program."
If Pew embodies the image of an objective social scientist, the Laura and John Arnold Foundation has unambiguously embraced the role of partisan pit-bull in its nationwide efforts to curtail public worker pensions. The latter's website identifies pension reform as one of its key initiatives and provides position papers supporting its stances — papers that frequently cite Pew studies.
Last year in California, the Arnold Foundation contributed to anti-worker pension measures passed by voters in San Jose and San Diego. Two years ago, the Center for Investigative Reporting disclosed that the Arnold Foundation had given a $150,000 grant to the conservative California Foundation for Fiscal Responsibility for a series of reports seeking to limit public employee pensions.
The Arnold Foundation's 2011 tax return, a public record, vividly reveals an ideological agenda in its contributions made to organizations around the country "to research and promote education on public retirement plans." The recipients of Arnold's largess have included the James Madison Institute, based in Tallahassee ($265,000); the Kansas Policy Institute, based in Wichita ($10,000); the Manhattan Institute for Policy Research (MIPR), based in New York City ($15,612), and the Thomas B. Fordham Institute, headquartered in Washington, D.C. ($52,500).
The first two groups present themselves as free-market, pro-privatization think tanks, while MIPR, a right-wing nonprofit founded by the late Cold Warrior and Reagan CIA chief William J. Casey, has called for the complete elimination of public-sector defined benefit pension plans. The Fordham Institute is a right-wing education think tank whose agenda has recently broadened to include studies that scapegoat public teacher pensions for diverting precious public education money away from the classroom.
Pew's relationship with Arnold began only recently, when the two groups joined forces to aid in furthering each other's reach. Josh McGee, a vice president at the Arnold Foundation and Draine, the Pew Center's lead pension researcher, have appeared together at informal meetings and before state legislatures and city councils around the country. McGee and Draine typically turn up with studies and PowerPoint presentations that support scrapping defined benefit pensions in favor of 401(k)-styled contribution plans, cash-balance accounts or hybrid plans.
"The fact is that they [Pew] go into states arguing they are non-partisan and then proceed to make recommendations and undermine and dismantle [public employee] pension plans," says Hank Kim. "They have a bias — that bias is that public plans ought to be closed or frozen."
Pew has called for transparency in other groups that conduct public surveys and the Arnold Foundation boasts about its research transparency. Yet both have given vague answers to specific questions about whether the Laura and John Arnold foundation has given financial support to Pew relating to work on public employee pensions.
The collaboration between the two organizations, says Jordan Marks, could ultimately undermine Pew's reputation for good works and non-ideologically driven research.
"If Pew had its way," Marks says, "it would retire teachers and firefighters and others into poverty."
(Frying Pan News reporter Bill Raden contributed to this story.)
Adelanto Report Card: Year Zero of the Parent Trigger Revolution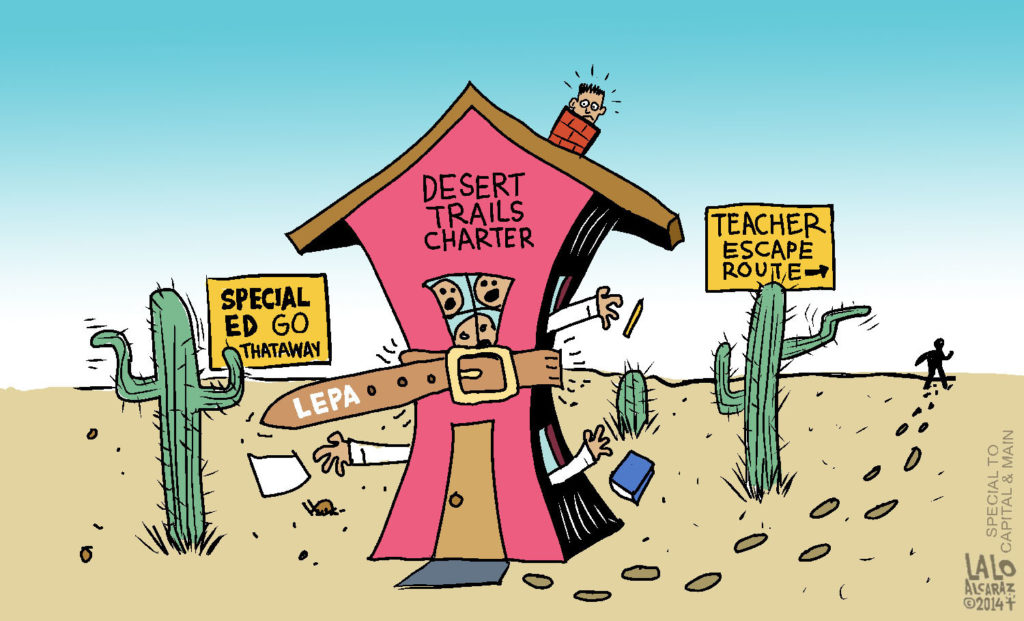 Illustration by Lalo Alcaraz
Throughout 2011 and 2012, the eyes of the education world were focused on Adelanto, a small, working class town in California's High Desert. A war had broken out there over the future of the K-6 Desert Trails Elementary School and its 660 low-income Latino and African-American students. When the dust settled, Desert Trails Elementary was gone. In its place was a bitterly divided community and the Desert Trails Preparatory Academy, the first (and so far, only) school in California and the U.S. to be fully chartered under a Parent Trigger law, which allows a simple majority of a school's parents to wrest control of a low-performing school from a public school district, and transform it into a charter school.
Tiny Adelanto's turmoil reflects a much larger battle now being fought across America between defenders of traditional public education and a self-described reform movement whose partisans often favor the privatization and deregulation of education. At least 25 states have considered parent trigger legislation and seven of them have enacted some version of the law, including Connecticut, Indiana, Louisiana, Mississippi, Ohio and Texas. Though funded by tax dollars, the trigger charter is private, meaning it is not bound by many of the rules and much of the governing oversight or transparency of a traditional public school.
At the end of Desert Trail's inaugural, 2013-14 school year, a group of eight former Desert Trails teachers hand-delivered a 15-page complaint to the Adelanto Elementary School District (AESD), charging Desert Trails with an array of improprieties and its executive director, Debra Tarver, with unprofessional and sometimes unethical conduct.
Among the most serious accusations are charges that administrative chaos at Desert Trails has resulted in both a stampede of exiting teachers and staff; that uncredentialed instructors have taught in its classrooms; and that Desert Trails had an unwritten policy of dissuading parents of students with special learning needs from seeking special education. The teachers also allege that they had to endure a bullying regime in which, they say, they were continually screamed at, spied on, lied to and humiliated in front of parents and their peers by Tarver and her deputies. Capital & Main spoke with the teachers, four of whom agreed to go on the record for this story. ("The High Desert is a small place and Debbie Tarver has a long reach," said one teacher who requested anonymity.)
"Not only was it dysfunctional and unprofessional," says second grade teacher Renee Salazar, a five-year veteran of Los Angeles' inner-city public schools, "it was law-breakingly unprofessional."
The teachers interviewed for this story, who were paid about $3,300 a month, claim the school's extreme miserliness shortchanged teachers and students on basic classroom tools. Over the first year, they said they each spent up to a full month's salary, and in some cases more, on unreimbursed, out-of-pocket expenses.
"At the start of the year," recalled kindergarten teacher Bertha Miramontes, "I ended up spending $1,000 because the décor in my classroom, [Tarver] said, was not good enough. I would spend anywhere between $200 to $300 per month to get supplies — writing paper, pencils, construction paper, tissues for my kids' noses, hand sanitizer, crayons."
These teachers also say that Tarver, who as executive director of a charter school is paid a salary commensurate to that of a San Bernardino county school district superintendent by both Desert Trails and LaVerne Elementary Preparatory Academy — a combined annual salary of around $200,000 — ordered the student water fountains shut off for the duration of the bitterly cold High Desert winter, rather than pay for overnight heat to prevent the pipes from freezing.
When contacted by Capital & Main, Tarver dismissed the allegations of cheapness, along with the other former teachers' charges, with which she said she was already familiar, as the sour grapes of "a couple of teachers who have been disgruntled," though she admitted that Desert Trails' budget was stretched thin.
"Last year was the first year of a school start-up. You don't get all your funding right away," she explained. "[But] every teacher was provided curriculum and everything they needed to operate a classroom. As a matter of fact, they had more than what my teachers had when we started at my other school."
That other school is LaVerne Elementary Preparatory Academy (LEPA) in nearby Hesperia, where Tarver also serves as executive director. It was LaVerne's impressive record at posting high assessment scores and its "old-school" model of a well-rounded, classical education that put Tarver's Adelanto charter application at the head of the shortlist compiled by the Desert Trails Parents Union (the name of the Adelanto Trigger faction) and its sponsor, the Gates Foundation- and Walton Family Foundation-backed Parent Revolution.
Charter school critics, however, charge that such schools often raise their test scores by winnowing out special-needs students. Federal law requires all taxpayer-supported schools to admit students with disabilities. Schools are required to carry out an individualized education plan (IEP) for each disabled student, which could include extra tutoring or a placement in a smaller — and costlier — specialized classroom. Desert Trails' charter application promised to accommodate the elementary school's estimated 90 special education students by hiring "a Special Education Coordinator, three full-time special education teachers and five instructional aides." In its first year, however, the Desert Trails Special Ed program consisted of a single teacher, Special Education Coordinator Tina Fryberger, and a sole classroom aide.
"We weren't allowed to talk about special education to anyone," third grade teacher Nani Colmer asserted and claimed she taught kids who needed special ed. "I had students that I really wanted to have a shot at some sort of academic success, and they could not get it in my classroom. I wasn't allowed to talk about special ed except to say, 'Go see Debbie Tarver.'"
"She told us, 'Do not tell your parents that there's any special education testing or assessments available,'" echoed Renee Salazar. "'Do not even talk about special education or testing for any of your scholars. If that ever arises, send them to the office, I will talk to them.'"
Tarver denied this. "Everything is done legally and accordingly as special ed is supposed to operate. The teachers are responsible for following a child's IEP if the child has an IEP. A teacher, and that's anywhere, cannot diagnose if a child has a disability unless that child has been tested."
Miramontes said she was told by one parent that Desert Trails staff advised her that her bipolar-diagnosed and severely ADHD, five-year-old twin "would be better served elsewhere." Miramontes described the kindergartener as prone to extreme rages that included punching, biting, throwing classroom furniture and, on one occasion, trying to scale the playground fence and run away. Eventually he was put in Fryberger's Special Ed classroom, from where he was then "mainstreamed" into Miramontes' class for an hour each day during lunch. But the violent tantrums continued and began to trigger outbursts in the child's twin sister, who was one of Miramontes' regular students.
"The [children's] mom would come in my class," recounted Miramontes, "and she would say, 'This is what I deal with every day at home.' She was like, 'I need help. I'm asking for help from this school and they're not helping me. I don't know what to do.'"
According to Miramontes, things came to a head when, during one of the rages, the five-year-old struck school registrar Janice Dominguez. Miramontes never saw the child again but says that she was later told by the disbelieving mother that Desert Trails' behavior specialist, Anthonie Etienne, requested that she remove her son from the school. When the mother repeatedly asked if the boy was being suspended, she said that Etienne would only reply, "No, he's not being suspended. He just can't come back to school." Etienne has since left Desert Trails and was unavailable for comment.
However, Fryberger confirmed to Capital & Main the outline of Miramontes' account, but both she and Tarver adamantly denied that the child — or any children — were requested to leave Desert Trails last year.
"That's false," Fryberger countered. "Upon discussion with the parents and staff members, [the] mom was in agreement that [her son] would need a more suitable environment to meet his needs. So this was not our decision as far as telling him that he wasn't welcome or anything. This was a decision that mom thought was best for her kid."
The teachers say that the parents of at least two other students were also persuaded that their children would be better served elsewhere.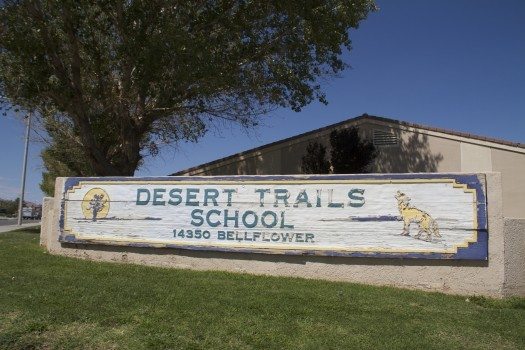 The most telling outward sign that all was not right at Desert Trails, however, may be its startling turnover in administration and teaching staff. During its first year, teachers say, the charter lost a principal (Don Wilkinson) and a director (Ron Griffin) — both before the Christmas break — its vice principal, six classroom teachers and its behavioral specialist. In addition, only nine of Desert Trails' first-year teacher roster — or 33 percent — are returnees this year. Desert Trails' charter promises "less than five percent annual employee turnover." And, teachers say, Desert Trails seems to be running true to form for the 2014-15 year, with four teachers jumping ship as of this writing — including two from the kindergarten level.
Tarver, who refused to discuss administration turnover, claimed the school's overall staff retention, which includes uncredentialed classroom aides and office workers, was 92 percent. She attributed teacher turnover to the recovering economy.
"You have over 10,000 [education] jobs that opened up in the state of California," she insisted, "whereas a lot of schools — not just mine, but many schools — have had a turnover because people wanted to move closer to their home base. . . . That has been the case in every school district, not only in the High Desert but all over California."
At Desert Trail's somewhat smaller but demographic twin, Adelanto Elementary School, 16 out of 21 teachers managed to find their way back this year, making for a roughly 76 percent teacher retention rate during the period of economic recovery.
The former Desert Trails teachers characterize the abundance of public school teaching jobs not as their reason for leaving Desert Trails, but as a means of escaping what they say became an increasingly unbearable and capriciously erratic place to teach.
"We were always getting conflicting information from our superiors," Salazar said.  "I was told by multiple different supervisors what things were okay to do. Second grade was told, 'Do not use Treasures,' which is the core reading curriculum. It includes phonics, spelling, grammar, writing, components of social studies, science and all of your reading and reading comprehension strategies. So for months at a time, we improvised; we used other support material, we tried to hit every standard to the best possible way that we could without using that curriculum. And two months later, Debra Tarver comes in and says, 'Oh my god, why aren't you using Treasures?"
"We were all getting really stressed out," confirmed third grade teacher Rachel Garvin Villarreal. "There were so many mixed messages from the different parts of administration, and having so much changeover in administration, you never quite knew who your boss was, and you didn't get the guidance that you wanted."
"They just told lies to cover themselves over and over and over again, and they contradicted themselves left and right," said Nani Colmer. "So many things were done in defense of things that they did in the past, and then we paid the price for it."
One of those lies appears to involve teacher credentialing.
The state's education code is explicit on credentials.  Section 47605(l) requires that "Teachers in charter schools shall hold a Commission on Teacher Credentialing certificate, permit, or other document equivalent to that which a teacher in other public schools would be required to hold."
However, the online database of the state's Commission on Teaching Credentialing (CTC), indicates that for 2013-14 Desert Trails kindergarten teacher Elfie Landa didn't receive a preliminary Multiple Subject credential until July 24 of this year. (Landa left Desert Trails during the current term.) And the database turns up only an emergency, 30-Day Substitute Teaching Permit (issued March 21, 2014) for Honey Welker, a third grade level teaching lead last year, who took over Colmer's third grade classroom mid-year.
Tarver refused to confirm or deny that she used uncredentialed teachers in the classroom last year, and instead insisted repeatedly that Desert Trails passed a credentialing audit conducted by the Adelanto Elementary School District last April.
Then there is the matter of the composition of Desert Trails' five-member board of trustees.
As with the publicly elected school board of a traditional school district, which sets the policies that the superintendent must then carry out, the independence of a charter school's board is a critical check and balance —a guarantee that the voice of parents will be heard and respected by the school administration.
The school's former teachers who publicly question the Desert Trails board's autonomy said they were long suspicious of the secrecy that seemed to surround it, noting that, unlike most charters, neither its composition nor its meeting minutes could be found anywhere on the school's website.
When asked by Capital & Main, Tarver volunteered the board members' names, adding that the membership was on record at AESD. She also added an unequivocal denial when asked about teacher suspicions that its members were employed by either Desert Trails or LEPA, which Tarver also runs.
However, not only is board member Latrice Brown listed on LEPA's own website staff roster as a "parent liaison," but an online search of LEPA's federal 2012 IRS Form 990 tax return revealed that two Desert Trails board members are listed as LEPA company officers — Marnella Mayberry as president and Ruby Ford (who also works as a tutor at both schools) as vice president.
Also Read: High Noon for Parent Trigger?
What mostly angered the ex-Desert Trails teachers, however, was what they characterized as the cumulative betrayal of the education promised to the parents and children of Adelanto.
Renee Salazar said she was drawn to Desert Trails by Tarver's sales pitch about unlimited resources and classroom freedom, and the opportunity to innovate curriculum.
"For a while, at least, we had that," Salazar said. "But all that changed after the winter break when the school began ramping up for the spring assessment testing. We had a director that was telling us, 'You can create your own curriculum.' We were told there wasn't going to be a test-prep focus. But from February on, there was."
Salazar said the pressure fell heaviest on the second grade, which the administration considered the "giveaway year" — the grade that could usually be relied on to bring in a high score and help raise the school's overall Academic Performance Index. The second grade class of 2013-14, however, was measuring as low as kindergarten level for math and language arts.
"We were told, 'You have to get their test scores up,' Salazar remembers. "Our vice principal was told, 'If their test scores don't come up, you won't have a job.' So they sat all of second grade down and said, 'You're no longer allowed to teach writing, you're no longer allowed to teach social studies, science — anything else. No P.E. You're only to [teach] language arts and math. This is the schedule that you're to do it on, these are the only materials that you're allowed to use, this is how you're to do it.'"
One thing on which the two sides do agree is that Desert Trails did post test-score gains.
"We had 47 percent of our scholars who [rated] proficient and advanced," Tarver said of the California Standards Test results for 5th grade science, "and we only had a 15 percent rate of those that were below and far below [state standards], which is a huge difference from the 30 to 40 percent that school had for the past 10 years."
More comprehensive, schoolwide scores, she said, wouldn't be released by the school for another month.
For the ex-teachers, it is a tarnished achievement that came at the terrible price of shattered morale and the stability and consistency that underpin a quality education.
"It wasn't the holistic, well-rounded education that they were promised," Salazar asserted. And [teachers leaving] is difficult. It's hard on the scholars and it's hard on their families."
At least one parent who spoke to Capital & Main on the condition of anonymity agreed.
"I don't know what's going on," this parent said. "I feel like so many teachers have left. There's been, like three principals that left, and every time you ask somebody about it, they just make it seem like it's no big deal. But when kids are in school, consistency is important."
"When teachers are able to stay multiple years," Rachel Garvin Villarreal noted, "they become part of that community and make an even stronger, healthy school culture that over time grows. . . . And even though we had invested so much, I guarantee you, we would have invested so much more."
"We're not trying to get even," Miramontes said of the teachers' complaint. "We just really care about those kids and just want the best for them. I mean, they don't even have soap and paper towels in the bathroom! Kids deserve better than that."
---
Photos and video by Shireen Alihaji.