Parthenia Dunbar, 60, stands in front of her apartment near downtown Erie. Parthenia worked as a nurse for almost two decades before she was diagnosed with epilepsy. She says she fears she might be pushed out of her building if the new landlord raises rents beyond what she can afford.
Erie, Pennsylvania, once a thriving manufacturing center, has suffered from decades of job loss due to deindustrialization. Its largest employer is now Erie Insurance.

Herbert Simmers, a crane operator for Liberty Iron & Metal, in a Save A Lot parking lot after he had purchased some Tater Tots for dinner.
Local 506 of the United Electrical, Radio and Machine Workers of America, a union that represents 1,700 workers at Wabtec, a manufacturer of locomotives.
Janet and Mike Moske have lunch at Dabrowski's Restaurant & Deli in the Lawrence Park Township of Erie County. Mike, 68, is a retired third-generation pipefitter.
Senator Bob Casey of Pennsylvania speaks to a local news station after giving a speech to the Erie County Democratic Party in Little Italy.

A little boy dances in front of his home in the John E. Horan Garden Apartments, a public housing unit in Erie, while Sydney Zimmerman (back left) of Erie County United speaks to his mom, Taniesha Jones (right).
Sidney Zimmermann, 26, is a paid canvasser for Erie County United, a two-year-old grassroots organization working to activate overlooked voters around local issues such as raising the state's minimum wage.
The Wabtec plant, formerly GE Transportation, in the Lawrence Park Township of Erie County, employed about 20,000 workers in the 1960s.
Jim Boehm, 60, is a truck driver who also has driven for Lyft. He travels with his cat in the cab of his truck. They stand in front of the mobile home where he rents a room for $100 per month.
Robert Glover in front of the home he shares with his five children and his brother, his brother's wife, and their children. Glover's family has been in Erie for seven generations. He and his children are moving to Ohio, where his girlfriend lives, to pursue better opportunities and safer neighborhoods.

The American Tinning and Galvanizing Company is one of several factories and businesses that line the 12th Street Corridor in the city of Erie.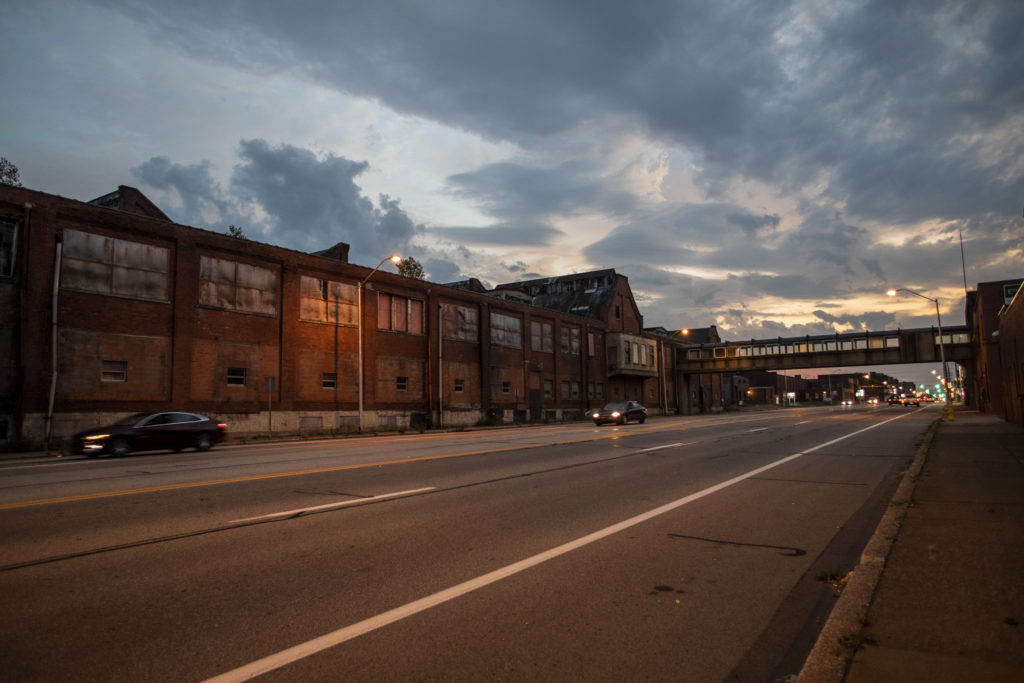 Factory buildings on 12th Street in the city of Erie.
Habib Aliyev, originally from Turkey, and his three-year-old daughter Salvi, feed seagulls by Lake Erie. As much as 18 percent of Erie city's population are refugees. Habib owns a trucking company and enjoys living in Erie.
Erie's bayfront and downtown are undergoing major redevelopment that is expected to include new offices, restaurants, retail and an expansion of the local hospital.