Port Truck Drivers Receive "Negative" Paychecks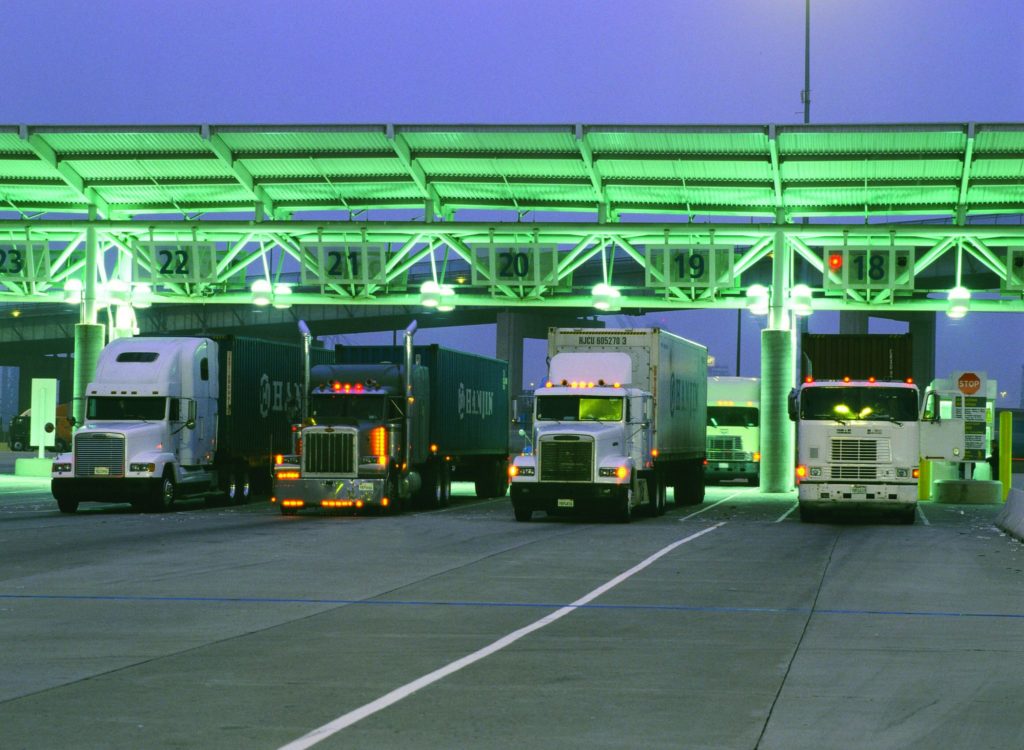 Photo courtesy of the Port of Long Beach
Over a span of 20 summer days truck driver Daniel Linares had moved some 110 cargo containers at the Ports of Los Angeles and Long Beach for Pacific 9, a drayage company based in Carson.
Linares' August 15, 2014 check showed his gross earnings to be $3191.87. But another line item on the check stub offered a nasty payday shock: By Pac 9's calculations Linares owed the company $296.47. In other words, he had received a "negative" paycheck.
Pac 9, a company whose "180-plus independent drivers" annually deliver more than 100,000 containers from Southern California's ports and whose "customer list includes many of the most recognizable Fortune 100 companies," according to the company website, had handed Linares the bill for the insurance, registration and other expenses incurred for the truck he leases from the company. He had already paid up-front for its fuel.
Linares would have found himself even further in the hole for that pay period had, say, his truck been sidelined by a flat tire or other breakdown — Pac 9 would not have paid for the time lost getting it back on the road or for the cost of repairs.
He is among the thousands of L.A.-area port truck drivers who face similar struggles. Truckers are classified by hauling companies as independent contractors, not as employees—a distinction that lets companies avoid responsibility for the wage and hour requirements afforded legally designated employees. (Pac 9 did not respond to Capital & Main's requests for comment for this story.)
The twin ports of L.A. and Long Beach receive some 43 percent of the nation's imports—Long Beach alone handles 19,000 containers each day and $100 billion worth of cargo annually.
But for goods-moving companies, truckers are the pressure point on the shipping supply chain. Drivers incur the cost of leasing a truck from a firm – and pick up the tab for gas, vehicle maintenance, registration, insurance and other costs.
Alex Paz was a driver with Total Transportation Systems Inc. (TTSI) until July when, he says, he was fired for testifying at a state labor commission hearing about drivers' conditions. He explains that truckers are paid by the individual haul and according to the distance driven.
"Every destination has a different rate," says Paz. "Customers usually won't pay waiting time after two hours. So if it's congested and you're waiting to get in there—say you're stuck at the terminal for six hours — you take that load to Carson and you end up making $50."
In addition, the bill for expenses—approximately $300 for insurance and registration– can add up to some $800 weekly, Paz says. "Good week, bad week, you don't work week—they still deduct the expenses."
TTSI did not respond to calls for comment.
The situation for L.A. truckers is typical of the national shipping industry. A 2014 study, Big Rig Overhaul, researched by the National Employment Law Project, Change to Win Strategic Organizing Center and the Los Angeles Alliance for a New Economy (which is Capital & Main's parent sponsor) shows that some 49,000 of the 75,000 haulers in the United States cope with the same conditions as Linares.
"In the case of port drayage drivers, companies have deducted millions of dollars of charges from workers' paychecks to pay for trucks that often remain in the company's name," the report says.
An Occidental College and USC report, Global Trade Impacts: Addressing the Health, Social and Environmental Consequences of Moving International Freight Through Our Communities, notes the global shipping system's dependence on contingent workers. These include port drivers "who have fewer benefits and far less job security, particularly those associated with the massive distribution centers that constitute a key part of the freight transportation system."
The California state labor commission (known as the Department of Industrial Relations) is presently investigating 300-plus allegations of wage theft related to misclassification.
This year L.A. Port drivers have engaged in a nervy series of actions to challenge their contractor designation. A 24-hour strike in April saw hundreds of drivers and their supporters slowing operations as picket lines spread out through terminals in L.A.'s vast port area.
On July 7, more than 120 drivers for three companies—Green Fleet Systems, Pacific 9 and TTSI – launched a five-day strike. The three companies are the focus of a unionizing drive organized by the International Brotherhood of Teamsters to raise standards throughout the industry. Green Fleet is presently fending off more than 50 union-busting charges lodged by the National Labor Relations Board.
Paz, who now drives for Toll Group, a unionized company, and who is active in the Teamsters, says the July strike was a turning point. "A lot of drivers told me—after 15, 20 years driving – 'I haven't seen anything like that.'"
Los Angeles Mayor Eric Garcetti, citing concerns about a costly port slowdown, stepped in July 12 to broker a truce of indeterminate length while tasking the Harbor Commission with investigating alleged unfair labor practices.
Drivers were to return to their shifts with no retaliation or pressure to sign away rights in future truck leasing contracts.
On September 3, however, TTSI fired 33 drivers, 29 of whom have pending claims with the California Division of Labor Standards Enforcement totaling approximately $4.8 million in back pay and damages. A news release issued by the 33 TTSI drivers said they were discharged for refusing to drop their claims. TTSI told the Long Beach Press-Telegram that the drivers had elected not to "renew" their contracts.
In a ruling issued the previous month, the Long Beach office of the state's labor commission had already determined that 14 TTSI truckers who had filed claims are employees, not contractors, and that the company owes them a total of $954,953 – approximately $68,211 each — for three years of illegal paycheck deductions, along with unpaid meal and rest breaks.
On September 9 port truckers went to the board of the Los Angeles City Employees' Retirement System to press it to examine its investments in TTSI. The city pension fund has approximately $8 million invested in Saybrook Capital LLC, a West Los Angeles firm that  has investments in TTSI. The board said it would address the issue next week.
"A lot of the drivers are already getting together," says trucker Paz. "It's gonna snowball into something big."
---
Also Read:
Daring to Dream: Portrait of a Port Driver
Recent Court Rulings Aid Port Truck Drivers
Port Truck Drivers Seek Millions in Owed Wages