Poll Shows Huge Support for Energy Efficiency, Good Jobs
RePower LA's proposal "appears to be one of those rare public policy ideas that generates not only broad, but enthusiastic support from the electorate. Voters appreciate that it not only creates needed jobs, opportunities with union benefits, but it does so while cleaning our air, reducing electricity bills for 10,000 homes and businesses a year, and lowering electricity generating costs for generations

IBEW Local 18 Utility Pre-Craft Trainees.

RePower LA's proposal "appears to be one of those rare public policy ideas that generates not only broad, but enthusiastic support from the electorate. Voters appreciate that it not only creates needed jobs, opportunities with union benefits, but it does so while cleaning our air, reducing electricity bills for 10,000 homes and businesses a year, and lowering electricity generating costs for generations to come."
Survey of L.A. City Voters, March 2012.
Momentum is building towards a real energy efficiency plan for the City of Los Angeles. For almost two years, RePower LA has been advocating for an energy efficiency program that meets the needs of Los Angeles – reducing pollution, lowering energy bills, supporting small businesses, reaching out to low-income residents and expanding job training programs that lead to the career-path jobs we need most in this economy.
Last month, the Board of the Los Angeles Department of Water and Power voted for a budget that would more than double spending on energy efficiency programs to $128 million a year and develop programs that help a broad array of customers, from low-income residents to small businesses to industrial and commercial customers. Now that plan has arrived at City Hall, along with a new poll showing massive public support for RePower LA's program.
Reducing smog and air pollution, "creating career-path job opportunities and helping people save money on electric bills each were deemed a high priority for the city by at least 80 percent of voters – ranking above even traffic congestion in importance.
The poll, conducted for the RePower LA Coalition by Goodwin Simon Strategic Research, shows that the support is unusually broad. "Support is strong across all the usual voter divides, including nearly three of four Republicans, 79 percent of white voters, 80 percent of those with a history of voting in municipal elections and 85 percent of homeowners," according to the poll summary.
Voters are also concerned with equity as well as the economic and environmental potential of the plan. Voters think that energy efficiency programs at LADWP for low-income customers and small businesses should be the highest priority. Two-thirds said that helping people struggling the most in this economy was "very important" to them in deciding how they felt about the plan. Voters were even more supportive when told that the plan would create not only jobs, but good jobs, connecting trainees to careers and membership in IBEW Local 18.
Mayor Antonio Villaraigosa also expressed strong support for the plan. "Energy efficiency programs proposed by RePower LA and supported byLos Angelesvoters would reach our dual goals of increasing energy efficiency and creating careers for those who need them the most," said the Mayor.
The LADWP energy efficiency plan went before the City Council's Energy and Environment Committee at a hearing on June 20. There, LADWP's new Director of Energy Efficiency, David Jacot, briefed the Committee on the Department's plan and goals. As at previous town halls and hearings, a large, diverse contingent of the RePower LA coalition showed up, including environmentalists, unemployed workers, landlords and tenant advocates.
RePower LA supporters shared the poll and applauded the proposal to expand energy efficiency, but urged the councilmembers and Department to aim high. In May, the LADWP Board raised their 2020 goal for energy reductions through efficiency to 10 percent, with a "soft goal" of 15 percent – one that the coalition is working to make concrete.
The RePower LA coalition also highlighted certain areas where it is important that efficiency programs are done right. South L.A.landlord Diop Bankol and Joe Donlin of SAJE, a group that advocates on behalf of low-income renters, both spoke about the difference that energy efficiency programs could make in lowering utility bills. "Low-income renters, especially, have an opportunity to benefit from energy efficiency plans," noted Donlin. He explained that there are challenges in these areas, though. For example, some nefarious landlords in the past have used such upgrades as excuses to raise rents or evict tenants, leading to mistrust of these programs.
Councilmembers heard these comments and asked the LADWP representatives about their plans for low-income apartments. Jacot responded by describing some of the challenges, which would be addressed initially by targeting outreach to neighborhoods and working with community groups and associations.
"LADWP has more than a quarter of a million low-income customers," said Kokayi Kwa Jitahidi, a senior organizer at LAANE. "It is critical that these residents and the businesses that serve them have a voice in shaping the energy efficiency programs at LADWP."

Lead Poisoning Widespread Among California Workers
The problem in California doesn't appear to lie with finding out about lead-poisoned workers, but with what happens — or doesn't happen — when some state officials get that information.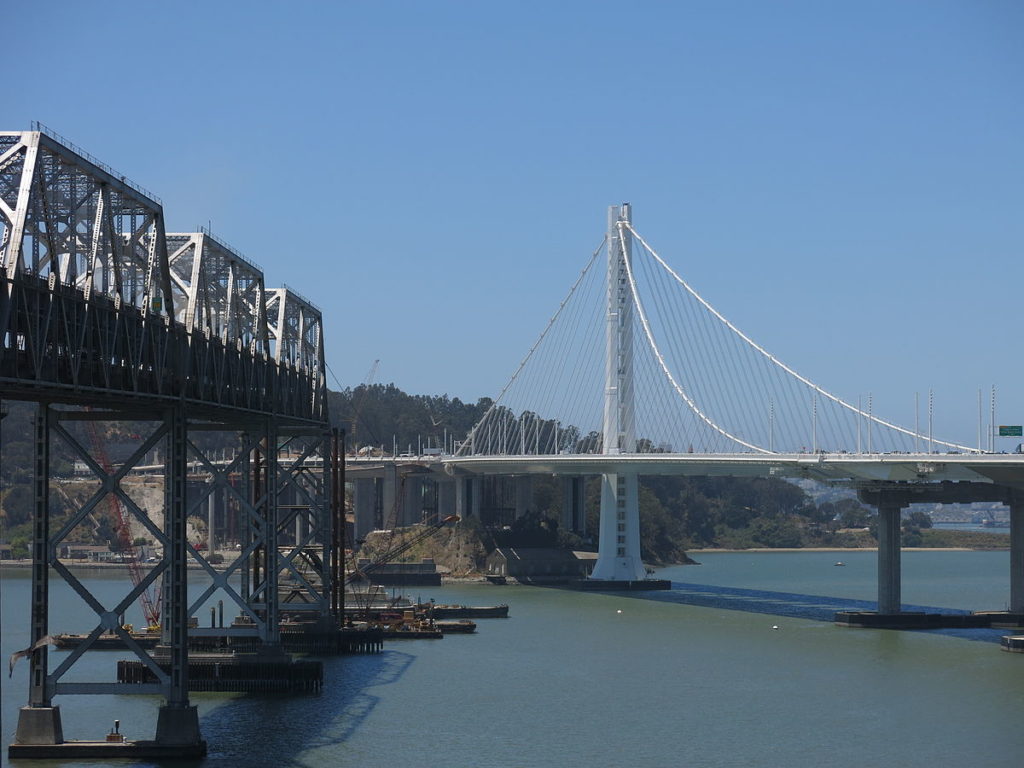 ---
Despite their company's safety promises, 12 employees working on the demolition of part of the Bay Bridge were lead-poisoned between 2013 and 2016.
---
Last March, Capital & Main launched an investigative series, "Battery Blood," which revealed that hundreds of workers at the former Exide battery recycling plant in Vernon, California, had for decades been exposed to lead poisoning. Even worse, the state's public health department knew about it but failed to act. Now, utilizing data obtained from the California Department of Public Health (CDPH), our joint investigation with the University of Southern California's Center for Health Journalism has found at least 80 companies — including one that recently dismantled parts of the iconic  San Francisco–Oakland Bay Bridge — continue to have  workers in California who are lead-poisoned at levels high enough to cause birth defects, tremors and a variety of brain disorders.
Once again we found that CDPH routinely failed to refer even the most egregious employers to state enforcement officers who can levy fines and require mandatory changes.
Some of the most extensive problems were found at other car battery recycling plants in working-class areas of Los Angeles. At one plant, Trojan Battery Recycling Company had 174 employees with elevated levels of lead in their blood between 2015 and 2016.
---
A state safety agency accepted the dismantling company's explanation that one bridge worker was lead-poisoned because he chewed tobacco.
---
"It's beyond upsetting," Bell city councilman Nestor Valencia said. He lives in one of the roughly 10,000 residential properties contaminated at levels above what is safe for kids by lead emissions from the Exide plant. "You know we need these jobs, but not at the expense of worker health or keeping kids who live nearby safe. This is what state government is supposed to be for, and they are failing us." Valencia said he was shocked to learn that other nearby plants continue to have lead-poisoned workers.
The Bay Area also has serious ongoing problems. There were lead-poisoning victims among those working on the demolition of the eastern span of the San Francisco–Oakland Bay Bridge. Despite promises to keep workers safe from lead, California Engineering Contractors, which received a $200 million dollar state contract to dismantle the earthquake-damaged span, had 12 cases of lead-poisoned employees between 2013 and 2016.
And at Target Masters West, an indoor gun range in the city of Milpitas, there have been more than 25 lead-poisoning cases in the last decade amongst workers who clean and manage the range. Seven cases were reported during 2015 and 2016, the most recent years for which data is available.
---
The California Department of Public Health has shown a stunning level of reluctance to turn lead-poisoning cases over to Cal/OSHA for enforcement.
---
Target Master West owner Bill Heskett bristled at the suggestion his workers had been poisoned, asserting that a spate of recent findings by public health experts that lead at lower levels is harmful to human health "isn't based in real science and has been set by a bunch of clerks with no accountability." Heskett said that the recent spikes in lead levels at his range were attributable to an employee "who wasn't following protocols." The employee was terminated, Heskett said.
In response to the Exide revelations in our March investigation, a bill was introduced in the California legislature by Assemblymember Ash Kalra (D-San Jose). Assembly Bill 2963 would require mandatory inspections at any workplace where a worker's blood lead level is at or above 25 micrograms per deciliter. Even at levels as low as 10 micrograms per deciliter, according to the U.S. Centers for Disease Controls (CDC), people with prolonged exposure to the neurotoxin are at higher risk for high blood pressure, heart disease, kidney disease and reduced fertility.
While the legislation has faced stiff opposition from industry groups and only passed out of the Assembly by a single vote, it has stronger support in the Senate and appears likely to make it to Governor Jerry Brown's desk.
Among AB 2963's supporters is Senator Bob Wieckowski (D-Fremont), who expressed dismay that problems at the Milpitas gun range (which is in his district), the Bay Bridge project and elsewhere have been allowed to linger. "If you had a family member or a friend exposed to high blood lead levels, you would want to see immediate action taken to reduce that exposure," Wieckowski said. "The health and safety of all workers should be the top priority."
Two Agencies Working in Silos
The problem in California doesn't appear to lie with finding out about lead-poisoned workers, but with what happens when some state officials get that information.
At battery plants, gun ranges and other workplaces where exposure to lead is common, the state of California requires companies to test their workers for elevated levels of lead. The custodian of that testing information is a division of CDPH called the Occupational Lead Poisoning Prevention Program (OLPPP). The division is funded through a small fee on employers in industries that work with lead. In theory, OLPPP provides education to companies and at the agency's discretion can refer serious cases to the California Division of Occupational Safety and Health, better known as Cal/OSHA. The enforcement agency can then determine the cause of problems and issue fines when unsafe practices are found.
---
"They've lost sight of the fundamental mission, to make sure that at the end of the day workers come home to their families safe and sound."
---
Our year-long investigation found a stunning level of reluctance on the part of CDPH to turn lead-poisoning cases over to Cal/OSHA for enforcement. Of the eight companies with some of the most persistent problems with lead exposure in California between 2013 and 2016, Cal/OSHA confirmed that it received no referrals from OLPPP for any of them during the last 10 years, and conducted no lead-related inspections at any of the companies. Many of the workplaces have had lead-poisoned workers for decades.
CDPH has declined repeated interview requests and did not respond in time for publication to written questions about its management of lead poisoning cases.
Through the state Public Records Act, Capital & Main obtained communications between OLPPP and California Engineering Contractors (CEC), one of the companies awarded a contract by California's Department of Transportation to dismantle the Bay Bridge.
In October 2013, OLPPP informed the company that workers on the project would be exposed to lead coating as the steel bridge was dismantled. "Our role is to assist employers in identifying and correcting work practices that can result in employees being over exposed to lead," the OLPPP wrote in a letter.
Within a year, workers on the project showed signs of elevated blood lead levels. The company asserted in an August, 2014 email to OLPPP that it could bring the situation under control. "We are confident we can get even the highest exposed workers under 10 µg/dl (BLL) with aggressive oversight and support," wrote CEC safety director Robert Ikenberry.
Despite assurances, the problem of lead-poisoned employees grew worse. By 2015 one worker's blood lead levels had exceeded 40 micrograms per deciliter, a level deemed "very high" by the CDC.  Michael McKinney, a safety manager for CEC had an explanation, which he provided in an email to OLPPP.  "The employee admitted to us that he was chewing tobacco during work. We feel that this practice is what caused the high lead level," McKinney wrote.  OLPPP appeared to accept that explanation, and never referred the Bay Bridge project for Cal/OSHA inspection, even when elevated blood levels amongst workers jumped 25 percent the following year.
Mariano Kramer, a former district manager for Cal/OSHA, said that simply accepting emailed assurances from a company with lead-poisoned workers is not acceptable. "There are a myriad of issues which can cause elevated blood lead levels. A trained inspector knows how to identify them."
In 27 states, workplace occupational lead safety standards are administered by the Occupational Safety and Health Administration (OSHA), a federal agency. In those states, any blood lead level above 25 micrograms triggers an automatic OSHA inspection, through which fines for unsafe conditions can be levied and changes can be mandated. A similar standard would go into effect in California if AB 2963 becomes law.
Kramer said he supports the proposed legislation because it would empower his former agency to more aggressively target workplaces that lead-poison workers.
"But," he added, "there are cultural issues within both agencies that no law will fix. They've lost sight of the fundamental mission, to make sure that at the end of the day workers come home to their families safe and sound."
This article was produced as a project for the 2017 California Data Fellowship, a program of the USC Annenberg Center for Health Journalism.
---
Copyright Capital & Main