Pension Envy: What the L.A. Times' CalPERS Story Got Wrong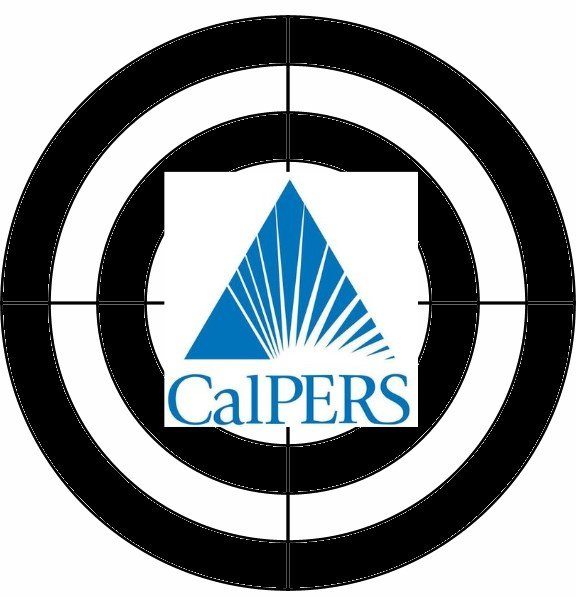 A 40-foot fall isn't necessarily fatal for the average adult. But for California's public employees whose jobs require them to routinely work on ladders or mechanical devices at heights  more than 40 feet, it was deemed enough of a threat to life and limb to offer them a modest premium in their monthly pay packet.
In the case of firefighters, it also seemed sensible to kick in a little more for the tiller operators that control the 100-foot aerial ladders from which their brothers occasionally rescue a taxpayer from a burning building.
In fact, 99 such hazard premiums and professionalizing workforce incentives that have historically been considered pensionable compensation for public workers were deemed to be such no-brainers that they passed the scrutiny of the legislature and the governor when Jerry Brown signed into law 2012's Public Employee Pension Reform Act (PEPRA). Today the average public pension in California is $2,945 per month.
That legislation, which outlawed the practice of "spiking," in which a worker's pension could be inflated through special pay increases during the final year on the job, also explicitly excluded 13 premium compensation items from new employees' pensions such as bonuses, vacation time, uniform allowances, overtime allowances, housing or transportation reimbursements, or any one-time or ad hoc payments.
But in August, when the California Public Employees' Retirement System (CalPERS) board voted in regulations incorporating PEPRA into its pension rules, conservative op-ed columnists wasted no time in charging that the pay incentives constituted "99 ways" to spike pensions.
The latest attack against the CalPERS vote came in last Thursday's Los Angeles Times via an overheated, editorializing "investigative" piece suggestively headlined, "99 Ways to Boost Pensions in California — At Public Cost."
The article, which repeatedly and erroneously refers to the pay premiums as a "bonus," doesn't explicitly use the word "spike," but it virtually exhausts the thesaurus with its synonyms.
The Times' main contention is that the CalPERS vote somehow "made these higher pensions possible" and thereby added billions of dollars more to the long-term cost of pensions calculated with the incentives rather than with base pay only.
In fact, according to CalPERS, its August vote didn't hike the state's pension price tag by a single cent. Those pay premiums were included in the pension system's original cost analysis of PEPRA, which continues to project a $42 billion to $55 billion savings to taxpayers over the next 30 years.
That fact was dutifully buried somewhere near the bottom of the L.A. Times' piece.
Rather, CalPERS points out, PEPRA did not limit pensionable compensation only to base pay. Instead, the law states that pensionable compensation is "normal monthly rate of pay or base pay," not one or the other. In voting for the August regulations, CalPERS simply stuck to its historical understanding of what compensation is pensionable.
For its part, the governor's office only objected to one of the items, a "temporary upgrade" to a higher-paying job that CalPERS board members argued is covered by PEPRA, and that employees should be paid in full for the job that management gives them, even if it's only temporary.
Some of the other items on the list include compensation to paramedics who keep up to date on auxiliary medical techniques; compensation to employees who are routinely exposed to toxic, radioactive, explosive or other hazardous substances; and compensation to workers with jobs in areas where criminally charged persons are confined, and to nurses who work in adult facilities where such prisoners are held.
CalPERS, whose 1.68 million members make it the nation's largest public pension system outside of the federal government, pays its new retirees 50 percent or less of the average of an employee's last three years of compensation. Of those dollars, 67 cents comes from investment earnings, 21 cents from employer contributions and 12 cents from the individual worker.

Still, with $295.1 billion in assets, the system as a whole deals in the kind of outsized budgetary numbers that allowed the L.A. Times writers to colorfully compare CalPERS' current, 30-year funding shortfall — the theoretical amount the system would have to pay out if its promissory notes to all its members were immediately called — as "enough to operate the 23-campus California State University system for 16 years."
(For the record, PEPRA remains on target to return the state's Great Recession-battered pension systems back to fully funded health and employers' contributions to pre-crisis costs by 2046.)
What the L.A. Times article overlooks — as do all those who lose sleep fretting over the affordability of keeping the retirement promises made to California's public workers — is an even more alarming price tag in the state's budgetary woes — namely, the generous package of corporate welfare that, over the same 30-year period, could operate those 23 CSU campuses for a full 27 years.