Paradise Burned: How Climate Change Is Scorching California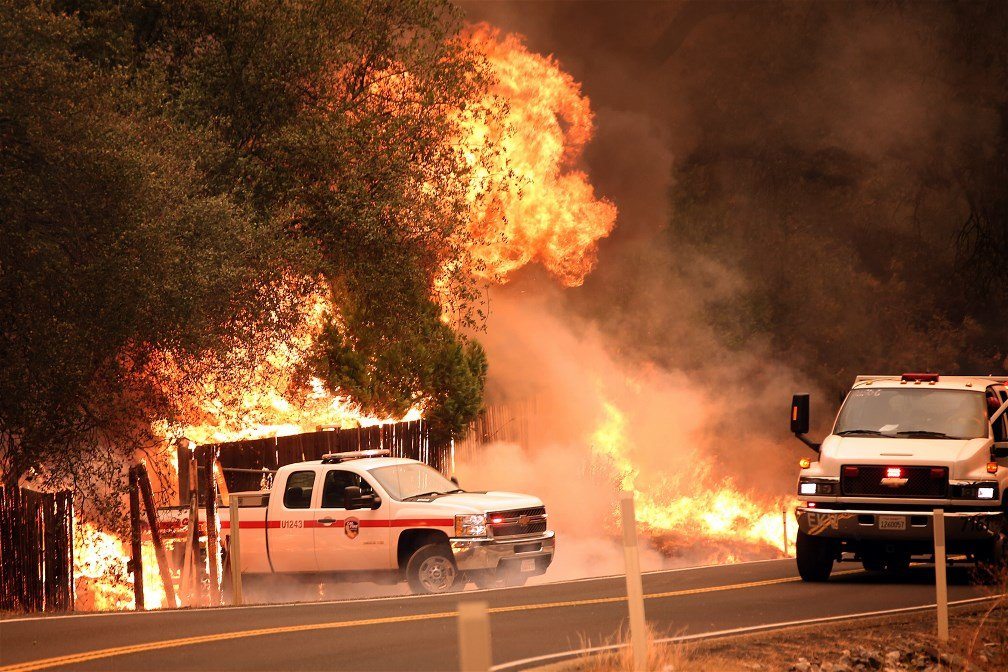 Paul Duncan, a battalion chief with California's state firefighting agency, was at home in Northern California enjoying a day off on September 12 when he got the message: A wildfire was burning on Cobb Mountain, about a dozen miles away from Hidden Valley Lake, where he lived with his wife and two daughters.
Duncan, 46, decided to leave and help knock down the blaze because he knew the fire unit in the area was already short-staffed from putting out on another conflagration. Besides, his nearly 30 years of experience persuaded him there was no way a fire burning on a mountain to the west could burn down to the valley floor and then race eastward to threaten the Duncans' home.
His optimism was short lived. Upon arriving on Cobb Mountain Duncan got some troubling news. The fire he was fighting was heading toward his family. At 5:13 p.m. he texted them: "The fire will be encroaching on Hidden Valley within an hour."
Six minutes later his house was on fire.
Also Read: Young XL Pipeline Activists and the Long Haul
His family escaped safely, but they were later faced with having to drive through fire on the roads. At 6:37 p.m., Duncan texted a message to his family he never imagined he'd have to send.
"If you have to drive through fire, keep your lights on, turn on your flashers and KEEP MOVING."
Ten minutes later, his wife, Courtney, called in a panic — there was too much fire to drive through. Duncan reassured her and told her to "step on the gas and drive through the fire."
"This was a ferocious fire, wind-driven in brush, moving about 25 to 30 miles per hour," Duncan would later tell Capital & Main, after his house had burned to the ground. "I've never seen this type of fire behavior, especially this far north in California. It came with a speed more like a Santa Ana fire in Southern California."
The September inferno was dubbed the Valley Fire and it killed four people, destroyed 1,958 homes and other structures, and caused $1.5 billion in damages. Its name would join a lengthening roster of mega-blazes with names like Witch Fire, Station Fire, Rim Fire and Butte Fire. For firefighters these represent a new kind of fire that is devastating California and other states west of the Rockies. To climate and environmental scientists, they are evidence that global warming is creating a new and vastly expanded fire danger to the West.
See Wildfire Infographic
(Courtesy of Union of Concerned Scientists)
[starlist]
California is facing the gravest threat to its natural beauty on record but many of us view the state's expanded fire season as a cyclical anomaly – a belief sometimes spread by the mainstream media. A recent Los Angeles Times feature,  provocatively headlined, "Gov. Brown's link between climate change and wildfires is unsupported, fire experts say," appeared to suggest that Governor Jerry Brown's linkage of climate change to wildfires was politically motivated and had no basis in science. The Times story and some of its expert sources were quickly attacked by scientists and the watchdog group Media Matters for America, but the damage had been done by planting doubt in the minds of the newspaper's readers.
Despite the Times' inference that global warming plays a limited role in wildfires, the science is in and the picture it paints is ominous:
[/starlist]
California is now losing nearly 90,000 acres a year (equivalent to the size of Las Vegas) to wildfires that have been increasing in size since 1984, according to Geophysical Research Letters.
A report published in Ecological Applications concludes that 64 percent of the fire area burned by wildfires on public lands in the Western United States can be directly related to climate variables such as temperature, precipitation and drought.
According to a Union of Concerned Scientists report, the annual number of large wildfires on federally managed lands in the 11 contiguous Western states has increased by more than 75 percent – from about 140 large fires during the period from 1980 to 1989, to 250 large fires between 2000 and 2009.
Max Moritz, a University of California, Berkeley environmental scientist who has studied wildfires for decades, tells Capital & Main, "Climate change is taking its toll. There is a likely link between climate change and the sizes and spread rates of this year's wildfires."
There are still doubters, however. Dismissing what he called "climate alarmism," David South, a retired emeritus professor of forestry at Auburn University, told a U.S. Senate Subcommittee last year that the conclusion that global warming has caused more wildfires is simply wrong. He added in an email to Capital & Main that "the average area of wildfires burned during the 1930s was much higher than the average for the first decade of the 21st century . . .This does not support the hypothesis that carbon emissions have increased the area of wildfires annually."
Nevertheless, those who fight wildfires on the ground say there has been a dramatic change in California's fire behavior over the past decades.
"The fires are hotter, the fires are burning faster and they are consuming anything in their paths," says Mike Lopez, who has been battling fires since the early 1990s and is now president of Cal Fire Local 2881, a union representing more than 6,000 firefighters. Adds Kim Zagaris, fire and rescue chief at the California Office of Emergency Services: "We are seeing longer fire seasons than I've seen in my 38 years."
Again, the science backs up the firefighters' observations. Last year's Geophysical Research Letters study implicated "climate change as a prominent driver of changing fire activity in the Western U.S.," and concluded that such wildfires have been getting bigger and more frequent over the last 30 years. This development is likely to continue as climate change causes temperatures to rise and droughts to become more severe.
By virtually all accounts the length of the wildfire season in California and the Western United States has grown. According to a report by Climate Central, an organization that studies changing climate and its impacts, the Western wildfire season has grown from five months on average in the 1970s to seven months today. During those years temperatures for spring and summer have risen and, Climate Central reports, mountain snowpacks are melting earlier, which leaves forests drier for longer periods of time.
Scientists and research studies also point to related problems, such as the fact that the warmer temperatures contribute to beetle infestations that, in turn, cause trees to die and potentially cause wildfires to burn more quickly. The U.S. Forest Service, for instance, says that from 2000 to 2013, bark beetles killed 47.6 million acres of forests in the Western United States—an area roughly the size of Nebraska. The warmer temperatures have allowed the beetles to survive longer and reproduce more, resulting in record epidemics. They are now able to infect higher-elevation pine trees. In California alone, an estimated 12.5 million trees have died during the drought, with many of the deaths attributed to beetle infestations.
Paul Duncan says he believes that pine trees killed by beetles likely helped contribute to the rapid spread of the fire that destroyed his home.
The economic consequences of the recent wildfires have clearly been catastrophic.
In its "Global Catastrophe Recap," reinsurance broker Aon Benfield of London detailed the human and property losses of that and other recent California wildfires.
"Multiple wildfires raged across California during much of September, with the Valley Fire, northwest of San Francisco, and the Butte Fire, southeast of Sacramento, the most destructive of the fires," the study stated. The Butte Fire erupted in the Sierra Foothills September 8 and left two people dead, while causing an estimated $450 million in damage.
This year's California wildfires are part of a worldwide phenomenon. The Aon Benfield report notes, for instance, that "Wildfires continued to burn in Indonesia's Sumatra and Kalimantan regions as the worst year for wildfires since 1997," causing an estimated $4 billion in losses in terms of lost agriculture production, destruction of forest lands, health, transportation, tourism and other economic endeavors.
Scientists, firefighters, economists and government officials caution that the wildfires are likely to worsen. "The threat of wildfires is projected to worsen over time as rising temperatures – rising more rapidly in the American West than the global average – continue to lead to more frequent, large and severe wildfires and longer fire seasons," states the Union of Concerned Scientists' report.
The report also points out that the large wildfires have serious impacts on health and the economy that are often overlooked or underestimated. Smoke from wildfires carries small particles of soot that can enter the lungs and result in serious health problems. Young children, the elderly and people with asthma and other respiratory problems are at the most risk.
"We are in a different fire regime," says Rachel Cleetus, lead economist and climate policy manager with the Union of Concerned Scientists, and co-author of the group's 2014 study. "If we do nothing, we're going to see wildfire season get worse and worse, get more costly and get more dangerous." She says that the situation affects all of the Western United States, but is most urgent in California.
"It's in the bulls-eye of the risk," Cleetus says.
---
(Valley Fire photo credits: Top and homepage images by Jeff Zimmerman/Emergency Photographers Network.)
Adelanto Report Card: Year Zero of the Parent Trigger Revolution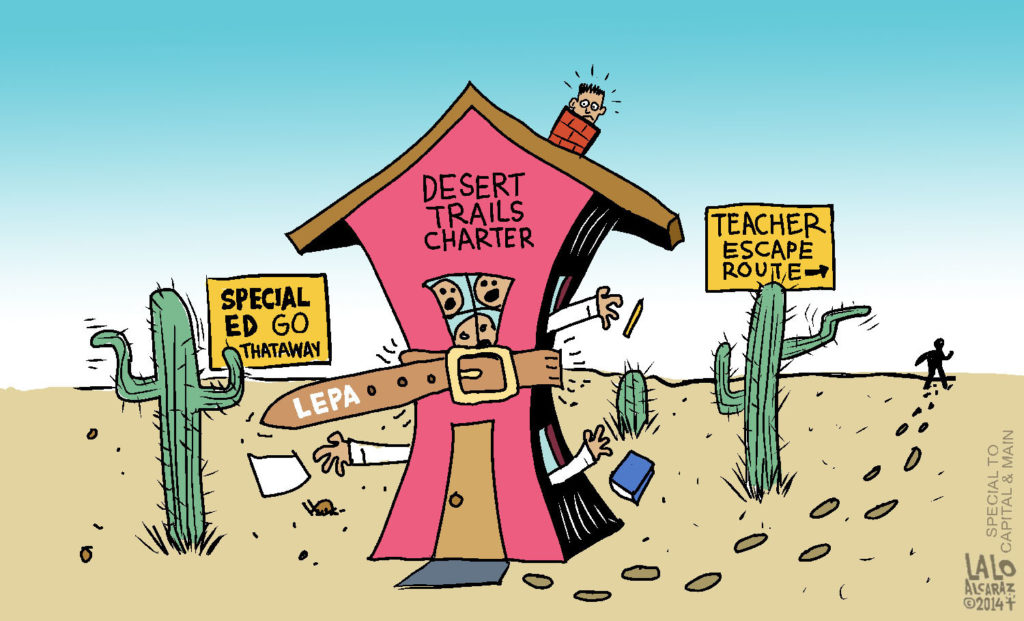 Illustration by Lalo Alcaraz
Throughout 2011 and 2012, the eyes of the education world were focused on Adelanto, a small, working class town in California's High Desert. A war had broken out there over the future of the K-6 Desert Trails Elementary School and its 660 low-income Latino and African-American students. When the dust settled, Desert Trails Elementary was gone. In its place was a bitterly divided community and the Desert Trails Preparatory Academy, the first (and so far, only) school in California and the U.S. to be fully chartered under a Parent Trigger law, which allows a simple majority of a school's parents to wrest control of a low-performing school from a public school district, and transform it into a charter school.
Tiny Adelanto's turmoil reflects a much larger battle now being fought across America between defenders of traditional public education and a self-described reform movement whose partisans often favor the privatization and deregulation of education. At least 25 states have considered parent trigger legislation and seven of them have enacted some version of the law, including Connecticut, Indiana, Louisiana, Mississippi, Ohio and Texas. Though funded by tax dollars, the trigger charter is private, meaning it is not bound by many of the rules and much of the governing oversight or transparency of a traditional public school.
At the end of Desert Trail's inaugural, 2013-14 school year, a group of eight former Desert Trails teachers hand-delivered a 15-page complaint to the Adelanto Elementary School District (AESD), charging Desert Trails with an array of improprieties and its executive director, Debra Tarver, with unprofessional and sometimes unethical conduct.
Among the most serious accusations are charges that administrative chaos at Desert Trails has resulted in both a stampede of exiting teachers and staff; that uncredentialed instructors have taught in its classrooms; and that Desert Trails had an unwritten policy of dissuading parents of students with special learning needs from seeking special education. The teachers also allege that they had to endure a bullying regime in which, they say, they were continually screamed at, spied on, lied to and humiliated in front of parents and their peers by Tarver and her deputies. Capital & Main spoke with the teachers, four of whom agreed to go on the record for this story. ("The High Desert is a small place and Debbie Tarver has a long reach," said one teacher who requested anonymity.)
"Not only was it dysfunctional and unprofessional," says second grade teacher Renee Salazar, a five-year veteran of Los Angeles' inner-city public schools, "it was law-breakingly unprofessional."
The teachers interviewed for this story, who were paid about $3,300 a month, claim the school's extreme miserliness shortchanged teachers and students on basic classroom tools. Over the first year, they said they each spent up to a full month's salary, and in some cases more, on unreimbursed, out-of-pocket expenses.
"At the start of the year," recalled kindergarten teacher Bertha Miramontes, "I ended up spending $1,000 because the décor in my classroom, [Tarver] said, was not good enough. I would spend anywhere between $200 to $300 per month to get supplies — writing paper, pencils, construction paper, tissues for my kids' noses, hand sanitizer, crayons."
These teachers also say that Tarver, who as executive director of a charter school is paid a salary commensurate to that of a San Bernardino county school district superintendent by both Desert Trails and LaVerne Elementary Preparatory Academy — a combined annual salary of around $200,000 — ordered the student water fountains shut off for the duration of the bitterly cold High Desert winter, rather than pay for overnight heat to prevent the pipes from freezing.
When contacted by Capital & Main, Tarver dismissed the allegations of cheapness, along with the other former teachers' charges, with which she said she was already familiar, as the sour grapes of "a couple of teachers who have been disgruntled," though she admitted that Desert Trails' budget was stretched thin.
"Last year was the first year of a school start-up. You don't get all your funding right away," she explained. "[But] every teacher was provided curriculum and everything they needed to operate a classroom. As a matter of fact, they had more than what my teachers had when we started at my other school."
That other school is LaVerne Elementary Preparatory Academy (LEPA) in nearby Hesperia, where Tarver also serves as executive director. It was LaVerne's impressive record at posting high assessment scores and its "old-school" model of a well-rounded, classical education that put Tarver's Adelanto charter application at the head of the shortlist compiled by the Desert Trails Parents Union (the name of the Adelanto Trigger faction) and its sponsor, the Gates Foundation- and Walton Family Foundation-backed Parent Revolution.
Charter school critics, however, charge that such schools often raise their test scores by winnowing out special-needs students. Federal law requires all taxpayer-supported schools to admit students with disabilities. Schools are required to carry out an individualized education plan (IEP) for each disabled student, which could include extra tutoring or a placement in a smaller — and costlier — specialized classroom. Desert Trails' charter application promised to accommodate the elementary school's estimated 90 special education students by hiring "a Special Education Coordinator, three full-time special education teachers and five instructional aides." In its first year, however, the Desert Trails Special Ed program consisted of a single teacher, Special Education Coordinator Tina Fryberger, and a sole classroom aide.
"We weren't allowed to talk about special education to anyone," third grade teacher Nani Colmer asserted and claimed she taught kids who needed special ed. "I had students that I really wanted to have a shot at some sort of academic success, and they could not get it in my classroom. I wasn't allowed to talk about special ed except to say, 'Go see Debbie Tarver.'"
"She told us, 'Do not tell your parents that there's any special education testing or assessments available,'" echoed Renee Salazar. "'Do not even talk about special education or testing for any of your scholars. If that ever arises, send them to the office, I will talk to them.'"
Tarver denied this. "Everything is done legally and accordingly as special ed is supposed to operate. The teachers are responsible for following a child's IEP if the child has an IEP. A teacher, and that's anywhere, cannot diagnose if a child has a disability unless that child has been tested."
Miramontes said she was told by one parent that Desert Trails staff advised her that her bipolar-diagnosed and severely ADHD, five-year-old twin "would be better served elsewhere." Miramontes described the kindergartener as prone to extreme rages that included punching, biting, throwing classroom furniture and, on one occasion, trying to scale the playground fence and run away. Eventually he was put in Fryberger's Special Ed classroom, from where he was then "mainstreamed" into Miramontes' class for an hour each day during lunch. But the violent tantrums continued and began to trigger outbursts in the child's twin sister, who was one of Miramontes' regular students.
"The [children's] mom would come in my class," recounted Miramontes, "and she would say, 'This is what I deal with every day at home.' She was like, 'I need help. I'm asking for help from this school and they're not helping me. I don't know what to do.'"
According to Miramontes, things came to a head when, during one of the rages, the five-year-old struck school registrar Janice Dominguez. Miramontes never saw the child again but says that she was later told by the disbelieving mother that Desert Trails' behavior specialist, Anthonie Etienne, requested that she remove her son from the school. When the mother repeatedly asked if the boy was being suspended, she said that Etienne would only reply, "No, he's not being suspended. He just can't come back to school." Etienne has since left Desert Trails and was unavailable for comment.
However, Fryberger confirmed to Capital & Main the outline of Miramontes' account, but both she and Tarver adamantly denied that the child — or any children — were requested to leave Desert Trails last year.
"That's false," Fryberger countered. "Upon discussion with the parents and staff members, [the] mom was in agreement that [her son] would need a more suitable environment to meet his needs. So this was not our decision as far as telling him that he wasn't welcome or anything. This was a decision that mom thought was best for her kid."
The teachers say that the parents of at least two other students were also persuaded that their children would be better served elsewhere.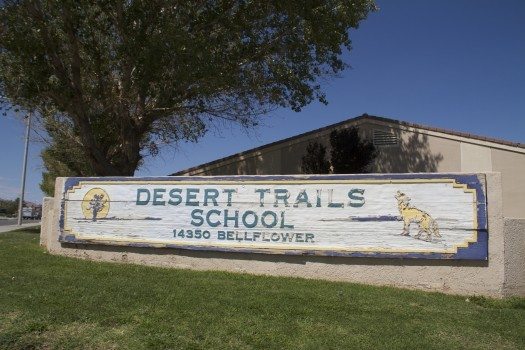 The most telling outward sign that all was not right at Desert Trails, however, may be its startling turnover in administration and teaching staff. During its first year, teachers say, the charter lost a principal (Don Wilkinson) and a director (Ron Griffin) — both before the Christmas break — its vice principal, six classroom teachers and its behavioral specialist. In addition, only nine of Desert Trails' first-year teacher roster — or 33 percent — are returnees this year. Desert Trails' charter promises "less than five percent annual employee turnover." And, teachers say, Desert Trails seems to be running true to form for the 2014-15 year, with four teachers jumping ship as of this writing — including two from the kindergarten level.
Tarver, who refused to discuss administration turnover, claimed the school's overall staff retention, which includes uncredentialed classroom aides and office workers, was 92 percent. She attributed teacher turnover to the recovering economy.
"You have over 10,000 [education] jobs that opened up in the state of California," she insisted, "whereas a lot of schools — not just mine, but many schools — have had a turnover because people wanted to move closer to their home base. . . . That has been the case in every school district, not only in the High Desert but all over California."
At Desert Trail's somewhat smaller but demographic twin, Adelanto Elementary School, 16 out of 21 teachers managed to find their way back this year, making for a roughly 76 percent teacher retention rate during the period of economic recovery.
The former Desert Trails teachers characterize the abundance of public school teaching jobs not as their reason for leaving Desert Trails, but as a means of escaping what they say became an increasingly unbearable and capriciously erratic place to teach.
"We were always getting conflicting information from our superiors," Salazar said.  "I was told by multiple different supervisors what things were okay to do. Second grade was told, 'Do not use Treasures,' which is the core reading curriculum. It includes phonics, spelling, grammar, writing, components of social studies, science and all of your reading and reading comprehension strategies. So for months at a time, we improvised; we used other support material, we tried to hit every standard to the best possible way that we could without using that curriculum. And two months later, Debra Tarver comes in and says, 'Oh my god, why aren't you using Treasures?"
"We were all getting really stressed out," confirmed third grade teacher Rachel Garvin Villarreal. "There were so many mixed messages from the different parts of administration, and having so much changeover in administration, you never quite knew who your boss was, and you didn't get the guidance that you wanted."
"They just told lies to cover themselves over and over and over again, and they contradicted themselves left and right," said Nani Colmer. "So many things were done in defense of things that they did in the past, and then we paid the price for it."
One of those lies appears to involve teacher credentialing.
The state's education code is explicit on credentials.  Section 47605(l) requires that "Teachers in charter schools shall hold a Commission on Teacher Credentialing certificate, permit, or other document equivalent to that which a teacher in other public schools would be required to hold."
However, the online database of the state's Commission on Teaching Credentialing (CTC), indicates that for 2013-14 Desert Trails kindergarten teacher Elfie Landa didn't receive a preliminary Multiple Subject credential until July 24 of this year. (Landa left Desert Trails during the current term.) And the database turns up only an emergency, 30-Day Substitute Teaching Permit (issued March 21, 2014) for Honey Welker, a third grade level teaching lead last year, who took over Colmer's third grade classroom mid-year.
Tarver refused to confirm or deny that she used uncredentialed teachers in the classroom last year, and instead insisted repeatedly that Desert Trails passed a credentialing audit conducted by the Adelanto Elementary School District last April.
Then there is the matter of the composition of Desert Trails' five-member board of trustees.
As with the publicly elected school board of a traditional school district, which sets the policies that the superintendent must then carry out, the independence of a charter school's board is a critical check and balance —a guarantee that the voice of parents will be heard and respected by the school administration.
The school's former teachers who publicly question the Desert Trails board's autonomy said they were long suspicious of the secrecy that seemed to surround it, noting that, unlike most charters, neither its composition nor its meeting minutes could be found anywhere on the school's website.
When asked by Capital & Main, Tarver volunteered the board members' names, adding that the membership was on record at AESD. She also added an unequivocal denial when asked about teacher suspicions that its members were employed by either Desert Trails or LEPA, which Tarver also runs.
However, not only is board member Latrice Brown listed on LEPA's own website staff roster as a "parent liaison," but an online search of LEPA's federal 2012 IRS Form 990 tax return revealed that two Desert Trails board members are listed as LEPA company officers — Marnella Mayberry as president and Ruby Ford (who also works as a tutor at both schools) as vice president.
Also Read: High Noon for Parent Trigger?
What mostly angered the ex-Desert Trails teachers, however, was what they characterized as the cumulative betrayal of the education promised to the parents and children of Adelanto.
Renee Salazar said she was drawn to Desert Trails by Tarver's sales pitch about unlimited resources and classroom freedom, and the opportunity to innovate curriculum.
"For a while, at least, we had that," Salazar said. "But all that changed after the winter break when the school began ramping up for the spring assessment testing. We had a director that was telling us, 'You can create your own curriculum.' We were told there wasn't going to be a test-prep focus. But from February on, there was."
Salazar said the pressure fell heaviest on the second grade, which the administration considered the "giveaway year" — the grade that could usually be relied on to bring in a high score and help raise the school's overall Academic Performance Index. The second grade class of 2013-14, however, was measuring as low as kindergarten level for math and language arts.
"We were told, 'You have to get their test scores up,' Salazar remembers. "Our vice principal was told, 'If their test scores don't come up, you won't have a job.' So they sat all of second grade down and said, 'You're no longer allowed to teach writing, you're no longer allowed to teach social studies, science — anything else. No P.E. You're only to [teach] language arts and math. This is the schedule that you're to do it on, these are the only materials that you're allowed to use, this is how you're to do it.'"
One thing on which the two sides do agree is that Desert Trails did post test-score gains.
"We had 47 percent of our scholars who [rated] proficient and advanced," Tarver said of the California Standards Test results for 5th grade science, "and we only had a 15 percent rate of those that were below and far below [state standards], which is a huge difference from the 30 to 40 percent that school had for the past 10 years."
More comprehensive, schoolwide scores, she said, wouldn't be released by the school for another month.
For the ex-teachers, it is a tarnished achievement that came at the terrible price of shattered morale and the stability and consistency that underpin a quality education.
"It wasn't the holistic, well-rounded education that they were promised," Salazar asserted. And [teachers leaving] is difficult. It's hard on the scholars and it's hard on their families."
At least one parent who spoke to Capital & Main on the condition of anonymity agreed.
"I don't know what's going on," this parent said. "I feel like so many teachers have left. There's been, like three principals that left, and every time you ask somebody about it, they just make it seem like it's no big deal. But when kids are in school, consistency is important."
"When teachers are able to stay multiple years," Rachel Garvin Villarreal noted, "they become part of that community and make an even stronger, healthy school culture that over time grows. . . . And even though we had invested so much, I guarantee you, we would have invested so much more."
"We're not trying to get even," Miramontes said of the teachers' complaint. "We just really care about those kids and just want the best for them. I mean, they don't even have soap and paper towels in the bathroom! Kids deserve better than that."
---
Photos and video by Shireen Alihaji.