Occupy Movement Takes on Foreclosures
Linocut: Giacomo Patri
Criticized for focusing more on what it is against than what it is for, the Occupy Wall Street movement has now found an organizing issue it can embrace. Perhaps because so many Occupiers have recently been evicted from their encampments in cities across the country, they have found common cause with the growing number of American families facing foreclosure. Last week, after the Los Angeles Police Department evicted Occupy LA from the park outside City Hall, Mario Brito, one of the group's lead organizers, said that the movement's activists would begin to set up occupations at the homes and country clubs of major bank executives reside and to work with other groups to protest the growing wave of foreclosures.
More and more homeowners facing wrongful foreclosure evictions are taking a bold stand by resisting banks' unfair actions. They are deciding to stay in their homes and fight. When the banks or sheriffs come knocking on their doors, they are saying "we're not leaving."
One of the leaders of the "Occupy Our Homes" campaign is Rose Gudiel, who last month, with the help of community and union activists, successfully battled OneWest Bank and Fannie Mae to keep her home after they ordered her evicted from her home in La Puente, a working class suburb of Los Angeles. Inspired by Gudiel's gritty example, other homeowners are taking action. Today, two other families in the Los Angeles area will be linking arms with friends and neighbors to resist eviction from foreclosure.
Ana Casas Wilson grew up in the same house her family has owned since 1975 in South Gate, another working class suburb of Los Angeles. She now lives there with her husband James, a school custodian, her mother, a home health care worker, and her 17-year-old son. Ana, who has cerebral palsy, has been an advocate for the disabled and is active in several local community and service groups.
In 1990, Ana took over the home from her family and refinanced in order to make extensive repairs. Eventually, their loan was sold to Wells Fargo. In 2009, Ana was diagnosed with stage four breast cancer, forcing James to quit his job as a security guard in order to help take care of her. Ana has now recovered after a double mastectomy and the family now has three stable incomes in the household. They have long been able to make payments — but the bank stopped accepting them. Ana and her supporters got the bank to temporarily hold off enforcing the eviction order. But Wells Fargo has refused to reconsider the Wilsons for a loan modification, even though they likely qualify based on their current income.
Art D., his wife, and with their four children, ages 11, 10, 8, and 7, moved into their modest three-bedroom Inland Empire home, east of Los Angeles in 2003. (The family asked that its last name not be revealed until today.) It was their first home and represented the American dream they had worked their whole lives for. Art has worked for over 21 years as a supervisor at a metal finishing company which makes parts for the aerospace industry, and before that he served five years in the Marine Corps.
In 2009, due to the economic crisis, Art was working fewer hours, making it harder for him to make his monthly mortgage payments. He applied for a loan modification with his bank, JP Morgan Chase, and was given temporarily lowered payments. After he made four payments, Chase notified Arturo that they were rejecting him for a permanent modification, they wouldn't accept further payments, and they would be foreclosing on his home, even after he provided the bank with paperwork showing that his income had recovered to its previous level. In November 2010, the house was sold at public auction and in June the family was evicted from their home. Although Art and his family have relocated to an apartment in Orange County, they are determined to get their home back from the bank that took it from them unjustly.
Ana, Art and their families have decided to take the courageous step of reclaiming their homes. Joined by supporters, they are taking direct action to challenge Wall Street profiteering that has created a housing crisis for millions of families. Homeowners in other cities — including New York, Chicago, Philadelphia, Atlanta, San Francisco, Minneapolis, Portland, Oregon – have been taking similar actions.
The "Occupy Our Homes" campaign is led by a coalition of community groups, unions, and faith-based organizations. In California, the Alliance of Californians for Community Empowerment (ACCE) and ReFund California has taken the lead in mobilizing public outrage at banks' irresponsible actions. They are part of a national network of organizations that includes the New Bottom Line, New York Communities for Change; Take Back the Land, and SOUL (in Chicago). In Los Angeles and elsewhere, Occupy Wall Street activists have jumped on this bandwagon to channel their anger against the financial industry and its grip on our political system.
The current economic tsunami was caused by the greedy and short-sighted practices of the major Wall Street banks. Taxpayers gave Wall Street banks a $700 billion bail-out through the federal TARP plan, and another $7.7 trillion in nearly interest-free loans of taxpayer money through the Federal Reserve. Bank profits in the third quarter of 2011 were more than $35 billion — higher than they were before the crash. According to the analysis of the "Occupy Our Homes" campaign:
Banks created a housing bubble, deliberately designing predatory loans with balloon payments, variable rates, and other features that would yield short-term profits while preying on families least able to pay.
Banks knew that many of these loans could not be repaid, but they didn't care because they planned to package and re-sell the mortgages to investors who then were left holding the bag.
The economy crashed as a result of this bank-created house of cards, putting tens of millions of Americans out of work. Unemployment is overwhelmingly the primary cause of foreclosures.
More than 6 million Americans have lost their homes, often through illegal foreclosures, and another 5 million are at risk. Many homeowners were told that if they stopped making payments, they could qualify for a lower rate. When they did so, the banks put them in default and initiated foreclosure.
The banks still claim that they should be able to collect mortgage payments based on the value of homes before the crash they caused, rather than current value. At least one in four homeowners is now "underwater" — meaning the bank wants them to make payments on a higher mortgage than what the house is worth.
Wall Street is draining hundreds of billions of dollars from communities by demanding artificially inflated mortgage payments — money that is needed to support local jobs and small businesses and get the economy working again for the 99%.
(Editor's Note: A slightly different version of this feature first appeared on the Huffington Post.)


'Skeleton Crew' Is a Play With a Moral Spine
Set in a Detroit automobile outfitting plant, Dominique Morisseau's drama grabs you from the start with its focus on blue-collar men and women, and their struggle for dignity and self-respect.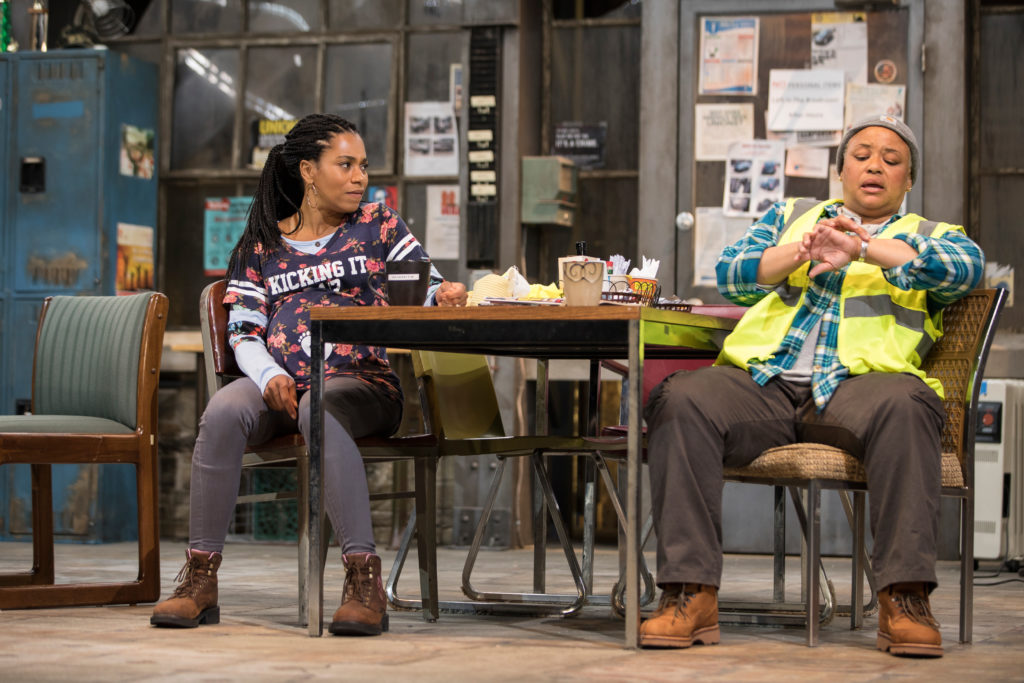 Working-class men and women of color are rarely front and center in today's media and, likewise, are presented all too occasionally on the American stage. So it's buoying to see that trend bucked in playwright Dominique Morisseau's percipient and well-crafted drama, Skeleton Crew. The play is the final installment in her Detroit  Project Trilogy; the first, Paradise Blue, is set in the 1940s amidst displacement caused by urban renewal and gentrification, while the second, Detroit '67, transpires on the eve of the 1967 Detroit riots sparked by a police action.
Directed by Patricia McGregor at Los Angeles' Geffen Playhouse, Skeleton Crew is a play with a moral spine. It takes place in 2008, when the shrinking U.S. auto industry is being further downsized. Morisseau's engaging quartet of characters — Faye (Caroline Stefanie Clay), Dez (Armari Cheatom), Shanita (Kelly McCreary) and Reggie (DB Woodside) – are employed at an automobile outfitting plant. Faye, Dez and Shanita are workers on the line while Reggie (who has a wife and kids, and has pulled himself together after a troubled youth) is their supervisor.
The first three customarily mingle in their break room (designer Rachel Myers' impressively cluttered, dingy and detailed set), trading the sort of familiar barbs and genuine concern for each other common among longtime co-workers. They also face off on philosophy: Upper-middle-aged Faye and the younger, pregnant Shanita take pride in their labor, while Dez, though a good worker, is a malcontent scornful of management and firm in the belief that everyone needs to watch out for himself. He's a thorn in Reggie's side, for while Reggie wants to be supportive of his workers, he must act at the behest of higher management. For his part, Dez resents Reggie's authority, and a palpable unease exists between them.
Besides this male matchup, we're made privy to Dez's attraction to Shanita, who mostly turns away his advances, but every now and then displays a hint of interest. Most poignant is Reggie's regard and affection for the lesbian Faye, which has roots in his boyhood when she loved, and lived, with his now-deceased mom.
These people's various predicaments intensify when rumors spread of the plant's shutdown — a disaster for all, but a particular calamity for the already near-broke Faye who, one year short of retirement, would lose her pension. The crisis forces each of these people to make a choice.
A sound piece of social realism, Skeleton Crew grabs you from the start in its focus on blue-collar men and women, and their struggle against odds for dignity and self-respect. Morisseau not only furnishes these characters a platform for their travails, she endows them with strong values, big hearts and the opportunity to choose between right and wrong.
Unfortunately, the performance I attended did not soar. Many exchanges lacked a fresh edge. The actors certainly had their characters down, but too often they appeared to be coasting on technique. (This seemed particularly true of Clay, who performed the role to great accolades in Washington, DC in 2017, also under McGregor's direction). Additionally, some of the stage movement was not entirely fluid; in confrontations, actors sometimes would just stand and face each other in an artificial way. And Cheatom's interpretation of Dez struck me as a bit overly churlish and depressive: I needed more glimpses of the intelligence and edge that would secretly attract the strong, self-directed Shanita.
The most compelling moments belong to Woodside, well-cast as a man trying his best in difficult circumstances to do the right thing.
---
Gil Cates Theater at the Geffen Playhouse, 10886 Le Conte Ave., Westwood Village; Tues.-Fri., 8 p.m.; Sat., 3 & 8 p.m. Sun., 2 & 7 p.m.; through July 8. (310) 208-5454 or www.geffenplayhouse.org