Occupy Movement Takes on Foreclosures
Linocut: Giacomo Patri
Criticized for focusing more on what it is against than what it is for, the Occupy Wall Street movement has now found an organizing issue it can embrace. Perhaps because so many Occupiers have recently been evicted from their encampments in cities across the country, they have found common cause with the growing number of American families facing foreclosure. Last week, after the Los Angeles Police Department evicted Occupy LA from the park outside City Hall, Mario Brito, one of the group's lead organizers, said that the movement's activists would begin to set up occupations at the homes and country clubs of major bank executives reside and to work with other groups to protest the growing wave of foreclosures.
More and more homeowners facing wrongful foreclosure evictions are taking a bold stand by resisting banks' unfair actions. They are deciding to stay in their homes and fight. When the banks or sheriffs come knocking on their doors, they are saying "we're not leaving."
One of the leaders of the "Occupy Our Homes" campaign is Rose Gudiel, who last month, with the help of community and union activists, successfully battled OneWest Bank and Fannie Mae to keep her home after they ordered her evicted from her home in La Puente, a working class suburb of Los Angeles. Inspired by Gudiel's gritty example, other homeowners are taking action. Today, two other families in the Los Angeles area will be linking arms with friends and neighbors to resist eviction from foreclosure.
Ana Casas Wilson grew up in the same house her family has owned since 1975 in South Gate, another working class suburb of Los Angeles. She now lives there with her husband James, a school custodian, her mother, a home health care worker, and her 17-year-old son. Ana, who has cerebral palsy, has been an advocate for the disabled and is active in several local community and service groups.
In 1990, Ana took over the home from her family and refinanced in order to make extensive repairs. Eventually, their loan was sold to Wells Fargo. In 2009, Ana was diagnosed with stage four breast cancer, forcing James to quit his job as a security guard in order to help take care of her. Ana has now recovered after a double mastectomy and the family now has three stable incomes in the household. They have long been able to make payments — but the bank stopped accepting them. Ana and her supporters got the bank to temporarily hold off enforcing the eviction order. But Wells Fargo has refused to reconsider the Wilsons for a loan modification, even though they likely qualify based on their current income.
Art D., his wife, and with their four children, ages 11, 10, 8, and 7, moved into their modest three-bedroom Inland Empire home, east of Los Angeles in 2003. (The family asked that its last name not be revealed until today.) It was their first home and represented the American dream they had worked their whole lives for. Art has worked for over 21 years as a supervisor at a metal finishing company which makes parts for the aerospace industry, and before that he served five years in the Marine Corps.
In 2009, due to the economic crisis, Art was working fewer hours, making it harder for him to make his monthly mortgage payments. He applied for a loan modification with his bank, JP Morgan Chase, and was given temporarily lowered payments. After he made four payments, Chase notified Arturo that they were rejecting him for a permanent modification, they wouldn't accept further payments, and they would be foreclosing on his home, even after he provided the bank with paperwork showing that his income had recovered to its previous level. In November 2010, the house was sold at public auction and in June the family was evicted from their home. Although Art and his family have relocated to an apartment in Orange County, they are determined to get their home back from the bank that took it from them unjustly.
Ana, Art and their families have decided to take the courageous step of reclaiming their homes. Joined by supporters, they are taking direct action to challenge Wall Street profiteering that has created a housing crisis for millions of families. Homeowners in other cities — including New York, Chicago, Philadelphia, Atlanta, San Francisco, Minneapolis, Portland, Oregon – have been taking similar actions.
The "Occupy Our Homes" campaign is led by a coalition of community groups, unions, and faith-based organizations. In California, the Alliance of Californians for Community Empowerment (ACCE) and ReFund California has taken the lead in mobilizing public outrage at banks' irresponsible actions. They are part of a national network of organizations that includes the New Bottom Line, New York Communities for Change; Take Back the Land, and SOUL (in Chicago). In Los Angeles and elsewhere, Occupy Wall Street activists have jumped on this bandwagon to channel their anger against the financial industry and its grip on our political system.
The current economic tsunami was caused by the greedy and short-sighted practices of the major Wall Street banks. Taxpayers gave Wall Street banks a $700 billion bail-out through the federal TARP plan, and another $7.7 trillion in nearly interest-free loans of taxpayer money through the Federal Reserve. Bank profits in the third quarter of 2011 were more than $35 billion — higher than they were before the crash. According to the analysis of the "Occupy Our Homes" campaign:
Banks created a housing bubble, deliberately designing predatory loans with balloon payments, variable rates, and other features that would yield short-term profits while preying on families least able to pay.
Banks knew that many of these loans could not be repaid, but they didn't care because they planned to package and re-sell the mortgages to investors who then were left holding the bag.
The economy crashed as a result of this bank-created house of cards, putting tens of millions of Americans out of work. Unemployment is overwhelmingly the primary cause of foreclosures.
More than 6 million Americans have lost their homes, often through illegal foreclosures, and another 5 million are at risk. Many homeowners were told that if they stopped making payments, they could qualify for a lower rate. When they did so, the banks put them in default and initiated foreclosure.
The banks still claim that they should be able to collect mortgage payments based on the value of homes before the crash they caused, rather than current value. At least one in four homeowners is now "underwater" — meaning the bank wants them to make payments on a higher mortgage than what the house is worth.
Wall Street is draining hundreds of billions of dollars from communities by demanding artificially inflated mortgage payments — money that is needed to support local jobs and small businesses and get the economy working again for the 99%.
(Editor's Note: A slightly different version of this feature first appeared on the Huffington Post.)


A Woman's Art Is Never Done: The Feminae Exhibition
A striking juxtaposition between the past and present courses throughout the small gallery. Celia Blomberg's "International Women's Day March 8" can't help but make one think of 2017's Women's March, which occurred 37 years after the print's first appearance.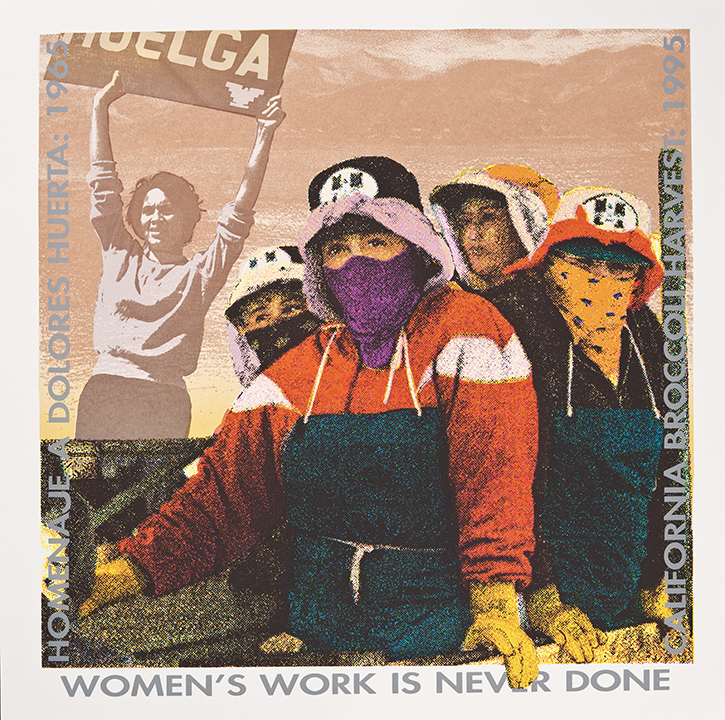 Among the 50-plus works in the Feminae: Typographic Voices of Women By Women exhibit is Yolanda Lopez's "Women's Work is Never Done." Lopez's title is particularly ironic, given the exhibit's gender-based subject matter. The show spans work from the past 50 years, making it easy to understand how much society is still grappling with its themes of gender inequality. Culled from the archives of the Center for the Study of Political Graphics, the graphic images of protest, persuasion and empowerment are truly works of art in their own right.
However, political posters aren't made to merely spruce up walls, but to help figuratively bring barriers down as well.
Two silkscreens from the 1970s, Liliana Porter and John Schneider's "This Woman is Vietnamese" and See Red Woman's Workshop's "So Long As Women Are Not Free People Are Not Free," are particularly powerful, underscoring, as they do, the fact that the subjugation and persecution of women crosses borders and cultures as an unfortunate shared global experience. These two pieces' stark simplicity exemplifies most of the work in the exhibit. In the former, a New York Times photo of a distraught Vietnamese woman with a gun held to her head is centered above these basic words typed out in a typewriter font: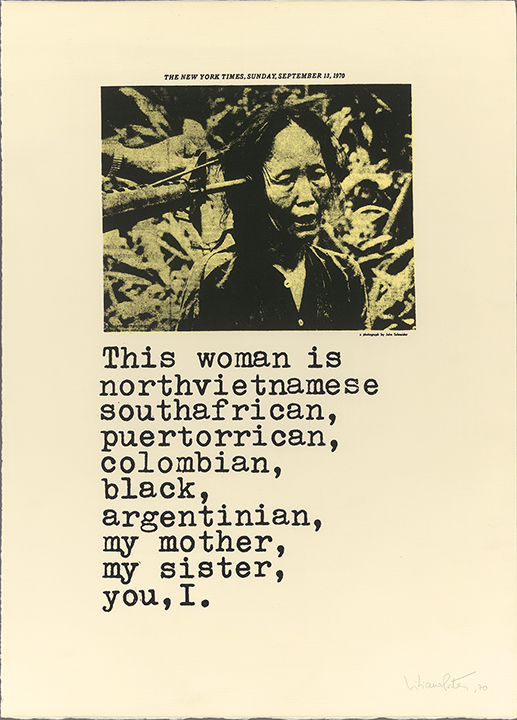 This woman is
northvietnamese
southafrican
puertorrican,
colombian,
black,
argentinian,
my mother,
my sister,
you, I.
By juxtaposing the photo with these words, the creators take the plight of this woman and immediately globalize her pain. In the latter, three female demonstrators are silkscreened in red onto a yellow background. They are marginalized by being stuck in the lower left third of the poster, but two of them are raising their fists skyward and their mouths are open, screaming in defiance. Its non-serif, eponymous type reads: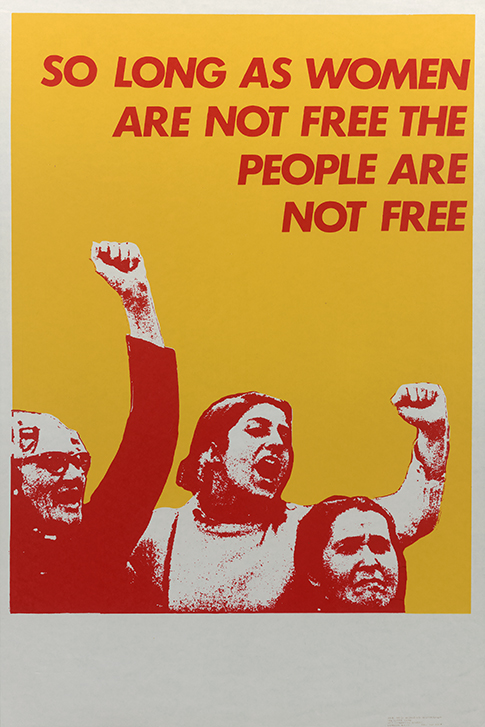 SO LONG AS WOMEN
ARE NOT FREE THE
PEOPLE ARE
NOT FREE
This piece's message takes the global message even farther, making the plight of women a human one — a common theme in the exhibition.
There is also a striking juxtaposition between the past and present that seethes throughout the small gallery. Celia Blomberg's "International Women's Day March 8" can't help but make one think of 2017's Women's March that would take place 37 years later. See Red Woman's Workshop's 1977 "Black Women Will Not Be Intimidated" could easily be repurposed to address the recent spate of blue-on-black brutality. Notable works by Barbara Kruger, Sister Corita Kent and the Guerilla Girls are also included.
Ironically , while it can be surmised that most of these works were made as populist posters to be distributed at the time as banners of protest, their beautiful simplicity and nostalgic elegance probably have resulted in the originals (mostly now found in art museums) sporting hefty vintage-resale prices.
But it is not just the art that has stood the test of time. The fact that the issues addressed in the show — feminism, choice, gender equality, war, immigration, police brutality or violence against women — are all issues at the forefront of debate in 2018 ultimately engenders conflicting feelings.
On one the hand, it is inspiring to see a vibrant exhibit that showcases such diversity in artistic styles, no doubt spawned by the diversity of the artists' own backgrounds. On the other hand, there is a realization that while there has been some progress over the past half century, there is so much work to be done.
Art Center's Hoffmitz Milken Center for Typography, 950 South Raymond Ave., Pasadena; through May 15.
---
Copyright Capital & Main