Not Only the Poor Benefit from Raised Minimum Wage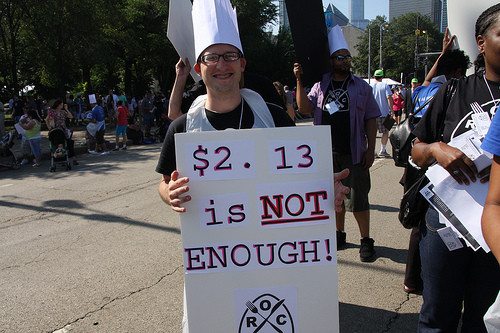 For Merleane S., a 19-year-old, single mom, her work shift on March 15 included taking and filling orders at a fast food restaurant in Palm Coast, Florida. She was earning the state's minimum wage of $7.79 per hour. Similar to other U.S. workers, she was trying to make sure her family was secure.
That same day, in the nation's capital, lawmakers in the U.S. House of Representatives unanimously voted against an amendment to H.R. 803, a job training bill. That amendment would have gradually increased the federal minimum wage from $7.25 an hour to $10.10 an hour by the end of 2015.
The amendment marked one of the most recent efforts regarding an issue that is gaining momentum nationally — an increased minimum wage. If the idea is approved, it would affect millions of workers across the income spectrum, including the middle class.
Merleane, who asked that her last name not be used, failed to see the argument that a higher minimum wage would hurt employers and decrease the number of jobs available.
"As it is, it's very, very difficult to make ends meet," she said. "Being a single parent and having to pay for child care and for transportation to get to work, by the time my paycheck comes, there's nothing left."
In his February State of the Union address, President Barack Obama pointed out the predicament of minimum wage workers, such as Merleane, and called on Congress to raise the federal minimum wage to $9 per hour.
"Today, a full-time worker making the minimum wage earns $14,500 a year. Even with the tax relief we've put in place, a family with two kids that earns the minimum wage still lives below the poverty line. That's wrong," he said.
Obama's State of the Union declaration that "in the wealthiest nation on Earth, no one who works full-time should have to live in poverty" was not lost on workers who have experienced the erosion of the value of the minimum wage, which has not kept up with either the cost of living or workers' increased productivity.
Acting Secretary of Commerce Rebecca Blank, a labor economist, explains in her book, It Takes A Nation, that historically, the impact of the minimum wage as "an antipoverty device" was minimal because the "vast majority of minimum wage workers were second or third earners in middle-income families." Prior to the mid-1990s, only one-fifth of minimum wage workers lived in poor families, she writes.
But the recession – combined with years of wage stagnation – has shifted the demographics of who fits into the category of low-wage workers: Since June 2009, when the Great Recession officially ended, 65 percent of the new jobs in the U.S. economy are lower wage ones, according to an Associated Press-NORC Center for Public Affairs Research survey.
Persistent unemployment has also played a significant role in suppressing wages, undermining the market leverage needed by historically-exploited workers – the low-skilled and people of color – to command a livable wage. The U.S. labor market has regained only 5.7 million of the 8.7 million of the jobs lost during the height of the recession, studies have found. Although the nation's economy has shown some recent improvement, the unemployment rate still hovers at 7.7 percent.
According to recent Census data as noted in media reports, an unprecedented 49.1 million Americans live below the poverty line. Officials consider another 51 million people as "near poor."
Raising the minimum wage is underscored by the plight of children living in poverty: Most live in a household in which at least one parent is employed; one-third of those living in extreme poverty have at least one working parent.
On March 5, weeks after the president's call for a minimum wage that "could mean the difference between groceries or the food bank; rent or eviction; scraping by or finally getting ahead," Senator Tom Harkin (D-Iowa) and Representative George Miller (D-Calif.) introduced the Fair Minimum Wage Act of 2013 – now in committee in the House and Senate.
Although the amendment rejected on March 15 addressed the hourly amount a worker in the United States could earn, the Fair Minimum Wage Act of 2013 is a distinct bill.
If Congress passes the legislation as introduced, the federal minimum wage would incrementally increase from $7.25 to $10.10 per hour by 2015 and the minimum wage for tipped workers would increase from $2.13 to $7.07 per hour. After that, annual increases in the minimum wage would be "indexed" to keep pace with the cost of living.
According to an Economic Policy Institute (EPI) report, passage of the Fair Minimum Wage Act would benefit about 30 million workers, representing 23 percent of the national workforce. Of those workers, 56 percent are women, more than 88 percent are at least 20 years old, and nearly one-quarter are parents. Additionally, more than 17 million children in the United States have a parent whose wages would benefit from elevating the minimum wage to $10.10.
The majority of minimum wage workers spend their work life in the fastest-growing employment sector: "frontline low-wage industries that make our economy run," or, as former Secretary of Labor Robert Reich puts it, the "local personal service sector." That includes tipped workers, mostly restaurant workers, whom employers can legally pay as little as $2.13 an hour, a minimum that has not increased in 20 years.
But the EPI analysis noted that of those who stand to benefit from an increased federal minimum wage, nearly 44 percent of the individuals have some college experience or formal degrees. EPI also reported that workers who earn between $40,000 to about $60,000 per year, a range which touches those in the middle class, would benefit from an increased minimum wage.
Grassroots efforts to raise the minimum wage in San Jose, California paid off last year with voters approving a $2 increase to $10 per hour. The new wage went into effect on March 11.
Policymakers opposed to raising the federal minimum wage point to the high level of unemployment. After the president's State of the Union address, House Speaker John Boehner told reporters: "When you raise the price of employment, guess what happens? You get less of it." Boehner continued, "And what happens when you take away the first couple of rungs on the economic ladder – you make it harder for people on the ladder."
The National Federation of Independent Business – which represents small business –maintains that a higher minimum wage could lead to the loss of jobs in the sense that higher labor costs will mean some employers will use less of it.
But in a July 2012 letter to Obama and congressional leaders, a group of economists argued in favor of increasing the minimum wage and linking annual increases to the cost of living.
They maintain, in the letter, that "increases in the minimum wage have had little or no negative effect on the employment of minimum wage workers, even during times of weakness in the labor market. A minimum wage increase can also serve to stimulate the economy as low-wage workers spend their additional earnings potentially raising demand and job growth. Therefore, pursuing a higher minimum wage at this juncture will not only provide raises for low-wage workers but would provide some help on the jobs front as well."
The economists also pointed out a "spillover" effect — that is, when minimum wage workers earn more, employers often raise the salaries of their employees who earn above the minimum wage as well.
And in a 2012 survey of likely general election voters by Lake Research Partners, 73 percent supported increasing the minimum wage to $10 and indexing it to inflation, 58 percent saying they were strongly in favor of the increase.
The survey also demonstrated that voter support for raising the minimum wage holds steady across gender, age, education level, race, region and partisanship.
Craig Jelinek, chief executive of Costco, one of the nation's largest retailers, issued a statement in support of an increased federal minimum wage. "Instead of minimizing wages, we know it's a lot more profitable in the long term to minimize employee turnover and maximize employee productivity, commitment and loyalty," he said.
While Congress has yet to vote on the Fair Minimum Wage Act, efforts to increase the hourly amount are underway in the states, including California, Connecticut, Hawaii, Illinois, Maryland, Massachusetts, Minnesota, New Jersey and New York.
Jen Kern, coordinator of the National Employment Law Project's Raise the Minimum Wage campaign, said that bills to raise the minimum wage are in play in about 15 state legislatures. Kern noted that action in the states, which can have more legislative flexibility, has historically preceded and helped provide pressure at the federal level.
In Chicago, the Rev. Valerie Parker is part of Action Now of Illinois, a coalition of labor, community and faith organizations. The group says the state's minimum wage should be at least $10 an hour and indexed to rise with the cost of living.
Parker said she stands "in solidarity with those who are oppressed, marginalized, and otherwise dismissed because they work in low-wage jobs and struggle to feed their families, sleep in a warm home, live in a safe place and clothe themselves adequately. In order to be able to do all of these life-affirming things, this worker needs to be lifted above the poverty level."
In New Mexico, grassroots advocates had hoped the March passage of legislation to raise the state's minimum wage from $7.50 to $8.50 would have become law. Instead, the bill was vetoed.
José Martinez, a bookstore worker and student at the University of New Mexico, said the bill would have helped tens of thousands of the "hardest working" New Mexicans.
This spring's state campaigns come on the heels of recent successes at the local level to pass higher minimum wages. Last year in San Jose, California, voters increased the city's minimum wage from $8 an hour to $10 an hour.
Ernest Johnson, a director with New Orleans-based Families and Friends of Louisiana's Incarcerated Children, explained that a higher minimum wage would benefit families.
"In New Orleans, the cost of living is going up dramatically. It's very difficult for people working minimum wage jobs to sustain themselves," he said. "We have a growing service industry in New Orleans. But when those jobs pay people wages that keep them in poverty, service jobs end up placing people in a position of servitude."
(Robin Templeton's post first appeared in Equal Voice News. Republished with permission.)