"When you're in Mississippi the rest of America doesn't seem real. And when you're in the rest of America, Mississippi doesn't seem real. "
— Bob Moses, Mississippi Freedom Summer Director
The Mississippi Freedom Summer project of 1964 was born of necessity. The ranks of civil rights workers in the state were being devastated and the nation needed to pay attention. The proposal to bring hundreds of college students into Mississippi for the summer to work as voter registration and Freedom School volunteers was controversial. Opponents worried that the mostly white students didn't know the state, might distract from building grassroots leadership and could provoke even more retaliation from Mississippi segregationists. But according to civil rights veterans who convened the 50th Anniversary gathering of Mississippi Freedom Summer in Jackson this past June, it was the local leaders, like former sharecropper Fannie Lou Hamer, who strongly supported the idea.
When I traveled to Mississippi by Greyhound Bus in the 1960s, it felt as though I were entering a foreign country. A country where blacks and whites could end up dead for appearing together in public; where registering to vote could lead to the firebombing of your home; and where it was a crime for black men to look directly into the eyes of white women. Speaking at the reunion, former Student Nonviolent Coordinating Committee leader Bob Moses said that Mississippi was a law unto itself at that time, defying the Constitution and the federal government, and leading the country in racism and resistance to progress.
Civil rights veteran Hollis Watkins, the youngest of 12 children and chairman of the anniversary planning committee, emphasized that Freedom Summer was part of a continuum of struggle that went back to slavery. That struggle was augmented by the 80,000 black World War II veterans who came home to Mississippi after the war to find they couldn't enjoy the freedoms they had fought abroad to protect. Many of those veterans, along with local National Association for the Advancement of Colored People (NAACP) members and other grassroots leaders across Mississippi, housed and supported the younger generation of civil rights organizers who came to the state in the early 1960s. In describing that era, Moses said, "They gave us the crawl space to do what we did."
Crawl space maybe, but anyone fighting to change the Mississippi segregationist status-quo faced unspeakable state-sanctioned abuse and violence. During a startling Tribute to Those Murdered and Martyred in Mississippi, we were asked to remember those civil rights activists murdered between the late 1940s and 1966 – "the strong black bridges we crossed over," as speaker Judy Richardson described them. Slowly the name, face and birth/death dates of each person were projected on a large screen for us to acknowledge. As the names and faces added up to well over 200, the audience felt the heavy burden of suffering and loss. For nearly all of those killed, we learned that their killers were never convicted.
It was into this environment that volunteers were invited to spend the summer of 1964 with the hope that their parents, ministers, friends, local newspapers and neighbors would finally have a reason to care about conditions for black people in Mississippi. My own mother was moved to collect money, clothing and supplies, as well as to forward my letters demanding federal intervention to the L.A. Times and our local Congressman.
But the Mississippi Reunion was not just about the past. Of the 1,200 people attending, 450 were young activists from across the country with their own workshops and trainings in organizing, political advocacy and mobilization. (The youth organized an energetic demonstration to support 4,000 Nissan workers in nearby Canton, Mississippi who are fighting to form a union). Another 500 participants were civil rights veterans in their 60s, 70s and 80s. And the rest were teachers, academics, filmmakers and writers exploring the civil rights era, or others anxious to reconnect with the history. The afternoons of the five-day gathering addressed such current challenges as laws limiting voting rights, health disparities, workers' rights and inequality in education — showing, as civil rights veteran Tim Jenkins asserted, that "Freedom Summer has no beginning and no end."
So what was the impact of Freedom Summer? According to historian and writer Taylor Branch, "The movement opened up freedom for a lot of different people. It proved that the race issue is at the heart of the promise and the problem of the United States. By pushing on the gates of freedom on the race issue, Freedom Summer opened it up for everyone." But he emphasized that "for every push forward there is an effort to misremember the movement and what it meant for the whole country."
The Mississippi Freedom Summer 50th Anniversary gathering was a way to make sure that Mississippi's civil rights history is defined by those organizers and local leaders who made it.
"Our mission was to transform people from subjects to citizens . . . lay another axe at the foot of the tree of inequality," Jenkins said. "In Freedom Summer we moved beyond sentiment to moral action — moral action as an alternative to politics and commerce," Jenkins declared. "These dry bones of our departed must be given life," by continuing the unfinished work of that movement.
To connect with the Mississippi Freedom Summer Movement visit Freedom50.org

No Walk in the Garden for the Urban Homeless
Throughout Los Angeles, landscaping is put to aggressive use, functioning as a weapon of anti-homelessness under the guise of beautification.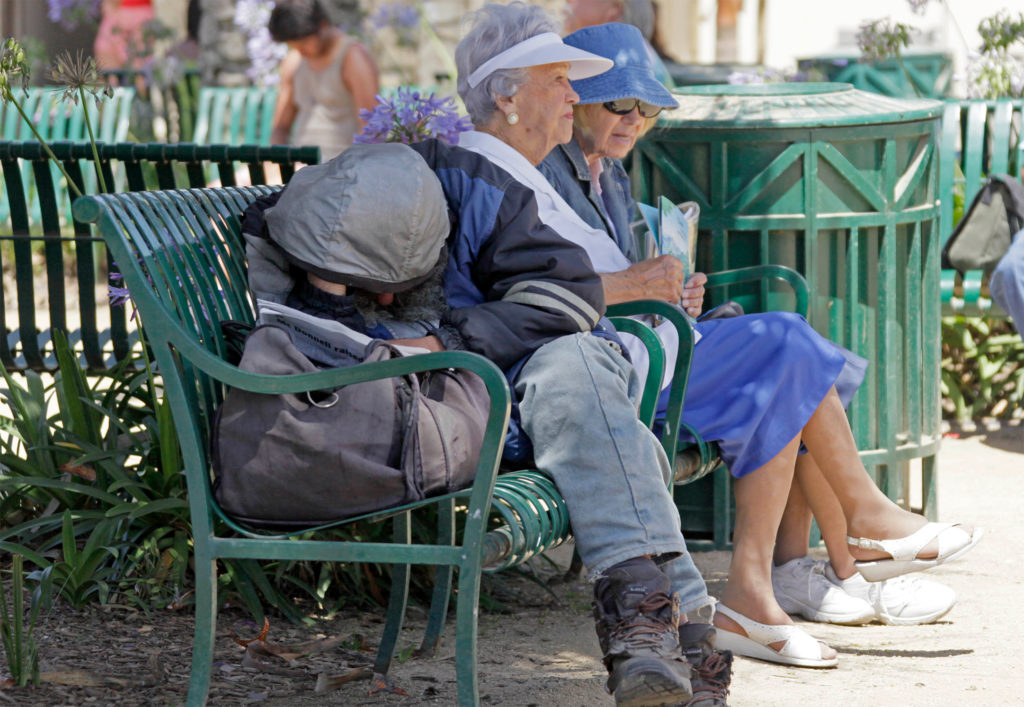 ---
The phenomenon of hostile landscaping in Los Angeles has further marginalized a swelling unhoused population.
---
Last May, in Los Angeles' coastal Venice neighborhood, Adam Smith noticed a series of planter boxes in the middle of a familiar sidewalk. Affixed near the intersection of Third and Sunset avenues, mere blocks from a Google campus and a suite of oceanside cafes, the standalone planters ran roughly the length of a wall delineating a parking lot behind a luxury condo complex.
Previously, Smith told Capital & Main, a group of six to 10 homeless people had regularly slept in tents on that block, favoring it for its relatively plentiful street light. A volunteer for the Culver-Palms Burrito Project, which prepares and serves the titular food to the unhoused of West Los Angeles, he'd become acquainted with individuals living there over the course of several years.
Once the planters were installed, however, the sidewalk was clear. "That next day, after I saw [the planter boxes] for the first time, I went there to look around because I figured they were sleeping somewhere else," Smith said. "I found people up around the corner, just, like, a block away."
---
Companies are privatizing public space to create more "landscape" for their businesses.
---
Throughout Los Angeles, landscaping is put to aggressive use, functioning as a weapon of anti-homelessness under the guise of beautification. Just as both public and private architectural design throttle space available to the unhoused internationally — via, among other examples, spikes on ledges and bars on benches to discourage sitting and lying down — and cities such as San Francisco arrange boulders to deter homeless encampments, the phenomenon of hostile landscaping in Los Angeles has further marginalized a swelling unhoused population.
Nearly 20 miles from Venice, a Los Feliz traffic median at the intersection of Vermont and Prospect avenues, and Hollywood Blvd., has regularly seen encampments arranged on its concrete ground, abutting a raised patch of desert landscaping and sycamore trees.
Christened "Vermont Triangle," the median's first redesign occurred in 2008, when the now-defunct Community Redevelopment Agency spearheaded a project to "improv[e] the pedestrian amenities" and "enhanc[e] the physical appearance of the existing median park." According to the Los Angeles Times, this yielded seating areas, lampposts to echo those at nearby Barnsdall Art Park, and the sycamores. Eventually, unhoused people began to pitch tents, availing themselves of the median's modest stretches of open public space.
Now, due to pressure from local business owners, Vermont Triangle is in flux. City Councilmember David Ryu's office, the Times noted, plans to invest $18,000 in another redesign, following a 2013 re-landscape. The 2013 update was financed in part by the Hollywood Hotel and Kaiser Permanente, according to Jeff Zarrinnam, who serves on the board of governors of the East Hollywood Business Improvement District. (Ryu's office couldn't be reached for comment.) Current proposals range from adding art installations and neighborhood signs, which Zarrinnam said the Los Feliz Neighborhood Council and East Hollywood Neighborhood Council have floated, to putting in planters.
Zarrinnam said he supports "bridge housing," a term the municipal government, neighborhood councils and local businesses use to favorably denote temporary homeless shelters and transitional housing. Yet reports indicate that the current state of temporary housing for many homeless people in Los Angeles County — who, as of May, numbered approximately 53,000 — is nothing short of abysmal. A recent investigation by radio station KPCC found infestations, harassment and medical negligence, among other scourges at various facilities throughout Los Angeles County, including those funded by the Los Angeles Homeless Services Authority (LAHSA), which conducts the county's annual homeless census.
Steve Diaz, an organizer for Los Angeles Community Action Network (LA CAN) who works with unhoused populations in downtown and South L.A., calls hostile landscaping of public space "the next level of criminalization" of homelessness. He alluded to an industrial neighborhood overlapping Skid Row, whose business owners call "The North Sea": a cluster of converted seafood warehouses and factories painted the same hues of oceanic blue — complete with landscaped sidewalks.
"They started breaking the concrete and taking away from the sidewalk to place different types of flowers, whatever garden they were putting in," Diaz said. "You have a major street [on] Skid Row that, at one point, was home to a lot of homeless folks now being gated off, and then the concrete being broken to start using these gardening pockets within the space to eliminate sidewalk access." (Miguel Nelson, a North Sea business owner involved in the area's marketing efforts, declined to respond publicly.)
As private property owners adopt guerrilla tactics to thwart homeless encampments, legal issues arise. Skid Row activist General Jeff Page has observed that, while property owners are permitted to control up to three feet of sidewalk extending from their buildings, "The North Sea is taking upwards of five to 10 feet of sidewalk, allowing only for ADA (Americans with Disabilities Act) compliance and zero space for homeless tents and/or encampments." (The Los Angeles Department of Public Works stated that the North Sea sidewalk landscaping is currently under investigation and thus couldn't comment further on the matter.)
What's more, business owners in South L.A. have illegally installed fences around their property, which, according to Diaz, will eventually give way to sidewalk landscaping. Relatedly, Adam Smith has been corresponding with city officials to ascertain the permit status of the Venice planters. The West L.A. office of the Bureau of Engineering, which issues revocable permits, told Capital & Main that it did not have a permit on file for the planters. Without one, according to the bureau, "no portion of the public right-of-way, including sidewalk, is allowed for private use."
Nevertheless, the planters remain and, according to Smith, have multiplied. Additional boxes, he said, are now ensconced in the sidewalk around the corner, to where the previously ousted people had first moved.
"For some people, [landscaping] sounds like a great idea," Diaz said. "But you're literally privatizing public space to create more 'landscape' for your business."
---
Copyright Capital & Main