Marlon Brando Biographer in Town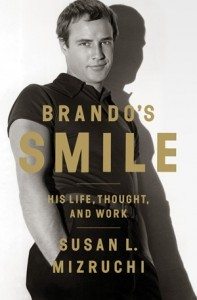 If you are even a semi-serious lover of film, then you probably have seen at least a few of Marlon Brando's indelible performances in films such as A Streetcar Named Desire, The Godfather and Apocalypse Now, to name only a few. You probably also are familiar with Brando's legendary appetites for women and food, the tragic arc of his family life and perhaps his controversial political stands.
What you likely don't know – few do — is that the man widely regarded to be the greatest American actor of the 20th century had a brilliant, restless mind to go with his innate talent and stunning looks. No, Brando was not merely a hunk with a mysterious intuitive genius — he was a student of history and the human condition who read voraciously and wrote some of the most famous lines from his epic performances. He was also a deeply committed activist whose well-known advocacy for Native Americans stemmed from a lifelong devotion to social justice.
This Brando — the thinker, the searcher, the advocate — is the subject of Brando's Smile, a fascinating new biography by Susan Mizruchi. (See Capital & Main's recent interview with her.) Granted unprecedented access to Brando's 4,000-volume library, audiotapes, annotated scripts and a wealth of other materials, Mizruchi has uncovered a largely neglected side of one of the most scrutinized public figures in the world.
On Sunday, July 13, from 4 to 6 p.m., Mizruchi will discuss and sign her book at Chevalier's Books, 126 N. Larchmont Blvd., Los Angeles. (World Cup Fans, please note that the reading was moved to avoid any overlap with the final.) She is an extremely lively and engaging speaker, so if you are any kind of a Brando fan, you don't want to miss it.
Other events: Mizruchi discusses A Streetcar Named Desire with Vivian Leigh biographer Kendra Bean, prior to a screening of the film at the Egyptian Theater, Wednesday, July 16, 6:30 p.m. Mizruchi also appears at the New Beverly Cinema to introduce Mutiny on the Bounty on July 15 and The Young Lions July 17.