Los Angeles' Groundbreaking "recycLA" Program Dumps the Dump
Other cities have zero waste policies but L.A.'s new contract requirements are being touted as the nation's toughest, and are being studied carefully by New York City, San Diego and others.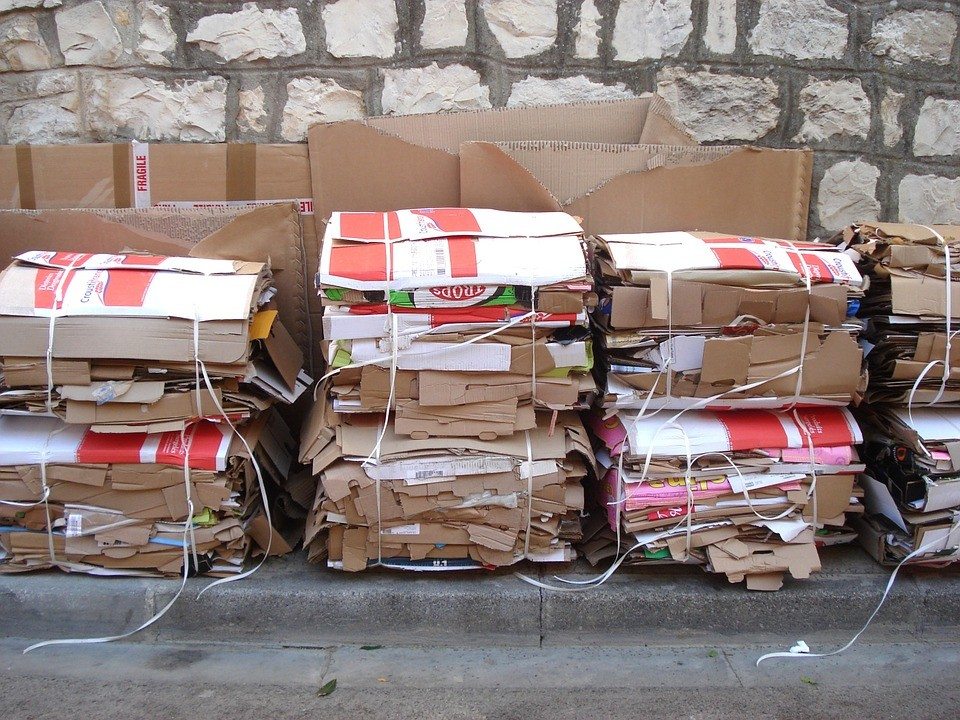 ---
Copyright Capital & Main
When James Castro looks down into the fast-moving flow of trash pouring through his waste-sorting facility, he sees a huge opportunity. He's in charge of this Materials Recovery Facility, or MRF – he pronounces it "murf" – run by waste hauling giant Republic Services in Anaheim, where sour-smelling blue-bin waste is sorted into bales of aluminum cans, plastics, paper and other materials that can be reused. Shouting over the racket of conveyor belts and sorting screens, he points at the hard-hatted pickers pulling materials off the lines and says his facility is diverting over 350,000 tons of waste from local landfills every year. But that's just a start.
"We do about 4,800 to 5,000 tons a day," says Castro. "But we're permitted for 6,000 tons a day. So we've got plenty of capacity. We run two shifts, and we can expand them, if need be, and we have weekends."
After July 1, this facility and others like it will be flooded with recyclables. That's when the city of Los Angeles launches "recycLA" (formerly called Zero Waste LA), one of the most innovative landfill diversion or "zero waste" programs ever attempted in the U.S. The program requires recycling at 80,000 city businesses and multi-family apartment buildings, where recycling had previously been voluntary and spotty at best. Over 70 percent of the material the city sends to landfills comes from these sites and only 19 percent of it is currently being diverted or reused. The stated aim of the program is to reduce the volume of material sent to landfills by 90 percent by 2025.
The city hopes to accomplish this by splitting the city into 11 zones or "wastesheds," and granting exclusive contracts to seven haulers, which will be forced to meet new labor, environmental, and health and safety requirements. The program has some critics.
"The fewer people who have to compete for business, the higher the price will be and the lower the quality of that service will be. That's the definition of a monopoly," says Daniel Faller, president of the Apartment Owners Association of California, which filed a lawsuit against the city on June 6, claiming some of his members have already been informed that their trash fees will double as of July 1. The association argues that the new fees assessed by L.A. Sanitation, which will raise the amount of money sent by trash collectors to the city from 10 percent to 12 percent, amount to a tax and therefore need to be approved by voters under state law.
Exclusive franchises, however, are hardly new to the trash business: 68 of Los Angeles County's 75 cities already grant exclusive contracts to waste haulers — many of them have for decades. An email from L.A. Sanitation said the bureau had no comment on the lawsuit and is rolling out recycLA on schedule.
And contract winners are hustling to catch up. Susanne Passantino, a municipal services manager with Republic Services who's helping to implement the program, acknowledges that Republic, which has won contracts in two city zones, bought a second MRF in Huntington Beach to add to the company's capacity. "The program is aiming to reduce the amount of city of L.A. material going to landfill by a million tons a year," she says. "There will never be another landfill here in California opened up in our lifetime, so with that space being very limited it's important to divert as much as we can."
Other places have zero waste policies – San Francisco's has been in place since 2002 and is diverting over 80 percent of its trash from landfills. But L.A.'s new contract requirements are being touted as the nation's toughest and are being studied carefully by New York City, San Diego and others, as they mandate streamlined truck routes, clean fuel trucks, guaranteed recycling and waste tracking, health and safety for workers and consumers, standardized rates, cleaned bins. They even require partnering with food rescue nonprofits to divert edible food from the dumps and into the hands of people who need it.
These are huge changes, requiring a new division of L.A. Sanitation, called the Solid Resources Commercial Franchise Division, to police the contracts. "Franchise waste haulers who fail to meet the standards can be assessed liquidated damages (fines) and in the worst case can have their franchise agreement terminated by the city," L.A. Sanitation said in emailed responses to questions from Capital & Main. The L.A. City Council got behind recycLA when it became clear that those haulers themselves will pay for the bulk of these changes – including an estimated $200 million in infrastructure improvements to things like MRFs.
The industry in the city of Los Angeles was what I call the Wild, Wild West — there were over 100 companies doing pickup within the commercial sector," says Robert Nothoff, executive director of Don't Waste LA, a coalition convened by the Los Angeles Alliance for a New Economy, which waged a seven-year campaign to create recycLA. "That made accountability really difficult."
When LAANE launched the coalition in 2009, it did a deep dive into the trash business and found a sector in disarray: According to its 2011 study, Don't Waste LA (the first of three LAANE studies on the subject), 125 different companies were permitted to haul commercial waste with no recycling or health and safety standards. They were also not coordinated in any way; at one point, the coalition showed Councilman Joe Buscaino that 11 different haulers were working busy Gaffey Street in San Pedro. All those trucks were clogging city streets, duplicating one another's routes and spewing diesel particulates into the air. And that doesn't include the pirate haulers who worked under the radar.
The coalition realized that haulers who were jousting for pieces of a very lucrative business would be willing to address myriad social and environmental problems in return for exclusive contracts. But changing this dirty business, said a source involved with the coalition, was "a war."
Those hundred-odd haulers who stood to lose out were against it, as were business interests wary of higher costs and compliance issues, including the L.A. Chamber of Commerce, the Valley Industry and Commerce Association, Central City Association, grocery store groups, hotel owners, the aforementioned Apartment Owners Association, hospitals and even Hollywood studios.
Don't Waste LA countered by creating its own broad coalition of city departments, labor organizations, business groups (including the Los Angeles County Business Federation), and environmental justice and community groups. They proved to councilmembers and then-Mayor Antonio Villaraigosa that a well-crafted zero-waste program could cut materials sent to landfills, produce many good jobs, greatly impact greenhouse gas emissions targets, save money and preserve L.A.'s roads.
"We consider this coalition a blue-green alliance, because the parties were interested in creating this new system that benefited not just consumers and the environment, but workers also, because this industry is so dangerous to the workers and the sorters," says Linda Escalante, Western States Policy Advocate for the Natural Resources Defense Council, one of the coalition's founding organizations, along with the Sierra Club.
Indeed, Robert Nothoff points out that the coalition's studies found that sanitation work was America's fifth most dangerous job, and that unregulated haulers were subjecting their workers to horrible conditions. Early on, members of the coalition visited an MRF run by a different company (not Republic Services) and found workers sticking their hands into the fast-moving waste stream without any safety gear, encountering glass, sharp metal, even needles.
"These workers, rather than thinking about pension or pay, were saying: 'I just want gloves. Or goggles. Or helmets.' The coalition quickly realized that these conditions matter for the environmental justice movement, as well," says Nothoff.
After years of intense lobbying by the coalition, L.A.'s City Council passed its Zero Waste LA initiative in 2014, which set the 90 percent waste-to-landfill reduction goal and created the exclusive franchise system. The city then began coordinating with haulers and sending out Requests for Proposals to see which ones could meet the new requirements; the L.A. Board of Public Works accepted the franchise contracts in September 2016. Those exacting contracts are now setting a nationwide standard.
As America's second largest city, Los Angeles is looking to post some huge environmental numbers. Businesses and apartment buildings in the city currently add about 2.5 million tons of material to landfill every year. Escalante notes, "If we meet our goal of 90 percent diversion by 2025, it would equate to eliminating 2.6 million metric tons of greenhouse gas emissions, which is about half a million vehicles off the road. And replacing the current estimated 800 diesel trucks that are being used by cleaner trucks would reduce the dangerous particulate matter by 94 percent." Diesel trash trucks are so heavy and inefficient, she notes, that each one on the road does the same amount of damage to infrastructure and to air quality as 9,300 full-size SUVs.
The new plan puts a special emphasis on separating out organic waste, as rotting yard clippings and food in landfills create huge amounts of methane, which account for five percent of the state's total greenhouse gas emissions. Franchise haulers are now required to work with nonprofits that specialize in rescuing food, and to also divert organics to be made into compost or biogas, or sent to biomass plants to generate electricity, or even reduced to a liquid form and sent to water treatment plants.
"In L.A., about one-third of our municipal waste stream is comprised of organic waste, which primarily is food," says Clare Fox, executive director of the L.A. Food Policy Council, and also a member of Don't Waste LA. "So we see this as a huge sort of moral issue as well as an environmental issue. It makes no sense to throw food away when we really could be feeding people or animals or creating compost."
Diana Lara, vice president of operations at Food Finders, a food rescue group with a 28-year history in Southern California, has seen the benefits already: As part of its participation in the recycLA program, Republic Services bought her group a new refrigerated truck for making pickups and deliveries. "That truck is going to be dedicated to Los Angeles and working in and around Downtown L.A. and the L.A. County area. So it's huge," Lara says.
But it's more than trucks and coordinated pickups, Lara notes. Companies like Republic are required to bring food rescue nonprofits and others out on their client visits, to make personal contacts. The recycLA program has already helped transform one of the original members of the Don't Waste LA coalition, a small, woman-owned e-waste company called Isidore Electronics Recycling. With the new contracts, Isidore was able to subcontract to several haulers, and was then acquired by Boyle Heights phenomenon Homeboy Industries to create Homeboy Recycling, bringing new jobs to largely Latino communities. Three of the new L.A. city wasteshed zones were designated for smaller haulers, such as Ware Disposal, which is also a woman-owned company.
A 2014 LAANE report found that recycling-related industries already employed 53,000 people with full-time jobs in L.A. County, but that a "clean recycling" program like the one now being deployed as recycLA, which pre-sorts materials and removes organics, and thus provides cleaner feedstocks from all that currently unsorted commercial and apartment trash, could produce another 20,000 good jobs in the county, and generate an additional $650 million in economic activity.
At a June 5 recycLA kickoff event held in front of an affordable housing complex in South L.A., where big blue bins were to be introduced as a demonstration of new recycling efforts, L.A. Board of Public Works Vice President Heather Repenning put the program in context, saying, "The timing of our announcement is ironic in the wake of recent developments with the Paris Climate Change Agreement, but it shows that this city is staying the course."
Zoe Ellas, executive director of Deep Green Housing and Community Development, the developer that owns the building where the kickoff event was happening, declared, "We are proud to play a role in redeveloping South LA. All of us eight million Angelenos have a huge role to play."
Councilmember Curren Price Jr., in whose 9th District the kickoff was taking place, said, "I'm glad we're here in front of an affordable housing project, to show that we're not only going to talk the talk, but that we're going to walk the walk."
Smiling, Price leaned back in and said, "This is the kind of trash talk we like."
---
Copyright Capital & Main

Lead Poisoning Widespread Among California Workers
The problem in California doesn't appear to lie with finding out about lead-poisoned workers, but with what happens — or doesn't happen — when some state officials get that information.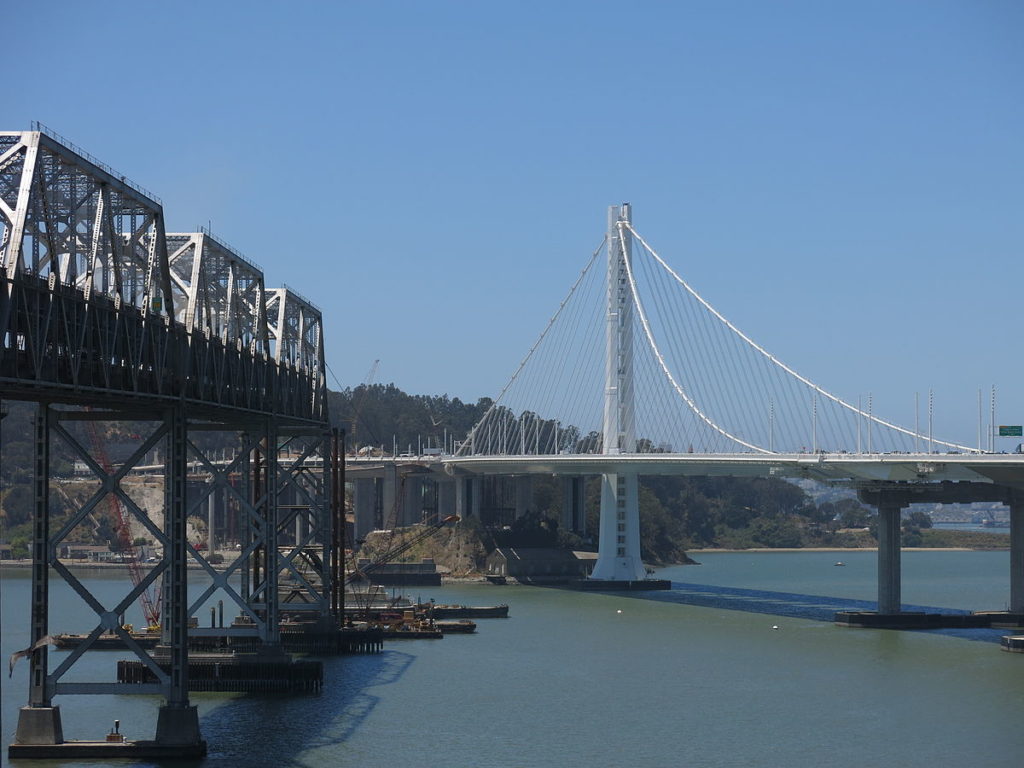 ---
Despite their company's safety promises, 12 employees working on the demolition of part of the Bay Bridge were lead-poisoned between 2013 and 2016.
---
Last March, Capital & Main launched an investigative series, "Battery Blood," which revealed that hundreds of workers at the former Exide battery recycling plant in Vernon, California, had for decades been exposed to lead poisoning. Even worse, the state's public health department knew about it but failed to act. Now, utilizing data obtained from the California Department of Public Health (CDPH), our joint investigation with the University of Southern California's Center for Health Journalism has found at least 80 companies — including one that recently dismantled parts of the iconic  San Francisco–Oakland Bay Bridge — continue to have  workers in California who are lead-poisoned at levels high enough to cause birth defects, tremors and a variety of brain disorders.
Once again we found that CDPH routinely failed to refer even the most egregious employers to state enforcement officers who can levy fines and require mandatory changes.
Some of the most extensive problems were found at other car battery recycling plants in working-class areas of Los Angeles. At one plant, Trojan Battery Recycling Company had 174 employees with elevated levels of lead in their blood between 2015 and 2016.
---
A state safety agency accepted the dismantling company's explanation that one bridge worker was lead-poisoned because he chewed tobacco.
---
"It's beyond upsetting," Bell city councilman Nestor Valencia said. He lives in one of the roughly 10,000 residential properties contaminated at levels above what is safe for kids by lead emissions from the Exide plant. "You know we need these jobs, but not at the expense of worker health or keeping kids who live nearby safe. This is what state government is supposed to be for, and they are failing us." Valencia said he was shocked to learn that other nearby plants continue to have lead-poisoned workers.
The Bay Area also has serious ongoing problems. There were lead-poisoning victims among those working on the demolition of the eastern span of the San Francisco–Oakland Bay Bridge. Despite promises to keep workers safe from lead, California Engineering Contractors, which received a $200 million dollar state contract to dismantle the earthquake-damaged span, had 12 cases of lead-poisoned employees between 2013 and 2016.
And at Target Masters West, an indoor gun range in the city of Milpitas, there have been more than 25 lead-poisoning cases in the last decade amongst workers who clean and manage the range. Seven cases were reported during 2015 and 2016, the most recent years for which data is available.
---
The California Department of Public Health has shown a stunning level of reluctance to turn lead-poisoning cases over to Cal/OSHA for enforcement.
---
Target Master West owner Bill Heskett bristled at the suggestion his workers had been poisoned, asserting that a spate of recent findings by public health experts that lead at lower levels is harmful to human health "isn't based in real science and has been set by a bunch of clerks with no accountability." Heskett said that the recent spikes in lead levels at his range were attributable to an employee "who wasn't following protocols." The employee was terminated, Heskett said.
In response to the Exide revelations in our March investigation, a bill was introduced in the California legislature by Assemblymember Ash Kalra (D-San Jose). Assembly Bill 2963 would require mandatory inspections at any workplace where a worker's blood lead level is at or above 25 micrograms per deciliter. Even at levels as low as 10 micrograms per deciliter, according to the U.S. Centers for Disease Controls (CDC), people with prolonged exposure to the neurotoxin are at higher risk for high blood pressure, heart disease, kidney disease and reduced fertility.
While the legislation has faced stiff opposition from industry groups and only passed out of the Assembly by a single vote, it has stronger support in the Senate and appears likely to make it to Governor Jerry Brown's desk.
Among AB 2963's supporters is Senator Bob Wieckowski (D-Fremont), who expressed dismay that problems at the Milpitas gun range (which is in his district), the Bay Bridge project and elsewhere have been allowed to linger. "If you had a family member or a friend exposed to high blood lead levels, you would want to see immediate action taken to reduce that exposure," Wieckowski said. "The health and safety of all workers should be the top priority."
Two Agencies Working in Silos
The problem in California doesn't appear to lie with finding out about lead-poisoned workers, but with what happens when some state officials get that information.
At battery plants, gun ranges and other workplaces where exposure to lead is common, the state of California requires companies to test their workers for elevated levels of lead. The custodian of that testing information is a division of CDPH called the Occupational Lead Poisoning Prevention Program (OLPPP). The division is funded through a small fee on employers in industries that work with lead. In theory, OLPPP provides education to companies and at the agency's discretion can refer serious cases to the California Division of Occupational Safety and Health, better known as Cal/OSHA. The enforcement agency can then determine the cause of problems and issue fines when unsafe practices are found.
---
"They've lost sight of the fundamental mission, to make sure that at the end of the day workers come home to their families safe and sound."
---
Our year-long investigation found a stunning level of reluctance on the part of CDPH to turn lead-poisoning cases over to Cal/OSHA for enforcement. Of the eight companies with some of the most persistent problems with lead exposure in California between 2013 and 2016, Cal/OSHA confirmed that it received no referrals from OLPPP for any of them during the last 10 years, and conducted no lead-related inspections at any of the companies. Many of the workplaces have had lead-poisoned workers for decades.
CDPH has declined repeated interview requests and did not respond in time for publication to written questions about its management of lead poisoning cases.
Through the state Public Records Act, Capital & Main obtained communications between OLPPP and California Engineering Contractors (CEC), one of the companies awarded a contract by California's Department of Transportation to dismantle the Bay Bridge.
In October 2013, OLPPP informed the company that workers on the project would be exposed to lead coating as the steel bridge was dismantled. "Our role is to assist employers in identifying and correcting work practices that can result in employees being over exposed to lead," the OLPPP wrote in a letter.
Within a year, workers on the project showed signs of elevated blood lead levels. The company asserted in an August, 2014 email to OLPPP that it could bring the situation under control. "We are confident we can get even the highest exposed workers under 10 µg/dl (BLL) with aggressive oversight and support," wrote CEC safety director Robert Ikenberry.
Despite assurances, the problem of lead-poisoned employees grew worse. By 2015 one worker's blood lead levels had exceeded 40 micrograms per deciliter, a level deemed "very high" by the CDC.  Michael McKinney, a safety manager for CEC had an explanation, which he provided in an email to OLPPP.  "The employee admitted to us that he was chewing tobacco during work. We feel that this practice is what caused the high lead level," McKinney wrote.  OLPPP appeared to accept that explanation, and never referred the Bay Bridge project for Cal/OSHA inspection, even when elevated blood levels amongst workers jumped 25 percent the following year.
Mariano Kramer, a former district manager for Cal/OSHA, said that simply accepting emailed assurances from a company with lead-poisoned workers is not acceptable. "There are a myriad of issues which can cause elevated blood lead levels. A trained inspector knows how to identify them."
In 27 states, workplace occupational lead safety standards are administered by the Occupational Safety and Health Administration (OSHA), a federal agency. In those states, any blood lead level above 25 micrograms triggers an automatic OSHA inspection, through which fines for unsafe conditions can be levied and changes can be mandated. A similar standard would go into effect in California if AB 2963 becomes law.
Kramer said he supports the proposed legislation because it would empower his former agency to more aggressively target workplaces that lead-poison workers.
"But," he added, "there are cultural issues within both agencies that no law will fix. They've lost sight of the fundamental mission, to make sure that at the end of the day workers come home to their families safe and sound."
This article was produced as a project for the 2017 California Data Fellowship, a program of the USC Annenberg Center for Health Journalism.
---
Copyright Capital & Main