Los Angeles' Groundbreaking "recycLA" Program Dumps the Dump
Other cities have zero waste policies but L.A.'s new contract requirements are being touted as the nation's toughest, and are being studied carefully by New York City, San Diego and others.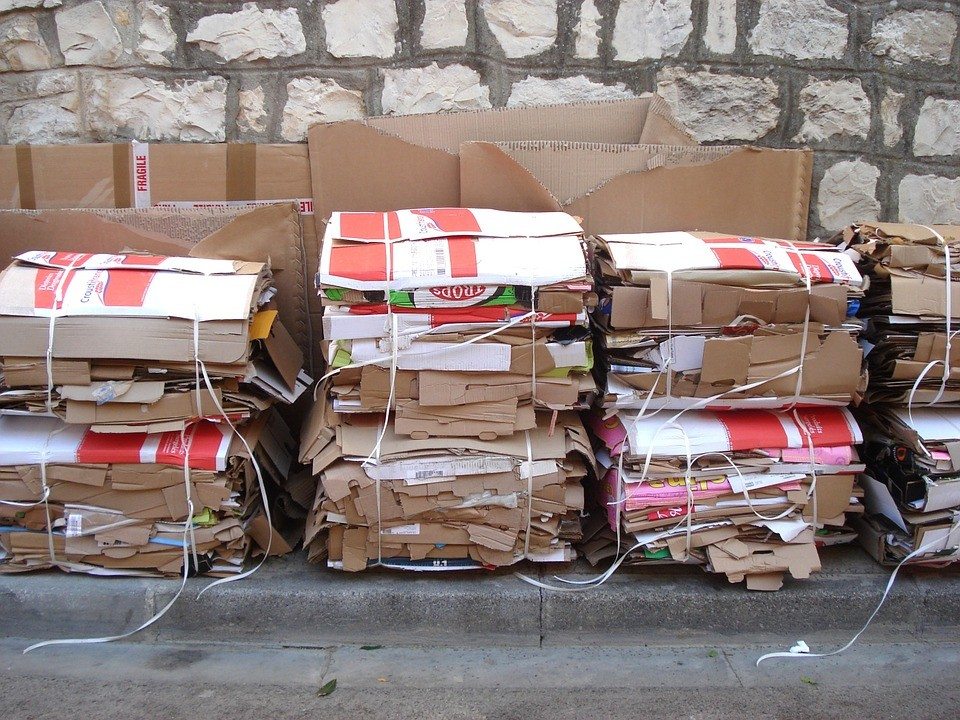 ---
Copyright Capital & Main
When James Castro looks down into the fast-moving flow of trash pouring through his waste-sorting facility, he sees a huge opportunity. He's in charge of this Materials Recovery Facility, or MRF – he pronounces it "murf" – run by waste hauling giant Republic Services in Anaheim, where sour-smelling blue-bin waste is sorted into bales of aluminum cans, plastics, paper and other materials that can be reused. Shouting over the racket of conveyor belts and sorting screens, he points at the hard-hatted pickers pulling materials off the lines and says his facility is diverting over 350,000 tons of waste from local landfills every year. But that's just a start.
"We do about 4,800 to 5,000 tons a day," says Castro. "But we're permitted for 6,000 tons a day. So we've got plenty of capacity. We run two shifts, and we can expand them, if need be, and we have weekends."
After July 1, this facility and others like it will be flooded with recyclables. That's when the city of Los Angeles launches "recycLA" (formerly called Zero Waste LA), one of the most innovative landfill diversion or "zero waste" programs ever attempted in the U.S. The program requires recycling at 80,000 city businesses and multi-family apartment buildings, where recycling had previously been voluntary and spotty at best. Over 70 percent of the material the city sends to landfills comes from these sites and only 19 percent of it is currently being diverted or reused. The stated aim of the program is to reduce the volume of material sent to landfills by 90 percent by 2025.
The city hopes to accomplish this by splitting the city into 11 zones or "wastesheds," and granting exclusive contracts to seven haulers, which will be forced to meet new labor, environmental, and health and safety requirements. The program has some critics.
"The fewer people who have to compete for business, the higher the price will be and the lower the quality of that service will be. That's the definition of a monopoly," says Daniel Faller, president of the Apartment Owners Association of California, which filed a lawsuit against the city on June 6, claiming some of his members have already been informed that their trash fees will double as of July 1. The association argues that the new fees assessed by L.A. Sanitation, which will raise the amount of money sent by trash collectors to the city from 10 percent to 12 percent, amount to a tax and therefore need to be approved by voters under state law.
Exclusive franchises, however, are hardly new to the trash business: 68 of Los Angeles County's 75 cities already grant exclusive contracts to waste haulers — many of them have for decades. An email from L.A. Sanitation said the bureau had no comment on the lawsuit and is rolling out recycLA on schedule.
And contract winners are hustling to catch up. Susanne Passantino, a municipal services manager with Republic Services who's helping to implement the program, acknowledges that Republic, which has won contracts in two city zones, bought a second MRF in Huntington Beach to add to the company's capacity. "The program is aiming to reduce the amount of city of L.A. material going to landfill by a million tons a year," she says. "There will never be another landfill here in California opened up in our lifetime, so with that space being very limited it's important to divert as much as we can."
Other places have zero waste policies – San Francisco's has been in place since 2002 and is diverting over 80 percent of its trash from landfills. But L.A.'s new contract requirements are being touted as the nation's toughest and are being studied carefully by New York City, San Diego and others, as they mandate streamlined truck routes, clean fuel trucks, guaranteed recycling and waste tracking, health and safety for workers and consumers, standardized rates, cleaned bins. They even require partnering with food rescue nonprofits to divert edible food from the dumps and into the hands of people who need it.
These are huge changes, requiring a new division of L.A. Sanitation, called the Solid Resources Commercial Franchise Division, to police the contracts. "Franchise waste haulers who fail to meet the standards can be assessed liquidated damages (fines) and in the worst case can have their franchise agreement terminated by the city," L.A. Sanitation said in emailed responses to questions from Capital & Main. The L.A. City Council got behind recycLA when it became clear that those haulers themselves will pay for the bulk of these changes – including an estimated $200 million in infrastructure improvements to things like MRFs.
The industry in the city of Los Angeles was what I call the Wild, Wild West — there were over 100 companies doing pickup within the commercial sector," says Robert Nothoff, executive director of Don't Waste LA, a coalition convened by the Los Angeles Alliance for a New Economy, which waged a seven-year campaign to create recycLA. "That made accountability really difficult."
When LAANE launched the coalition in 2009, it did a deep dive into the trash business and found a sector in disarray: According to its 2011 study, Don't Waste LA (the first of three LAANE studies on the subject), 125 different companies were permitted to haul commercial waste with no recycling or health and safety standards. They were also not coordinated in any way; at one point, the coalition showed Councilman Joe Buscaino that 11 different haulers were working busy Gaffey Street in San Pedro. All those trucks were clogging city streets, duplicating one another's routes and spewing diesel particulates into the air. And that doesn't include the pirate haulers who worked under the radar.
The coalition realized that haulers who were jousting for pieces of a very lucrative business would be willing to address myriad social and environmental problems in return for exclusive contracts. But changing this dirty business, said a source involved with the coalition, was "a war."
Those hundred-odd haulers who stood to lose out were against it, as were business interests wary of higher costs and compliance issues, including the L.A. Chamber of Commerce, the Valley Industry and Commerce Association, Central City Association, grocery store groups, hotel owners, the aforementioned Apartment Owners Association, hospitals and even Hollywood studios.
Don't Waste LA countered by creating its own broad coalition of city departments, labor organizations, business groups (including the Los Angeles County Business Federation), and environmental justice and community groups. They proved to councilmembers and then-Mayor Antonio Villaraigosa that a well-crafted zero-waste program could cut materials sent to landfills, produce many good jobs, greatly impact greenhouse gas emissions targets, save money and preserve L.A.'s roads.
"We consider this coalition a blue-green alliance, because the parties were interested in creating this new system that benefited not just consumers and the environment, but workers also, because this industry is so dangerous to the workers and the sorters," says Linda Escalante, Western States Policy Advocate for the Natural Resources Defense Council, one of the coalition's founding organizations, along with the Sierra Club.
Indeed, Robert Nothoff points out that the coalition's studies found that sanitation work was America's fifth most dangerous job, and that unregulated haulers were subjecting their workers to horrible conditions. Early on, members of the coalition visited an MRF run by a different company (not Republic Services) and found workers sticking their hands into the fast-moving waste stream without any safety gear, encountering glass, sharp metal, even needles.
"These workers, rather than thinking about pension or pay, were saying: 'I just want gloves. Or goggles. Or helmets.' The coalition quickly realized that these conditions matter for the environmental justice movement, as well," says Nothoff.
After years of intense lobbying by the coalition, L.A.'s City Council passed its Zero Waste LA initiative in 2014, which set the 90 percent waste-to-landfill reduction goal and created the exclusive franchise system. The city then began coordinating with haulers and sending out Requests for Proposals to see which ones could meet the new requirements; the L.A. Board of Public Works accepted the franchise contracts in September 2016. Those exacting contracts are now setting a nationwide standard.
As America's second largest city, Los Angeles is looking to post some huge environmental numbers. Businesses and apartment buildings in the city currently add about 2.5 million tons of material to landfill every year. Escalante notes, "If we meet our goal of 90 percent diversion by 2025, it would equate to eliminating 2.6 million metric tons of greenhouse gas emissions, which is about half a million vehicles off the road. And replacing the current estimated 800 diesel trucks that are being used by cleaner trucks would reduce the dangerous particulate matter by 94 percent." Diesel trash trucks are so heavy and inefficient, she notes, that each one on the road does the same amount of damage to infrastructure and to air quality as 9,300 full-size SUVs.
The new plan puts a special emphasis on separating out organic waste, as rotting yard clippings and food in landfills create huge amounts of methane, which account for five percent of the state's total greenhouse gas emissions. Franchise haulers are now required to work with nonprofits that specialize in rescuing food, and to also divert organics to be made into compost or biogas, or sent to biomass plants to generate electricity, or even reduced to a liquid form and sent to water treatment plants.
"In L.A., about one-third of our municipal waste stream is comprised of organic waste, which primarily is food," says Clare Fox, executive director of the L.A. Food Policy Council, and also a member of Don't Waste LA. "So we see this as a huge sort of moral issue as well as an environmental issue. It makes no sense to throw food away when we really could be feeding people or animals or creating compost."
Diana Lara, vice president of operations at Food Finders, a food rescue group with a 28-year history in Southern California, has seen the benefits already: As part of its participation in the recycLA program, Republic Services bought her group a new refrigerated truck for making pickups and deliveries. "That truck is going to be dedicated to Los Angeles and working in and around Downtown L.A. and the L.A. County area. So it's huge," Lara says.
But it's more than trucks and coordinated pickups, Lara notes. Companies like Republic are required to bring food rescue nonprofits and others out on their client visits, to make personal contacts. The recycLA program has already helped transform one of the original members of the Don't Waste LA coalition, a small, woman-owned e-waste company called Isidore Electronics Recycling. With the new contracts, Isidore was able to subcontract to several haulers, and was then acquired by Boyle Heights phenomenon Homeboy Industries to create Homeboy Recycling, bringing new jobs to largely Latino communities. Three of the new L.A. city wasteshed zones were designated for smaller haulers, such as Ware Disposal, which is also a woman-owned company.
A 2014 LAANE report found that recycling-related industries already employed 53,000 people with full-time jobs in L.A. County, but that a "clean recycling" program like the one now being deployed as recycLA, which pre-sorts materials and removes organics, and thus provides cleaner feedstocks from all that currently unsorted commercial and apartment trash, could produce another 20,000 good jobs in the county, and generate an additional $650 million in economic activity.
At a June 5 recycLA kickoff event held in front of an affordable housing complex in South L.A., where big blue bins were to be introduced as a demonstration of new recycling efforts, L.A. Board of Public Works Vice President Heather Repenning put the program in context, saying, "The timing of our announcement is ironic in the wake of recent developments with the Paris Climate Change Agreement, but it shows that this city is staying the course."
Zoe Ellas, executive director of Deep Green Housing and Community Development, the developer that owns the building where the kickoff event was happening, declared, "We are proud to play a role in redeveloping South LA. All of us eight million Angelenos have a huge role to play."
Councilmember Curren Price Jr., in whose 9th District the kickoff was taking place, said, "I'm glad we're here in front of an affordable housing project, to show that we're not only going to talk the talk, but that we're going to walk the walk."
Smiling, Price leaned back in and said, "This is the kind of trash talk we like."
---
Copyright Capital & Main
Is Environmental Law to Blame for California's Housing Crisis?
Developers blame a half-century-old law for slowing development. Studies show there are other factors at work.
---
The debate intensifies over how much the California Environmental Quality Act is an impediment to the construction of affordable housing.
---
Since it was enacted in 1970, California environmentalists have hailed the state's most sweeping environmental law, the California Environmental Quality Act, as a bulwark against destruction of California's natural resources and endangerment of its most vulnerable residents. The law requires developers to involve the public in their building plans, and to minimize damage to the environment in accordance with public input and scientific study.
But now, with Governor Gavin Newsom's push to see 3.5 million homes built by 2025, CEQA may be in Sacramento's crosshairs. Developers and trade unions have long complained that the law was written so broadly that neighborhood groups and certain unions have used it to start litigation that slows or stops necessary projects. Newsom's goal, which would require a six-fold increase in current housing production over the next seven years, could lead to their complaints overriding environmental concerns.
Cesar Diaz, legal and political director of the State Building and Construction Trades Council of California, confirmed to Capital & Main that that his union was working with builders and legislators to streamline CEQA. But he denies that their plans amount to gutting the landmark law. "We have been fighting to protect CEQA for years," Diaz says, "and we will fight to make sure any changes to CEQA are done surgically, rather than getting rid of it." In January Diaz signed on to a letter, with environmental justice and low-income housing advocates, urging the governor and legislators to not weaken CEQA.
Diaz says his union and the California Building Industry Association were instead working to refine two already-introduced housing bills, SB 50 and SB 4, both aimed at spurring high-density housing near jobs and transit centers. The additions to those bills, and possibly more, Diaz said, would "provide certainty to developers and stronger labor protections and pay increases for construction workers." Certainty for developers, he clarified, would mean relief from impact fees and construction defect litigation that can entangle builders in litigation. In exchange, construction workers would receive higher wages and benefits.
But the fact that environmental groups and low-income housing advocates, thus far, are not at the table concerns Caroline Farrell, Executive Director of the Center for Race, Poverty and the Environment. "Discussions between the building trade and developers have led to a lot of confusion and frustration among environmentalists. The people who would be impacted by any change [to CEQA] have to be heard."
* * *
There is significant debate over how much CEQA is an impediment to development. Environmental interests worry that views expressed by two researchers in recent New York Times op-ed, arguing that CEQA alone is a significant contributor to the housing crisis, will prevail in any housing legislation. David Pettit, a senior attorney with the Natural Resources Defense Council (NRDC) says that there are already CEQA speed-ups and work-arounds for some large construction projects, including a 27-story development in Los Angeles' Chinatown.
"There has been the occasional abuse of CEQA, as with any area of the law, like locals in Venice using the law to fight a homeless shelter," he says. "That's appalling, but you don't get rid of the whole law."
A recent (and continuing) study of nine California cities conducted by the University of California, Berkeley has so far concluded that CEQA is not the primary driver of delays in new developments. Eric Biber, a UC Berkeley law professor who was involved in the study, says local governments and local zoning restrictions have more to do with lengthening the development timeline.
"We don't say CEQA itself is not important, but [reforming it] is not the silver bullet to solve the building crisis. CEQA lawsuits are triggered when local governments impose judgments on whether their own standards are met."
Jennfier Hernandez, a partner at the Holland & Knight law firm, disagrees with that assessment. "CEQA is tremendous, but it has been used as a tool to stop any project at any time." Suggesting that CEQA reformers and low-income housing activists should be on the same side, Hernandez cited her study, which concluded 100 percent of Bay Area CEQA lawsuits and 98 percent of Los Angeles CEQA suits targeted "infill" development in existing communities. CEQA, she says, is "an excuse by NIMBYs to preserve the status quo."
Yet other data back up Biber's findings. A 2018 survey from the Association of Environmental Professionals looked at over 140,000 housing projects that went through CEQA review from 2015 to 2017 across California, and found that exemptions to or streamlining of environmental law were used in 42 percent of the projects. As with Biber's study, the survey concluded that the top inhibitors to housing production were not related to CEQA.
Alexander Harnden, a housing policy advocate for the Western Center on Law and Poverty, agrees that CEQA has been occasionally abused by exclusionary neighborhood groups and city councils. But he argues that lengthy legal challenges under CEQA account for a small fraction of projects. "The rest of the projects are altered in appropriate ways and getting approved."
Harnden says that streamlining housing development should include incentives for developers – such as eliminating parking requirements – in exchange for commitments to build a larger percentage of affordable units. He also advocates expanding rent-control measures and prohibiting landlords from refusing Section 8 vouchers, subsidize housing for low-income tenants. But he emphasizes that supply-side solutions like building houses at more than six times the current rate won't fix everything. No matter how many millions of units go up in the next seven years, he says, "it won't solve the increases in homelessness and rent gouging." Nearly everyone in the debate agrees that there's no single solution to the housing crisis. And they say taking on all of these aspects requires both compromise and political will.
---
Copyright Capital & Main