Living Homeless in California: Pet Owners on the Streets
Pets can provide an invaluable source of companionship, comfort and security. That's especially true for those without stable housing.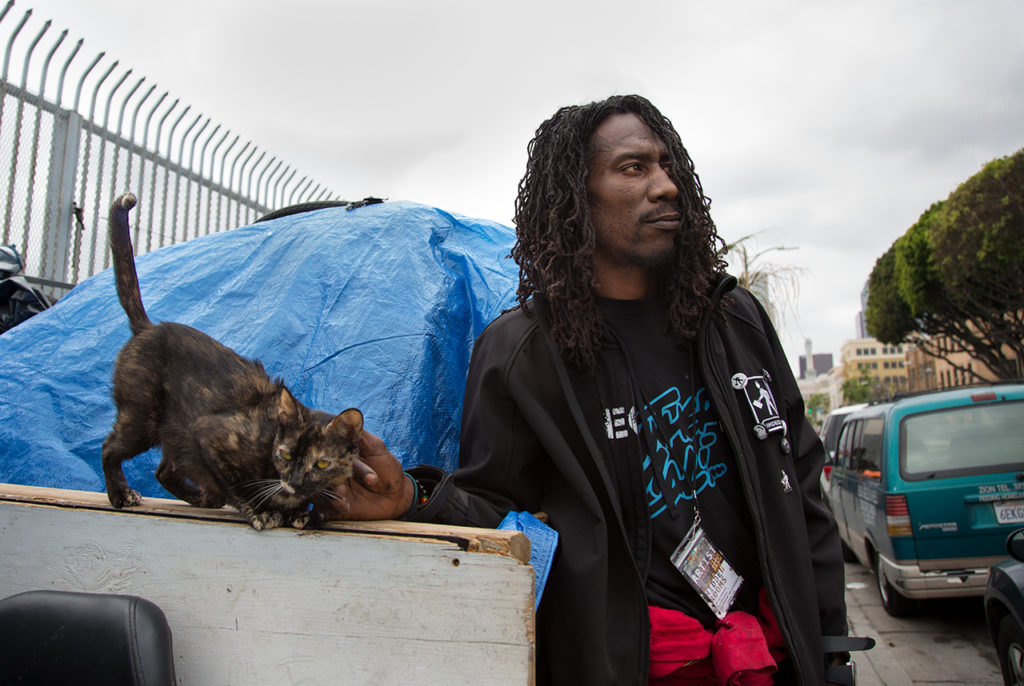 An estimated five to 10 percent of homeless people in the United States have pets, according to the Nevada nonprofit organization, Pets of the Homeless. Take a trip through the tent cities that line the sidewalks of downtown Los Angeles and you'll see dogs, cats, even birds. As any pet owner can tell you, animals provide affection, comfort and stability, something that can be particularly meaningful when your life's possessions could be swept away at any time by a police raid.
The animals benefit too. Most pets would prefer constant companionship outdoors to solitary shelter.
But many homeless shelters and housing programs don't allow pets. The expenses, logistics and liabilities involved in housing animals can be prohibitive for programs that are already underfunded. The number of shelters that allow animals are on the rise, however.
I recently visited with a handful of homeless and formerly homeless pet owners in Los Angeles to learn about their lives.
---
Maria, 64
Maria sells off-brand cigarettes in front of a row of tents on a busy street in downtown Los Angeles. She keeps her tobacco merchandise arranged neatly on a small plastic tray, and beside her a tiny Chihuahua puppy, Cici, runs and plays amid the sidewalk foot traffic, or naps in the small carrier at Maria's feet.
Maria has been living here since getting out of jail in November, she says, "for something I didn't do. It took them 35 days to realize I didn't do it." She emerged to find her husband of 37 years was gone. "He disappeared with all my money and all my stuff," she adds. "The day I came out I slept on the sidewalk. My pillow was the cement and my blanket was the jacket I was wearing."

"I was angry the first few months," she continues. But in February she bought Cici from a street vendor for $40. "She has taken me out of my depression over what my husband did. She's become everything to me. She's my life."

Maria knows everyone in her tent community. People stop by every few minutes to say hi. A couple even buy cigarettes, including a young man named Toby. "I call him my adopted son from the street, I take care of him. He's been on the street since he was 16." Toby recently turned 20, Maria says. "I got him a big-ass cake and some money, some clothes. I'm the first person who celebrated his birthday on the street."
In a little over a month, Maria is scheduled to move to federally subsidized Section 8 housing in Long Beach. It's far from her friends here, but she's happy to go. "All I want is a roof over my head. As long as me and my dog got that, I'll be alright."
---
Craig, aka Taco, 58
"He's my best friend," Taco says of his 10-month-old puppy, Hambone. "I didn't realize that a person could have such an attachment to an animal. But I do."
Taco tells me he's lived in California all his life, "except for I lived in Chicago for nine years. I loved Chicago, the weather, everything about Chicago. My ex-wife, she didn't like the weather. We relocated back to L.A."
Taco is single now. "My guards are still up, but I want to have those old feelings back again. Because I'm somewhat of a romantic type guy." But Taco doesn't get lonely, because he has Hambone. "He cheers me up when I'm sad. He'll nudge me. He'll come with concern, and then he'll start playing, trying to make me laugh."
Taco and Hambone live in a small single-room occupancy apartment, or SRO, in a building run by a nonprofit social services agency. "I came down here to Skid Row for the resources. A friend was telling me about the housing."
He says his apartment is nice, and much better than shelters he's stayed in, "but you're on Skid Row. Skid Row's like the courtyard, if you've ever been to the penitentiary. You have be ready, you have to have your shoes strapped up."
Taco says he's on the list for Section 8 housing, and looking forward to moving. He thinks he might like to live near Staples Center. A woman walks by with a small dog, and Hambone strains on his leash, whimpering and sniffing the other dog. "Stop it, stop it," Taco scolds. "That's a girl dog. She snapped at you, right? You'll learn, you'll learn women too."
---
Thomasina, 30
"I've had Flower since she was a puppy," Thomasina says of her yellow Chihuahua mix. "This lady had a box of them in front of a store. The people I was staying with at the time bought her for their daughter, but they didn't take care of her. She was so small, covered in fleas, so scared. So I started taking care of her. And ever since she's been by my side. My little partner in crime."
That was five years ago, when Thomasina's life was in chaos. She had no stable place to live, and few opportunities. "I wanted to be in the working world, but had to live my life in the street. I got into prostitution by default." She came to Skid Row in search of housing and social services, a move that was inspired in part by Oprah Winfrey. "I saw this clip of Oprah, and her words spoke to my heart," she says, laughing. "She was saying, you have to help yourself, you have to do what you have to do."
Thomasina was placed in dog-friendly SRO housing. "That room was my peace of mind," she said. But living on Skid Row was often frightening. "Females down there usually have brothers or a boyfriend, people that can help them. It was just me and my dog. I didn't have anyone watching my back. I was an easy target." She was frequently harassed, sometimes by other residents in the building, and spent a lot of time hiding in her room. It was claustrophobic, she says, but having her dog kept her sane.
When Flower had a litter of puppies a couple of years ago, Thomasina gave them all away, but one was returned because he was too timid. Now both dogs are registered emotional support animals. Last year Thomasina moved from Skid Row to a small apartment she describes as "perfect." But she was facing homelessness again when the landlord recently decided pets were no longer allowed. The nonprofit HEART helped her contest the eviction and stay in her home with her little Chihuahua family.
---
Crushow, 40
Crushow describes himself as a community activist and "art Jedi." He's on the way to his studio and can only talk for a few minutes. "I have show this weekend at Hotel Rendon. It's called Art at the Rendon. Each artist gets their own room to install their art."
Crushow introduces me to his three pit bulls and a tortoiseshell cat named Justice. The cat perches calmly of the edge of Crushow's makeshift shelter, surveying the neighborhood. Crushow says when he's away, neighbors take care of his pets, and he does the same for them. "We all try to look out for each other."
Crushow is philosophical about life on the street. "Your box is bigger than mine, so what? I got another box I go to. And an office I go to. And an art studio I go to. It doesn't matter what box it is. People are constricted and taught how to think. And I'm not."
He shrugs. "Get caught up in that rat race all you want to, but when you die, what do you have? What did you do while you were here? Just thought about yourself and your big-ass box?"
---
Carol, age unknown
"I like walking around here," Carol says, walking through Little Tokyo with a giant grey pit bull named Boss. She gestures toward Skid Row where she lives. "It's like a war zone down there." When I ask how long she's been there, she replies, "Too long. Too long!"
Carol says she's been depressed since Mother's Day. Her own mother died a couple years ago, and it's especially painful at certain times of the year. "Anniversaries are hard. Her birthday is hard." Walking Boss helps cheer her up a little.
Carol tells me that she looks after Boss and a few other dogs for friends. He was one of a litter of nine puppies. "I took care of his mama, Lady, when she was in labor. It took 14 hours for all those puppies to be born!" That was a year ago. "We didn't let their paws touch the sidewalk till they'd all had their shots. They can get Parvo that way."
Carol is happy to talk but decides against being photographed.
Two weeks later, I meet a man on Skid Row who introduces me to four pit bulls he keeps in a pen next to his tent. One slips out the side of the pen and comes running over. It's Boss! Then a couple of the other dogs follow his lead, and I realize the pen is nothing more that propped-up fencing. The dogs could easily knock it down – but they know better. After I play with the dogs for a while, their owner orders them back into the pen and they all trot home obediently. He tells them to sit for my camera, and they do, wagging their tails. I want to learn more about how he got so good at training dogs, but he shakes his head. "I don't do interviews."
---
Living Homeless in California: A Death in Venice
On a four-block walk from his Venice home, a filmmaker encounters sky-high rents, a pet store offering "anti-anxiety calming anti-aggression" dog treats and gourmet "hot smoked peppered salmon" at Whole Foods. Last December he found a body by a bus bench.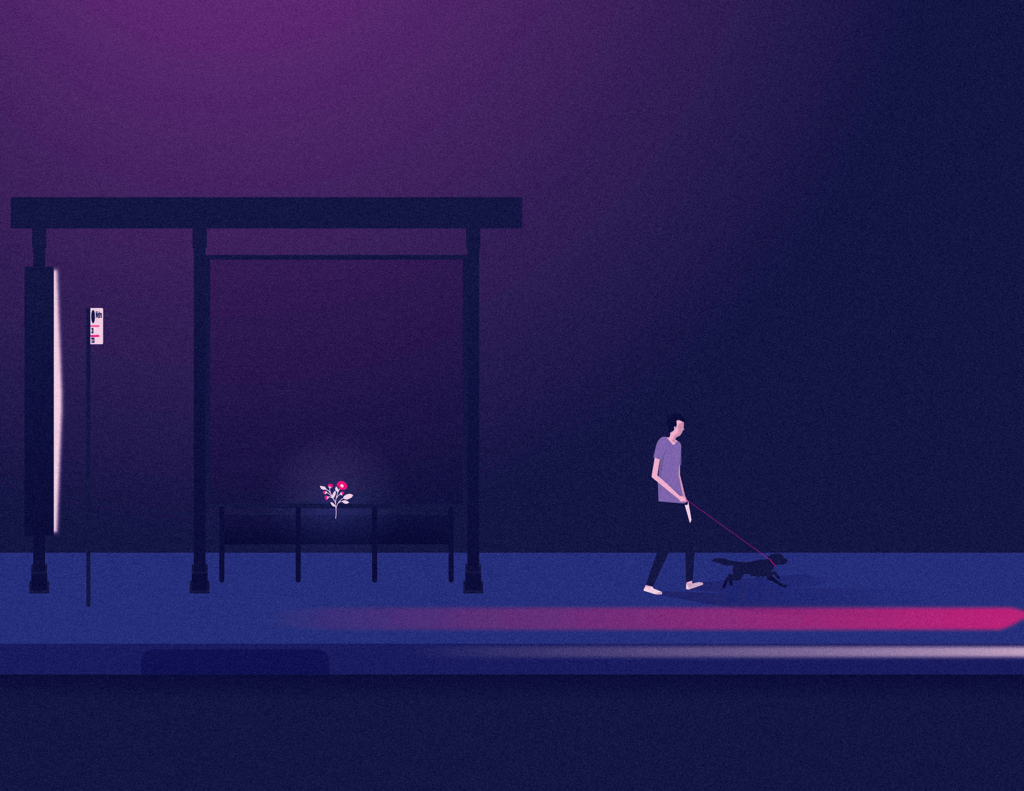 ---
Local businesspeople were nonplussed.
One merely noted that the dead man was a "homeless dude."
---
I take a walk every morning to the Whole Foods that sits on the corner of Lincoln Boulevard and Rose Avenue, four blocks from my house in Venice, California. I walk for exercise and observation. I buy a piece of fruit and return home the way I came, a 30-minute canvassing of what remains in place and at stake, and what has changed in this rapidly gentrifying community.
In four blocks I cross paths with the contradictory reality of Venice during a time of frenzied transformation. One can purchase Atlantic Hot Smoked Peppered Salmon at Whole Foods for $28.99 a pound, while across the street the popular Natural Pet store offers "anti-anxiety calming anti-aggression" "Zen Licks" for dogs who belong to people more anxious than they are.
Home prices and rents here are at astronomically high, rivaling Bel Air and the Pacific Palisades for the most expensive real estate in California.
And there are hundreds of homeless men and women living on the streets, many in semi-permanent tent enclaves, others sleeping alone and where they can. On my walk I pass two or three men that are mentally distressed and who occasionally feel threatening.
Last December I walked by a familiar bus-stop bench at the corner of Lincoln and Sunset Avenue, and saw a dead man. Police had cordoned off the area with  yellow tape, with a white tarp covering the body.
Local businesspeople were nonplussed. One merely noted that the guy was a "homeless dude," as if that kind of death is no surprise – and it isn't — and certainly not worth mourning. The other homeless people in the neighborhood didn't know him, and had little to say about his death, perhaps understanding that the scene is all too common in Los Angeles, with 831 other homeless men and women having preceded this man in 2017, a sizable spike from the 713 homeless who died on the streets in 2016. In 2013, the number was 458. Did those looking on also feel a slight foreboding?
---
Unclaimed bodies are cremated in
Boyle Heights. Unclaimed ashes end up in a common grave after two years.
---
Ed Winter, assistant chief of investigations at the county coroner's department, tells us that the man was Caucasian, over 60, with no living parents and from South Carolina. He died of a heart attack. "Case 2050" has a half-sister who was afraid of him when he was a younger man and lived closer to home. He had been incarcerated a few times, and according to siblings, had been estranged from his family for at least 35 years. They want nothing to do with what's left of him. Unclaimed bodies are cremated at the L.A. County Crematory and Cemetery in Boyle Heights. If the ashes are not claimed in two years, they end up in a common grave where all unattended bodies for the year are buried.
---
How the dead man ended staking out a home on a bus bench in Venice is a mystery.
---
How the man ended staking out a home on a bus bench in Venice is a mystery. As far as I could tell the bench was his, if longevity on a spot can be considered an ownership of some sort. During his final weeks, when I got to know his place but not him, this was a man with next to nothing in his life. He now has only a number.
During the day, he would sit up with his head bowed, trying to sleep or hide or go unnoticed and unharmed: These anti-homeless benches are designed to keep people from lying down. He pissed himself often enough, rarely showered, and the evidence of both details were clear to the senses.
In the evening he managed to tweak his body and thin blankets around the steel arms that divide the bench into quarters. His "sleep" most certainly was a twisted affair, with traffic and sirens and unwanted thoughts weaving in an out of a drink-soaked fever dream of hellish dimensions.  A nearby pepper tree, strangely, is filled with what sounds like hundreds of parakeets jabbering nonstop, adding another element of torture from a source that is designed to bring delight. My man, why pick this godforsaken corner, this punishing bench?
---
Under the sign of a new "gilded age," distracted and busy as we all are, giving our attention to another human being who is at his wits end, or just his end, is difficult in the extreme.
---
These days, under the sign of a new "gilded age," distracted and busy as we all are, giving our attention to another human being who is at his wits end, or just his end, is difficult in the extreme. Complaints will be made over dinner, questions asked, advice given: What can I really do? There are so many who need help. I'll only give money to those who are providing a service — "cleaning" my windshield or busking a few songs on a corner. Finally, fatally, as if an echo from 19th-century London: Are there no workhouses, is there not some slight provision for the poor and destitute? Someone must be doing something. Catastrophic, large-scale disasters bring out the best in us; ugly, slow-moving ones, not so much.
Of course, some people and institutions and a few elected officials are trying to help, doing honorable work, with funds raised for low-cost housing, shelters, mental health and addiction care. But in general, the commons seems overdrawn on its ethical accounts, if the neglect of these people over many decades counts as evidence for such a claim. And some will ask, in the language of behavioral economics: Was this man, who likely had chosen his fate, a "free rider" after all? Sure, build low-cost housing for the homeless, but please not near my increasingly valuable house. Across Venice, this conversation is taking place as I write, with many wanting to leave the city of Los Angeles (a "Vexit"), so as not to be subject to the decisions of the city council when it comes to the homeless question.
A homeless man who falls dead off a bus bench onto Lincoln Blvd. at 7 in the morning might not be worthy of any local poet's attention, but we most certainly need a few poets in these precincts to document such harrowing events. Unclaimed and now a statistic, he is an anecdote to be passed around among friends and neighbors, a silent and now archived body and testimony to our time in paradise. As for this unlovely and unloved man, even a kind burial will have to wait until that common grave opens up, two years hence.
---
Copyright Capital & Main