Learning about the Real Walmart from the Workers' View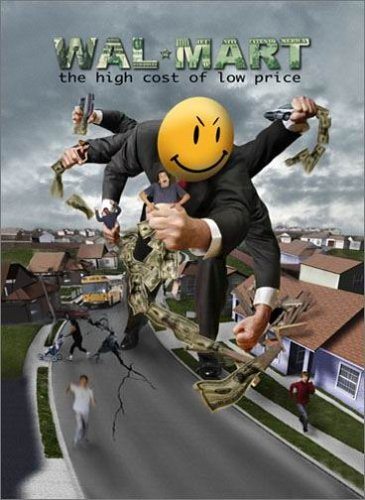 A couple of weeks ago, at a community meeting with other members of the Alliance for Healthy and Responsible Grocery Stores, I got to hear some testimony about working conditions at Walmart from a group of women who work at the retail giant's stores around Los Angeles County. Our alliance is dedicated to making sure that grocery stores have the best impact they can on our city. After Walmart's announcement that they were expanding into urban markets with smaller-scale grocery stores, we invited some workers to tell us about life as Walmart "Associates." I will respect their anonymity here, so as not to cause them problems on the job.
I didn't expect to hear much that was shocking, but what I heard that day threw me for a loop. I couldn't stop talking about it to my wife when I got home.
As someone who works on food justice and economic issues, I was already aware that wages at Walmart are so low that most employees qualify for federal benefits such as SNAP (Food Stamp program). But what I found appalling was that some of the women had worked for years under the promise of wage increases which never materialized. They moved from department to department, acquiring skills, taking up the slack for other workers who had been laid off, eventually managing a wide variety of departments. And they hardly got any increase in pay over years of time for what they did.
But it wasn't just the fact they didn't get raises. The management used underhanded and elementary-school level tricks to keep the women from getting raises. One of the workers was given a cut in pay, then "promoted" and given back her original pay as a "raise."
The women told stories of how Walmart has high turnover, laying off employees rapidly, while expanding the duties of the remaining employees to cover the work. The work at Walmart isn't simple either: workers manage each department as though it's an independent store. That's a huge amount of responsibility, the equivalent of a high level supervisor, yet the workers were getting wages akin to the lowest entry level worker in most places.
Many, if not most, workers are kept at a reduced number of hours, in spite of experience, in spite of having been promoted, and often, apparently as a form of punishment.
Even more disgusting were stories of cruel games played by the management, just to see how far employees could be pushed. One woman was told she had to change her name badge from the name she had always used for herself her entire life, simply because management didn't like the sound of her name. The supervisor who ordered this was eventually reprimanded, but apparently stories like this were so common among workers at different Walmarts that the workers suspected it was part of the training of the supervisors.
Nearly all the workers had stories of how they were forced to work after suffering job-related injuries, usually from heavy lifting or pulling large pallets of goods. Supervisors would usually mock, ridicule, or question the integrity of the employee who was hurt. In one instance, a supervisor was berating an employee even as the worker lay on the ground dizzy and feeling so sick she needed to leave.
Over the years I've acquired knowledge of many public benefit programs, and had heard that most Walmart employees qualify for food stamps and Medicaid. The store in fact helps new employees learn how to apply for benefits from the government, because Walmart certainly doesn't want to provide them when the taxpayers could do that.
It's sickening that as children we are taught, or at least I was, to have the most respect for moms–every mom is like your own mother. And yet here they are, these workers, who all happened to be women, all of them kind, friendly, intelligent, smart mothers, being treated like trash. The workers aren't unionized–although Walmart workers in other countries are–but they have formed the Organization for Unity and Respect at Walmart. This was the most impressive thing to come out of the meeting, that these women and their co-workers had gotten together to demand the most fundamental of rights: to be treated like a human being and not like an animal.
What was most surprising after all the horror stories is this: The workers loved their jobs.
That's right! Although one mom eventually lost her kids–taken away by the Department of Children and Family Services due in part to her late night shift at Walmart–they all felt very proud of what they do at Walmart and the fact that they've learned so much from their jobs, mastering a wide variety of tasks (although I was a little uneasy hearing that in one instance a worker had to be a "pharmacist" without a license).
The fact that these workers still loved their jobs after all the various abuses shows that there is huge potential for this retail giant to change, and maybe to lead the way in restoring respect to working people in a country obsessed with payoffs for the shareholders. Maybe I'm dreaming, but every dream starts off sounding ridiculous.
If the management of Walmart would take to heart the lessons learned by the automakers last century, that when you treat the workers well they respond manifold. Walmart has the option to become a company that we would be proud to be associated with. There are other issues of course, such as Walmart's intense ties to Chinese sweatshops. But so much could change just by more people hearing stories such as I heard last week.

The Real Costs of Living in California
A new report from United Ways of California shows that 1 in 3 working families struggle to make ends meet.

These seem to be boom times for Americans, as monthly statistics from the U.S. Labor Department tout a fast-rising economy and dwindling unemployment since the final years of the Obama administration. What those numbers fail to measure is the real cost of making ends meet, and how far out of reach that remains for many working households that continue to struggle.
The reality in California is that one in three households are falling short, according to Struggling to Stay Afloat: The Real Cost Measure in California 2018, a new report from the nonprofit United Ways of California. The study sought to document the actual costs of a "a bare-bones decent standard of living," says Peter Manzo, president of the nonpartisan advocacy group, and include the real-world impact of housing costs, transportation, education and other immovable factors.
The report is downloadable from the United Ways website, which also has interactive features where each county is examined in detail. In an interview with Capital & Main this week, Manzo explained the report's findings.
---
Captial & Main: What inspired this study?
Peter Manzo: The federal poverty level doesn't really take into account the cost of living in California. It also doesn't tell you where we would like families to be. It doesn't show you what is doing OK and how far most households are from it. Everyone knows it can be expensive to live in California, but this adds more detail.
How did you determine what the real costs were?
The real cost measure we used is a basic needs budget: housing, food, transportation, health care, childcare, taxes and 10 percent of the total for miscellaneous – things like your mobile phone bill. The interesting thing about the real cost measure is that the household budget varies by composition. So if you have two adults working full-time minimum-wage jobs, the household budget was different from the same two adults with an infant. The cost structure changes significantly by adding family members.
It looks like different parts of the state are affected differently.
Obviously, coastal areas are more expensive to live in than inland areas in terms of housing. Even so, there are high numbers of households struggling to meet the cost of a decent standard of living in those lower-cost areas. It's interesting to contrast much of the Bay Area with L.A. County, which has a much higher rate of struggling households: 38 percent of households in L.A. County struggle vs. the composite number across those Bay Area counties, which is about 25 percent. It's very expensive to live in Santa Clara County, but there are more households that are earning above what they need.
If you look at Fresno County, that's a very different situation.
On our website, you can look at neighborhood level data. You can look at it by neighborhood, which is real important. With Fresno, you have a high rate of need. And if you look at West Fresno, which sadly is pretty well known for having a very high unemployment rate and a lot of struggling families, it looks worse than other parts of Fresno.
In the Bay Area there is more opportunity, while in Fresno County the opportunities are less and people are struggling at a higher rate than other parts of the state.
Yes. It's very tough in a lot of place in the Central Valley and the Inland Empire. There are struggling households in just about every part of the state. Every ethnic and racial group struggles. No one's immune to it.
The Bay Area has been going through a difficult boom period where a lot of people moved in and housing costs went up. L.A. seems to be in the middle of that too. How do those kinds of changes affect people's ability to keep up?
HUD fair market rent, which is a proxy for actual rents, increased almost 45 percent in the last three years in Alameda County. That's a steep jump. The Bay Area cost ripple is still going on. L.A. County has rising rents. Our offices are in Downtown L.A., and you can't turn around without bumping into a crane. In the last three years, there has been an incredible boom in construction. And it seems to be mostly high-market condos that aren't very affordable and aren't that well occupied. My sense is that people are buying them for a second home. Obviously we need more housing units, but they need to be affordable. What we want to point out in our study is that we need to do more for renters. There are many more people living in apartments whose rents may go up than would be housed by new construction. Maintaining affordability is key.
How does education play into it?
We see a correlation between a higher level of education and a lower rate of struggle. Households led by college graduates, only 15 percent of those households struggle, compared to 78 percent for households led by somebody who doesn't have a high school diploma.
How do children in a household affect the ability to keep up?
That's one of our big findings. A household with kids really changes the budget of what a decent standard of living looks like. Some people would quarrel with us about this, but we feel children should have access to quality pre-school and childcare. We know most kids don't actually get access to that, but we think they should, and that's included in our budget. We find that 6 in 10 households with a child under 6 are struggling – especially when they're led by a single mother.
It looks like in many parts of the state, transportation is also a big cost, approaching the level that people pay for housing.
Our assumption is that families need a car. We talk to people who do studies back east, and often the assumption there is that low-income households are using public transportation. But even in the Bay Area, most people need a car. It's like a lifeline, to drive around and get to work. It's a little like Grapes of Wrath: You need to be able to move. Our costs are based on reported expenditures from the Bureau of Labor Statistics. If we had a high functioning public transportation system down here, that would help a lot of people.
These are overwhelmingly working households: 9 in 10 of them have a working adult, and in 80 percent of them the household is working full-time. Oftentimes, when people talk about poverty, they just know what the poverty level is – but it doesn't really tell you what they're contending with, and the trade-offs they're having to make. And there's often an assumption that poor people are lazy and if they just get a job, things would be better. Our point is that these are overwhelmingly working families. They have jobs and they're still not earning enough for a decent standard of living.