Labor Rally Sends ALEC Conference Into Lockdown Mode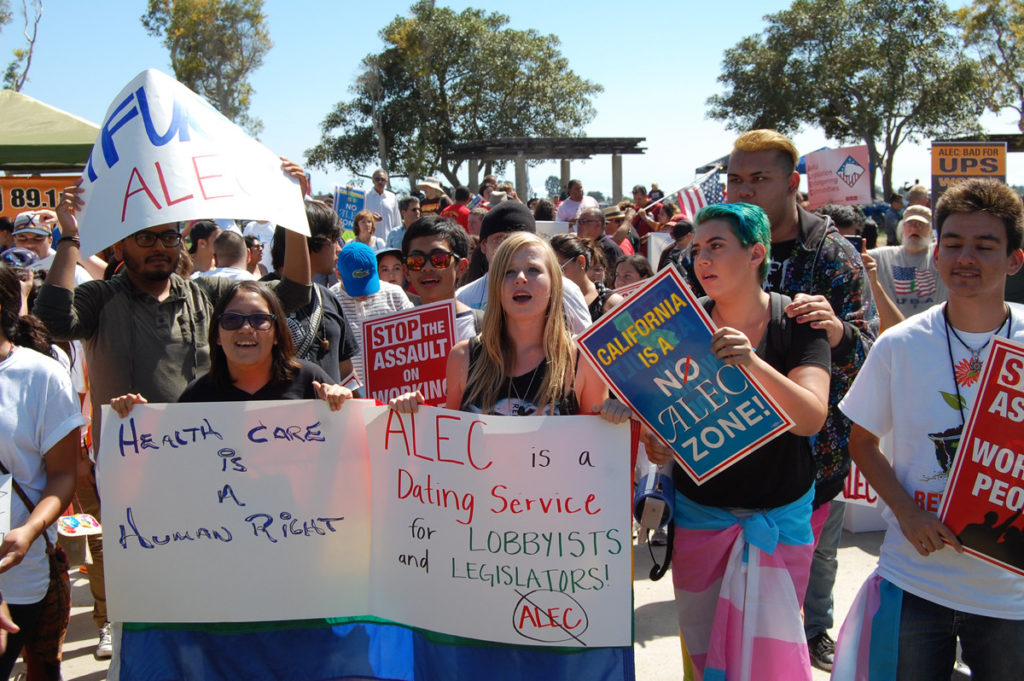 For several tense hours yesterday San Diego's plush Manchester Grand Hyatt hotel, located in the city's Embarcadero district, felt more like Athens' besieged Parliament than a resort on California's laid-back shoreline.
Around 2 p.m. the hotel, which is playing host to this year's annual meeting of the American Legislative Exchange Council (ALEC), sealed off all entrances except its main lobby in what became a virtual lockdown.
For the 1,300 state legislators and corporate lobbyists gathered inside, the perceived security threat turned out to be from those who stand the most to lose from ALEC attacks on workplace rights, minimum wage laws and state health and environmental standards — California workers.
An estimated 2,500 protestors, carrying placards declaring California to be an "ALEC-Free Zone," gathered around 1 p.m. in Embarcadero Marina Park to hear a series of speakers lambasting the secretive, rightwing meeting happening inside the Hyatt. The demonstrators, who represented roughly 40 California labor unions and San Diego-based allied organizations, then marched on the Hyatt for a rally at Kettner Boulevard and West Harbor Drive.
It was all over by 5 p.m., but not before rumors reached hotel management that San Diego Occupy might attempt to storm the hotel in a civil disobedience action. The first indications for hotel guests that something might be amiss came when the already heavy presence of blazer-wearing Hyatt security was reinforced by lobby patrols of uniformed private cops in flack jackets and riot gear. Admittance to the hotel was restricted to registered guests or credentialed ALEC attendees.
Occupy did show, but demonstrated peaceably outside.
Afterward, Steve Smith, a spokesperson for the California Labor Federation, told Capital & Main that the rally was intended to dramatize the anti-democratic nature of what was happening inside the ALEC meeting.
"We've got big-money corporate interests schmoozing with state legislators and making a plan to undermine everything we value," Smith charged. "Like a clean environment, good wages and benefits for workers. … These are all the things that we've tried successfully to protect in California."
The three-day meeting is scheduled to end Friday.
---
Photos by Bill Raden