Looking for the Union Label in All the Right Places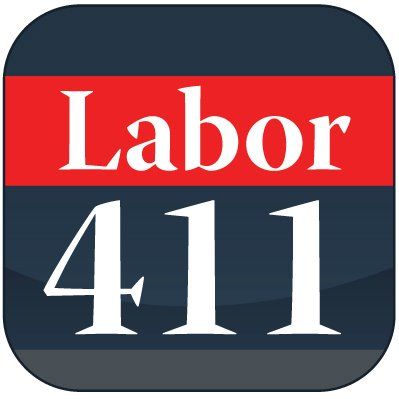 Cherri Senders wasn't always looking for the union label. Back in the late 1980s the Washington, D.C. native was writing for the L.A. Weekly, an alternative newspaper that was generous with editorial pleas for social justice but miserly when paying its own workers.
"I saw how exploited writers were," Senders tells Frying Pan News. "We joined the National Writers Union and were able to go from five cents a word to seven. That's how I found out about the labor movement."
About 15 years later a friend of Senders, who by then had started her own communications company, wanted to learn how to purchase union-made baby products, but couldn't find a way to track down which ones bore a union label.
There had always been Buy Union lists – often out of date and pinned to the bulletin boards of union halls or, more recently, circulated on various Web sites. More often, though, consumers were confronted by the seemingly endless lists of companies and products that unions urged the public to boycott.
Senders recognized a classic marketing opportunity: The hole that needed filling.
"I saw that we needed a Patronize List," Senders recalls. "Businesses deserve to be rewarded if they have a union shop."
She thought of creating a one-stop super-list for shoppers who wanted to support high-road businesses and, with the logistical support of the Los Angeles County Federation of Labor, began researching ways to bring such a guide to life.
"We started with 50 or 60 lists, but found dozens that were out of date or arbitrary," Senders says. "We took them and cleaned them up."
The result was Labor 411, which began in 2008 as a printed directory of union-made products – everything from Los Angeles restaurants to camping gear to home cleaning products. (The name was not universally popular – friends cautioned Senders that it sounded too much like Variety's LA 411 production ad site.) Today Labor 411 has expanded into both printed guides and a Web site that caters to socially conscious consumers in Los Angeles and San Francisco. Click on an item and information about both the manufacturer and the union that represents the company's workers pops up.
The efforts of a 10-member team at Senders Communications Group to ensure that Labor 411's lists remain current have made it the top go-to resource for finding union-made products and services. Yet the team faces the hard reality of two historic phenomena – a globalized manufacturing economy and America's shrinking unionized workforce. These trends have forced Labor 411 into adopting more elastic definitions of what constitutes a union label.
"There's no such thing as wall-to-wall purity today – the car with the most American parts is a Toyota Camry," Senders says. Compromise is inescapable. "If it's put together here in the U.S., and as long as there's a union member who's touched the product, it makes it into our book."
Senders points to the dilemma of "double-breasted companies" – retailers who may have some unionized manufacturing facilities or stores in the United States, but who have also moved some operations to non-union factories offshore.
"We support the American-made Hershey's," she says of the U.S. chocolate giant, which also produces candy from factories in Mexico. "Macy's is another 'company split' – it has five union stores around the country, while the rest are not union."
Labor 411, which is funded by advertising, is easily the most comprehensive of Buy Union endeavors. It also is the most Facebook-savvy and the most imaginative. The Web site is peppered with chatty blog posts written by Senders and several team members, and features product raffles and spotlights on different unions and labor campaigns. A cell-phone app is in the works and the site currently features a Buy Union/Buy American campaign, which urges readers to purchase union products whenever possible. If these are unavailable, it recommends buying American products, even if they are not union made.
One marketing tool has been to promote union products around holidays, the Super Bowl, social events and even cocktails. Sometimes readers will find Labor 411's unique hybrid categories – one Halloween post, for example, combined union-distilled Bacardi rum and Trolli gummy worms to produce a recipe for Halloween Rummy Worms. (A child-friendly version, called Worms in Dirt, retained the gummy worms but used union-made Oreos and Royal Brand chocolate pudding.)
The printed guide, which is distributed to 17,000 union officials and labor allies, doesn't have all 4,700 of the listings that are available online, but does feature data on local businesses whose workforces are unionized.
Senders believes it's important to patronize businesses that treat their workers fairly.
"We've always been more interested in telling people what not to do than what to do," she says, referring to the decades of progressive boycott lists. "We need to convince our own members that if your employer does well, you will do better."

'Skeleton Crew' Is a Play With a Moral Spine
Set in a Detroit automobile outfitting plant, Dominique Morisseau's drama grabs you from the start with its focus on blue-collar men and women, and their struggle for dignity and self-respect.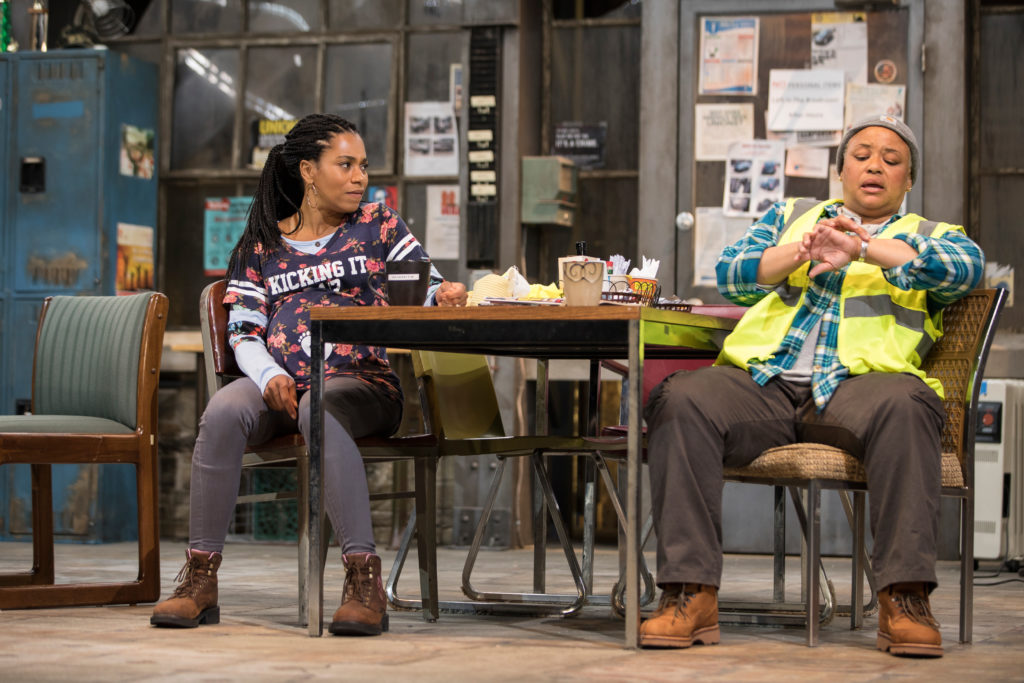 Working-class men and women of color are rarely front and center in today's media and, likewise, are presented all too occasionally on the American stage. So it's buoying to see that trend bucked in playwright Dominique Morisseau's percipient and well-crafted drama, Skeleton Crew. The play is the final installment in her Detroit  Project Trilogy; the first, Paradise Blue, is set in the 1940s amidst displacement caused by urban renewal and gentrification, while the second, Detroit '67, transpires on the eve of the 1967 Detroit riots sparked by a police action.
Directed by Patricia McGregor at Los Angeles' Geffen Playhouse, Skeleton Crew is a play with a moral spine. It takes place in 2008, when the shrinking U.S. auto industry is being further downsized. Morisseau's engaging quartet of characters — Faye (Caroline Stefanie Clay), Dez (Armari Cheatom), Shanita (Kelly McCreary) and Reggie (DB Woodside) – are employed at an automobile outfitting plant. Faye, Dez and Shanita are workers on the line while Reggie (who has a wife and kids, and has pulled himself together after a troubled youth) is their supervisor.
The first three customarily mingle in their break room (designer Rachel Myers' impressively cluttered, dingy and detailed set), trading the sort of familiar barbs and genuine concern for each other common among longtime co-workers. They also face off on philosophy: Upper-middle-aged Faye and the younger, pregnant Shanita take pride in their labor, while Dez, though a good worker, is a malcontent scornful of management and firm in the belief that everyone needs to watch out for himself. He's a thorn in Reggie's side, for while Reggie wants to be supportive of his workers, he must act at the behest of higher management. For his part, Dez resents Reggie's authority, and a palpable unease exists between them.
Besides this male matchup, we're made privy to Dez's attraction to Shanita, who mostly turns away his advances, but every now and then displays a hint of interest. Most poignant is Reggie's regard and affection for the lesbian Faye, which has roots in his boyhood when she loved, and lived, with his now-deceased mom.
These people's various predicaments intensify when rumors spread of the plant's shutdown — a disaster for all, but a particular calamity for the already near-broke Faye who, one year short of retirement, would lose her pension. The crisis forces each of these people to make a choice.
A sound piece of social realism, Skeleton Crew grabs you from the start in its focus on blue-collar men and women, and their struggle against odds for dignity and self-respect. Morisseau not only furnishes these characters a platform for their travails, she endows them with strong values, big hearts and the opportunity to choose between right and wrong.
Unfortunately, the performance I attended did not soar. Many exchanges lacked a fresh edge. The actors certainly had their characters down, but too often they appeared to be coasting on technique. (This seemed particularly true of Clay, who performed the role to great accolades in Washington, DC in 2017, also under McGregor's direction). Additionally, some of the stage movement was not entirely fluid; in confrontations, actors sometimes would just stand and face each other in an artificial way. And Cheatom's interpretation of Dez struck me as a bit overly churlish and depressive: I needed more glimpses of the intelligence and edge that would secretly attract the strong, self-directed Shanita.
The most compelling moments belong to Woodside, well-cast as a man trying his best in difficult circumstances to do the right thing.
---
Gil Cates Theater at the Geffen Playhouse, 10886 Le Conte Ave., Westwood Village; Tues.-Fri., 8 p.m.; Sat., 3 & 8 p.m. Sun., 2 & 7 p.m.; through July 8. (310) 208-5454 or www.geffenplayhouse.org