Kavanaugh's Artful Dodging Leaves Roe v. Wade and Other Questions Unanswered
Legal scholar Erwin Chemerinsky says the Supreme Court nominee "is going to move constitutional law very substantially to the right, and this will hurt a lot of people. I think he's going to be the fifth vote to gut many federal civil rights laws."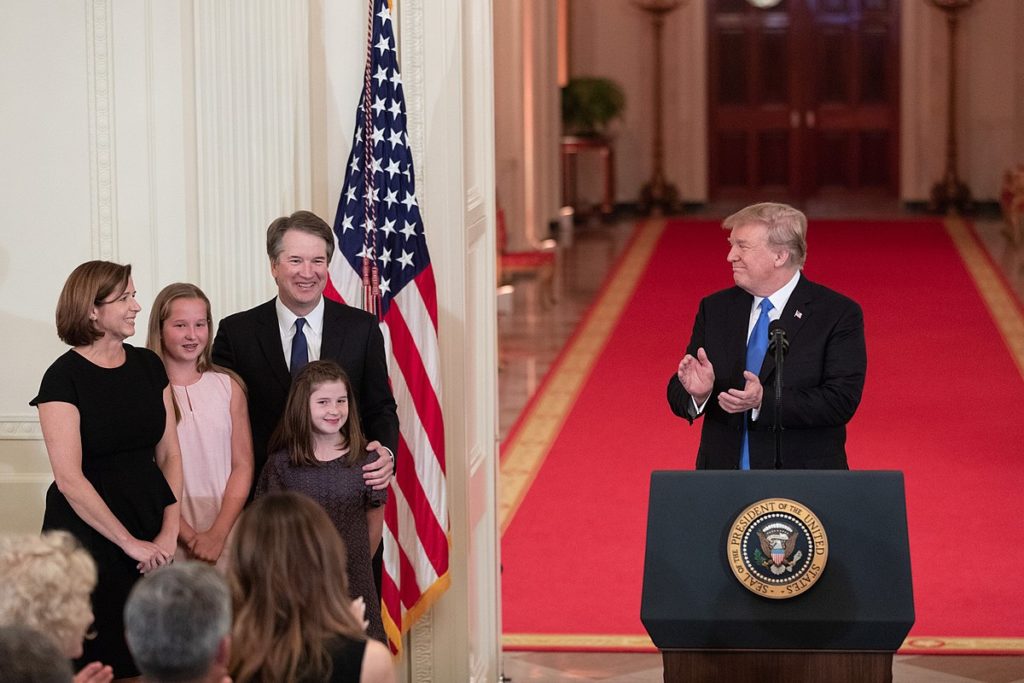 Throughout the Senate Judiciary Committee confirmation hearings on U. S. Supreme Court nominee Brett Kavanaugh, Capital & Main will discuss the proceedings with Erwin Chemerinsky, dean of the University of California, Berkeley School of Law. Below is an excerpt of an interview that followed Wednesday's testimony.
---
Capital & Main: Kavanaugh has written extensively on the idea of precedent and, on Wednesday, when asked about Roe v. Wade, described it as "precedent upon precedent." What does that mean? Is he saying anything of substance?
Erwin Chemerinsky: He's saying nothing of substance. First, even if the court doesn't explicitly overrule Roe v. Wade, they can kill it by a thousand cuts by upholding the myriad of laws that impose restrictions on abortion. Two years ago, the court struck down a Texas law that would have closed most of the facilities in the state where abortions were performed. It was 5-3, with Justice [Anthony] Kennedy in the majority. The court can uphold laws like that and basically undercut Roe v. Wade. But beyond that, the fact that he says it's precedent upon precedent, or that he respects precedent, doesn't tell us what he's going to do when he's a justice and he has the power to overrule Roe v. Wade.
You can respect precedent until you don't.
Exactly. And that's true of every justice. I wrote a piece in the National Law Journal a few weeks ago saying that I don't think the senators should waste their time asking his views on precedent. Because what he'll say is, "Of course I believe in precedent." Except sometimes precedent has to be overruled.
Also Read: "Supreme Court Nominee Brett Kavanaugh Faces a Low Admissions Bar"
Earlier this week, the Brookings Institution released a report in which the authors argued that Kavanaugh, if confirmed, must recuse himself from any future cases that deal with criminal investigations personally involving Trump.
I read it. We're in an unprecedented situation. I can't think of another time when a president who was under such active criminal investigation and being subjected to so many civil suits was nominating somebody to the Supreme Court. In the context of Richard Nixon, his appointments were in 1969 and 1971, and the Watergate burglary wasn't until June of 1972. But it's got to be remembered that whether a justice is recused is entirely up to that justice. Ultimately, if Kavanaugh is confirmed, whether he'll recuse himself is up to Kavanaugh.
You were also among hundreds of legal scholars who signed a letter opposing the nomination of Kavanaugh. The letter argued that he "reflects a backward-looking view of the Constitution" and that his record "reveals a predisposition to decide cases in order to achieve results that threaten fundamental rights and in some cases the very lives of Americans." If he is confirmed, what might change?
I think he is going to move constitutional law very substantially to the right, and that this will hurt a lot of people. I think he will be the fifth vote to either effectively or explicitly overrule Roe v. Wade. I think he will be the fifth vote to find that all affirmative action is unconstitutional. I think he's going to be the fifth vote to allow states much more latitude in imposing the death penalty and draconian punishments. I think he's going to be the fifth vote to gut many federal civil rights laws. I think that no longer will the majority of the court protect gay and lesbian rights.
During the second day of the confirmation hearing, Kavanaugh was pressed by Democratic senators about his views on executive power—specifically about whether a president has the ability to pardon himself, or whether he can be forced to respond to a subpoena.
He wouldn't say a word.
So if we're not going to get any new information from Kavanaugh during the hearing, what does a look at his past tell us about his views on executive power?
He's got a paper trail on that. He wrote a law review article saying that he doesn't believe that a sitting president should be subject to criminal or civil investigations. He gave a speech in which he said the case he most wants to see overruled in the Supreme Court is a case called Morrison v. Olson. That was a 1988 case that was 7-1, and which upheld the constitutionality of the independent counsel. He gave a speech where he said that the United States v. Nixon was likely wrongly decided. This was the unanimous Supreme Court case that said President Nixon had to release the Watergate tapes. This is something that makes Kavanaugh very troubling at this moment in history. Now more than ever, we need the courts to enforce the Constitution and check the president. This is a president who shows no understanding of the Constitution at all, who shows enormous autocratic impulses, and we have a Congress that so far has been unwilling to check the president. That means it's the courts or nothing.
---
Copyright Capital & Main