Walter Siegmund
An apple a day and eating your peas led to good health, we once thought. Now, according to major food manufacturers, fruits and vegetables are "job killers" that will devastate the American economy.
In April of this year, the Federal Trade Commission, along with three other Federal agencies (FDA, CDC and USDA), released a set of proposed guidelines for marketing food to children to reduce sugars, fats and salts in the diets of American youth, and increase fruits, whole grains and vegetables. In 2008 Congress, led by Senators Sam Brownback (R-KS) and Tom Harkin (D-IA), asked for these recommendations to address the nations' growing childhood obesity crisis.
A coalition of major manufacturers of processed foods (including Fruit Loops, Lucky Charms and SpaghettiOs), fast-food chains and the media industry that depends on their advertising dollars are spending millions on lobbyists to derail the proposed voluntary guidelines.
The food lobby's arguments are contradictory and wrong. They alternate between saying, on one hand, that the voluntary marketing guidelines won't make a difference in reducing obesity among American children while, on the other hand, that they are unnecessary government intrusions into an industry that is already reducing its advertising to children. Which is it?
The children's health crisis is real. Studies show that almost one third of all children aged 10 to 17 are overweight or obese. In the past three decades the rates have more than doubled among kids aged 2 to 5, and more than tripled among those ages 6 through 11. The incidence of "adult onset" diabetes in children and youth has more than doubled in the past decade.
A number of marketing studies have confirmed the obvious: Advertising to kids increases purchasing and consumption.  According to an analysis by the FTC, 44 food and beverage companies spent $2 billion in 2006 alone marketing to children. There's a huge amount at stake for the junk food and media industries. According to the New York Times, James McNeal, a former marketing professor at Texas A&M University, estimates that children influence the purchase of more than $100 billion worth of food and beverage products annually.
Youth today are immersed in more commercial advertising, and in more media, than any time in history. Food companies understand that and have expanded their advertising to cover every corner of this new media-saturated world.  American University communications professor Kathryn Montgomery calls this "360 degree marketing" that includes the Internet, video games, cell phones, sponsored Web games, marketing in schools and eye-level packaging with cartoon characters and popular kid movies.
Food makers deny the link between their ads and children's health.
Scott Faber, a vice president of the Grocery Manufacturers Association, told one regulatory hearing, "I can't imagine any mom in America who thinks stripping tigers and toucans off cereal boxes will do anything to reduce obesity." It doesn't take an advertising expert to know that food companies put SpongeBob (or tigers and toucans) on the box to sell more cereal. A recent study by John Hopkins University says that cartoon characters play a key role in getting children to nag their parents for fatty foods. One study even showed that young children think food packaged with a cartoon character on the front actually tastes better.  Another study showed that if you wrap carrots in a McDonald's packaging, kids say that the carrots taste better.
Despite their denials, in 2006 a coalition of these same companies created their own industry guidelines – the Children's Food and Beverage Advertising Initiative – to self-police their own marketing to kids of healthy foods. The original standards, while they were weak and allowed companies to apply their own definition of "healthy" (that conveniently always included their own products), did cause some companies to reduce their ads targeting children.  This past July they released a set of stronger and more consistent advertising standards.
In other words, major food manufacturers think that only some of their products are unhealthy for kids and have, accordingly stopped marketing these selected products.
But which is it? Does marketing influence our kids' healthy eating habits or doesn't it? The companies can't have it both ways.
Then, of course, there are the facts. The Institute of Medicine of the National Academies reviewed the scientific evidence on the influence of food marketing on diets and diet-related health of children and youth. The report found that "current food and beverage marketing practices [put] children's long-term health at risk."
The food industry's convoluted and contradictory arguments can only be intended to obscure a simple fact. According to noted food and nutrition expert Marion Nestle, "To satisfy stockholders, food companies must convince people to eat more of their products or to eat their products instead of those of the competitors."  It's logical for them. Unfortunately, that mission helps degrade good health in too many places.

A Woman's Art Is Never Done: The Feminae Exhibition
A striking juxtaposition between the past and present courses throughout the small gallery. Celia Blomberg's "International Women's Day March 8" can't help but make one think of 2017's Women's March, which occurred 37 years after the print's first appearance.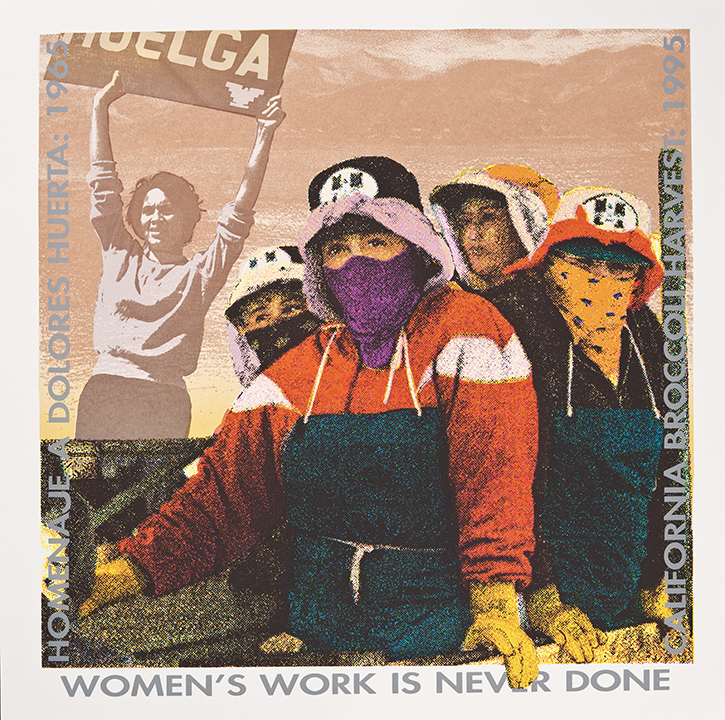 Among the 50-plus works in the Feminae: Typographic Voices of Women By Women exhibit is Yolanda Lopez's "Women's Work is Never Done." Lopez's title is particularly ironic, given the exhibit's gender-based subject matter. The show spans work from the past 50 years, making it easy to understand how much society is still grappling with its themes of gender inequality. Culled from the archives of the Center for the Study of Political Graphics, the graphic images of protest, persuasion and empowerment are truly works of art in their own right.
However, political posters aren't made to merely spruce up walls, but to help figuratively bring barriers down as well.
Two silkscreens from the 1970s, Liliana Porter and John Schneider's "This Woman is Vietnamese" and See Red Woman's Workshop's "So Long As Women Are Not Free People Are Not Free," are particularly powerful, underscoring, as they do, the fact that the subjugation and persecution of women crosses borders and cultures as an unfortunate shared global experience. These two pieces' stark simplicity exemplifies most of the work in the exhibit. In the former, a New York Times photo of a distraught Vietnamese woman with a gun held to her head is centered above these basic words typed out in a typewriter font: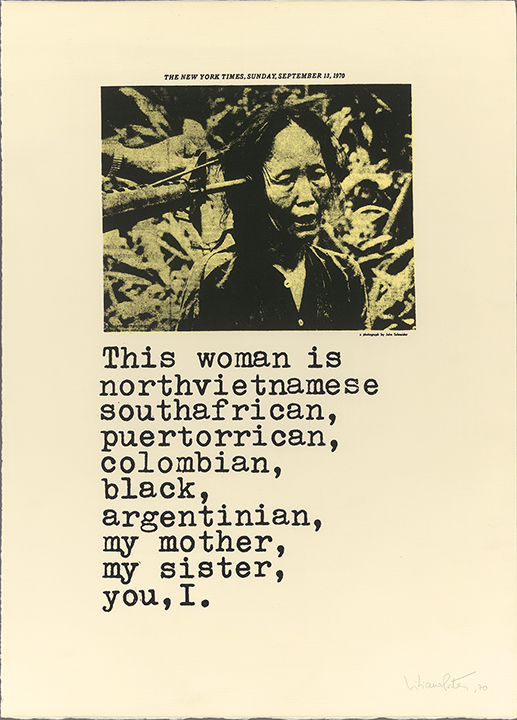 This woman is
northvietnamese
southafrican
puertorrican,
colombian,
black,
argentinian,
my mother,
my sister,
you, I.
By juxtaposing the photo with these words, the creators take the plight of this woman and immediately globalize her pain. In the latter, three female demonstrators are silkscreened in red onto a yellow background. They are marginalized by being stuck in the lower left third of the poster, but two of them are raising their fists skyward and their mouths are open, screaming in defiance. Its non-serif, eponymous type reads: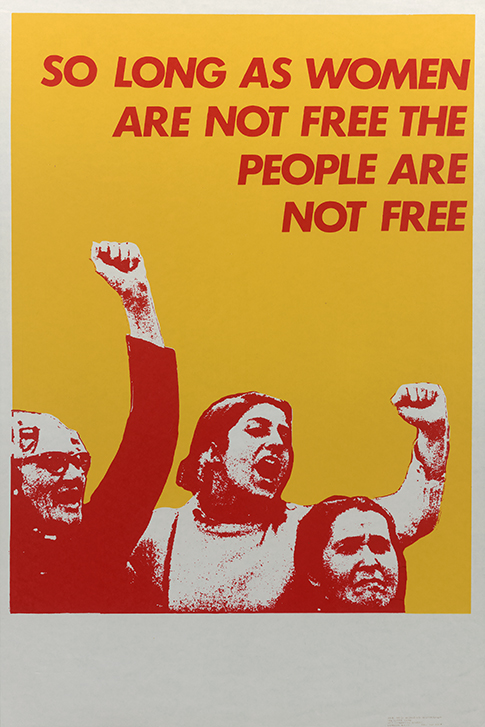 SO LONG AS WOMEN
ARE NOT FREE THE
PEOPLE ARE
NOT FREE
This piece's message takes the global message even farther, making the plight of women a human one — a common theme in the exhibition.
There is also a striking juxtaposition between the past and present that seethes throughout the small gallery. Celia Blomberg's "International Women's Day March 8" can't help but make one think of 2017's Women's March that would take place 37 years later. See Red Woman's Workshop's 1977 "Black Women Will Not Be Intimidated" could easily be repurposed to address the recent spate of blue-on-black brutality. Notable works by Barbara Kruger, Sister Corita Kent and the Guerilla Girls are also included.
Ironically , while it can be surmised that most of these works were made as populist posters to be distributed at the time as banners of protest, their beautiful simplicity and nostalgic elegance probably have resulted in the originals (mostly now found in art museums) sporting hefty vintage-resale prices.
But it is not just the art that has stood the test of time. The fact that the issues addressed in the show — feminism, choice, gender equality, war, immigration, police brutality or violence against women — are all issues at the forefront of debate in 2018 ultimately engenders conflicting feelings.
On one the hand, it is inspiring to see a vibrant exhibit that showcases such diversity in artistic styles, no doubt spawned by the diversity of the artists' own backgrounds. On the other hand, there is a realization that while there has been some progress over the past half century, there is so much work to be done.
Art Center's Hoffmitz Milken Center for Typography, 950 South Raymond Ave., Pasadena; through May 15.
---
Copyright Capital & Main