Walter Siegmund
An apple a day and eating your peas led to good health, we once thought. Now, according to major food manufacturers, fruits and vegetables are "job killers" that will devastate the American economy.
In April of this year, the Federal Trade Commission, along with three other Federal agencies (FDA, CDC and USDA), released a set of proposed guidelines for marketing food to children to reduce sugars, fats and salts in the diets of American youth, and increase fruits, whole grains and vegetables. In 2008 Congress, led by Senators Sam Brownback (R-KS) and Tom Harkin (D-IA), asked for these recommendations to address the nations' growing childhood obesity crisis.
A coalition of major manufacturers of processed foods (including Fruit Loops, Lucky Charms and SpaghettiOs), fast-food chains and the media industry that depends on their advertising dollars are spending millions on lobbyists to derail the proposed voluntary guidelines.
The food lobby's arguments are contradictory and wrong. They alternate between saying, on one hand, that the voluntary marketing guidelines won't make a difference in reducing obesity among American children while, on the other hand, that they are unnecessary government intrusions into an industry that is already reducing its advertising to children. Which is it?
The children's health crisis is real. Studies show that almost one third of all children aged 10 to 17 are overweight or obese. In the past three decades the rates have more than doubled among kids aged 2 to 5, and more than tripled among those ages 6 through 11. The incidence of "adult onset" diabetes in children and youth has more than doubled in the past decade.
A number of marketing studies have confirmed the obvious: Advertising to kids increases purchasing and consumption.  According to an analysis by the FTC, 44 food and beverage companies spent $2 billion in 2006 alone marketing to children. There's a huge amount at stake for the junk food and media industries. According to the New York Times, James McNeal, a former marketing professor at Texas A&M University, estimates that children influence the purchase of more than $100 billion worth of food and beverage products annually.
Youth today are immersed in more commercial advertising, and in more media, than any time in history. Food companies understand that and have expanded their advertising to cover every corner of this new media-saturated world.  American University communications professor Kathryn Montgomery calls this "360 degree marketing" that includes the Internet, video games, cell phones, sponsored Web games, marketing in schools and eye-level packaging with cartoon characters and popular kid movies.
Food makers deny the link between their ads and children's health.
Scott Faber, a vice president of the Grocery Manufacturers Association, told one regulatory hearing, "I can't imagine any mom in America who thinks stripping tigers and toucans off cereal boxes will do anything to reduce obesity." It doesn't take an advertising expert to know that food companies put SpongeBob (or tigers and toucans) on the box to sell more cereal. A recent study by John Hopkins University says that cartoon characters play a key role in getting children to nag their parents for fatty foods. One study even showed that young children think food packaged with a cartoon character on the front actually tastes better.  Another study showed that if you wrap carrots in a McDonald's packaging, kids say that the carrots taste better.
Despite their denials, in 2006 a coalition of these same companies created their own industry guidelines – the Children's Food and Beverage Advertising Initiative – to self-police their own marketing to kids of healthy foods. The original standards, while they were weak and allowed companies to apply their own definition of "healthy" (that conveniently always included their own products), did cause some companies to reduce their ads targeting children.  This past July they released a set of stronger and more consistent advertising standards.
In other words, major food manufacturers think that only some of their products are unhealthy for kids and have, accordingly stopped marketing these selected products.
But which is it? Does marketing influence our kids' healthy eating habits or doesn't it? The companies can't have it both ways.
Then, of course, there are the facts. The Institute of Medicine of the National Academies reviewed the scientific evidence on the influence of food marketing on diets and diet-related health of children and youth. The report found that "current food and beverage marketing practices [put] children's long-term health at risk."
The food industry's convoluted and contradictory arguments can only be intended to obscure a simple fact. According to noted food and nutrition expert Marion Nestle, "To satisfy stockholders, food companies must convince people to eat more of their products or to eat their products instead of those of the competitors."  It's logical for them. Unfortunately, that mission helps degrade good health in too many places.

'Skeleton Crew' Is a Play With a Moral Spine
Set in a Detroit automobile outfitting plant, Dominique Morisseau's drama grabs you from the start with its focus on blue-collar men and women, and their struggle for dignity and self-respect.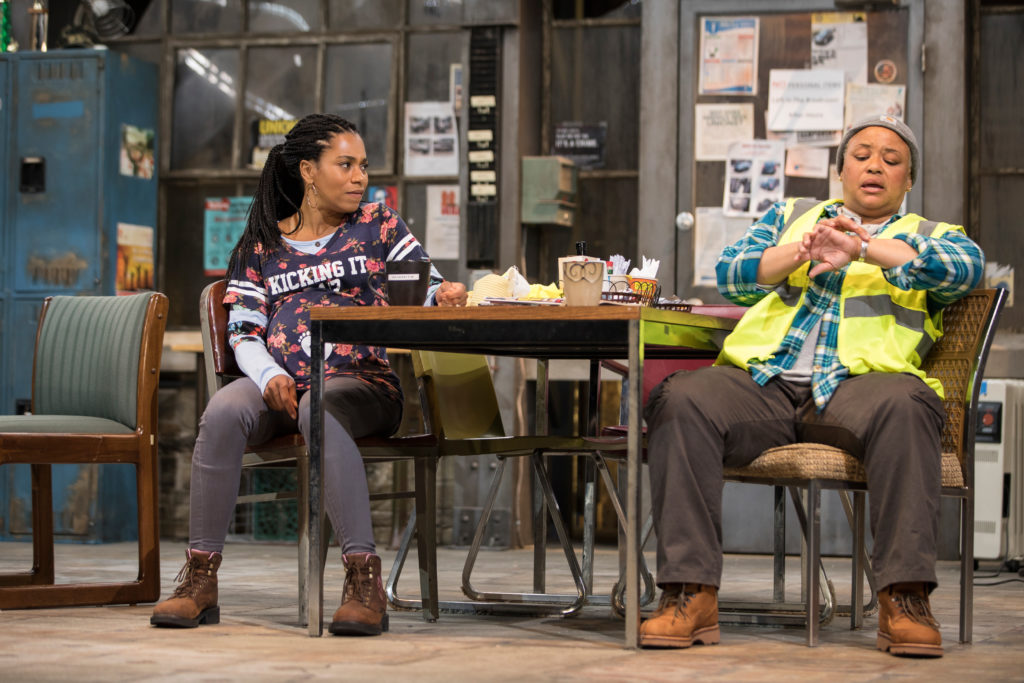 Working-class men and women of color are rarely front and center in today's media and, likewise, are presented all too occasionally on the American stage. So it's buoying to see that trend bucked in playwright Dominique Morisseau's percipient and well-crafted drama, Skeleton Crew. The play is the final installment in her Detroit  Project Trilogy; the first, Paradise Blue, is set in the 1940s amidst displacement caused by urban renewal and gentrification, while the second, Detroit '67, transpires on the eve of the 1967 Detroit riots sparked by a police action.
Directed by Patricia McGregor at Los Angeles' Geffen Playhouse, Skeleton Crew is a play with a moral spine. It takes place in 2008, when the shrinking U.S. auto industry is being further downsized. Morisseau's engaging quartet of characters — Faye (Caroline Stefanie Clay), Dez (Armari Cheatom), Shanita (Kelly McCreary) and Reggie (DB Woodside) – are employed at an automobile outfitting plant. Faye, Dez and Shanita are workers on the line while Reggie (who has a wife and kids, and has pulled himself together after a troubled youth) is their supervisor.
The first three customarily mingle in their break room (designer Rachel Myers' impressively cluttered, dingy and detailed set), trading the sort of familiar barbs and genuine concern for each other common among longtime co-workers. They also face off on philosophy: Upper-middle-aged Faye and the younger, pregnant Shanita take pride in their labor, while Dez, though a good worker, is a malcontent scornful of management and firm in the belief that everyone needs to watch out for himself. He's a thorn in Reggie's side, for while Reggie wants to be supportive of his workers, he must act at the behest of higher management. For his part, Dez resents Reggie's authority, and a palpable unease exists between them.
Besides this male matchup, we're made privy to Dez's attraction to Shanita, who mostly turns away his advances, but every now and then displays a hint of interest. Most poignant is Reggie's regard and affection for the lesbian Faye, which has roots in his boyhood when she loved, and lived, with his now-deceased mom.
These people's various predicaments intensify when rumors spread of the plant's shutdown — a disaster for all, but a particular calamity for the already near-broke Faye who, one year short of retirement, would lose her pension. The crisis forces each of these people to make a choice.
A sound piece of social realism, Skeleton Crew grabs you from the start in its focus on blue-collar men and women, and their struggle against odds for dignity and self-respect. Morisseau not only furnishes these characters a platform for their travails, she endows them with strong values, big hearts and the opportunity to choose between right and wrong.
Unfortunately, the performance I attended did not soar. Many exchanges lacked a fresh edge. The actors certainly had their characters down, but too often they appeared to be coasting on technique. (This seemed particularly true of Clay, who performed the role to great accolades in Washington, DC in 2017, also under McGregor's direction). Additionally, some of the stage movement was not entirely fluid; in confrontations, actors sometimes would just stand and face each other in an artificial way. And Cheatom's interpretation of Dez struck me as a bit overly churlish and depressive: I needed more glimpses of the intelligence and edge that would secretly attract the strong, self-directed Shanita.
The most compelling moments belong to Woodside, well-cast as a man trying his best in difficult circumstances to do the right thing.
---
Gil Cates Theater at the Geffen Playhouse, 10886 Le Conte Ave., Westwood Village; Tues.-Fri., 8 p.m.; Sat., 3 & 8 p.m. Sun., 2 & 7 p.m.; through July 8. (310) 208-5454 or www.geffenplayhouse.org