JPMorgan Chase CEO Jamie Dimon Opens His Wallet. Sort of.
Jamie Dimon, CEO of JPMorgan Chase, knows something about pay increases. Last year, JPMorgan Chase's board gave Dimon a 35 percent pay increase, from $20 million to $27 million, even though the bank's profits fell two percent and it laid off 6,671 employees.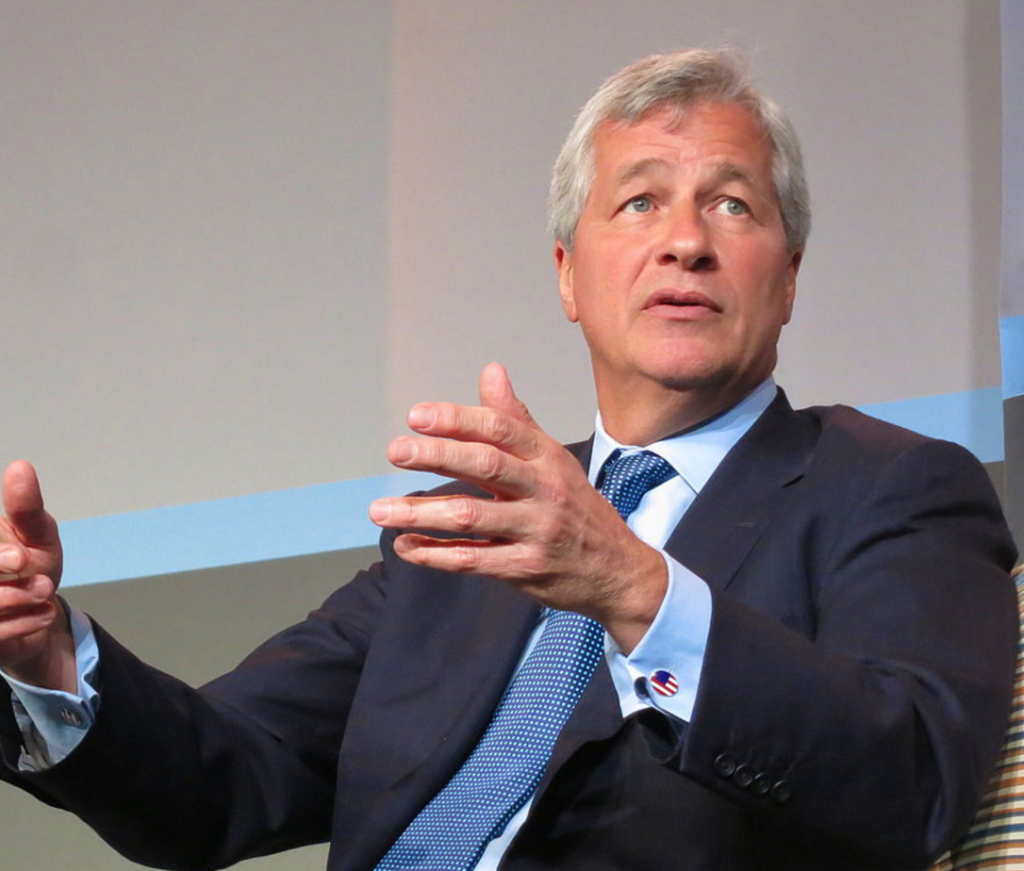 (Jamie Dimon photo by Steve Jurvetson)
Jamie Dimon, CEO of JPMorgan Chase, announced in a New York Times op-ed column on Tuesday that the bank would soon raise wages for its lowest-paid employees. JPMorgan Chase—America's largest bank, with $2.4 trillion in assets—has over 235,000 employees in over 100 countries, but the pay boost will cover only 18,000 employees in the United States. A pay increase is the right thing to do," wrote Dimon. "Wages for many Americans have gone nowhere for too long."
Dimon knows something about pay increases. Last year, JPMorgan Chase's board gave Dimon a 35 percent pay increase, from $20 million to $27 million, even though the bank's profits fell two percent and it laid off 6,671 employees.
This feature has been crossposted from The Nation, with its authors' permission.
Starting wages at JPMorgan Chase—which are now $10.15 an hour—will rise to between $12 and $16.50 an hour over the next three years, depending on the cost of living in specific geographic areas. In New York City and San Francisco, for example, the minimum wage would be $16.50 an hour, while it would increase to $15 an hour in Chicago and Washington, DC.
A JPMorgan Chase employee making $15 an hour working full-time would earn $31,200 a year. Dimon, who makes almost $13,000 an hour, makes more than that in three hours.
It turns out that about 90 percent of the employees who will get these wage hikes live in cities that recently adopted local minimum-wage increases to between $13.50 and $16.50 an hour over the next few years, according to Fortune magazine. In other words, in many cities JPMorgan Chase's pay raises will simply comply with local laws or be just slightly above local minimums. The minimum wage in New York City, for example, will be $15 an hour at the end of 2018.
Fortune estimates that JPMorgan Chase's pay hike will cost the bank about $50 million a year. In contrast, last year JPMorgan Chase paid its five top executives—Dimon, Mary Callahan Erdoes, Daniel Pinto, Gordan Smith, and Matthew Zames—a total of $99 million.
The banking industry is known for its extravagant pay scales, especially for top executives and managers. Last year, JPMorgan Chase and other Wall Street banks handed out $25 billion in bonuses to 172,400 employees based in New York City—an average bonus of $146,200, according to a report by the Institute for Policy Studies.
But while banks' top executives and managers earn outrageous salaries, bonuses and stock options, the industry's working class can barely make ends meet.
A recent report by the National Employment Law Project on banking industry wages found that
Over 30 percent of people working in the retail banking industry make less than $15 per hour.

Almost three-quarters (74.1 percent) of bank tellers in the United States earn less than $15 per hour.

The median hourly wage for bank tellers is $12.44.

Almost half of bank customer service representatives (44.2 percent) earn less than $15 per hour.
A study by the University of California, Berkeley Center for Labor Research and Education found that nearly one-third of the families of all tellers are on public assistance. In New York City—the capital of the nation's banking industry—39 percent of tellers and their family members are on some form of public assistance program.
The pay boost will undoubtedly make a difference in the lives of retail bank workers. It's real money that will pay the rent, put food on the table and perhaps even a few movie nights with their families. But bank tellers' wages have been stagnant for decades, while banking executives have seen their compensation skyrocket.
If you think this is unfair, you're in good company. Over 100 years ago, J. Pierpoint Morgan—one of the nation's wealthiest individuals at the time and the founder of the bank that Jamie Dimon now runs—argued that CEO pay should not exceed 20 times the average worker's pay.
As late as 1965, America's corporate elite were in sync with Morgan's advice. That year, the CEOs of America's 350 largest corporations earned 20 times more than their median worker. But in the 1980s corporate boards began removing the compensation straitjacket. Last year the typical CEO earned over $15 million a year—more than 276 times the pay of their average workers, according to the Economic Policy Institute.
JPMorgan Chase has the widest pay gap among the nation's major banks. Dimon's compensation is 352 times greater than the median pay ($79,000) of JPMorgan Chase employees. The gap between his pay and that of tellers and other front-line bank employees is an even wider chasm.
JPMorgan Chase's new wage policy isn't the result of a new sense of noblesse oblige but in response to growing grassroots activism, intense political pressure and changes in public opinion.
The Great Recession laid bare the massive gap between the fortunes of the wealthy and the rest of America, sparking movements and campaigns that have changed American politics. Occupy Wall Street captured the nation's imagination by identifying the nation's wide economic gulf between the one percent and the 99 percent. Campaigns by workers at Walmart, fast-food chains and other large corporations have pressured a number of major companies to raise wages. Earlier this week, Starbucks Corporation announced that, beginning in October, employees in its 7,600 company-operated stores will receive an increase in base pay of five percent or more, depending on geographic region.
Last year, a coalition of unions, community organizations, consumer advocacy groups and bank employees joined forces to create the Committee for Better Banks to raise wages, improve career paths and strengthen job security for front-line bank workers.
A growing list of cities and counties (including Seattle; Los Angeles; San Francisco; Kansas City; Birmingham; St. Louis; Washington, DC; and Chicago) have passed new minimum wage laws significantly higher than the current federal level of $7.25 an hour. California and New York recently adopted laws raising the minimum wage to $15 over several years.
Bernie Sanders' campaign pushed this issue into this year's presidential campaign. Sanders' call for a federal $15 an hour minimum wage is now Democratic Party policy and guarantees that this will become a major national issue in Congress next year.
Public opinion has shifted. A poll conducted last year by Hart Research Associates found that 75 percent of Americans (and 53 percent of Republicans) favor an increase in the federal minimum wage to $12.50 an hour by 2020; 63 percent of Americans support an even heftier raise to $15 an hour. A June poll by Edison Research for the public-radio show Marketplace discovered that 58 percent of Americans—including 51 percent of Republicans—believe that Wall Street does more to hurt than to help the lives of most Americans.
Beginning next year—thanks to a new Securities and Exchange Commission regulation mandated by the 2010 Dodd-Frank bank reform law—publicly traded companies will be required to disclose the ratio of CEO pay to median worker pay, which will surely focus even greater attention on the widening gulf between the super-rich and other Americans.
Although JPMorgan Chase's announcement has been heralded as a major breakthrough, it is actually far behind the policy of Amalgamated Bank, a union-owned lender. Last year, Amalgamated Bank became the first bank in the nation to raise its minimum wage to $15 per hour. In response to JPMorgan Chase's new policy, Keith Mestrich, Amalgamated's President and CEO, said:
We are pleased to see JP Morgan has joined our fight to raise the minimum wage for banks. If there is one industry that can afford to give its workers an honest living wage, it's the banking industry. JP Morgan's actions today are a step in the right direction, but more must be done if we are to do what is fair and just for our bank employees.
"This raise to front-line bank workers is pennies for JPMorgan Chase," said Reuben Traite of the Committee for Better Banks. "This is the largest bank in America. Last year they made $24 billion in profits. Jamie Dimon thinks he's a hero for raising wages to $13. That's not a living wage anywhere in the country. Chase can do better and so can all big banks."
A serious attack on inequality requires two things—increasing wages at the bottom and reducing outsized compensation at the top. Will that be Dimon's next announcement?

What the NLRB's About-Face on McDonald's Means for Franchise Workers
While the National Labor Relations Board is currently divided 2-2, the confirmation of another Trump appointee will restore the Republican majority — which is bad news for fast-food-chain workers.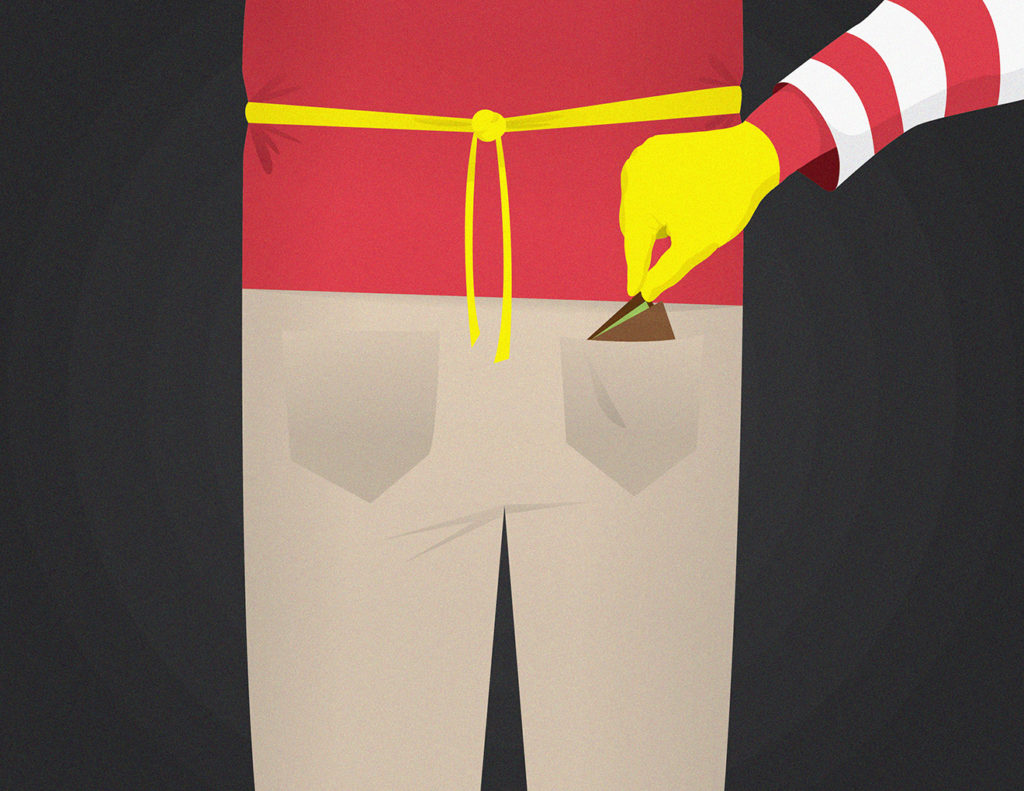 ---
With Donald Trump's election, the momentum at the NLRB is now with employers.
---
Workers at McDonald's joined the union-backed Fight for $15 campaign because many found that they could not get by on minimum wage without the help of family and public assistance. But joining that campaign spurred retaliation, with dozens of employees alleging that they lost money or their job for organizing to get better pay.
Enter the U.S. National Labor Relations Board.
In a victory for workers, the board decided the McDonald's Corporation was jointly responsible for punitive actions against employees across the country because the company dictates, among other things, how those employees cook and clean. That 2015 decision, in a case called Browning-Ferris, established a broad definition of "joint employer." It made franchisors potentially liable for the actions of individual franchises, citing the "indirect" control they exercised over employees and their workplaces. And it meant fast-food chains, among others, would have to collectively bargain with employees who joined a union.
Donald Trump was elected president the next year. By December 2017, the NLRB was back on the side of business with respect to who is and who is not a joint employer, the board overturning with a 3-2 vote the "indirect control" standard of Browning-Ferris.
Then a Republican member of the board retired, evenly dividing the NLRB along partisan lines. The board's inspector general then issued a report in February 2018 saying the December decision never should have been made — that, in particular, a Trump appointee should have recused himself due to a conflict of interest. The decision was thrown out, with congressional Democrats, such as Massachusetts Senator Elizabeth Warren, calling for hearings.
By that point, however, the NLRB had already ordered its lawyers to retreat in the most visible battle over the "indirect" joint-employer standard.
When an administrative trial began back in 2016, the NLRB had said McDonald's was jointly responsible for alleged labor violations at its franchises, including reduced hours, surveillance and wrongful termination of employees who had been organizing for better pay.
"If McDonald's is involved in determining working conditions at its franchised operations, it is responsible for what happens to workers subject to those conditions," NLRB lawyer Jamie Rucker said at the time.
But the NLRB sought and won a 60-day suspension of that trial earlier this year. Lawyers representing the Fight for $15 movement and its allies say the NLRB is now rushing through a proposed settlement that would see McDonald's get off without a finding of joint liability — which won't make it any easier for low-wage workers to collectively bargain.
"What I see is an attack on workers' ability to form a union," said attorney Marni von Wilpert of the progressive Economic Policy Institute (EPI). "If you were able to find a joint-employment relationship with the corporate [franchisor], then all of a sudden they all have one big employer, and all the employees can go to corporate McDonald's. That's really what it's all about, whether workers can organize."
Under the proposed settlement, McDonald's admits no wrongdoing, but its franchisees agree to cover back pay for workers fired as a result of their organizing.
The NLRB "is proposing a sham settlement," said Mary Joyce Carlson, a lawyer representing Fight for $15. "McDonald's directed a wave of retaliation that stretched from coast to coast and included illegally harassing, surveilling and firing workers in the Fight for $15. The hardworking cooks and cashiers who were organizing to get off of food stamps and out of poverty deserve a ruling in their case, not a settlement hammered out at the last minute in collusion with the Trump administration."
With Trump's election, the momentum at the NLRB is now with employers. Any setbacks would appear to be temporary: while divided 2-2 for now, the confirmation of another Trump appointee will restore the Republican majority. Once that happens, the NLRB can be expected to seek another opportunity to overturn the Browning-Ferris joint employer standard.
While Browning-Ferris did not explicitly pertain to the franchise model, it clearly spooked those who depend on it — and inspired those who think franchisors like McDonald's should be liable for the mistreatment of employees at locations bearing its name.
Fight for $15 has prioritized organizing at fast-food businesses, but forming unions is extremely difficult when a dozen small restaurants with the same name may have a dozen different owners. There are over 14,000 McDonald's restaurants in the United States, with only one in 10 owned by the corporation. The ability to collectively bargain with McDonald's, the corporate franchisor, would make a union's task easier — and help address the sort of labor violations that regulators routinely find at fast-food franchises. An EPI report says unionized workers are half as likely to be victims of wage theft, for example.
At an April 5 hearing, Fight for $15 attorney Kathy Krieger urged NLRB Administrative Law Judge Lauren Esposito to reject the settlement. Krieger argued that McDonald's had conspired with its franchises to thwart worker organizing, the corporation recommending, she said, that franchisees "restrict crew members from taking their meals or their rest breaks outside the crew room" as a means "to prevent concerted activity."
McDonald's attorney Willis Goldsmith said the company would never accept a settlement identifying it as a joint employer. "The franchisees, they're independent business people," he said. "They did whatever they did, and if they are willing to concede that, they're going to have to pay people. It's not our job."
While it appears the NLRB under Trump will ultimately reimpose the stricter, pre-Browning-Ferris standard that a joint employer must have direct rather than indirect control of workers, industry groups aren't taking any chances.
Jenna Weisbord, a communications manager at the International Franchise Association to which McDonald's belongs, said her group is looking to Congress to pass the "Save Local Business Act," which would legislatively reimpose the pre-Browning-Ferris standard. "We understand the Senate will take on this task later this year," she said of the bill, which passed the House last year.
A television ad campaign sponsored last year by the franchise association and the U.S. Chamber of Commerce argues the measure would restore "balance to labor law" in the face of a "runaway government agency." That agency, in the era of Trump, is increasingly tilting in the favor of business.
---
Copyright Capital & Main