Join the Immigration-Reform Caravan to Bakersfield!
(Editor's Note: On August 14, hundreds of cars from all corners of the state will travel in caravans to Bakersfield, California, to urge House Majority Whip Kevin McCarthy [R-Bakersfield] to support and advocate for a vote on immigration reform with a path to citizenship.)
Greyhound bus drivers took the initiative to share with their employer why comprehensive immigration reform is important for the community and posed a challenge to the company: Greyhound Bus Line could either keep up with the change or stay behind. The company recognized the importance of immigrants to their business and decided to embrace diversity through their full support of immigration reform.
A Greyhound van will be participating in the Citizenship Caravan to Bakersfield, August 14. Bus Drivers Leonard Weaver and Sindy Vasquez – members of the Amalgamated Transit Union, ATU Local 1700 – championed the immigration reform campaign at their workplace and are looking forward to the caravan. In the past, they were both assigned to drive routes in the Fresno-Modesto-Salinas area, which allowed them to get to know farm workers and their struggles.
That experience ignited their passion to advocate for immigrant workers' rights. Leonard, who has been a supporter of immigration reform ever since, said:
"I used to see farm workers and their kids working day-in and day-out, even on weekends and holidays — it struck a chord with me. I saw the exploitation of workers first-hand. I saw farmworkers' families moving from town to town seeking work. It really hit home."
Sindy is taking both her grandchildren and a nephew to the caravan. She told them it will be a history lesson. Sindy recalls how appalled she was to learn about the abuses farm workers suffer:
"It really bothers me how they are treated. What they go through is inhumane. A lot of them feel discarded and that is not right because America is supposed to be the land of opportunity. Passing comprehensive immigration reform is the right thing to do, this is why I'm going and taking my kids to the caravan."
Join us! The caravan will leave Los Angeles on Wednesday, August 14, from Dodger Stadium, Parking Lot 13 on Stadium Way. We'll gather at 6 a.m., and refreshments and lunch will be provided. Please RSVP to Sylvia Carranza, scarranza@launionaflcio.org, (213) 381-5611 x128. Download flyer here.
Additionally, caravans will also be leaving from Sacramento, Salinas, Modesto, Fresno, Orange County and San Diego. Find more details and RSVP here.
(Rosalia Tenorio is the Communications Director at the L.A. County Federation of Labor. Her post first appeared on Labor's Edge and is republished with permission.)
The Tests Facing California's New Governor
Gavin Newsom now leads the state with the nation's biggest economy and largest population — and one riven by economic inequality. What will be his most important challenges?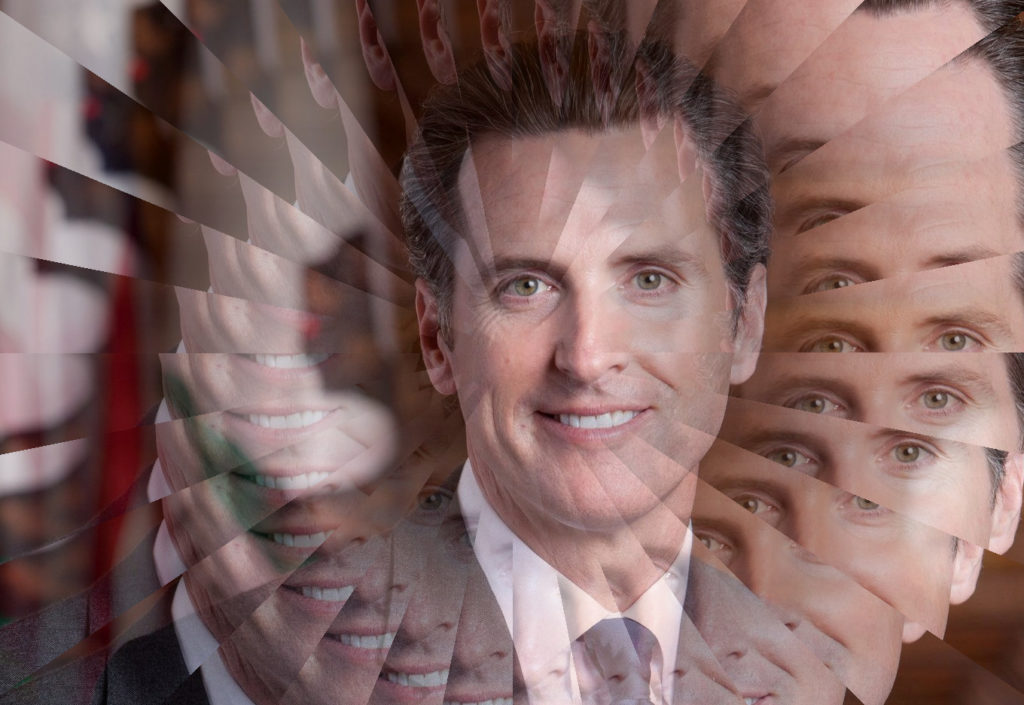 Gavin Newsom inherits a state that should be any governor's dream: A California that is the cradle of the tech revolution and brims with prosperity, a one-party state with supermajorities in both chambers for Newsom's Democrats. But there are clouds darkening the horizon: Daily prophecies tell of coming economic storms; legislative initiatives taken on behalf of immigrants, retirement security and the stemming of global warming are increasingly thwarted by a bellicose White House. And that Democratic Party monopoly in Sacramento masks a deepening ideological fault line dividing pro-business moderates and progressives – the latter of which have largely chafed for the last 16 years under the thrifty administrations of Jerry Brown and Arnold Schwarzenegger, and are eager to burst out with far-reaching (if pricey) legislation.
Then, there are memories of three high-riding liberal governors (Pat and Jerry Brown, and Gray Davis) whose programs or careers were derailed by resentful taxpayers. There are more recent memories, too: Of an impulsive, hard-partying San Francisco mayor whose blunted ambitions led him to spend eight years in the ceremonial wilderness of the lieutenant governor's office. Newsom is said to have matured into a more circumspect, pragmatic politician, although some of the old doubts were fanned back to life by an unflattering New Yorker profile that appeared shortly before his landslide victory November 6.
Perhaps overriding all these auguries is the undeniable fact that despite its enviable economy, its abundance of billionaires-in-residence and laudable array of social services, California still has the highest poverty rate in the U.S., nearly half of its children live in poverty or near-poverty, and merely finding an affordable place to live has become an existential challenge for many. These and similar factors superimpose on the state another kind of fault line, that of economic inequality. Most of the new governor's time will be spent wrangling crises that spring from this disparity. Which is why the following Capital & Main stories primarily focus on the inequality that separates so many Californians from one another.
Affordable Housing, by Jessica Goodheart.
Single-Payer Health Care, by Gabriel Thompson.
Climate Change and Big Oil, by Judith Lewis Mernit.
Inequality Interviews with Manuel Pastor, Ann Huff Stevens and David Grusky.
Early Childhood Education, by Bill Raden.
Inequality in California: Six Takeaways.
---
Copyright Capital & Main