John Densmore on the Simón Bolívar Youth Orchestra
The magic of El Sistema, Venezuela's program of taking impoverished kids and teaching them classical music, can be summed up in one sentence uttered by its founder, Dr. Jose Abreu: "If you put a musical instrument in the hand of a kid, he or she will not pick up a gun." It is somewhat of a miracle, although it is an old idea. The creative impulse (which resides in everyone) can act as a curandero, or healer, to re-imagine dead-end paths down which poor children are headed, and find new roads that are limitless. America is slow to realize this. With weak economic times, we always cut funding for the arts, when that is a time to increase fields that foster new imagination, new ways of thinking. Holding on  to our narrow vision that South America stole our name, we know something is happening south of the border, but we "don't know what it is, do we, Mr. Jones?" And it's completely under the CIA's radar.
Well, New York is about to get a dose of what has healed 400,000 young Venezuelans. On December 10 and 11, the Simon Bolivar Orchestra, under the baton of Gustavo Dudamel, will return to Carnegie Hall for two concerts. The L.A. Philharmonic's new wunderkind conductor, Gustavo Dudamel, is a living example of the results of El Sistema. His enthusiasm for El Sistema is boundless because he knows that he was saved, and wants to give back. Gustavo and his maestro, El Sistema's Dr. Abreu, really care about these kids.
It is culture shock to sit at the Walt Disney Concert Hall in Los Angeles and look down at 100 twenty-something musicians with jet-black hair and olive-complexioned skin. They rip into the repertoire of European classical music like there's no tomorrow. The Simon Bolivar Orchestra from Venezuela plays the music of 200-year-old white European composers with such gusto that audiences immediately jump out of their seats as if they were at a rock concert, yelling, "Encore, encore!"
On a recent PBS Special about Dudamel, Tavis Smiley asked the correct question and the maestro gave the correct answer: Smiley inquired as to whether Dudamel was playing "dated music," to which the ever-present Gustavo replied, "It's not the same… we're reinterpreting it!" And reinterpreting it they are. It's as if none of us saw it coming: Beethoven's butt needed a direct shot (mainline) of Salsa! The Venezuelans have Latin music coursing through their veins. Never seen a symphony orchestra stand up and dance while playing? Just go here and check out some of the Simon Bolivar Orchestra's euphoric performances of Leonard Bernstein's "Mambo" from all over the globe. The obvious enthusiasm comes from most of the musicians knowing that El Sistema is probably their only chance of getting out of the dire environment into which they were born. That's why they practice their asses off: it's not a handout, but a hand up.
The shadow side of all this passion is that the seasoned players of the LA Phil warn young musicians that pacing will make for a longer career. Like Rafael Nadal, the passionate young Spaniard on the tennis court, Dudamel, the gifted young conductor from Caracas, occasionally suffers from physiological problems. Gustavo and Rafa are just a couple of years apart (31 and 29 respectively), yet Nadal hits every ball as if it's the last, putting everything possible into it. Dudamel is the same with every note of every symphony he's conducting. The tennis player has knee problems; the conductor's shoulder and neck give him occasional trouble. But, of course, there is something thrilling about watching someone "go for it" in every moment. The concentration is palpable.
So yes, there's a revolution going on, and I had a sense that it was coming when I saw "The Dude" guest-conduct the LA Phil, but I didn't know the extent of it. I didn't know that when Dudamel's hometown musicians came to LA, my eyes would be glued on Felix Mendoza, the Bolivar's tympani player — the instrument that I'd played in high school. Like his conductor, Mendoza's entire being is engaged when he plays. Tympani players spend a lot of time counting bars with classical music, because they're mainly required to provide the dramatic climaxes. To see this young man, who looks like he could have wound up in a gang (except when he smiles!) actually "grooving" to Mahler, while doing the math of counting until he comes in, is mind boggling. What this is, and what El Sistema has produced, is a border crossing. If Latino musicians can understand European classical music as well as or better than their white European counterparts, a healing occurs. Racism diminishes. If Caucasians can get into salsa, if African-Americans can appreciate country music, if, if, if…
Gosh, and all this is coming from a country that our previous president called one of the "Axes of Evil." Art and culture are the glue between peoples. If we can be open to understanding the "other," we just might get along better. Venezuela is doing something right. More than just right, it is a worldwide classical music phenomenon. It's almost embarrassing that with all of America's resources we are cutting funding for the arts, not expanding it. We are a great melting pot, the great experiment that has more diverse cultures than any other nation. And a way to fast-track all cultures on earth to get along is through the power of the arts… each other's.
This post first appeared on Huffington Post and is republished with permission.

'Skeleton Crew' Is a Play With a Moral Spine
Set in a Detroit automobile outfitting plant, Dominique Morisseau's drama grabs you from the start with its focus on blue-collar men and women, and their struggle for dignity and self-respect.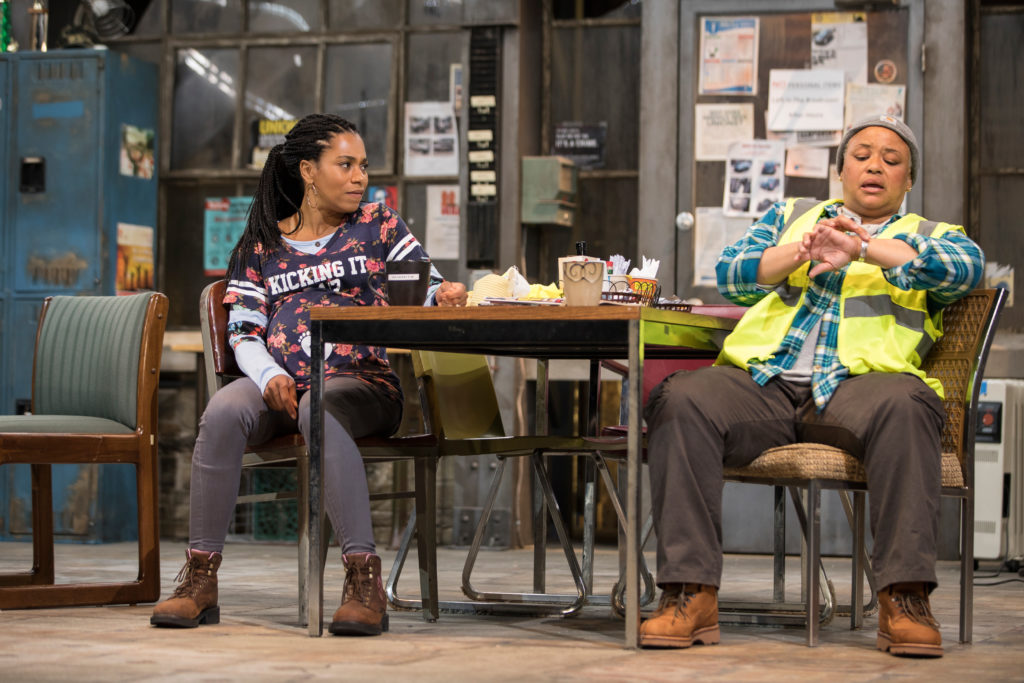 Working-class men and women of color are rarely front and center in today's media and, likewise, are presented all too occasionally on the American stage. So it's buoying to see that trend bucked in playwright Dominique Morisseau's percipient and well-crafted drama, Skeleton Crew. The play is the final installment in her Detroit  Project Trilogy; the first, Paradise Blue, is set in the 1940s amidst displacement caused by urban renewal and gentrification, while the second, Detroit '67, transpires on the eve of the 1967 Detroit riots sparked by a police action.
Directed by Patricia McGregor at Los Angeles' Geffen Playhouse, Skeleton Crew is a play with a moral spine. It takes place in 2008, when the shrinking U.S. auto industry is being further downsized. Morisseau's engaging quartet of characters — Faye (Caroline Stefanie Clay), Dez (Armari Cheatom), Shanita (Kelly McCreary) and Reggie (DB Woodside) – are employed at an automobile outfitting plant. Faye, Dez and Shanita are workers on the line while Reggie (who has a wife and kids, and has pulled himself together after a troubled youth) is their supervisor.
The first three customarily mingle in their break room (designer Rachel Myers' impressively cluttered, dingy and detailed set), trading the sort of familiar barbs and genuine concern for each other common among longtime co-workers. They also face off on philosophy: Upper-middle-aged Faye and the younger, pregnant Shanita take pride in their labor, while Dez, though a good worker, is a malcontent scornful of management and firm in the belief that everyone needs to watch out for himself. He's a thorn in Reggie's side, for while Reggie wants to be supportive of his workers, he must act at the behest of higher management. For his part, Dez resents Reggie's authority, and a palpable unease exists between them.
Besides this male matchup, we're made privy to Dez's attraction to Shanita, who mostly turns away his advances, but every now and then displays a hint of interest. Most poignant is Reggie's regard and affection for the lesbian Faye, which has roots in his boyhood when she loved, and lived, with his now-deceased mom.
These people's various predicaments intensify when rumors spread of the plant's shutdown — a disaster for all, but a particular calamity for the already near-broke Faye who, one year short of retirement, would lose her pension. The crisis forces each of these people to make a choice.
A sound piece of social realism, Skeleton Crew grabs you from the start in its focus on blue-collar men and women, and their struggle against odds for dignity and self-respect. Morisseau not only furnishes these characters a platform for their travails, she endows them with strong values, big hearts and the opportunity to choose between right and wrong.
Unfortunately, the performance I attended did not soar. Many exchanges lacked a fresh edge. The actors certainly had their characters down, but too often they appeared to be coasting on technique. (This seemed particularly true of Clay, who performed the role to great accolades in Washington, DC in 2017, also under McGregor's direction). Additionally, some of the stage movement was not entirely fluid; in confrontations, actors sometimes would just stand and face each other in an artificial way. And Cheatom's interpretation of Dez struck me as a bit overly churlish and depressive: I needed more glimpses of the intelligence and edge that would secretly attract the strong, self-directed Shanita.
The most compelling moments belong to Woodside, well-cast as a man trying his best in difficult circumstances to do the right thing.
---
Gil Cates Theater at the Geffen Playhouse, 10886 Le Conte Ave., Westwood Village; Tues.-Fri., 8 p.m.; Sat., 3 & 8 p.m. Sun., 2 & 7 p.m.; through July 8. (310) 208-5454 or www.geffenplayhouse.org