John Densmore on the Simón Bolívar Youth Orchestra
The magic of El Sistema, Venezuela's program of taking impoverished kids and teaching them classical music, can be summed up in one sentence uttered by its founder, Dr. Jose Abreu: "If you put a musical instrument in the hand of a kid, he or she will not pick up a gun." It is somewhat of a miracle, although it is an old idea. The creative impulse (which resides in everyone) can act as a curandero, or healer, to re-imagine dead-end paths down which poor children are headed, and find new roads that are limitless. America is slow to realize this. With weak economic times, we always cut funding for the arts, when that is a time to increase fields that foster new imagination, new ways of thinking. Holding on  to our narrow vision that South America stole our name, we know something is happening south of the border, but we "don't know what it is, do we, Mr. Jones?" And it's completely under the CIA's radar.
Well, New York is about to get a dose of what has healed 400,000 young Venezuelans. On December 10 and 11, the Simon Bolivar Orchestra, under the baton of Gustavo Dudamel, will return to Carnegie Hall for two concerts. The L.A. Philharmonic's new wunderkind conductor, Gustavo Dudamel, is a living example of the results of El Sistema. His enthusiasm for El Sistema is boundless because he knows that he was saved, and wants to give back. Gustavo and his maestro, El Sistema's Dr. Abreu, really care about these kids.
It is culture shock to sit at the Walt Disney Concert Hall in Los Angeles and look down at 100 twenty-something musicians with jet-black hair and olive-complexioned skin. They rip into the repertoire of European classical music like there's no tomorrow. The Simon Bolivar Orchestra from Venezuela plays the music of 200-year-old white European composers with such gusto that audiences immediately jump out of their seats as if they were at a rock concert, yelling, "Encore, encore!"
On a recent PBS Special about Dudamel, Tavis Smiley asked the correct question and the maestro gave the correct answer: Smiley inquired as to whether Dudamel was playing "dated music," to which the ever-present Gustavo replied, "It's not the same… we're reinterpreting it!" And reinterpreting it they are. It's as if none of us saw it coming: Beethoven's butt needed a direct shot (mainline) of Salsa! The Venezuelans have Latin music coursing through their veins. Never seen a symphony orchestra stand up and dance while playing? Just go here and check out some of the Simon Bolivar Orchestra's euphoric performances of Leonard Bernstein's "Mambo" from all over the globe. The obvious enthusiasm comes from most of the musicians knowing that El Sistema is probably their only chance of getting out of the dire environment into which they were born. That's why they practice their asses off: it's not a handout, but a hand up.
The shadow side of all this passion is that the seasoned players of the LA Phil warn young musicians that pacing will make for a longer career. Like Rafael Nadal, the passionate young Spaniard on the tennis court, Dudamel, the gifted young conductor from Caracas, occasionally suffers from physiological problems. Gustavo and Rafa are just a couple of years apart (31 and 29 respectively), yet Nadal hits every ball as if it's the last, putting everything possible into it. Dudamel is the same with every note of every symphony he's conducting. The tennis player has knee problems; the conductor's shoulder and neck give him occasional trouble. But, of course, there is something thrilling about watching someone "go for it" in every moment. The concentration is palpable.
So yes, there's a revolution going on, and I had a sense that it was coming when I saw "The Dude" guest-conduct the LA Phil, but I didn't know the extent of it. I didn't know that when Dudamel's hometown musicians came to LA, my eyes would be glued on Felix Mendoza, the Bolivar's tympani player — the instrument that I'd played in high school. Like his conductor, Mendoza's entire being is engaged when he plays. Tympani players spend a lot of time counting bars with classical music, because they're mainly required to provide the dramatic climaxes. To see this young man, who looks like he could have wound up in a gang (except when he smiles!) actually "grooving" to Mahler, while doing the math of counting until he comes in, is mind boggling. What this is, and what El Sistema has produced, is a border crossing. If Latino musicians can understand European classical music as well as or better than their white European counterparts, a healing occurs. Racism diminishes. If Caucasians can get into salsa, if African-Americans can appreciate country music, if, if, if…
Gosh, and all this is coming from a country that our previous president called one of the "Axes of Evil." Art and culture are the glue between peoples. If we can be open to understanding the "other," we just might get along better. Venezuela is doing something right. More than just right, it is a worldwide classical music phenomenon. It's almost embarrassing that with all of America's resources we are cutting funding for the arts, not expanding it. We are a great melting pot, the great experiment that has more diverse cultures than any other nation. And a way to fast-track all cultures on earth to get along is through the power of the arts… each other's.
This post first appeared on Huffington Post and is republished with permission.
The Power of the Poster
Carol Wells, the founder of the Center for the Study of Political Graphics in Los Angeles, talks to Capital & Main about the enduring power of political art.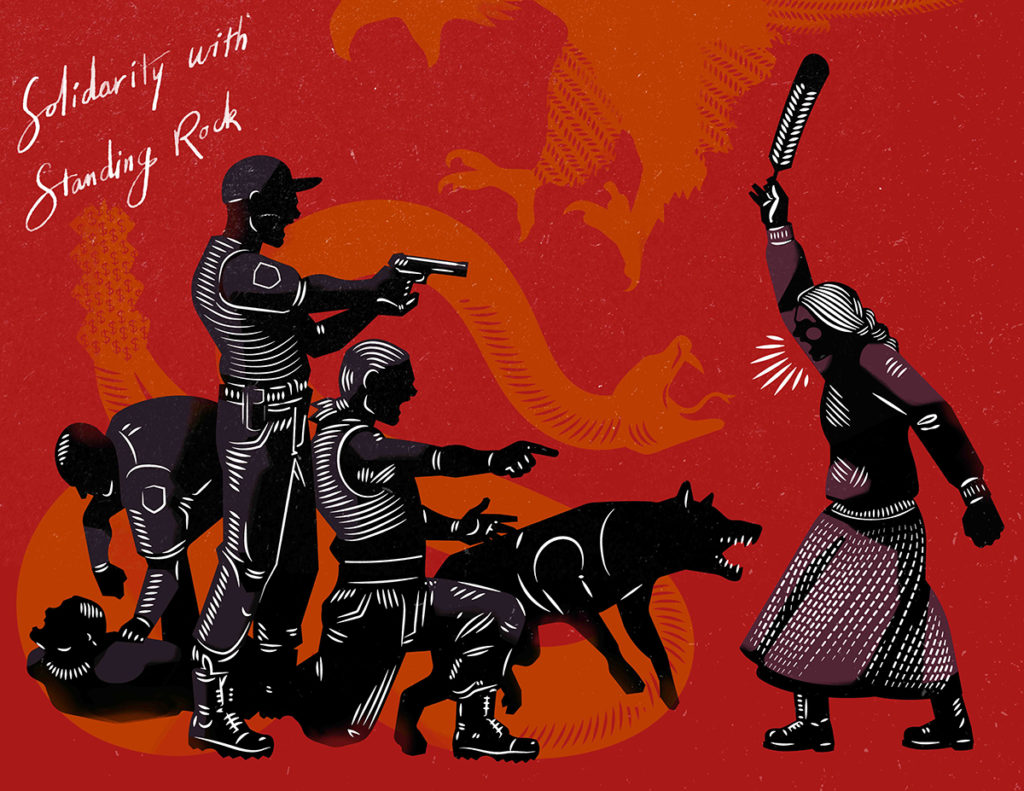 Carol Wells remembers the exact moment she discovered her calling. An art historian at the time, she was on a trip to Nicaragua with her friend David Kunzle, a UCLA art history professor, who was collecting political posters to add to his burgeoning collection. While staying with friends, Wells watched a neighbor's 8-year-old son approach a poster on the wall, stare at it intently, and then start to silently mouth the words. Wells was struck by how engaged the boy was. "In that moment I became obsessed with collecting posters."
Now over 40 years later, Wells is the founder and executive director of the Center for the Study of Political Graphics in Los Angeles. Wells has amassed approximately 90,000 posters, building one of the largest collections of its kind in the world. The Center shares its collection with the public in part through curated exhibits. This year the CSPG has produced Feminae: Typographic Voices of Women by Women and its latest is To Protect & Serve? Five Decades of Posters Protesting Police Violence, running through July 15 at the Mercado La Paloma in downtown Los Angeles.
Since that encounter in Nicaragua in 1981, Wells' obsession with collecting posters hasn't waned. In CSPG's nondescript West L.A. office space, Wells pulls out poster after poster, lecturing passionately on the backstory and cultural impact of each, including one that superimposes text from a New York Times interview with a shocking image of the My Lai massacre ("Q: And babies? A: And babies."). Recently, she managed to sit down with C&M to discuss her passion.
---
Capital & Main: So, you were an art history professor, you happen to see a kid on a trip, and suddenly your life was changed forever?
Carol Wells: Yeah, I'm in Nicaragua alone in the living room with this kid. He's looking around, and all of a sudden, he sees the poster. It was pretty big, bright green, a thick outlines of a woman holding a big basket of coffee beans. And the text in Spanish said, "In constructing the new country, we are becoming the new woman." I see him walk over to the poster and I'm watching him mouth the words. It was a pretty sophisticated concept, so I doubt he figured it out. But I literally had this epiphany: "Oh my God. That's how posters work." You're going about your daily life, and all of a sudden something breaks through the bubble, and it grabs your attention. It's the graphic, it's the color, it's the combination, and it pulls you out of your head and into that poster and it makes you ask a question. "Why is this here? What is this about? What does this mean?" And every time you ask a question, you're a different person than you were before you asked the question.
How many posters do you get a year?
We get between two to five thousand a year donated from all over the world. The bulk of our collection is [from] 1945 and later.
I assume technology has probably hurt the art form, but has it helped get the messages out?
Most people think that, and it's actually not true. Since the internet age started, there's actually a poster renaissance of works on paper. Because you can't walk with your computer monitor in a demonstration. You can't plant your monitor on your lawn.
And you can't put a laptop on the wall…
Exactly. You want to hear a really great story? Truthdig.org published a cartoon [made by] a political cartoonist named Mr. Fish. It was during the Arab spring, and he had superimposed Che Guevara with the stylized beard and King Tut's face, but it had Che's beret. And it [was titled], "Walk like an Egyptian." So, it was a reference to the music, but [it was also] a reference to what was going on the streets of Cairo. I sent it out as our poster of the week to 9,000 people. The very next day, somebody took a photograph on the street of Cairo, with somebody holding a piece of paper with that image on it. A poster can literally go around the world and people will print it out.
What struck me in viewing your exhibits is how many of these posters could still be used today, not only artistically but also, sadly, in the timeliness of their messages.
We had this fabulous poster by Yolanda Lopez, a Bay Area artist, which she first did in 1978. It depicts a young man in Aztec garb pointing a finger like Uncle Sam saying, "Who's the illegal alien, PILGRIM?" And it's a great poster, it's simple, not too many words, funny, provocative. So, we had an exhibit at UCLA in the mid '90s and there were 4 or 5 high school students standing around this poster saying, "Wow, you've got posters up to the minute." And I went over to them and I said, "Look at the date. This is before you were born."
Is that one of your goals with the exhibitions? To show the evergreen nature of this work?
Absolutely. I mean that's why we did the police abuse exhibition now. It basically goes back five decades. It's 50 years of posters protesting police abuse. Mainly in the United States, but also internationally.
What's the goal for CSPG?
Well the aim right now is really to digitize the collection and get it online. We have 10% of the collection digitized. But the mission is to collect and to document, because stories get lost. All the exhibitions, they're showing massacres, they're showing genocide, they're showing police abuse, they're showing all of these horrible things. And people often ask me, "How can you look at this stuff all day long?" I said, "Because the poster artists are optimists. They believe people can change if they have the information."
Yes, that's the reason why they're doing it, right?
That's why they're doing it, and that's why I'm doing this, because I believe that people can change if they knew the truth.
And what happens 20, 50 years from now?
Well, my goal is to stay independent, because the other option is to become part of the university. Universities, for all the fabulous things that they do, they also censor. We did an exhibition at USC in 1992 on the 500 years since Columbus, and how the legacy of racism and exploitation and genocide continues. And one of the board of trustees was Italian and took [the exhibit] as an affront to Columbus. It really wasn't about Columbus, it was about colonialism. And he ordered it down.
Do you have a favorite poster?
I'm always amazed at the creativity and vision of artists. Every week I'll say, "Oh my God, how do they think of that?" But it's always still going to be the poster I saw that kid trying to figure out. It has to be my favorite one because that one changed my life.
What makes a perfect poster?
The right balance between aesthetics and message. If you only rely on the corporate press, the New York Times and L.A. Times, for your information, you're not going to get the side from the street, from the movement, from the activists. The posters are primary historical documents that are recording the issues that were at the time, and the passions that were at the time, and the divisions that were at the time. You're not going to get it anyplace else.
---
Copyright Capital & Main