Is Janet Napolitano Deepening Economic Inequality at University of California?
UC President Janet Napolitano had once seemed ready to raise working standards, but today, say her critics, she runs the 10-campus system like a business.
Janet Napolitano photo by Gage Skidmore
When University of California, Berkeley neuroscience postdoc Lydia Majure sat down for contract talks with administrators last spring as a member of United Auto Workers (UAW) Local 5810, which represents 6,000 university postdocs, she had an extremely personal stake in the matter. Among the main concessions she and her colleagues were pushing for was family leave – and Majure had just become pregnant.
The administration, however, wouldn't budge. "They looked a pregnant woman in the face and failed to care," says Majure.
Majure wasn't surprised by the university's behavior, even though the UC system is helmed by Janet Napolitano, the former Democratic governor of Arizona and President Obama's onetime Homeland Security chief, who has spoken out on progressive issues like free speech, immigrant protections, sexual violence and gender inclusivity. "While she has a strong stated commitment to certain issues, I was skeptical that she would be a progressive leader of the University of California," says Majure.
The University of California has been awash in scandal over a scathing state audit that accused UC leaders of costly and unnecessary administrative bloat, and revealed that Napolitano's office failed to disclose $175 million in reserve funds. The audit has led lawmakers to challenge the university's recently approved 2.5 percent tuition increase, and some – including the student workers union UAW Local 2865 – have called for Napolitano's resignation.
The 10-campus public university system — the state's third-largest employer — is struggling with worker strikes and contentious contract negotiations, as mounting  evidence shows that compensation and benefits for the university's clerical, administrative and support workers aren't enough for them to survive on. Many of these workers hold Napolitano directly responsible.
"You can't have a group of employees in the UC system who are food-insecure when we are doing audits and finding that the office of the president is holding on to $175 million," says State Assemblymember Miguel Santiago (D–Los Angeles).
Wages for front-line UC workers are stagnating, while real incomes for the university's administrative support workers have decreased 24 percent over the past two decades, claims a study conducted by Teamsters Local 2010 and Occidental College. (Disclosure: Local 2010 is a financial supporter of this website). The union local, which represents 14,000 university support staff, and the college's Urban & Environmental Policy Institute, allege that 70 percent of UC's clerical, administrative and support employees struggle to put enough food on the table. Meanwhile, the Washington, DC-based Economic Policy Institute, a nonprofit think tank, says 93 percent of these employees don't earn enough working full-time to cover a family budget that supports one adult and one child in their metropolitan areas.
"There was no savings for retirement or rainy day savings, no savings to put your kid through college or in case of job loss," says EPI senior economist Elise Gould, who authored the wage sufficiency report.
The Napolitano administration declined interview requests. However, university spokespeople have previously asserted that UC workers are often paid more than the state average for their jobs and that UC "heavily subsidizes the cost of health care for our workers." In 2015, Napolitano announced a new $15 minimum wage for university service employees to be phased in over three years.
"The wages of workers are steadily decreasing while executives are getting massive bonuses and economic packages," says Christian Castro, a spokesman for Teamsters Local 2010. "Napolitano is running the university just like everyone else does, like a business, and not taking into account the people who are working under her."
During her first three months in office Napolitano seemed ready to raise working standards, quickly settling seven out of 10 outstanding union contract negotiations. But since then, union leaders say, she has made labor matters a low priority. They add that the university's stance on wages and benefits isn't based on financial shortfalls, citing the state audit's revelation that Napolitano's office failed to disclose millions in reserve funds. Moreover, they charge, while state funding for the system dropped by over 30 percent between 1999 and 2015, operating revenues at the University of California – the sixth-wealthiest university system in the country – are up 80 percent over the last decade.
The rise in revenues — which come from a combination of tuition hikes, staffing layoffs and increasing enrollments of higher-paying out-of-state students – is chiefly benefiting those at the highest end of the university's pay scale. Over the past several decades, the number of managers and administrators at the university has swollen by more than 250 percent, and such positions now outnumber UC faculty jobs. By comparison, in the California State University system, there are nearly three times the number of faculty as there are administrators. The average UC executive salary increased 58 percent over the past decade and, between 2008 and 2012, the cost of perks provided to the system's 300 top executives increased 15 percent to $24 million.
While such top-level spending has been ballooning for years, Napolitano hasn't done much to stop the trend. According to the state audit, executives in the president's office are currently paid significantly more than other state employees in comparable positions. For example, the university's senior vice president for government relations earned $130,000 more than those in similar jobs in other state organizations. The audit also found that the office spent $21.6 million over the past five years on its own employee benefits, including a generous retirement savings account for executives and more than $2 million on business meetings and entertainment expenses.
Critics of Napolitano's labor policies say income disparity isn't the only way by which the university is shortchanging its workers. According to a 2014 inequality report from the American Federation of State, County and Municipal Employees (AFSCME), reductions in maintenance staff have meant that service workers are being saddled with growing workloads, which is exacting a physical toll: Reported injuries among university service workers have increased 17 percent since 2009, and the number of job-related sick days rose 23 percent. Another issue is that more of these service jobs are going to temporary workers, who don't enjoy the same benefits and pay as career employees, and who today account for one of every 10 university workers.
And, while Napolitano's new minimum-wage rule extends to university contractors, the effort does nothing to change the fact that temporary and contract employees – some of whom have been working "temporary" jobs at the university for years – don't have the same job protections or benefits as workers employed by the university. Yet the outsourcing of university jobs continues. Last year, UC San Francisco announced that about 80 of its tech workers would be laid off and their jobs outsourced to an Indian firm. The new lower-paid workers would be brought to this country and trained by their predecessors using H-1B visas, an immigration loophole often used for outsourcing that Napolitano criticized when she was Homeland Security chief.
Critics also say Napolitano has been hypocritical when it comes to family leave, which is currently off-limits to most university workers, except for faculty and administrators. That's especially problematic for the female workers and researchers that Napolitano often celebrates in her speeches.
"There is a discrepancy between what the president is saying in keynote speeches and conferences about supporting women in academia and women in STEM [science, technology, engineering and math], and the support and actual benefits that researchers and workers are getting at the university," says Anke Schennink, president of UAW Local 5810, which represents postdocs.
Many university employees also are unhappy with a new retirement plan the university regents passed last March with Napolitano's backing. Now new hires can opt out of the system's existing pension plan to invest in a 401(k) option – which plan critics say could be more lucrative in the short term, but is riskier for long-term hires and could undermine the original benefit system by siphoning off employees from the defined benefit plan. The move seems tailored for executive hires: Unlike the pension option, where employer contributions are capped at the first $117,000 of salary per new state rules, those who choose to invest in the 401(k) plan earn contributions for up to $265,000 in salary.
"If a lot of employees choose the 401(k) option, there is a risk they are going to get to retirement and find it falls way short of what they would have gotten if they invested in the defined benefit plan," says Nari Rhee, manager of the Retirement Security Program at the UC Berkeley Center for Labor Research and Education. "I think [a] major reason for doing this is the university wanted to reduce their pension liabilities. If they have fewer employees in the plan, they offload their risk to employees."
Pressure from workers and community allies has produced some victories for UC employees. Last month, Teamsters Local 2010 ratified a new five-year contract that guarantees wage increases and new workplace protections. But the contract only came after months of negotiations, a one-day strike at all 10 university campuses and a joint letter signed by Miguel Santiago and 25 other state legislators urging Napolitano to resolve the matter.
University contracts with AFSCME Local 3299, the University Professional and Technical Employees-Communications Workers of America (UPTE-CWA) Local 9119 and the California Nurses Association are all set to expire before the end of the year, and leaders of these unions are expecting similar battles with the university. (Disclosure: Local 3299 and CNA are financial supporters of Capital & Main.)
"The university has always been philosophically and financially anti-union," says Liz Perlman, executive director of AFSCME Local 3299, which has begun bargaining. "And while I don't think Napolitano is inherently anti-union, I think generally she is a 'corporate' Democrat."
UAW Local 5810, the postdoc union, signed a new contract last October. Among the concessions Lydia Majure and her fellow UAW negotiators won was four weeks of family leave – which Majure took advantage of when she had her daughter in March.
"It feels good," says Majure of the victory. "I am really glad that someday I will be able to explain to my daughter the importance of worker solidarity, using the example of me fighting for parental leave while I was carrying her."
California Tries to Close Its College Degree Equity Gap
It's been no secret that public higher education in California is badly broken, following four decades of disinvestment and tuition hikes.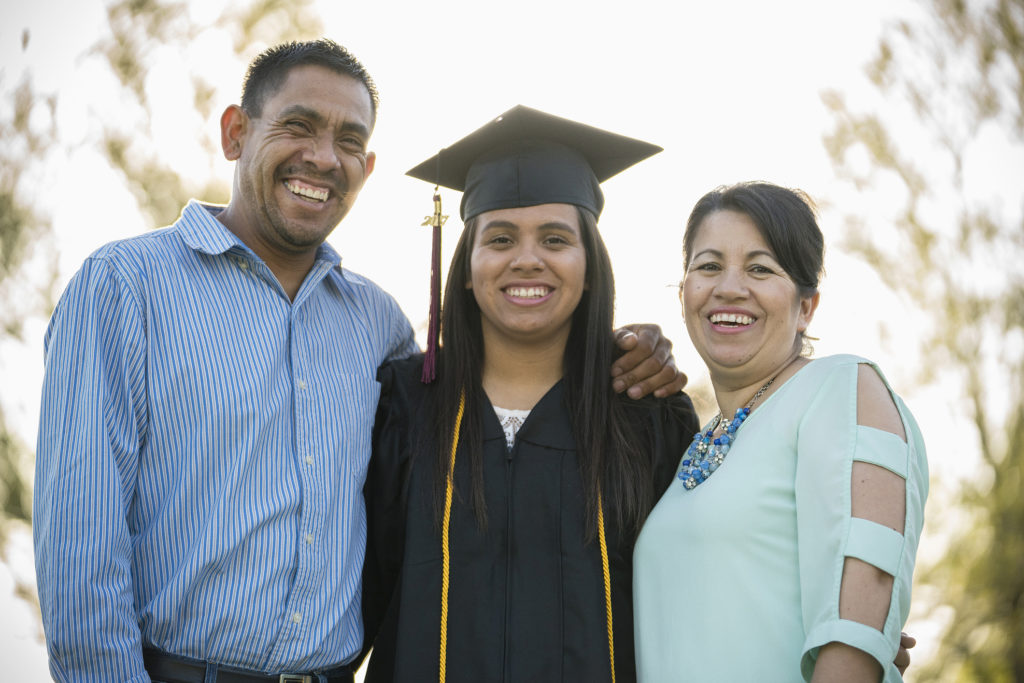 Today, with California's higher education system cartwheeling from one crisis to the next, the state's vaunted Master Plan for Higher Education, which in 1960 revolutionized matriculation with a modern, multi-segmented system of public colleges and research universities, is being attacked as an obstacle to opportunity. Its outworn ideas of access and excellence have been rendered so thoroughly obsolete by demographical change and austerities that education reformers won't waste their breath or political capital on a master plan redesign. Instead, change advocates are focused on improving delivery.
"We don't need another blue ribbon commission or task force to study it," argues Audrey Dow, senior vice president at the research and advocacy group Campaign for College Opportunity. "What we need is a governor who's going to take action and say, 'Okay, I'm setting the goal. I'm going to take these policies and make sure that ones [already] on the books are implemented. And then I'm going to add this, and then with my January budget, this is what I'm going to do.'"
That person would be Governor-elect Gavin Newsom, who, on the campaign trail, embraced the idea — if not an actual number — of a state college completion goal. Sacramento has already passed a handful of reforms aimed at streamlining on-time graduations. After inauguration, Newsom will launch "California Promise," his sweeping education agenda that includes some of the college access, affordability and infrastructure pieces that advocates like Dow insist are needed to close equity gaps.
It's been no secret that public higher education in California is badly broken. Four decades of disinvestment and dizzying tuition hikes, on top of some of the country's highest costs of living, have put its world-renowned, formerly low-cost degrees disproportionately out of reach for low-income students and students of color. This year, that sustained neglect was formally recognized when the university system that gave the world its fifth-largest economy slipped from its top rankings spot in the annual QS World University Rankings.
"The big story here is, we've had tremendous historical success," notes John Douglass, a senior research fellow at the University of California, Berkeley's Center for Studies in Higher Education, who has written on the crisis. "But this system is starting to break down, and it's just not clear where we're going, and nobody's offered a vision on how we can maintain access for Californians to our higher public ed system and the robust relationship of the universities with economic development."
It's little wonder that an election eve poll conducted by the Public Policy Institute of California (PPIC) found that a majority of likely voters said the level of state funding for public higher education was insufficient, and 61 percent thought there is not enough government funding for scholarships and grants for students who need financial help. That's almost exactly the same percentage that cast their ballots for Newsom, who promised to make affordability and degree completion a top priority.
Better late than never. For the past decade PPIC has issued warnings that California risks crippling its economy if it doesn't close what the nonpartisan research group says by 2030 will otherwise be a workforce skills gap of 1.1 million baccalaureate degrees. For a state that increasingly relies on — and rewards — highly educated workers to grow its knowledge economy, a degree deficit will translate into lower wages, reduced tax revenues and a widening chasm of income inequality.
Similar concerns in 2009 led the new Obama administration to set a national goal to have 60 percent of all 25-to-34-year-olds complete at least an associate degree by 2020. By 2017, 45 states had adopted or were considering their own college attainment targets. California, however, conspicuously failed to follow suit.
"There's really been at the state level no real leadership to say, 'Hey, this is the gap, this is how we're going to close it, and we're going to align policy and budget to that, to ensure we set an attainment goal, and hit that attainment goal," explains Dow.
The irony, she adds, is that more Californians are going to college — and graduating — than ever before. This includes Latinos, who now account for half of the state's K-12 students. But those numbers are too few and rising too slowly to meet the projected demand. Which is why the College Opportunity campaign has been lobbying Newsom to adopt a statewide college credential attainment goal of 60 percent of adults — or 1.7 million additional degrees — by 2030.
"Within that goal we have to be closing racial equity gaps," she emphasizes. "There's just no way that it's mathematically possible for California to hit 60 percent without closing racial and ethnic gaps in attainment."
What is possible is for Newsom to combine political leadership with an arsenal of research-proven strategies developed to mitigate the worst completion rates in the state. The 70 percent share of all California's public college students who attend the 114-campus community college system is an artifact of the Master Plan, which designed the two-year colleges to take all the mostly underserved students whose grades left them ineligible for the elite four-year University of California, and who couldn't get into the California State University system. Unfortunately, the 2.1 million community college students have only a 47 percent chance of graduating, transferring to a four-year school, or earning some sort of certificate after six years.
One of the more divisive methods being proposed to boost completions is a Jerry Brown pay-for-performance funding scheme from the Gates Foundation that would withhold part of the schools' $6.7 billion in general funding until specific transfer targets are met. Newsom has remained noncommittal. An early success at clearing a transfer path to the CSUs was the Associate Degrees for Transfer program, in which any student with the certificate is guaranteed admission. Its effectiveness persuaded UC to sign onto a similar program last spring. There's also Assembly Bill 705, which requires community colleges to consider high school grades rather than placement tests in order to reduce non-credit remedial coursework. Which was also the point last year of CSU's controversial decision to simply do away with remedial classes altogether as it tries to double its 19 percent four-year graduation rate to 40 percent by 2025.
It is to eliminate such frictions that Newsom has vowed to revive a version of the defunct California Postsecondary Education Commission (CPEC) to coordinate student-centered reforms across the UC, CSU and community colleges. Jerry Brown had eliminated CPEC in a 2011 line-item budget veto, claiming it had become "ineffective," then vetoed a subsequent effort to revive it. The new commission will also oversee what could be Newsom's most impactful proposal — an integrated data system to both track student progress and act as early-intervention radar by anticipating problems on the degree track. But as promising as that might sound on paper, university veterans of past budgetary battles may require convincing.
"At the moment, I don't really know how high higher education is in Newsom's agenda," Douglass says warily. "I think it could be like Jerry Brown's, which was not very high. The only issues he really cared about was the politically popular issue of freezing tuition, not looking at, well, what is the financial model? How can the system grow with the state's population and needs?"
But Newsom's campaign trail commitments to degree equity and to expanding affordability have already persuaded Dow and other college education advocates. The real proof will come in how much he'll include for higher education in his first, January budget, and in how soon he'll honor his campaign pledge to double the state's current year of free community college or to expand Cal Grant B Access awards for low-income students as a pathway to a debt-free degree.
"Those are the costs that really put students into debt or keep students from going full time," Dow argues. "We have to be thinking about time-to-degree as an affordability issue. When students at a community college take six years to complete, that's four additional years that they're paying for tuition when it should have been two years."
The truth is, Dow would have good reason to be optimistic about any young governor entering office at the head of a mandate-like blue wave of legislative Democratic supermajorities, and with a projected $14 billion surplus to turn his promises into policies.
"We will see what happens," she says.
---
Copyright Capital & Main