I Was a Communist in Bill O'Reilly's Dreams
Not long ago I was walking toward an airport departure gate when a man approached me.
"Are you Robert Reich?" he asked.
"Yes," I said.
"You're a Commie dirtbag." (He actually used a variant of that noun, one that can't be printed here.)
"I'm sorry?" I thought I had misunderstood him.
"You're a Commie dirtbag."
My mind raced through several possibilities. Was I in danger? That seemed doubtful. He was well-dressed and had a briefcase in one hand. He couldn't have gotten through the checkpoint with a knife or gun. Should I just walk away? Probably. But what if he followed me? Regardless, why should I let him get away with insulting me?
I decided to respond, as civilly as I could: "You're wrong. Where did you get your information?"
"Fox News. Bill O'Reilly says you're a Communist."
A year or so ago Bill O'Reilly did say on his Fox News show that I was a Communist. I couldn't imagine what I'd done to provoke his ire except to appear on several TV shows arguing for higher taxes on the wealthy, which hardly qualified me as a Communist. Nor am I exactly a revolutionary. I served in Bill Clinton's cabinet. My first full-time job in Washington was in the Ford administration, working for Robert H. Bork at the Justice Department.
"Don't believe everything you hear on Fox News," I said. The man walked away, still irritated.
It's rare that I'm accosted and insulted by strangers, but I do receive vitriolic e-mails and angry Facebook posts. On the Internet and on TV shows, name-calling substitutes for argument, and ad hominem attack for reason.
Scholars who track these things say the partisan divide is sharper today than it has been in almost a century. The typical Republican agrees with the typical Democrat on almost no major issue. If you haven't noticed, Congress is in complete gridlock.
At the same time, polls show Americans to be more contemptuous and less trusting of major institutions: government, big business, unions, Wall Street, the media.
I'm 67 and have lived through some angry times: Joseph R. McCarthy's witch hunts of the 1950s, the struggle for civil rights and the Vietnam protests in the 1960s, Watergate and its aftermath in the 1970s. But I don't recall the degree of generalized bile that seems to have gripped the nation in recent years.
The puzzle is that many of the big issues that used to divide us, from desegregation to foreign policy, are less incendiary today. True, we disagree about guns, abortion and gay marriage, but for the most part have let the states handle these issues. So what, exactly, explains the national distemper?
For one, we increasingly live in hermetically sealed ideological zones that are almost immune to compromise or nuance. Internet algorithms and the proliferation of media have let us surround ourselves with opinions that confirm our biases. We're also segregating geographically into red or blue territories: chances are that our neighbors share our views, and magnify them. So when we come across someone outside these zones, whose views have been summarily dismissed or vilified, our minds are closed.
Add in the fact that most Americans no longer remember the era, from the Great Depression through World War II, when we were all in it together — when hardship touched almost every family, and we were palpably dependent on one another. There were sharp disagreements, but we shared challenges that forced us to work together toward common ends. Small wonder that by the end of the war, Americans' confidence in major institutions of our society was at its highest.
These changes help explain why Americans are so divided, but not why they're so angry. To understand that, we need to look at the economy.
Put simply, most people are on a downward escalator. Although jobs are slowly returning, pay is not. Most jobs created since the start of the recovery, in 2009, pay less than the jobs that were lost during the Great Recession. This means many people are working harder than ever, but still getting nowhere. They're increasingly pessimistic about their chances of ever doing better.
As their wages and benefits shrink, though, they see corporate executives and Wall Street bankers doing far better than ever before. And they are keenly aware of bailouts and special subsidies for agribusinesses, pharma, oil and gas, military contractors, finance and every other well-connected industry.
Political scientists have noted a high correlation between inequality and polarization. But economic class isn't the only dividing line in America. Many working-class voters are heartland Republicans, while many of America's superrich are coastal Democrats. The real division is between those who believe the game is rigged against them and those who believe they have a decent shot.
Losers of rigged games can become very angry, as history has revealed repeatedly. In America, the populist wings of both parties have become more vocal in recent years — the difference being that the populist right blames government more than it does big corporations while the populist left blames big corporations more than government.
Widening inequality thereby ignites what the historian Richard Hofstadter called the "paranoid style in American politics." It animated the Know-Nothing and Anti-Masonic movements before the Civil War, the populist agitators of the Progressive Era and the John Birch Society — whose founder accused President Dwight D. Eisenhower of being a "dedicated, conscious agent of the Communist conspiracy" — in the 1950s.
Inequality is far wider now than it was then, and threatens social cohesion and trust. I don't think Bill O'Reilly really believes I'm a Communist. He's just channeling the nation's bile.
(Robert B. Reich, Chancellor's Professor of Public Policy at the University of California at Berkeley, was Secretary of Labor in the Clinton administration. This feature, which appeared in the New York Times, is reposted from his website with permission.)
The Power of the Poster
Carol Wells, the founder of the Center for the Study of Political Graphics in Los Angeles, talks to Capital & Main about the enduring power of political art.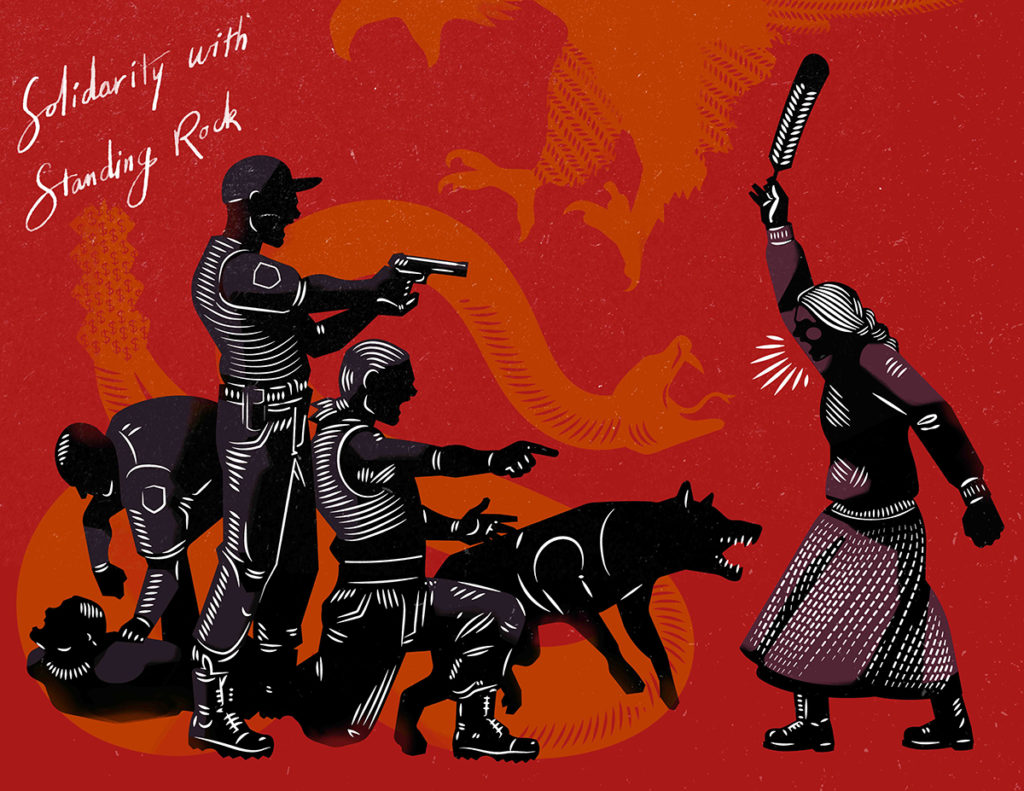 Carol Wells remembers the exact moment she discovered her calling. An art historian at the time, she was on a trip to Nicaragua with her friend David Kunzle, a UCLA art history professor, who was collecting political posters to add to his burgeoning collection. While staying with friends, Wells watched a neighbor's 8-year-old son approach a poster on the wall, stare at it intently, and then start to silently mouth the words. Wells was struck by how engaged the boy was. "In that moment I became obsessed with collecting posters."
Now over 40 years later, Wells is the founder and executive director of the Center for the Study of Political Graphics in Los Angeles. Wells has amassed approximately 90,000 posters, building one of the largest collections of its kind in the world. The Center shares its collection with the public in part through curated exhibits. This year the CSPG has produced Feminae: Typographic Voices of Women by Women and its latest is To Protect & Serve? Five Decades of Posters Protesting Police Violence, running through July 15 at the Mercado La Paloma in downtown Los Angeles.
Since that encounter in Nicaragua in 1981, Wells' obsession with collecting posters hasn't waned. In CSPG's nondescript West L.A. office space, Wells pulls out poster after poster, lecturing passionately on the backstory and cultural impact of each, including one that superimposes text from a New York Times interview with a shocking image of the My Lai massacre ("Q: And babies? A: And babies."). Recently, she managed to sit down with C&M to discuss her passion.
---
Capital & Main: So, you were an art history professor, you happen to see a kid on a trip, and suddenly your life was changed forever?
Carol Wells: Yeah, I'm in Nicaragua alone in the living room with this kid. He's looking around, and all of a sudden, he sees the poster. It was pretty big, bright green, a thick outlines of a woman holding a big basket of coffee beans. And the text in Spanish said, "In constructing the new country, we are becoming the new woman." I see him walk over to the poster and I'm watching him mouth the words. It was a pretty sophisticated concept, so I doubt he figured it out. But I literally had this epiphany: "Oh my God. That's how posters work." You're going about your daily life, and all of a sudden something breaks through the bubble, and it grabs your attention. It's the graphic, it's the color, it's the combination, and it pulls you out of your head and into that poster and it makes you ask a question. "Why is this here? What is this about? What does this mean?" And every time you ask a question, you're a different person than you were before you asked the question.
How many posters do you get a year?
We get between two to five thousand a year donated from all over the world. The bulk of our collection is [from] 1945 and later.
I assume technology has probably hurt the art form, but has it helped get the messages out?
Most people think that, and it's actually not true. Since the internet age started, there's actually a poster renaissance of works on paper. Because you can't walk with your computer monitor in a demonstration. You can't plant your monitor on your lawn.
And you can't put a laptop on the wall…
Exactly. You want to hear a really great story? Truthdig.org published a cartoon [made by] a political cartoonist named Mr. Fish. It was during the Arab spring, and he had superimposed Che Guevara with the stylized beard and King Tut's face, but it had Che's beret. And it [was titled], "Walk like an Egyptian." So, it was a reference to the music, but [it was also] a reference to what was going on the streets of Cairo. I sent it out as our poster of the week to 9,000 people. The very next day, somebody took a photograph on the street of Cairo, with somebody holding a piece of paper with that image on it. A poster can literally go around the world and people will print it out.
What struck me in viewing your exhibits is how many of these posters could still be used today, not only artistically but also, sadly, in the timeliness of their messages.
We had this fabulous poster by Yolanda Lopez, a Bay Area artist, which she first did in 1978. It depicts a young man in Aztec garb pointing a finger like Uncle Sam saying, "Who's the illegal alien, PILGRIM?" And it's a great poster, it's simple, not too many words, funny, provocative. So, we had an exhibit at UCLA in the mid '90s and there were 4 or 5 high school students standing around this poster saying, "Wow, you've got posters up to the minute." And I went over to them and I said, "Look at the date. This is before you were born."
Is that one of your goals with the exhibitions? To show the evergreen nature of this work?
Absolutely. I mean that's why we did the police abuse exhibition now. It basically goes back five decades. It's 50 years of posters protesting police abuse. Mainly in the United States, but also internationally.
What's the goal for CSPG?
Well the aim right now is really to digitize the collection and get it online. We have 10% of the collection digitized. But the mission is to collect and to document, because stories get lost. All the exhibitions, they're showing massacres, they're showing genocide, they're showing police abuse, they're showing all of these horrible things. And people often ask me, "How can you look at this stuff all day long?" I said, "Because the poster artists are optimists. They believe people can change if they have the information."
Yes, that's the reason why they're doing it, right?
That's why they're doing it, and that's why I'm doing this, because I believe that people can change if they knew the truth.
And what happens 20, 50 years from now?
Well, my goal is to stay independent, because the other option is to become part of the university. Universities, for all the fabulous things that they do, they also censor. We did an exhibition at USC in 1992 on the 500 years since Columbus, and how the legacy of racism and exploitation and genocide continues. And one of the board of trustees was Italian and took [the exhibit] as an affront to Columbus. It really wasn't about Columbus, it was about colonialism. And he ordered it down.
Do you have a favorite poster?
I'm always amazed at the creativity and vision of artists. Every week I'll say, "Oh my God, how do they think of that?" But it's always still going to be the poster I saw that kid trying to figure out. It has to be my favorite one because that one changed my life.
What makes a perfect poster?
The right balance between aesthetics and message. If you only rely on the corporate press, the New York Times and L.A. Times, for your information, you're not going to get the side from the street, from the movement, from the activists. The posters are primary historical documents that are recording the issues that were at the time, and the passions that were at the time, and the divisions that were at the time. You're not going to get it anyplace else.
---
Copyright Capital & Main