I Was a Communist in Bill O'Reilly's Dreams
Not long ago I was walking toward an airport departure gate when a man approached me.
"Are you Robert Reich?" he asked.
"Yes," I said.
"You're a Commie dirtbag." (He actually used a variant of that noun, one that can't be printed here.)
"I'm sorry?" I thought I had misunderstood him.
"You're a Commie dirtbag."
My mind raced through several possibilities. Was I in danger? That seemed doubtful. He was well-dressed and had a briefcase in one hand. He couldn't have gotten through the checkpoint with a knife or gun. Should I just walk away? Probably. But what if he followed me? Regardless, why should I let him get away with insulting me?
I decided to respond, as civilly as I could: "You're wrong. Where did you get your information?"
"Fox News. Bill O'Reilly says you're a Communist."
A year or so ago Bill O'Reilly did say on his Fox News show that I was a Communist. I couldn't imagine what I'd done to provoke his ire except to appear on several TV shows arguing for higher taxes on the wealthy, which hardly qualified me as a Communist. Nor am I exactly a revolutionary. I served in Bill Clinton's cabinet. My first full-time job in Washington was in the Ford administration, working for Robert H. Bork at the Justice Department.
"Don't believe everything you hear on Fox News," I said. The man walked away, still irritated.
It's rare that I'm accosted and insulted by strangers, but I do receive vitriolic e-mails and angry Facebook posts. On the Internet and on TV shows, name-calling substitutes for argument, and ad hominem attack for reason.
Scholars who track these things say the partisan divide is sharper today than it has been in almost a century. The typical Republican agrees with the typical Democrat on almost no major issue. If you haven't noticed, Congress is in complete gridlock.
At the same time, polls show Americans to be more contemptuous and less trusting of major institutions: government, big business, unions, Wall Street, the media.
I'm 67 and have lived through some angry times: Joseph R. McCarthy's witch hunts of the 1950s, the struggle for civil rights and the Vietnam protests in the 1960s, Watergate and its aftermath in the 1970s. But I don't recall the degree of generalized bile that seems to have gripped the nation in recent years.
The puzzle is that many of the big issues that used to divide us, from desegregation to foreign policy, are less incendiary today. True, we disagree about guns, abortion and gay marriage, but for the most part have let the states handle these issues. So what, exactly, explains the national distemper?
For one, we increasingly live in hermetically sealed ideological zones that are almost immune to compromise or nuance. Internet algorithms and the proliferation of media have let us surround ourselves with opinions that confirm our biases. We're also segregating geographically into red or blue territories: chances are that our neighbors share our views, and magnify them. So when we come across someone outside these zones, whose views have been summarily dismissed or vilified, our minds are closed.
Add in the fact that most Americans no longer remember the era, from the Great Depression through World War II, when we were all in it together — when hardship touched almost every family, and we were palpably dependent on one another. There were sharp disagreements, but we shared challenges that forced us to work together toward common ends. Small wonder that by the end of the war, Americans' confidence in major institutions of our society was at its highest.
These changes help explain why Americans are so divided, but not why they're so angry. To understand that, we need to look at the economy.
Put simply, most people are on a downward escalator. Although jobs are slowly returning, pay is not. Most jobs created since the start of the recovery, in 2009, pay less than the jobs that were lost during the Great Recession. This means many people are working harder than ever, but still getting nowhere. They're increasingly pessimistic about their chances of ever doing better.
As their wages and benefits shrink, though, they see corporate executives and Wall Street bankers doing far better than ever before. And they are keenly aware of bailouts and special subsidies for agribusinesses, pharma, oil and gas, military contractors, finance and every other well-connected industry.
Political scientists have noted a high correlation between inequality and polarization. But economic class isn't the only dividing line in America. Many working-class voters are heartland Republicans, while many of America's superrich are coastal Democrats. The real division is between those who believe the game is rigged against them and those who believe they have a decent shot.
Losers of rigged games can become very angry, as history has revealed repeatedly. In America, the populist wings of both parties have become more vocal in recent years — the difference being that the populist right blames government more than it does big corporations while the populist left blames big corporations more than government.
Widening inequality thereby ignites what the historian Richard Hofstadter called the "paranoid style in American politics." It animated the Know-Nothing and Anti-Masonic movements before the Civil War, the populist agitators of the Progressive Era and the John Birch Society — whose founder accused President Dwight D. Eisenhower of being a "dedicated, conscious agent of the Communist conspiracy" — in the 1950s.
Inequality is far wider now than it was then, and threatens social cohesion and trust. I don't think Bill O'Reilly really believes I'm a Communist. He's just channeling the nation's bile.
(Robert B. Reich, Chancellor's Professor of Public Policy at the University of California at Berkeley, was Secretary of Labor in the Clinton administration. This feature, which appeared in the New York Times, is reposted from his website with permission.)

'Skeleton Crew' Is a Play With a Moral Spine
Set in a Detroit automobile outfitting plant, Dominique Morisseau's drama grabs you from the start with its focus on blue-collar men and women, and their struggle for dignity and self-respect.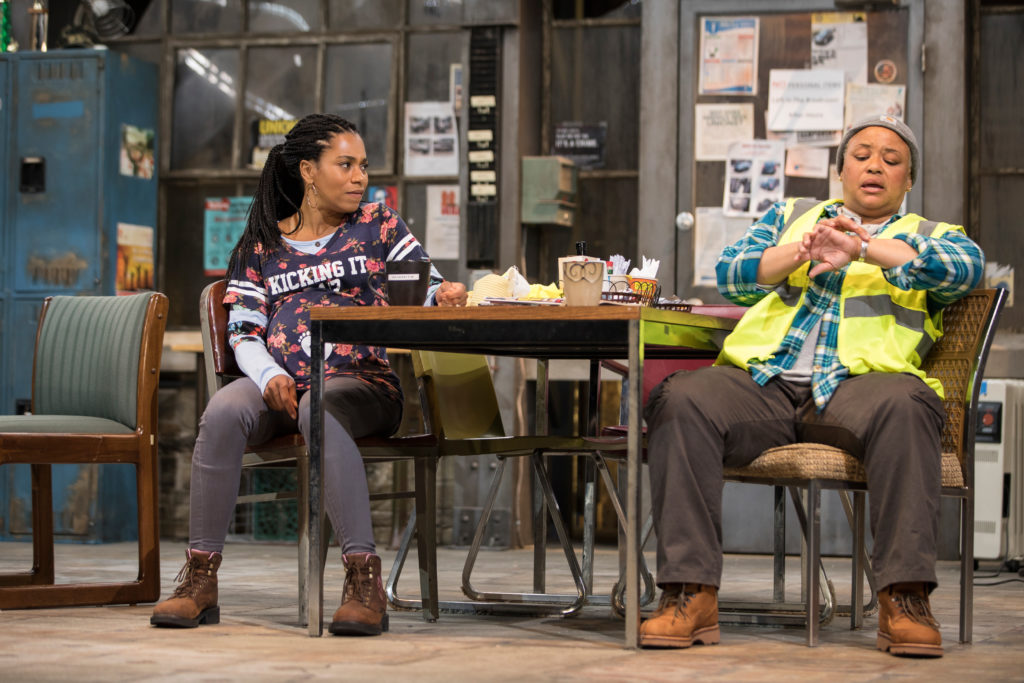 Working-class men and women of color are rarely front and center in today's media and, likewise, are presented all too occasionally on the American stage. So it's buoying to see that trend bucked in playwright Dominique Morisseau's percipient and well-crafted drama, Skeleton Crew. The play is the final installment in her Detroit  Project Trilogy; the first, Paradise Blue, is set in the 1940s amidst displacement caused by urban renewal and gentrification, while the second, Detroit '67, transpires on the eve of the 1967 Detroit riots sparked by a police action.
Directed by Patricia McGregor at Los Angeles' Geffen Playhouse, Skeleton Crew is a play with a moral spine. It takes place in 2008, when the shrinking U.S. auto industry is being further downsized. Morisseau's engaging quartet of characters — Faye (Caroline Stefanie Clay), Dez (Armari Cheatom), Shanita (Kelly McCreary) and Reggie (DB Woodside) – are employed at an automobile outfitting plant. Faye, Dez and Shanita are workers on the line while Reggie (who has a wife and kids, and has pulled himself together after a troubled youth) is their supervisor.
The first three customarily mingle in their break room (designer Rachel Myers' impressively cluttered, dingy and detailed set), trading the sort of familiar barbs and genuine concern for each other common among longtime co-workers. They also face off on philosophy: Upper-middle-aged Faye and the younger, pregnant Shanita take pride in their labor, while Dez, though a good worker, is a malcontent scornful of management and firm in the belief that everyone needs to watch out for himself. He's a thorn in Reggie's side, for while Reggie wants to be supportive of his workers, he must act at the behest of higher management. For his part, Dez resents Reggie's authority, and a palpable unease exists between them.
Besides this male matchup, we're made privy to Dez's attraction to Shanita, who mostly turns away his advances, but every now and then displays a hint of interest. Most poignant is Reggie's regard and affection for the lesbian Faye, which has roots in his boyhood when she loved, and lived, with his now-deceased mom.
These people's various predicaments intensify when rumors spread of the plant's shutdown — a disaster for all, but a particular calamity for the already near-broke Faye who, one year short of retirement, would lose her pension. The crisis forces each of these people to make a choice.
A sound piece of social realism, Skeleton Crew grabs you from the start in its focus on blue-collar men and women, and their struggle against odds for dignity and self-respect. Morisseau not only furnishes these characters a platform for their travails, she endows them with strong values, big hearts and the opportunity to choose between right and wrong.
Unfortunately, the performance I attended did not soar. Many exchanges lacked a fresh edge. The actors certainly had their characters down, but too often they appeared to be coasting on technique. (This seemed particularly true of Clay, who performed the role to great accolades in Washington, DC in 2017, also under McGregor's direction). Additionally, some of the stage movement was not entirely fluid; in confrontations, actors sometimes would just stand and face each other in an artificial way. And Cheatom's interpretation of Dez struck me as a bit overly churlish and depressive: I needed more glimpses of the intelligence and edge that would secretly attract the strong, self-directed Shanita.
The most compelling moments belong to Woodside, well-cast as a man trying his best in difficult circumstances to do the right thing.
---
Gil Cates Theater at the Geffen Playhouse, 10886 Le Conte Ave., Westwood Village; Tues.-Fri., 8 p.m.; Sat., 3 & 8 p.m. Sun., 2 & 7 p.m.; through July 8. (310) 208-5454 or www.geffenplayhouse.org