Hunting and Porn: Job Security in California
 Daniel Richards and Stacie Halas
Most of us – at least the 87 percent or so of us not protected by collective bargaining agreements – have to worry about job security. With only a few exceptions, all of us can be fired for any reason – or for no reason at all.
Two California news "scandals" brought this into sharp relief this week, as a couple of public employees found themselves under fire for some extracurricular activities.
In one case, Daniel Richards, president of the state Fish and Game Commission, shot and killed a mountain lion during a hunting trip in Idaho. In another case, some students discovered that Oxnard middle school teacher Stacie Halas had shot a porn video. Both are facing some degree of popular outrage, and calls for their dismissals.
First things first: No one has yet alleged that either of these two has violated any laws. Hunting mountain lions is illegal in California, after a 1990 voter initiative as well as a 1996 voter reaffirmation of the ban. But Richards was in Idaho. And in Halas' case, porn remains (with a few exceptions, none of which apply here) legally protected speech.
So why the outrage? After all, these were actions that took place off the job and presumably did not impact the individuals' job performance. Sure, some people will protest hunting in any circumstance, and some people will protest porn in any circumstance, but such people (god bless the true believers) don't have much to say in this conversation. Is it possible to analyze the dilemma without any appeal at all to whether either hunting or porn are per se good or bad?
Let's start with the question of job performance. One might argue that once students find out about Halas' on-camera performance, it will undermine her classroom performance. Then again, one might also argue that same thing about David, he of After Dentist fame (assuming that in 20 years, David becomes a teacher and his students find the famous video).
The real questions in Halas' case are legal: Is there a ban on teacher moonlighting? And Is there any sort of "morals clause" that teachers have to abide by? After all, the Oxnard School District superintendent was quoted as saying "maybe it's not a crime as far as the penal code is concerned, but we feel it's a crime as far as moral turpitude is concerned." (My wife's response to this was probably the most sensible possible: "Heh-heh. He said 'penal.'")
In short, the answers are no and no: there is no ban on moonlighting, and there is no moral turpitude rule. And at this week's school board meeting, parents were apparently so concerned about all this that they stayed away in droves. Perhaps they realized that the school district has bigger problems—like the fact that teachers have to have a second job.
Verdict: Legal, political and practical arguments for dismissal all fail. Reinstate Halas immediately.
Richards' case is different in two ways. First, he is not just a public servant, but a public official, appointed to his political position first by former Governor Schwarzenegger and then by Governor Brown. Second, there is a direct connection between Richards' actions and his job, which is to uphold state laws. His charge is to enforce the will of the people, twice voiced, that hunting mountain lions is wrong.
Imagine an official in charge of alcohol control of a dry County leaving the County to go get drunk: it would undermine faith in his ability to do his job. It might even undermine faith that he believes that his job is the right thing to do! It is telling that Richards not only hunted, but proudly sent to the press a picture of himself holding his quarry, and saying "I'm glad it's legal in Idaho."
Verdict: Legal argument for dismissal fails; practical argument is strong; political argument is wide open. It's Jerry Brown's decision, but Richards does seem to have undermined his own role. Brown should find someone for this position who actually believes in it.

A Woman's Art Is Never Done: The Feminae Exhibition
A striking juxtaposition between the past and present courses throughout the small gallery. Celia Blomberg's "International Women's Day March 8" can't help but make one think of 2017's Women's March, which occurred 37 years after the print's first appearance.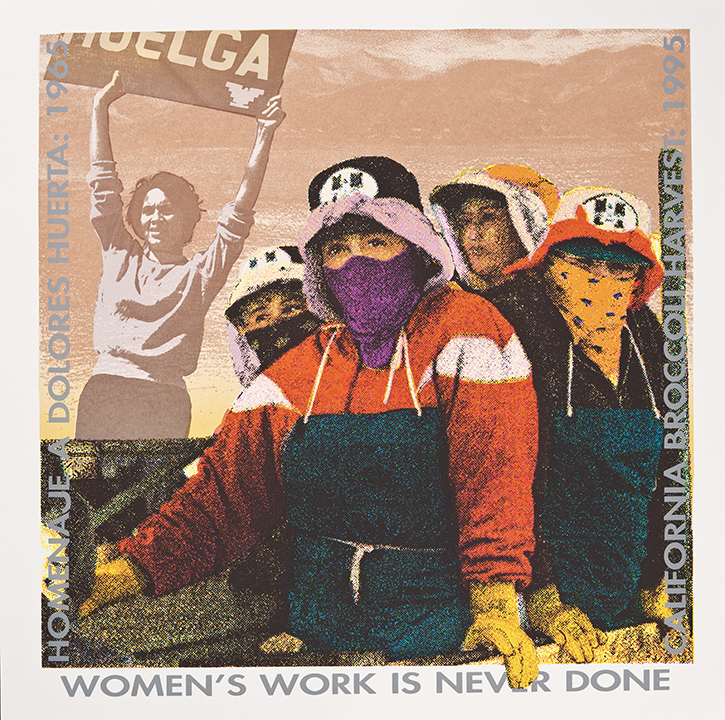 Among the 50-plus works in the Feminae: Typographic Voices of Women By Women exhibit is Yolanda Lopez's "Women's Work is Never Done." Lopez's title is particularly ironic, given the exhibit's gender-based subject matter. The show spans work from the past 50 years, making it easy to understand how much society is still grappling with its themes of gender inequality. Culled from the archives of the Center for the Study of Political Graphics, the graphic images of protest, persuasion and empowerment are truly works of art in their own right.
However, political posters aren't made to merely spruce up walls, but to help figuratively bring barriers down as well.
Two silkscreens from the 1970s, Liliana Porter and John Schneider's "This Woman is Vietnamese" and See Red Woman's Workshop's "So Long As Women Are Not Free People Are Not Free," are particularly powerful, underscoring, as they do, the fact that the subjugation and persecution of women crosses borders and cultures as an unfortunate shared global experience. These two pieces' stark simplicity exemplifies most of the work in the exhibit. In the former, a New York Times photo of a distraught Vietnamese woman with a gun held to her head is centered above these basic words typed out in a typewriter font: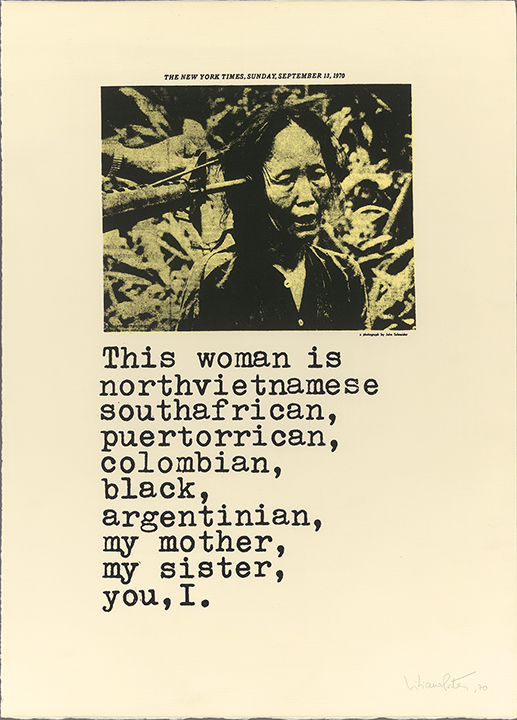 This woman is
northvietnamese
southafrican
puertorrican,
colombian,
black,
argentinian,
my mother,
my sister,
you, I.
By juxtaposing the photo with these words, the creators take the plight of this woman and immediately globalize her pain. In the latter, three female demonstrators are silkscreened in red onto a yellow background. They are marginalized by being stuck in the lower left third of the poster, but two of them are raising their fists skyward and their mouths are open, screaming in defiance. Its non-serif, eponymous type reads: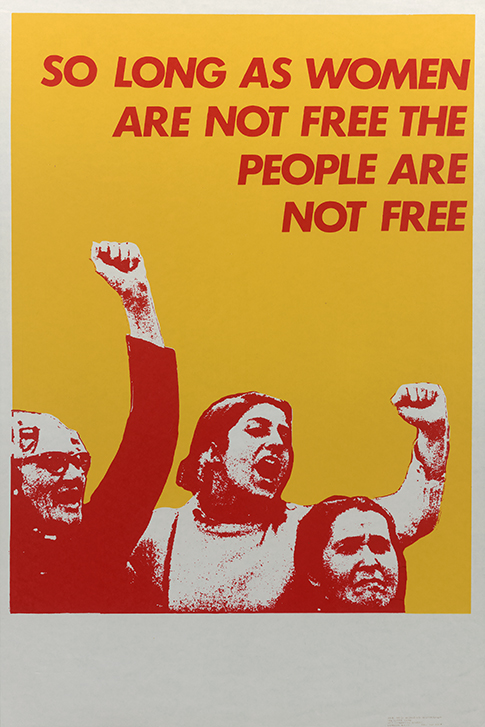 SO LONG AS WOMEN
ARE NOT FREE THE
PEOPLE ARE
NOT FREE
This piece's message takes the global message even farther, making the plight of women a human one — a common theme in the exhibition.
There is also a striking juxtaposition between the past and present that seethes throughout the small gallery. Celia Blomberg's "International Women's Day March 8" can't help but make one think of 2017's Women's March that would take place 37 years later. See Red Woman's Workshop's 1977 "Black Women Will Not Be Intimidated" could easily be repurposed to address the recent spate of blue-on-black brutality. Notable works by Barbara Kruger, Sister Corita Kent and the Guerilla Girls are also included.
Ironically , while it can be surmised that most of these works were made as populist posters to be distributed at the time as banners of protest, their beautiful simplicity and nostalgic elegance probably have resulted in the originals (mostly now found in art museums) sporting hefty vintage-resale prices.
But it is not just the art that has stood the test of time. The fact that the issues addressed in the show — feminism, choice, gender equality, war, immigration, police brutality or violence against women — are all issues at the forefront of debate in 2018 ultimately engenders conflicting feelings.
On one the hand, it is inspiring to see a vibrant exhibit that showcases such diversity in artistic styles, no doubt spawned by the diversity of the artists' own backgrounds. On the other hand, there is a realization that while there has been some progress over the past half century, there is so much work to be done.
Art Center's Hoffmitz Milken Center for Typography, 950 South Raymond Ave., Pasadena; through May 15.
---
Copyright Capital & Main