How Were Los Angeles Hospitals Brought to the Brink by COVID?
Experts describe the winter surge as a "perfect storm" driven in part by poor planning, staffing woes and a tardy governmental response.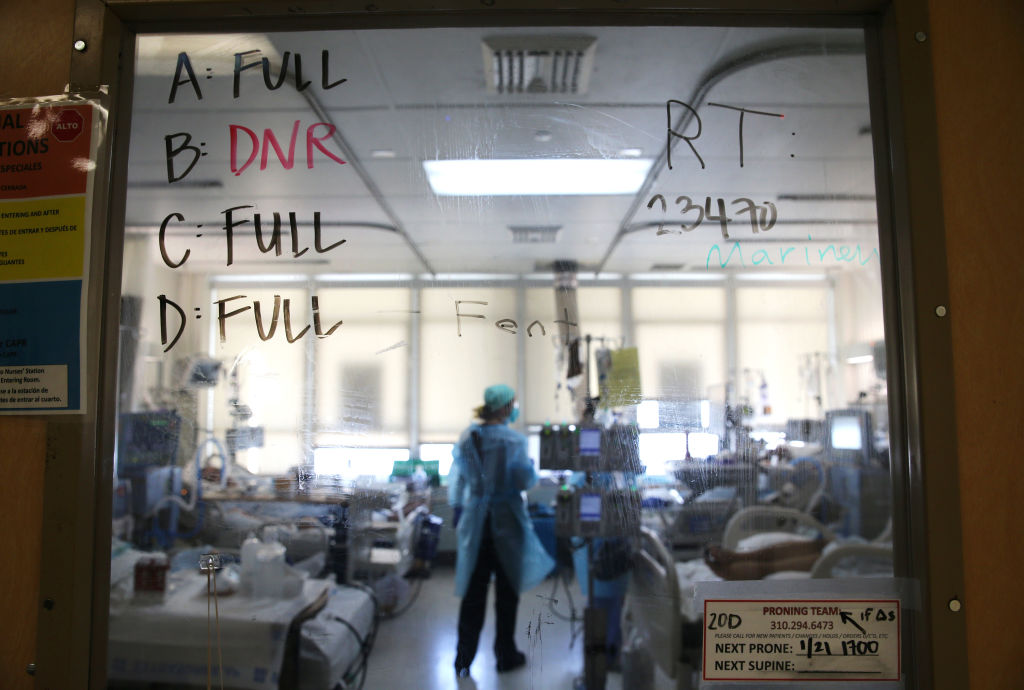 After a winter surge in COVID-19 cases that reached dizzying and desperate levels, Los Angeles County's vital signs appear decidedly more encouraging, with infections, deaths and hospitalizations all currently plummeting. But tough questions are being asked as to how hospitals in the county were brought so close to the brink of disaster.
At peak crisis, Los Angeles County officials and health experts blamed the winter surge on a nexus of factors including public apathy towards lockdown measures and a sprawling city riven by economic disparities. That the beginning of the pandemic failed to bring the county to its knees also lulled officials into a false sense of security, the story goes. "The spike was almost overnight," said Patrick Rafferty, chief executive officer of Coast Plaza Hospital in Norwalk, calling the influx of patients mid-December a tsunami. "I think it surprised everybody."
Also Read:
"Missteps in L.A.'s Pandemic Response Left Disadvantaged Communities Behind"
But among many of the nearly two dozen hospital executives, government officials, academics, health care workers and labor representatives interviewed by Capital & Main, a broader story emerges. They describe a "perfect storm" whose severity could have been blunted with better planning, and cite as contributing factors an aging nursing workforce already stretched paper thin, a health care system sometimes too focused on its bottom-line, and county, state and federal governments that didn't always move fast enough to handle the unfolding crisis.
For one thing, staffing levels at the county's 89 acute care hospitals were taxed to their limit, with thousands of embattled health care nursing staff, physicians and advanced practice providers falling ill with the virus. "Our faculty at USC also staff county hospitals," explained Marty Sargent, interim chief executive officer and chief operating officer of the University of Southern California's Keck Medical Center in East Los Angeles. "We had to bring in staff from other states to help support us."
 
---
Thousands of L.A. County health care workers fell ill with the virus during the winter surge, leaving hospitals short-staffed.
---
 
For a typical hospital in Los Angeles County even before the pandemic, an attenuated staffing roster was hardly unusual. California is the only state that requires by law that hospitals maintain specific nursing staff numbers — for intensive care units (ICUs), that ratio is one nurse for every two patients. Despite this mandate, for the last 20 years in California, "the No. 1 issue of our members has been staffing levels," said Sal Rosselli, president of the National Union of Healthcare Workers (NUHW), pointing to an industry shift towards the use of temp agencies to facilitate "just in time" staffing — a strategy employed by big box stores to move consumer goods from warehouses to stores with minimal expense. "It's all because the industry has corporatized," he explained. (Disclosure: The NUHW is a financial supporter of this website.)
On top of that is a graying nursing workforce, with 50 the average age of a registered nurse nationwide. In California, over 40% of RNs are 51 and older. "That's not a good age to be taking care of these patients," said Rafferty, highlighting the rigorous demands of a typical COVID-19 patient. "These patients require a lot of hands-on care."
Given these preexisting strains on the system, what steps did the county take to staff up for the winter surge? In an email, Dr. Christina Ghaly, who heads the L.A. County Department of Health Services (LAC DHS), outlined a series of measures including the formation of a surge committee and surge plan, redeployment of more than 1,200 staff from outpatient areas primarily to the four county hospitals and additional training for staff. Though the county hospitals went into internal disaster mode, closing their doors to incoming ambulances for brief periods of time, "At no point did DHS have to go into a crisis standard," which would have required rationing of care, she wrote.
Numbers provided by LAC DHS show that staffing levels were a mixed bag across the four county-run hospitals in the months leading up to and during the winter surge. Between June last year and January, the number of ICU beds increased by 43% at the Harbor UCLA Medical Center, while the number of ICU nurses increased 56%, for example. But the number of ICU respiratory therapists fluctuated from month to month between 14 and 20. In January, at the height of the surge, that number was at 15.
According to the California Department of Public Health (CDPH), nonprofit and privately run hospitals facing staffing shortages can submit "resource requests" to county, regional and state emergency disaster coordinators. Nevertheless, it falls primarily on the hospitals' own shoulders to find additional staffing from pools of temporary hires, such as traveling nurses who flit from facility to facility on demand. One major problem, say experts, is that by the time hospitals in L.A. County sought traveling nurses to help with the winter surge, many had already been snapped up by other facilities and states in anticipation of the traditional flu season. Adding further strain to the system, come the midwinter-surge, half the U.S. states faced staffing shortages. What's more, critics point out that larger hospitals have a financial edge when it comes to offering pay incentives for surplus staff over their smaller cash-strapped cousins.
"It's just not a plug-and-play system," said Rafferty, of the hunt for supplemental staff. "It was certainly a challenge."
Several health care workers and union representatives interviewed for this story adamantly claimed that individual hospitals, the county and the state failed to take important steps to adequately staff up for the winter crisis. A particular bone of contention concerned staffing waivers the CDPH granted hospitals supposedly unable to meet state mandated nurse-to-patient ratios. According to state data, 73 L.A. County hospitals received these dispensations.
But the waivers should have been issued as a matter of "last resort," and several health care workers said that their facilities didn't use every resource available to stay within the usual limits, such as ending contracts with ancillary staff prior to the winter surge and acting too slowly to secure new ones, or conducting too little cross-training of staff.
"I get it, it's a pandemic," said Adrian Garcia, an ICU nurse at the Emanate Health Queen of the Valley Hospital in West Covina, which was granted a staffing waiver. "But we were not prepared."
Michael Rivera, a respiratory therapist at the waiver-issued Providence Cedars-Sinai Tarzana Medical Center, agreed that his facility and others were not fully prepared for what was to come in the winter months. "Pretty much everybody in L.A. County got caught with their pants down on this," he said.
 
---
On Christmas Eve, there were only 17 available ICU beds across 70 designated 911 receiving hospitals — this for a region with over 10 million people.
---
 
The sheer scale of the crisis made emergency readiness difficult, admitted Peter Sidhu, an ICU nurse at Kaiser Permanente Woodland Hills Medical Center, another facility granted a waiver. "But could we have made it less impactful? Definitely," he added, noting that hospitals had a suitable window before winter to "cross-train" more nurses for ICU deployment. "I would have made sure there were extra hands," he said. "That's not always the budget-friendly answer."
But other health care professionals downplayed the potential benefits of concerted cross-training efforts in the months preceding the winter surge. Education should be coupled with sufficient "hands-on experience" for a nurse working in a high-intensity ward like an ICU, explained Downapha Britton, chief nursing officer at Coast Plaza Hospital.
And where were the California and federal governments? "The state was laser focused on getting hospitals additional staff and resources to assist with responding to the crisis," wrote a CDPH spokesperson, pointing to the deployment of some 1,500 medical personnel statewide throughout the pandemic, including additional staff in early January, and the implementation of a 42-bed surge unit in Norwalk. The Department of Defense also deployed combat medics, physicians, nurses and respiratory therapists to LAC DHS facilities. But many staffing reinforcements arrived when the crisis was nearing or already at its peak in L.A. County.
In a statement, a spokesperson for Providence Cedars-Sinai Tarzana Medical Center wrote that the facility took "every possible measure" to increase staff levels this winter, such as redirecting caregivers from Providence operations in other states and contracting for additional clinical care staff from a supply that was already "stretched" across the nation. "Our caregivers are our greatest asset, and we are committed to their safety," the statement read.
*  *  *
County data shows that as needs arose, hospitals "flexed" additional beds from non-ICU wards to house critically ill COVID-19 patients. Memorial Hospital of Gardena, for example, reportedly reached 320% ICU occupancy. Across L.A. County, stories emerged of overflow beds placed in hospital hallways, cafeterias, chapels and gift shops. Emergency medical tents were erected. On Christmas Eve, there were only 17 available ICU beds across 70 designated 911 receiving hospitals — this for a region with over 10 million people at a time when someone in the county was dying of the virus every 15 minutes.
In a coordinated response to questions, both the L.A. County Board of Supervisors and L.A. County health agencies stressed how no hospital throughout the county reported crisis standards that would have required rationing of care. Nor is there yet any evidence that the winter surge led to unnecessary deaths, even though county data shows that the percentage of hospitalized COVID-19 patients who died nearly doubled during the winter surge compared to the two months prior.
 
---
"You really should occupy around 80% so that you have that cushion of 20% to take those who are coming through your doors. Well, our hospital is always occupied at 100%."
~ Marcia Santini, ER nurse at Ronald Reagan UCLA Medical Center
---
 
Nevertheless, policy critics argue that L.A. County hospitals were sitting targets for just such a surge situation due to closures and market consolidation in recent years, with facilities run along a streamlined economic model that prioritizes primary care over hospitalization. Nationally in hospitals, California has one of the worst beds-per-capita ratios, with 1.8 beds per 1,000 residents, compared to South Dakota, with the best nationwide ratio of 4.8 beds per 1,000 residents.
And while data provided by the Hospital Association of Southern California (HASC) shows that in L.A. County that number is 2.6 beds per 1,000 residents — in line with the national average — state data suggests that for acute care hospitals specifically that ratio is 2 beds, and several health care workers explained that their acute care facilities often operated pre-pandemic near full capacity.
"You really should occupy around 80% so that you have that cushion of 20% to take those who are coming through your doors," said Marcia Santini, a veteran emergency room nurse at the University of California, Los Angeles' Ronald Reagan Medical Center. "Well, our hospital is always occupied at 100%." With limited wriggle room in bed capacity, hospitals are vulnerable to sudden influxes of patients, and Ronald Reagan UCLA was left scrambling, having failed to take a number of preventative steps, such as suspending elective surgeries and "clearing out" noncritical patients early enough, said Santini.
In a statement, UCLA Health outlined some of the measures the facility took to "enhance planning flexibility," including temporary holds on certain nonemergency procedures needing overnight hospitalizations, supplementing and cross-training nursing staff and securing supply chains. "We understand the anxiety caused by COVID-19, and we value our staff's dedication to safe, high-quality, compassionate patient care," the statement read.
Towards the end of January well into the winter surge, the county's emergency services coordinated with the state and the HASC to transfer patients from impacted private hospitals to two surge facilities: the Pacifica Hospital of the Valley in Sun Valley with an additional 151 beds, and the 108-bed Pacific Gardens Medical Center in Hawaiian Gardens. "Transfers are prioritized based on the hospitals' needs, such as significant staffing shortages or multiple ambulances waiting to offload for a long time," wrote Ghaly, in an email. The issue of relieving over-burdened facilities has been a sticking point.
The Martin Luther King Jr. Community Hospital in South L.A., a cornerstone of the community, was already one of the busiest hospitals in the state even before the pandemic, with the fewest hospital beds per capita in L.A. County. During the pandemic, the facility doubled up single rooms and converted an entire medical floor into a critical care unit. Even then, this small hospital had more COVID-19 patients than hospitals in L.A. County that are three to four times larger, and as the crisis deepened, Elaine Batchlor, CEO of MLK hospital, "tried to shame other institutions" into accepting patients, she told the New York Times.
Another potential escape valve for congested hospitals could have been an earlier expansion of the county's recuperative care program, funneling less critically ill COVID-19 patients out of acute care hospitals and into recuperative care facilities, said Louise McCarthy, president and CEO of the Community Clinic Association of Los Angeles County. "That's in play now," said McCarthy. "But unfortunately, we should have been doing that months ago."
Broad federal support, however, was spectacularly missing. At the end of December, for example, L.A. County Supervisor Janice Hahn wrote a letter to Gov. Gavin Newsom practically begging for the return to the Port of Los Angeles of USNS Mercy, a thousand-bed hospital ship that had left the port the previous spring. "Emergency departments throughout L.A. County are overwhelmed and cannot take in all patients in need of urgent care," she pleaded. Just days later, however, the federal government told the state that the ship was under mandatory maintenance and unavailable for deployment.
*  *  *
What have been the most critical lessons learned since last spring? Those interviewed for this story gave a variety of answers for both the short and long term, including better rationing and coordination by the county of protective equipment and medical supplies, especially hospital quality ventilators. Nurses and health care unions argue that a broader staffing shortage is largely artificial due to limited grad training programs at hospitals. Another long-term problem concerns the deep psychological scars on a workforce operating under war zone-like conditions — indeed, even before the pandemic hit, experts were warning of the threat posed by nursing burnout.
In that regard, Ed Hall, senior executive administrator of the USC Keck Medical Center's Office of Integrated Risk Management, played up the positive results from Keck's relatively new "care for the caregiver" program — a multipronged deal including free quarantine housing, music therapy, emotional support for workers and tutoring for their children — in protecting staff and their families while boosting morale. Interestingly, the Keck Medical Center was one of few hospitals in L.A. County that did not need a staffing waiver.
How many other hospitals and institutions have implemented similar programs? "It's a little bit unique," Hall replied.
The need for such a program has far from disappeared. "We're going to see cases for a while," said ICU nurse Sidhu. Indeed, health officials warn of a potential uptick due to the prevalence of a new coronavirus variant of California origin. And what if cases do rise again? Recently, the county faced the prospect of losing even more hospital beds through Olympia Medical Center, a 204-bed hospital in the Mid-Wilshire district of the city that was scheduled to shut down at the end of March. UCLA recently announced that it has given Alecto, the facility operator, an "opportunity to keep the doors open beyond March 31 while UCLA Health launches an initial planning process for a major facility renovation, including exploration of plans for inpatient and outpatient mental health services."
That the hospital is on the chopping block in the midst of a pandemic reflects the price of doing business, some will say. Or as Sidhu sees the nexus between health and profit, "This pandemic has literally lifted the veil off health care's dirty little secret."
---
Copyright 2021 Capital & Main