How the Senate Health Care Overhaul Could Affect Californians
Three people tell Capital & Main that the Affordable Care Act repeal and proposed cuts to Medicaid will decimate their finances and their quality of life. BY LARRY BUHL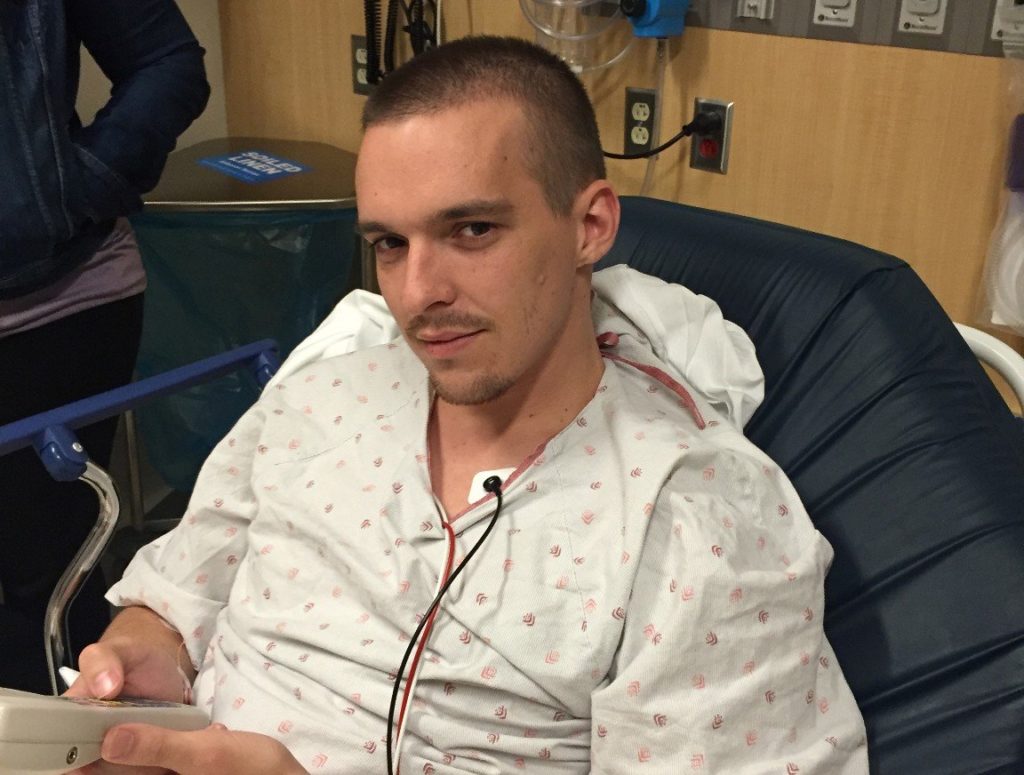 Cancer survivor Steven Martin with Nancy Pelosi.
Last week, after Senate Majority Leader Mitch McConnell (R-KY) said that the GOP leadership would delay voting on its health care overhaul proposal, the Better Care Reconciliation Act (BCRA), there was some speculation that efforts to repeal and replace the Affordable Care Act, or Obamacare, were dead. They're not – even if the specific bill proposed may be bleeding out.
Although many Republican senators haven't even seen the bill's details – a big sticking point in itself – a number were concerned about the initial score from the Congressional Budget Office that predicted the BCRA would help strip 22 million Americans of their insurance.
A second CBO analysis showed that the BCRA would go beyond repealing many ACA provisions. It takes a meat cleaver to Medicaid, slashing the program by 26 percent during the BCRA's first 10 years, and by 35 percent in its second decade.
That would end up hurting patients in need of care, including 3.8 million Californians enrolled in the ACA's Medicare expansion, according to an analysis conducted by California's Department of Health Care Services and Department of Finance.
With the caveat that nobody knows what health care legislation will ultimately pass, three people Capital & Main spoke with said that the ACA repeal and proposed cuts to Medicaid would decimate their finances and their quality of life.

Nancy, 65, Quadriplegic
You may have seen Nancy Becker Kennedy on TV as comic Louie Anderson's wisecracking secretary on The Louie Show in the 1990s. She's been a comic and public-television producer, and says she's enjoyed a "beautiful, rich" life despite her disability, stemming from a diving accident more than 40 years ago.
Now a marriage and family therapist-in-training, Kennedy told me that would all be over if Medicare were slashed. Without in-home support services to help her to get dressed, cook, clean and even to have bowel movements – services provided through Medicare and MediCal – she would be forced to give up her condo and move into a nursing home.
She did the math for me. "Four in-home nurses cost $2,000 a month, half of which is paid by federal money and half by state money. A nursing home would cost the government $4,000 to $5,000 a month. It would cost tax payers several times more to move me from a cost-efficient, full life to a prison sentence."
Becker Kennedy told me that not only would a nursing home eliminate her freedom, it would put her at risk of cross contamination from antibiotic-resistant bacteria, a persistent concern for long-term nursing home residents.

Steven, 27, Cancer Survivor
Last year Steven Martin was diagnosed with chronic myeloid leukemia, a rare disorder that he calls a "lucky" cancer. Because, he claims, he requires only one daily pill, Imatinib, to keep the cancer from spreading.
Still, the side effects of the pill are no joke, he admits. With nausea and muscle cramps, in addition to depression and anxiety stemming from his condition, Martin isn't able to work or return to school right now. His mother is paying for the copays of $10 for general practitioners, $25 for oncologist visits and his $108 monthly premium.
"If my insurance went up even $20, it would be a big burden," Martin said. "Just the destabilization of the market, even if the ACA is not repealed, would send my deductibles through the roof."
Martin has become a spokesperson for keeping the ACA and spoke with Senator Kamala Harris at a rally outside Harbor-UCLA Medical Center in Torrance, Monday, to stop the GOP repeal-and-replace proposals.
"I'm actually lucky to be in L.A. and in California because I have good legislators," he said. "There are people with my condition in other states that are paying more than $2,000 a month. I don't know how they do it."

Keeley, Full-time Caregiver
Keeley Level has been paid by In-Home Supportive Services, which is covered by MediCal, to care for her husband of the past 12 years. He was partially paralyzed by a stroke and requires 15 medications, which, thanks to Medicare and MediCal as supplemental insurance, cost the couple no more than $3.60 a prescription.
Level said that her household would be in "total chaotic distress," if anything like the BCRA were to pass.
"If there's no secondary insurance, I have to cover the 20 percent [that Medicare doesn't cover]. Unfortunately I can't go out and work part time, let alone full time — he simply can't be left alone more than an hour."
Level uses the state's health insurance exchange, Covered California, for herself, and says that if it goes away, her own preexisting medical conditions would raise her premium to $2,500 a month. "I would have to go without insurance," she said.

Suggestions for Reform
Becker Kennedy, Martin and Level all say that if Congress really wants to overhaul health insurance, it would do well to offer a public option or Medicare for everyone.
"Medicare costs less [than private care], and that plan might bring down the real cost of health care in the U.S., which is bloated," Nancy Becker Kennedy said.
Steven Martin echoed her recommendations. "[Imatinib] was introduced 20 years ago at a cost of $37,000 a year," he said. "It and the generic version have gone up 10 to 20 percent a year since then. There is no good reason for that to happen."
There was great anticipation earlier in June after California's state Senate passed a $400 billion single-payer health care plan. But hopes of a state-government plan were dashed later that month after Assembly Speaker Anthony Rendon tabled Senate Bill 562, saying it didn't address "financing, delivery of care, cost controls or the realities of needed action by the Trump administration and [California] voters."
Like the GOP repeal-and-replace plans in D.C., single payer in California isn't dead yet. Supporters are expecting a bill to return in the next legislative session.

Proposed Los Angeles Law Would Give Tenants Access to Attorneys
The City Council is considering a 'right to counsel' program that could help curb evictions and homelessness.

An estimated 30,000 eviction cases are filed in court each year against Los Angeles city residents. Many more tenants do not show up in court since they know "they have limited legal rights and they have limited access to legal representation," according to a recent report by Tenants Together, a renter advocacy organization.
Urged on by renter advocates, a Los Angeles City Council housing committee voted August 8 to support the creation of a 'right to counsel' law similar to ones that have been adopted by San Francisco and New York.
The committee approved a motion, authored by L.A. City Councilman Paul Koretz, which directs staff to craft a program that would give more tenants facing eviction access to attorneys.
"Basic fairness dictates that if one side of an eviction proceeding has legal representation, the other side should have representation, too, and that equality before the law shouldn't depend on income level," said Jerry Jones, director of public policy at the Inner City Law Center. Jones joined about a dozen speakers at the committee meeting.
Compared to the high cost of addressing the homeless crisis, eviction defense is a relatively inexpensive means to prevent people from becoming homeless, according to Jones.
County and city officials are struggling to find temporary and permanent housing for the tens of thousands of residents who become homeless every year. And while there has been a slight decrease in the county's homeless population since last year, the number of homeless – 53,000 – is still staggering, according to the last count. In addition, more people were homeless for the first time this year than last, suggesting unaffordable rents may be pushing people onto the street.
At the hearing, Janet Gagnon, a representative of the Apartment Association of Greater Los Angeles, complained that a right-to-counsel program would "simply give money to defense attorneys." She said that public money would be better spent on vouchers "so that the people can avoid the eviction process entirely."
But a 2017 analysis of pilot programs that offered free legal service to tenants concluded that providing counsel does have benefits. Eviction cases involving represented tenants are more likely to end in settlement, and most of those settlements reduced back-owed rent or helped protect tenants' credit by keeping eviction notices off the public record.
The study, which was conducted by the Judicial Council of California, also found that 67 percent of cases involving represented tenants settled, as compared to 34 percent of cases in which people represented themselves. While all clients in the study received eviction notices, only 6 percent were ultimately evicted from their homes.
Jim Bickhart, a representative of Councilman Paul Koretz, said that the intent of the proposed measure was to expand the capacity of the current network of legal services, which currently serves "several thousand clients a year."
"There is no way this proposal could provide free legal service to every tenant faced with eviction, but we should start somewhere," he added. The motion is scheduled to be voted on by the full City Council on August 17.