How the Senate Health Care Overhaul Could Affect Californians
Three people tell Capital & Main that the Affordable Care Act repeal and proposed cuts to Medicaid will decimate their finances and their quality of life. BY LARRY BUHL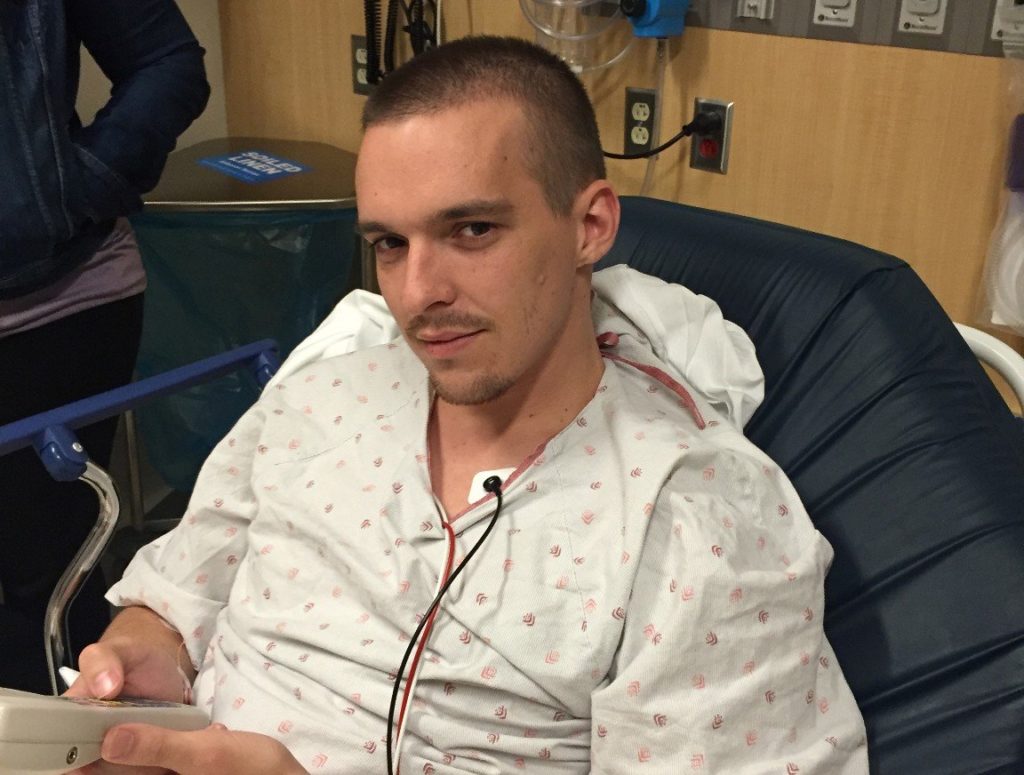 Cancer survivor Steven Martin with Nancy Pelosi.
Last week, after Senate Majority Leader Mitch McConnell (R-KY) said that the GOP leadership would delay voting on its health care overhaul proposal, the Better Care Reconciliation Act (BCRA), there was some speculation that efforts to repeal and replace the Affordable Care Act, or Obamacare, were dead. They're not – even if the specific bill proposed may be bleeding out.
Although many Republican senators haven't even seen the bill's details – a big sticking point in itself – a number were concerned about the initial score from the Congressional Budget Office that predicted the BCRA would help strip 22 million Americans of their insurance.
A second CBO analysis showed that the BCRA would go beyond repealing many ACA provisions. It takes a meat cleaver to Medicaid, slashing the program by 26 percent during the BCRA's first 10 years, and by 35 percent in its second decade.
That would end up hurting patients in need of care, including 3.8 million Californians enrolled in the ACA's Medicare expansion, according to an analysis conducted by California's Department of Health Care Services and Department of Finance.
With the caveat that nobody knows what health care legislation will ultimately pass, three people Capital & Main spoke with said that the ACA repeal and proposed cuts to Medicaid would decimate their finances and their quality of life.

Nancy, 65, Quadriplegic
You may have seen Nancy Becker Kennedy on TV as comic Louie Anderson's wisecracking secretary on The Louie Show in the 1990s. She's been a comic and public-television producer, and says she's enjoyed a "beautiful, rich" life despite her disability, stemming from a diving accident more than 40 years ago.
Now a marriage and family therapist-in-training, Kennedy told me that would all be over if Medicare were slashed. Without in-home support services to help her to get dressed, cook, clean and even to have bowel movements – services provided through Medicare and MediCal – she would be forced to give up her condo and move into a nursing home.
She did the math for me. "Four in-home nurses cost $2,000 a month, half of which is paid by federal money and half by state money. A nursing home would cost the government $4,000 to $5,000 a month. It would cost tax payers several times more to move me from a cost-efficient, full life to a prison sentence."
Becker Kennedy told me that not only would a nursing home eliminate her freedom, it would put her at risk of cross contamination from antibiotic-resistant bacteria, a persistent concern for long-term nursing home residents.

Steven, 27, Cancer Survivor
Last year Steven Martin was diagnosed with chronic myeloid leukemia, a rare disorder that he calls a "lucky" cancer. Because, he claims, he requires only one daily pill, Imatinib, to keep the cancer from spreading.
Still, the side effects of the pill are no joke, he admits. With nausea and muscle cramps, in addition to depression and anxiety stemming from his condition, Martin isn't able to work or return to school right now. His mother is paying for the copays of $10 for general practitioners, $25 for oncologist visits and his $108 monthly premium.
"If my insurance went up even $20, it would be a big burden," Martin said. "Just the destabilization of the market, even if the ACA is not repealed, would send my deductibles through the roof."
Martin has become a spokesperson for keeping the ACA and spoke with Senator Kamala Harris at a rally outside Harbor-UCLA Medical Center in Torrance, Monday, to stop the GOP repeal-and-replace proposals.
"I'm actually lucky to be in L.A. and in California because I have good legislators," he said. "There are people with my condition in other states that are paying more than $2,000 a month. I don't know how they do it."

Keeley, Full-time Caregiver
Keeley Level has been paid by In-Home Supportive Services, which is covered by MediCal, to care for her husband of the past 12 years. He was partially paralyzed by a stroke and requires 15 medications, which, thanks to Medicare and MediCal as supplemental insurance, cost the couple no more than $3.60 a prescription.
Level said that her household would be in "total chaotic distress," if anything like the BCRA were to pass.
"If there's no secondary insurance, I have to cover the 20 percent [that Medicare doesn't cover]. Unfortunately I can't go out and work part time, let alone full time — he simply can't be left alone more than an hour."
Level uses the state's health insurance exchange, Covered California, for herself, and says that if it goes away, her own preexisting medical conditions would raise her premium to $2,500 a month. "I would have to go without insurance," she said.

Suggestions for Reform
Becker Kennedy, Martin and Level all say that if Congress really wants to overhaul health insurance, it would do well to offer a public option or Medicare for everyone.
"Medicare costs less [than private care], and that plan might bring down the real cost of health care in the U.S., which is bloated," Nancy Becker Kennedy said.
Steven Martin echoed her recommendations. "[Imatinib] was introduced 20 years ago at a cost of $37,000 a year," he said. "It and the generic version have gone up 10 to 20 percent a year since then. There is no good reason for that to happen."
There was great anticipation earlier in June after California's state Senate passed a $400 billion single-payer health care plan. But hopes of a state-government plan were dashed later that month after Assembly Speaker Anthony Rendon tabled Senate Bill 562, saying it didn't address "financing, delivery of care, cost controls or the realities of needed action by the Trump administration and [California] voters."
Like the GOP repeal-and-replace plans in D.C., single payer in California isn't dead yet. Supporters are expecting a bill to return in the next legislative session.

Policymakers Seek Healthier, More Prosperous California
A summary of legislative proposals discussed at Policy Insights 2018, from gender equality to expanding health-care coverage.

Over 300 state policymakers, researchers, advocates and service providers explored driving a progressive political agenda to expand economic opportunity and financial security at the Policy Insights 2018 conference held last week in Sacramento. Facts and ideas presented at the event "could help form the basis of a new, future-oriented economic agenda for California in areas like tax policy, health coverage and family supports," California Budget & Policy Center executive director Chris Hoene told participants as he reviewed the state landscape within Trump World. "It's about bringing more prosperity to more people and to deepening their well-being." The nonprofit, nonpartisan Budget Center, which says it engages in independent fiscal and policy analysis to improve "the well-being of low- and middle-income Californians," hosts the gathering every year. A summary of some of the panels' discussions follows below.
---
Despite growth and low unemployment, labor's share of the economic pie is paltry, Jared Bernstein, senior fellow at the Center on Budget and Policy Priorities in Washington, DC, said in the morning's keynote address. He detailed many connections between economics and politics, linking workers' pay and productivity, unions' difficulties, fiscal and monetary policies, and state and federal budgets. The best progressive policies are the most direct, Bernstein said during a Q&A. "We need to think about direct job creation for folks left behind in rural and urban communities," he told a panel moderated by Los Angeles Times staff writer John Myers. Such a jobs policy should find a home in the upcoming election season, Bernstein added.
State Senator Holly Mitchell (Photo: Joanne Kim)
Advancing Gender Justice: Boosting Women's Well-Being Through Economic Security, Employment and Earnings
In a gender equity and justice workshop, Mary Ignatius, statewide organizer of Parent Voices, a grassroots group advocating better childcare policies, stressed the importance of a public platform for the voices of struggling, low-income women. Such a platform can and does help to dispel myths that blame working females for their plight, she said. These women often have no option other than to seek costly and scarce childcare while working outside the home, she said.
Heather McCulloch, founder and director of Closing the Women's Wealth Gap, said research shows women experience this shortfall as a group. Therefore, organizing with a "strength in numbers" focus to build coalitions is a useful tool to improve women's investment and savings, McCulloch said.
In blue-collar occupations such as those in the building trades, women's sexual harassment is rampant, said Jessica Stender, an attorney at Equal Rights Advocates, which describes itself as a national civil rights organization dedicated to protecting and expanding economic and educational access, and opportunities for women and girls. This harassment makes the goal of females "getting in and staying in" such high-paying blue-collar jobs critical, Stender said. She also discussed exploitation of low-wage women workers, saying remedies for occupations such as janitors and restaurant servers range from individual to class-action litigation.
California Budget Prospects for 2018-19 and Beyond
KQED-FM reporter Marisa Lagos moderated a panel on current state budget and policy proposals for the 2018 legislative session, and which featured state Senator Holly J. Mitchell (D-Los Angeles) and Assemblyman Phil Ting (D-San Francisco).
The two legislators focused on new priorities for the criminal justice system. Mitchell urged reforming policies that criminalize poverty and addiction. This change is underway, she said, with more work required. The recent legalization of marijuana for recreational use is a case in point — people are behind bars for crimes that no longer exist. Ting noted that the state prison population is down, but spending for it is up. Both urged fellow lawmakers to support bills that shift spending from prisons to meet the social needs of low-income Californians — such as child nutrition and early childhood education. A related means of improving low-income Californians' lives is to increase the CalWORKs cash grant, Mitchell said.
She also stressed that closing the education equity gap requires sufficient funding to ensure that all kids who enter kindergarten are prepared to learn. Ting noted that at the local K-12 school district level, better budgetary transparency is necessary to track spending and student results.
Mitchell and Ting said it is vital to continue state laws and policies that deal with the impacts of climate change. They also urged lawmakers on both sides of the aisle to continue to work to improve immigrants' lives — which they said the Trump White House opposes.
Building on Health Care Reform: Next Steps in State Health Policy
The University of California, Berkeley's Laurel Lucia noted that despite the Affordable Care Act cutting the number of Californians without health care insurance (from 17 percent in 2012 to seven percent in mid-2017), three million remain uninsured. Undocumented adults (10 percent of the labor force and 58 percent of the uninsured), do not have access to the ACA and Medi-Cal, said Lucia, director of the health care program at the university's Labor Center. She backed policy options such as Senate Bill 974, introduced by Sen. Ricardo Lara (D-Bell Gardens), to address that.
Anthony Wright, head of Health Access California, a nonprofit advocacy group, focused on policy steps the state could take without federal help, given what he called the national GOP's and President Trump's antipathy. Wright announced the launch of Care4All, a new campaign to achieve universal health care coverage in California. A step toward that goal is to expand the affordability of the ACA in the individual market and Covered California marketplace. In this way, he said, consumers would spend less of their income on premiums, copays and deductibles. Wright mentioned SB 910, authored by Senate Health Committee Chair Sen. Ed Hernandez (D-West Covina), that would ban the sale of short-term health and substandard insurance policies that Trumpcare's ACA overhaul favors, beginning in 2019.
Michelle Cabrera, health care director of the Service Employees International Union, State Council, detailed the causes and effects of high medical prices, including the upward spiral of those costs created by health-plan mergers. As an antidote, she cited Assembly Bill 595, introduced by Assemblymember Jim Wood (D-Healdsburg), to boost the Department of Managed Health Care's oversight of such mergers. These mergers hike consumers' prices, she said, and are partly why the U.S. spends more per person on health care than all other nations, yet delivers high-priced and low-quality coverage. Measures such as AB 595 could shed light on the hidden negotiated prices between health plans and providers — the kind of transparency that is now unavailable. Price transparency could expand an overdue discussion of the proprietary forces driving high health care prices, according to Cabrera.
Crafting a New Economic Agenda for California
The conference ended with a plenary discussion of building a new state economic agenda, moderated by the Budget & Policy Center's Hoene. University of Southern California sociologist Manuel Pastor looked at what worked in California's postwar economy before its boom ended and social inequality grew to its present extremes. Pastor, director of the USC Program for Environmental and Regional Equity and the USC Center for the Study of Immigrant Integration, urged state politicians to approve a new Master Plan for Higher Education to ensure low-cost access for students, and to increase investment in affordable housing. Such policies, given the state's changing demographics to a nonwhite majority, can cut the impacts of structural racism, he said.
Hoene described California's corporate-friendly economy as one that puts employers first and workers last. Alma Hernández, executive director, SEIU California, urged politicians to back better labor standards, which she said would empower working people in their fight to weaken current corporate power over politics and policies. Employers who fracture work into precarious, non-union jobs, for example, harms workers' lives on and off the job, she said. Natalie Foster, co-chair of the Economic Security Project, pondered the role of political narratives. Who tells whose stories matters in overcoming current social divisions, symptoms of rising income and wealth gaps. "Big ideas matter," she said, adding that one example is a wealth tax that could generate more revenues for progressive policies.
---
Copyright Capital & Main