How the Senate Health Care Overhaul Could Affect Californians
Three people tell Capital & Main that the Affordable Care Act repeal and proposed cuts to Medicaid will decimate their finances and their quality of life. BY LARRY BUHL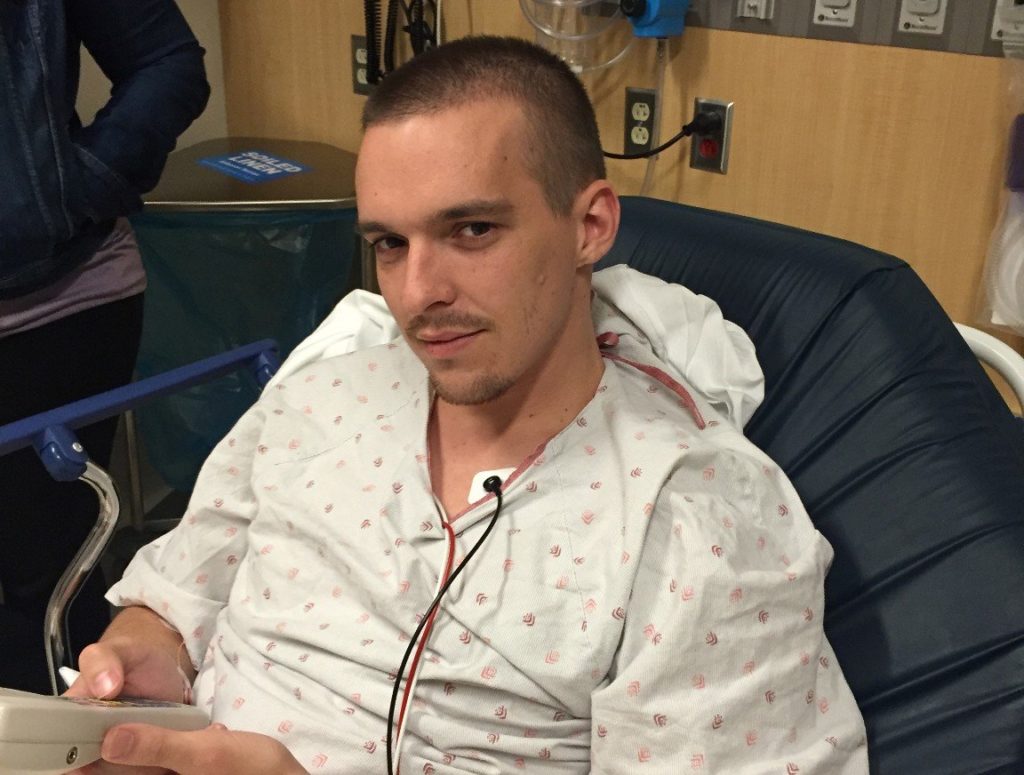 Cancer survivor Steven Martin with Nancy Pelosi.
Last week, after Senate Majority Leader Mitch McConnell (R-KY) said that the GOP leadership would delay voting on its health care overhaul proposal, the Better Care Reconciliation Act (BCRA), there was some speculation that efforts to repeal and replace the Affordable Care Act, or Obamacare, were dead. They're not – even if the specific bill proposed may be bleeding out.
Although many Republican senators haven't even seen the bill's details – a big sticking point in itself – a number were concerned about the initial score from the Congressional Budget Office that predicted the BCRA would help strip 22 million Americans of their insurance.
A second CBO analysis showed that the BCRA would go beyond repealing many ACA provisions. It takes a meat cleaver to Medicaid, slashing the program by 26 percent during the BCRA's first 10 years, and by 35 percent in its second decade.
That would end up hurting patients in need of care, including 3.8 million Californians enrolled in the ACA's Medicare expansion, according to an analysis conducted by California's Department of Health Care Services and Department of Finance.
With the caveat that nobody knows what health care legislation will ultimately pass, three people Capital & Main spoke with said that the ACA repeal and proposed cuts to Medicaid would decimate their finances and their quality of life.

Nancy, 65, Quadriplegic
Y
ou may have seen Nancy Becker Kennedy on TV as comic Louie Anderson's wisecracking secretary on
The Louie Show
in the 1990s. She's been a comic and public-television producer, and says she's enjoyed a "beautiful, rich" life despite her disability, stemming from a diving accident more than 40 years ago.
Now a marriage and family therapist-in-training, Kennedy told me that would all be over if Medicare were slashed. Without in-home support services to help her to get dressed, cook, clean and even to have bowel movements – services provided through Medicare and MediCal – she would be forced to give up her condo and move into a nursing home.
She did the math for me. "Four in-home nurses cost $2,000 a month, half of which is paid by federal money and half by state money. A nursing home would cost the government $4,000 to $5,000 a month. It would cost tax payers several times more to move me from a cost-efficient, full life to a prison sentence."
Becker Kennedy told me that not only would a nursing home eliminate her freedom, it would put her at risk of cross contamination from antibiotic-resistant bacteria, a persistent concern for long-term nursing home residents.

Steven, 27, Cancer Survivor
L
ast year Steven Martin was diagnosed with chronic myeloid leukemia, a rare disorder that he calls a "lucky" cancer. Because, he claims, he requires only one daily pill, Imatinib, to keep the cancer from spreading.
Still, the side effects of the pill are no joke, he admits. With nausea and muscle cramps, in addition to depression and anxiety stemming from his condition, Martin isn't able to work or return to school right now. His mother is paying for the copays of $10 for general practitioners, $25 for oncologist visits and his $108 monthly premium.
"If my insurance went up even $20, it would be a big burden," Martin said. "Just the destabilization of the market, even if the ACA is not repealed, would send my deductibles through the roof."
Martin has become a spokesperson for keeping the ACA and spoke with Senator Kamala Harris at a rally outside Harbor-UCLA Medical Center in Torrance, Monday, to stop the GOP repeal-and-replace proposals.
"I'm actually lucky to be in L.A. and in California because I have good legislators," he said. "There are people with my condition in other states that are paying more than $2,000 a month. I don't know how they do it."

Keeley, Full-time Caregiver
Keeley Level has been paid by In-Home Supportive Services, which is covered by MediCal, to care for her husband of the past 12 years. He was partially paralyzed by a stroke and requires 15 medications, which, thanks to Medicare and MediCal as supplemental insurance, cost the couple no more than $3.60 a prescription.
Level said that her household would be in "total chaotic distress," if anything like the BCRA were to pass.
"If there's no secondary insurance, I have to cover the 20 percent [that Medicare doesn't cover]. Unfortunately I can't go out and work part time, let alone full time — he simply can't be left alone more than an hour."
Level uses the state's health insurance exchange, Covered California, for herself, and says that if it goes away, her own preexisting medical conditions would raise her premium to $2,500 a month. "I would have to go without insurance," she said.

Suggestions for Reform
B
ecker Kennedy, Martin and Level all say that if Congress really wants to overhaul health insurance, it would do well to offer a public option or Medicare for everyone.
"Medicare costs less [than private care], and that plan might bring down the real cost of health care in the U.S., which is bloated," Nancy Becker Kennedy said.
Steven Martin echoed her recommendations. "[Imatinib] was introduced 20 years ago at a cost of $37,000 a year," he said. "It and the generic version have gone up 10 to 20 percent a year since then. There is no good reason for that to happen."
There was great anticipation earlier in June after California's state Senate passed a $400 billion single-payer health care plan. But hopes of a state-government plan were dashed later that month after Assembly Speaker Anthony Rendon tabled Senate Bill 562, saying it didn't address "financing, delivery of care, cost controls or the realities of needed action by the Trump administration and [California] voters."
Like the GOP repeal-and-replace plans in D.C., single payer in California isn't dead yet. Supporters are expecting a bill to return in the next legislative session.
California Bill Would Bring Climate Change Battle to State Construction Projects
A new bill awaiting Governor Jerry Brown's signature could use the state's massive purchasing power as the world's sixth largest economy to address greenhouse gas emissions far beyond its borders.
Construction laborers work on a section of the San Francisco-Bay Bridge in San Francisco, California, U.S., on Tuesday, July 12, 2011. (Photo: David Paul Morris/Bloomberg via Getty Images)
---
With California doubling and tripling down on climate change as a reality in 2017, a new bill awaiting Governor Jerry Brown's signature could use the state's massive purchasing power as the world's sixth largest economy to address greenhouse gas emissions far beyond its borders.
Assembly Bill 262, the Buy Clean Act, would require all state departments and the University of California and California State University systems to buy steel, rebar, flat glass and mineral wool board insulation for its infrastructure projects from low-carbon producers. Currently, the state usually buys at the lowest price, meaning that materials can come from companies in China and elsewhere, where the carbon footprint is almost certainly higher.
"We can't forget our commitment to the environment in pursuit of the cheapest state infrastructure project," said the bill's lead author, Assembly Member Rob Bonta (D-Alameda). "We have to pursue getting the best value and protecting our environment at the same time. This is the next step in global climate change leadership in California."
The bill would require the state to determine the average greenhouse gas (GHG) emissions per unit from the manufacture of those four infrastructure products. Bidders on state projects would then have to submit Environmental Product Declarations, or EPDs, proving they are at or below the average. EPDs are commonly available on many construction materials today.
The Buy Clean bill, co-authored by Assembly Member Marc Steinorth (R-Rancho Cucamonga), has bi-partisan support in both legislative houses and is backed by a massive blue-green coalition of labor, business, environment, and the building trades, many of whom see this as a boon for California. Businesses in the state are already required to meet the most stringent climate regulations in the nation and are thus well-poised to get these contracts. Still, not everyone is on board.
"Small business is going to be adversely affected," said Tom Holsman, CEO of Associated General Contractors of California, an advocacy group for the building trades. He points out that contractors are required to hire a certain percentage of small businesses known as Disadvantaged Business Enterprises, or DBEs, owned by individuals from socially or economically disadvantaged communities, who may not be able to meet the requirements of the bill. This could hurt local businesses and put contractors out of compliance. "We had to oppose this bill in order to get that point across."
California would be the first state in the U.S. to have such a policy, though the idea behind Buy Clean is already widely in practice in California and beyond. Buildings certified by LEED (Leadership in Energy and Environmental Design), a green building rating system, already require EPDs on materials. The California High Speed Rail Authority adopted a sustainability policy that similarly requires EPDs on steel and concrete. Oregon and Washington State have also recently started developing a statewide policy.
We can't forget our commitment to the environment in pursuit of the cheapest state infrastructure project. We have to pursue getting the best value and protecting our environment at the same time.
Businesses already investing in clean tech, however, are seeing this policy as an opportunity to showcase their green credentials. Gerdau Steel, which runs the state's only full-production steel plant, making steel reinforcing bar, or rebar, at its facility in Rancho Cucamonga, has already put $33 million into switching its power source to renewable energy, and helped craft the bill.
"We compete with neighbors in Arizona, Oregon, Washington, and then in Asia, that use less clean processes and haven't made the investments we've made," said Gerdau Rancho Cucamonga Vice President Mark Olson. "And then we get underbid by a nickel and we lose out. That was very frustrating to us. We believe it's a way for California to really push climate goals to surrounding states."
It is also a way to create and keep jobs in California. Purchases previously made out of state or overseas may shift to California, where not only environmental regulations but also labor standards are more stringent. Just about every major labor union, including the California Labor Federation, SEIU California, the Communications Workers of America and the United Steelworkers support the bill, as does the labor-environmental BlueGreen Alliance.
Kathryn Phillips, of Sierra Club California, points out that the Buy Clean Act is a first attempt to address a huge source of GHG emissions. An estimated 22 percent of all global emissions that contribute to climate change are embedded in the supply chain and are attributable to manufacturing.
Governor Brown had already demanded in an executive order that state agencies take climate change into account in their planning and investment decisions, and "employ full life-cycle cost accounting to evaluate and compare infrastructure investments and alternatives." That order means agencies had to look at whether any infrastructure decisions would mean increased costs due to climate change remediation actions later. AB 262 is an attempt to codify that order and put it into action, with identifiable goals and standards.
"The Department of General Services and the Department of Finance are concerned that it could lead to millions in increased costs," said Phillips. "There's no reason that the price should have to go up. Unless what they're admitting [is] that the state has routinely gone out and bought the cheapest and dirtiest products, and I say: shame on them! What hypocrisy!"
Buying cheap has occasionally led the state to environmental embarrassment. One outstanding example that stuck in the craw of lawmakers was the reconstruction of the San Francisco Bay Bridge which re-opened fully in 2013. The structural steel used to rebuild that bridge was purchased from a Chinese firm that did not meet California environmental or climate standards. It was just less expensive.
Mike Mielke, senior vice president at the Silicon Valley Leadership Group, noted that even if the bill did create some front-end cost for new infrastructure in the state, it would pay for itself. He drew a parallel to those LEED-certified buildings. "They last a lot longer, people are happier in them, they are healthier in them, and there's been lots of research that point to the fact that that additional up-front cost is more than borne out over the life of the building," he said. "So I think that is not so different here."
It's not rocket science. It's just basically saying you have to buy from the cleaner half, instead of the dirtier half.
Materials covered by the bill leave a couple of glaring exceptions: cement and concrete. They were in the bill until it went into the Assembly's Appropriations Committee where they were then stripped out. Bonta notes there was "significant opposition" from the cement and concrete industries, and also from Caltrans, who argued that compliance would significantly increase their concrete costs.
This cost increase is way overblown, said U.S. Concrete Vice President Jeff Davis. His firm was a major backer of the bill and is still supporting it. "For 12 years we have been focused on developing the most sustainable, lowest-carbon footprint concrete in our marketplace and for that matter, leading the entire industry in low-carbon concrete," Davis said. "But I can tell you that here, in the SF Bay Area, our low-carbon concrete is selling competitively with standard concrete.
"We see the value of this bill and the value for our industry. It provides the incentive for the industry to continue to focus on innovation, and to continue to advance that goal of lowering our carbon footprint."
Bonta sees the bill as a foundation to be built upon later. "Sometimes you start with a significant stake in the ground and get a program started, and then you can build on that program going forward and include more materials," he said "The political pathway this year didn't include concrete, but that's not to say that it won't be included in the future."
It seems like a bill like this would be a slam-dunk with Governor Brown, but reading Brown can be very difficult. It's already been a banner year for the state's climate policy, with Brown successfully extending his hotly debated cap-and-trade program from 2020 to 2030. Cap and trade requires companies to buy permits allowing them a certain amount of greenhouse gas pollution. A monumental bill requiring 100 percent clean energy production in the state by 2045 was rolled over into the next legislative session. But legislators are pushing ahead.
"It's not rocket science," said the Sierra Club's Phillips. "It's just basically saying you have to buy from the cleaner half, instead of the dirtier half. And it's notable that I think every California company will fall into the cleaner half."