Housing and Wages: The Sacramento City Council's Weak Half-Measures
Sacramento City Council Chamber
High rent and low wages are squeezing poor and low-income families across California, including those living in its capital. But the Sacramento City Council's actions on both economic issues are weak, some progressive critics say.
"The city caters to the continued gentrification of downtown," Bob Erlenbusch, executive director of the Sacramento Regional Coalition to End Homelessness, said in an email to Capital & Main. "That is underpinned by market-rate housing surrounding the new arena."
In 2014 the Sacramento City Council threw its political weight (without a public referendum) behind Golden 1 Center, the new $507 million downtown arena that is the future home of the Sacramento Kings basketball team. This September the council approved a plan for the city to issue $272.9 million in bonds, using city parking revenue to pay the arena's construction bond debt.
Meanwhile, Sacramento's apartment rentals "are well above the rest of the nation," the California Legislative Analyst's Office reports. "The average rent in Sacramento is $950 a month versus $840 nationally." Sacramento's City Council oversees the rate of developer fees to fund affordable housing. On September 1 it approved a new $2.58-per-square-foot construction fee that would go into a housing trust fund to help both the poor and low-wage workers.
However, that amount falls short of funding the growing demand for affordable housing, Erlenbusch said in a phone interview after the council vote. (Some housing advocates claim the construction fee should be at least $4 per foot.) Rachel Iskow, executive director of Mutual Housing California, a Sacramento-based nonprofit that runs affordable-housing communities, adds that the council's verbal support for a campaign to build 10,000 new housing units in the city's downtown core fails to increase the supply of affordable, safe housing.
"First, there is no local program proposed to raise a source of funds for the 2,500 of those homes that are planned as affordable," Iskow said in an email. "It is impossible to access state and federal sources without significant local subsidy commitment.
"Second, the vast majority of low-income residents of our city live in aging neighborhoods other than the central city, and those areas are in desperate need of safe, well-maintained affordable housing for the diverse household types that reside there."
A weak supply of affordable housing heightens the daily struggles of low-income Americans to make ends meet.
"This stagnation in pay underlies the growth in inequality, it has stymied greater progress in reducing poverty and there's evidence that it has contributed to increased economic instability, as a greater share of household consumption is fueled by credit growth rather than pay growth," David Cooper, an economic analyst with the Economic Policy Institute in Washington, D.C., said via email.
Against this backdrop, Sacramento Mayor Kevin Johnson, a second-term Democrat, appointed an Income Inequality Task Force in September to study raising the city's minimum wage. Democratic Councilmember Jay Schenirer and Elizabeth Landsberg, Director of Legislative Advocacy for the Western Center on Law and Poverty, co-chaired the task force, which presented the city with a range of wage-raise options. The California and Sacramento minimum wage are currently the same — $9 an hour, rising to $10 an hour on January 1, 2016.
On October 27, the council approved, by a 6-3 vote, an amended minimum-wage ordinance that would increase it to $12.50 an hour by 2020. Removed from this ordinance before it passed were business-backed employer exemptions for youth, the disabled, and for "total compensation" (wages plus tips) workers. This last issue was of vital importance to the city's service industry employees.
"There is considerable evidence that treating tipped workers differently than non-tipped workers exposes them to greater financial instability," according to Cooper, "makes labor law compliance more complicated for employers and in the process, opens up new avenues for exploitive labor practices."
Fabrizio Sasso, executive director of the Sacramento Central Labor Council, and Yvonne Walker, president of Service Employees International Union Local 1000, were the two labor representatives on the 15-member task force. Sasso opposes the amended minimum-wage ordinance.
"I didn't have a chance to read it entirely," Sasso told Capital & Main by phone. "This isn't what democracy is supposed to look like. This ordinance needs more informed discussion, given its impact on tens of thousands of workers."
However, the new wage law has a more fundamental problem, according to Sasso.
"The minimum wage ordinance the City Council passed of $12.50 an hour by 2020 does not go far enough to address income inequality in terms of purchasing power," Sasso said. "That minimum wage is far less than [that of] other cities that have increased minimum wages, even when you adjust for the cost of living."
But Peter Tateishi, Sacramento Metro Chamber of Commerce President and CEO, is happy with the $12.50 an hour raise.
"Following the footsteps of cities like Oakland, San Francisco or Los Angeles with dramatically higher costs of living did not make sense for Sacramento," Tateishi said. "Research brought to the Task Force demonstrated that a Sacramentan need only earn $10.38 per hour to have the same buying power of an employee earning $15 per hour in San Francisco. The Task Force opted to compromise to ensure that we didn't jeopardize our economic recovery."
Sacramento progressives are mobilizing to put a minimum wage increase to $15 an hour by 2020 (beginning with $13.50 an hour in 2017, rising $0.50 each year) to a public vote.
"We will file a Notice of Intent with ballot language by the end of this November, to the Sacramento City Clerk's office to launch the initiative process to gather 21,000 valid voter signatures in a 180-day period," Tamie Dramer, chair of Organize Sacramento, said by phone.
Organize Sacramento is part of the Raise the Wage Sacramento Coalition, which formed earlier this year and also includes Sacramento Area Congregations Together and the Alliance of Californians for Community Empowerment.
The coalition's initiative mandates that after 2020, the city's minimum wage would be pegged to the city Consumer Price Index every year. In addition, this proposed ballot measure would allow employees to earn an hour of paid sick leave for every 30 hours they work.
A successful Sacramento ballot-box initiative to raise the minimum wage would follow the path of voter-approved measures that won overwhelmingly at the polls last November in San Francisco, Oakland, Alaska, Arkansas, Nebraska and South Dakota.
Government Shutdown's Silver Lining: A Corporate Hiring Guru Speaks Out
Co-published by Fast Company
Ending the shutdown won't curtail the hiring opportunities for corporate recruiters, says one expert. It's like divorce: Once you start thinking about leaving, the odds that it will happen go up dramatically.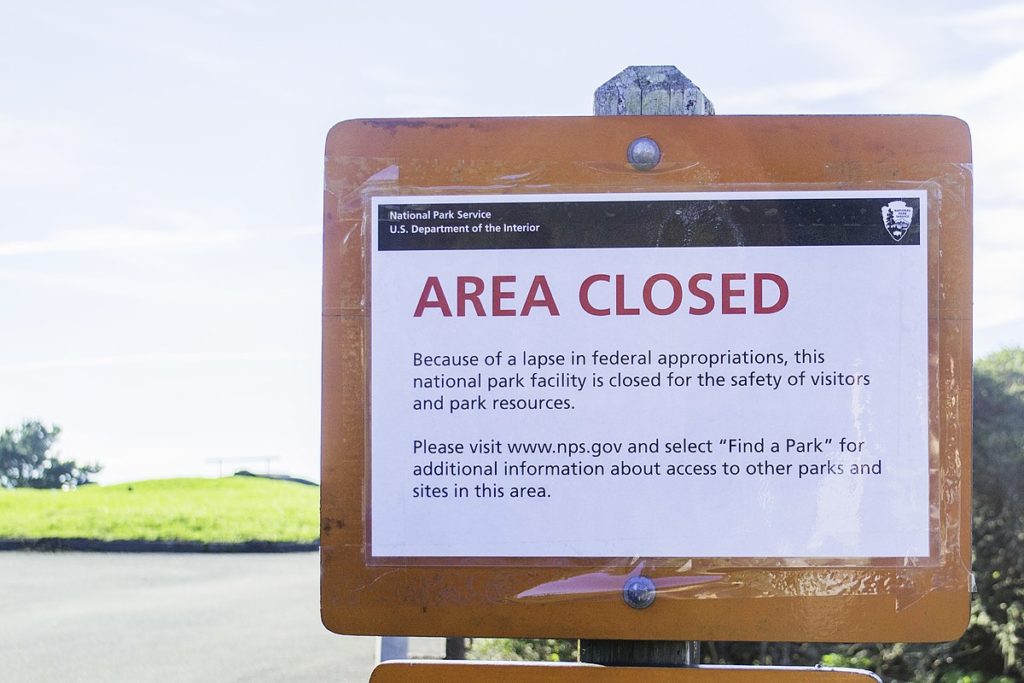 ---
In the new economic climate, even the most mission-driven of federal workers might be forgiven for abandoning the nation's parks, airways and regulatory agencies.
---
Co-published by Fast Company
When the federal government shut down for 16 days in 2013, corporate hiring guru John Sullivan advised companies on how to raid federal government workplaces for talent.
A blog post he penned at the time caused some to charge him with being unpatriotic, he said recently, while others thanked him for the reminder that federal workers were ripe for the plucking.
This time around, the climate is even better for corporations looking to cull staff from a workforce that is already well-trained and also known for its loyalty, Sullivan tells Capital & Main by phone. He describes the current moment—with hundreds of thousands of federal employees forgoing paychecks and, in many cases, sitting at home — as tantamount to "a sale on Black Friday."
---
Congresswoman:  The shutdown could have a long-term impact on the federal government's ability to attract workers with IT skills.
---
"If you've been screaming for the last two years" about the skills-and-talent shortage, "this week there isn't one," says Sullivan, who heads the human resource management program at San Francisco State University's College of Business.
The partial shutdown, that began on December 22 when President Trump failed to secure funding from Congress for his border wall, has impacted employees at a host of federal agencies, including the departments of Agriculture, Commerce, Homeland Security, Housing and Urban Development, Interior, Justice, State, Transportation and Treasury and the NASA.
What makes this particular shutdown so suitable for raiding federal workplaces? It's not just that employee morale has taken a nosedive, thanks to a president who is at war with many of the agencies he oversees. Nor is it only the fact that Trump threatened to keep the government closed for as long as a year, a notion that "really scares people," says Sullivan.
---
With Amazon's opening new offices in the District of Columbia area, three out of four IT workers in DC say they would consider leaving their current jobs for the tech behemoth.
---
It's also the economic climate. Companies are growing. Unemployment is low. Remote work is increasingly an option. Technical advances have made looking for a job easier than it was in 2013. "You can say 'boo' to your phone and apply for a job," adds Sullivan, delivering his matchmaking pitch with such force that even the most mission-driven of federal workers might be forgiven for abandoning the nation's parks, airways and regulatory agencies.
Congresswoman Robin Kelly (D-IL), the ranking member of the House Subcommittee on Information Technology, worried, in a statement last week, that the shutdown would have a long-term impact on the federal government's ability to attract workers with IT skills. The federal government has generally struggled to attract young tech workers, and Amazon's new offices in the District of Columbia area has three out of four IT workers in DC saying they would consider leaving their current jobs for the tech behemoth.
Tech workers — and upper-salaried talent — are not the only employees coveted by the private sector, says Sullivan. Forest Service employees. Coast Guard workers. Transportation and Safety Administration agents. Any unpaid workers could be lured away, especially in states like California and Texas, where economies are strong, he maintains. An employment agency for California's casinos recently put this shout out on Twitter: "Any @TSA employees looking for new opportunities, PTGaming is hiring!" along with the popular hashtag, #shutdownstories.
The shutdown could also prompt federal employees to throw scruples to the wind and step into the infamous revolving door that leads workers from government jobs to the private sector and back again. When Sullivan was advising companies in 2013, he helped firms hire from agencies that regulated them.
"And by the way," asks Sullivan, persisting with his siren song, "if I was a regulator, [with] President Trump eliminating all those regulations, why am I needed? Why not go to the private sector?"
Sullivan, who says he is an underpaid government worker in his own right, is concerned about the public cost of his and others' efforts to lure away the federal government's top talent. The best employees will leave first, and "literally billions" in training dollars will be lost, he predicts.
But he puts the blame squarely on a public sector that undervalues its workers. Corporations that pilfer federal government workforce for talent offer a kind of public service and corrective by demonstrating the price that must be paid "for degrading public service and unnecessarily frustrating federal employees," he wrote in his 2013 post.
Ending the shutdown won't curtail the hiring opportunities for corporate recruiters, says Sullivan. "It's like divorce. Once you start thinking about [leaving], the odds [that it will happen] go up dramatically."
---
Copyright Capital & Main