Historic Sanctuary Law Moves Forward to Governor's Desk
Co-published by International Business Times
Immigrant rights groups say arguments against SB 54 prove their point—that the state must limit ICE's reach because it routinely wreaks havoc in communities by sweeping up residents with U.S. citizen children and other long-standing ties to the United States who haven't committed crimes.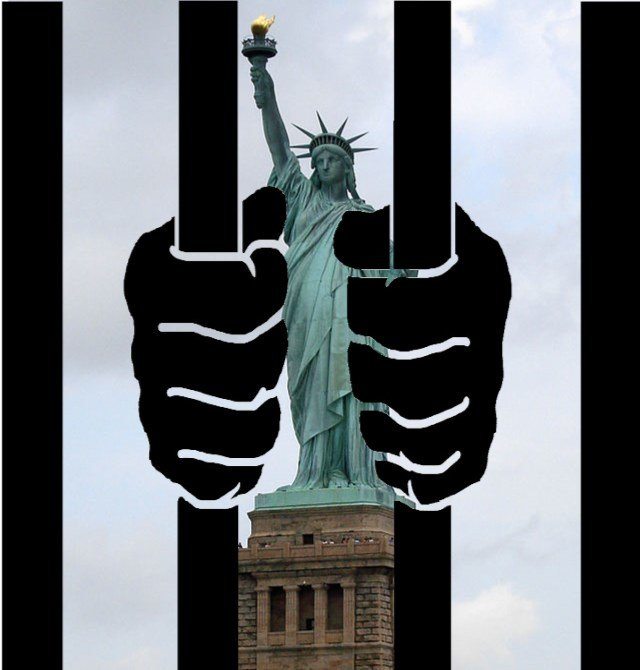 Co-published by International Business Times

L
ast Wednesday morning five moderate Democratic Assembly members awoke to find their own faces staring back at them from local newspaper ads. "Californians," the ads declared, "are counting on you to help pass the California Values Act (SB 54) to protect families and communities across the state from President Trump's cruel and out-of-control deportation machine."
The ads in support of a proposed "sanctuary state" law were placed by the Building the California Dream Alliance, which includes the American Civil Liberties Union, the Sierra Club, Planned Parenthood and the California Labor Federation. As Sacramento's legislative season hurtles toward its traditional frantic September conclusion, the fight over Senate Bill 54 has moved from a genteel policy tug of war to bare-knuckled combat involving middle-of-the-road Democrats representing Republican-leaning districts, immigrant-rights advocates, Governor Jerry Brown and the bill's biggest opponent – California's law enforcement establishment.
The latter group, led by the California State Sheriff's Association, has collectively sunk more than $500,000 in lobbying efforts this year – on SB 54 and a long list of other interests, according to state disclosure forms. (A handful of local city councils also opposes the measure.)
The Federation for American Immigration Reform (FAIR), which, coincidentally, the Southern Poverty Law Center labels a hate group, handed law enforcement a controversial assist last week. The group issued an action alert that called on Californians to stand with county sheriffs and to urge their Assembly members to vote no.
The bill, authored by Senate President Pro Tem Kevin de León, is the farthest reaching of a raft of immigration bills (see sidebar) making their way through the legislature this year. De León rejects the sanctuary description, but says his goal is to shield otherwise law-abiding residents from deportation and to enhance public safety by assuring immigrants that they can freely report crime or testify in court without fear. The bill can't keep agents from Immigration and Customs Enforcement (ICE) out of the state, but does prohibit local police and sheriffs departments from using their resources and personnel to fuel federal deportation efforts.
SB 54 is unlikely to fail because of the Assembly's 55-25 Democratic majority, but immigrant rights activists contend they need the bill in its current form to curb potential abuses. Governor Jerry Brown, however, said he wants changes, and is currently in talks with de León about them. Appearing on NBC's Meet the Press earlier this month, Brown said that while the bill's goal is to avoid collaboration "with abuse of federal power," there were "people not here legally who've committed crimes. They have no business in the United States."
Steve Maviglio, a political consultant who served as Governor Gray Davis' press secretary and as a chief of staff to two Assembly speakers, said the governor's comments could offer political cover to moderate Democrats who seek to weaken the bill.
The Dream Alliance newspaper ads targeted Al Muratsuchi, (Torrance), Sabrina Cervantes (Corona), Timothy Grayson (Concord), Jacqui Irwin (Thousand Oaks) and Rudy Salas (Bakersfield). The Courage Campaign, another alliance member, also targeted the five, along with Ken Cooley, a Democrat from Rancho Cordova, with its own less costly Facebook ads.
"SB 54 is the single most important tool in repudiating Trump's racist deportation agenda," said Chris Newman, an attorney with the National Day Laborers Organizing Network (NDLON). "As introduced, it was the most California could do under the law to defend the state."
Vigil held for Romulo Avelica at the Los Angeles Police Department's Hollenbeck station. (Photo: Robin Urevich)
T
he case of a Highland Park father of four who was arrested by ICE as he drove two of his daughters to school last February is a case in point, said another
NDLON attorney, Emi MacLean.
Romulo Avelica, a restaurant worker who'd spent decades raising his family in the U.S., became a cause célèbre when his sobbing teenage daughter captured his arrest on a cellphone video. Avelica spent months in detention – away from his family and unable to work to support them. MacLean said the Avelica's troubles began when he encountered an ICE agent in the L.A. County Jail years ago. Avelica was there to serve a single day in jail for failing to complete community service in a minor matter, MacLean said. The agent questioned him, learned he was undocumented and slated him for deportation, paving the way for ICE to seek him out near his children's school in 2017. Avelica's deportation order was thrown out earlier this month, and he was released from jail; he is now fighting his case in immigration court.
"Is this one [minor] conviction something that we think should result in deportation and do we want local law enforcement officials to be facilitating that?" MacLean asked.
MacLean further contends that the bill's major opponents, county sheriffs, are carrying water for ICE in opposing SB 54, and in doing so, not serving their constituents. Earlier this month, NDLON, along with a Service Employees International Union local, filed suit in Los Angeles Superior Court to obtain L.A. County Sheriff Jim McDonnell's communications with ICE after the groups' requests filed under the California Public Records Act went unanswered. Immigrant rights organizations recently obtained Sacramento County Sheriff Scott Jones and acting ICE director Thomas Homan's emails in which Jones urged Homan to help defeat SB 54 by appearing at a Sacramento town hall meeting. Jones had previously denied enlisting Homan's help in defeating the bill.
MacLean argued SB 54 would have prevented Avelica's ordeal: ICE wouldn't have been allowed to interview people in law enforcement custody, and only those who had committed the most serious and violent felonies could be transferred from local jails to ICE for deportation without a warrant.
By contrast, the bill would require California prisons to give ICE 60 days' notice of the release of undocumented inmates who had committed serious or violent felonies. California police agencies would be permitted to work with ICE on joint task forces to combat drugs, gangs human trafficking or other crimes, but they'd have to report to the state attorney general on the collaboration to guard against abuses. Such reports would be available to the public.
Furthermore, California's state attorney general would be required to design plans to limit assistance with immigration enforcement at facilities where ICE agents have recently arrested undocumented immigrants, such as courthouses or state labor commission offices, where ICE agents have sought to attend hearings or collect information, as well as at schools, libraries and health centers.
SB 54 would also disqualify the state from receiving some $28 million in law enforcement grants under new Department of Justice rules released in July that condition funding on collaboration between local police and ICE, but California Attorney General Xavier Becerra contends the requirements are unconstitutional and filed suit this month to block them.
K
ern County Sheriff Donny Youngblood argues the bill would hobble his crime-fighting efforts, especially a provision that bars the transfer to ICE of all but the most serious offenders. "It's going to release criminals back into our communities, which will create more victims," Youngblood told
Capital & Main
.
Santa Barbara County Sheriff Bill Brown, president of the California State Sheriff's Association, pointed out that SB 54 would also bar sheriffs from turning over to ICE those who commit non-immigration crimes, like contracting for murder and the rape of an unconscious person, because those crimes aren't included as serious or violent felonies. Brown also argued that law enforcement benefits when it can informally enlist ICE in fighting such crimes as drug smuggling or human trafficking, that are unrelated to immigration.
The sheriffs had also expressed concern that SB 54 would put an end to lucrative ICE contracts to house immigrant detainees, but Senator de León has assured them that it won't compel law enforcement to terminate the deals that pour nearly $38 million annually into Sacramento, Orange, Contra Costa and Yuba county coffers. What's more, ICE officials, along with some state sheriffs, including Youngblood, argue that if California bars them from jails to search for deportable immigrants, ICE agents will fan out into the community to look for them, and law-abiding immigrants who are in the country illegally will be caught in their net.
But immigrant rights groups contend Youngblood's argument proves their point—that the state must limit ICE's reach because the agency has routinely wreaked havoc in communities by sweeping up residents with U.S. citizen children and other long-standing ties to the United States who haven't committed crimes.
Law enforcement opposition to SB 54 isn't unanimous. Los Angeles Police Chief Charlie Beck is the highest profile defector; Santa Cruz County Sheriff Jim Hart also backs the bill, as does the California College and University Police Chiefs Association.
"This is not a soft-on-crime bill. This is not an anti-law-enforcement bill," Beck told a Los Angeles news conference earlier this summer, when he broke with most of his colleagues to support the bill. "We depend on our immigrant communities to cooperate – not only to keep them safe, but to keep all of you safe. Without that cooperation, we all suffer." Beck had previously announced that since the start of the Trump administration, crime reporting in L.A., specifically of rape and domestic violence, had fallen 25 and 10 percent, respectively, among Latinos.
As of today the half-dozen Assembly members targeted by the Dream Alliance remain on the fence. The morning after being singled out by the newspaper ads, Tim Grayson released a statement saying he agreed with the bill's intent: "I wholeheartedly support the principles of the legislation," said Grayson's statement, although he made no firm commitment to vote for SB 54's passage. Similarly, staffers for Muratsuchi and Cervantes said the lawmakers were undecided on the measure, while three other Democrats who were targeted, Irwin, Salas and Cooley, could not be reached for comment.
"I think they're walking a very careful line," said political consultant Steve Maviglio."This is yet another issue where there's a split on the progressive side because a lot of these Democrats are in tough districts."
SB 54 is expected to get a hearing in the Assembly's Appropriations Committee this week, then move to the Assembly floor before the session ends in mid-September. The governor has until October 15 to sign or veto the bill.

After the Inferno, Undocumented Workers Find Themselves Without Federal Help
Co-published by Newsweek
Undocumented laborers who worked in Wine Country vineyards are now finding the only assistance they can hope for, following Northern California's recent wildfires, is mostly private charity.

Coffey Park, Santa Rosa. (Photo: Michael Short)
For undocumented immigrants who have lost jobs or homes in the Northern California fires, the road to stability will be especially steep. Many are ineligible for federal aid of any kind.
---
Co-published by Newsweek

By 11 o'clock in the morning, as smoke billowed down a nearby hillside, Tesorito began to wonder if he ought to be in the vineyards. It was Monday, October 9, and he was harvesting wine grapes near the town of Sonoma. He was accustomed to the challenges of the job: the cold mornings, the snakes that hid beneath rocks and the double shifts during harvest time, when he could labor upwards of 90 hours a week. But when he paused to look north, he saw something he'd never seen before: a wall of flames.
Tesorito pointed the flames out to his friend, Lalo, a row over. Though both men could feel the heat on their faces, they turned back to the grapes. This was la pisca—the harvest—when they were paid by the amount of fruit they clipped, so every second counted. They had left for work at 5 a.m. and hadn't heard about the fires that had begun to spread across Sonoma and Napa counties. At one point, Tesorito realized that the flames threatened to encircle the vineyard. In an instant, he and the rest of the panicked crew bolted for their cars and raced down the bumpy country road, using their windshield wipers to push away the falling ash.
"It was crazy, absolutely crazy," Tesorito said in Spanish. He cleared his throat, which had gone raspy. He had picked up a hacking cough from the smoke, which he couldn't seem to shake. It was a Saturday in late October, and he and Lalo were seated on folding chairs in the middle of a school gymnasium in Santa Rosa, attending a Spanish-language meeting about resources available to people affected by the fires. They hadn't worked in two weeks, because roads to the fields were closed.
"My rent's due soon and I don't have it," Tesorito told me. The 37 year old is short and stocky, with broad shoulders and callused hands. Lalo is 58, though he looks at least 10 years younger. Collectively, the friends have spent more than two decades in California's famed Wine Country, part of an immigrant workforce that props up the state's $57 billion a year industry.
"Everywhere we go, people have told us, 'If you don't have papers, we can't help you.' There is nothing for us."
Both men are undocumented Mexican immigrants, but tell me that until recently their status hasn't been much of a concern. ("I don't cause problems and I do good work," said Lalo.) The fires changed that. Neither man is eligible for the various forms of federal disaster aid, which ranges from unemployment benefits to housing assistance. This was their fourth meeting in eight days of searching for anyone who might be able to help.
After sitting through the 90-minute forum, the men approached a table staffed by a representative of a local Legal Aid office and explained their predicament, but while the woman listened politely, she had no advice for them. "Everywhere we go, people have told us, 'If you don't have papers, we can't help you,'" Tesorito said as he walked out. "There is nothing for us."
Vineyard workers Tesorito and Lalo seek help at a Santa Rosa meeting. (Photo: Gabriel Thompson)
The Nuns Fire that nearly engulfed Tesorito and Lalo was the largest of the recent California wildfires, consuming 54,000 acres, destroying at least 1,300 buildings and killing two people. But it wasn't the most destructive. The Tubbs Fire, which began outside of Calistoga and roared south into Santa Rosa, killed at least 22 people and transformed entire neighborhoods into surreal hellscapes. The various Wine Country fires turned the sky black for days and rained ash across the Bay Area, sending folks scurrying to the nearest hardware store in search of protective masks.
For undocumented immigrants who have lost jobs or homes, the road to stability will be especially steep. Many are ineligible for federal aid of any kind. Others may qualify for assistance if they have children who are U.S. citizens, but that would require turning over personal household information to the federal government.
Photo: Michael Short
At the forum, one audience member asked an official from the Federal Emergency Management Agency to promise that it wouldn't share information with Immigration and Customs Enforcement. The official stated that FEMA had never done so in the past, but that he couldn't guarantee that it wouldn't happen in the future. Several days earlier, ICE's acting director, Thomas Homan, released a statement that appeared to link the wildfires to the unrelated arrest of an undocumented immigrant. In response, Sonoma County Sheriff Robert Giordano slammed Homan's statement as "inaccurate" and "inflammatory." (Breitbart News also reported — then retracted — that the undocumented immigrant was suspected of starting the wildfires.)
The forum, which was attended by about 100 people, was held in Roseland, a neighborhood just south of downtown Santa Rosa. This is the heart of Sonoma County's Latino community, and although the fire didn't reach Roseland, the neighborhood has been deeply impacted. A day earlier, I had visited Roseland's library, where dozens waited to speak to representatives of the Mexican consulate. One woman, Trinidad, said that her husband was a gardener and that the homes of half his clients had burned down. Another woman, Nayeli, cleaned five large homes; all five had burned down. It went like this down the line: dishwashers, hotel housekeepers, landscapers and nannies, all without work because their workplaces no longer existed.
Less than a mile from the library, Jonathan Bravo sorted through food donations at Bayer Farm, a community garden that has become a refuge for immigrants during the fires. "The tragedy has been immense," said Bravo, a 63-year-old former math teacher in Mexico. "People are scared, especially our undocumented residents. We try to tell them: Don't have fear. We are all together on the same boat."
Several days after the fire started, Bravo and a group of volunteers began feeding meals to anyone who showed up. "We couldn't just watch the smoke—we needed to respond," said Bravo. On the first day, they served eggs, beans and handmade tortillas to 30 people. The next day, they fed 80. Since then, they've dished out three meals daily to an average of 250 people, all cooked by volunteers. As word about the meals spread, donations started to arrive: organic produce from the food bank, bread from a local bakery, checks to defray the costs of running what amounts to a restaurant for the unemployed.
One recent donation came from the Graton Day Labor Center, located in the small town of Graton, west of Santa Rosa. "We serve the people who fall through every safety net—the day laborers and the domestic workers," said director Christy Lubin. On the other side of the office, a group of men chatted quietly in Spanish, hoping to be sent out. "We've only dispatched 12 folks today, when we'd normally send out 25 or 30," Lubin said.
Photo: Michael Short
Donations soon began to arrive from people who knew that the day labor center could get money into the hands of people who needed it. "We gave out about $5,000 in cash—just money for cellphones, gas and food," said Lubin. "But people wanted to give more, and so I thought, 'What are we going to do?'" Together with the North Bay Jobs with Justice and North Bay Organizing Project, Lubin launched UndocuFund to provide disaster relief to undocumented immigrants. Within 24 hours they had raised more than $100,000. To date, they've brought in $750,000. The fund, whose advisory committee includes undocumented immigrants, will soon begin to accept applications for financial assistance.
At Bayer Farms, about 50 people were seated at picnic tables eating dinner. This was the 11th day that the garden had provided free meals to the community, but with school starting back up soon, it wasn't clear how much longer the experiment would run. Jonathan Bravo had also started to get pressure from the city, which wasn't entirely pleased about the unlicensed operation.
Not that he had any regrets. "We say that we don't grow tomatoes or lettuce, we grow people," he said. The fire had provided a chance to prove it. He picked up a walnut from the ground, cracked it open, and handed me a piece. The nut was from a black walnut tree that rose high above the garden. Bravo told me that last year, nearby construction had damaged the roots of the tree, and an arborist had suggested that they cut it down while the wood was still salvageable. Instead, they decided to see if they could nurse the tree back to health. Each week, classes of schoolchildren work in the garden, and when they learned that the tree was sick, a few made a habit, before leaving, of speaking words of encouragement to the tree and giving it a hug.
"There is hope," Bravo said. "We can't minimize the suffering that the fire caused. Twelve of our garden teachers lost their homes. Four of our volunteers lost their homes. But we still have families and we still have children and we are still here. So there is hope."
---
Copyright Capital & Main