Historic Sanctuary Law Moves Forward to Governor's Desk
Co-published by International Business Times
Immigrant rights groups say arguments against SB 54 prove their point—that the state must limit ICE's reach because it routinely wreaks havoc in communities by sweeping up residents with U.S. citizen children and other long-standing ties to the United States who haven't committed crimes.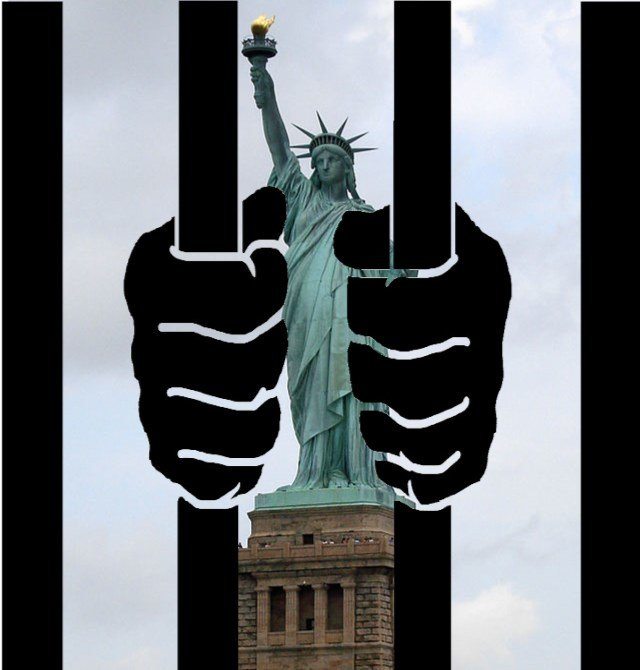 Co-published by International Business Times

Last Wednesday morning five moderate Democratic Assembly members awoke to find their own faces staring back at them from local newspaper ads. "Californians," the ads declared, "are counting on you to help pass the California Values Act (SB 54) to protect families and communities across the state from President Trump's cruel and out-of-control deportation machine."
The ads in support of a proposed "sanctuary state" law were placed by the Building the California Dream Alliance, which includes the American Civil Liberties Union, the Sierra Club, Planned Parenthood and the California Labor Federation. As Sacramento's legislative season hurtles toward its traditional frantic September conclusion, the fight over Senate Bill 54 has moved from a genteel policy tug of war to bare-knuckled combat involving middle-of-the-road Democrats representing Republican-leaning districts, immigrant-rights advocates, Governor Jerry Brown and the bill's biggest opponent – California's law enforcement establishment.
The latter group, led by the California State Sheriff's Association, has collectively sunk more than $500,000 in lobbying efforts this year – on SB 54 and a long list of other interests, according to state disclosure forms. (A handful of local city councils also opposes the measure.)
The Federation for American Immigration Reform (FAIR), which, coincidentally, the Southern Poverty Law Center labels a hate group, handed law enforcement a controversial assist last week. The group issued an action alert that called on Californians to stand with county sheriffs and to urge their Assembly members to vote no.
The bill, authored by Senate President Pro Tem Kevin de León, is the farthest reaching of a raft of immigration bills (see sidebar) making their way through the legislature this year. De León rejects the sanctuary description, but says his goal is to shield otherwise law-abiding residents from deportation and to enhance public safety by assuring immigrants that they can freely report crime or testify in court without fear. The bill can't keep agents from Immigration and Customs Enforcement (ICE) out of the state, but does prohibit local police and sheriffs departments from using their resources and personnel to fuel federal deportation efforts.
SB 54 is unlikely to fail because of the Assembly's 55-25 Democratic majority, but immigrant rights activists contend they need the bill in its current form to curb potential abuses. Governor Jerry Brown, however, said he wants changes, and is currently in talks with de León about them. Appearing on NBC's Meet the Press earlier this month, Brown said that while the bill's goal is to avoid collaboration "with abuse of federal power," there were "people not here legally who've committed crimes. They have no business in the United States."
Steve Maviglio, a political consultant who served as Governor Gray Davis' press secretary and as a chief of staff to two Assembly speakers, said the governor's comments could offer political cover to moderate Democrats who seek to weaken the bill.
The Dream Alliance newspaper ads targeted Al Muratsuchi, (Torrance), Sabrina Cervantes (Corona), Timothy Grayson (Concord), Jacqui Irwin (Thousand Oaks) and Rudy Salas (Bakersfield). The Courage Campaign, another alliance member, also targeted the five, along with Ken Cooley, a Democrat from Rancho Cordova, with its own less costly Facebook ads.
"SB 54 is the single most important tool in repudiating Trump's racist deportation agenda," said Chris Newman, an attorney with the National Day Laborers Organizing Network (NDLON). "As introduced, it was the most California could do under the law to defend the state."
Vigil held for Romulo Avelica at the Los Angeles Police Department's Hollenbeck station. (Photo: Robin Urevich)
The case of a Highland Park father of four who was arrested by ICE as he drove two of his daughters to school last February is a case in point, said another NDLON attorney, Emi MacLean.
Romulo Avelica, a restaurant worker who'd spent decades raising his family in the U.S., became a cause célèbre when his sobbing teenage daughter captured his arrest on a cellphone video. Avelica spent months in detention – away from his family and unable to work to support them. MacLean said the Avelica's troubles began when he encountered an ICE agent in the L.A. County Jail years ago. Avelica was there to serve a single day in jail for failing to complete community service in a minor matter, MacLean said. The agent questioned him, learned he was undocumented and slated him for deportation, paving the way for ICE to seek him out near his children's school in 2017. Avelica's deportation order was thrown out earlier this month, and he was released from jail; he is now fighting his case in immigration court.
"Is this one [minor] conviction something that we think should result in deportation and do we want local law enforcement officials to be facilitating that?" MacLean asked.
MacLean further contends that the bill's major opponents, county sheriffs, are carrying water for ICE in opposing SB 54, and in doing so, not serving their constituents. Earlier this month, NDLON, along with a Service Employees International Union local, filed suit in Los Angeles Superior Court to obtain L.A. County Sheriff Jim McDonnell's communications with ICE after the groups' requests filed under the California Public Records Act went unanswered. Immigrant rights organizations recently obtained Sacramento County Sheriff Scott Jones and acting ICE director Thomas Homan's emails in which Jones urged Homan to help defeat SB 54 by appearing at a Sacramento town hall meeting. Jones had previously denied enlisting Homan's help in defeating the bill.
MacLean argued SB 54 would have prevented Avelica's ordeal: ICE wouldn't have been allowed to interview people in law enforcement custody, and only those who had committed the most serious and violent felonies could be transferred from local jails to ICE for deportation without a warrant.
By contrast, the bill would require California prisons to give ICE 60 days' notice of the release of undocumented inmates who had committed serious or violent felonies. California police agencies would be permitted to work with ICE on joint task forces to combat drugs, gangs human trafficking or other crimes, but they'd have to report to the state attorney general on the collaboration to guard against abuses. Such reports would be available to the public.
Furthermore, California's state attorney general would be required to design plans to limit assistance with immigration enforcement at facilities where ICE agents have recently arrested undocumented immigrants, such as courthouses or state labor commission offices, where ICE agents have sought to attend hearings or collect information, as well as at schools, libraries and health centers.
SB 54 would also disqualify the state from receiving some $28 million in law enforcement grants under new Department of Justice rules released in July that condition funding on collaboration between local police and ICE, but California Attorney General Xavier Becerra contends the requirements are unconstitutional and filed suit this month to block them.
Kern County Sheriff Donny Youngblood argues the bill would hobble his crime-fighting efforts, especially a provision that bars the transfer to ICE of all but the most serious offenders. "It's going to release criminals back into our communities, which will create more victims," Youngblood told Capital & Main.
Santa Barbara County Sheriff Bill Brown, president of the California State Sheriff's Association, pointed out that SB 54 would also bar sheriffs from turning over to ICE those who commit non-immigration crimes, like contracting for murder and the rape of an unconscious person, because those crimes aren't included as serious or violent felonies. Brown also argued that law enforcement benefits when it can informally enlist ICE in fighting such crimes as drug smuggling or human trafficking, that are unrelated to immigration.
The sheriffs had also expressed concern that SB 54 would put an end to lucrative ICE contracts to house immigrant detainees, but Senator de León has assured them that it won't compel law enforcement to terminate the deals that pour nearly $38 million annually into Sacramento, Orange, Contra Costa and Yuba county coffers. What's more, ICE officials, along with some state sheriffs, including Youngblood, argue that if California bars them from jails to search for deportable immigrants, ICE agents will fan out into the community to look for them, and law-abiding immigrants who are in the country illegally will be caught in their net.
But immigrant rights groups contend Youngblood's argument proves their point—that the state must limit ICE's reach because the agency has routinely wreaked havoc in communities by sweeping up residents with U.S. citizen children and other long-standing ties to the United States who haven't committed crimes.
Law enforcement opposition to SB 54 isn't unanimous. Los Angeles Police Chief Charlie Beck is the highest profile defector; Santa Cruz County Sheriff Jim Hart also backs the bill, as does the California College and University Police Chiefs Association.
"This is not a soft-on-crime bill. This is not an anti-law-enforcement bill," Beck told a Los Angeles news conference earlier this summer, when he broke with most of his colleagues to support the bill. "We depend on our immigrant communities to cooperate – not only to keep them safe, but to keep all of you safe. Without that cooperation, we all suffer." Beck had previously announced that since the start of the Trump administration, crime reporting in L.A., specifically of rape and domestic violence, had fallen 25 and 10 percent, respectively, among Latinos.
As of today the half-dozen Assembly members targeted by the Dream Alliance remain on the fence. The morning after being singled out by the newspaper ads, Tim Grayson released a statement saying he agreed with the bill's intent: "I wholeheartedly support the principles of the legislation," said Grayson's statement, although he made no firm commitment to vote for SB 54's passage. Similarly, staffers for Muratsuchi and Cervantes said the lawmakers were undecided on the measure, while three other Democrats who were targeted, Irwin, Salas and Cooley, could not be reached for comment.
"I think they're walking a very careful line," said political consultant Steve Maviglio."This is yet another issue where there's a split on the progressive side because a lot of these Democrats are in tough districts."
SB 54 is expected to get a hearing in the Assembly's Appropriations Committee this week, then move to the Assembly floor before the session ends in mid-September. The governor has until October 15 to sign or veto the bill.

Blue State/Red District: What Do the Suburbs Want?
Seven Republican congressional districts in California went for Hillary Clinton in 2016. CA-4 was not one of them but Democrats are hoping to unseat Tom McClintock in November.

---
CA-4's Gold Country counties are recipients of an urban exodus fueled by affordable housing, a desire for good schools and the expansion of high-tech jobs into suburbia.
---
On the day of her funeral, Barbara Bush's image beamed down from an electronic billboard along Interstate 80 outside of Sacramento, along with a quote: "Believe in something bigger than yourself." Her image and words lasted five seconds before an insurance ad flashed up.
As an unofficial welcome to California Congressional District 4, which includes suburban and exurban Placer and El Dorado counties, plus several other rural and sparsely populated counties, the former first lady's image is apt. Her husband and son both carried the district by wide margins in the presidential elections of 1988, 1992, 2000 and 2004. While no friend of the Bushes, Donald Trump won the district with 54 percent of the vote to Hillary Clinton's 39 percent.
---
---
There are seven congressional districts in California with Republican incumbents that Clinton won but CA-4 is not one of them. What gives Democrats buoyancy here is the general chaos of the Trump presidency, along with positive results of special elections elsewhere in the country, and some solid-looking candidates running in the CA-4 Democratic primary. Conservative Republican Tom McClintock, who actually lives 15 miles outside of District 4, first won the seat in 2008, when his Democratic opponent got within 1,800 votes. In the last four races, he has beaten every challenger by at least a 20 percent vote margin.
If CA-4 is dicey as a flippable district, part of the reason is because of demographics (it has relatively few Latinos or Asians) and because, in many ways, McClintock's hard-line anti-immigration policies and close hewing to President Trump fit the district's conservative tilt. According to the Kaiser Family Foundation, over 26,000 people in CA-4 were enrolled in an Affordable Care Act (ACA) health plan in 2017 and another 49,000 gained coverage from the expansion of Medicaid. McClintock voted against the January 2017 congressional budget resolution to repeal Obamacare – a resolution that Trump supported – only because it did not go far enough in repealing the ACA. The political analysis site FiveThirtyEight has McClintock, some of whose largest contributors are real estate developers with projects in his district, voting in line with Trump's wishes about 86 percent of the time.
McClintock has shown no sympathy for DACA (Deferred Action for Childhood Arrivals) students, describing the program as an "unconstitutional usurpation of legislative authority," and he is a reliable vote against a woman's right to have an abortion. The large mega churches that often accompany suburban sprawl, like Bayside Church in Granite Bay, with its 12,000 members, help anchor the district's culturally conservative base with a mixture of Christian/New Age uplift and entrepreneurial flair.
On a recent Friday afternoon, while watching her son play Little League baseball at a Roseville park, Heather McCarthy reflected on why she has become increasingly active in politics. "I've never been concerned that our political system could be taken over by billionaires and corporate interests," she said, "so it has been a wake-up call for me."
McCarthy, a Roseville real estate agent, participated in the Sacramento Women's March last January, but has not followed the congressional race closely. She has a college degree, is not particularly ideological and is concerned that the Trump tax reduction, which McClintock supported, will mainly benefit the wealthy and explode the deficit. "I don't think the average person realizes how disproportionate the benefit is, or how the Republican Party that used to be fiscally conservative has abandoned that." she added.
Two articulate women candidates, Jessica Morse and Regina Bateson, have experience in policymaking and have demonstrated an ability to attract supporters and raise money, and now lead a field of four Democratic primary contenders. In rural Calaveras County, where Mark Twain invented his story about jumping frogs, ordained minister and Democratic Party activist Mickey Williamson outlined the long-shot logic of her party's campaign at a park in Angels Camp. Williamson says the political atmosphere feels different this year: "The [Democratic] candidates are moving up and down the district, events are happening, thousands of dollars are being raised. It's just a different ball game than we have ever had before."
Williamson has a worry, however: That after the June 5 primary, supporters of the losing candidates will stay home, replicating some of the internecine fighting that characterized the Clinton/Sanders contest and which continues to roil the Democratic Party throughout the country.
While most of CA-4 is rural, the key geographic areas where the majority of voters live, and where elections are won or lost, are found along the I-80 and I-50 corridors — places whose dairy farms and orchards not too long ago reached to the outskirts of Sacramento. The cows have been replaced by "Tuscan"-style housing estates with names like Serrano Village, and by retirement communities, large retail centers, high-tech business parks — and relatively few people of color. Over 70 percent of the congressional vote will come from here.
Ricardo Calixtro holds a Bible as he stops to talk in front of St. Patrick's Catholic Church after services one April Sunday. An anti-abortion banner hangs on the front of the church asking for prayers for the unborn. He says that the abortion issue is the first priority for him and that it would be difficult to vote for someone who does not share that position.
Calixtro, a registered Democrat who lives in Murphys, a town tucked in the Sierra foothills, works three jobs as a bartender, baker and house cleaner. "I don't mind working hard," he says, "but it's hard for a regular Joe trying to make it on minimum wage." Calixtro voted for Bernie Sanders in the 2016 Democratic primary and, later, for the Libertarian Gary Johnson for president.
When told that McClintock agrees with him on abortion but is opposed to raising the minimum wage because it would "hurt minorities," Calixtro becomes speechless for a long half minute. "Wow, that's a tough one," he finally responds. He says he is contemplating leaving the area for better opportunities: "I've heard Oklahoma and Kentucky are good states to live in right now."
Calixtro is not the stereotypical working-class voter duped by "cultural" issues instead of watching out for his own economic interests. Yet President Trump has triggered feelings and responses that are pulling many voters away from single issues like guns and religion that previously determined their vote.
Others are sticking with Trump and McClintock despite the president's seemingly daily scandals. In Placerville, an old gold-mining town along the route to Lake Tahoe, Trump supporter and former correctional officer Robin McMillan Hebert was concerned that gun rights and public safety were under threat. "I believe in law and order, otherwise there would be chaos — and I don't believe in chaos," she said. "Sacramento is a good example. There have been a lot of recent protests there." A registered Republican, she compares President Trump's treatment of women to Bill Clinton and John F. Kennedy's. "I'm not going to expect someone to be perfect when I myself can't be perfect."
In Roseville, a man who works for the city utility company and is a member of the International Brotherhood of Electrical Workers, talked about the threat of outsiders.
"I'm tired of seeing cities burning down, and all the lawlessness," he said, directing traffic for his crew of municipal workers. "It started with Occupy Wall Street." He added that homeless people were like cats: "If you feed them they keep coming back."
The man, who refused to give his name, said his wife is a vice principal at a local public school, and claimed she "got emotional" last January and went to the local Women's March. He believes it was organized "not to defend women but to hate Trump." He also thinks that homosexuality is morally wrong and is "pushed in your face" by liberals.
He said he supports McClintock but is reluctant to talk publicly about electoral politics because he thinks liberals will "throw a brick" at him if he expresses his opinions. "Now we have to accept transgender. Come on."
Placer and El Dorado counties are recipients of the flight from cities — an exodus fueled by affordable housing, the desire for good schools and the expansion of high-tech jobs into suburban and exurban environments. Indeed, the suburbs surrounding Sacramento were among the top 25 growth areas in the country between 2015 and 2017.
---
Retiree: "Men have screwed it up a bit,
let's put some smart ladies in there."
---
The evolution of such suburbs is complex. In general suburbs are becoming more diverse and increasingly polarized economically, and more people are living in them today than in cities.
Following the June primary, Democratic frontrunners Morse or Bateson will have to work to attract significant numbers of Republican moderates and those with no party preference if Democrats are to pull off another Conor Lamb-type upset and topple McClintock. And since registered Republicans outnumber Democrats by over 60,000 voters, many Republicans will also have to stay home in November for such a reversal to occur.
Two local residents — former Republicans who intend to vote for a Democrat — explained why they think it's possible for a Democrat to win here.
Jack Chittick stands on his front lawn in Sun City, a retirement community in Roseville built by Del Webb. Instead of carpool lanes, Sun City has lanes for golf carts. Chittick, an 84-year-old retiree who was a top executive at the Pirelli Tire Company, points to the hardcore Republicans who walk past his house to the golf course across the street. "I like the cleanliness of this place," he says, "the golf course, the big homes, the shopping areas and the good hospitals."
He doesn't think McClintock represents the average person in the district and wants a congressperson who can make the tax structure fair for the middle class. Reflecting on his life, he admits he got "carried away" with his career as a corporate manager and the values that came with it. "I had achieved everything by myself," he once believed, "so why couldn't everyone?" But he had a change of heart when his wife started working with the homeless, and pointed out to him that the challenges they face were enormous.
"Democrats have a 50-50 chance," he says, handicapping the race. "Men have screwed it up a bit, let's put some smart ladies in there," he adds, referring to Morse and Bateson. "I'm sure they couldn't do worse, and they could do a lot better."
Bob Toste is another Roseville retiree and former Republican, who "bought into the trickle down theory" before it registered with him that birth determines economic class more than any other factor. He is careful about who he talks to about politics in his neighborhood, especially on immigration issues. Toste wants someone who is sympathetic to the undocumented immigrant students called Dreamers and is angered by McClintock's vote to repeal Obamacare. "I have good health insurance, having retired from a utility. But health insurance for our nation is very important for me. And trying to go back on that right now is horrendous," he said.
If the Republican National Committee and its well-funded conservative political action committees pour money into CA-4 after the June primary to shore up McClintock, it will be an indication that the party brand is in deep trouble.
Come November here, Barbara Bush's billboard admonition might come to pass. Sun City retiree Jack Chittick also wants voters to believe in something bigger than themselves – a change of political heart in District 4.
---
Video and images by Kelly Candaele.
Copyright Capital & Main