Historic Sanctuary Law Moves Forward to Governor's Desk
Co-published by International Business Times
Immigrant rights groups say arguments against SB 54 prove their point—that the state must limit ICE's reach because it routinely wreaks havoc in communities by sweeping up residents with U.S. citizen children and other long-standing ties to the United States who haven't committed crimes.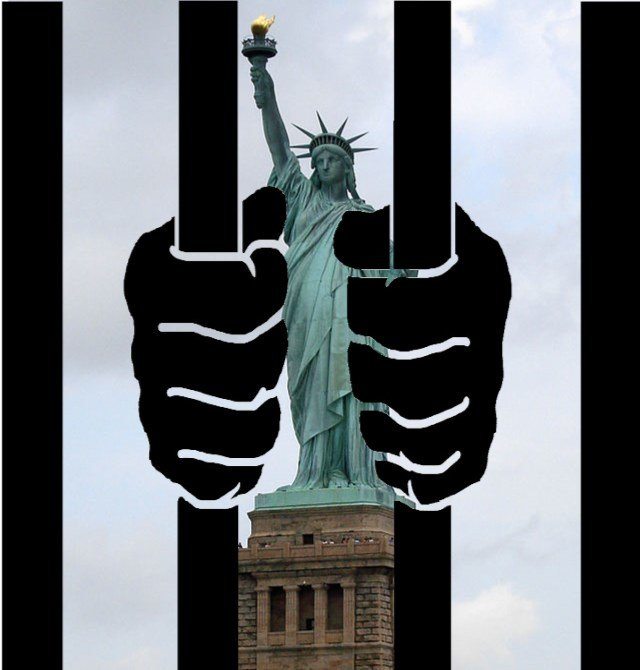 Co-published by International Business Times

Last Wednesday morning five moderate Democratic Assembly members awoke to find their own faces staring back at them from local newspaper ads. "Californians," the ads declared, "are counting on you to help pass the California Values Act (SB 54) to protect families and communities across the state from President Trump's cruel and out-of-control deportation machine."
The ads in support of a proposed "sanctuary state" law were placed by the Building the California Dream Alliance, which includes the American Civil Liberties Union, the Sierra Club, Planned Parenthood and the California Labor Federation. As Sacramento's legislative season hurtles toward its traditional frantic September conclusion, the fight over Senate Bill 54 has moved from a genteel policy tug of war to bare-knuckled combat involving middle-of-the-road Democrats representing Republican-leaning districts, immigrant-rights advocates, Governor Jerry Brown and the bill's biggest opponent – California's law enforcement establishment.
The latter group, led by the California State Sheriff's Association, has collectively sunk more than $500,000 in lobbying efforts this year – on SB 54 and a long list of other interests, according to state disclosure forms. (A handful of local city councils also opposes the measure.)
The Federation for American Immigration Reform (FAIR), which, coincidentally, the Southern Poverty Law Center labels a hate group, handed law enforcement a controversial assist last week. The group issued an action alert that called on Californians to stand with county sheriffs and to urge their Assembly members to vote no.
The bill, authored by Senate President Pro Tem Kevin de León, is the farthest reaching of a raft of immigration bills (see sidebar) making their way through the legislature this year. De León rejects the sanctuary description, but says his goal is to shield otherwise law-abiding residents from deportation and to enhance public safety by assuring immigrants that they can freely report crime or testify in court without fear. The bill can't keep agents from Immigration and Customs Enforcement (ICE) out of the state, but does prohibit local police and sheriffs departments from using their resources and personnel to fuel federal deportation efforts.
SB 54 is unlikely to fail because of the Assembly's 55-25 Democratic majority, but immigrant rights activists contend they need the bill in its current form to curb potential abuses. Governor Jerry Brown, however, said he wants changes, and is currently in talks with de León about them. Appearing on NBC's Meet the Press earlier this month, Brown said that while the bill's goal is to avoid collaboration "with abuse of federal power," there were "people not here legally who've committed crimes. They have no business in the United States."
Steve Maviglio, a political consultant who served as Governor Gray Davis' press secretary and as a chief of staff to two Assembly speakers, said the governor's comments could offer political cover to moderate Democrats who seek to weaken the bill.
The Dream Alliance newspaper ads targeted Al Muratsuchi, (Torrance), Sabrina Cervantes (Corona), Timothy Grayson (Concord), Jacqui Irwin (Thousand Oaks) and Rudy Salas (Bakersfield). The Courage Campaign, another alliance member, also targeted the five, along with Ken Cooley, a Democrat from Rancho Cordova, with its own less costly Facebook ads.
"SB 54 is the single most important tool in repudiating Trump's racist deportation agenda," said Chris Newman, an attorney with the National Day Laborers Organizing Network (NDLON). "As introduced, it was the most California could do under the law to defend the state."
Vigil held for Romulo Avelica at the Los Angeles Police Department's Hollenbeck station. (Photo: Robin Urevich)
The case of a Highland Park father of four who was arrested by ICE as he drove two of his daughters to school last February is a case in point, said another NDLON attorney, Emi MacLean.
Romulo Avelica, a restaurant worker who'd spent decades raising his family in the U.S., became a cause célèbre when his sobbing teenage daughter captured his arrest on a cellphone video. Avelica spent months in detention – away from his family and unable to work to support them. MacLean said the Avelica's troubles began when he encountered an ICE agent in the L.A. County Jail years ago. Avelica was there to serve a single day in jail for failing to complete community service in a minor matter, MacLean said. The agent questioned him, learned he was undocumented and slated him for deportation, paving the way for ICE to seek him out near his children's school in 2017. Avelica's deportation order was thrown out earlier this month, and he was released from jail; he is now fighting his case in immigration court.
"Is this one [minor] conviction something that we think should result in deportation and do we want local law enforcement officials to be facilitating that?" MacLean asked.
MacLean further contends that the bill's major opponents, county sheriffs, are carrying water for ICE in opposing SB 54, and in doing so, not serving their constituents. Earlier this month, NDLON, along with a Service Employees International Union local, filed suit in Los Angeles Superior Court to obtain L.A. County Sheriff Jim McDonnell's communications with ICE after the groups' requests filed under the California Public Records Act went unanswered. Immigrant rights organizations recently obtained Sacramento County Sheriff Scott Jones and acting ICE director Thomas Homan's emails in which Jones urged Homan to help defeat SB 54 by appearing at a Sacramento town hall meeting. Jones had previously denied enlisting Homan's help in defeating the bill.
MacLean argued SB 54 would have prevented Avelica's ordeal: ICE wouldn't have been allowed to interview people in law enforcement custody, and only those who had committed the most serious and violent felonies could be transferred from local jails to ICE for deportation without a warrant.
By contrast, the bill would require California prisons to give ICE 60 days' notice of the release of undocumented inmates who had committed serious or violent felonies. California police agencies would be permitted to work with ICE on joint task forces to combat drugs, gangs human trafficking or other crimes, but they'd have to report to the state attorney general on the collaboration to guard against abuses. Such reports would be available to the public.
Furthermore, California's state attorney general would be required to design plans to limit assistance with immigration enforcement at facilities where ICE agents have recently arrested undocumented immigrants, such as courthouses or state labor commission offices, where ICE agents have sought to attend hearings or collect information, as well as at schools, libraries and health centers.
SB 54 would also disqualify the state from receiving some $28 million in law enforcement grants under new Department of Justice rules released in July that condition funding on collaboration between local police and ICE, but California Attorney General Xavier Becerra contends the requirements are unconstitutional and filed suit this month to block them.
Kern County Sheriff Donny Youngblood argues the bill would hobble his crime-fighting efforts, especially a provision that bars the transfer to ICE of all but the most serious offenders. "It's going to release criminals back into our communities, which will create more victims," Youngblood told Capital & Main.
Santa Barbara County Sheriff Bill Brown, president of the California State Sheriff's Association, pointed out that SB 54 would also bar sheriffs from turning over to ICE those who commit non-immigration crimes, like contracting for murder and the rape of an unconscious person, because those crimes aren't included as serious or violent felonies. Brown also argued that law enforcement benefits when it can informally enlist ICE in fighting such crimes as drug smuggling or human trafficking, that are unrelated to immigration.
The sheriffs had also expressed concern that SB 54 would put an end to lucrative ICE contracts to house immigrant detainees, but Senator de León has assured them that it won't compel law enforcement to terminate the deals that pour nearly $38 million annually into Sacramento, Orange, Contra Costa and Yuba county coffers. What's more, ICE officials, along with some state sheriffs, including Youngblood, argue that if California bars them from jails to search for deportable immigrants, ICE agents will fan out into the community to look for them, and law-abiding immigrants who are in the country illegally will be caught in their net.
But immigrant rights groups contend Youngblood's argument proves their point—that the state must limit ICE's reach because the agency has routinely wreaked havoc in communities by sweeping up residents with U.S. citizen children and other long-standing ties to the United States who haven't committed crimes.
Law enforcement opposition to SB 54 isn't unanimous. Los Angeles Police Chief Charlie Beck is the highest profile defector; Santa Cruz County Sheriff Jim Hart also backs the bill, as does the California College and University Police Chiefs Association.
"This is not a soft-on-crime bill. This is not an anti-law-enforcement bill," Beck told a Los Angeles news conference earlier this summer, when he broke with most of his colleagues to support the bill. "We depend on our immigrant communities to cooperate – not only to keep them safe, but to keep all of you safe. Without that cooperation, we all suffer." Beck had previously announced that since the start of the Trump administration, crime reporting in L.A., specifically of rape and domestic violence, had fallen 25 and 10 percent, respectively, among Latinos.
As of today the half-dozen Assembly members targeted by the Dream Alliance remain on the fence. The morning after being singled out by the newspaper ads, Tim Grayson released a statement saying he agreed with the bill's intent: "I wholeheartedly support the principles of the legislation," said Grayson's statement, although he made no firm commitment to vote for SB 54's passage. Similarly, staffers for Muratsuchi and Cervantes said the lawmakers were undecided on the measure, while three other Democrats who were targeted, Irwin, Salas and Cooley, could not be reached for comment.
"I think they're walking a very careful line," said political consultant Steve Maviglio."This is yet another issue where there's a split on the progressive side because a lot of these Democrats are in tough districts."
SB 54 is expected to get a hearing in the Assembly's Appropriations Committee this week, then move to the Assembly floor before the session ends in mid-September. The governor has until October 15 to sign or veto the bill.

The Rise and Fall of an Immigration Detention Empire
Co-published by Newsweek
In a rush to create detention space, ICE has used opaque noncompetitive contracts called Intergovernmental Service Agreements to quickly bring beds online. A result has been the government's inability to impose accountability standards on its sprawling immigrant-prison system.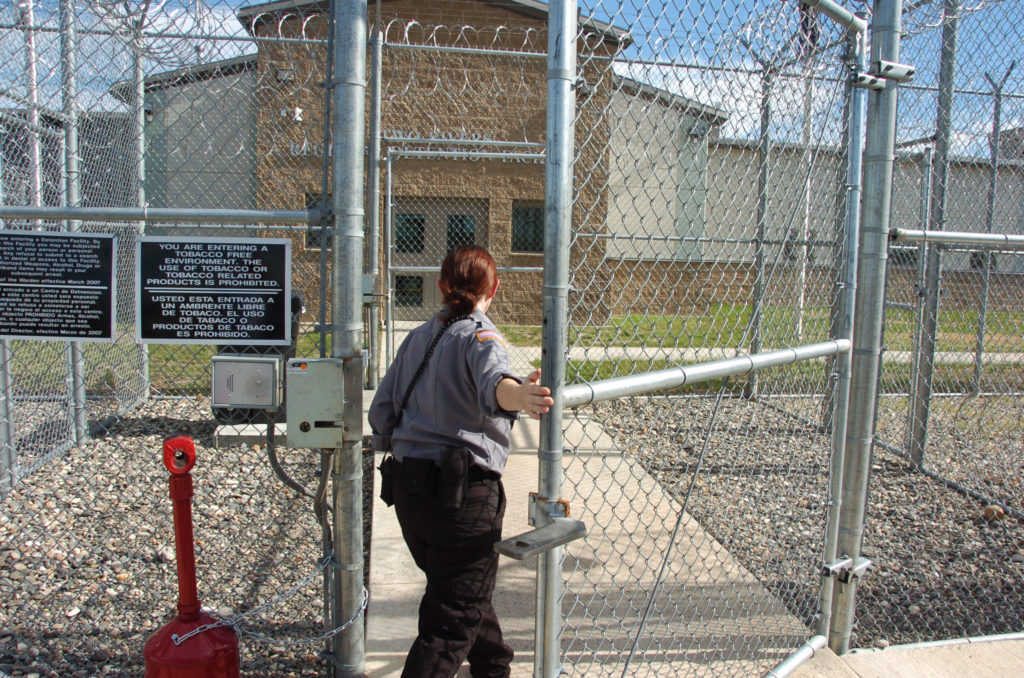 ---
Lawyer: Without private prison companies to warehouse thousands of immigrants, the federal government would face "an existential crisis."
---
Co-published by Newsweek
In 2016 two immigrant detainees died after receiving care at facilities run by Emerald Correctional Management, a small Louisiana-based for-profit prison firm that at the time managed detention centers for U.S. Immigration and Customs Enforcement.
A Russian asylum seeker, 46-year old Igor Zyazin, died of a heart attack several days after medical staff at Emerald's San Luis Regional Detention Facility near Yuma, Arizona failed to adequately treat his severe chest pain. (See "Could an Undocumented Russian's Life Have Been Saved?") Olubunmi Joshua, 54, passed away after enduring eight months of medical errors and treatment delays at the Rolling Plains Detention Center in Haskell, Texas. (See "Anatomy of an ICE Death.")
Emerald operated three ICE detention centers and a county jail before going out of business in early 2017. A Capital & Main investigation has found Emerald took in millions of government dollars as it skimped on essential expenses and damaged detainees, its own employees and, likely, taxpayers while ICE officials looked the other way. Like other for-profit prison companies, Emerald did business with ICE through secretive no-bid contracts using city governments as middlemen. Critics charge these contracts allow ICE to avoid legal responsibility—for deaths, injuries and sexual abuse that occur in detention—and play a role in the government's see-no-evil approach to detention abuses. Since 2003, 183 detainees have died in ICE custody.
The federal government depends on profit-driven prison companies, including smaller firms like Emerald and corrections giants, such as CoreCivic and the Geo Group, to run its sprawling, 200-plus-prison detention network.
At Emerald, chaos reigned in the form of wage theft, poor medical care and crowded, unsanitary conditions. But ICE officials didn't intervene, and it's rare that it does at other facilities with serious problems. Between 2010 and 2017, just two of more than 200 detention centers received failing or "deficient" ratings from ICE inspectors.
The government's failure to act against these facilities is partly the result of an insatiable hunger for lockups, said Mark Fleming, an attorney with the National Immigrant Justice Center. Fleming contended that without the capacity to warehouse thousands of immigrants in facilities run by private prison companies, the government would face "an existential crisis."
In a rush to create detention space, ICE has used opaque noncompetitive contracts called Intergovernmental Service Agreements to quickly bring beds online.
Now, as ICE seeks to expand family detention, it is likely to turn to IGSAs just as it did in 2014, when a wave of Central American children and families sought asylum in the U.S. It is reportedly planning to house families at the Fort Bliss Army base in Texas.
Critics argue that the sole purpose of some of these agreements is to avoid public protest and federal contracting rules that officially are aimed at ensuring transparency and avoiding overpayment by the government.
Immigration detention has expanded fivefold in the past 23 years, and with the Trump administration's deportation surge, is growing larger.
But when Emerald got its start in 1997, the immigration detention system was just ramping up, and immigration detention contracts were a reliable source of business for the company – even as Emerald's blunders were getting it ousted from county jails and knocked out of the running for state and local bids to operate jails and prisons nationwide.
The company drummed up some of its business by convincing small towns that jails and prisons would revive their dying economies.
In the 1980s and '90s, Raywood J. LeMaire, one of the company's four partners, learned firsthand as the five-term Vermilion Parish sheriff that there was money to be made in renting out jail beds to relieve state-prison overcrowding. Louisiana sheriffs like LeMaire generated money and power for their offices by housing state prisoners in their jails—often on the cheap and in poor conditions.
"As long as you didn't feed them too well – grits and beans and cold bologna — you could make some money," alleged Keith Nordyke, a Louisiana attorney who has long represented prisoners.
Asked about his partnership in Emerald, LeMaire, now in his late 70s, told Capital & Main, "I got out of it in January," before refusing to talk further and hanging up the phone. Emerald's other partners, Glenn Hebert, who also once worked for the Vermilion Parish Sheriff's Office, Clay Lee, W.T. Lee and former CEO Steve Afeman couldn't be reached for comment. Hull Youngblood, an attorney who represented the company, didn't return calls or answer emails.
Red flags had warned of trouble inside the company at least since 2003, when Emerald took over operations at the Rolling Plains Detention Center from another private firm.
"We saw things go to hell," said Judy Morrell, who worked as a guard at Rolling Plains. Food for detainees was scarce, she alleged: "They would feed these people chicken bones and rice. If you don't feed them, they've got to get money to buy [from] the commissary." Morrell noted that Emerald profited from its in-prison store. "But you take people who didn't have money, by God, they didn't eat. They'd get to stealing and thieving."
Now 70, Morrell said that when she started with Emerald she knew how prisons were supposed to run, having put in five years with the Texas prison system.
Morrell publicly complained about bad food and overcrowding, and quit her job in 2004. Federal officials were quoted in local media at the time as pledging to investigate her accusations. Three years later, a habeas corpus petition filed on behalf of five members of a Palestinian family alleged they were the victims of sexual harassment, inadequate medical treatment, excessive use of solitary confinement and religious intolerance.
Over the years at Rolling Plains, Texas Commission on Jail Standards inspectors found repeated incidents of overcrowding, unsafe and unsanitary conditions, failure of medical staff to follow doctors' orders, understaffing and failure of staff to perform regular checks on detainees. (ICE inspectors became more critical of the facility only in its later years, noting dozens of violations of its standards but, based on available inspection reports, never appears to have given Rolling Plains an overall deficient rating.) Cases of egregious neglect by Emerald have included:
— The 2016 suicide of a 77-year-old county inmate, Kennie Moore, who hanged himself using his boxer shorts as a noose.
— Emerald's 2012 ousting, by a Louisiana sheriff, from the Riverbend Detention Center when his officers discovered a mother lode of drugs, cellphones and shanks during a shakedown.
— A lawsuit filed by workers at the West Texas Detention Facility against Emerald that alleged they were forced to work off the clock and weren't paid for overtime; it was eventually settled out of court.
By 2016 the company had abandoned or been fired from more detention contracts than it maintained. As early as 2005, local and state governments in Florida, Vermont and Texas began to turn down the company's bids to house prisoners or build facilities, citing its record. What's more, the prison building boom was winding down as states tried to reduce their prison populations.
But ICE was Emerald's ace in the hole. In 2016, Emerald finished construction on the $60 million Prairieland Detention Center in Alvarado, Texas and began managing the 700-bed facility for the agency. Prairieland replaced Rolling Plains, whose location was too remote for adequate staffing and transportation of detainees, said one former ICE official.
Perhaps ICE could overlook the company's checkered history because technically the federal agency wasn't in business with Emerald. Emerald's contract was not with the government, but rather with Alvarado, a town of 4,000 near Fort Worth, which has no actual role in running the detention center.
ICE spokesman Carl Rusnok didn't address Capital & Main's questions about whether it reviewed Emerald's record before approving it as the operator of the Prairieland facility. He wrote in an email that new facilities contracts must meet the latest ICE standards, which require that all facilities "vigorously investigate all claims of abuse, and mistreatment of detainees by staff and other detainees."
Like all Intergovernmental Service Agreements, the deal was made without the transparency that federal contracting rules dictate. ICE signed the agreement with Alvarado city officials, but city officials have no role in operating Prairieland.
"If you told me today that I'd have to start running the jail tomorrow, that wouldn't work," said Rick Holden, Alvarado's city manager. "We're not set up for that." Holden is new on the job, having arrived in early May. Still, he said that after six weeks in office he hadn't visited Prairieland.
"We don't manage it from here. Nobody out there reports to me," Holden said. "ICE is the agency that has the facility."
If Holden would find it daunting to manage a detention center in his backyard, imagine the task that would face city officials in Eloy, Arizona. On paper, Eloy manages the 2,400-bed South Texas Family Residential Center, which is located more than 900 miles away in Dilley, Texas. But last February, the Department of Homeland Security's inspector general found that Eloy doesn't actually run the detention center, and didn't even negotiate the agreement with ICE. Private prison operator CoreCivic did.
CoreCivic appears to have engineered the whole deal by asking the Eloy City Council to modify an existing ICE contract to also include the South Texas facility.
The town of Eloy was simply a middleman that was paid more than $400,000 annually by CoreCivic for the job, the inspector general concluded.
The IG noted that a lack of accountability is built into this particular contracting arrangement: "Because ICE's agreement and legal relationship is with the city of Eloy, CCA's [Core Civic's] performance is effectively insulated from government scrutiny."
The absurdity of a small city like Eloy overseeing a massive detention center in another state may be apparent, but the basics of its contract don't differ much from a number of other IGSAs between ICE and local governments: Cities are routinely paid fees to act as middlemen between ICE and private companies.
Still, for the most part, the inspector general's office limited its criticism to the Eloy agreement. But it did express its disapproval of ICE's handling of IGSAs in general.
"ICE has no assurance that it executed detention center contracts in the best interest of the Federal Government, taxpayers, or detainees," the report observed.
Eloy isn't the only city supposedly overseeing detention operations from afar. In California, the city of Adelanto, in San Bernardino county, signed a 2014 agreement to provide guard services for a family detention center in New Mexico for a year. The services were provided by the for-profit prison firm, the GEO Group, not the city of Adelanto. The small San Joaquin Valley town of McFarland has a long-standing IGSA with ICE to operate the Mesa Verde Detention Center in Bakersfield, nearly 30 miles away.
The legitimate purpose of IGSAs is to allow government agencies to fill urgent needs by piggybacking onto services a local government already offers. In many cases, ICE does exactly that by signing an agreement with a local sheriff to rent beds in a county jail.
However, in other cases, ICE has used IGSAs only to rapidly bring detention facilities online by skirting federal contracting rules, which require an open bidding process that ensures transparency and competition.
About a third of all immigrant detainees are housed under these sort of agreements between ICE and cities.
Attorney Mark Fleming believes these are sham contracts, especially in cases where the city doesn't even own the facility, much less operates it.
"These are fraudulent contracts to allow ICE to float money to a private company to avoid federal procurement laws," Fleming said. "That's a fraudulent contract because the locality has nothing to offer."
For example, the Adelanto Detention Center in San Bernardino County is operated under an IGSA between the city of Adelanto and ICE. The city, however, doesn't run the detention center. The for-profit GEO Group does.
Fleming said that even in cases like Prairieland, where the city of Alvarado owns the facility, its operations are controlled by the for-profit subcontractor, now LaSalle Corrections.
"The actual performance is happening between the private contractor and ICE," Fleming said. "Yet, because there's a private subcontractor, there's no direct accountability that ICE can assert."
Because of these contract arrangements, it's difficult to hold ICE or local governments responsible for detention center abuses, Fleming noted.
Alvarado City Manager Holden and Mayor Tom Durington declined to comment on their city's contracts with Emerald and ICE because neither was in office when they were signed. City councilmembers Jacob Wheat and Shawn Goulding, who, from its inception, served on the board of the Prairielands Public Facilities Corporation (PPFC), the economic development entity that operated the facility, couldn't be reached for comment.
One former high-ranking Department of Homeland Security official, who asked not to be named in this story, disagreed with agency critics that IGSAs are a means by which ICE shirks its responsibility for detainee welfare, but he would not comment on whether IGSAs are legitimate contracts. However, he expressed concerns about the process of granting them.
"I think the way some of these contracts are done is troubling," the former DHS official said. "It gives a lot of authority to bypass procurement rules and be selective about who benefits."
Could Emerald have won a competitive bid under federal procurement standards? It officially obtained ICE approval to operate Prairieland after responding to a request for proposals issued by the city of Alvarado. It was the only firm to submit a bid, city officials said. Furthermore, the company appeared to have enjoyed an unusual advantage: In July 2011, CEO Steve Afeman, a Louisiana resident, was appointed by Alvarado city officials to serve as a governing board member of the PPFC. Afeman resigned his post the following month.
Then, less than a year after Prairieland was built, Emerald announced to each of the local governments with which it held contracts that it could no longer honor them, reportedly because of financial problems.
Emerald seems to have remained out of the detention business; at least two of its creditors have gone to Louisiana courts seeking to collect the company's debts.
---
Note: This story was updated July 5.
This reporting was supported by a grant from the Fund for Investigative Journalism.
Copyright Capital & Main