Healthcare vs. Wealthcare: Uncovering UCLA's VIP Medical Program
How do you get the best quality health care in the University of California's renowned public medical system? At UCLA's Ronald Reagan Medical Center it's a gold-colored wallet card with a personalized number to call. When flashed from a gurney in the ER (or at a club to impress friends), the card means one thing: The patient in question is a VIP.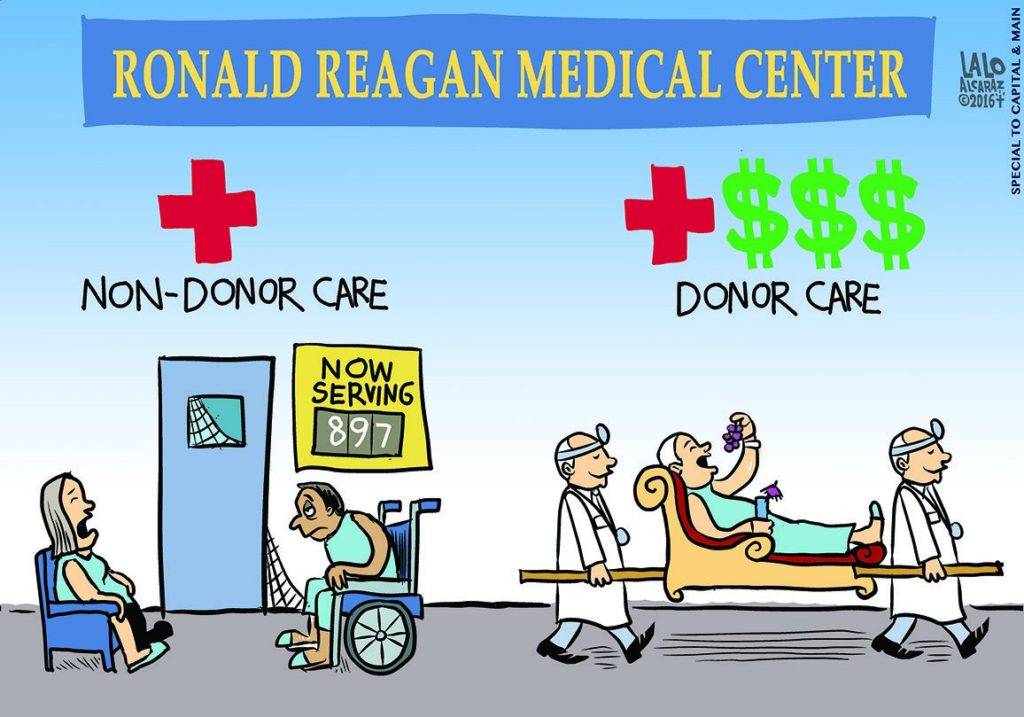 Illustration by Lalo Alcaraz
Part One of a Two-Part Series About UCLA's Concierge Medicine Program
How do you get the best quality health care in the University of California's renowned public medical system? Approaches vary, according to the campus, but at UCLA's Ronald Reagan Medical Center it's a gold-colored wallet card with a personalized number to call. When flashed from a gurney in the ER (or at a club to impress friends), the card means one thing: The patient in question is a VIP.
Welcome to the world of concierge medicine, UCLA-style. At a time when millions of uninsured Californians can't afford Affordable Care Act coverage, even with subsidies, and the ACA's added enrollments compound the pressures on our patchwork health-care system, California's academic health centers are devoting a portion of their resources to wealthy benefactors and anyone willing and able to pay a premium for medical services.
Perks go beyond hotel-type amenities to include special access to clinical care. "VIPs and major donors had preferred access to specialists with long waiting lists and to diagnostic procedures, such as MRIs," says Dr. Robert Pedowitz, who served from 2009 to 2010 as chairman of the UCLA Department of Orthopedic Surgery. One of a number of doctors with experience in the UC medical system who were interviewed for this article, Pedowitz told Capital & Main he would often oblige special requests from the dean's office on behalf of VIPs.
Bound by HIPAA (Health Insurance Portability and Accountability Act) privacy rules from disclosing patients' identities, doctors and UC hospital workers say it's understood that if you're either a major donor or board member, sports or entertainment celebrity, political honcho, or someone who has simply shelled out big bucks for better service, you'll be well-cared for.
"If they wanted to see the chairman of the department—not that it would necessarily be better treatment—I would say 'Absolutely,' and have my assistant make room in my schedule," said Dr. Pedowitz.
In 2013 the union that represents the UC system's health-care workers issued a scathing report about UC's administrative practices, including UCLA's. Among other things, A Question of Priorities documented members' complaints about how the demands of VIP policies allegedly diminish employees' ability to serve all patients effectively. Local 3299 of the Association of Federal, State, County and Municipal Employees called into question "administrative decisions that prioritize UC's profit margins over patients' health." Describing UCLA's VIP program, union president Kathryn Lybarger called it "Simply an outrage." When asked to elaborate, she added:
"That UC would ask any front-line care provider to prioritize so-called VIP patients over other patients is a sad reminder of the misguided priorities that have become all too commonplace at UC."
University of California administrators disagree. A spokesperson for UC President Janet Napolitano told Capital & Main in an email, "T he charge that we treat some patients better than others is outrageously false." Spokespeople representing UC Irvine, UC Davis, UC San Francisco, UC San Diego and the four hospitals within the UC Los Angeles Health System—teaching hospitals chartered by the California state constitution "as a public trust," and among the highest-rated in the country—all maintain that the institutional mission is to treat all patients equally.
Even so, upgrades are available.
UCLA's Executive Plus Package offers "a world-class program for annual executive health care, with a level of individualized service and attention second to none." Cost for the one-time physical examination, battery of tests and follow-up consultation: $5,500, which includes town car pickup and drop-off.
A more elite – and unadvertised – program is UCLA's Medical Hospitality Program (MHP, as it's known internally). "It's usually a word of mouth thing," says a coordinator at the UCLA Executive Health office in the center of the university's Westwood campus, where most VIP services are arranged. Enrollment in the MHP requires a minimum $12,000 "donation," of which $7,200 is tax deductible.
Concierge programs are part of a nationwide trend, according to Concierge Medicine Today, a trade publication which estimates that between 6,000 and 12,000 private practitioners across the country and an increasing number of hospitals now offer what some also call "boutique medicine," "retainer service" or "platinum practice." Much like a passenger who pays more to an airline for extra legroom, the patient pays a fee or annual retainer, above insurance coverage, for a health-care upgrade. Doctors can be reached on their cell phones 24/7, there's no waiting for appointments and a valet will park your car. Hospitals offer deluxe suites, meals chosen from a gourmet menu, special attention from the nursing staff, and access to hard-to-reach specialists, wait-listed testing and surgeries on a preferential basis.
But concierge medicine is also seen as a sign of privilege in a country riven by mounting evidence of economic inequality.
"Concierge medicine is fundamentally unjust," said Arthur Caplan, Ph.D., founding head of the Division of Bioethics at New York University, calling it "more a symptom of a broken system than it is a solution."
Pablo Eisenberg, a senior fellow at Georgetown University's McCourt School of Public Policy, told Capital & Main, "More and more we have business models replacing medical models, business ethics and business culture instead of health-care ethics and health-care culture."
The debate over concierge medicine and the queasiness with which some institutions approach incorporating such programs into their business model, moves one health-care industry marketing company to assure potential clients: "You'll have to get comfortable about making a change (or not) to the concierge model. But there are ethical and effective ways to successfully market concierge or platinum practices."
In a white paper published by Grenzebach Glier and Associates, a consultant to major hospitals across the country on philanthropy management, GG&A executive Dan Lowman advises clients who are considering adopting concierge services: "It is critical that these programs maintain a separation between upscale patient services and clinical/medical services. In other words, it must be abundantly clear and widely known that there is only one standard of medical care for all."
Ethical concerns have spurred the American Medical Association to admonish its members that "if retainer practices become so widespread as to threaten access to care" they must heed its Code of Medical Ethics: "Physicians have a professional obligation to provide care to those in need, regardless of ability to pay, particularly to those in need of urgent care."
Beyond ethics, critics of concierge medicine raise legal concerns, including: federal prohibitions against charging more than the established fees for services already covered by Medicare; federal and state laws mandating equal and timely access to emergency treatment; and strict rules against jumping the nationally-regulated waiting list for organ transplants.
Warning of a two-tier health-care system for the haves and have-nots, medical industry analysts point to signs that top quality medical resources are entering a period of scarcity. As more primary care physicians abandon high-volume, low-paying caseloads for a concierge practice with lighter, more lucrative workdays treating upscale patients, the National Center for Health Statistics reports in a 2012 survey that more than 25 percent of general physicians do not accept new patients with public coverage (e.g., Medicare, Medicaid), "and the proportion of specialists accepting new patients with Medicare or Medicaid is declining."
The role of public hospitals as a last resort for the uninsured is changing as they refashion themselves, offering a menu of curated services for the bespoke crowd. Even Massachusetts General in Boston, founded 200 years ago to treat the poor, is joining the trend; launching a concierge service this summer, the hospital is charging an annual $6,000 fee for "an exceptionally high level of service from their primary care physician, including preventive care, health screening, wellness, nutrition and fitness," according to its website. "It won't be the right model for everybody," a Mass Gen spokesperson told the New York Times, "but it will help us generate different sources of revenue in a way to fund the core mission."
Revenue is also what drives the two-tiered system increasingly on display at UCLA, whose Medical Hospitality Program is available mainly to major donors, including members of UCLA Medical Center's five advisory boards. These philanthropic boards are chaired by business leaders and UCLA doctors spearheading fundraising efforts for each of the teaching hospitals. The Resnick Neuropsychiatric Hospital Board of Advisors includes Friends actress Lisa Kudrow among its 14 members. Former Caesar's World casino mogul Henry Gluck chairs the advisory UCLA Health Board, an umbrella group that counts Hollywood personality Candy Spelling as a member. A designated director within the UCLA Health Sciences Development department—the medical center's fund-raising arm, which employs nearly 100 executives and staffers, reporting to associate vice chancellor Kathryn Carrico—facilitates the board members' access to health care for themselves, family or friends.
UCLA spokesperson Tami Dennis told Capital & Main in an email that the MHP—"a physician-directed program" currently headed by Dr. Benjamin Ansell—was created in 2010 "in response to donors interested in both services that meet their needs and opportunities for additional philanthropy." The annual $4,800 fee covers "program coordination, convenience and amenities such as beverages and parking," and is attached to a mandatory "minimum annual donation of $7,200 that goes toward a breadth of academic and research programs," including programs for veterans and the disadvantaged.
With approximately 260 to 270 members, the MHP "is not actively promoted," said Dennis, "to prevent creation of demand beyond capacity." In response to a request for financial information, Dennis said, "a detailed accounting is not readily available" of how much money the MHP brings in or specifically where it goes. "Charitable donations made to the Regents are used in accordance with state and federal law and in a manner consistent with donor preference, when appropriate," she said, adding that the program is "not viewed as a significant revenue source."
But it is a perk offered to the hospital's benefactors, whether they use it or not, including advisory board members such as Henry Gluck and his wife, who recently donated $10 million. They and other donors whose gifts may far exceed the MHP's $12,000 minimum are entitled to receive that golden wallet card granting them, their families and even their friends the medical center's red carpet treatment. In effect, the MHP renders UCLA Medical Center a private hospital for some, and a teaching hospital for everyone else.
The medical center's program invites criticism from medical ethicists such as Stephen Post, director of the Center for Medical Humanities, Compassionate Care and Bioethics at New York's Stony Brook University, who calls concierge medicine "a mark of gross class-ism." When informed of specifics of the MHP, he told Capital & Main, "The idea of a two-tier health-care system in an institution based on donors and non-donors is, for me, too great a compromise of fundamental human equality."
Dr. Eric Campbell, a professor of medicine at Harvard Medical School who specializes in bioethics and medical conflicts of interest, questions the MHP's combined $12,000 fee/donation. "Frankly, I have a problem with them calling this a gift and getting a tax deduction for it," Campbell told Capital & Main. "It's a transaction and should be treated like any other transaction in medical care."
Internal Revenue Service guidelines state that deducting the cost of goods or services received in connection with a charitable donation—called a quid pro quo donation—(such as the price of a dinner or raffle gift at a fundraising gala) should conform with legal accounting practice. But the deal still troubles at least one concierge medicine practitioner and former UCLA primary care physician, Dr. Dennis Evangelatos. Ranked as one of "Hollywood's Top Doctors" by the Hollywood Reporter, Dr. Evangelatos now operates his own practice, affiliated with MD2 , one of the largest nationwide concierge medicine franchises. Over the phone from his Beverly Hills office, Evangelatos said the MHP was something new since he left UCLA. "It seems funny to me that part of the fee is tax deductible," he said. "How you value the fee and what part is deductible—that's a tricky one."
The MHP institutionalizes, and provides an IRS-friendly accounting for, a VIP policy that has long existed informally at UCLA, and has always had a Hollywood angle. Well before the term "concierge care" was coined, the ninth and 10th floors of the old medical center's Wilson Pavilion were reserved for patients willing to pay a premium for fancy suites and deluxe menus. Suite 948, furnished with extra beds and a kitchenette, was where John Wayne checked in for last-ditch cancer treatments not long before his death in 1979, according to Wayne's biographer, Randy Roberts. UCLA's practice of special care for VIPs was well-established even back then, Roberts reported: "People who were rich, but not famous, however, had their charts coded so that nurses and physicians would be able to recognize immediately just how important they were."
It took an earthquake, however, and one man driven by the best of intentions, to bend the medical center's legacy VIP programs to a larger purpose, pointing UCLA and its administrative culture in the direction of the $1.9 billion business it has become today.
---