Uncovered California: Why Millions Have Fallen Into Health Care Gaps
"Right now, I have a medicine sitting at Wal-Mart pharmacy that I can't purchase till payday," Jacqueline, a 55-year-old San Diegan told me during a telephone interview in mid-April. She asked that her last name not be used for this story. "I'll go without, eight or nine days till payday. It's for my high cholesterol."
Five years after the Affordable Care Act became law, and more than three years after California began moving aggressively to implement its provisions, upwards of three million Californians remain without health care coverage; and millions more, like Jacqueline, have basic coverage but continue to be grievously under-insured.This is the story of how so many Californians continue to fall through the ACA's cracks.
"Uncovered California" is a three-part series of stories and videos examining how the Golden State is trying to fill holes in its health care coverage. Sasha Abramsky's articles look at working people who are falling through coverage cracks, and at what's being done to help community college students gain access to mental health services. Debra Varnado reports on efforts to expand the role of nurse practitioners to increase medical services for low-income Californians.
Until a few years ago, Jacqueline worked a hospital security job, which paid fairly decently. Then she lost it and ended up with another security job, this one paying only $11 an hour. It didn't come with health insurance, and so Jacqueline went online to buy insurance through California's health insurance exchange, set up in the wake of passage of the Affordable Care Act. Because her earnings left her well below 400 percent of the federal poverty line – the upper limit for insurance assistance under ACA — she qualified for subsidies.
These subsidies are calculated on a sliding scale according to a recipient's income, so that people pay anywhere from two to 9.5 percent of their income. But, Jacqueline discovered, buying into a gold or silver plan would still cost more than she could afford. And so, despite the fact that she suffered from diabetes, high cholesterol, neuropathy and other ailments that required frequent doctors visits and a steady array of medications, she bought into a bronze plan.
Five years after the Affordable Care Act became law, upwards of three million Californians remain without health care coverage.
Such plans essentially shift the financial burden from now, when the monthly payment is due, to later – when the bills come in from doctors; prescriptions have to be paid for out of pocket. They cap out-of-pocket expenses at $6,850 for an individual and $13,700 for a family – which, for the working poor, represents a prohibitive outlay of cash. (A Cost Sharing Reduction Subsidies program can significantly reduce out-of-pocket maximums.) Take, for example, the story of Maria Can de Tec, a laundry worker at an Orange County convalescent hospital, who managed to buy subsidized Anthem-Blue Cross insurance for $151 per month but, following an emergency room visit for internal pains and bleeding, ended up with nearly a thousand dollars in bills that she is now having to pay off in $76.92 monthly installments.
The bronze plan that Jacqueline chose still cost her $50 per month — the upper limit of what she could afford — and, as she found out once she began using its medical services, it came with hefty copays and deductibles. It was, in many ways, barely more than catastrophic coverage. Near the end of each month, with no money in the bank and days to go until her next paycheck, she would run out of medicines.
"I can tell the difference when I have my medicine and when I don't," she said. "I have more stress and worry. I wanted to see the doctor about issues of mental health. Stress and tension. And once I found out how much it was going to cost, I didn't go. I came to a decision that I really need this, but I couldn't afford to go. And I'm having really bad issues with my neck, back and legs – and I can't afford to go to the specialists."
When the Affordable Care Act was passed, California embraced its principles more assertively than did most other states. It set up the nation's biggest insurance exchange and invested heavily in Covered California, the organization responsible for bringing the uninsured into the insurance system; it added state dollars to provide additional subsidies to anyone whose earnings placed them at less than 250 percent of the federal poverty line; it expanded its Medi-Cal roles dramatically – the ACA allowed states to cover anyone whose income was no more than 138 percent of the poverty line. And it has spent heavily, for each of the last five years, on outreach to bring children and other particularly vulnerable groups into primary care settings – since studies indicate that previous expansions of the health care safety net, from the State Children's Health Insurance Program, to Medicare for the elderly, have taken four to five years to bring in all the people they can, and to reach a state of steady enrollment.
The ACA, says Anthony Wright, executive director of the Sacramento-based advocacy organization Health Access California, which campaigns for policies that would bring more Californians into the health care system, "allowed us huge progress. We've cut the number of uninsured by half. We had seven million uninsured prior to ACA. The modeling suggested we would land at around three million – and that three or four million would [eventually] be covered." So far, California has already outperformed these goals, with close to four million newly covered Medi-Cal patients, and upwards of 1.5 million buying into subsidized insurance.
And yet, because of the way the federal law was worded, as well as some of the unique demographic and economic characteristics of the state, six years after the ACA's passage many millions of Californians remain uninsured; data from the 2014 California Health Interview Survey, the most comprehensive study to date, estimates five million. They are, as researchers from the University of California, Berkeley's Center for Labor Research and Education, and the University of California, Los Angeles Center for Health Policy Research calculate, disproportionately Latino and male, and most of them work at least 30 hours per week. In addition to the uninsured, however, hundreds of thousands more, like Jacqueline, bought into bronze plans that essentially provide financial disincentives to seek medical attention and thus leave them significantly underinsured.
There are the spouses and children of workers whose employers provide them with health insurance but either don't offer coverage to family members or offer it only at a price that renders it unaffordable. Because of an accidental miswording in the ACA, these families, even if they are less than 400 percent of the poverty line, aren't eligible for subsidies. It's a trap that advocates refer to as the "family glitch" and it ought to be relatively easy to fix. But because the Republican majority in Congress is more interested in defunding ACA than in filling in holes in its coverage, the glitch remains in place. In 2011 UC Berkeley Labor Center researchers calculated that 144,000 Californians were caught in this trap.
"If my husband, daughter and I all purchased insurance through his employer," wrote Brenda, a 57-year-old woman from the town of North Hills, to Bethany Snyder, who until last May was director of communications at Health Access California, "that amount would be half of his monthly take-home pay, leaving very little for food, housing and other essentials." While her husband was covered through his employer, and their daughter was on another insurance plan, which cost them $161 per month, Brenda herself was unable, because of this, to afford insurance. Instead, she was relying on a cost-sharing plan for her medical bills run through Christian Healthcare Ministries. It was better than nothing, but she still wanted, one day, to be able to access proper health insurance.
In high-cost-of-living areas of the state, there is another problem: families at just over 400 percent of the poverty line, who on paper ought to have plenty of disposable income to buy nonsubsidized insurance, but who spend so much on housing that they end up not having enough to buy insurance.
While there are tax penalties in place for those who go uninsured, those penalties are not imposed on people who can show that to access nonsubsidized insurance they would have to spend more than eight percent of their income on health care policies. In some parts of the Bay Area, for example, health care analysts have found clusters of middle-aged people who are foregoing coverage because of extremely high housing costs, and who are not subject to tax penalties because the cost of insurance, which rises the older one gets, would be more than eight percent of their income.
The last, and largest, remaining group excluded from health care coverage consists of California's millions of undocumented residents. When ACA was passed, Congress explicitly excluded them from access to Medicaid and to federally subsidized insurance policies. As a result, even as most of the legally resident poor in California have accessed some form of coverage in the years following the ACA's passage, the undocumented remain intensely vulnerable. Wright estimates that whereas, before ACA, only one in five of the uninsured lacked legal residency status, today upwards of half of the state's uninsured are undocumented.
"They have to rely on the emergency room for all their health care needs," explains Don Nielsen, director of government relations at the California Nurses Association. (Disclosure: CNA is a Capital & Main financial supporter.) We've met opposite the Capitol building in a café frequented by the political classes. Nielsen is wearing Ray-Ban sunglasses and a black suit with a "Bernie" pin on a lapel. The CNA had, months earlier, endorsed Bernie Sanders' presidential campaign in large part because of his commitment to single-payer health care. "That's a big roll of the dice," Nielsen says. "They [ERs] have to accept everyone, but they are only required to 'stabilize' them. They don't have to do anything beyond that. It's real hit and miss." CNA's slogan on health care reform was simple: "Everybody in, nobody out." Under single-payer, Nielsen states, no one, regardless of their immigration status, could be denied access to health care.
Says one Sacramento resident, who was undocumented for 16 years and asks to remain anonymous, "My Dad has needed a surgery for a hernia operation for years." Her parents, who live in the southern part of the state, remain undocumented. "He's just been waiting, hanging on, hoping there will be a time he can afford surgery and time to recover. It's a struggle. There's no safety net." The woman's father had worked for years in a factory that made RVs. But then he became injured and could no longer do the heavy lifting required in the factory, and he was out of work.
"It's kind of a sad tune we are all familiar with," his daughter explains. "We know we're forgoing care. It's too expensive. It's too bad, you know?"
Many California counties, no longer having to provide indigent care for poor, able-bodied adults now covered under Medi-Cal, have used some of their savings to expand basic clinic coverage for undocumented residents – realizing that it is actually cheaper to provide more comprehensive primary care coverage than to have to pick up the emergency room bills accrued when the undocumented finally seek treatment in hospital settings. Forty-seven counties are now providing more than just emergency care to these residents, up from only nine just last year. But while that change has been welcomed by advocates, in the long run it is only a scattershot solution to a vast problem – and one that leaves the undocumented vulnerable to changing financial and political winds at the county level.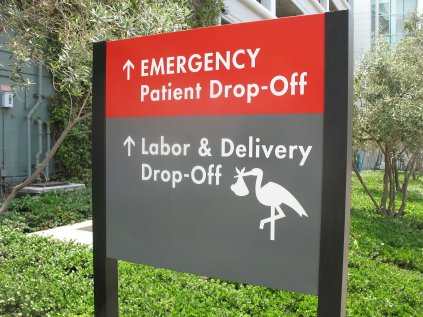 A more systematic approach has, in the past year, emerged at the state legislative level: In October of last year, Governor Jerry Brown signed a bill that would allow California to use state dollars to provide Medi-Cal to undocumented children. The provisions of this law, which follows passage of similar state measures and city ordinances in Massachusetts, New York, Chicago and Washington State, went into effect in early May of this year, meaning that with good outreach in the coming months almost all of California's children could end up with health coverage. Wright and other advocates believe that upwards of 175,000 of the estimated 250,000 undocumented children in the state will soon be enrolled in Medi-Cal. The state is also using its own dollars to cover refugees who don't have their green cards, as well as DACA (Deferred Action for Childhood Arrivals) students. If the U.S. Supreme Court allows DAPA (Deferred Action for Parents of Americans) to proceed, California will stand ready to expand health care access to this group, too.
For the past year, Sacramento has also discussed legislation that would allow undocumented adults to buy nonsubsidized insurance plans on the Covered California exchange. The legislation would require a federal waiver, but since the exchanges are no longer federally funded, such a waiver is likely to be granted. And this year state Senator Ricardo Lara (D-Bell Gardens) has pushed Senate Bill 10, a proposal that would expand Medi-Cal access, again paid for with state rather than federal dollars, to undocumented adults too. Polling from 2015 indicates 58 percent of Californians support this move.
Slowly, California is plugging the ACA's gaps. It has taken five years to halve the number of uninsured in the state. It will likely take several more years to make a serious dent in the remaining numbers. And some of the problems, such as the family glitch, will likely still remain even at the back-end of years of effort.
But, unlike on the federal level, statewide there is at least now the political will to tackle this problem. And that's a huge accomplishment in and of itself.

Do Incarcerated Firefighters Deserve a Path to Employment?
Since 1983 six inmate firefighters have died while working on fire containment. Today they are paid $2 per day — and an extra $1 when fighting active fires.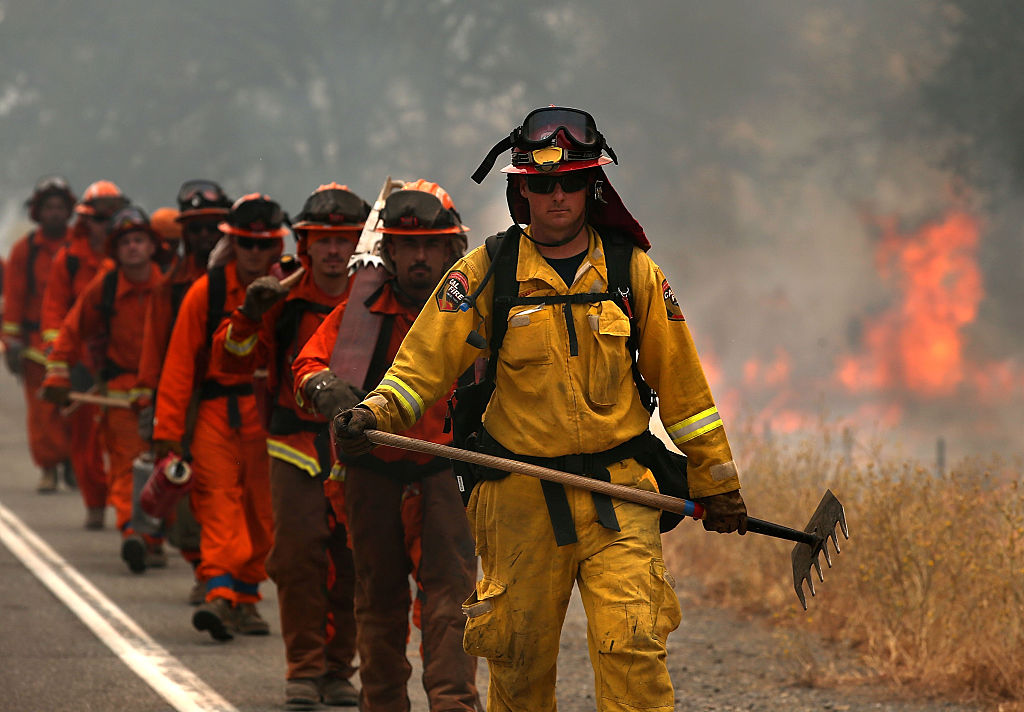 ---
California estimates that the Conservation Camp inmate-training program saves state taxpayers up to $100 million per year through firefighting and responses to other emergencies.
---
As California's wildfire season grows ever longer and more intense, the state has relied heavily on thousands of prisoners, including women, to battle blazes alongside approximately 6,000 professional full-time and seasonal firefighters. Prisoner advocates, however, point out that these inmates' criminal records prevent them from working as firefighters almost anywhere in California after their release.
Critics of the inmate program also say prisoners risking their lives to battle dozens of fires every year should get more out of the program than their current $2 per day and the additional $1 they receive whenever fighting active fires. The state's Cal Fire firefighters earn between $3,273 and $4,137 per month, plus benefits, not counting overtime, according to a Cal Fire spokesperson. California has been using inmate firefighters since World War II, when the workforce for Cal Fire was depleted.
---
Approximately 3,700 inmates work at fire camps and about 2,600 of those are qualified to work on the front lines of active fires.
---
When Laura Weigand applied to California's Conservation Camp, the program that trains inmates to fight wildfires, she knew it would be an uphill battle, literally. She was 43 when she joined the camp in 2009, twice the age of most of the women in pre-camp endurance trainings. One endurance test – hiking two miles straight uphill in 45 minutes – felled plenty of younger women, but Weigand was the first to the top of the hill, which meant she had her choice of camps to complete her trainings. She picked Malibu.
Two weeks after she completed training, she was working alongside Cal Fire firefighters to put out the Crown Fire, earning a fraction of what professional firefighters made for the same amount of risk. But she said she didn't feel exploited because she went into the program to get away from the prison grounds.
"The days flew by, because there were different experiences. Even though it was not good pay it was better than you get in prison," she said. But a foot injury threatened her limited freedom.
"I was hiking on a broken metatarsal bone for two years and was afraid to tell them about it because I didn't want to get kicked out of the program."
Weigand eventually became a "swamper" or trainer of other incarcerated firefighters. She estimated that she trained about 300 women before she left prison in 2012.
The California Department of Corrections and Rehabilitation (CDCR), cooperating with the California Department of Forestry and Fire Protection (Cal Fire) and the Los Angeles County Fire Department, operate 44 conservation camps across the state, including three female camps. Camp populations range from 80 to 160 inmates working and learning in minimum-security facilities, supervised by correctional staff. When they're working on an active fire, Cal Fire staff supervise them.
CDCR says approximately 30 percent of applicants who volunteer for the program successfully complete the curriculum. Not all inmates are eligible. Those who have committed more serious crimes, such as arson, rape or other sex offenses are disqualified.
Overall, there are approximately 3,700 inmates working at fire camps and approximately 2,600 of those are qualified to work on the front lines of active fires, according to CDCR. As of August 31 there were just over 1,100 inmate firefighters across 123 crews deployed to the Carr, Mendocino Complex, Hirz, Cooks, Cherae, Stone, Cache and Holy Fires.
After being released in 2011, Weigand didn't apply to be a professional firefighter because she was above most fire departments' threshold age. But Weigand, who now works at Social Model Recovery Systems, a substance abuse and mental health nonprofit, says even if she were younger, she probably couldn't have gotten such a job, because most local and county firefighting jobs require an emergency medical technician (EMT) license, and most former inmates, even those convicted of lower level felonies, can't obtain that.
In an email, a Cal Fire spokesperson said the department doesn't require an EMT license for employment, but admitted that many fire departments throughout the state have at least the expectation of an EMT license for employment.
Such a barrier doesn't make sense to Romarilyn Ralston, who was imprisoned 23 years and served as a fire camp swamper and clerk for Cal Fire while incarcerated. Now, as a member of the Los Angeles chapter of the California Coalition for Women Prisoners, and program coordinator for Project Rebound at California State University, Fullerton, she's advocating for raising state employment opportunities for former inmates who made it through the Conservation Camp program.
Ralston told Capital & Main that, even though the program offers valuable training, the lack of EMT training at the camps, as well as the seeming prohibition against hiring former felons for many firefighting jobs statewide, amounts to "an exploitation of prison labor."
"They should be paid at least the minimum wage, which is $15 in L.A. County," Ralston added. "They're putting their lives on the line and saving California hundreds of millions a year."
The CDCR has estimated that the Conservation Camp program saves California taxpayers between $90 million and $100 million per year through firefighting and responses to other emergencies. Those who make it through the program, when not fighting active fires, may also be asked to clear firebreaks, maintain parks and clear fallen trees and debris. Since 1983 six inmate firefighters have died while working on fire containment, according to CDCR.
Recently California has taken steps to ease restrictions on former felons, though none of the measures would mandate local emergency medical services authorities to allow them to earn EMT licenses.
As part of the 2018 budget bill, Governor Jerry Brown expanded employment opportunities for former inmate firefighters through the Ventura Conservation Camp (VCC), in Ventura County. The program is for parolees only, and the first group of 20 is set to begin training this fall.
An omnibus safety bill, AB 1812, approved by Governor Brown in June, would allow graduates of approved fire camp training to apply for lower-level emergency medical responder (EMR) licenses, though not for EMT licenses.
California's legislature is taking other small steps toward lowering the employment bar for incarcerated firefighters and other ex-cons seeking professional employment.
Assembly Bill 2293, in its original version would have, with certain conditions, prevented the authority licensing paramedics and EMTs from denying certification to anyone with a criminal record. But faced with strong opposition from the Emergency Medical Services Administrators Association of California, and the National Association of Emergency Medical Technicians, who said hiring those with criminal histories could pose a public safety risk, AB 2293 was amended down to a data reporting bill, according to California Assemblywoman Eloise Gómez Reyes (D-San Bernardino), who assisted in crafting both versions of the bill.
"We decided to address a glaring deficiency, which is the lack of data [on who is being denied jobs]," Gómez Reyes said of AB 2293, which now heads to an uncertain future on the governor's desk.
Today, Gómez Reyes added, the state only has anecdotal data on many former prisoners being denied EMT certification or jobs based on their criminal past, but no hard numbers yet. "We're trying to see in what circumstances are people being given these licenses, and what we suspect are the majority of circumstances of people being denied because of past offenses. Whatever decision we make in the future is going to be based on accurate data."
Another bill, AB 2138, authored by Assemblymen Evan Low (D-San Jose) and David Chiu (D-San Francisco), would ease licensing restrictions for former inmates in a variety of occupations, but not firefighters. That's still an important step, according to David Fathi, director of the American Civil Liberties Union National Prison Project, because its passage could remove some "arbitrary" barriers to employment.
"In many states there are over 100 occupations that former prisoners can't pursue," Fathi said. "One of the best predictors of successful reentry is securing and keeping stable employment. And yet as a society we go out of our way to make it difficult for prisoners to get a job when they get out. This is especially absurd when the prisoner has learned the skill in prison."
Fathi points to a neighboring state, Arizona, which last year eased restrictions on ex-cons from becoming professional firefighters, as well as to a study from Arizona State University, which showed that states with larger employment barriers for felons have higher recidivism rates.
"Employment disqualification for former prisoners should be the rare exception," Fathi said, "and it should be based on an individualized assessment of the risk posed by the particular person — not simply upon a criminal conviction."
---
Copyright Capital & Main