Healthcare vs. Wealthcare: How UCLA Embraced Hollywood and VIP Medicine
How do you get the best quality health care in the University of California's renowned public medical system? At UCLA's Ronald Reagan Medical Center it's a gold-colored wallet card with a personalized number to call. When flashed from a gurney in the ER (or at a club to impress friends), the card means one thing: The patient in question is a VIP.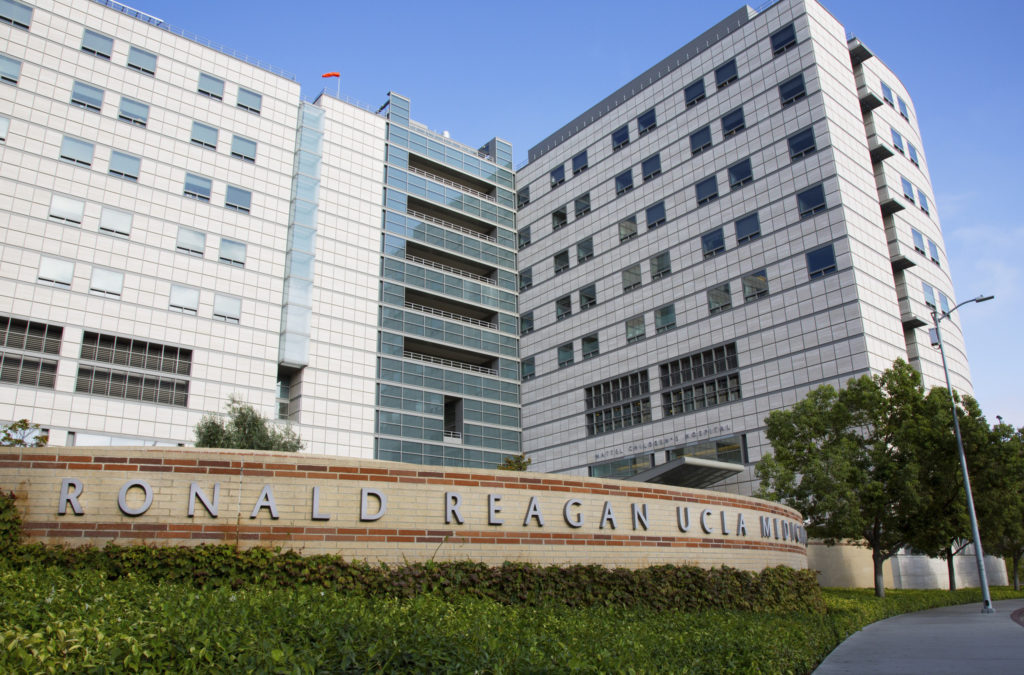 Photo by Pandora Young
Part Two of a Two-Part Series About UCLA's Concierge Medicine Program
When Dr. Gerald S. Levey left his job at pharmaceutical megacorporation Merck & Co. to take over UCLA Medical Center in September 1994 as the new dean of the medical school and vice chancellor of medical sciences, he faced two emergencies.
One was a wrecked medical center, no longer safe for patients, thanks to the Northridge earthquake that occurred earlier that year. The second was the University of California system itself, bleeding $433 million in funding cuts because of California's perennial budget crises prompted by the 1978 passage of Proposition 13, and forcing UCLA to slice $45 million from the medical center's operating budget and to slash 1,000 jobs. The prognosis for the 57-year old Levey's vision of leading a rebuilt—and fundamentally restructured—UCLA Medical Center into the 21st century was less than sanguine.
Guided by high-powered movers-and-shakers like superagent Michael Ovitz, the New Jersey-born Levey's introduction to Hollywood helped attune his strategy to the entertainment industry's peculiar culture—it was all about VIPs. The annual Aesculapians Ball benefiting the medical center was held on a soundstage on the 20th Century Fox lot, with entertainment provided by Frank Sinatra or Barbra Streisand, attracting the upper crust of Hollywood's elite; as many as 1,500 invited guests raised more than $3 million in one night. According to Never Be Afraid to Do the Right Thing, Levey's instructive memoir, his Eight Principles of Fundraising include Principle Five: "Donors to AHCs [Academic Health Centers] expect the quid pro quo: access to the best medical care."
And that, they got. Levey helped ensure this by quickly promoting an assistant in the dean's office named Jane Cubicciotti, who was its donor liaison, to be the director of the newly minted Division of Special Services. By giving her a staff to run and a title (and higher pay grade), Levey institutionalized what had been an ad hoc practice of doling out favors to UCLA donors and celebs, extending as well, in Levey's account, to calls from "public officials, regents, other campus units and the chancellor."
For her part Cubicciotti, who still works from the dean's office, told Capital & Main she is doing the same job she's always done since 1989, and had only good words for her retired boss. "Dr. Levey is the most compassionate, good-hearted man. We never bent the rules, we'd never do anything that was unethical."
Adds Dr. Evangelatos, a former UCLA resident doctor who later worked with Levey and Cubicciotti at Special Services: "Dr. Levey saw the significance [of the medical center's longstanding VIP policy] and made it much more important than before. No one had done it this way before."
Dr. Robert Pedowitz, who served from 2009 to 2010 as chairman of the UCLA Department of Orthopedic Surgery, noted the direct link between donors and preferential access when he first arrived at UCLA. Pedowitz said Levey told him that the dean's office maintained a special relationship with major donors. "Levey gave them his phone number," Pedowitz told Capital & Main, "responded to their calls, and helped work them through the system. They were proud of that."
Levey's phone number was a privilege accorded mainly to UCLA benefactors, often denizens of L.A.'s leafier, high-net-worth neighborhoods, many of whom can still recount dire occasions when it came in handy. (Dr. Levey was unavailable for comment for this article, his office said.)
When he stepped down in 2010, Dr. Levey received universal kudos for rebuilding the institution, during his 15-year tenure, into one of the nation's top research, teaching and treatment centers. Entertainment industry contributions, led by UCLA-alumnus Ovitz (who, with his wife, donated $25 million), helped cap the $1.3 billion building fund. The opening of the I.M. Pei-designed Ronald Reagan Medical Center in 2004 was Levey's crowning achievement, and no less a monument to his ability to coax Hollywood largesse than the record-setting $300 million in contributions from entertainment mogul David Geffen, whose name today graces UCLA's medical school.
"
Academic medical centers survive or die on philanthropy," said Dr. Pedowitz. He observed that, based on his experience at other teaching hospitals, UCLA's favoritism toward well-heeled patients is not unique. In Pedowitz's view, however, UCLA's VIP policy is related to the same issues of a profit-oriented culture at UCLA that caused Pedowitz to file a whistleblower-retaliation lawsuit in 2012, accusing the institution of covering up corruption and physician misconduct at the David Geffen School of Medicine. The lawsuit, which involved allegations of unreported payments and conflicts of interest concerning medical-device manufacturers, was settled two years later by UCLA with a $10 million payment to Pedowitz, while denying any wrongdoing. Under scrutiny from consumer groups after several similar incidents, the medical center has since increased staffing in its compliance department.
The reproach for prioritizing profit focused on UCLA's Liver Transplant Program when it came to light that some members of the Yakuza, the Japanese mafia, had jumped the line for liver transplants between 2000 and 2004, a period of organ donor shortage, a charge that UCLA has publicly denied — while confirming that at least $200,000 was received in donations.
It may seem clever to impose a kind of unofficial tax on the wealthy to help underwrite UCLA's services to the community at large. Pandering to benefactors' desires to be pampered, to see their names on buildings and to mingle at fancy galas where their names appear on the program among the rich and famous, is a relatively small price of doing business.
Philanthropy, in the age of reduced state budgets, and in lieu of a truly comprehensive national public health-care system, fills a gap. The recently announced $10 million gift from advisory board chairman Henry Gluck and his wife will launch a fleet of mobile stroke units, a first for L.A. The CT-scanners-on-wheels contain advanced technology to diagnose heart attacks and speed appropriate treatment. Thanks to Mr. and Mrs. Gluck—whose names, emblazoned on the vehicles, will remind Los Angeles of the couple's largess—many lives will undoubtedly be saved.
But other countries, such as Germany, where health care is a national priority, also have mobile stroke units. In fact, the specialized stroke ambulance services were invented and developed in Homburg and Berlin by teams whose leaders included renowned neurologists Dr. Klaus Fassbender and Dr. Heinrich Audebert. The Berlin project was co-funded by the European Union and joined by German federal authorities and state governments, according to Dr. Audebert.
"From a European perspective, it is really surprising that so many U.S. activities are sustained by charity funds," Dr. Audebert told Capital & Main in an email. "German, and most other European citizens, expect the state [to] cover costs that are politically agreed to be necessary for our social system."
Dr. Audebert confirmed that his name appears nowhere on the mobile stroke units he helped to innovate.
Some medical ethicists believe that when it comes to mobilizing the political will to fix the nation's imbalanced medical structure, the concierge medicine trend exemplified by UCLA Medical Center's VIP program may be counterproductive.
"No real health-care reform will take place until some bigwig, or his or her child, spouse, lover, sibling or parent gets really bad care at the hands of our dysfunctional health-care system," says Dr. Roy Poses, a physician on the faculty at Brown University, on his Healthcare Renewal blog. "If the rich and powerful can insulate themselves from the dysfunction of the current health care system, do not expect their sympathy or support in reforming this system."

Home, Shared Home: Renters Watch as Their Buildings Become Apartels
The displacement of renters by large-scale operators who turn apartment buildings into de facto hotels has hit urban areas like Greater Los Angeles hard.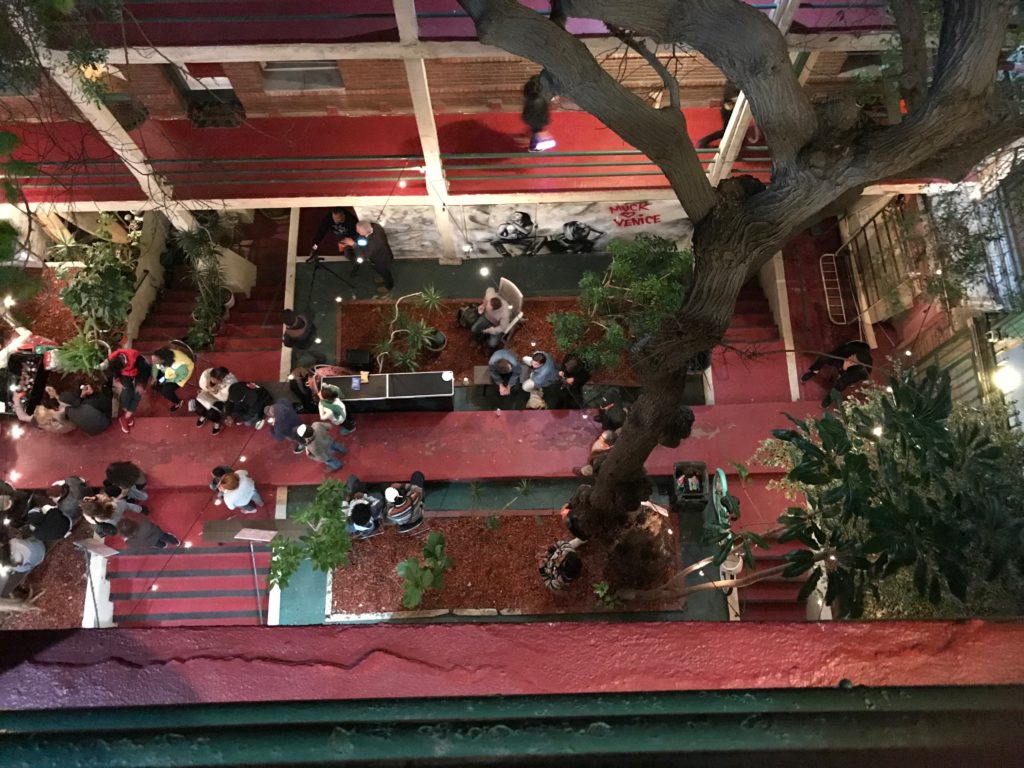 ---
Apartment Renter: Short-term guests begin lining up around 11 a.m., spilling out onto the street as other guests check out.
---
Home-sharing

. This cozy phrase once conjured images of a homeowner generously opening up a room to out-of-towners—while the fee charged by the owner helped him with mortgage payments. Or perhaps we pictured an apartment dweller who left for the weekend and made a little extra cash letting someone else use the premises.
But the present reality of home-sharing is not so cozy for single-family residential neighborhoods, where out-of-town guests may feel no social pressure to allow the neighbors a peaceful night's sleep or to not trash the rental home.
To see today's home-sharing up close, visit the Ellison Suites in coastal Venice, just a block from the famed Venice Boardwalk. Built in 1913 and covered with gigantic murals of Jim Morrison, Marilyn Monroe, John Hurt and Lana Del Rey, it boasts 58 units—but only 12 apartments are occupied by permanent tenants, according to one resident.
---
"We used to have neighbors for 20 years—now we have them for 20 hours."
---
Beyond the Ellison's courtyard, people bump wheeled suitcases up the building's front steps and, on Fridays, signs advertise the night's upcoming party. It might offer a fire dancer, but most parties will at least include free beer and wine — and music that reverberates up through the courtyard.
"We used to have neighbors for 20 years—now we have them for 20 hours," said Bruce Kijewski, one of the remaining tenants, who has lived here since 1977. In the summer, he said, guests begin lining up around 11 a.m., spilling out onto Paloma Avenue as other guests check out.
An online search for The Ellison Suites yields a number of home-sharing and lodging platforms—Booking.com and Expedia among them–advertising its amenities as a short-term beachside rental. The building's own website promotes it as a vacation destination, extolling Jonas Never's murals as "Venice Masterpieces."
The displacement of tenants by large-scale operators who turn their buildings into de facto hotels hit hard in urban areas like Greater Los Angeles, which is plagued by a nearly three percent rental vacancy rate.
While mom and pop are in on some of the home-sharing, today its booming business model most benefits commercial operators who can make more on short-term rentals (STRs) than on permanent residents.
STRs are promoted by a slew of home-sharing platforms, including Airbnb, now valued at $31 billion as it moves toward being publicly traded; and HomeAway and subsidiary VRBO, valued around $3 billion in 2015. The platforms profit by collecting a percentage on every rental offered on their sites by home-sharers.
Local municipalities are scrambling to figure out and ameliorate STR impacts on their neighborhoods and housing stock. In May, a Los Angeles City Council measure was sent to the city attorney's office for language changes and is expected to go before the city planning commission in September. The proposed ordinance would set up a permitting system for short-term rentals and establish a 120-day yearly limit for home-sharing. Two nuisance violations—enforced by a city agency—could get an operator's permit revoked.
The Ellison Suites, zoned as a rent-stabilized apartment building, in effect operates as a hotel.
The lowest nightly rate listed on the website is $149. That apartment, when rented to vacationers, could yield $4,470 monthly.
With the Ellison's current rent-stabilized protections, it's hard to straight-up evict someone, but there are ways of persuading them to flee their apartments to make them available for tourists and other visitors.
Michael and Susanne Detto, Ellison residents for 14 years, rented their apartment for $2,000 a month before they moved out in May. All-night parties in the courtyard below their apartment made it impossible to sleep—both work 12-hour shifts as nurses. "It was so loud we couldn't even talk to each other," Susanne Detto said.
Breakdowns in maintenance–power outages, faulty plumbing, leaking ceilings—plus an altercation with management during one of the raucous parties were all part of what the Dettos claim drove them out.
"Especially in summer, he makes three times the money if he rents out every day," Michael Detto said of the Ellison's landlord.
Kijewski and other Ellison tenants say landlord investment goes into creating a hotel entertainment experience rather than supporting habitable apartments. Residents have filed dozens of complaints with the city against building owner Lance Jay Robbins' Paloma Partnership LLC, citing bad plumbing, inadequate water supply, construction without permits and change of use/occupancy without a building permit. (Multiple attempts to get a response from Robbins for this story were unsuccessful.)
---
Michael spoke wistfully of a community where neighbors once shared poetry readings, art discussions and fundraisers in the courtyard now occupied by high-octane weekend parties.
---
The company appealed the building's status to Los Angeles' Building and Safety Commission, arguing that short-term rentals should be allowed because the city's initial certificate of occupancy designating the Ellison a residential apartment was in error and that the building is a hotel.
The company lost. Another appeal is headed for the city planning department.
Meanwhile the Ellison continues to advertise online as a hotel.
With today's lucrative rates of return, it's easy to see why, for large-scale operators, short-term stays make for a more attractive business model than permanent housing. Customers staying for a few nights might do some hating online, but won't be there to press on long-playing maintenance issues.
Tenants at the Metropolitan in Hollywood experience the same push-out climate as Ellison residents, according to Susan Hunter, a case worker with the LA Tenants Union, which is part of a coalition that includes representatives from Los Angeles' hotel industry, labor unions and community groups.
Hunter counts a dozen permanent residents remaining in the sleek, 12-story high-rise that boasts sweeping views of Hollywood and sits within walking distance of Hollywood Boulevard sites.
The website for Apartments.com says there are no apartments presently available.
Zoned as a residential building, the 52-unit Sunset Boulevard property owned by the Harridge Development Group is advertised online as an "apartel." Tenants approached for this story didn't want to speak, they said, for fear of retaliation, but they have complained to Hunter of loud parties, with fighting in the halls and kicked-in doors.
Apart from creating chaotic conditions for tenants sharing space with STRs, the home-sharing model leaves an even larger social footprint. The incentive for large-scale operators everywhere to acquire units—including entire homes — and move them off the permanent housing market places upward price pressure on housing.
From Seattle to New Orleans to Barcelona and beyond, housing advocates are assessing the effects of short-term rentals on housing markets and figuring out how to respond.
In New York City, short-term rentals have resulted in a loss of as many as 13,500 rental housing units, according to a January 2018 report from the School of Urban Planning at McGill University. (The study was commissioned by a labor group opposed to home-sharing.) New York has passed legislation requiring registration and other monitoring measures.
A 2015 San Francisco Board of Supervisors Budget and Legislative Analyst report estimated that Airbnb short-term rentals alone had removed between 925 and 1,960 units from the city's housing market. These, along with 8,000 units already being used for short-term rentals, add up to an 11 percent reduction in rental housing.
Like other cities, San Francisco has aimed to define and enforce the number of nights STRs are permitted. Studies based on data from insideairbnb.com show that, in Los Angeles, renting out a property as a short-term rental for 83 nights or more annually produces more profit than the property could earn as a long-term rental.
In San Francisco, the cradle of Airbnb and adjacent to tech hubs, municipal leaders face an affordable housing shortage and a vacancy rate below three percent, and have established a registration process for short-term rental hosts. Regulations set a cap of 90 days per year for hosts that don't live on the property. Violators are subject to stiff fines.
Seattle, headquarters of several tech giants, took an approach that attacks the short-term rental issue as part of the affordable housing problem. The city defines a short-term rental as a maximum stay of 29 nights and sets up a licensing system.
Using a wider lens on the affordable housing crunch, the city council in May approved an "Amazon tax" that charges the larger employers such as Groupon and Amazon $275 per worker annually to support housing and homeless services. (The city council repealed the tax in August.) Seattle comes in third, behind only New York and Los Angeles, in the numbers of homeless, while boasting only a fraction of those cities' total populations.
Joan Ling, an urban policy analyst who has worked in affordable housing and mixed-use development for over 30 years, supports short-term rental regulation but sees it as only a piece of the larger question of creating affordable housing to support working families. Los Angeles, she said, "has a ways to go . . . Anything is better than nothing. What [regulation] can do is reduce the harm that can be done [by] removing units. The affordability crisis is so pervasive, so deep—we need a huge number of policies to address the crisis."
Michael and Susanne Detto are happy living in their new apartment in Santa Monica—no all-night parties, the plumbing works and it's a 10-minute walk to work. But before the Ellison got pieced out for short term-rentals, the couple also liked their Venice home.
Michael spoke wistfully of the community where neighbors once shared poetry readings, art discussions and fundraisers in the courtyard now occupied by high-octane weekend parties.
Susanne likes where the couple landed, but reflected on the overall cost as tenants got pushed out by the STR model.
"We lost a lot. We lost a lot of our neighbors. We're still kind of recovering."
---
Copyright Capital & Main