Healthcare vs. Wealthcare: How UCLA Embraced Hollywood and VIP Medicine
How do you get the best quality health care in the University of California's renowned public medical system? At UCLA's Ronald Reagan Medical Center it's a gold-colored wallet card with a personalized number to call. When flashed from a gurney in the ER (or at a club to impress friends), the card means one thing: The patient in question is a VIP.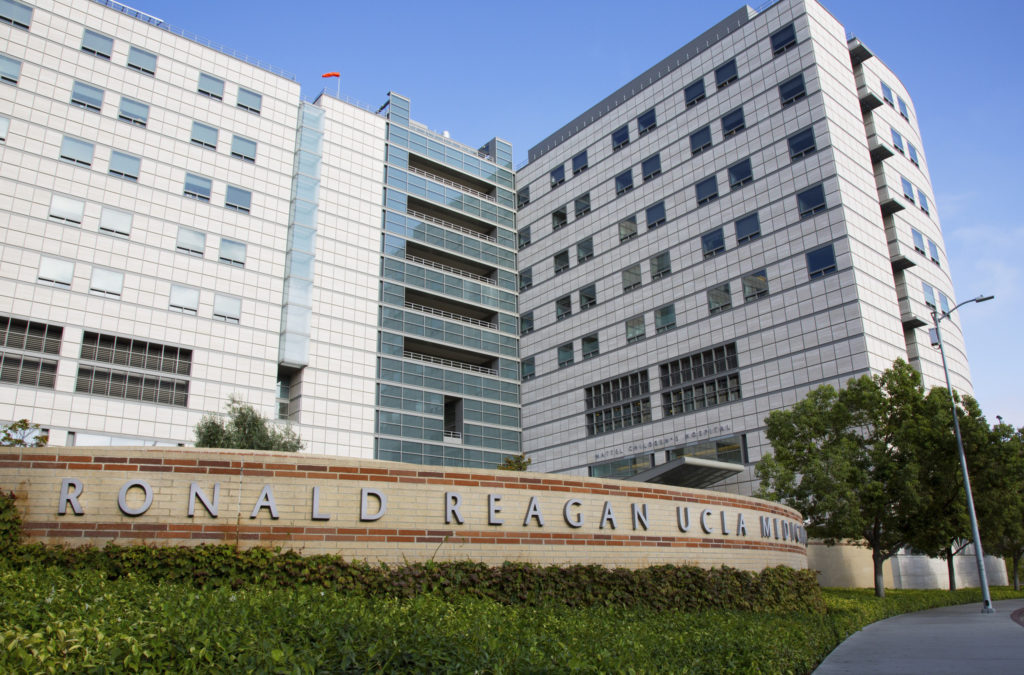 Photo by Pandora Young
Part Two of a Two-Part Series About UCLA's Concierge Medicine Program
When Dr. Gerald S. Levey left his job at pharmaceutical megacorporation Merck & Co. to take over UCLA Medical Center in September 1994 as the new dean of the medical school and vice chancellor of medical sciences, he faced two emergencies.
One was a wrecked medical center, no longer safe for patients, thanks to the Northridge earthquake that occurred earlier that year. The second was the University of California system itself, bleeding $433 million in funding cuts because of California's perennial budget crises prompted by the 1978 passage of Proposition 13, and forcing UCLA to slice $45 million from the medical center's operating budget and to slash 1,000 jobs. The prognosis for the 57-year old Levey's vision of leading a rebuilt—and fundamentally restructured—UCLA Medical Center into the 21st century was less than sanguine.
Guided by high-powered movers-and-shakers like superagent Michael Ovitz, the New Jersey-born Levey's introduction to Hollywood helped attune his strategy to the entertainment industry's peculiar culture—it was all about VIPs. The annual Aesculapians Ball benefiting the medical center was held on a soundstage on the 20th Century Fox lot, with entertainment provided by Frank Sinatra or Barbra Streisand, attracting the upper crust of Hollywood's elite; as many as 1,500 invited guests raised more than $3 million in one night. According to Never Be Afraid to Do the Right Thing, Levey's instructive memoir, his Eight Principles of Fundraising include Principle Five: "Donors to AHCs [Academic Health Centers] expect the quid pro quo: access to the best medical care."
And that, they got. Levey helped ensure this by quickly promoting an assistant in the dean's office named Jane Cubicciotti, who was its donor liaison, to be the director of the newly minted Division of Special Services. By giving her a staff to run and a title (and higher pay grade), Levey institutionalized what had been an ad hoc practice of doling out favors to UCLA donors and celebs, extending as well, in Levey's account, to calls from "public officials, regents, other campus units and the chancellor."
For her part Cubicciotti, who still works from the dean's office, told Capital & Main she is doing the same job she's always done since 1989, and had only good words for her retired boss. "Dr. Levey is the most compassionate, good-hearted man. We never bent the rules, we'd never do anything that was unethical."
Adds Dr. Evangelatos, a former UCLA resident doctor who later worked with Levey and Cubicciotti at Special Services: "Dr. Levey saw the significance [of the medical center's longstanding VIP policy] and made it much more important than before. No one had done it this way before."
Dr. Robert Pedowitz, who served from 2009 to 2010 as chairman of the UCLA Department of Orthopedic Surgery, noted the direct link between donors and preferential access when he first arrived at UCLA. Pedowitz said Levey told him that the dean's office maintained a special relationship with major donors. "Levey gave them his phone number," Pedowitz told Capital & Main, "responded to their calls, and helped work them through the system. They were proud of that."
Levey's phone number was a privilege accorded mainly to UCLA benefactors, often denizens of L.A.'s leafier, high-net-worth neighborhoods, many of whom can still recount dire occasions when it came in handy. (Dr. Levey was unavailable for comment for this article, his office said.)
When he stepped down in 2010, Dr. Levey received universal kudos for rebuilding the institution, during his 15-year tenure, into one of the nation's top research, teaching and treatment centers. Entertainment industry contributions, led by UCLA-alumnus Ovitz (who, with his wife, donated $25 million), helped cap the $1.3 billion building fund. The opening of the I.M. Pei-designed Ronald Reagan Medical Center in 2004 was Levey's crowning achievement, and no less a monument to his ability to coax Hollywood largesse than the record-setting $300 million in contributions from entertainment mogul David Geffen, whose name today graces UCLA's medical school.
" Academic medical centers survive or die on philanthropy," said Dr. Pedowitz. He observed that, based on his experience at other teaching hospitals, UCLA's favoritism toward well-heeled patients is not unique. In Pedowitz's view, however, UCLA's VIP policy is related to the same issues of a profit-oriented culture at UCLA that caused Pedowitz to file a whistleblower-retaliation lawsuit in 2012, accusing the institution of covering up corruption and physician misconduct at the David Geffen School of Medicine. The lawsuit, which involved allegations of unreported payments and conflicts of interest concerning medical-device manufacturers, was settled two years later by UCLA with a $10 million payment to Pedowitz, while denying any wrongdoing. Under scrutiny from consumer groups after several similar incidents, the medical center has since increased staffing in its compliance department.
The reproach for prioritizing profit focused on UCLA's Liver Transplant Program when it came to light that some members of the Yakuza, the Japanese mafia, had jumped the line for liver transplants between 2000 and 2004, a period of organ donor shortage, a charge that UCLA has publicly denied — while confirming that at least $200,000 was received in donations.
It may seem clever to impose a kind of unofficial tax on the wealthy to help underwrite UCLA's services to the community at large. Pandering to benefactors' desires to be pampered, to see their names on buildings and to mingle at fancy galas where their names appear on the program among the rich and famous, is a relatively small price of doing business.
Philanthropy, in the age of reduced state budgets, and in lieu of a truly comprehensive national public health-care system, fills a gap. The recently announced $10 million gift from advisory board chairman Henry Gluck and his wife will launch a fleet of mobile stroke units, a first for L.A. The CT-scanners-on-wheels contain advanced technology to diagnose heart attacks and speed appropriate treatment. Thanks to Mr. and Mrs. Gluck—whose names, emblazoned on the vehicles, will remind Los Angeles of the couple's largess—many lives will undoubtedly be saved.
But other countries, such as Germany, where health care is a national priority, also have mobile stroke units. In fact, the specialized stroke ambulance services were invented and developed in Homburg and Berlin by teams whose leaders included renowned neurologists Dr. Klaus Fassbender and Dr. Heinrich Audebert. The Berlin project was co-funded by the European Union and joined by German federal authorities and state governments, according to Dr. Audebert.
"From a European perspective, it is really surprising that so many U.S. activities are sustained by charity funds," Dr. Audebert told Capital & Main in an email. "German, and most other European citizens, expect the state [to] cover costs that are politically agreed to be necessary for our social system."
Dr. Audebert confirmed that his name appears nowhere on the mobile stroke units he helped to innovate.
Some medical ethicists believe that when it comes to mobilizing the political will to fix the nation's imbalanced medical structure, the concierge medicine trend exemplified by UCLA Medical Center's VIP program may be counterproductive.
"No real health-care reform will take place until some bigwig, or his or her child, spouse, lover, sibling or parent gets really bad care at the hands of our dysfunctional health-care system," says Dr. Roy Poses, a physician on the faculty at Brown University, on his Healthcare Renewal blog. "If the rich and powerful can insulate themselves from the dysfunction of the current health care system, do not expect their sympathy or support in reforming this system."