"Happiest Song" Stage Production Hits Sour Notes
Playwright Quiara Alegría Hudes pays special homage to the folk music, food and familial culture of the Puerto Rican community, but her story winds through a mountain of prosaic exposition.

The Happiest Song Plays Last

ends happily for its pivotal characters —and also, perhaps, for discerning theatergoers, who can't wait to flee this lemon of a production.
Produced by the Latino Theatre Company and directed by Edward Torres at the Los Angeles Theater Center, this is the final installment in Quiara Alegría Hudes' Elliot trilogy. (The two earlier titles were Elliot, A Soldier's Fugue and Water by the Spoonful, produced by Center Theatre Group at the Kirk Douglas Theatre and Mark Taper Forum, respectively). Here, the playwright pays special homage to the folk music, food and familial culture of the Puerto Rican community. She also spotlights the current protest movements on the left (in the U.S., Mexico and Puerto Rico), tips her hat to the Arab Spring, critiques the American health-care system, and alerts us to the careless slaughter of Iraqi civilians by American soldiers and the problems of Iraqi expatriates. And that's just the background stuff.
The story begins in 2010. As in Water by the Spoonful, it revolves around the fortunes of two cousins, who stay in contact via email: Elliot (Peter Pasco), an Iraqi war vet turned actor, and Yaz (Elisa Bocanegra), a music professor now living in poverty-blighted North Philadelphia, where she cooks for, and otherwise assists as many of her struggling neighbors as she can.
Elliot (who was played by a different actor in Water by the Spoonful) has undergone a transformation. In Spoonful, the character walked with a pronounced limp, the result of a war injury, and spoke with someone's erroneous idea of how Philadelphians talk. Here, however, he's been miraculously healed and is as spry as any athletic 20-something. Fortune has smiled on him; hired as a film's combat consultant because of his military experience, he's now starring in a movie about the Iraqi conflict, replacing the original lead who proved to be too truculent and unfit. His friends include Shar (Vaneh Assadourian), a young American actress of part Middle Eastern descent, and Ali (Kamal Marayati), a native Iraqi who's emigrated with his family to Jordan for a better, safer life.
The three shoot their takes and chat about their pasts and news of the Arab Spring, which Elliot is itching to observe first-hand. Meanwhile Yaz, glimpsed in her kitchen amidst a pile of pots, is contemplating a fling with Agustín (Al Rodrigo), a guitarist and longtime married friend who wants her to have his child. She's also playing mother hen to Lefty (John Seda-Pitre), a mentally displaced homeless person who addresses her as "mom" and relies on her for emotional support as well as for food and sometimes shelter.
Shifting between narratives, the play winds through a mountain of prosaic exposition as the characters talk about where they're coming from and where they'd like to be (or in the case of Yaz, about neighbors and acquaintances whom we never see). The emails between the two cousins are about as exciting as the ones you may have received from your accountant cousin in Buffalo. Under Torres' direction, the performances, which can often salvage and even elevate a so-so drama to great heights, lack texture and credibility. Only Marayati garners empathy as a kind and open man looking to bridge cultures and build friendships.
The staging (scenic design by Se Hyon Oh) does not help. The desert scenes are played out on the floor of the proscenium, without an effective backdrop to add ambience. The kitchen, always visible, is positioned upstage on a rise, in a cramped space that allows for little movement and makes for poor visibility. All I could see of Bocanegra much of the time was her back.
The best moments in the production are the musical interludes played by accomplished Puerto Rican guitarist Nelson González.
LATC, 514 S. Spring St., downtown Los Angeles; Fri.-Sat., 8 p.m.; Sun., 3 p.m.; Mon., 7:30 p.m.; through March 19. Thelatc.org.
---
Copyright Capital & Main
Two Cousins and a Magical Ice Cream Truck Figure in Leon Martell's New Play
Although not all of ICE's comedy clicks, Martell's story has both weight and charm. The production's overriding plus is its successful rendering, fashioned with humor and craft, of the difficulties immigrants face.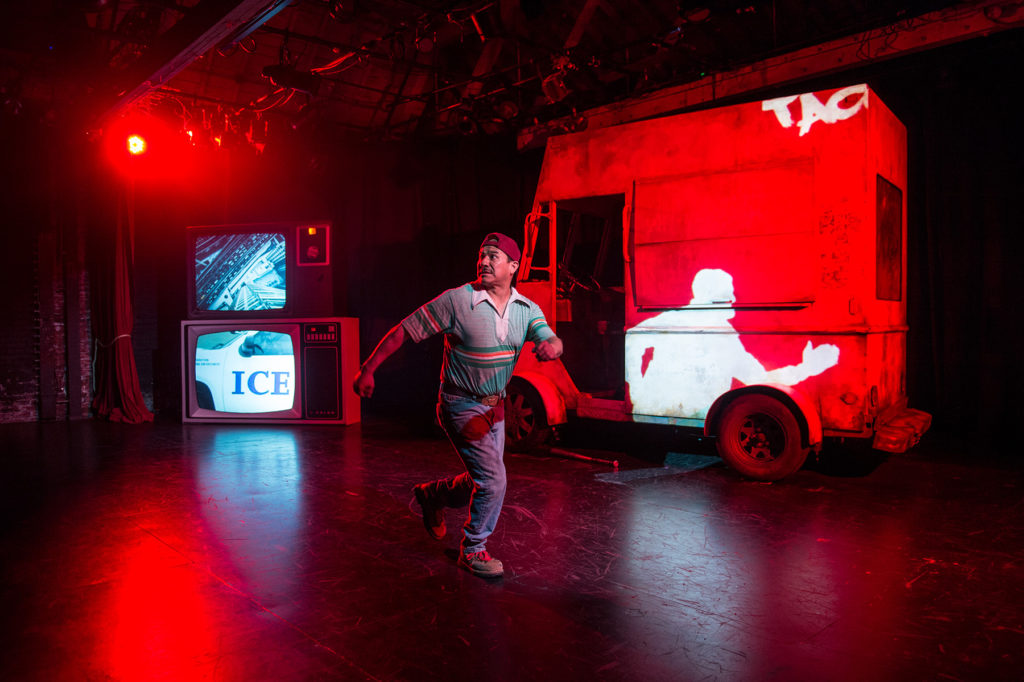 ICE, Leon Martell's family friendly play, takes place in 1988 and follows the misadventures of two undocumented immigrants: Chepe (Jesús Castaños-Chima), an avid baseball fan who dreams of making a fortune selling gourmet tacos; and his cousin Nacho (Tony Dúran), whom the beleaguered Chepe summons from Mexico to assist him in setting up his business. Directed by Debbie Devine at 24th Street Theatre, the show displays plenty of heart, not all of it realized in this premiere production. Despite this, there's enough political relevancy, moral truth and human comedy packed into the show's 65-minute time frame to overlook its shortcomings.
The core of the humor is the difference in personality between the two cousins. The ambitious Chepe is bitter and frustrated about his experience in America, where he's been cheated and lied to by bosses who exploit his labor and pay him next to nothing. Yet he's bought into the American Dream of money and fame, and to achieve that he's purchased a dilapidated old ice cream van to convert into a taco truck. It doesn't run, though, and the secret family salsa recipe is with his kin in Mexico. So, he phones home and implores his mechanic cousin to head north, bringing the salsa recipe as well as his skills.
Cousin Nacho, by contrast, is a sweet old-fashioned guy. He wants success too, but making money isn't the only thing he thinks about. He juggles tomatoes to make kids laugh and indignantly admonishes Chepe for his desperate inclination to do what it takes (steal tomatoes, for example) to score success.
Into the mix Martell tosses a blind, disgruntled priest (Davitt Felder), who plays guitar and wants to launch English classes for children in his parish (the archdiocese turns him down). Then there's Chepe's truck, which has opinions of its own. It breaks out in jingles at random intervals; later, it communicates with Nacho via blinking red letters that eerily appear on the side of the vehicle, furnishing the two men with simple directives and essential advice. When ICE (Immigration and Customs Enforcement) shows up, it alerts them to run.
Although not all of the comedy clicks, Martell's story has both weight and charm. The production's overriding plus is its successful rendering, fashioned with humor and craft, of the difficulties immigrants face. Its main weakness is Castaños-Chima's technically skilled but somewhat chilly depiction of his character, which leaves us wishing for more warmth and complexity. Felder appears awkward in his role of the blind priest, but proves versatile on video as Chepe's various nemeses. Dúran's naïve Nacho is a lovable presence from first to last.
Displayed on a monitor, Matthew G. Hill's video slides add historical and social perspective, and his backwall projections, in tandem with Dan Weingarten's lighting and Chris Moscatiello's sound, help conjure a magical aura to this parabolic piece.
24th Street Theatre, 1117 West 24th St., Los Angeles; Sat., 3 & 7:30 p.m.; Sun., 3 p.m.; through June 10, (213) 745-6516 or 24thstreet.org.
---
Copyright Capital & Main