"Happiest Song" Stage Production Hits Sour Notes
Playwright Quiara Alegría Hudes pays special homage to the folk music, food and familial culture of the Puerto Rican community, but her story winds through a mountain of prosaic exposition.

The Happiest Song Plays Last

ends happily for its pivotal characters —and also, perhaps, for discerning theatergoers, who can't wait to flee this lemon of a production.
Produced by the Latino Theatre Company and directed by Edward Torres at the Los Angeles Theater Center, this is the final installment in Quiara Alegría Hudes' Elliot trilogy. (The two earlier titles were Elliot, A Soldier's Fugue and Water by the Spoonful, produced by Center Theatre Group at the Kirk Douglas Theatre and Mark Taper Forum, respectively). Here, the playwright pays special homage to the folk music, food and familial culture of the Puerto Rican community. She also spotlights the current protest movements on the left (in the U.S., Mexico and Puerto Rico), tips her hat to the Arab Spring, critiques the American health-care system, and alerts us to the careless slaughter of Iraqi civilians by American soldiers and the problems of Iraqi expatriates. And that's just the background stuff.
The story begins in 2010. As in Water by the Spoonful, it revolves around the fortunes of two cousins, who stay in contact via email: Elliot (Peter Pasco), an Iraqi war vet turned actor, and Yaz (Elisa Bocanegra), a music professor now living in poverty-blighted North Philadelphia, where she cooks for, and otherwise assists as many of her struggling neighbors as she can.
Elliot (who was played by a different actor in Water by the Spoonful) has undergone a transformation. In Spoonful, the character walked with a pronounced limp, the result of a war injury, and spoke with someone's erroneous idea of how Philadelphians talk. Here, however, he's been miraculously healed and is as spry as any athletic 20-something. Fortune has smiled on him; hired as a film's combat consultant because of his military experience, he's now starring in a movie about the Iraqi conflict, replacing the original lead who proved to be too truculent and unfit. His friends include Shar (Vaneh Assadourian), a young American actress of part Middle Eastern descent, and Ali (Kamal Marayati), a native Iraqi who's emigrated with his family to Jordan for a better, safer life.
The three shoot their takes and chat about their pasts and news of the Arab Spring, which Elliot is itching to observe first-hand. Meanwhile Yaz, glimpsed in her kitchen amidst a pile of pots, is contemplating a fling with Agustín (Al Rodrigo), a guitarist and longtime married friend who wants her to have his child. She's also playing mother hen to Lefty (John Seda-Pitre), a mentally displaced homeless person who addresses her as "mom" and relies on her for emotional support as well as for food and sometimes shelter.
Shifting between narratives, the play winds through a mountain of prosaic exposition as the characters talk about where they're coming from and where they'd like to be (or in the case of Yaz, about neighbors and acquaintances whom we never see). The emails between the two cousins are about as exciting as the ones you may have received from your accountant cousin in Buffalo. Under Torres' direction, the performances, which can often salvage and even elevate a so-so drama to great heights, lack texture and credibility. Only Marayati garners empathy as a kind and open man looking to bridge cultures and build friendships.
The staging (scenic design by Se Hyon Oh) does not help. The desert scenes are played out on the floor of the proscenium, without an effective backdrop to add ambience. The kitchen, always visible, is positioned upstage on a rise, in a cramped space that allows for little movement and makes for poor visibility. All I could see of Bocanegra much of the time was her back.
The best moments in the production are the musical interludes played by accomplished Puerto Rican guitarist Nelson González.
LATC, 514 S. Spring St., downtown Los Angeles; Fri.-Sat., 8 p.m.; Sun., 3 p.m.; Mon., 7:30 p.m.; through March 19. Thelatc.org.
---
Copyright Capital & Main
'Skeleton Crew' Is a Play With a Moral Spine
Set in a Detroit automobile outfitting plant, Dominique Morisseau's drama grabs you from the start with its focus on blue-collar men and women, and their struggle for dignity and self-respect.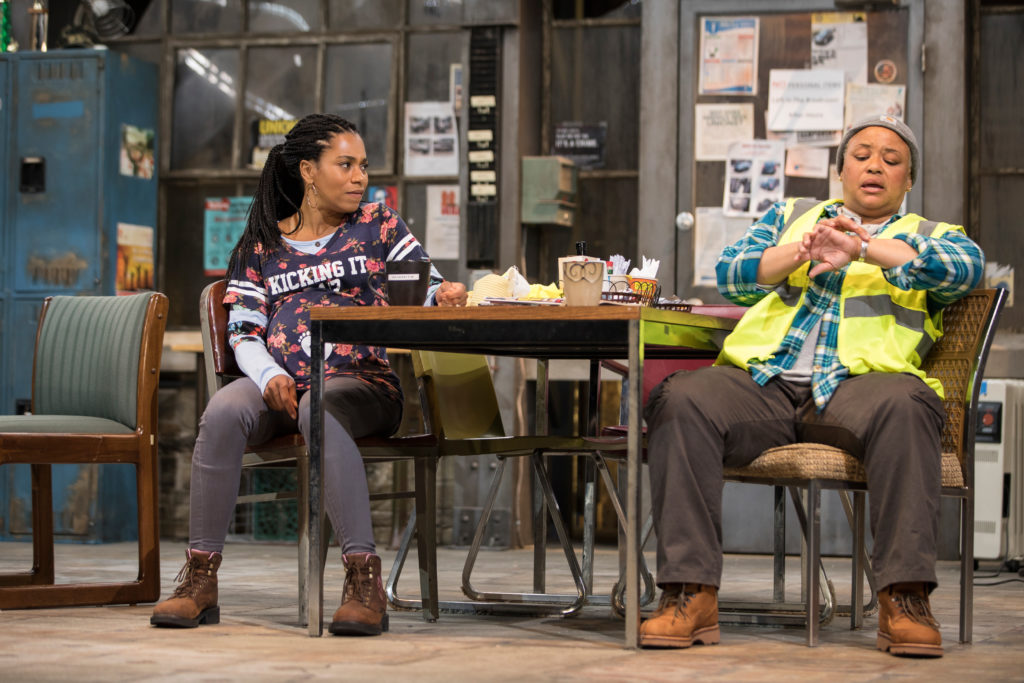 Working-class men and women of color are rarely front and center in today's media and, likewise, are presented all too occasionally on the American stage. So it's buoying to see that trend bucked in playwright Dominique Morisseau's percipient and well-crafted drama, Skeleton Crew. The play is the final installment in her Detroit  Project Trilogy; the first, Paradise Blue, is set in the 1940s amidst displacement caused by urban renewal and gentrification, while the second, Detroit '67, transpires on the eve of the 1967 Detroit riots sparked by a police action.
Directed by Patricia McGregor at Los Angeles' Geffen Playhouse, Skeleton Crew is a play with a moral spine. It takes place in 2008, when the shrinking U.S. auto industry is being further downsized. Morisseau's engaging quartet of characters — Faye (Caroline Stefanie Clay), Dez (Armari Cheatom), Shanita (Kelly McCreary) and Reggie (DB Woodside) – are employed at an automobile outfitting plant. Faye, Dez and Shanita are workers on the line while Reggie (who has a wife and kids, and has pulled himself together after a troubled youth) is their supervisor.
The first three customarily mingle in their break room (designer Rachel Myers' impressively cluttered, dingy and detailed set), trading the sort of familiar barbs and genuine concern for each other common among longtime co-workers. They also face off on philosophy: Upper-middle-aged Faye and the younger, pregnant Shanita take pride in their labor, while Dez, though a good worker, is a malcontent scornful of management and firm in the belief that everyone needs to watch out for himself. He's a thorn in Reggie's side, for while Reggie wants to be supportive of his workers, he must act at the behest of higher management. For his part, Dez resents Reggie's authority, and a palpable unease exists between them.
Besides this male matchup, we're made privy to Dez's attraction to Shanita, who mostly turns away his advances, but every now and then displays a hint of interest. Most poignant is Reggie's regard and affection for the lesbian Faye, which has roots in his boyhood when she loved, and lived, with his now-deceased mom.
These people's various predicaments intensify when rumors spread of the plant's shutdown — a disaster for all, but a particular calamity for the already near-broke Faye who, one year short of retirement, would lose her pension. The crisis forces each of these people to make a choice.
A sound piece of social realism, Skeleton Crew grabs you from the start in its focus on blue-collar men and women, and their struggle against odds for dignity and self-respect. Morisseau not only furnishes these characters a platform for their travails, she endows them with strong values, big hearts and the opportunity to choose between right and wrong.
Unfortunately, the performance I attended did not soar. Many exchanges lacked a fresh edge. The actors certainly had their characters down, but too often they appeared to be coasting on technique. (This seemed particularly true of Clay, who performed the role to great accolades in Washington, DC in 2017, also under McGregor's direction). Additionally, some of the stage movement was not entirely fluid; in confrontations, actors sometimes would just stand and face each other in an artificial way. And Cheatom's interpretation of Dez struck me as a bit overly churlish and depressive: I needed more glimpses of the intelligence and edge that would secretly attract the strong, self-directed Shanita.
The most compelling moments belong to Woodside, well-cast as a man trying his best in difficult circumstances to do the right thing.
---
Gil Cates Theater at the Geffen Playhouse, 10886 Le Conte Ave., Westwood Village; Tues.-Fri., 8 p.m.; Sat., 3 & 8 p.m. Sun., 2 & 7 p.m.; through July 8. (310) 208-5454 or www.geffenplayhouse.org