Growing Pains: Guest Farm Workers Face Exploitation, Dangerous Conditions – Part 1
Many migrant workers in California on H-2A temporary agricultural visas are forced to contend with unsafe working conditions, wage theft and other labor law violations.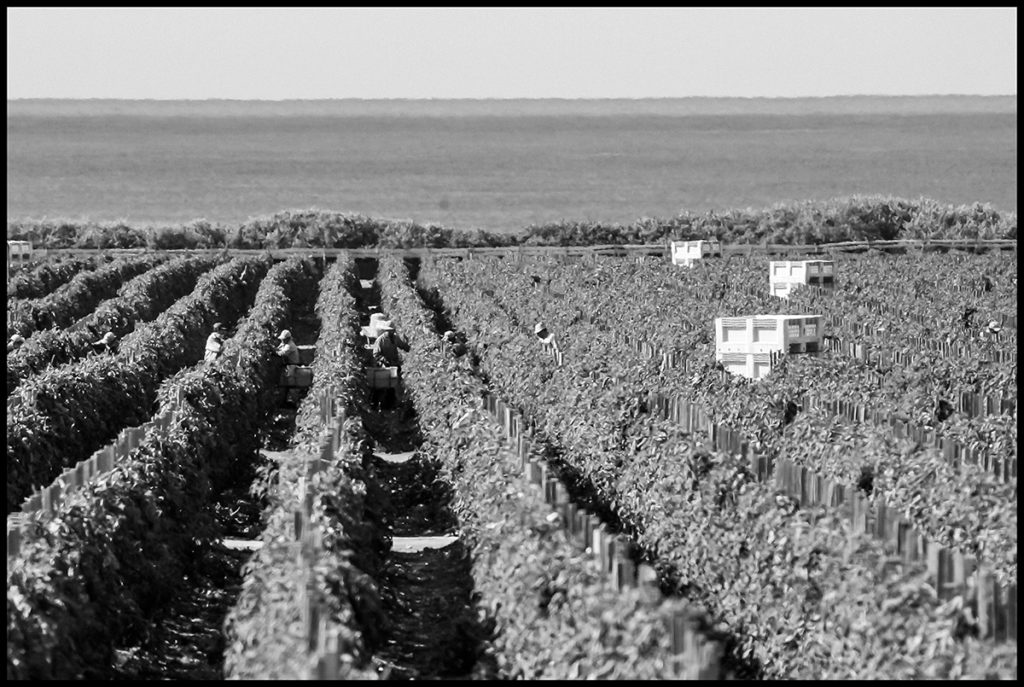 [tps_footer][/tps_footer]
Tomato grower Harry Singh had an idea for speeding up the harvest in the fields he rents at the Camp Pendleton Marine Base near San Diego. His foreman told Serafín Rincón, 61, to pick beside two imported contract workers in their 20s. In the summer heat, Rincón was told to run. He could hardly keep up.
Rincón had come to work with his friends Santiago Bautista and Rufino Zafra. They were all longtime farm workers in the area. Bautista had been working in San Diego since 2003, and Zafra since 1975. All day they had to listen to shouting and insults from their boss when they fell behind. "Stupid donkey, you're old now," he shouted at them. "You can't make it anymore!"
The three even started trying to hold it when they had to go to the bathroom, after being yelled at for going too often. Not that using those bathrooms was a pleasant experience. The toilet paper ran out so often they started bringing their own from home. Zafra would even wipe down the filthy port-a-potty with paper towels. The drinking water tasted like "hot soup," Bautista said. He had a heart attack at work, but still the foreman wouldn't let him stop working. A medical examiner said later the attack was caused by his working conditions.
Finally Rincón was fired, and the three sued Harry Singh's company, West Coast Tomato, over the abuse.
---
Migrant farm worker Santiago Bautista had a heart attack at work, but his foreman wouldn't let him stop working.
---
Singh was one of the first growers to bring H-2A temporary agricultural workers to California. These young, mostly male workers are recruited in other countries, mainly Mexico. They're given visas that allow them to work in the U.S. but tie them to the employer that recruits them. "Many of the younger workers whom our plaintiffs had to keep pace with were H-2As," explained Jennifer Bonilla of California Rural Legal Assistance. She introduced expert testimony of Dr. Kenneth Silver, who tied the speedup to the production requirements given the younger H-2A workers.
The U.S. Department of Labor allows growers to put production quotas into the contracts under which workers are recruited to come to the U.S., and to fire workers for not meeting them. If H-2A workers get fired before the end of their contract, they lose its guaranteed weeks of work and pay. They also become immediately deportable. The grower doesn't even have to pay their transportation to the border, much less to the town they came from.
That gives a grower a lot of leverage to get workers to work at an inhuman pace. And because the H-2A workers can be forced into it, workers who are living in the U.S., and laboring at the same job, get pressured into it as well. Humiliation, firings and even heart attacks are the result.
The Impact of the Explosive Growth of H-2A
This is just one impact on farm workers in California of the explosive growth of the H-2A guest visa program. Like everything connected to the state's agriculture, it's big business. California farm sales reached $46 billion in 2016 – an enormous production of food that has little to do with agribusiness' oft-declared goal of "feeding the nation." Almost half of what's grown here leaves the country, in exports worth $20 billion.
Employing at peak season almost three quarters of a million people (719,000 in 2017 in California alone), this enormous industry needs workers. The growth of a captive, low-wage and vulnerable workforce at its heart has a profound effect, not just here, but across the nation.
Growers applied to the U.S. Department of Labor for certification to bring 44,619 H-2A workers into U.S. fields in 2004. Last year the number certified had grown to 200,049 — an increase of over 450 percent in little over a decade. California growers brought in 3,089 H-2A workers in 2012. In 2017 that had mushroomed to 15,232 — a 500 percent increase in just five years.
---
California growers brought in 15,232 H-2A workers in 2017 — a 500 percent increase in just five years.
---
The impact of guest workers will grow even more severe if Congress passes a bill (H.R. 4760, "Securing America's Future Act") that would not only put H-2A on steroids, but would do away with what little (mostly unenforced) protections currently exist for farm workers, both resident and recruited. Farmworker Justice, an advocacy group for farm workers in Washington D.C., calls the bill a "virulently anti-immigrant and anti-worker piece of legislation." And four cabinet secretaries in the Trump administration have already promised growers to make the H-2A program more grower-friendly.
Growers claim that because of increased border enforcement, the number of available farm workers is falling, although the industry employed virtually the same number, 724,000, 20 years ago. "There is a severe ag labor shortage, and it's only going to get worse," wrote Tom Nassif, president of the Western Growers Association, on the WGA webpage. "Changing demographics and stringent regulatory barriers are causing the flow of workers crossing the border to dramatically slow down." The Department of Labor estimates that about half of U.S. farm workers are undocumented, and in California the percentage is higher.
Unemployment in California's farm worker towns, however, is always much higher than in urban areas. In April, for instance, the unemployment rate in Imperial County was 14.4 percent, in Merced County 8.7 percent, and Monterey County 6.7 percent. (In Los Angeles it was 4.1 percent and San Francisco 2.1 percent.) Yet according to Nassif, "Increased pay and overtime benefits aren't going to attract any additional workers to the field. Those extra workers don't exist."
In reality, farm wages have been falling since the late 1970s, when the United Farm Workers was at its peak strength, and the base labor rate in union contracts was twice the minimum wage. Even non-union employers had to compete for workers by paying union wages. Today the average wage of California farm workers is just above the minimum wage — $11.68/hour by one estimate. The H-2A program, critics charge, allows growers to keep wages low, giving them an alternative to raising pay to attract labor.
Another CRLA case against Harry Singh dramatized the way West Coast Tomato could pit H-2A workers against local laborers to reinforce low wages and unsafe working conditions. The suit, Espinoza et al. v. West Coast Tomato Growers, accused the company of evading two legal requirements — that it hire local residents before recruiting H-2A workers, and that it pay local workers at least as much as it pays the imported laborers. CRLA's plaintiffs included Elisa Valerio, Guillermina Bermudez and Felix Gomez, experienced local farm workers employed in the West Coast Tomato packing shed.
Once tomatoes are picked, they're brought into a hot cavernous building where they're sorted on high-speed conveyor belts. The three workers described intense pressure to maintain a very fast work pace, much like what Rincón experienced in the fields.
Both local and H-2A workers did the same work. West Coast Tomato, however, called the H-2A workers "packers" and the resident workers "sorters." Its application to the Department of Labor claimed it couldn't find local "packers" and therefore needed to fill jobs in the shed with H-2A workers. West Coast would hire only local workers as "sorters."
Then the company paid sorters less than the H-2A wage. This rate, called the Adverse Effect Wage Rate (AEWR), is set every year by California's Employment Development Department. In 2014 it was $11.01/hour. The three workers, however, were paid the minimum wage — $8/hour until July 2014, and $9/hour afterwards — because they were "sorters" and not "packers."
Both the older local workers and younger H-2A contract laborers had to meet high production quotas. If the line stopped, the three plaintiffs said, the company docked their pay until it began again (a violation of state law). And when it was running they couldn't even leave to use the bathroom. Valerio, Bermudez and Gomez couldn't keep up and were fired in August 2014.
U.S. District Court Judge Thomas Whelan rejected West Coast's classification scheme, saying it allowed the company "to hire H-2A workers as 'tomato packers' without a legitimate shortage of qualified Americans and pay them more per hour than its American equivalent 'tomato sorters.'"
CRLA Litigation Director Cynthia Rice charged, "It's good that we can win these cases and get justice for some workers, but it's a small number compared to the total number of H-2A and affected resident workers in the California workforce."
Read part 2 of the story: Migrant workers housed like sardines, and the use of immigration enforcement to expand the H-2A visa program.
---
Madeline's Amazing Cool Room: A Silver Lake Eviction Tale
Taylor Equities' purchase of a 36-unit building was followed by renter complaints of harassment and disruptive construction. Then came the eviction notices.
---
An estimated 30,000 eviction cases are filed in court each year against Los Angeles city residents, with nearly a million cases filed nationally in 2016.
---
It was the last evening that 7-year-old Madeline Peffer would spend in the only home she had ever known. She indulged a reporter with a tour of her now-empty bedroom — a converted closet that had fit a canopy bed, dresser and table, and that had recently been the happy scene of fort-making with a friend.
The walls were colored with chalk, a form of art therapy that her parents had allowed in the wake of their impending eviction from this apartment in Silver Lake, the trendy Los Angeles neighborhood that has become increasingly out of reach as a home for the artists and musicians who have given the area its luster.
Exuberantly drawn hearts and stars, and the proclamation "Madeline's Amazing Cool Room," said as much about the wrenching nature of the proceedings as the signs that tenant activists would carry in a street protest later that evening.
---
White households have lower eviction rates than African-American households, regardless of education, according to a survey from Apartment List.
---
Los Angeles-based Taylor Equities' purchase of the 36-unit building last March was followed by renter complaints of harassment and disruptive construction, and the departure of tenants, a dozen of whom had their leases terminated by the new owner "without cause."
"There were so many workers onsite," said Melinda Peffer, Madeline's mother. "They would block you from getting out of your unit, block you from getting down your stairs, block your car from getting out. Many tenants who became tired of break-ins and of "coming to a place that was dangerous, loud and filthy" left of their own accord, she added. She estimates that fewer than 10 of the original residents are left.
In May a dozen tenants, including the Peffer family, received a 90-day "notice to vacate" their apartments. Because the Waverly apartments are not covered by the city's rent control ordinance, the tenants can be evicted without cause in what is called a no-fault eviction.
What happened at 2965 Waverly Drive is hardly unheard of in a city known for low wages, high rents, and housing and homeless crises that have left thousands in the street. An estimated 30,000 eviction cases are filed in court each year against Los Angeles city residents, with nearly a million cases filed nationally in 2016.
Perhaps what makes the Peffer family's story different from those of many families who face an eviction is that Madeline's parents are professionals. They are also white and native to the U.S. (White households have lower eviction rates than African American households, regardless of education, according to a survey from Apartment List.) The Peffer family also made the choice to fight their removal from their home in court.
---
Activist Lawyer: "You can live somewhere for 15 years or 50 years and your old or new landlord can decide that they want to evict you and that's it."
---
Noah Grynberg is a partner at the Los Angeles Center for Community Law and Action in Boyle Heights, a mostly Latino, heavily immigrant neighborhood that has faced its own gentrification battles. Grynberg's clients, some of L.A.'s poorest residents, are asked by his group to pay for their eviction defense by participating in tenant organizing, including by engaging in collective bargaining with landlords.
He believes the housing crisis will be tackled more quickly if families who have choices, like the Peffers, battle for tenants' rights. "Unfortunately, people take notice more often."
*   *   *
In an email to Capital & Main, Steven Taylor, 2965 Waverly's new landlord, rejected tenant-rights activists' charges that he harasses residents or that his business practices are contributing to the housing crisis. Taylor Equities, he wrote, has invested "hundreds of thousands of dollars" in the Waverly Drive apartments, installing security cameras, replacing windows, adding laundry facilities and updating plumbing. "Unfortunately, it's just not possible to do that kind of work without some disruption." Taylor Equities owns at least a dozen apartment buildings in Los Angeles.
Taylor has come under fire before, from Los Angeles City Councilman David Ryu, who alleged that Taylor intimidated Los Feliz tenants living in another of his company's buildings. Taylor is known for acquiring properties, making upgrades and then seeking out higher-paying renters. Taylor's "whole M.O. is to displace low-income families to try to bring in wealthier tenants to pay his higher rents," said Coalition for Economic Survival's Larry Gross, adding that he has organized tenants at more than five of Taylor's buildings.
The solution to the housing crisis "is not forbidding landlords from fixing up dilapidated properties," wrote Taylor, who said that tenants at some of his properties include "low-income families, veterans and individuals at risk for homelessness."
---
The Peffers had lived for 17 years in their apartment, which is practically a stone's throw from their daughter's elementary school.
---
A fixed-up 950-square-foot, two-bedroom apartment in the Waverly Drive building — about the size of the Peffers'—advertised for $3,450 per month in early February on Apartments.com. The Peffers had paid $1,500 per month before they left and were prepared to accommodate a modest rent increase.
Last April a group of tenants emailed Taylor, introducing themselves as the Waverly Tenants Association, and set off a flurry of internal communications at Taylor Equities. Company director Rick Shugarman assured Taylor in an email, "We have the experience to work our way through this." Taylor wrote back, "Shit," adding, "maybe 60 day [sic] notice to quit is better now since 2 bedroom conversion will be public knowledge soon."
*   *   *
The Peffers had lived for 17 years in their apartment, which is practically a stone's throw from Ivanhoe Elementary School, which Madeline attends. Melinda Peffer appreciated being close to the school because her daughter suffers from osteogenesis imperfecta, a congenital condition that predisposes her to breaking bones.
Madeline has watched her mother emerge as a leader in the building's tenant union that formed last spring, as she hosted weekly meetings in the living room of their apartment. She said, "I'm glad that she's doing it, but it's also sad because she's spending all her time doing it and she gets into these arguments with my Dad because she's too stressed."
---
Harassment and "cash for keys" arrangements, in which landlords buy tenants out of their leases, are a major source of displacement in the city.
---
She has told only one friend from school about the eviction, a friend whom she knows can keep a secret. "Everybody is going to say it's not true because it's never happened to them," said Madeline, as she ate popcorn from a cup.
Grynberg describes the no-fault eviction procedure that the Peffers faced as "one of the most expedited legal processes that we have in California." In early December, Grynberg attempted unsuccessfully to use Taylor's email exchange with Shugarman as evidence that the company had retaliated against the Peffers for their participation in a tenants union. But their case failed to persuade a jury.
"You can live somewhere for 15 years or 50 years, which is the case for some of my clients, and your old or new landlord can decide that they want to evict you and that's it," said Grynberg.
---
The Peffers may be more privileged than some of the city's embattled tenants, but their ordeal—and their decision to become tenant activists—has taken a toll.
---
Overall, Los Angeles County has a lower eviction rate than the rest of the country, according to Princeton's Eviction Lab. But that is no reason to celebrate, said Gross, who added that harassment and "cash for keys" arrangements, in which landlords buy tenants out of their leases, are a major source of displacement in the city.
Melinda Peffer has been moved by the stories of other tenants she's met through her participation in the Los Angeles Tenants Union, an all-volunteer organization that formed in 2015 and now has eight chapters citywide. Their members have organized rent strikes and protested noisily outside landlords' homes — including Taylor's last November. She spoke of families who face steep rent increases in rodent- and cockroach-infested apartments "without any options whatsoever."
The Peffer family may be more privileged than some of the city's embattled tenants. Melinda works as a public relations consultant. Years of paying affordable rent at the Waverly Drive apartments allowed her husband Michael, a drummer, to go back to school and receive training to be a physician's assistant. But their ordeal—and their decision to become tenant activists—has taken a toll.
On a recent cold and rainy Thursday, Melinda Peffer wore a long coat, a plaid scarf, and low-heeled boots and looked polished enough to dash off to a meeting with a client. Instead, she lit one last fire in the hearth at her empty apartment and played host to half-dozen tenant activists as they waited for sheriff's deputies to arrive.
She spoke of some of last year's challenges: the anxiety about whether Madeline would be able to remain in her school, her husband's worry that publicity about their activism might impede his ability to find a job and their concern that a lost eviction case will make it more difficult to rent an apartment in the future. "I've lost business this past year, with the stress," she said.
For now, the family is "a little bit on top of each other" in temporary digs in Los Feliz that previously served as a short-term rental, said Peffer, reached by phone a few days later. But Madeline loves their new landlady, who learned about their plight after they lost their eviction case in early December. "That's helped her the most with transition," she said.
---
Copyright Capital & Main