Film & TV Crew Diversity Gets a Hearing – Boosted by California Tax Credits
Thanks to the state's $330 million tax incentive program, recovery is underway from a 20-year slump in California's film & TV production industry. By some measures, increased diversity in the rank-and-file appears to be a by-product of the boom.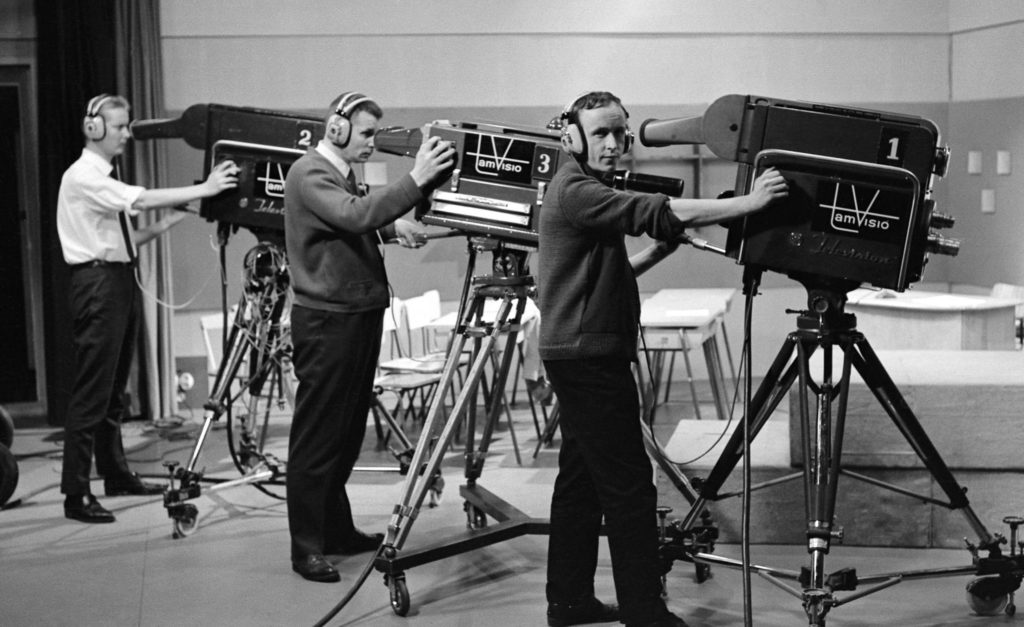 Camera operators for the Finnish Broadcasting Company, 1965.
On the eve of the 89th Academy Awards, while the red carpet was being rolled out for Hollywood royalty, and Big Four accountants were busy shuffling winners' envelopes, representatives of film and TV industry unions and guilds gathered with state lawmakers in a downtown LA hearing room for a summit on the wellbeing of Hollywood's working class.
"When people think of Hollywood, they usually think of Tom Cruise and Meryl Streep, Steven Spielberg and Denzel Washington—not the grips and location managers, truck drivers, casting and wardrobe," Steve Dayan, Secretary-Treasurer of Teamsters Local 399, told Capital & Main prior to the Friday afternoon hearing in the appropriately named Ronald Reagan State Office Building. His chapter represents 4,500 "below-the-line" film and TV industry workers.
Bottom line: thanks to the state's $330 million tax incentive program, recovery is underway from a 20-year slump in California's film & TV production industry. By some measures, increased diversity in the rank-and-file appears to be a by-product of the boom. Of 240 newly enrolled members of Local 399 in 2016 – a significant boost over previous years, Dayan reported to state assembly members Kansen Chu (D–San Jose) and Sebastian Ridley-Thomas (D-Los Angeles) who co-chaired the hearing – "one-third are people of color."
But can – or should – tax incentives be linked to diversity hiring? And if so, is the trend sustainable?
In a white paper titled "The Secondary Impact of California's Film and Television Tax Credit Program: Diversity?" Chu, who chairs the Committee on Arts, Entertainment, Sports, Tourism, & Internet Media, and Ridley-Thomas, who chairs the Committee on Revenue and Taxation, declared that the hearing's focus was to make sure the incentives delivered "maximum possible economic return on investment for all California taxpayers."
Presentations addressing that theme were delivered by executives from the International Alliance of Theatrical Stage Employees, the Screen Actors Guild-American Federation of Television and Radio Artists, the Directors Guild of America, and the Writers Guild of America, West.
The recently re-tooled and expanded incentives program, first passed in 2009 and now labeled 2.0, did away with a controversial lottery approach to awarding rebates and replaced it with a "Jobs Ratio" ranking system. Additional incentives have been added for in-state spending on musical scoring, visual effects, and locations outside of Los Angeles. Rebates are now focused on production budgets for nearly all but producers' and stars' salaries. Big-budget studio films as well as independents are now eligible, along with new TV shows and series that have relocated to California. The latter measure has successfully lured back seven shows, including ABC's American Crime Story, Secrets and Lies, and FX's American Horror Story.
Testimony from Amy Lemisch, Executive Director of the California Film Commission, delivered data from the past two years, with projections for the 2016-17 fiscal year showing that the rebates will spur $2.5 billion in direct in-state spending, including 6000 cast and 9900 crew member salaries. (That's a subset of the overall 165,000 people hired by 7,673 businesses in California, with total film and TV industry wages topping $18.4 billion in 2015, according to the most recent data compiled by FilmL.A. analyst Adrian McDonald).
According to Lemisch, minority hires are lagging, however, with voluntary reporting to payroll companies showing the lowest numbers for African-Americans, Asian-Americans, Native Americans, and non-white women. Hispanics have done only somewhat better.
Those numbers mirrored this year's annual report by UCLA's Bunche Center on diversity in film and TV lead actors, directors, and writers, which stated that minorities "remained underrepresented on every front in 2014-15."
The negative news was buttressed by testimony from representatives of the Motion Picture Association of America, USC Annenberg School for Communication and Journalism, the NAACP Beverly Hills/Hollywood Chapter, the National Association of Latino Independent Producers, and the Coalition of Asian Pacifics in Entertainment, all of whom emphasized the need for educational programs to channel minorities into the industry and propel them to executive positions where key hiring decisions are made.
While California's rising tide of production has the potential to lift all boats, national trends threaten any gains by organized labor, as right-to-work rules gain steam across the country. Lack of congressional support for federal tax incentives for film and TV allowed Section 181 of the Internal Revenue Code to lapse this year, opening the door for runaway productions finding better deals in Canada.
Administration policy has not yet touched on the issues discussed at the hearing, but Ridley-Thomas, whose 54th District encompasses many neighborhoods in LA County where entertainment industry paychecks are written and cashed, told Capital & Main that "a growing number of Republicans in California have expressed the wish to see their communities represented" in the benefits reaped from film and TV tax rebates.
Ridley-Thomas also observed of the first White House inhabitant to hold an executive producer title on a TV reality show while in office that "The president is uniquely aware of the film and TV industry."
That's another envelope yet to be opened.