Film & TV Crew Diversity Gets a Hearing – Boosted by California Tax Credits
Thanks to the state's $330 million tax incentive program, recovery is underway from a 20-year slump in California's film & TV production industry. By some measures, increased diversity in the rank-and-file appears to be a by-product of the boom.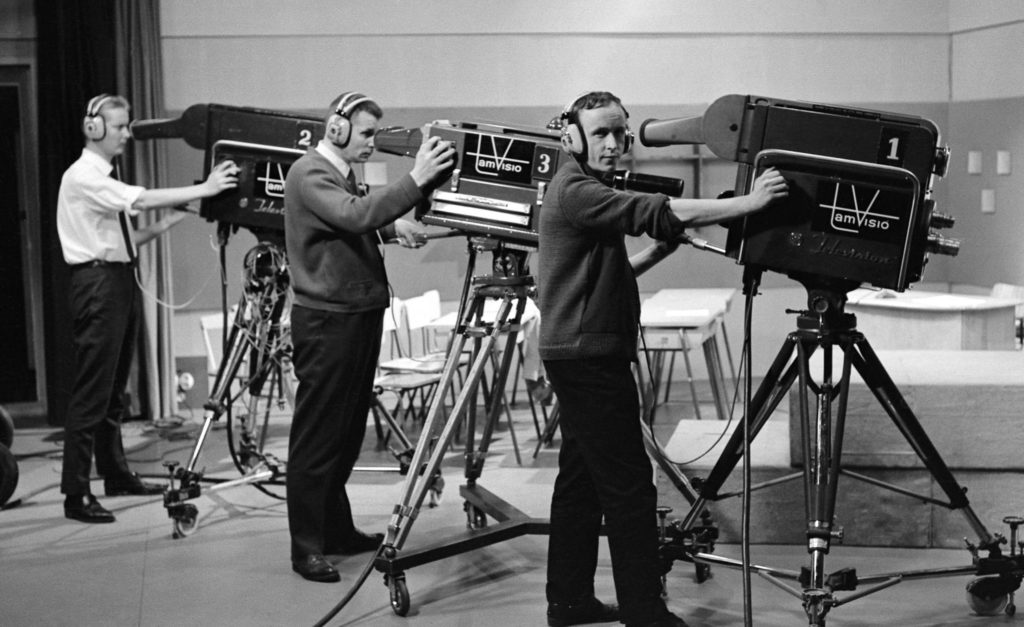 Camera operators for the Finnish Broadcasting Company, 1965.
On the eve of the 89th Academy Awards, while the red carpet was being rolled out for Hollywood royalty, and Big Four accountants were busy shuffling winners' envelopes, representatives of film and TV industry unions and guilds gathered with state lawmakers in a downtown LA hearing room for a summit on the wellbeing of Hollywood's working class.
"When people think of Hollywood, they usually think of Tom Cruise and Meryl Streep, Steven Spielberg and Denzel Washington—not the grips and location managers, truck drivers, casting and wardrobe," Steve Dayan, Secretary-Treasurer of Teamsters Local 399, told Capital & Main prior to the Friday afternoon hearing in the appropriately named Ronald Reagan State Office Building. His chapter represents 4,500 "below-the-line" film and TV industry workers.
Bottom line: thanks to the state's $330 million tax incentive program, recovery is underway from a 20-year slump in California's film & TV production industry. By some measures, increased diversity in the rank-and-file appears to be a by-product of the boom. Of 240 newly enrolled members of Local 399 in 2016 – a significant boost over previous years, Dayan reported to state assembly members Kansen Chu (D–San Jose) and Sebastian Ridley-Thomas (D-Los Angeles) who co-chaired the hearing – "one-third are people of color."
But can – or should – tax incentives be linked to diversity hiring? And if so, is the trend sustainable?
In a white paper titled "The Secondary Impact of California's Film and Television Tax Credit Program: Diversity?" Chu, who chairs the Committee on Arts, Entertainment, Sports, Tourism, & Internet Media, and Ridley-Thomas, who chairs the Committee on Revenue and Taxation, declared that the hearing's focus was to make sure the incentives delivered "maximum possible economic return on investment for all California taxpayers."
Presentations addressing that theme were delivered by executives from the International Alliance of Theatrical Stage Employees, the Screen Actors Guild-American Federation of Television and Radio Artists, the Directors Guild of America, and the Writers Guild of America, West.
T
he recently re-tooled and expanded incentives program, first passed in 2009 and
now labeled 2.0
, did away with a controversial lottery approach to awarding rebates and replaced it with a "Jobs Ratio" ranking system. Additional incentives have been added for in-state spending on musical scoring, visual effects, and locations outside of Los Angeles. Rebates are now focused on production budgets for nearly all but producers' and stars' salaries. Big-budget studio films as well as independents are now eligible, along with new TV shows and series that have relocated to California. The latter measure has successfully
lured back seven shows
, including ABC's
American Crime Story
,
Secrets and Lies
, and FX's
American Horror Story
.
Testimony from Amy Lemisch, Executive Director of the California Film Commission, delivered data from the past two years, with projections for the 2016-17 fiscal year showing that the rebates will spur $2.5 billion in direct in-state spending, including 6000 cast and 9900 crew member salaries. (That's a subset of the overall 165,000 people hired by 7,673 businesses in California, with total film and TV industry wages topping $18.4 billion in 2015, according to the most recent data compiled by FilmL.A. analyst Adrian McDonald).
According to Lemisch, minority hires are lagging, however, with voluntary reporting to payroll companies showing the lowest numbers for African-Americans, Asian-Americans, Native Americans, and non-white women. Hispanics have done only somewhat better.
Those numbers mirrored this year's annual report by UCLA's Bunche Center on diversity in film and TV lead actors, directors, and writers, which stated that minorities "remained underrepresented on every front in 2014-15."
The negative news was buttressed by testimony from representatives of the Motion Picture Association of America, USC Annenberg School for Communication and Journalism, the NAACP Beverly Hills/Hollywood Chapter, the National Association of Latino Independent Producers, and the Coalition of Asian Pacifics in Entertainment, all of whom emphasized the need for educational programs to channel minorities into the industry and propel them to executive positions where key hiring decisions are made.
While California's rising tide of production has the potential to lift all boats, national trends threaten any gains by organized labor, as right-to-work rules gain steam across the country. Lack of congressional support for federal tax incentives for film and TV allowed Section 181 of the Internal Revenue Code to lapse this year, opening the door for runaway productions finding better deals in Canada.
A
dministration policy has not yet touched on the issues discussed at the hearing, but Ridley-Thomas, whose 54th District encompasses many neighborhoods in LA County where entertainment industry paychecks are written and cashed, told Capital & Main that "a growing number of Republicans in California have expressed the wish to see their communities represented" in the benefits reaped from film and TV tax rebates.
Ridley-Thomas also observed of the first White House inhabitant to hold an executive producer title on a TV reality show while in office that "The president is uniquely aware of the film and TV industry."
That's another envelope yet to be opened.
Saving Private Enterprise: Director Jacob Kornbluth on His New Robert Reich Film
After their critically acclaimed 2013 documentary, Inequality for All, Jacob Kornbluth and Robert Reich reunited to make Saving Capitalism, which explores the expanding economic and political power of America's wealthy.
Saving Capitalism  begins streaming on Netflix November 21.
Jacob Kornbluth had never had a job — not even an internship — by the time he graduated from college. When he applied to scoop ice cream at Double Rainbow, he was turned down. But he was used to feeling marginalized. Growing up in Manhattan and then in rural Michigan, he didn't have many friends and got beat up a lot. Both parents, wealthy in intellect but poor in assets, passed away by the time he was 18. All his grandparents too. With a life so rich in adversity, and unable to secure gainful employment, Kornbluth did what any young intellectual would do. He became a writer.
That led to directing some theater. In the early 2000s, inspired by the emotionally gritty films of British director Mike Leigh, he made a couple of feature comedies that not that many people saw. Then, with the economics of documentaries changing, he turned to the realm of nonfiction films to express himself. He grabbed a camera and followed Bill Clinton's former Secretary of Labor, Robert Reich, on his mission to raise awareness about America's widening economic gap. The resulting 2013 doc, Inequality for All, was no joke, both in its message and to critics, who lauded the film. But for Kornbluth and Reich there were some issues they touched on that still needed to be addressed. So they reunited in Saving Capitalism, a Netflix-streaming feature documentary that underscores the expanding economic power — and resulting political might — of America's wealthy. Nearly 30 years after someone decided against putting an ice cream scooper in his hands, Kornbluth sat down with Capital & Main to discuss politics and economics.
---
Capital & Main: The obvious divisions in this country are political ideology, race and gender, but it seems that few people focus that much on class.
Kornbluth: Well, I think the other divisions you mentioned are very real and meaningful, certainly, and I had started looking at class and economic divisions in Inequality for All. But I began to think that we were missing the story of power. As economic inequality grows, so does the concentration of political power, leaving a lot of people across the economic spectrum feeling like the game is rigged against them. You really see this line cutting across political viewpoints.
---

"As economic inequality grows, so does the concentration of political power, leaving a lot of people across the economic spectrum feeling like the game is rigged against them."

---
Perhaps the moment in the film that underscores that most is when you juxtapose footage of protesters in the Tea Party with those in the Occupy movement, and they are saying virtually the same things.
Kornbluth: Right. I certainly don't agree with a lot of the people in the Tea Party. But I have some empathy and I think we all need to see the connection between when economic inequality widens, this really does affect people and it changes the sort of reality that they live in. So basically, of those in the top 10 percent [economically], you see Republicans and Democrats disagree on just about everything — but the economy is essentially working for them. I don't think Americans like to see themselves as a country where class is that much at the forefront, in the way they do in Europe, but when you see the economic division spilling over into these other areas like politics, and it's really changing the way politics function on a meaningful level, I don't think you can ignore it anymore.
In the past, politicians had to play to the center to be successful. But in this last election, Trump didn't play to the middle and was able to get 60 million votes. People used to think that political ideology runs along a spectrum, but we see that [Bernie] Sanders and Trump supporters had a lot in common and that political ideology is really more circular.
Kornbluth: The political model has fundamentally changed into something that looks a lot more like a circle than like [a set of] polar opposites. We started making a film that was going to introduce that concept in 2015, before this election happened, when Hillary Clinton was the leader on the Democratic side and Jeb Bush was the leader on the Republican side, and it turned out we ran into that change as it happened.
---

"If you cede the system to the wealthy and powerful, and you don't fight back, then it's not going to get any better."

---
Your film and Reich's book are called Saving Capitalism. Some have said Marx was wrong about communism but he was right about capitalism, that eventually it would devour itself and spin out of control because of greed, and that is what we are seeing now. So why should we save it?
Kornbluth: It's a really important question. I mean, you're talking to the son of very left-leaning parents. One thing that Reich has taught me, is to forget the "ism" for a moment and just look at rules of an economic system. Stop thinking that capitalism is going to save or hurt us, and stop thinking socialism is going to save us or hurt us and start thinking that we have one economic political system and let's think about all the rules that go into it and examine them one by one, and ask, Who do those rules benefit and who do they hurt?
You see that the rules of our economic system are written by the people with the power to write them, and then over the last 40 or 50 years all of those rules have gone more towards the wealthy and the powerful and away from regular people. Well, it wasn't always like that in America.
But that system does keep breaking.
Kornbluth: You are absolutely right. But I think it's actually important, though, for people who think that maybe the materialism and greed of capitalism is fundamental and unchangeable [not to give up]. That's sort of like permission to check out, to say, "This system is broken and therefore I won't engage." And I think one of the crucial problems with that is if you cede the system to the wealthy and powerful, and you don't fight back, then it's not going to get any better.
A recent poll said that more millennials believe in socialism than capitalism. And more believed in fascism than capitalism, too. What does that say? Are millennials just fed up, or maybe more idealistic, or are they just more naïve?
Kornbluth: There's a bunch of ways to read something like that. One way to say it is [that] a lot of people feel like the game is rigged, which is true, and they are sick of it. They don't feel like their voices are heard. But there is a very important question which is, What is capitalism, specifically? If it's simply the free exchange of private property, then every country in the world today is some version of a capitalist country, or on some sort of a capitalism/socialism spectrum. You sort of can decide what you want to call it.
---

"This economic and political situation that we're in is unique — it means that we don't get to go back to normal."

---
But people forget, that in the past there was Ross Perot, and John Anderson to a lesser degree. Perot was an extremely viable candidate who had a chance of winning, before he imploded. There has been a bubbling of this discontent in every generation. Could one make the argument that the way a forest needs to burn to regenerate, you need a Trump to have both sides react and act — is this the equivalent of a political forest fire that could signal a regrowth for the country?
Kornbluth: I'd phrase it slightly differently. You certainly have seen bubbling of this growing anti-establishment wave [besides] Ross Perot, with Pat Buchanan on the right, when he was running his campaigns in the '90s. And you see in our film that in '92 Reich thought that they had a real chance to fix a systemic problem with the economy that was broken, that an increasing amount of gains from growth were going to the top. And he thought that this was going to be a long-term problem going forward. But I think the film's thesis is that this is not the same, but that, in fact, this economic and political situation that we're in is unique and it means that we don't get to go back to normal.
To your second point, I hear this argument sometimes from people on the left who say, "Maybe this Trump presidency is what we need to really have the progressive revolution that we've been waiting for." There may be some truth to that, but don't underestimate the threat to the economy and to democracy that we're experiencing right now.
There was a really poignant moment in the film, when Reich is talking to students about the regret he has, and it seems he may even be on the verge of tears. Tell me about that moment.
Kornbluth: You have a guy who's been fighting for 40 or 50 years, engaging in a political system and trying to in a very genuine way help out regular people around the country. And you look up after you've been at it for so long and you see a shorter time ahead of you than you have behind you and you say, "Wow, it's gotten worse. I can't say that all of the efforts that I've made have fixed it and what do we do with that? How do we answer to those questions?"
Reich is the same age as Donald Trump; and Hillary and Bill Clinton, and Clarence Thomas, were all at Yale when Reich attended. He's seen what his generation has done. I think that there's some answers he has to give about what [this generation] did to get us to where we are. I think he genuinely is torn, he's worried. He's fighting every day give his best to turn this system around but I think he's worried that time is running out.
You see in your film his ability to talk and connect with all types of people with differing politics than his own. What is it about him that lets him connect with people so well?
Kornbluth: Firstly, I think it's rare to see somebody who's that smart and successful who is that genuine, and I think that genuine quality, that sort of humanity, really comes across in him. It makes him an extraordinary screen presence. I've dealt with a lot of famous people in my time and I've never met anyone more grounded than him. But the real secret sauce, which makes him somebody that, if he didn't exist you'd want to invent, is that he's an unbelievable intellect and an unbelievable communicator. He can take complex issues and boil them down in a way that makes it easy for anybody to understand and not feel dumbed-down to. The smartest economists that I've talked to, the biggest idea people who I've talked to, are not always the best communicators.
Obviously, he did a lot of great work when he served the White House, but it's almost like his second act has been more powerful and more meaningful. Maybe because he's not hamstrung by the restrictions of working in the system?
Kornbluth: He was a Secretary of Labor in Clinton's administration but, honestly, how many labor secretaries can most Americans name? One of the most amazing and unique things about him is he has embraced social media in a way that a lot of his contemporaries haven't. I run a nonprofit with him, Inequality Media, and we make short videos for the Internet. Those videos in the last few years have been seen over 250 million times.
He is as motivated, passionate and driven as are people a quarter of his age. He runs me [and] everybody at our organization ragged, and he's 71 years old. He still feels like it's his legacy and he wants to do his best to fix the things that he sees are broken.
---
Copyright Capital & Main