#belowthelinesowhite? Hollywood's Rank & File Leaders Tackle Diversity
Cinematographer Quyen Tran. (Photo: Shana Betz)
Hollywood insiders scanning the #Oscarsowhite lists of this year's Academy Award nominees have not failed to notice that the five candidates for Best Cinematography are all male and all white—and to no one's surprise. While the Academy of Motion Picture Arts and Sciences has announced changes in membership rules to make its voters more inclusive in years to come, not a single woman or person of color in the "lenser" category, as the trades call directors of photography, has ever been tapped to receive the coveted gold statuette to be handed out this year at the Academy's 88th ceremonials on February 28 at the Dolby Theater.
Also Read: Race and the Oscar Race
"It's a shame," says Rebecca Rhine, national executive director of the International Cinematographers Guild Local 600, which is part of the International Alliance of Theatrical Stage Employees (IATSE). Noting that "access and opportunity" to employment determine who gets to win awards, Rhine told Capital & Main, in her first interview since taking over leadership late last year of the 7,700 member union, that achieving diversity behind the camera is one of her top priorities.
"As a woman in a predominantly male field on the labor side, and in an industry that has been predominantly male, I'm particularly sensitive to and interested in this issue," Rhine said. "I believe that reflecting the society we live in should be a key goal for the labor movement and I bring that belief to Local 600, where it's shared by the officers and the board."
The task before Rhine and other below-the-line labor leaders is knottier  than the one facing the more glamorous players currently in the diversity-issue spotlight and involves the largest number of people on the receiving end of a film or TV production paycheck. California's film and TV industry employs more than 159,000 people hired by 7,570 businesses, with total wages topping $17.9 billion in 2014, according to the most recent data compiled by FilmLA analyst Adrian McDonald. The state's entertainment industry "below-the-line" craft guild and union rank and file, numbering 35,000 to 40,000, according to one union source, are vying for their share of those jobs and wages as part of film and TV production crews.
Labor leaders representing electricians, drivers, camera department, art department, wardrobe, makeup, script supervisors, production accountants, animators, special and visual effects, and others stand between the major studios who are the industry's biggest employers and the women and minorities of the entertainment industry's struggling middle class, who are seeking a greater piece of the action. The impact of changes in hiring on this sector of the area's economy is potentially huge.
A typical studio feature film averages more than 500 crew members, according to a study published by film data researcher Stephen Follows. On a big studio blockbuster such as Iron Man 3, where the credit crawl lists 3,310 crew members, 260 toiled in the camera and electrical department.
The challenge facing Rhine, together with ICG president Steven Poster, is to make sure those numbers include a fair share of ICG's women and minority members.
A veteran labor executive, Rhine was handpicked by the union leadership to succeed Bruce Doering, who retired after 30 years in the job. She is the first woman to take the reins in the organization's history, which goes back to 1926. Rhine was previously executive director of the Municipal Executives Association in San Francisco, served as northern area director of Service Employees International Union Local 1000 and as executive director of the American Federation of Teachers University Council, representing University of California lecturers and librarians. No stranger to the entertainment industry, Rhine served 10 years as executive director of a combined American Federation of Television and Radio Artists (AFTRA)  and Screen Actors Guild (SAG) office in San Francisco, in addition to several years of overseeing public policy and strategic planning as assistant national executive director of AFTRA, repping actors, broadcasters and sound recording artists in the Bay Area.
Rhine's experience with on-camera talent gives her seasoned insight into Hollywood's ways. "We live in a world," she says, "where people hire based on who they know and who they've worked with in the past, and that means you have to be proactive. It doesn't happen organically, so we have to make sure the people who make those decisions are aware of, and connected to people who they might not think of automatically for opportunities."
She points to a number of different ways in which her union—which also includes the Publicists Guild— is attempting to tackle a multifaceted challenge. One of her first actions was to assign Xiomara Comrie, a veteran ICG business representative, to manage diversity initiatives at the Guild, under Rhine's leadership. Other examples she offers include educational and mentorship programs yet to be implemented, and talking with employers about partnering on internships. Full-page ads placed last year in Variety and the Hollywood Reporter highlighting ICG's women members may also be repeated, she says. "Our role is educational and we're here to remind people that we have members who are experts in their craft, men and women of all races and ethnicities, and that they deserve a chance to earn a living in this industry." Rhine points to the ICG's annual Emerging Cinematographers Award, as one of the union's efforts to "identify, encourage, cultivate and put forward young, new diverse cinematographers."
Rhine also mentions Sarah Jones Opportunity, an internship program dedicated to minority training established last year in honor of Sarah Jones, the 27-year-old camera assistant killed two years ago in Georgia on the set of Midnight Rider. The program is sponsored by the Warner Bros Television Group, the Vampire Diaries TV series, Local 600 and Georgia IATSE Local 479, along with other partners and support from the Atlanta Mayor's Office of Film & Entertainment. Though it accepts only one person annually, the program, says Rhine "is a symbol of what we care about and believe in."
The unions are generally reluctant to speak on the record about the numbers of women and minorities in their ranks, or even if they possess that data at all. But Rhine says that about 15 percent of Local 600 members are female. "We're still in the process of getting good data on racial diversity and that's awkward because people don't want to be categorized. They want to be judged on their work. The collection of that data is voluntary so the numbers we're developing will still be fairly subjective. We want to be honest with ourselves. There's plenty of work to do."
That work could become more urgent if trends around the country, fueled by calls for more diversity in the industry, are adopted in California. The Illinois Film Commission requires that film and TV productions seeking tax rebates submit forms showing percentages of minority hiring in their crews. Rebates can be denied if those percentages don't meet the film commission's approval.
In New York City, the nation's second largest market for film production, IATSE Local 52, representing electrical, grip, property, sound and video technicians on film and television shoots in New York and four other states, reached a settlement in 2014 after complaints were filed with the state attorney general "concerning the Local's admissions process and the exclusion of African-Americans and Latinos from the union," according to a statement by the attorney general's office. Local 52 agreed to "an overhaul of its admissions process to ensure equal opportunity for membership without regard to race, ethnicity or national origin." Local 52 also agreed to pay a $475,000 fine.
At least one director is taking matters into her own hands. Selma director Ava DuVernay, whose 13-episode Queen Sugar series is set to air on Oprah's OWN network, will have an "an all-women directorial team," she has declared in press interviews. With the hashtag #inclusivecrew, she addresses the issue in a series of tweets beginning with: "They say it's hard. They say there aren't enough of us who are qualified. They say we're [sic] aren't ready. Excuses. ‪#InclusiveCrew ‪#QueenSugar."
Rhine, whose late father was San Francisco attorney Joseph Rhine, who represented Vietnam War resisters, community activists and counterculture figures of the 1960s ("I was the 11-year-old singing "The Age of Aquarius" at the Christmas party"), seems determined to overcome such obstacles. "Change is coming to our country and to this industry," she says, "and we want to be part of pushing that change forward."

A Woman's Art Is Never Done: The Feminae Exhibition
A striking juxtaposition between the past and present courses throughout the small gallery. Celia Blomberg's "International Women's Day March 8" can't help but make one think of 2017's Women's March, which occurred 37 years after the print's first appearance.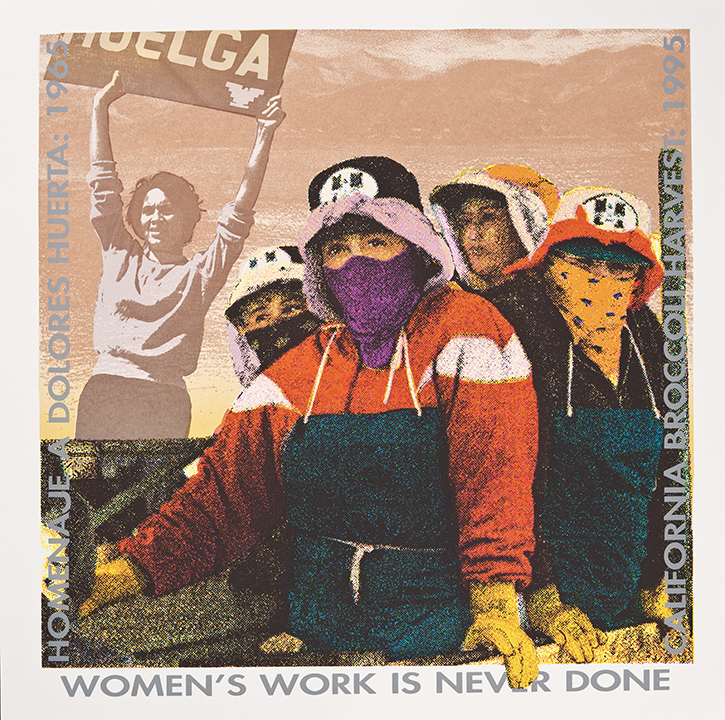 Among the 50-plus works in the Feminae: Typographic Voices of Women By Women exhibit is Yolanda Lopez's "Women's Work is Never Done." Lopez's title is particularly ironic, given the exhibit's gender-based subject matter. The show spans work from the past 50 years, making it easy to understand how much society is still grappling with its themes of gender inequality. Culled from the archives of the Center for the Study of Political Graphics, the graphic images of protest, persuasion and empowerment are truly works of art in their own right.
However, political posters aren't made to merely spruce up walls, but to help figuratively bring barriers down as well.
Two silkscreens from the 1970s, Liliana Porter and John Schneider's "This Woman is Vietnamese" and See Red Woman's Workshop's "So Long As Women Are Not Free People Are Not Free," are particularly powerful, underscoring, as they do, the fact that the subjugation and persecution of women crosses borders and cultures as an unfortunate shared global experience. These two pieces' stark simplicity exemplifies most of the work in the exhibit. In the former, a New York Times photo of a distraught Vietnamese woman with a gun held to her head is centered above these basic words typed out in a typewriter font: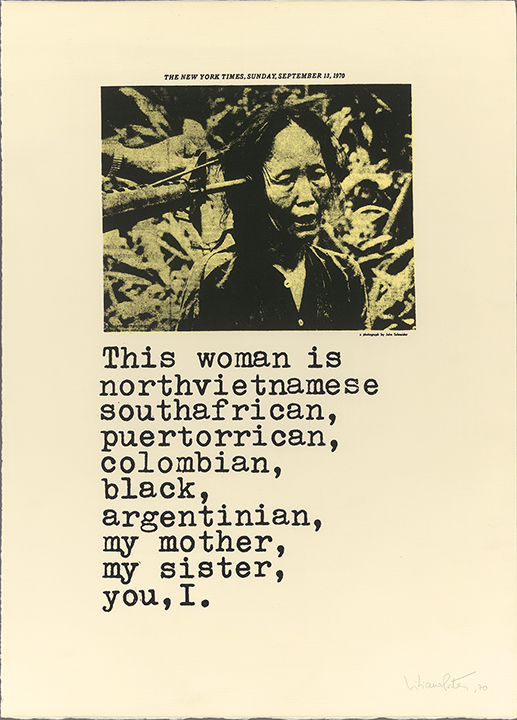 This woman is
northvietnamese
southafrican
puertorrican,
colombian,
black,
argentinian,
my mother,
my sister,
you, I.
By juxtaposing the photo with these words, the creators take the plight of this woman and immediately globalize her pain. In the latter, three female demonstrators are silkscreened in red onto a yellow background. They are marginalized by being stuck in the lower left third of the poster, but two of them are raising their fists skyward and their mouths are open, screaming in defiance. Its non-serif, eponymous type reads: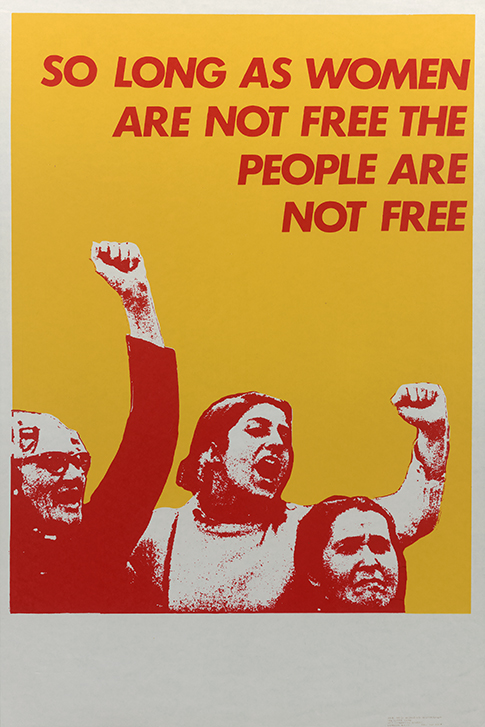 SO LONG AS WOMEN
ARE NOT FREE THE
PEOPLE ARE
NOT FREE
This piece's message takes the global message even farther, making the plight of women a human one — a common theme in the exhibition.
There is also a striking juxtaposition between the past and present that seethes throughout the small gallery. Celia Blomberg's "International Women's Day March 8" can't help but make one think of 2017's Women's March that would take place 37 years later. See Red Woman's Workshop's 1977 "Black Women Will Not Be Intimidated" could easily be repurposed to address the recent spate of blue-on-black brutality. Notable works by Barbara Kruger, Sister Corita Kent and the Guerilla Girls are also included.
Ironically , while it can be surmised that most of these works were made as populist posters to be distributed at the time as banners of protest, their beautiful simplicity and nostalgic elegance probably have resulted in the originals (mostly now found in art museums) sporting hefty vintage-resale prices.
But it is not just the art that has stood the test of time. The fact that the issues addressed in the show — feminism, choice, gender equality, war, immigration, police brutality or violence against women — are all issues at the forefront of debate in 2018 ultimately engenders conflicting feelings.
On one the hand, it is inspiring to see a vibrant exhibit that showcases such diversity in artistic styles, no doubt spawned by the diversity of the artists' own backgrounds. On the other hand, there is a realization that while there has been some progress over the past half century, there is so much work to be done.
Art Center's Hoffmitz Milken Center for Typography, 950 South Raymond Ave., Pasadena; through May 15.
---
Copyright Capital & Main