Fear for the First: Is Activist Speech Terrorism?
On Monday, the Center for Constitutional Rights filed a request to the U.S. Supreme Court for judicial review of Blum v. Holder, a lawsuit challenging the constitutionality of the Animal Enterprise Terrorism Act. The request, and the history that led up to it, provides a glimpse into the ways in which the free speech rights of political activists continue to be eroded as a result of the defining legal and constitutional framework of our era, the "War on Terror."
The brainchild of the American Legislative Exchange Council, the AETA was crafted as a direct response to the extraordinary success of an animal rights campaign called Stop Huntingdon Animal Cruelty (SHAC). SHAC had effectively employed what its members believed to be legal, constitutionally protected activity to disrupt the business practices of a notorious animal testing corporation accused of engaging routinely in horrific abuses of animals, such as dissection of a live and conscious monkey.
In March of 2006, at the height of the Bush administration's War on Terror, six SHAC activists were charged, convicted as "terrorists" and sentenced to a combined 23 years under the AETA's predecessor law, the Animal Enterprise Protection Act. Their crime: posting information on a website about illegal underground actions carried out by activists not directly connected to SHAC. The AETA was passed in the aftermath of the convictions after biomedical and agricultural industry lobbyists and the FBI argued for the need for "more effective tools" with which to yet more vigorously pursue and prosecute activists engaged in "criminal 'direct action.'"
The AETA criminalizes protest activity aimed at "damaging or interfering with the operations of an animal enterprise," specifically citing activism that results in "the loss of profits." It brands violators of the law "terrorists," making them eligible for special sentencing enhancements and incarceration in super-maximum security prisons or, worse, Communications Management Units.
Though the law was written to single out animal rights campaigners, there is nothing in its wording to stop it from being used to prosecute other activists, such as labor organizers at slaughterhouses and university research facilities. Moreover, critics charge, in spite of a "savings clause" in the act that purports to put constitutionally protected speech outside of its reach, the broad language of the law casts a shadow over all manner of First Amendment activity whose express purpose is to cause "economic damage" and "the loss of profits" to corporations connected to an "animal enterprise" in order to force them to change their business practices. That activity could include picketing, boycotting, leafleting, occupying, civil disobedience, or undercover investigations. (For its part, in a statement provided to me for a 2012 article in The Huffington Post, an FBI spokesperson asserted, "The FBI does not investigate individuals based on their beliefs or other first amendment protected activity like free speech. It is when the individual exhibits intent to or crosses the line to commit a crime that we have an obligation to act.")
The result of this ominous lack of clarity, argue the plaintiffs in Blum v. Holder, is a chilling effect on free speech.
The rationale used by the First Circuit Court of Appeals in its decision in March 2014 to uphold a district court's dismissal of Blum has only compounded concerns over the law's implications for the right to free speech. Citing last year's Supreme Court decision in Clapper v. Amnesty International, a case that contested the constitutional basis of the Obama administration's infamous NSA surveillance regime, the appellate judges declared that the nation's highest court, in rejecting the plaintiffs' standing to challenge the FISA Amendments Act, had imposed upon the judiciary a new and "more stringent injury standard" by which to measure complainants' standing in pre-enforcement First Amendment-based constitutional lawsuits.
In other words, the court argued that in the wake of Clapper, the AETA's chilling effect upon free speech, no matter how evident, no longer suffices in itself to justify a challenge to the law's constitutionality. Instead, there must be an immediate threat of injury to a potential litigant under the law, such as a criminal prosecution. Someone who seeks to muster a challenge must therefore ignore the very risks that the "chilling effect" implies, and engage in speech activities that may court prosecution as a terrorist, and then sue only when actual charges are filed. Under those conditions, of course, the cost to the plaintiff of his or her suit's failure is, potentially, imprisonment.
With that interpretation of Clapper, the court may have raised the legal threshold for mounting challenges to laws that inhibit political speech, potentially including statutes that have yet to be written.
Should the appellate court's novel extrapolation of Clapper stand, the plaintiffs fear, then in addition to the AETA's explicit strictures on political expression, activists will be faced with yet another legal hindrance to their freedom of speech, this one not even authorized by an act of Congress. To the growing list of abridgements to civil liberties in the name of the War on Terror — which already includes massive electronic surveillance and draconian criminal penalties for political activism under statutes like the AETA — may be added the innovative notion that laws that serve to chill free speech are immune from constitutional challenge unless and until criminal charges are brought under them.
This judicial theory arguably sidesteps the fact that laws that chill free speech inflict damage on constitutional rights simply by existing, inertly, on the books. They do their worst work, that is, when they do not result in prosecutions, but instead inhibit the very activity that they threaten to punish.
"What the Court of Appeals said is that, despite the plain language of the AETA statute, despite my objective reading of it, despite having limited my speech and activism because of it, and despite my fears that if my speech hurts the profits of animal-use industries I could be prosecuted, I cannot even get my foot in the courtroom door unless or until I am facing years in prison—again," says Lauren Gazzola, who served 40 months in prison as a founding member of SHAC and who is a plaintiff in the lawsuit. "This hardly makes me feel safe from prosecution when speaking up about violence against animals. That's why we're asking the Supreme Court to look at our case: so we can go back into court and actually challenge the AETA's constitutionality."

Rick Scott Super PAC Donations Challenge Federal Anti-Corruption Rule
Co-published by Fast Company
The Florida governor led a group that raked in cash from Wall Street firms after Scott's administration gave them pension deals.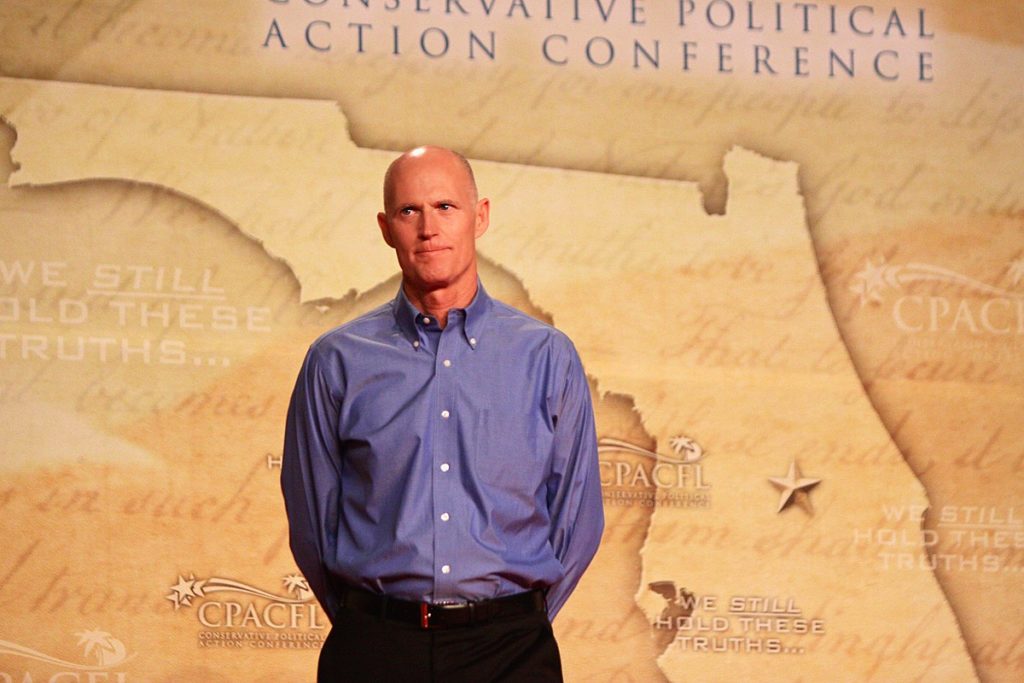 Co-published by Fast Company
A super PAC led by Florida Gov. Rick Scott raked in donations from two private equity executives after Scott's administration directed lucrative state pension investments to their firms, according to government records reviewed by MapLight and Capital & Main.
The donations were made to a committee that's now supporting Scott's U.S. Senate bid, despite a federal rule designed to prevent financial firms from bankrolling the election campaigns of public officials who oversee state pension investments.
Scott, a Republican, began chairing the New Republican PAC in May 2017 and announced his former campaign manager would serve as its executive director. Soon after, the group received $5,000 from New Mountain Capital Chief Executive Officer Steve Klinsky and $50,000 from Energy Capital Partners founder Douglas Kimmelman.
The contributions flowed to the super PAC after New Mountain Capital and Energy Capital Partners received a combined $250 million worth of new investment commitments from Florida's state pension system in 2014 and 2015. Scott is one of three state officials who oversee the $160 billion pension system. During the most recent fiscal year, the Florida investments generated more than $3 million in fees for the firms.
A 2010 Securities and Exchange Commission (SEC) rule prohibits firms from receiving investment fees from public pension systems if their executives donate campaign cash to pension overseers like Scott. SEC officials aimed to prevent investment decisions from being shaped by political influence.
But the commission didn't explicitly bar donations to "independent" political groups, unless the donations were deliberately designed to circumvent the restrictions. And it hasn't addressed whether a state official can lead a super PAC that received donations from firms with pension business and later be supported by the super PAC.
John Kuczwanski, a spokesperson for the Florida State Board of Administration, told MapLight/Capital & Main that Florida's first investments in the two private equity firms happened in 2005 and 2009, and he said Scott had nothing to do with new investments during his governorship, which started in 2011.
"The [state's] initial relationships with both managers predate Governor Scott's time in office," said Kuczwanski, whose agency manages the day-to-day operations of the pension system. "Neither the trustees, nor their appointed investment advisory council members are involved in the investment manager/fund selection process."
Scott's campaign and the super PAC did not respond to questions from MapLight/Capital & Main. New Mountain Capital and Energy Capital Partners did not return requests for comment.
Energy Capital recently completed the purchase of Calpine, whose natural gas power plant near Tampa is regulated by Scott's appointees at the Florida Public Service Commission. Kimmelman, who is now a director of Calpine, also donated $35,000 in 2017 to the National Republican Senatorial Committee, which is backing Scott's Senate campaign.
"A Very Clear Case"
Under the SEC rule — which GOP state parties have tried to overturn — investment executives are not prohibited from donating to independent political groups. But the rule allows regulators to apply restrictions to donations that are deliberately routed through third parties in order to support public officials — a situation that critics argue is happening with Scott and his super PAC.
After the governor announced his Senate bid last week, New Republican PAC's website began promoting his candidacy. End Citizens United, a Democratic-leaning political action committee based in Washington, DC, filed a complaint alleging that Scott has violated Federal Election Commission rules and is using the super PAC, which can accept unlimited donations, to evade contribution limits. Scott's campaign says he stepped down as New Republican PAC's chair in February.
In writing the original rule, SEC officials noted that while they could not restrict all donations to political action committees, contributions to third parties "may effectively operate as a funnel to the campaigns of the government officials." They said the final rule "prohibits acts done indirectly, which, if done directly, would violate the rule."
One ethics expert said that those anti-circumvention provisions should apply to the donations to Scott's super PAC.
"This appears to be a very clear case of close coordination and circumvention of the pay-to-play rule," said Craig Holman, an ethics lobbyist at the government watchdog group Public Citizen. "This is something that I'd like the SEC to pay attention to."
"No Loopholes"
The SEC has only occasionally enforced the pay-to-play rule, and the agency hasn't applied the provisions dealing with third parties to donations to super PACs. Because Scott is a sitting governor who can influence pension investments, he is covered by the rule, which has hampered the fundraising of past governors who tried to run for federal office.
A spokesman for former Texas Gov. Rick Perry's presidential campaign said the rule prevented him from raising enough money to be competitive in the 2012 race. Bloomberg reported that during the same election cycle, then-New Jersey Gov. Chris Christie was rejected as the vice presidential nominee, partly because Republicans feared the rule would prevent them from raising money from Wall Street firms that do business with his state's pension system.
"There is no way around it, and there are no loopholes," said Bill Palatucci, Christie's longtime advisor.
Even so, in recent years the rule has not deterred financial executives from donating to groups that help lawmakers who can influence pension investments. Financial executives whose firms received New Jersey and New Mexico investments continued to donate to the Republican Governors Association (RGA) when Christie and New Mexico Gov. Susana Martinez led the group. During the 2016 election cycle, executives at firms managing state pension money donated nearly $1.3 million to the GOP association, even as the group boosted the campaigns of Republican governors with power over state pension investments.
Last year, U.S. Sen. Tom Udall, D-N.M., called for the SEC to apply the pay-to-play rule to outside groups "to ensure that no one is able to circumvent these laws by using super PACs, dark money groups or other campaign spending vehicles." The RGA has argued that because it funds multiple candidates and does not allow donors to earmark contributions for particular races, it can accept donations from firms with investment business that can be influenced by individual governors. The SEC said in 2016 that donations to outside political groups "are independent expenditures that do not trigger" the rule.
"So long as the PAC faithfully observes the requirement to operate independently of candidates, a contribution to a super PAC will not trigger the [rule], even if the super PAC supports a covered official," Sam Brown, a former advisor to Federal Election Commissioner Ellen Weintraub, wrote in 2016. "Super PACs are increasingly being used in novel ways, and it remains to be seen whether these changes will result in increased circumvention risks."
---
This story is a collaboration between MapLight and Capital & Main.