Family Feuds: Agreeing to Disagree
The most difficult conversations for most activists happen with family. Particularly with parents or aunts and uncles, and cousins who disagree with a politically progressive perspective. My parents and I stopped talking about world events long before they died. I think that is a fairly normal behavior choice — just stop talking. When I visit with cousins who live in red states or the red parts of blue states, I almost always try to avoid any discussion that could lead to conflict. And I think they do too.
On the other hand, such difficult discussions are sometimes hard to avoid. Late last fall I received a screed forwarded by a cousin who lives in one of those red places on the map about an issue I thought had long gone the way of most such topical conflicts: the President's birth certificate. I knew this was still a hot issue in some quarters during the President's reelection, I just had no idea anyone continued to talk about it. But there it was, demanding that four challenges to the authenticity of the president's citizenship must be answered.
Usually I put these in the delete file. This time, I responded, but carefully.
"Oh," I wrote, "I think this issue is a distraction from the real questions facing our country."
She wrote back almost immediately, "And what might those questions be?"
Now I was stuck. I had clearly opened a box loaded with risk. So I had to think about the issues, choose carefully which ones to raise and frame them in a thoughtful manner that would not offend her and might actually elicit a dialogue. So I wrote these:
How will we shift our behaviors and policies enough to survive, even thrive as global climate changes?
How will we protect the world economy from a series of bubbles that collapse one after another, threatening everyone's capacity to survive economically?
How will we narrow the difference between extremely wealthy and extremely poor while rebuilding the middle so everyone can have a place to live, enough to eat and some kind of health care?
How will we create enough work for everyone to have a life that meaningfully contributes to the human community and gives them a sense of personal worth?
I thought I had written these questions with enough blandness to elicit a measured response and without making my cousin angry or rigid or unresponsive. I also picked questions out of the many I could have asked that I thought were ones she might have reflected on. I was wrong. For a long while there was no response. Then a month or so later I received an email that apologized for not responding sooner and said that she was not going to answer – because if she did, I would know how "redneck" (her word) she was and would be the rest of her life.
I sent her a note back. "Oh, my dear cousin," I wrote, "In my experience as a minister no one has to remain who they are now for the rest of their lives. The human heart has an infinite capacity for change."
If I could have said it better or more kindly or more generously, I would have. But except for an obligatory Christmas card, I have heard nothing from her since. Which makes me sad. It also underscores the difficulty of discussing controversial issues with kin. Even online.
The Tests Facing California's New Governor
Gavin Newsom now leads the state with the nation's biggest economy and largest population — and one riven by economic inequality. What will be his most important challenges?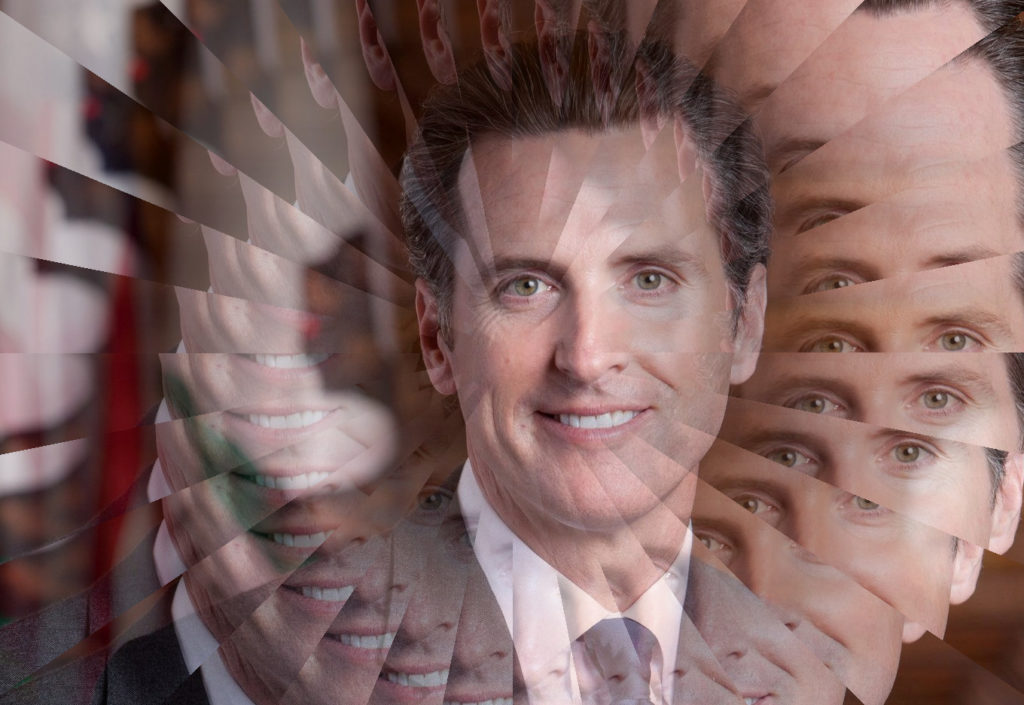 Gavin Newsom inherits a state that should be any governor's dream: A California that is the cradle of the tech revolution and brims with prosperity, a one-party state with supermajorities in both chambers for Newsom's Democrats. But there are clouds darkening the horizon: Daily prophecies tell of coming economic storms; legislative initiatives taken on behalf of immigrants, retirement security and the stemming of global warming are increasingly thwarted by a bellicose White House. And that Democratic Party monopoly in Sacramento masks a deepening ideological fault line dividing pro-business moderates and progressives – the latter of which have largely chafed for the last 16 years under the thrifty administrations of Jerry Brown and Arnold Schwarzenegger, and are eager to burst out with far-reaching (if pricey) legislation.
Then, there are memories of three high-riding liberal governors (Pat and Jerry Brown, and Gray Davis) whose programs or careers were derailed by resentful taxpayers. There are more recent memories, too: Of an impulsive, hard-partying San Francisco mayor whose blunted ambitions led him to spend eight years in the ceremonial wilderness of the lieutenant governor's office. Newsom is said to have matured into a more circumspect, pragmatic politician, although some of the old doubts were fanned back to life by an unflattering New Yorker profile that appeared shortly before his landslide victory November 6.
Perhaps overriding all these auguries is the undeniable fact that despite its enviable economy, its abundance of billionaires-in-residence and laudable array of social services, California still has the highest poverty rate in the U.S., nearly half of its children live in poverty or near-poverty, and merely finding an affordable place to live has become an existential challenge for many. These and similar factors superimpose on the state another kind of fault line, that of economic inequality. Most of the new governor's time will be spent wrangling crises that spring from this disparity. Which is why the following Capital & Main stories primarily focus on the inequality that separates so many Californians from one another.
Affordable Housing, by Jessica Goodheart.
Single-Payer Health Care, by Gabriel Thompson.
Climate Change and Big Oil, by Judith Lewis Mernit.
Inequality Interviews with Manuel Pastor, Ann Huff Stevens and David Grusky.
Early Childhood Education, by Bill Raden.
Inequality in California: Six Takeaways.
---
Copyright Capital & Main