Exiles on Main Street: Refugees Find Hope in California
Co-published by International Business Times
As the one-year anniversary of Donald Trump's presidential victory approaches, writer Sasha Abramsky reports on the effect of one of Trump's major efforts, the blocking of Muslim immigrants and refugees from entering the United States, and on how California is helping the refugees.
The Abd el Qader family, Kurdish refugees from Syria, leaving Turkey for America. (Photo:  Khalid Eid)
 As the one-year anniversary of Donald Trump's presidential victory approaches, Sasha Abramsky examines how refugees in California, as well as state and private relief agencies, are coping with  Trump's refugee policies.
---
Co-published by International Business Times
Living in Oakland, scrabbling for work, the young Syrian photojournalist tries to put his life back together. It's hard. Fearing that he would be forced to fight in the government army, or that he would be harmed because of his photographs of the war, he had left his parents in his home country for Turkey – which is why, fearing reprisal against them, he doesn't want his name published in this article – smuggling out a cache of photographs documenting atrocities carried out by government forces.
Years of exile followed in Turkey, where he would score a photography job here, another there. The young man waited years for his refugee paperwork to be processed, sharing an apartment with his brother while trying to build the daily routines of a new life. Finally, sponsored by a war photographer in California whom he knew, he secured admission into the United States, arriving shortly before President Trump's temporary ban on new-refugee admissions kicked in.
After spending years in limbo, the refugee suddenly found things moving absurdly fast. He was given only 10 days notice of his flight to the United States: 10 days to conclude the the relationship he was involved in, to sublet his apartment, to finish the jobs he was doing, to sell or pack or give away all of his possessions.
"I was in a relationship – I should just tell her I will disappear?" he asks. "It gives me a sadness. This is the one I love; I don't know when I will see her again in life. I don't know when I will see my parents again. I'm saying goodbye to my brother. Just took one bag. Left everything."
Pastor Kirt Lewis of World Relief:
"Refugee resettlement will increasingly be limited to blue and purple states."
"I'm already broken inside," he avers, his emotional rawness painfully clear in every word he enunciates. "I need nice people around. People in California welcome refugees. It's not easy, to be honest, but it's my new life. I'm doing my best, but sometimes I feel very tired. Three days ago, I was in the ER. Anxiety. My room is dark, it's in the basement. I feel far away from everyone and everything. I don't want to be a victim, but sometimes you feel alone."
The Syrian photographer is part of the latest, and perhaps for now, the last wave of refugees to come to America after escaping violence. There have, over the past half century, been Southeast Asians, following the Vietnam War; Central Americans fleeing juntas and war; refugees from Iran and the Soviet Union in the 1980s; refugees from Iraq, the former Soviet Union and the Balkans in the 1990s; from African civil wars in the early 2000s; from the slew of post-9/11 Middle Eastern conflicts. Now, all of that human movement is, under the implementation of the new restrictions, grinding to a halt.
A Syrian refugee camp. (Photo: Khalid Eid)
After Trump signed his initial executive order barring refugees in January, resettlement agencies reported incoming families being turned back at airports overseas or held in U.S. airports upon arrival. Turmoil reigned as those refugees previously authorized to come to America to escape political or religious persecution in Iraq, Syria and Iran were blocked from flying here. Many had already sold everything they owned, canceled their housing leases, quit college, etc. — all in anticipation of their move to the United States. Now, suddenly, they were left in limbo.
"I was in San Diego [at] our annual meeting," Yvette Khani, a caseworker supervisor at the International Rescue Committee's Glendale office, recalls of the day the IRC heard that the refugee ban was about to kick in. Khani, an Armenian Christian who left Iran as a refugee in 1995, and who has worked for the IRC since 1997, sits in her small office — on one wall of which is pinned a poster of Albert Einstein, who founded the IRC to help Jewish refugees from Nazi Germany, emblazoned with the words, "Refugees Welcome."
"They pulled me out," Khani continues, recalling her colleagues' reaction to the unfolding events. And, she continues, they "told me 125 of our clients were supposed to depart January 27th from Iran to Vienna — and told me to call their relatives and tell them not to leave Iran."
This is a story of contrasts: Of the pain and heartache, the confusion and the delays, faced by refugees caught in the chaos of the Trump administration's policy changes, and of the opportunities, and the more welcoming spirit that await them if and when they arrive in California.
Despite the occasional anti-refugee protest, no state in the country accepts more refugees than California. Between 2011 and 2016, more than 36,000 settled here, according to the state's Department of Social Services. Nearly 8,000 arrived in 2016 alone – as did thousands more Special Immigrant Visa holders — people from countries such as Afghanistan, who helped America during military operations and who are not, technically, refugees, but who can utilize refugee services once they arrive. The latter are concentrated in Sacramento, the Bay Area, Los Angeles, Orange County, San Diego, Santa Clara and a few towns throughout the Central Valley. Sacramento County alone, to where nearly half of the SIVs in the state have come, resettled about 3,300 refugees and Special Immigrant Visa holders in 2016. So far, in 2017, the IRC has resettled another 1,700 or so SIV holders, mostly Afghans, in Sacramento.
The Abd El Qader family waited two and a half years for permission to emigrate to the U.S. (Photo: Khalid Eid)
The state has, by and large, opened its heart and pocketbook. Earlier this year, Governor Jerry Brown signed into law a bill, authored by Assemblyman Kevin McCarty, that gives schools $10 million over three years to help refugee children in their new educational environment; he also signed Assembly Bill 343, giving SIVs the right to apply, upon arrival, for in-state tuition at community colleges. A state advisory council, made up of refugee resettlement agencies, community groups and members of the Department of Social Services, meets on a regular basis, as do several Refugee Forums around the Golden State.
The federal government, has, historically, also been fairly generous, setting in place a number of programs designed both to bring in refugees from certain countries, and also to help with the resettlement/acculturation process once they arrive. These days, however, Trump's America is aggressively slamming its doors to them. Trump imposed a "temporary" ban on the entire non-SIV refugee program, severely restricting the granting of visas to people from a number of Middle Eastern countries, and implementing a Catch-22 of "extreme vetting" procedures – on top of the extraordinarily rigorous, three-year process that already existed prior to Donald Trump's election — clearly designed to slow to a trickle the migration and visitation from other countries.
In California, even as much of the country turns its back on strangers fleeing war zones, refugee organizations report a surge in the number of community residents volunteering time and donating resources to help the new arrivals.
"This was a nonpartisan, noncontroversial issue up till the last two years," says Pastor Kirt Lewis of World Relief Sacramento, which resettled over 1,500 refugees in Sacramento County last year. Then, as Trump ratcheted up his anti-refugee rhetoric, support for resettlement in many states plummeted. "If a lie is repeated enough times, a lot of people will buy it. The Midwest and many Southern states have politically become a hostile environment to refugees."
"It has been," he added, "an unpredictable, chaotic environment for those of us who believe this is a matter of character for the kind of country we aspire to be."
Refugee resettlement agencies fear that Trump's September presidential determination on refugees, which dramatically lowered the total number of refugees admitted yearly to 45,000 – it peaked under Obama at more than 110,000 — also imposes limitations based both on their nationalities and their "values."
"We see a lot of risks and threats right now," says New York-based Anna Greene, senior policy and advocacy director for U.S. programs at the IRC. Greene worries about processing requirements "made so onerous, to get through it really could grind [things] to a halt," and about a "cherry-picking" of refugees designed to exclude people of certain religious and national backgrounds.
But in California, even as much of the country turns its back on strangers fleeing war zones, refugee organizations report a surge in the number of community residents volunteering time and donating resources to help the new arrivals. Every time Trump tries to hurt this vulnerable population, Californians respond by increasing their assistance. "You drop everything," says Jose Serrano of World Relief, of the scramble to help incoming refugees after the chaos unleashed by Trump's initial ban. "You don't have time for lunch, dinner. You just problem-solve."
IRC volunteers, such as Sarah Ferguson, a former caterer in Sacramento who now works full time on what she calls a "kindness campaign" –- based around a nonprofit organization that now has hundreds of local volunteers — have gotten involved in cultural orientations with refugees, in family support services, in little things like showing new arrivals around their neighborhoods, and in big things like helping them enroll children in school. "We have furnished hundreds of homes" for newly arrived refugees," Ferguson says of her team. "We have done community events where we put out halal food, bring in entertainment. It's a beautiful feeling. We were all immigrants once. For my family it was my grandparents. We were all once these people in one way or another."
For World Relief's Kirt Lewis, in the long-run this community generosity towards vulnerable new arrivals likely means that California, which has nurtured a huge, and effective, refugee resettlement infrastructure over the years – from job training to comprehensive medical screening — will end up housing a greater proportion of the total number of refugees who enter America. "You'll see resettlement move away from the smaller and mid-sized communities. Refugee resettlement will increasingly be limited to blue and purple states."
Soccer Diplomacy: Refugee children of the Little Brushstrokes program. (Photo: Ed Trenner)
Out back of the Sarah McGarvin Intermediate School, in the small Orange County city of Westminster, a couple of dozen boys and girls ranging in age from first graders up to teenagers are kicking a soccer ball around, their bicycles parked to one side of the pitch. It's late summer, and the last day of the Little Brushstrokes soccer camp, which was put together for these refugee children by World Relief staffers and a number of local volunteers. Several days a week, sandwiched between the tennis and basketball courts, they have played soccer, speaking to each other in a mixture of pidgin English, Arabic, Farsi, Pashto. Several of the children are Syrian – part of the last batch of refugees to get into the country before the Supreme Court allowed the refugee ban to take effect this past June. Others are Afghan, Iraqi, Iranian and from a number of other Middle Eastern countries. Some of the girls wear hijabs in a slew of different colors.
The parents of many of these kids work at an assembly plant for medical equipment in nearby Irvine; others work local security jobs; others still are employed by restaurants. Many of the parents speak almost no English; increasingly, as their children pick up their new language, they lean on these children to translate for them and to help them navigate the complexities of life in the new world.
Once the children finish playing soccer, they will traipse over to the shaded copse just next to the main school building, where, sitting in a grassy area bordered by tissue paper hung from tall pine trees, they will eat slices of cheese pizza and chocolate cookies, washed down by Gatorade, while each are given medals for their participation in the summer program.
Photo: Ed Trenner
For 11-year-old twins Maher and Farah, Syrian refugees from a middle-class, business-owning family who spent five years in Egypt before recently being admitted into the U.S. with their parents and grandparents, the program has been a perfect way to begin their new lives in America. "We played soccer. We made friends," explains Farah, a shy young girl who likes science and sports. She wants to continue soccer after the summer, once they start their new school, playing as a goalkeeper. Her brother, a Barcelona fan who idolizes the Argentinian superstar Lionel Messi, wants to be a striker.
Amidst the nastiness of Trump's anti-refugee stance, California's politicians and residents have remained steadfast in their commitment to welcome refugees.
To celebrate their new lives in California, the twins' parents and grandparents threw them a surprise birthday party earlier that month. Their mother, Hanan, cooked traditional Syrian food — stuffed grape leaves, chicken wraps, shish barak, tabbouleh – as well as cookies, cake and ice cream. To make their environs look more festive, they hung red and white balloons along the walls of their new apartment.
The party was captured on a cellphone video by Hanan and her husband, Bilal: Maher dressed in a tuxedo, his sister in a white party dress. Their pride shines through loud — that all-encompassing pride that most all parents, be they Syrian or American, have in their growing children.
When one talks to the family, however, a more enduring sadness emerges from the temporary joy of the birthday. During the Syrian fighting the twins' parents' and grandparents' homes were destroyed, and their businesses ransacked after they refused to allow militias to use their factory supply chain to smuggle weapons. Eventually they had to flee with pretty much only the clothes on their backs.
"I smile in pain and hurt," the grandmother, Amera, says softly, sitting at a picnic table near the soccer grounds, a three-minute walk from the little apartment they now live in. "I left my house, my belongings, everything. My life there. Daughters, relatives. I am still in very bad pain. Always, I am upset. I remember every day."
Photo: Ed Trenner
Now, in California, the grandparents are trying to pick up the pieces of their lives at an age when many of their peers are retired, to begin all over again. It's an awesome challenge for them, and for their working-age children. "We are surprised by a lot of things," says Amera's daughter, Hanan. "Financial problems. Getting a job is hard. Learning English. We feel insecure after the new regulations in America; we don't feel safe. Maybe one day the president comes to us and says, 'Leave.' Or doesn't give us a green card. Then there is no place to go. This is our fear."
Their stories are by no means unique. Talk to refugees, or special immigrant visa holders, and one hears both tales of heartbreak and a remarkable ability to endure, to start anew, to navigate new pathways.
No matter how much local refugee resettlement organizations want to help these newcomers, they remain largely at the mercy of state and federal policies. And as Trump's team has both imposed a temporary halt to non-SIV refugee flows, and proposed a long-term cap of 50,000 admissions per year, so one relief agency after another has had to close its idled resettlement offices.
In 2016, for example, World Relief's Garden Grove office resettled 250 refugees. This year, before the ban kicked in, it resettled 145, and has been told by the organization's Baltimore headquarters that, even if the ban is lifted it won't be able to take any more refugees in 2017, because of the numbers cap. Over the last few months, World Relief has shuttered five offices around the country – in Tennessee, Idaho, Florida, Ohio and Maryland.
In 2016, the Glendale office of the International Rescue Committee resettled 1,097; this year it has resettled 668 and doesn't anticipate being able to bring many more in during the remainder of the year. This year, in the Los Angeles area, three out of eight resettlement offices run by the several organizations working with refugees have closed. Martin Zogg, the director of the IRC's Glendale office, fears this trend will only accelerate. He envisages "a dramatic contraction" in the number of agencies working with refugees, and a corresponding "reduction in the ability to serve refugees."
And yet, amidst the nastiness of Trump's anti-immigrant and anti-refugee stance, California's politicians and residents have remained remarkably steadfast in their commitment to help and to welcome new arrivals. "That sends a very powerful message to Washington," argues the IRC's Anna Greene. "California and other states can do a lot by signaling welcome."
Karen Ferguson, executive director of IRC's Northern California chapter, agrees. "California is just continuing to be as positive a place in the midst of this very negative rhetoric as possible. You feel it every day here. I am so proud of this state. We all should be."
---
Copyright Capital & Main.
Resistance in the Heartland: Fighting ICE in Small-Town Iowa and Nebraska
Co-published by Law at the Margins.
Mass arrests and mistreatment of immigrants split local communities.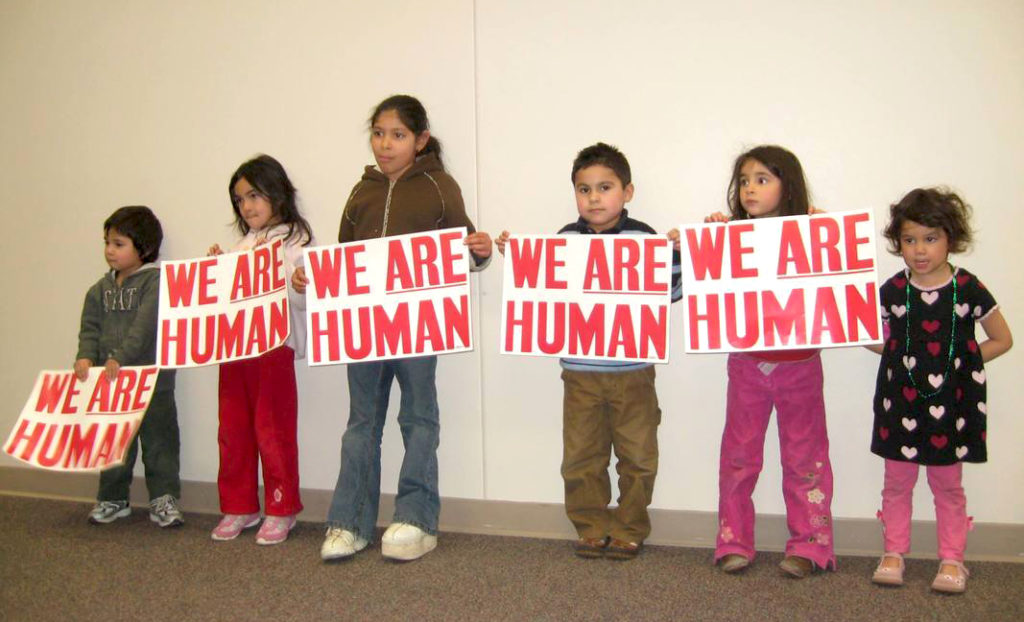 Editor's note: This article is co-published by Capital & Main and Law at the Margins. It is part of "We the Immigrants," a Community Based News Room (CBNR) series that examines how immigrant communities across the United States are responding to immigration policies.  The five-part series is supported by a Solutions Journalism Network Renewing Democracy grant.
---
"You have to leave the country now that Trump is president." That's what Latinx children heard from some white schoolmates in the small southeastern Iowa town of Mount Pleasant in the days after Donald Trump was elected.
Eighteen months later, the threat of deportation seemed much more real than a schoolyard taunt. On May 9, Immigration and Customs Enforcement (ICE) agents detained 32 men—22 from Guatemala and the rest from Mexico, El Salvador and Honduras—at Mount Pleasant's Midwest Precast Concrete (MPC) plant. A concrete mixing plant that started up more than a decade ago, MPC owes its building and success largely to migrant Latino labor, including that of some highly valued supervisors who were swept up.
The raid came out of nowhere, without warning. "They had a canine unit and a helicopter," arrested MPC worker Nelson Lopez Sanchez told a reporter through a translator. "Some people got beat up. As they were trying to get away, officers used force. Agents were very impolite, making racist comments." Sanchez came to the United States 14 year ago, fleeing corruption and violence in his native Guatemala.
When college student Juana Barrios learned about the detention of her father, an MPC worker who had worked in the United States for 17 years, it was like living a nightmare. "Scary … the worst feeling I'd ever experienced in my life," Barrios told an Iowa Public Radio (IPR) interviewer nine days after the raid. "[My father] was our rock, our everything. We need him."
Other families hit by the raid also were traumatized. Many became afraid to leave their homes. For two days after the raid, 90 children stayed out of school. Three of the detained men were married to U.S. citizens and in the process of becoming citizens themselves. Each of them nonetheless had to put up a $10,000 bond and pay hundreds of dollars for a work permit if they wanted to resume legal employment.
Others among the detained group were asylum seekers fleeing rampant drug violence and government corruption in Guatemala. It's not illegal to seek asylum in the U.S, and you have to be on U.S. soil in order to apply for asylum here.
Grassroots Emergency Responses Activated
Latinx immigrants together with local and regional allies, responded immediately to defend and support detained workers and their families—to raise bond money and help them "find a way out of this." Local churches and schools have provided critical caring, sanctuary and sustenance while regional activists have arrived to provide critical legal, counseling and organizing assistance.
Before the raid, Mount Pleasant was home to a local chapter of the League of United Latin American Citizens (LULAC), an immigrant-led organization. LULAC leader David Suarez, a respected community outreach officer for a local bank and journalist, first alerted Mount Pleasant activists of the raid after a fellow Latino community member called him and informed him of a helicopter above and state police on the industrial perimeter.
On the day of the raid, LULAC hosted a meeting for families who were impacted, but because they were a brand-new organization, Suarez immediately reached out to First Presbyterian Church (FPC) and IowaWINS (Iowa Welcomes Its Immigrant Neighbors) for support and space. By nightfall after the morning raid, the church was packed with people ready to help.
The Rev. Trey Hegar, the pastor at FPC and a Marine veteran, opposes what he calls "nationalistic politics and theology." He counters the nativism of local Republicans by quoting Leviticus: "The stranger who resides with you shall … love … as yourself, for you were aliens in the land of Egypt." After Trump was elected, Hegar agreed to make the church an immigrant sanctuary when and if "la migra" (as Latinx immigrants call ICE) arrived.  The church would soon become the place where the coalition work coalesced.
ICE actions have a history in Iowa. In 2008, a raid devastated the community of Postville—which is just 176 miles from Mount Pleasant—sweeping up 20 percent of the town's population (389 people) and costing the local economy $5 million, according to The Intercept. Grassroots allies already were in place before ICE came to Mount Pleasant. They were prepared.
'Fighting Back with Solidarity'
FPC is also home to IowaWINS, formed three years ago to support Syrian refugees. After the 2016 elections, the organization shifted its focus to defending local immigrants from Mexico and Central America.
IowaWINS raised $120,000 to pay for rent, groceries, utilities and legal expenses for impacted families. It distributes food and household goods from a pantry at the back of the church. One IowaWINS leader has become the legal guardian of a teenager who lost his sole parent during the raid. Another is a teacher who sees all her students, including the children of immigrants, as "like my own children." She reports that many of the detained workers' children are "DACA recipients," or "Dreamers," brought to the U.S. "illegally" and residing here on renewable two-year certificates of deferred action.
While support from white allies has been critical, immigrant and Latinx self-defense has been essential. Another early partner was Iowa City's immigrant-led Center for Worker Justice (CWJ), whose former president, Mazahir Saleh, became the first Sudanese-American to hold an elective office when she won an Iowa City Council race in 2016. CWJ president Rafael Morataya and volunteers came to Mount Pleasant immediately after the raid, contributing translation, organizing experience and ally networks.
"Our success and survival," the CWJ says, "depends on each other, regardless of where we are born, or what language we grew up speaking. In the face of attacks on immigrant communities, we are fighting back with solidarity. We've seen firsthand the destruction that comes from criminalizing immigrant workers. It terrorizes families, gives unscrupulous employers enormous power to intimidate workers, and weakens our entire community. It doesn't have to be this way."
Since Trump's election, the CWJ has trained hundreds of "rapid response," "family support" and "legal team" volunteers. It will be on hand when ICE conducts another raid in the region. (Hegar reports that ICE agents recently visited the personnel office of a local meatpacking plant in search of undocumented workers.)
In reflecting on the coalition work in an interview with us, Suarez stressed the importance of "working in partnerships. That was key, he said, in Mount Pleasant. "Individual effort is important, but a unified effort is better."
Bonding Out As a First Line of Defense
In time, other allies also have stepped up. Volunteers arrived from the University of Iowa (UI) Labor Center, a labor education program that has long advised and advocated for the state's highly exploited Latinx farm workers. UI law professor Bram Elias brought law students to visit the detainees in jail and to advise the men and their families. Joining the resistance were the American Friends Service Committee, Iowa's progressive teamsters local, United Food and Commercial Workers (UFCW), the American Federation of Labor and Congress of Industrial Organizations (AFL-CIO), the Catholic Diocese of Davenport (Iowa), and the Eastern Iowa Community Bond Project (EICBP), which raises funds to get detainees out of jail and into the federal immigration court system before they can be deported.
"What we need to do [first and foremost]," LULAC director Maria Bribesco told Our Quad Cities one day after the raid, "is … pay the bond … so they're not deported immediately."
Under the leadership of its co-founder, Natalia Espina, a Chilean-American Iowa City activist and LULAC member, the bond group has played a pivotal role. Paying bonds for the detained workers before they can be removed from the country puts them into a federal immigration court system that is backed up for as long as five years in many cases. This turns folks who were undocumented and living in the shadows into people who are legally safe for as much as half a decade.
The bonds—ranging from $3,500 to $10,000, depending on the immigration violations detainees are charged with—must be paid in person at the regional ICE administrative office in Omaha, Neb., a five-hour drive.
Early legal intervention is imperative, CWJ member Joe Marron reports. In the great majority of cases where detained workers receive rapid legal assistance and bond support, release is achieved.
At this moment, 26 of the 32 MPC workers seized last May have been released on bond. Four have been deported. Two remain behind bars.
Top-Down Raids vs. Bottom-Up Organizing
In Mount Pleasant as in other small towns across the American heartland in 2018, the story has started the same way—literally from the top down—as the Trump administration has re-initiated the high-profile, military-style workplace immigration raids that last occurred under George W. Bush.
The existence of immigrant leaders like Suarez and allies like FPC, Iowa Wins and CWJ were instrumental to the release of the detainees. In other towns, like in O'Neill, Neb., the Aug. 8 raids were a new experience for the community. The topic of immigration had not been discussed among neighbors, which caused the town to be split on the issue.
High school teacher and wrestling coach Bryan Corkle, father of four and a longtime resident of O'Neil, grew up on Rush Limbaugh conservative media. He experienced his own shift on immigration after seeing his immigrant students work hard, get a high school diploma, and unable to find work or continue to college.
"It started with my kids," Corkle explains. "I fell back on my faith. I was a voice of one, but moving forward, it is changing. Do unto them, as we would want for our ancestors."
Pastor Brian Loy, who leads the First United Methodist Church in O'Neill and helps run a food bank every week, reported to us that he had lost old high school friends of 30-40 years over his support of laborers.
"Fifty percent of what I knew about immigration was wrong. I was learning as the raid was unfolding." That's why, he says, "we need to educate, educate, educate our communities on immigration."
The grassroots infrastructure that existed in Mount Pleasant was not yet developed in O'Neil. "We did not have experience responding to raids at the moment, but we relied on statewide groups like Nebraska Appleseed and Center for Rural Affairs," said Corkle.
Corkle views the faith community as playing a leadership role in protecting immigrants in O'Neill and building support and financial systems for immigrants and their families. This was also true in Mount Pleasant.
In O'Neill, Pastor Loy is working with his church leadership to create an emergency response plan, which he hopes will be distributed to the 1,000-plus Methodist churches in the Kansas and Nebraska areas. This, he hopes, will better prepare other small towns where their churches are located to respond to raids and protect their immigrant congregants. He also is creating an immigration council comprised of impacted families to ensure they are part of the process of coordinating any assistance.
Both Loy and Corkle acknowledge the importance of involving the immigrant communities in humanitarian work and developing their leadership. This approach seems to be key in Mount Pleasant where Suarez and other immigrant leaders have helped bridge the divides between the town. Even there, Suarez shares, they did not have support of 50 percent of the town, but they were successful because they were unified among the remaining 50 percent.
Corkle finds future hope for such leadership in his immigrant students like Stephanie Gonzalez.  Stephanie's mom was among the immigrants detained in the raids in O'Neill and, to this day, remains in detention, leaving Stephanie, 17, a high school senior, and her two younger brothers (elementary school aged and 1 year old, respectively) in the care of her high school friend's parents.
"I'm scared about my future," says Stephanie, but "I'm determined to go to college because my mom came here to give me a better life. I want her to be proud of me. When I get my dreams, she will also get hers."
For now, she is worrying  about how to pay for nursing school, in which she has already gained admission and hopes to create an organization after completing her studies that would help families like hers.
Catch-22: Freedom Isn't Free
There are real limits to what local and regional immigrant rights first responders have been able to achieve for those targeted by ICE. Getting bonded out of detention is one thing. Being able to work legally is another. The 26 "liberated" Mount Pleasant detainees are "stuck in a catch-22," Hegar admits. Without the right to be gainfully employed in the U.S., many are tempted to "voluntarily self-deport" back to their original home countries. But "if they leave the country prior to receiving an immigration hearing," Hegar says, "the men forfeit their right to return and risk never being able to see their families again."
It's a dark twist on the bumper sticker maxim one commonly sees on the back of pickup trucks in the rural heartland: "Freedom Isn't Free."
Hegar sees some of the released detainees' "heads hanging" as they come into the church's food pantry. "These guys aren't takers. They're workers," Hegar observes. "The men don't like relying on charity, their spouses and their older children," some of whom have had to defer education and careers to take low-paid jobs.
O'Neill has the same urgent need for resources, Pastor Loy says, to help families with rent, food, so that they can stay in the community.
Volunteer psychology students from the university are counseling some of the men in Mount Pleasant on how to process the great blow to their pride and their traditional role as breadwinners.
Some of those detained and released are thinking seriously about returning to the terrible conditions they fled in Central America and Mexico.
"That's the point of the raids," Hegar concedes. "To deter immigration."
People gather at 13th St. and Norfolk Ave. in Norfolk to protest immigration enforcement in north central Nebraska…

Posted by News Channel Nebraska on Thursday, August 9, 2018
Morataya from CWJ wonders "who benefits" from a federal immigration policy that spends millions of taxpayer dollars on terrorizing and devastating families and stripping employers of a highly valued labor supplies. Suarez echoes this point.
"Mount Pleasant is a growing rural economy and needs immigrants," explains Suarez. "The evidence is in the open jobs that are not being filled." Suarez reports that Latinx workers perform difficult, dangerous and dirty work tasks (such as animal slaughtering and meatpacking) that white and a growing number of documented African (chiefly Sudanese and Congolese) immigrant workers tend to reject in Iowa—a state that is home, the EICBP reports, to 40,000 undocumented immigrants.
This is not uncommon in other parts of rural America. Corkle, for instance, says that unemployment in O'Neill is 2 percent due to the booming agro-business. "Places like Mount Pleasant and O'Neill are part of a Midwestern regional hub of rural economies, where if you want a job, you can get a job, and so there are no economic reasons to prevent immigration."
The support detained workers and their families have received in Mount Pleasant and other heartland communities subjected to ICE raids has granted them needed space and time to make deliberate and informed decisions on how best to move forward.
Still, Hegar, Suarez and Morataya say that the nation's immigration system is "fundamentally broken." It is in dire need of a "comprehensive reform" that provides a clear and reasonable path to citizenship and removes the constant fear, stigma and insecurity experienced by millions of immigrant workers on whom the nation depends for its economic vitality.
"We need immigration reform as soon as possible" says Suarez. In the meantime, LULAC will continue to help detainees because the immigration process can take a long time. Suarez knows this firsthand: "I am a first-generation immigrant. It took me 10 years and $20,000 to become a U.S. citizen. I know what the families who have no resources are going through."
Corkle knows what is needed for O'Neill. "I want to see proactive immigration reform to stop this endless cycle of raids." He believes that a majority of rural Americans agree that the immigration system needs to be fixed, but disagree on how to fix it.
Stephanie see immigration reform as the only solution to unite her family separated by the raids.
Still, Corkle says, "Rural America gets a bad rap as not being welcoming. "What I find lost in the national conversation is that on the far right, they are trying to build the wall, and to the far left, they want to abolish ICE. The oxygen is being taken out for a reasonable position on immigration reform."
Hegar also worries about the nation's political silence on the United States' role in creating the miserable conditions that so many workers and farmer are trying to escape in Mexico and Central America.
Direct service and solidarity are important, but there's no "way out of this" without effective advocacy for sweeping systemic and policy change.
---
Paul Street is an independent journalist based in Iowa City, Iowa. Chaumtoli Huq is the editor of Law at the Margins.