An Environmental Victory in Oxnard
A state regulator signals its intent to deny a controversial gas-fired plant proposal.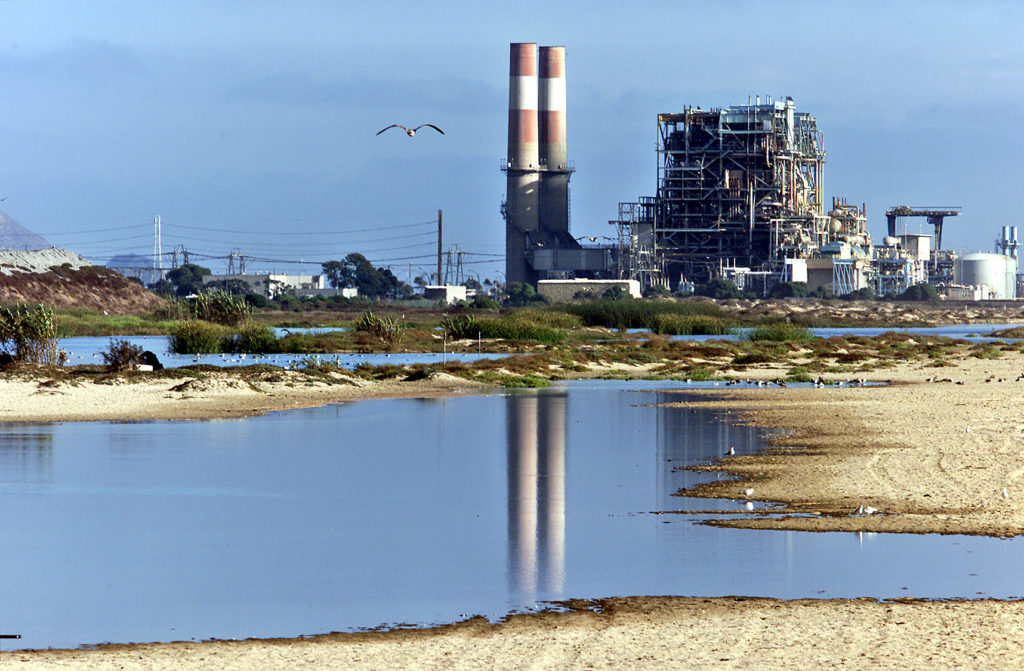 Power plant on Oxnard coast. (Photo: Ricardo Dearatanha/Los Angeles Times via Getty Images)
Puente Power Project opponents say state regulators' rejection of the proposed plant is the most significant battle in a grassroots war against a fossil fuel giant.
---
In a move environmental advocates call unprecedented, two members of a committee of the California Energy Commission (CEC) last week said the state regulator plans to reject NRG Energy's proposed 262-megawatt Puente Power Project in Oxnard. A letter opposing Puente, penned by CEC committee members Janea Scott and Karen Douglas, cited environmental concerns and strong civic opposition, along with a requirement to consider "feasible alternatives that avoid or reduce those impacts."
Assuming the other three members of the CEC agree with the members of the panel who wrote the letter – and who have followed the controversial issue for years – NRG's project is effectively dead. A proposed decision, which observers expect to follow the CEC panel's recommendation, is coming in November. A final decision will come in some time early next year after a public comment period.
Those familiar with the three-year legal battle say the CEC's unusual decision to signal intent well in advance of a ruling was spurred by a desire to give the local utility company, Southern California Edison, additional time to create a request for offers (RFO) for clean energy alternatives to NRG's 58-year-old Mandalay Generating Station, which will be decommissioned in January, 2021.
The CEC's statement of intent followed a study conducted by the California Independent System Operator (CAISO), the regulator in charge of grid reliability, exploring three clean energy alternatives that could the meet the area's energy needs in the absence of Puente. In a letter released September 29, CAISO stated that clean energy alternatives are technologically feasible and could meet the region's needs, and that RFOs for those alternatives should be expedited.
Puente's opponents say the CEC letter is the most significant battle in a grassroots war that pitted residents, advocates and the city of Oxnard against a fossil fuel giant. They argued that NRG's proposal for another gas plant on Oxnard's coastline was an environmental justice case, as the predominantly Latino and low-income community 90 minutes north of Los Angeles had been struggling for years to reclaim its beaches from industrial development.
Matt Vespa, a staff attorney with Earthjustice, one of the groups opposing the NRG proposal, said the CEC decision was "huge and surprising."
"Honestly, I thought it was going to get built," Vespa told Capital & Main, pointing to the fact that NRG already had a contract to build the plant, which ordinarily gives a project momentum.
"Plus, the staff of the CEC had put out analyses that were very dismissive of the environmental impacts to the area, which makes [the CEC] letter even more surprising," Vespa said.
The project had already crossed a major hurdle when the other overseeing regulator, the California Public Utilities Commission, approved it in 2016.
"NRG has repeatedly said the region needs a huge gas-powered plant to keep the lights on," said Lucas Zucker, a spokesman for the Central Coast Alliance United for a Sustainable Economy (CAUSE). "But having a commission that's actually charged with keeping the lights on in the state disagree really destroys that argument."
"I hope the cleantech sector sees this as a watershed moment where they can be cost-competitive with gas-fired plants," Zucker said, adding that his group and local residents are "celebrating, but not resting yet."
---
Copyright Capital & Main