Energy War: Oxnard Wants Its Beach Back
A long-beleaguered Central Coast city fights plans for a new natural gas power plant.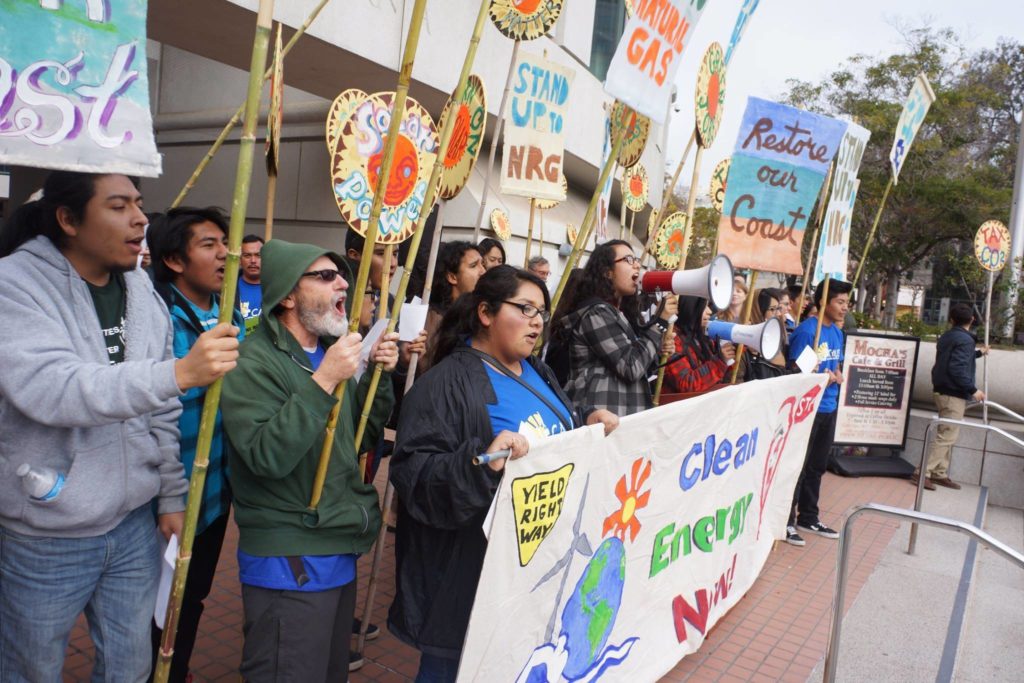 A long-beleaguered Central Coast city
fights plans for a new natural gas power plant
---
Natural gas power plants have left their stamp on the beaches in Oxnard, a city of about 200,000 along the Pacific Coast between Malibu and Santa Barbara. Add industrial plants belching smoke into the coastal fog, and that noxious mix often shrouds the city in a gray-brown haze.
Oxnard has long been one of the most environmentally burdened communities in the state, and for generations the predominantly Latino residents shrugged and suffered in silence, quietly accepting the industries that continued to pollute their community.
The attitude of many was, "We get screwed because we're poor," says Lucas Zucker, a spokesman for the Central Coast Alliance United for a Sustainable Economy (CAUSE).
But that attitude has been changing. An aroused community is finding its voice and has been venting anger towards new oil and gas industry proposals for the past decade. Now, residents and city officials are saying no to industry on their beaches.
The current target is the Puente Power Project, a 262-megawatt gas-fired plant, proposed by Southern California Edison and Houston-based NRG Energy. The project would provide enough electricity to serve 130,000, according to the company, and would replace two plants at NRG's 58-year-old Mandalay Generating Station on an Oxnard beach. Those plants use an obsolete technology very harmful to marine life, and the state has ordered them closed by 2020.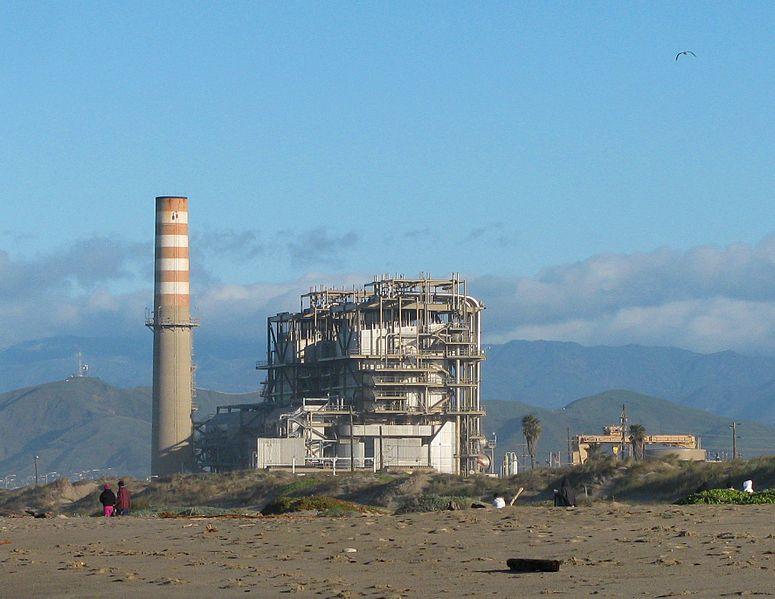 Beached: A Mandalay generating station in Oxnard. (Photo: Antandrus)
A new power plant promising nearly $3 million annually in property taxes, as Puente does, is no longer greeted with a shrug or even a cheer. The tide began turning against industry after the California Coastal Conservancy awarded a $13 million grant to restore the wetlands at Oxnard's Ormond Beach, and the United States Environmental Protection Agency named an abandoned toxic waste dump on the beach a Superfund cleanup site.
The conservancy grant and the Superfund designation brought much more local attention to the issue of "rare wetlands beneath smokestacks," Zucker told Capital & Main.
That attention turned to anger that spilled over in 2006, after BHP Billiton, the largest mining company in the world, proposed a liquefied natural gas (LNG) terminal in the Santa Barbara channel. That project would have required a pipeline to run under a densely populated, low-income residential neighborhood in Oxnard. When more than 3,000 residents turned out in opposition at a State Lands Commission hearing, the project was rejected.
Four years later, an energized coalition of residents and environmentalists defeated another LNG project environmentalists said would threaten the Santa Barbara Channel.
And the Oxnard City Council passed a moratorium three years ago barring building new power plants along the city's coast.
Now, environmental groups opposing the Puente project are using two maps to bolster their legal arguments. The first, a Nature Conservancy sea level rise map, projects that Puente would be vulnerable to flooding due to sea level rise triggered by climate change.
The second map, a California EPA CalEnviroScreen, underscores just how much Oxnard has suffered from industrial pollution. Puente's opponents also say Southern California Edison's power plant proposal ignored a state requirement to avoid concentrating industry in low-income communities of color.
"The city council doesn't usually agree on much," but it unanimously opposed Puente, says Oxnard's Mayor Pro Tem, Carmen Ramírez. NRG could at least have found a less environmentally sensitive area for a new power plant, or, even better, have built a renewable energy facility rather than a natural gas plant, she says.
But none of the options, including locations proposed by the city, was viable, says Alexandra Angelina, an NRG spokesperson.
"They required either extensive construction of new high-voltage electric lines, or placed the plant closer to residential centers, neither of which is desirable to any stakeholders," she says.
The Mandalay site with existing infrastructure is "the best place to build the new power plant, located away from densely populated areas, and minimizing the environmental impacts," Angelina says.
For Councilwoman Ramírez, that translates as "the company thinks any alternative that requires building new gas infrastructure is too expensive."
Despite opposition from the city council and residents, the Puente project is far from a settled issue. A key state commission has already given Puente a green light, and its supporters include the Oxnard Chamber of Commerce, which argues that the project means dollars and jobs. More than a third of the millions the plant will generate annually in property taxes will go to the city's schools, says Chamber President Nancy Lindholm. Puente's construction and the demolition of the two Mandalay plants also will generate over $25 million in local payrolls, she says.
Even though federal data shows that the two Mandalay plants were operating at only 6.5 percent of their capacity in 2015, the chamber and NRG maintain that the new Puente project is necessary to meet the region's power needs.
To build support for its project, NRG initially used a charm offensive on Oxnard residents, claims CAUSES's Zucker.
"They would invite residents to a free dinner and presentation about a so-called new and improved power plant and persuaded them to speak in support of the project at the city council meeting," Zucker says. But few residents spoke up in favor of Puente.
NRG also upped its contributions to local nonprofits and offered local veterans free tickets to the Ventura County Fair. When their attempts to woo the public didn't work, NRG played hardball.
Latham & Watkins, NRG's law firm, sent a letter to the California Coastal Commission in 2015, asking it to pull back funding it had granted to the city to complete its Local Coastal Program, a long-term vision for a deindustrialized and restored Oxnard coastline.
Even more galling, residents say, was NRG's threat, expressed in Oxnard City Council meetings in 2015, to abandon the two Mandalay plants, once they are decommissioned, to rust on the beach if the Puente proposal is rejected.
NRG says its offer to clean up Mandalay only if Puente is built is not a threat. The company was not required to, but voluntarily offered to demolish the two plants in its proposal, company spokesperson Angelina says.
"If Puente did not move forward, NRG would remain as property owner," she says. If it becomes necessary to operate the plants past their retirement dates, "NRG will comply with all applicable laws," she says. "If the plants were to retire, NRG would continue to comply with all regulations for the safe, secure and environmentally responsible retirement of the units. However, the structures themselves would likely remain in place until another redevelopment opportunity provided the revenue needed to demolish and remove them."
To Councilwoman Ramírez, that's still a threat.
"NRG is saying that they will only clean up Mandalay if they are allowed to build Puente," she says.
The Chamber of Commerce's Lindholm dangles the prospect of demolishing the Mandalay plants as an inducement for supporting Puente, emphasizing that the demolition "will greatly improve our coastline and improve beach access for residents."
Ramírez is wary of any potential polluters, given their ugly history in Oxnard. Halco, a metal smelter, left behind the radioactive slag heap on Ormond Beach and ran, she says. That slag is now the Superfund toxic waste site.
"NRG is not even trying to play nice," Ramírez says, adding that the company wouldn't allow the California Coastal Commission onto their site to do an environmental survey.
Ultimately the decision on Puente's fate is not up to the city, but to the state Public Utilities Commission and the California Energy Commission. Environmentalists and Oxnard residents worry that the agencies could override the will of the city.
One already has.
In an unprecedented January, 2016, ruling, PUC administrative law judge Regina DeAngelis said Puente should not be approved until the commission completes further analysis of the sea level rise and the project's impacts on communities of color. Her decision was the first time the PUC had ever declined to approve a power plant based on climate change risks or environmental justice issues.
Three Democratic state legislators wrote the PUC in February, asking it "to pause and reevaluate the need" for Puente and several other proposed natural gas facilities. The letter from Sen. Hannah-Beth Jackson of Santa Barbara, Sen. Henry Stern of Canoga Park and Santa Barbara Assemblywoman Monique Limón urged finding cleaner alternatives and underused existing plants. It also referred to a recent Los Angeles Times report showing that the state's natural gas infrastructure is overbuilt.
But the PUC overruled DeAngelis in May,  and approved the construction of Puente. The proposed project has cleared one regulatory hurdle. Only the energy commission remains.
A decision from that commission had been expected by now, but last week the panel revised its schedule to accommodate additional public comments and testimony. Those closely observing the case say a decision won't be coming before the end of the year.

The Climate Summit's Inconvenient Truth: People Need Jobs
Co-published by Fast Company
Much of the recent gathering in San Francisco involved corporate and government backslapping — noble but too easily mocked.

Co-published by Fast Company
Amid the swell of protesters demanding California put an end to oil, and a police force growing irritated with their monotonous chanting ("I'm going to be singing that one in my sleep," said one officer), I met Theodore Hunt. It was not a chance meeting. Earlier, on the first day of the Global Climate Action Summit at San Francisco's Moscone Center, I had rented an electric-assist bike to get to a lunch meeting, navigating the downtown streets by way of Google Maps with my iPhone in the bike's basket. In a rush to lock up the bike outside the restaurant, I left my phone behind.
Hunt was my savior. When I called my number on a borrowed phone, he answered, and promised to leave the phone for me later at the office of the bike company. But the office was far, and I needed my phone, so instead I tracked him down using an iPad and the Find Your iPhone app. When the tiny phone icon showed up at a building across the street, I scurried down three flights of escalators, borrowing phones along the way to sync up my coordinates with Hunt. Cops, security guards, random strangers — by the time we all spotted a tall African-American man on a bright red bike waving from across Third Street, it seemed all of San Francisco had become invested in our saga. When Hunt and I made the handoff and I hugged him with gratitude, a small cheer went up.
It was a magically reassuring moment during an international gathering of climate activists, elected officials and corporate leaders who had come here committed to holding the United States to the terms of the 2015 Paris Climate Agreement, Trump and his administration be damned.
Much of the summit was simple corporate and government backslapping — noble but too easily mocked. What does it matter if General Electric presents its climate ideals when the corporation refuses to back down on plans for a new coal plant in Kenya? Starbucks might have banned plastic straws, but emissions still accumulate in the long lines at its many drive-throughs. And McDonald's? Really?
For protesters outside the fences, maintaining global temperature below the point-of-no-return threshold means that, in some cases, entire industries have to be shut down. "We have to keep 80 percent of the fossil-fuel reserves that we know about underground," the noted author and climate warrior Bill McKibben has written. "If we don't—if we dig up the coal and oil and gas and burn them—we will overwhelm the planet's physical systems, heating the Earth far past the red lines drawn by scientists and governments."
The problem with that strategy is that with those industries, oil and coal, come many thousands of well-paying, often union jobs. "Climate strategies that leave coal miners' pension funds bankrupt, power plant workers unemployed, construction workers making less than they do now," said AFL-CIO President Richard Trumka in a speech on opening day, "fundamentally undermine the power of the political coalition needed to address the climate crisis." The issue of the climate versus jobs will be used by the foes of both labor and clean energy to divide the country, Trumka noted. It already has.
In the near term, if oil extraction were to suddenly come to an end in California, 30,000 people would lose their livelihoods, and thousands more will be out of work in places where industries depend on California oil. In the long term, jobs wouldn't be available to a new generation full of people like Theodore Hunt — smart, honest and capable, but not necessarily pre-armed with the privilege and educational credentials to parlay those qualities into a six-figure job. Hunt, who is 28 and single, told me he works as much as he can: As a mechanic servicing the city's network of electric bikes, he can earn as much as $800 on a busy week. If he meshes his maintenance duties with a food-delivery service, like Uber Eats, he might make $1,200 in a week — a decent living wage almost anywhere besides San Francisco, where he can't afford to live.
But the big weeks are rare, and if Hunt gets sick, or injured, or takes a mental-health break, he doesn't get paid at all. He belongs to the 8.5 percent of California workers whom the University of California, Berkeley Labor Center calls the "unincorporated self-employed." He gets paid when he delivers a meal or services a bike. He does not get paid when he stops to eat lunch. If he wants health insurance, he must buy it himself.
Hunt likes his job: The hours vary, he gets to be outside, he interacts with people. Like so many other "green" jobs, Hunt's is many times more pleasant and safer than mining coal, or working on an oil rig. But it's not a steady living on which to buy a house or support a family.
Nor is installing solar panels on rooftops, a job that generally pays $14 to $20 and hour, rarely with benefits. Trumka told the summit that 4,000 megawatts of solar had been installed in the San Joaquin Valley over the last two decades. "Fifteen million job-hours of union work, at union wages and with union benefits, made that possible," he said. But once those plants are built, it takes only a few people to keep them operating, and no one has to mine the fuel. The same math applies to wind farms: Once the turbines are up, most of the work is done.
Paul Getsos, national director of the People's Climate Movement, has spent more than a decade thinking through what it means to bring the labor movement into the climate fight by way of a just transition for workers. He organized in disadvantaged communities around the Obama administration's stimulus package. Later, he assessed green jobs for the Center for Community Change, and found that "the promise of 'green jobs' wasn't fulfilled for a lot of communities. There's a very narrow view of what a 'green job' is." The solution to the worker-transition conundrum for a 100 percent clean energy economy is to expand that definition. "Manufacturing electric cars is a 'green job,' said Getsos. "Rebuilding infrastructure in North Carolina to keep people safe from coal ash — that's a 'green job.'"
Retrofitting homes and business to use less energy is also a green job — and one of the best, according to Getsos: "[Energy efficiency] is one of the areas where there is access to new jobs that don't require higher education." It's also ripe for job growth. In New York City, a mandate to retrofit the city's buildings — which account for two-thirds of the city's greenhouse gas emissions — will yield 17,000 jobs between now and 2030.
Energy efficiency isn't a big field in some of the smaller towns where dirty fossil-fuel plants exist. In Centralia, Washington, where a coal plant employing 300 workers making $80,000 a year will begin shutting down in 2020, environmentalists and labor negotiated an agreement with the city and the plant operator, TransAlta, to invest $55 million in worker retraining and community development in exchange for an expedited permit to build a natural gas plant on the same site. (Natural gas isn't perfect, but for the climate it's better than coal.)
Legislators could also intervene with laws granting benefits and collective bargaining rights to people like Theodore Hunt. As smart technology expands further into transportation and utilities, some necessary jobs will become more fluid for employers and less rewarding for workers. California Assemblymember Lorena Gonzalez Fletcher has introduced two bills over the past few years to give contract employees workers' compensation benefits and the right to form and join unions, and Assemblymember Evan Low last session brought up a bill that would guarantee contract workers portable benefits. None have yet made it to the governor's desk.
"We can't just say 'green jobs'," Getsos said. "We need to say green jobs, good jobs and worker access."
Those principles might be as consequential to the clean-energy economy as are the protesters' demands.
---
Copyright Capital & Main