Energy War: Oxnard Wants Its Beach Back
A long-beleaguered Central Coast city fights plans for a new natural gas power plant.

A long-beleaguered Central Coast city
fights plans for a new natural gas power plant
---
Natural gas power plants have left their stamp on the beaches in Oxnard, a city of about 200,000 along the Pacific Coast between Malibu and Santa Barbara. Add industrial plants belching smoke into the coastal fog, and that noxious mix often shrouds the city in a gray-brown haze.
Oxnard has long been one of the most environmentally burdened communities in the state, and for generations the predominantly Latino residents shrugged and suffered in silence, quietly accepting the industries that continued to pollute their community.
The attitude of many was, "We get screwed because we're poor," says Lucas Zucker, a spokesman for the Central Coast Alliance United for a Sustainable Economy (CAUSE).
But that attitude has been changing. An aroused community is finding its voice and has been venting anger towards new oil and gas industry proposals for the past decade. Now, residents and city officials are saying no to industry on their beaches.
The current target is the Puente Power Project, a 262-megawatt gas-fired plant, proposed by Southern California Edison and Houston-based NRG Energy. The project would provide enough electricity to serve 130,000, according to the company, and would replace two plants at NRG's 58-year-old Mandalay Generating Station on an Oxnard beach. Those plants use an obsolete technology very harmful to marine life, and the state has ordered them closed by 2020.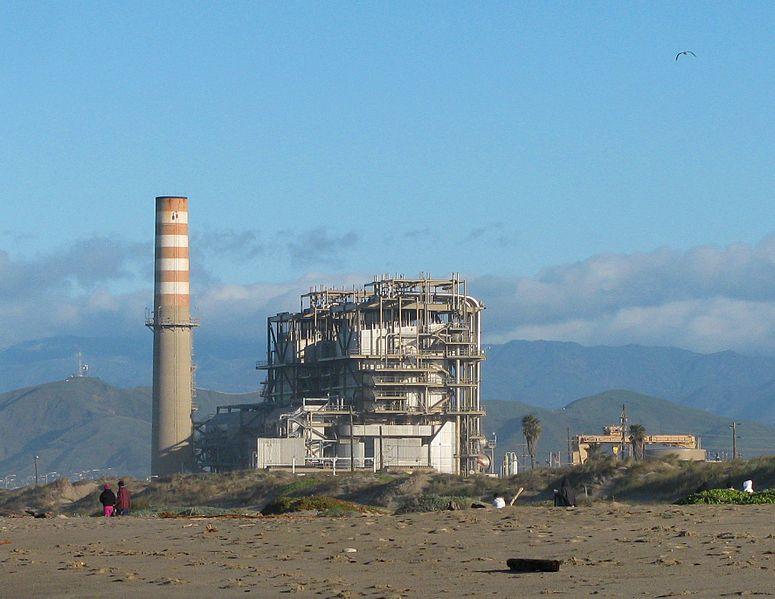 Beached: A Mandalay generating station in Oxnard. (Photo: Antandrus)
A new power plant promising nearly $3 million annually in property taxes, as Puente does, is no longer greeted with a shrug or even a cheer. The tide began turning against industry after the California Coastal Conservancy awarded a $13 million grant to restore the wetlands at Oxnard's Ormond Beach, and the United States Environmental Protection Agency named an abandoned toxic waste dump on the beach a Superfund cleanup site.
The conservancy grant and the Superfund designation brought much more local attention to the issue of "rare wetlands beneath smokestacks," Zucker told Capital & Main.
That attention turned to anger that spilled over in 2006, after BHP Billiton, the largest mining company in the world, proposed a liquefied natural gas (LNG) terminal in the Santa Barbara channel. That project would have required a pipeline to run under a densely populated, low-income residential neighborhood in Oxnard. When more than 3,000 residents turned out in opposition at a State Lands Commission hearing, the project was rejected.
Four years later, an energized coalition of residents and environmentalists defeated another LNG project environmentalists said would threaten the Santa Barbara Channel.
And the Oxnard City Council passed a moratorium three years ago barring building new power plants along the city's coast.
N
ow, environmental groups opposing the Puente project are using two maps to bolster their legal arguments. The first, a Nature Conservancy
sea level rise map
, projects that Puente would be vulnerable to flooding due to sea level rise triggered by climate change.
The second map, a California EPA CalEnviroScreen, underscores just how much Oxnard has suffered from industrial pollution. Puente's opponents also say Southern California Edison's power plant proposal ignored a state requirement to avoid concentrating industry in low-income communities of color.
"The city council doesn't usually agree on much," but it unanimously opposed Puente, says Oxnard's Mayor Pro Tem, Carmen Ramírez. NRG could at least have found a less environmentally sensitive area for a new power plant, or, even better, have built a renewable energy facility rather than a natural gas plant, she says.
But none of the options, including locations proposed by the city, was viable, says Alexandra Angelina, an NRG spokesperson.
"They required either extensive construction of new high-voltage electric lines, or placed the plant closer to residential centers, neither of which is desirable to any stakeholders," she says.
The Mandalay site with existing infrastructure is "the best place to build the new power plant, located away from densely populated areas, and minimizing the environmental impacts," Angelina says.
For Councilwoman Ramírez, that translates as "the company thinks any alternative that requires building new gas infrastructure is too expensive."
Despite opposition from the city council and residents, the Puente project is far from a settled issue. A key state commission has already given Puente a green light, and its supporters include the Oxnard Chamber of Commerce, which argues that the project means dollars and jobs. More than a third of the millions the plant will generate annually in property taxes will go to the city's schools, says Chamber President Nancy Lindholm. Puente's construction and the demolition of the two Mandalay plants also will generate over $25 million in local payrolls, she says.
Even though federal data shows that the two Mandalay plants were operating at only 6.5 percent of their capacity in 2015, the chamber and NRG maintain that the new Puente project is necessary to meet the region's power needs.
To build support for its project, NRG initially used a charm offensive on Oxnard residents, claims CAUSES's Zucker.
"They would invite residents to a free dinner and presentation about a so-called new and improved power plant and persuaded them to speak in support of the project at the city council meeting," Zucker says. But few residents spoke up in favor of Puente.
NRG also upped its contributions to local nonprofits and offered local veterans free tickets to the Ventura County Fair. When their attempts to woo the public didn't work, NRG played hardball.
Latham & Watkins, NRG's law firm, sent a letter to the California Coastal Commission in 2015, asking it to pull back funding it had granted to the city to complete its Local Coastal Program, a long-term vision for a deindustrialized and restored Oxnard coastline.
Even more galling, residents say, was NRG's threat, expressed in Oxnard City Council meetings in 2015, to abandon the two Mandalay plants, once they are decommissioned, to rust on the beach if the Puente proposal is rejected.
NRG says its offer to clean up Mandalay only if Puente is built is not a threat. The company was not required to, but voluntarily offered to demolish the two plants in its proposal, company spokesperson Angelina says.
"If Puente did not move forward, NRG would remain as property owner," she says. If it becomes necessary to operate the plants past their retirement dates, "NRG will comply with all applicable laws," she says. "If the plants were to retire, NRG would continue to comply with all regulations for the safe, secure and environmentally responsible retirement of the units. However, the structures themselves would likely remain in place until another redevelopment opportunity provided the revenue needed to demolish and remove them."
To Councilwoman Ramírez, that's still a threat.
"NRG is saying that they will only clean up Mandalay if they are allowed to build Puente," she says.
The Chamber of Commerce's Lindholm dangles the prospect of demolishing the Mandalay plants as an inducement for supporting Puente, emphasizing that the demolition "will greatly improve our coastline and improve beach access for residents."
Ramírez is wary of any potential polluters, given their ugly history in Oxnard. Halco, a metal smelter, left behind the radioactive slag heap on Ormond Beach and ran, she says. That slag is now the Superfund toxic waste site.
"NRG is not even trying to play nice," Ramírez says, adding that the company wouldn't allow the California Coastal Commission onto their site to do an environmental survey.
Ultimately the decision on Puente's fate is not up to the city, but to the state Public Utilities Commission and the California Energy Commission. Environmentalists and Oxnard residents worry that the agencies could override the will of the city.
One already has.
In an unprecedented January, 2016, ruling, PUC administrative law judge Regina DeAngelis said Puente should not be approved until the commission completes further analysis of the sea level rise and the project's impacts on communities of color. Her decision was the first time the PUC had ever declined to approve a power plant based on climate change risks or environmental justice issues.
Three Democratic state legislators wrote the PUC in February, asking it "to pause and reevaluate the need" for Puente and several other proposed natural gas facilities. The letter from Sen. Hannah-Beth Jackson of Santa Barbara, Sen. Henry Stern of Canoga Park and Santa Barbara Assemblywoman Monique Limón urged finding cleaner alternatives and underused existing plants. It also referred to a recent Los Angeles Times report showing that the state's natural gas infrastructure is overbuilt.
But the PUC overruled DeAngelis in May,  and approved the construction of Puente. The proposed project has cleared one regulatory hurdle. Only the energy commission remains.
A decision from that commission had been expected by now, but last week the panel revised its schedule to accommodate additional public comments and testimony. Those closely observing the case say a decision won't be coming before the end of the year.

All About EVs: Why There Isn't a Ford in Your Future
Are we putting too much pressure on autonomous electric vehicles to solve all of our problems, from pollution to congestion to traffic safety?

Photo: Justin Sullivan/Getty Images
---
"If you think being homeless is bad, try being homeless without a car."
---
A couple of years ago in a West L.A. park, I'd hang out with a guy named Richard, who told me he was a former film producer. Long out of work due to an undiagnosed mental illness, Richard had an idea for developing a television show called The Gutter Gourmet, in which he would teach people living out of their cars how to make nutritious meals with makeshift kitchen setups perched on their hoods or tailgates.
I thought the idea had legs, and we started shooting some footage. But one day Richard stopped showing up. When I saw him again a month or two later, both he and his old shepherd-mix dog looked depleted. He told me that his car had been impounded for parking tickets, and he'd just managed to get it back. He and his dog had spent weeks living in the open, where he said he'd been robbed and continually harassed.
"If you think being homeless is bad," he told me, "try being homeless without a car."
With every new analysis that comes out on the topic of autonomous vehicles, I think about the Richards of the world. In a study released last May, ReThinkX, a Palo Alto think tank, predicted that by 2030 almost no one among us will still own a car. Instead, we'll wheel around town in driverless electric vehicles, which we'll summon with our thumbs on our smartphones, much in the way we order a Lyft or Uber now. Tesla's Elon Musk has suggested that driving could one day be outlawed due to the dangers of human error, and Jensen Huang, CEO of Nvidia, Inc., which makes artificial intelligence systems, believes that robot cars will be ready to roll out in just four years.
It remains to be seen how a driverless future will benefit the poor. "Transport-as-a-service"
will likely have a deleterious effect on
public transportation.
Lest you conclude that only Silicon Valley futurists with a stake in this revolution buy into its inevitability, consider Bob Lutz, the 85-year-old former vice chairman of General Motors, who says that in 10 or 15 years, you'll be selling your internal combustion engine Chevrolet for scrap.
There are all sorts of dreamy upsides to this disruption of car culture, beginning with, but not limited to, the climate. The ReThinkX researchers project that "Transport as a Service," or TaaS, will mean fewer vehicles on the roads driving more miles, completely eliminating urban congestion. Cost, not environmental concerns, will drive the adoption of electric vehicles for autonomous fleets, as EVs are easier to maintain, cheaper to fuel and last for 500,000 miles. The average household will save more than $5,600 a year by not having to own, insure and maintain a car. The oil industry will collapse.
Researchers in Australia have even been studying whether autonomous vehicles could be programmed to avoid wildlife that strays onto roadways, reducing the need for fencing and other barriers, and thus preserving migration routes for animals such as Southern California's beloved but threatened cougars.
But it remains to be seen how this driverless future will benefit the poor. Transport-as-a-service will likely have a deleterious effect on public transportation, as people with more resources abandon it, opting instead to text, nap and browse Facebook on their solo, driverless commutes. Nor will it necessarily be accessible to people who move through the world without the technology and resources most people in the U.S. take for granted. Right now, the only way to order a rideshare from Lyft or Uber is with a smartphone, and while smartphone ownership in the U.S. has gone from 35 percent in 2011 to 77 percent in 2016, that still leaves nearly a quarter of Americans without the devices.
Rideshare services also require a bank account or credit card, or at least a funded PayPal account. Only seven percent of households manage without bank accounts in the U.S., as compared with eight percent in 2013 — a positive side effect of the economic recovery after the Great Recession. But among black and Latino households, as well as those headed by people with disabilities, close to half remain either "unbanked" or "underbanked," meaning they have some sort of bank account, but still use check-cashing services.
"We can't operate from the mindset that everyone is a savvy smartphone user with a bank account, good credit and an ample disposable income," says Jeremy Martin, head of the clean cars program at the Union of Concerned Scientists. "Transportation network providers should be required to ensure that payment mechanisms don't discriminate against anyone."
"As the footprint of transportation network companies grow," Martin adds, "our regulatory structures need to adapt along with them."
Then there are the people like Richard — people for whom a car isn't just a way of getting around town, but also a refuge. In Los Angeles alone, there are currently about 7,000 people living in their vehicles. If it's hard for them to find a place to park now, imagine what it will be like when individual car ownership is outlawed, and parking spaces have been repurposed for office parks.
Experts are not uniformly confident that free-market forces will give rise to the utopian future the ReThinkX report outlines. The fleet of self-driving cars—as many as 24,000—that Uber has agreed to buy from Volvo, for instance, will run on gasoline, though the carmaker claims they'll save fuel by "eliminating unnecessary acceleration." It's entirely possible that people who can afford to own one will, and road congestion will get worse. Only the well-heeled will then have the means to flee the city in the event of a disaster that destroys the grid and all its networks.
Daniel Sperling, director of the Institute of Transportation Studies at the University of California, Davis, has long warned that state and local regulation must jump ahead of the technological transformation to avert such a nightmare scenario. "Cities and states need to look at the policy levers they have," he says, to "discourage single- and zero-occupant automated vehicles." Some of those levers could be incentives, in the form of preferential parking and tax credits. Some could be prohibitions on independent riders. "From a policy perspective we've got to start figuring that out."
Autonomous rides could be made accessible and affordable to the unplugged and unbanked pretty easily, using the same model urban transit agencies use to pay for bus and rail fares. Cash-only riders can load up cards in advance at kiosks or convenience stores. BlueLA, a pilot electric-vehicle car-sharing program due to launch in 2018, operates on the same principle, offering drivers the opportunity to reserve cars and pay fees at transit hubs and other key points around Los Angeles. The process doesn't require a smart phone.
State and local governments might also subsidize driverless rideshares for low-income and elderly riders. That might sound extravagant, but in some places, funding a network of shared autonomous vehicles could cost less than funding more miles of bus and rail transit. As Sperling highlights in his book due out in March, Three Revolutions: Steering Shared, Automated and Electric Vehicles to a Better Future, single-occupant Uber and Lyft services currently run about $1.50 per mile. Put two or three passengers in each vehicle and take away the driver, and the cost per mile of travel drops to about 10 cents.
And that's not just because no one has to pay a driver. It simply costs less per mile, Sperling says, to own a vehicle that drives more miles in a year. "If you divide the [annual] depreciation of a car over 15,000 miles," Sperling explains, "then the cost per mile is much more than if it's spread over 100,000 miles." The same principle applies to insurance, registration and any other fixed costs.
In nearly every urban center, parking takes up enough land to solve a city's housing crisis.
In theory, the new robot-car society might even offer a solution to Richard's living space problem. Because autonomous vehicles obviate the need for parking lots, some of the land in cities could be rezoned for low- or even no-cost housing. Or it could just go toward housing in general, which has hit a crisis point in nearly every large city in the U.S.
"Parking takes up premium land," says Matthew Lewis, a climate consultant and urban planning advocate in Berkeley, California. It's also richly subsidized land. The way it pencils out, Lewis says, is that city "taxpayers actually pay car owners to use that land." And in nearly every urban center, parking takes up enough land to solve nearly every city's housing crisis. Parking in the City of Los Angeles, according to the parking inventory mapping project What the Street!?, takes up about 183 million square feet. That's enough space to put up 18,300 small-lot multi-family structures, with six to 10 units each.
But ending America's urban housing crisis may be freighting the autonomous nirvana with a bit too much transformative hope. Especially since, as Lewis argues, we already have the way to reduce congestion and pollution, and to free up parking in urban centers: "Ban cars," he says. "At least in the urban cores where they make the least sense." For that, he notes, "You don't need new technology. You need political will." If we can't muster the civic determination to drop parking requirements from new development, establish dedicated bike lanes, and pedestrianize city streets now, it's hard to imagine we'll do autonomous vehicles in the fair and clean way in 10 or 20 years.
"The AV folks think they've got a car that's a solution to cars," Lewis says. "But in the meantime we've got a climate crisis and a housing crisis that are feeding each other. We don't need to wait until parking disappears in 2045 to address it."
---
Copyright Capital & Main