Ending California's Incarceration Quagmire
As California grapples with a prison system so broken that the U.S. Supreme Court has mandated reductions in the number of prisoners it holds, the three-part "Smart Justice: Rethinking Public Safety in California" discussion begun this past week at the University of Southern California is examining both consequences and possible solutions to the state's mass incarceration mess.
Moderated by Tomás Rivera Policy Institute director Roberto Suro, the first session—titled "California's Corrections Systems and the Lives They Impact" and organized by Californians for Safety and Justice and USC's Students Talk Back program—featured presentations by James Austin, president of the JFA Institute and author of a ground-breaking report on reducing prison populations, Susan Burton, former inmate and founder of A New Way of Life Reentry Program, and USC graduate students Emily Reisner and Jennifer Moore.
A New Way of Life
"Each time I got out of prison, I was dropped off downtown with no ID, no Social Security card, $200 in my pocket—and no place to go," said Burton, who began her women's re-entry program in 1998 after four stints in California prisons resulting from crack cocaine addiction propelled by her son's death at the hands of a policeman.
"Every time I left prison, I vowed to get my life back on track, but failed," Burton has written. "I did not know the tremendous odds against me." Eventually, with help from a friend, she got set on a better path at the Clare Foundation in Santa Monica.
"I wondered why weren't there resources in South Los Angeles like there were in Santa Monica where I got treatment," she said this past Wednesday. "Seventy percent of the prison population have substance abuse problems and yet the best we can do is lock them in cages."
Since she started New Way of Life with first one house and then others, 600 women have gone through Burton's program. One hundred fifty have been reunited with their families, but hundreds have been denied reunification. Burton says she gets 20 letters a month from women who hope to come to New Way of Life once they are paroled, far more than her homes can hold.
"It's really horrible what women in prison and their families have to go through," Burton said, citing the story of Rozelle, who had dreamed for years in prison of the day she could vote in an election.
"Her boyfriend threw her two-year-old son against the wall and she shot him," Burton said. "And by the time she was released from prison, she couldn't see that son because he had his own life sentence."
Rozelle ultimately died of cancer, still on parole, before she could ever see her son as an adult or fulfill her dream of voting.
"It's hard to watch the horrible situations driving life out of our communities, driving hope out, driving dreams out," Burton observed.
How to Reduce California's Prison Population
"We can solve our prison problems by making punishment commensurate with the crimes, as we did for many years," said James Austin, referring to the large number of inmates in California and across the country incarcerated as part of the War on Drugs for relatively minor drug possession and trafficking infractions.
"It's an easy solution, but you're dealing with big money, big interests," Austin continued, indicating that the vested interests—law enforcement associations, prison guard unions, private prison operators—and the politicians they influence in both political parties fight tooth and nail against what prison reformers consider common sense solutions.
As a common sense example, Austin cited the 25,000 lifers in California who could be paroled, but aren't. "Most are very low risk."
But in 1988, California transferred to the governor the final say in granting parole for all prisoners serving life sentences for murder, which—in this tough-on-crime era—has meant nearly all such parole requests have been denied whether there's a Republican governor or a Democratic one in Sacramento. Arnold Schwarzenegger somewhat and Jerry Brown more dramatically have begun to reverse this trend. Before this change, 4,800 inmates were serving life sentences in California.
With 25 years experience in correctional planning and research, Austin cited several examples in other states and other parts of California that could counter efforts by the L.A. County Sheriff's Department and Sheriff Lee Baca to build a $1 billion jail to house more inmates in replacing the decrepit Men's Central Jail.
Austin noted that Contra Costa County has an incarceration rate one-half the rest of the state, achieved principally through probation reform. By shortening probation terms from three to five years down to 18 months or less, Contra Costa has dramatically reduced its recidivism rates and probation caseloads.
"Also, New York City has an incarceration rate one-quarter the rest of the country, thanks to policing changes," said Austin. "Police have enormous discretion to arrest someone for a felony or a misdemeanor."
"And police need to be part of the solution," Austin continued. "Yes, there are dangerous people out there who need to be locked up, but many others are locked up who need help with substance abuse, not prison sentences."
How Reducing the Prison Population Improves Crime Rates
In "How New York City Reduced Mass Incarceration," coauthored with Michael Jacobson, Austin reports that changes in New York City's policing policies drove down the state's prison population from 71,000 inmates in 2000 to 59,000 in 2009—a remarkable 17 percent drop at a time with California population soared to 173,000 in 2006. Furthermore:
The state's probation population fell from 150,000 in 1998 to 122,000 in 2008, a drop of 19 percent, with New York City's population declining a remarkable 43 percent, from 77,000 in 1998 to 44,000 in 2008.
Riker's Island—the City's jail—saw its population drop from 22,000 in 1991 to 13,200 in 2009.
While these incarceration and probation levels were falling so dramatically for New York City, its crime rate was also falling, even more dramatically. In 1998, 719,887 felonies were reported to the FBI in New York City, while in 2008 that number had fallen 72 percent, to 198,419. Outside New York City, where other New York State jurisdictions had not changed their policing and probation policies, the number of crimes declined by half as much, to 38 percent.
"Broken Windows" advocates attribute these remarkable improvements to more aggressive policing policies by the New York Police Department—and even to its controversial "Stop and Frisk" program.
"Instead of waiting for a felony to happen and making an arrest, cops now nab offenders for less serious crimes, which at most sends them to jail for a few days or weeks but interrupts the arrestees' more serious criminal activities," writes Heather MacDonald in the National Review.
But Austin and others attribute the declining crime rate more to changes in demographics, an aging of the population, and a decrease in illicit drug markets. And the major influence was New York's efforts to treat drug addiction more as a public health issue and less a criminal one, which have reduced felony arrests, improved crime rates, and lessened prison and probation rates.
"It is no coincidence that New York State has the largest network of Alternative to Incarceration programs in the country and, that unlike other large states such as California, Florida and Texas, it has seen crime and incarceration rates plummet simultaneously—improving public safety and saving much-needed revenue," write the ACLU's Kara Dansky and the Fortune Society's Glenn E. Martin.
Saner approaches to policing practices as Austin pointed out and better and more humane support for people returning to their communities from prison as Burton called for could do much to inform California's and L.A.'s debate about its mass incarceration debacle.
Next Steps
Upcoming discussions at USC and the Pat Brown Institute will further this discussion:
The USC events are held at Ronald Tutor Campus Center (RTCC 450) at 3607 Trousdale Parkway.
The Pat Brown Institute event will be held at the National Center for the Preservation of Democracy, 100 N. Central Avenue, Los Angeles.
(Dick Price is the editor of LA Progressive, where this post first appeared. Republished with permission.)

No Walk in the Garden for the Urban Homeless
Throughout Los Angeles, landscaping is put to aggressive use, functioning as a weapon of anti-homelessness under the guise of beautification.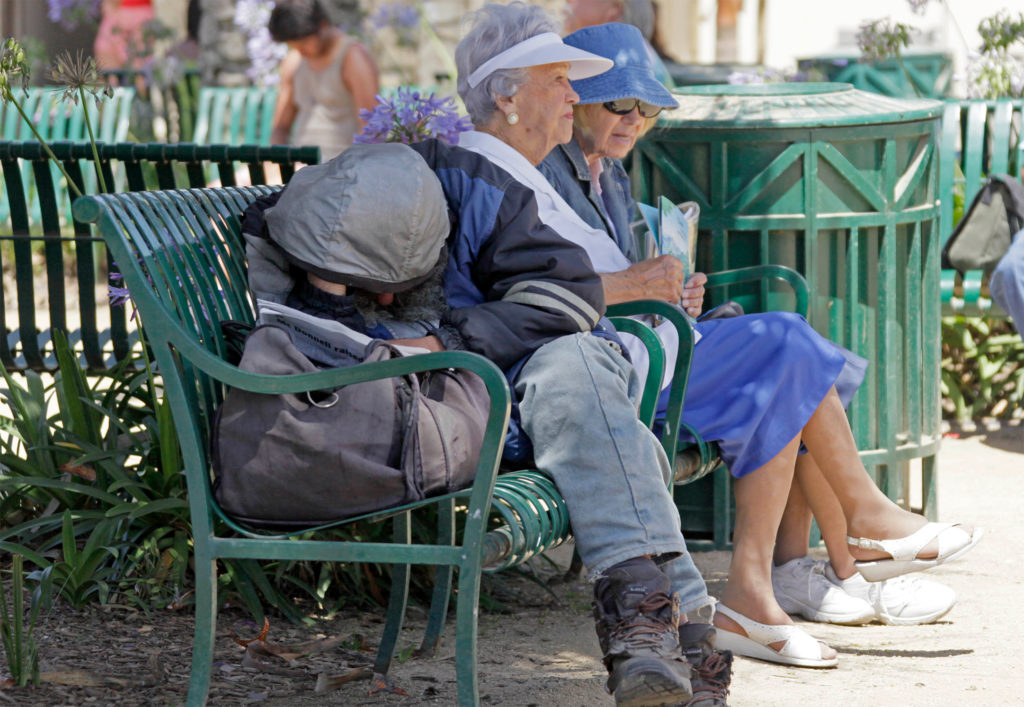 ---
The phenomenon of hostile landscaping in Los Angeles has further marginalized a swelling unhoused population.
---
Last May, in Los Angeles' coastal Venice neighborhood, Adam Smith noticed a series of planter boxes in the middle of a familiar sidewalk. Affixed near the intersection of Third and Sunset avenues, mere blocks from a Google campus and a suite of oceanside cafes, the standalone planters ran roughly the length of a wall delineating a parking lot behind a luxury condo complex.
Previously, Smith told Capital & Main, a group of six to 10 homeless people had regularly slept in tents on that block, favoring it for its relatively plentiful street light. A volunteer for the Culver-Palms Burrito Project, which prepares and serves the titular food to the unhoused of West Los Angeles, he'd become acquainted with individuals living there over the course of several years.
Once the planters were installed, however, the sidewalk was clear. "That next day, after I saw [the planter boxes] for the first time, I went there to look around because I figured they were sleeping somewhere else," Smith said. "I found people up around the corner, just, like, a block away."
---
Companies are privatizing public space to create more "landscape" for their businesses.
---
Throughout Los Angeles, landscaping is put to aggressive use, functioning as a weapon of anti-homelessness under the guise of beautification. Just as both public and private architectural design throttle space available to the unhoused internationally — via, among other examples, spikes on ledges and bars on benches to discourage sitting and lying down — and cities such as San Francisco arrange boulders to deter homeless encampments, the phenomenon of hostile landscaping in Los Angeles has further marginalized a swelling unhoused population.
Nearly 20 miles from Venice, a Los Feliz traffic median at the intersection of Vermont and Prospect avenues, and Hollywood Blvd., has regularly seen encampments arranged on its concrete ground, abutting a raised patch of desert landscaping and sycamore trees.
Christened "Vermont Triangle," the median's first redesign occurred in 2008, when the now-defunct Community Redevelopment Agency spearheaded a project to "improv[e] the pedestrian amenities" and "enhanc[e] the physical appearance of the existing median park." According to the Los Angeles Times, this yielded seating areas, lampposts to echo those at nearby Barnsdall Art Park, and the sycamores. Eventually, unhoused people began to pitch tents, availing themselves of the median's modest stretches of open public space.
Now, due to pressure from local business owners, Vermont Triangle is in flux. City Councilmember David Ryu's office, the Times noted, plans to invest $18,000 in another redesign, following a 2013 re-landscape. The 2013 update was financed in part by the Hollywood Hotel and Kaiser Permanente, according to Jeff Zarrinnam, who serves on the board of governors of the East Hollywood Business Improvement District. (Ryu's office couldn't be reached for comment.) Current proposals range from adding art installations and neighborhood signs, which Zarrinnam said the Los Feliz Neighborhood Council and East Hollywood Neighborhood Council have floated, to putting in planters.
Zarrinnam said he supports "bridge housing," a term the municipal government, neighborhood councils and local businesses use to favorably denote temporary homeless shelters and transitional housing. Yet reports indicate that the current state of temporary housing for many homeless people in Los Angeles County — who, as of May, numbered approximately 53,000 — is nothing short of abysmal. A recent investigation by radio station KPCC found infestations, harassment and medical negligence, among other scourges at various facilities throughout Los Angeles County, including those funded by the Los Angeles Homeless Services Authority (LAHSA), which conducts the county's annual homeless census.
Steve Diaz, an organizer for Los Angeles Community Action Network (LA CAN) who works with unhoused populations in downtown and South L.A., calls hostile landscaping of public space "the next level of criminalization" of homelessness. He alluded to an industrial neighborhood overlapping Skid Row, whose business owners call "The North Sea": a cluster of converted seafood warehouses and factories painted the same hues of oceanic blue — complete with landscaped sidewalks.
"They started breaking the concrete and taking away from the sidewalk to place different types of flowers, whatever garden they were putting in," Diaz said. "You have a major street [on] Skid Row that, at one point, was home to a lot of homeless folks now being gated off, and then the concrete being broken to start using these gardening pockets within the space to eliminate sidewalk access." (Miguel Nelson, a North Sea business owner involved in the area's marketing efforts, declined to respond publicly.)
As private property owners adopt guerrilla tactics to thwart homeless encampments, legal issues arise. Skid Row activist General Jeff Page has observed that, while property owners are permitted to control up to three feet of sidewalk extending from their buildings, "The North Sea is taking upwards of five to 10 feet of sidewalk, allowing only for ADA (Americans with Disabilities Act) compliance and zero space for homeless tents and/or encampments." (The Los Angeles Department of Public Works stated that the North Sea sidewalk landscaping is currently under investigation and thus couldn't comment further on the matter.)
What's more, business owners in South L.A. have illegally installed fences around their property, which, according to Diaz, will eventually give way to sidewalk landscaping. Relatedly, Adam Smith has been corresponding with city officials to ascertain the permit status of the Venice planters. The West L.A. office of the Bureau of Engineering, which issues revocable permits, told Capital & Main that it did not have a permit on file for the planters. Without one, according to the bureau, "no portion of the public right-of-way, including sidewalk, is allowed for private use."
Nevertheless, the planters remain and, according to Smith, have multiplied. Additional boxes, he said, are now ensconced in the sidewalk around the corner, to where the previously ousted people had first moved.
"For some people, [landscaping] sounds like a great idea," Diaz said. "But you're literally privatizing public space to create more 'landscape' for your business."
---
Copyright Capital & Main