Ending California's Incarceration Quagmire
As California grapples with a prison system so broken that the U.S. Supreme Court has mandated reductions in the number of prisoners it holds, the three-part "Smart Justice: Rethinking Public Safety in California" discussion begun this past week at the University of Southern California is examining both consequences and possible solutions to the state's mass incarceration mess.
Moderated by Tomás Rivera Policy Institute director Roberto Suro, the first session—titled "California's Corrections Systems and the Lives They Impact" and organized by Californians for Safety and Justice and USC's Students Talk Back program—featured presentations by James Austin, president of the JFA Institute and author of a ground-breaking report on reducing prison populations, Susan Burton, former inmate and founder of A New Way of Life Reentry Program, and USC graduate students Emily Reisner and Jennifer Moore.
A New Way of Life
"Each time I got out of prison, I was dropped off downtown with no ID, no Social Security card, $200 in my pocket—and no place to go," said Burton, who began her women's re-entry program in 1998 after four stints in California prisons resulting from crack cocaine addiction propelled by her son's death at the hands of a policeman.
"Every time I left prison, I vowed to get my life back on track, but failed," Burton has written. "I did not know the tremendous odds against me." Eventually, with help from a friend, she got set on a better path at the Clare Foundation in Santa Monica.
"I wondered why weren't there resources in South Los Angeles like there were in Santa Monica where I got treatment," she said this past Wednesday. "Seventy percent of the prison population have substance abuse problems and yet the best we can do is lock them in cages."
Since she started New Way of Life with first one house and then others, 600 women have gone through Burton's program. One hundred fifty have been reunited with their families, but hundreds have been denied reunification. Burton says she gets 20 letters a month from women who hope to come to New Way of Life once they are paroled, far more than her homes can hold.
"It's really horrible what women in prison and their families have to go through," Burton said, citing the story of Rozelle, who had dreamed for years in prison of the day she could vote in an election.
"Her boyfriend threw her two-year-old son against the wall and she shot him," Burton said. "And by the time she was released from prison, she couldn't see that son because he had his own life sentence."
Rozelle ultimately died of cancer, still on parole, before she could ever see her son as an adult or fulfill her dream of voting.
"It's hard to watch the horrible situations driving life out of our communities, driving hope out, driving dreams out," Burton observed.
How to Reduce California's Prison Population
"We can solve our prison problems by making punishment commensurate with the crimes, as we did for many years," said James Austin, referring to the large number of inmates in California and across the country incarcerated as part of the War on Drugs for relatively minor drug possession and trafficking infractions.
"It's an easy solution, but you're dealing with big money, big interests," Austin continued, indicating that the vested interests—law enforcement associations, prison guard unions, private prison operators—and the politicians they influence in both political parties fight tooth and nail against what prison reformers consider common sense solutions.
As a common sense example, Austin cited the 25,000 lifers in California who could be paroled, but aren't. "Most are very low risk."
But in 1988, California transferred to the governor the final say in granting parole for all prisoners serving life sentences for murder, which—in this tough-on-crime era—has meant nearly all such parole requests have been denied whether there's a Republican governor or a Democratic one in Sacramento. Arnold Schwarzenegger somewhat and Jerry Brown more dramatically have begun to reverse this trend. Before this change, 4,800 inmates were serving life sentences in California.
With 25 years experience in correctional planning and research, Austin cited several examples in other states and other parts of California that could counter efforts by the L.A. County Sheriff's Department and Sheriff Lee Baca to build a $1 billion jail to house more inmates in replacing the decrepit Men's Central Jail.
Austin noted that Contra Costa County has an incarceration rate one-half the rest of the state, achieved principally through probation reform. By shortening probation terms from three to five years down to 18 months or less, Contra Costa has dramatically reduced its recidivism rates and probation caseloads.
"Also, New York City has an incarceration rate one-quarter the rest of the country, thanks to policing changes," said Austin. "Police have enormous discretion to arrest someone for a felony or a misdemeanor."
"And police need to be part of the solution," Austin continued. "Yes, there are dangerous people out there who need to be locked up, but many others are locked up who need help with substance abuse, not prison sentences."
How Reducing the Prison Population Improves Crime Rates
In "How New York City Reduced Mass Incarceration," coauthored with Michael Jacobson, Austin reports that changes in New York City's policing policies drove down the state's prison population from 71,000 inmates in 2000 to 59,000 in 2009—a remarkable 17 percent drop at a time with California population soared to 173,000 in 2006. Furthermore:
The state's probation population fell from 150,000 in 1998 to 122,000 in 2008, a drop of 19 percent, with New York City's population declining a remarkable 43 percent, from 77,000 in 1998 to 44,000 in 2008.
Riker's Island—the City's jail—saw its population drop from 22,000 in 1991 to 13,200 in 2009.
While these incarceration and probation levels were falling so dramatically for New York City, its crime rate was also falling, even more dramatically. In 1998, 719,887 felonies were reported to the FBI in New York City, while in 2008 that number had fallen 72 percent, to 198,419. Outside New York City, where other New York State jurisdictions had not changed their policing and probation policies, the number of crimes declined by half as much, to 38 percent.
"Broken Windows" advocates attribute these remarkable improvements to more aggressive policing policies by the New York Police Department—and even to its controversial "Stop and Frisk" program.
"Instead of waiting for a felony to happen and making an arrest, cops now nab offenders for less serious crimes, which at most sends them to jail for a few days or weeks but interrupts the arrestees' more serious criminal activities," writes Heather MacDonald in the National Review.
But Austin and others attribute the declining crime rate more to changes in demographics, an aging of the population, and a decrease in illicit drug markets. And the major influence was New York's efforts to treat drug addiction more as a public health issue and less a criminal one, which have reduced felony arrests, improved crime rates, and lessened prison and probation rates.
"It is no coincidence that New York State has the largest network of Alternative to Incarceration programs in the country and, that unlike other large states such as California, Florida and Texas, it has seen crime and incarceration rates plummet simultaneously—improving public safety and saving much-needed revenue," write the ACLU's Kara Dansky and the Fortune Society's Glenn E. Martin.
Saner approaches to policing practices as Austin pointed out and better and more humane support for people returning to their communities from prison as Burton called for could do much to inform California's and L.A.'s debate about its mass incarceration debacle.
Next Steps
Upcoming discussions at USC and the Pat Brown Institute will further this discussion:
The USC events are held at Ronald Tutor Campus Center (RTCC 450) at 3607 Trousdale Parkway.
The Pat Brown Institute event will be held at the National Center for the Preservation of Democracy, 100 N. Central Avenue, Los Angeles.
(Dick Price is the editor of LA Progressive, where this post first appeared. Republished with permission.)

Santa Cruz Leads the Push for Affordable Housing
California's housing shortage has made it difficult to be middle class and harder to be poor. Today's median-priced California home costs more than twice the median-priced U.S. home, according to Zillow.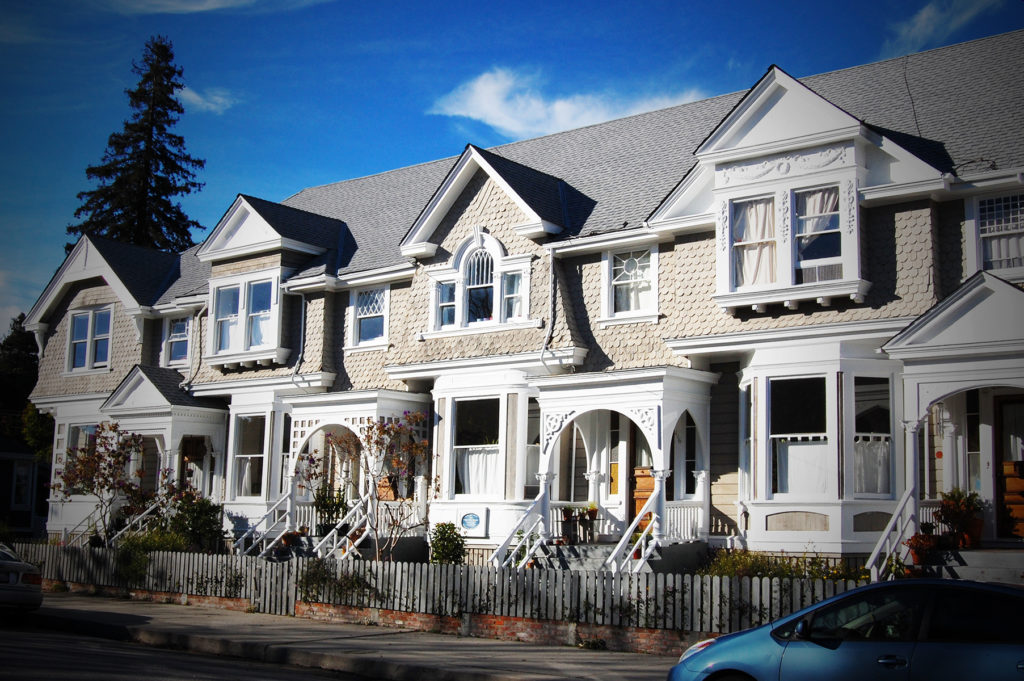 ---
California has been more expensive than most of the country for a long time, but the gap became a chasm beginning in the 1970s.
---
John Holguin should be in a celebratory mood. He is just about to close escrow on his first house. But like too many Californians, he's feeling a sense of diminished possibilities.
Holguin, 48, works for the Santa Cruz County Department of Public Works, striping roads and maintaining the county's bridges and storm drains. His wife is a school receptionist, and their combined annual income of $82,000 places them squarely in Santa Cruz County's middle class.
---
---
Yet Holguin had to withdraw from his retirement fund to afford his piece of the California Dream: a house in Watsonville, an agricultural community that has seen home prices shoot up as Bay Area tech workers and investors snatch up homes in the region.
His $3,200 monthly mortgage payment will eat up 75 percent of his take-home pay, he says. When he does retire, eight years later than planned, he and his wife will probably head for Arizona, where some of his high school classmates have already settled.
---
Activists and civic leaders are recognizing the extent of California's housing crisis. They are organizing around changes to housing codes, rent control, and local and state bond measures.
---
Holguin's two kids, junior college students, will help with the mortgage on the new home, but he does not expect them to remain in the state. "They know if they want to buy something, if they want to succeed, it's not going to be here in California," he says.
California's housing shortage has made it difficult to be middle class and harder to be poor. But there are signs in Holguin's home county, and elsewhere in the state, that activists and civic leaders are recognizing the extent of the crisis. They are organizing around changes to housing codes, rent control, and local and state bond measures.
At a June 12 Santa Cruz County Board of Supervisors meeting, Supervisor Zach Friend suggested that residents may have "reached a real tipping point" in their willingness to support new affordable housing. He was responding to almost a dozen community, business and nonprofit leaders who spoke in support of the board's unanimous vote that day to direct staff to prepare revisions to the county housing code to ease the way for more affordable housing development.
---
"It's one thing to say that you are in favor of affordable housing," but when a project is proposed in your neighborhood, "you can find a lot of reasons as to why you don't support it."
---
But it may take time to fix a problem that has been decades in the making, and it will certainly take political will to build and maintain affordable housing in sought-after coastal regions. Santa Cruz activists hope that Friend and other supervisors will vote this summer to place a bond measure of up to $250 million on the November ballot that could fund affordable rental housing, support first-time homebuyers, and provide housing for the homelessness.
Funding and policy changes are only the beginning. City and county officials must greenlight projects, sometimes over neighborhood opposition.
"It's one thing to say that you are in favor of affordable housing," Friend noted at the June 12 meeting, but when "a project actually comes forward, especially one in your neighborhood, you can find a lot of reasons as to why you don't support it."
California has been more expensive than most of the country for a long time. But the gap widened beginning in the 1970s when home prices grew from 30 percent above national levels to more than 80 percent higher by the end of the decade. Now the median-priced California home costs more than twice the median-priced U.S. home, according to Zillow.
Research suggests that the public "feels the pain" but is "not really enamored by some of the most obvious solutions," says Jim Mayer of California Forward, a nonprofit organization that focuses on fiscal and government reform. "They're really not supportive of a whole lot more homes if they think it is going to lead to more traffic and congestion, and more crime, and impact the schools."
California would need as many as 100,000 more housing units a year than it is currently building to meet the demands of its growing population, according to the state's Legislative Analyst's Office.
Meanwhile, some of John Holguin's co-workers rise in the dark to commute from Los Banos, a small bedroom community some 80 miles east. Others stay with family in Santa Cruz during the week, only to travel 150 miles home to Sacramento on the weekend. (Holguin's 17-mile commute from Watsonville along Highway 1 will take as long as 45 minutes because of traffic.) "Only in California do we have watersheds and commute sheds," says Mayer.
"My parents bought their first place at 25, and I'm 48," Holguin notes. "To me it seemed like they had it easier back then." He's right about his parents' generation of homebuyers. Back in 1975, the median home price in the state was $193,774 (in 2017 dollars). Last year, according to the California Realtors Association, it was $537,860 — nearly three times that much.
Of course, Santa Cruz is a particularly pricey slice of the California real estate market. Its sun, surf and scenery draw tourists, as well as tech industry workers from "over the hill" in Silicon Valley, who have money to spend. The median price for a single family home in Santa Cruz County shot up to $935,100 in March, a record high, the Santa Cruz Sentinel reported.
Santa Cruz County is home to lower-wage agricultural and service industries, making affordability a particular challenge for those who work there. Also, local redevelopment agencies, one of the few funding sources for affordable housing available to local governments, were eliminated in 2012, contributing to the housing shortage across the state.
Small-town Santa Cruz also faces pressure from its University of California campus, whose chancellor announced plans last fall to increase its student body by as many as 10,000 students by 2040. In a sign of voter frustration, the city of Santa Cruz approved a non-binding measure opposing the university's growth plans by a margin of 76-23 percent.
And then there is the resistance on the part of some residents to accommodate growth. Some simply want to "preserve the open space and restrain the growth" as much as possible, says Don Lane, one of the leaders of Affordable Housing Santa Cruz County, a local coalition that is advocating for a housing bond measure to be placed on the November ballot. "But you've just got all this high-priced housing, and it's still crowded, and traffic is still getting worse."
Lane, a former mayor of the city of Santa Cruz, says denser "infill" housing in commercial corridors will lead to a more efficient and effective use of space without compromising the region's preservationist traditions.
The plight of Santa Cruz's middle-income residents is not as dire as that of its poor, of which there are many. The county has among the highest poverty rates in the state. Farmworkers live in overcrowded and sometimes dangerous conditions. At the June 12 board meeting, Ann López, the director of the Center for Farmworker Families, relayed an instance of 16 people living together in a home of less than 1,000 square feet.
Matthew Nathanson, a public health nurse with the county, was motivated to advocate for an affordable housing ballot measure after witnessing the clients he serves "falling into homelessness" because of their inability to afford rent. The median rent for a two-bedroom home in Santa Cruz was $2,450 a month in May, a 4.7 percent increase from a year ago, the Santa Cruz Sentinel reported.
Nathanson, who is also a regional vice president with Service Employees International Union Local 521, says that housing has become a central issue for city and county workers like Holguin, who are becoming increasingly difficult to recruit. Road workers who are on call during the rainy season need to live "within a reasonable distance" of their jobs, he adds. And pay increases won at the bargaining table risk being "all wiped out" by the cost of housing.
The measure, which would require a two-thirds vote of the public, would be paid for by commercial and residential property owners, according to Lane. The original proposal was for $250 million, but he says the bond measure is now "looking more like $150 million" and could benefit between 1,500 and 2,000 households.
The campaign was inspired by the success of housing measures in Alameda and Santa Clara counties, he says. Another $4 billion housing measure will be on the state ballot this November.
Still, once the funding is in place, the projects will need to get approved by local governments and built. The bond measure proposed for November is only one piece of the puzzle, according to Nathanson.
"It took us a long time to get into this situation," he says. "I think there is a shift going on, but it's going to be a struggle."
---
Research assistance provided by Jake Conran.
Copyright Capital & Main