Don't Close the Courts of First Resort!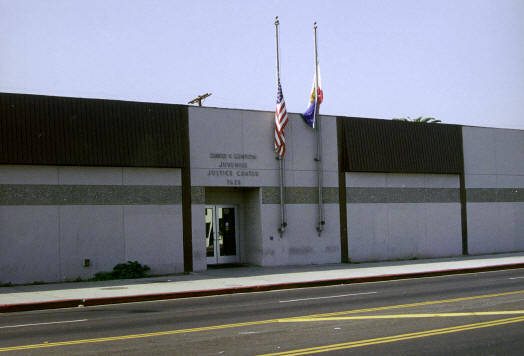 Half-staff . . . no staff: Kenyon Juvenile Justice Center.
L.A. Superior Court judges are doing the wrong thing. They decided to deal with a $53 million budget deficit by arbitrarily closing eight courthouses around L.A. County, which will send justice into chaos, inconvenience people and cause transportation and other problems.
The courthouses scheduled to close as of June 28 or sooner are: Huntington Park, Whittier, Pomona North, Malibu, West Los Angeles, San Pedro, Beacon Street and the Kenyon Juvenile Justice Center, located in South L.A.
The Judges Didn't Ask Us
Did the judges who came up with this plan consult the communities that will be impacted? No. Did they talk to the citizens, the small business people, or anyone else this might affect? No.
As a result, some case types will be heard in only certain courthouses. For example, if you are threatened with eviction or your landlord wants to kick you out of your place and you want to fight it, your case won't be heard close by in Compton or Inglewood. Your case will be set in Long Beach or in downtown L.A.
If you have transportation problems or are elderly or disabled, how will you get there? If you're not at the courtroom on time, the judge could just grant the landlord's motion and say you have to get out by a certain date and you have no way to defend yourself.
The people in the whole San Fernando Valley have it bad too. They'll have to take four buses over five hours to go all the way to Santa Monica and be there on time by 8:30 in the morning.
Did the judges ask you what your opinion is about this closure plan before they made this decision? No.
Kenyon and Beyond
For the cases now held at the Kenyon Juvenile Justice Center, this will mean the cases will be spread out all around the County. The Kenyon courthouse was specifically built to service the community in South L.A. Did anyone ask before the judges decided to close it and scatter kids and their parents or guardians to all four corners of L.A. County? No.
But that's not all. They didn't even bother to tell the members of the Board of Supervisors or even the court's own employees until after the decision was announced in the newspaper.
The judges originally planned to close the Catalina courthouse and force the people who live there to pay $72 round trip to come to Long Beach to have their court case heard. The people who live on the island aren't wealthy. They work in maintenance jobs and there are many who are undocumented. They don't have that kind of money.
Not only that, the judges' plan originally called for the Beverly Hills courthouse to be closed. But now they've changed their minds and decided they're going to leave one courtroom open in Beverly Hills. Hmm . . . wonder why that happened?
This plan is all wrong. Kenyon and all L.A. County Courts slated for closure need to stay open.
If you want to get involved in our efforts to save the courts, contact SEIU 721 Worksite Organizers Wanda Bellamy: (213) 601-2146 or Earl Thompson: (213) 300-5529.
(Arnella Sims is  an L.A. County Superior Court Reporter. Her post first appeared on her union's Web site and is republished with permission.)
Reviewed: A DIY Guide for "The Magicial Resistance"
A new book offers practical tips on how to organize — and cast spells — for equality and the environment.
Religion and politics have gone hand in hand at least from the time of Hammurabi's Code. Though we are guaranteed separation of church and state in the United States, many a prayer has been uttered for political gain. Any and all religions make no bones about their desire to influence social events and governmental organizations using their own methods and views of the Divine, whether it's the Catholic Workers marching for the rights of the poor, Baptist churches rallying for the right of the unborn — or witches casting spells to protect the environment.
---
At a time when many people feel helpless, ceremonial magic places power firmly in the hands of people who want to see positive change for the future.
---
While mainstream faithful said their prayers, conservative chaos magicians invoked Pepe the Frog to aid the 2016 elections. Since then, sorcerers of all stripes and more than few faithful in the Abrahamic faiths have been very publicly throwing down to counteract what they perceive as harmful acts by the current administration.
David Salisbury's Witchcraft Activism is a smart, direct guide to incorporating activism into your witchcraft practice, or experimenting in your activism by adding a little extra whammy. An experienced, long-time activist and well-respected pagan practitioner, Salisbury lays out a guide for activism that incorporates strategy, defense, offense, victory and loss with spiritual tools and magical methods drawn from Western European folk magic traditions.
He begins with setting intention and leads us to getting off the couch and carrying out an action, be it letter writing, participating in marches, attending city council meetings or lobbying — each with certain magical additions to aid in success. Salisbury also gives results based on his actions incorporating magic and suggests a variety of means for different scenarios. Concentration, visualization and focus are stressed as tools, with the addition of sigils, herbs and incantations.
Spiritual actions range from the simple to the complex. Whether meditating before a meeting, doing a divination for suggested actions, writing out a petition and placing it under a candle or using advanced magical practices like egregores, the acts suggested by Salisbury increase dedication to our causes and shift perspective, creating space for new ideas, for relief from burnout and for refocusing on goals.
Over 1.5 million in the United States identify as Pagan or Wiccan in a 2014 Pew Research Center poll—and that's not counting those witches, sorcerers and others who do not identify in those categories. The numbers of magical practitioners have risen steadily over the decades, perhaps because organized religions may not offer a sense of personal connection, of gnosis, or may have goals that are in opposition to participants'. At a time when many people feel helpless, witchcraft, ceremonial magic and folk/indigenous faiths place power firmly in the hands of people who want to see positive change for the future.
Don't believe in magic? Give Salisbury's methods a try and see what happens. You may be surprised, success is your proof. Just stay away from the Goetia!
---
Copyright Capital & Main