Don't Close the Courts of First Resort!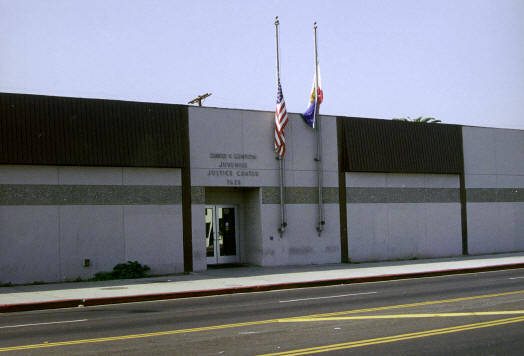 Half-staff . . . no staff: Kenyon Juvenile Justice Center.
L.A. Superior Court judges are doing the wrong thing. They decided to deal with a $53 million budget deficit by arbitrarily closing eight courthouses around L.A. County, which will send justice into chaos, inconvenience people and cause transportation and other problems.
The courthouses scheduled to close as of June 28 or sooner are: Huntington Park, Whittier, Pomona North, Malibu, West Los Angeles, San Pedro, Beacon Street and the Kenyon Juvenile Justice Center, located in South L.A.
The Judges Didn't Ask Us
Did the judges who came up with this plan consult the communities that will be impacted? No. Did they talk to the citizens, the small business people, or anyone else this might affect? No.
As a result, some case types will be heard in only certain courthouses. For example, if you are threatened with eviction or your landlord wants to kick you out of your place and you want to fight it, your case won't be heard close by in Compton or Inglewood. Your case will be set in Long Beach or in downtown L.A.
If you have transportation problems or are elderly or disabled, how will you get there? If you're not at the courtroom on time, the judge could just grant the landlord's motion and say you have to get out by a certain date and you have no way to defend yourself.
The people in the whole San Fernando Valley have it bad too. They'll have to take four buses over five hours to go all the way to Santa Monica and be there on time by 8:30 in the morning.
Did the judges ask you what your opinion is about this closure plan before they made this decision? No.
Kenyon and Beyond
For the cases now held at the Kenyon Juvenile Justice Center, this will mean the cases will be spread out all around the County. The Kenyon courthouse was specifically built to service the community in South L.A. Did anyone ask before the judges decided to close it and scatter kids and their parents or guardians to all four corners of L.A. County? No.
But that's not all. They didn't even bother to tell the members of the Board of Supervisors or even the court's own employees until after the decision was announced in the newspaper.
The judges originally planned to close the Catalina courthouse and force the people who live there to pay $72 round trip to come to Long Beach to have their court case heard. The people who live on the island aren't wealthy. They work in maintenance jobs and there are many who are undocumented. They don't have that kind of money.
Not only that, the judges' plan originally called for the Beverly Hills courthouse to be closed. But now they've changed their minds and decided they're going to leave one courtroom open in Beverly Hills. Hmm . . . wonder why that happened?
This plan is all wrong. Kenyon and all L.A. County Courts slated for closure need to stay open.
If you want to get involved in our efforts to save the courts, contact SEIU 721 Worksite Organizers Wanda Bellamy: (213) 601-2146 or Earl Thompson: (213) 300-5529.
(Arnella Sims is  an L.A. County Superior Court Reporter. Her post first appeared on her union's Web site and is republished with permission.)