Divided But Fighting Back: An Interview With Inequality Documentary Filmmakers
Depending on whom you ask, Solly Granatstein and Rick Rowley have spent their careers either causing trouble or exposing truths. As investigative journalist-filmmakers they have been on the front lines of digging up facts and battling the status quo, all to expose injustice. They've been pretty damn good at it too.
Norman Lear and Rob Robinson of Take Back the Land. (Photo: EPIX)
Depending on whom you ask, Solly Granatstein and Rick Rowley have spent their careers either causing trouble or exposing truths. As investigative journalist-filmmakers they have been on the front lines of digging up facts and battling the status quo, all to expose injustice. They've been pretty damn good at it too. Granatstein worked for 60 Minutes for 12 years and has won seven Emmys, a Peabody and a host of other awards. Rowley's Dirty Wars, a film that earned him a 2014 Oscar nomination for Best Documentary Feature, shed light on U.S. covert ops all over the world. Now teamed with Lucien Read, this trio of "cineactivists" has delivered America Divided, a new documentary series airing on EPIX. And they've enlisted a few famous friends.
Executive-produced by Shonda Rhimes, Common and Norman Lear (the latter two appear on camera), America Divided chronicles seven diverse celebrity correspondents (Lear, Common, Amy Poehler, America Ferrera, Jesse Williams, Zach Galifianakis and Peter Sarsgaard) as they dig deep into an array of issues plaguing our nation. At the core of the series is the contention that housing, education, the criminal justice system, undocumented and domestic workers, voting rights and the heroin epidemic are all riddled by systemic inequality. Over its five episodes, the series demonstrates that class and race collide across this country, sparking a raging conflagration of disparity that burns largely unchecked. Granatstein and Rowley spoke to Capital & Main about their ambitious project, which premiered September 30.
Capital & Main: Why this topic? Why this project? Why now?
Solly Granatstein: The three of us were working on a very similar show, a celebrity driven docuseries called Years of Living Dangerously about climate change. And we thought, What is the other existential threat facing our society apart from climate change? Inequality just stuck out as this huge challenge that needs to be confronted. And even in reporting on climate change stories and even in all of the filmmaking and journalism we have done over the years, social class and inequality always stuck out as the factor that would make some people way more vulnerable than other people, sort of the operating principle for the planet.
Why did you use celebrities as correspondents? And why interweave multiple stories in each episode and not do separate docs? Was it simply to expand the audience for the series?
Rick Rowley: That was part of it. Here is a relatable recognizable face that is charismatic and works well on camera and that invites the audience into the homes of families in South Chicago, into a jail in Dayton, Ohio with heroin addicts, and allows you to feel a human connection with people you've never been allowed to feel a connection to. One of the premises of the series is that it's impossible to understand any of these sub-issues around inequality by themselves. It's our hope that weaving these stories of people who are struggling around these issues all around the country will allow them to feel the resonances and the connections between their stories.
How much did the participation of the stars both get you access and effect change?
Rowley: We get access to people whether or not we have a celebrity correspondent attached to the project. What they bring to the table that is special is [that] too often you have correspondents who come in and assume the posture of an objective sort of news personality, which is about keeping your distance, trying to strike a balance and eschewing an actual deep human personal emotional engagement with the person that you are talking to. And the thing that all of these correspondents were great at was immediately engaging on a human level with people. They were all in their own unique way personally engaged and moved by the story they were working on. And our presence did transform the stories we were working on and potentially helped to change things.
As in the case of the school board assembly where they actually decided to agree to reforms? I imagine that might not have happened had Jesse Williams and the cameras not been there.
Granatstein: A couple of things were going on. For years there was a grassroots movement growing to pressure the school board and they were able to ignore it for a long time. Until they punched through and started to draw national attention. And we were a big part of that national attention. So our presence was certainly part of the force that pushed the school board to make a whole series of concessions to the parents and families there. And in our research, we uncovered some documents and facts that became the basis for a Southern Poverty Law Center civil rights lawsuit against the county, so our reporting is part of the movement.
So the format really allows you to underscore the systemic nature of inequality in this country by seeing the commonalities in the problems?
Rowley: It evades simple policy solutions, right? This unbreakable Gordian knot of race, class and gender at the center of the American Experience for 300 years. You can't separate them out and deal with them one at a time. Look at our housing story, our education story and our criminal justice story. At the center of our series is that you have to deal with these things together and that also the people who are struggling around these issues — who might seem very different — share a deep commonality in their struggle. There is a huge basis for common struggle and common experience, [whether] you are a deindustrialized white worker in Dayton, Ohio, or you're someone in Flint, who has just been poisoned by their city.
But we are a country in which 30 percent of the people think our president is Muslim and only 40 percent can name the three branches of government. So how do you evade just preaching to the converted?
Granatstein: Hiring the celebrity correspondents was an effort to do that. Having somebody like Zach Galifianakis, who is just known for these Hangover movies, or Amy Poehler, who is known for Saturday Night Live and Parks and Recreation, or Common, who is a hip hop artist. We really tried to make the cast reflect America and, as Rick said, be relatable and charismatic in a way that will just draw people. And I think that the way we are telling the stories, you know it's a docuseries, but not these dry documentaries somebody would be tuning in to PBS to see. They are really stories and they are told really cinematically to draw people in who wouldn't otherwise be there. And one more thing about the celebrities. I think we want to say that inequality is corrosive to the entire society. So even if someone is an entertainer who has had a lot of success in their life and they are on the other side of the divide, for us to put them as first-person, subjective, talking about their own experience with inequality and reflecting the things that they come across, we felt was a really powerful way to relay the message that "I'm concerned about this. It doesn't matter where I fall in society at the moment. This is all of our problem."
One of the most poignant moments in the series was when the 94-year-old Norman Lear went undercover to expose racial discrimination in New York City housing. He seems to have an epiphany that perhaps not much has changed since his issues-based shows like All in the Family aired 45 years ago. What was it like to witness that?
Granatstein: Well you know, it was incredibly sad on the one hand, and Norman talks about how sad that experience made him, and I think he really was surprised when he took part in that housing test. I mean those housing tests are really a throwback to the '50s and '60s and '70s — you really don't hear about them too much anymore or think that they are necessary. His shows back in the '70s were all about racial understanding, and all of the older African Americans we came across knew who he was, they knew all his shows. The way they reacted to him really was just amazing. Just love. His shows were so meaningful to them, and they just love the guy.
So this systemic inequality has been so insidious and solidified over generations, and now seems so interwoven into the fabric of this nation's everyday existence. How can you be hopeful in light of such a daunting task?
Rowley: For every single one of the stories, we picked not just places where there were the most obscene examples of a problem. We chose points of conflict, where there were movements organized that were actually struggling and fighting for solutions. So it's hard not to be actually hopeful. Like Reverend Barber's Moral Mondays organizing all across North Carolina, where he has stitched together not just urban and black, but included all-white NAACP chapters up in the mountains — who are joining for the first time because they see a commonality in their struggle for democracy in their state. To Pinellas County, where residents are organizing to effectively make change in their education system. Flint, Michigan where we still wouldn't know that people were being poisoned and the lead would still be in the water if it weren't for a self-organized citizens' campaign who did their own scientific research and then pressured the state and brought national attention to it. So everywhere in the country where there are problems like these, there are people working to find solutions.
So it feels like a once in a generation window, where it's possible to have a conversation about these issues that are central to the American Experience. It's the moment for a series like this.
The Power of the Poster
Carol Wells, the founder of the Center for the Study of Political Graphics in Los Angeles, talks to Capital & Main about the enduring power of political art.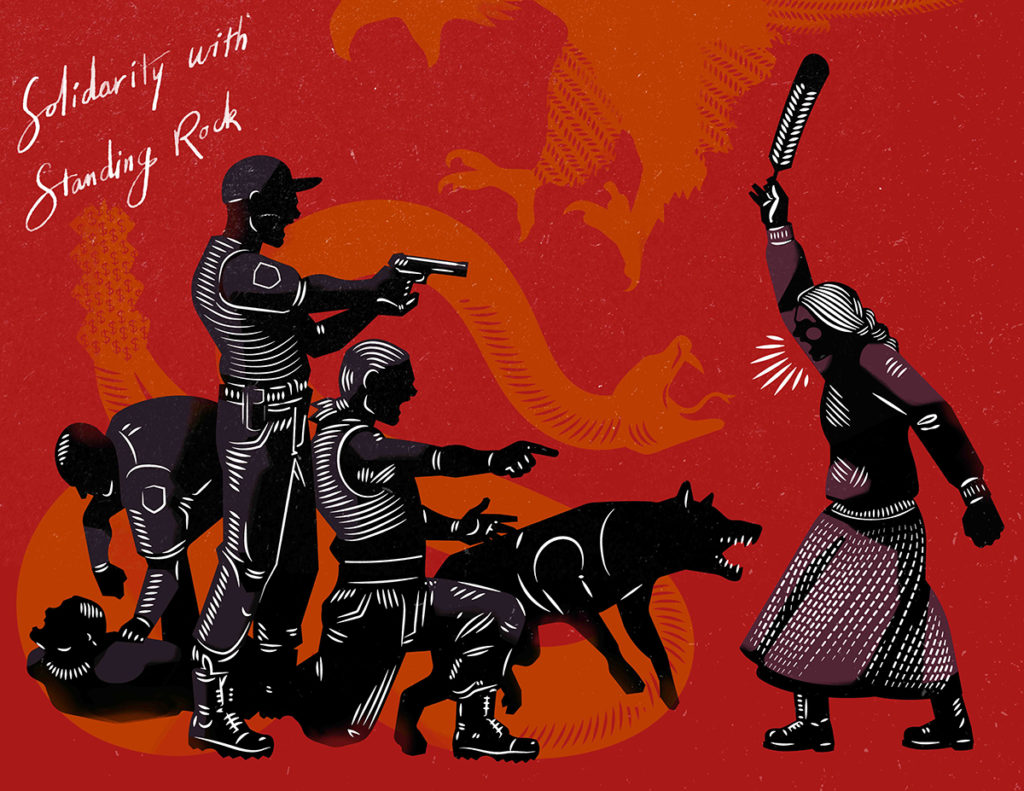 Carol Wells remembers the exact moment she discovered her calling. An art historian at the time, she was on a trip to Nicaragua with her friend David Kunzle, a UCLA art history professor, who was collecting political posters to add to his burgeoning collection. While staying with friends, Wells watched a neighbor's 8-year-old son approach a poster on the wall, stare at it intently, and then start to silently mouth the words. Wells was struck by how engaged the boy was. "In that moment I became obsessed with collecting posters."
Now over 40 years later, Wells is the founder and executive director of the Center for the Study of Political Graphics in Los Angeles. Wells has amassed approximately 90,000 posters, building one of the largest collections of its kind in the world. The Center shares its collection with the public in part through curated exhibits. This year the CSPG has produced Feminae: Typographic Voices of Women by Women and its latest is To Protect & Serve? Five Decades of Posters Protesting Police Violence, running through July 15 at the Mercado La Paloma in downtown Los Angeles.
Since that encounter in Nicaragua in 1981, Wells' obsession with collecting posters hasn't waned. In CSPG's nondescript West L.A. office space, Wells pulls out poster after poster, lecturing passionately on the backstory and cultural impact of each, including one that superimposes text from a New York Times interview with a shocking image of the My Lai massacre ("Q: And babies? A: And babies."). Recently, she managed to sit down with C&M to discuss her passion.
---
Capital & Main: So, you were an art history professor, you happen to see a kid on a trip, and suddenly your life was changed forever?
Carol Wells: Yeah, I'm in Nicaragua alone in the living room with this kid. He's looking around, and all of a sudden, he sees the poster. It was pretty big, bright green, a thick outlines of a woman holding a big basket of coffee beans. And the text in Spanish said, "In constructing the new country, we are becoming the new woman." I see him walk over to the poster and I'm watching him mouth the words. It was a pretty sophisticated concept, so I doubt he figured it out. But I literally had this epiphany: "Oh my God. That's how posters work." You're going about your daily life, and all of a sudden something breaks through the bubble, and it grabs your attention. It's the graphic, it's the color, it's the combination, and it pulls you out of your head and into that poster and it makes you ask a question. "Why is this here? What is this about? What does this mean?" And every time you ask a question, you're a different person than you were before you asked the question.
How many posters do you get a year?
We get between two to five thousand a year donated from all over the world. The bulk of our collection is [from] 1945 and later.
I assume technology has probably hurt the art form, but has it helped get the messages out?
Most people think that, and it's actually not true. Since the internet age started, there's actually a poster renaissance of works on paper. Because you can't walk with your computer monitor in a demonstration. You can't plant your monitor on your lawn.
And you can't put a laptop on the wall…
Exactly. You want to hear a really great story? Truthdig.org published a cartoon [made by] a political cartoonist named Mr. Fish. It was during the Arab spring, and he had superimposed Che Guevara with the stylized beard and King Tut's face, but it had Che's beret. And it [was titled], "Walk like an Egyptian." So, it was a reference to the music, but [it was also] a reference to what was going on the streets of Cairo. I sent it out as our poster of the week to 9,000 people. The very next day, somebody took a photograph on the street of Cairo, with somebody holding a piece of paper with that image on it. A poster can literally go around the world and people will print it out.
What struck me in viewing your exhibits is how many of these posters could still be used today, not only artistically but also, sadly, in the timeliness of their messages.
We had this fabulous poster by Yolanda Lopez, a Bay Area artist, which she first did in 1978. It depicts a young man in Aztec garb pointing a finger like Uncle Sam saying, "Who's the illegal alien, PILGRIM?" And it's a great poster, it's simple, not too many words, funny, provocative. So, we had an exhibit at UCLA in the mid '90s and there were 4 or 5 high school students standing around this poster saying, "Wow, you've got posters up to the minute." And I went over to them and I said, "Look at the date. This is before you were born."
Is that one of your goals with the exhibitions? To show the evergreen nature of this work?
Absolutely. I mean that's why we did the police abuse exhibition now. It basically goes back five decades. It's 50 years of posters protesting police abuse. Mainly in the United States, but also internationally.
What's the goal for CSPG?
Well the aim right now is really to digitize the collection and get it online. We have 10% of the collection digitized. But the mission is to collect and to document, because stories get lost. All the exhibitions, they're showing massacres, they're showing genocide, they're showing police abuse, they're showing all of these horrible things. And people often ask me, "How can you look at this stuff all day long?" I said, "Because the poster artists are optimists. They believe people can change if they have the information."
Yes, that's the reason why they're doing it, right?
That's why they're doing it, and that's why I'm doing this, because I believe that people can change if they knew the truth.
And what happens 20, 50 years from now?
Well, my goal is to stay independent, because the other option is to become part of the university. Universities, for all the fabulous things that they do, they also censor. We did an exhibition at USC in 1992 on the 500 years since Columbus, and how the legacy of racism and exploitation and genocide continues. And one of the board of trustees was Italian and took [the exhibit] as an affront to Columbus. It really wasn't about Columbus, it was about colonialism. And he ordered it down.
Do you have a favorite poster?
I'm always amazed at the creativity and vision of artists. Every week I'll say, "Oh my God, how do they think of that?" But it's always still going to be the poster I saw that kid trying to figure out. It has to be my favorite one because that one changed my life.
What makes a perfect poster?
The right balance between aesthetics and message. If you only rely on the corporate press, the New York Times and L.A. Times, for your information, you're not going to get the side from the street, from the movement, from the activists. The posters are primary historical documents that are recording the issues that were at the time, and the passions that were at the time, and the divisions that were at the time. You're not going to get it anyplace else.
---
Copyright Capital & Main