Long Divisions: TV Series Charts Inequality in American Life
EPIX's new documentary series America Divided bravely tackles America's myriad problems that stem from systemic inequality. Created by acclaimed filmmakers Solly Granatstein, Rick Rowley and Lucian Read, and executive produced by Lear and the singers Shonda Rhimes and Common, the series reveals a tale of two Americas that coexist in a twisted parallel universe.

EPIX's new documentary series America Divided bravely tackles our myriad problems that stem from systemic inequality. It is both ironic and fitting that one of the most moving moments centers on pioneering television creator Norman Lear (All in the Family, Sanford and Son, Maude) as he comes to a sobering realization 45 years after his issues-based shows broke new ground on the small screen. In this series' second episode, Lear, wearing a hidden camera, exposes a landlord's blatant racism towards potential black tenants as he examines housing discrimination in New York City. "I spent my career creating characters whose lives would shine a light on our divided society," the 94-year-old executive producer says. "The point was to move beyond the divisions. But being part of this experiment shows me that racism still stains our country."
Created by acclaimed filmmakers Solly Granatstein (60 Minutes), Rick Rowley (Dirty Wars) and Lucian Read, and executive-produced by Lear, Shonda Rhimes and Common, the series reveals a tale of two Americas that coexist in some sort of twisted parallel universe. What makes America Divided unique is that in order to broaden its reach and impact, the creators have employed celebrities as their investigative correspondents. Joining Lear are Rosario Dawson, who explores Flint's shocking water crisis; rapper Common, who looks at the disparity in Chicago's criminal justice system; Jesse Williams schools us on faulty education in Florida; Amy Poehler exposes the issues facing California's domestic workers; Zach Galifianakis straddles the political divide in his native North Carolina; America Ferrera travels to Texas to report on the plight of Central American refugees; and Peter Sarsgaard taps into the epicenter of the heroin epidemic in Ohio. (Each episode features a few stories that play out over multiple episodes.)
Usually celebrity activism seems shallow and does little to impact actual change, but in this case the filmmakers arm Lear and these "actorvists" with not only stellar journalistic support, but also document them on deeper journeys than are found in standard outings of "drive-by" celebrity activism. As the great House Speaker Tip O'Neill said, "all politics is local," and by deeply immersing the stars at ground zero of these issues they, and we, get to see and feel how these problems affect everyday Americans.
In some cases, perhaps aided by the star's presence, real change takes place. Williams and local parents get the school board to initiate reforms at a special assembly that would probably not have happened had there been no star and cameras forcing the issue. The outspoken Grey's Anatomy actor, who himself used to be a high school teacher, is a gifted reporter. In one scene he ambushes a white prosecutor who has helped criminalize a generation of black children. In another scene, Williams questions an African-American school resource officer, who we watch realize on camera that he is being used by his boss as a token to address a volatile issue for which he has no answers.
We also see the stars let their guards down. Ferrera cries when speaking to a woman with cancer, and Dawson hugs and mugs her way through her outrage, her earnestness sometimes becomes grating, while Sarsgaard's past as a recovering addict makes his journey especially poignant. Only Common's tale seems, well, common. On paper, his issue is one of the most egregious examples of inequity but, aside from a revelatory interview with Chicago's former police superintendent, little depth is given to a topic far better addressed in Ava Duvernay's riveting doc 13th, now streaming on Netflix.
But for the most part, America Divided does a fine job of uncovering issues that have been hiding in plain sight for decades, simmering all around us to seemingly just now boil over, due to a confluence of a divisive presidential campaign, a plague of police abuse caught on video and heated social media discourse. EPIX is making an aggressive play to get into the activist documentary space, but one wonders whether mainstream audiences will notice. It is one thing to preach to the converted, but unless you can explain issues and educate the masses, valiant projects such as America Divided may do little to bridge this nation's divide. Lear has spent a lifetime battling these issues and it would be unfortunate if his efforts were all in vain. As he says at the end of his segment, "I feel sadder for having done it, because this is our America, and it isn't what we promised." Let's hope America Divided's impact lives up to the promise of its passion.
Blindfolds: Iranian Hostage Drama Offers Few Surprises
One of the play's weaknesses is the surfeit of soap-operatic family exchanges that spill into melodramatic shouting matches.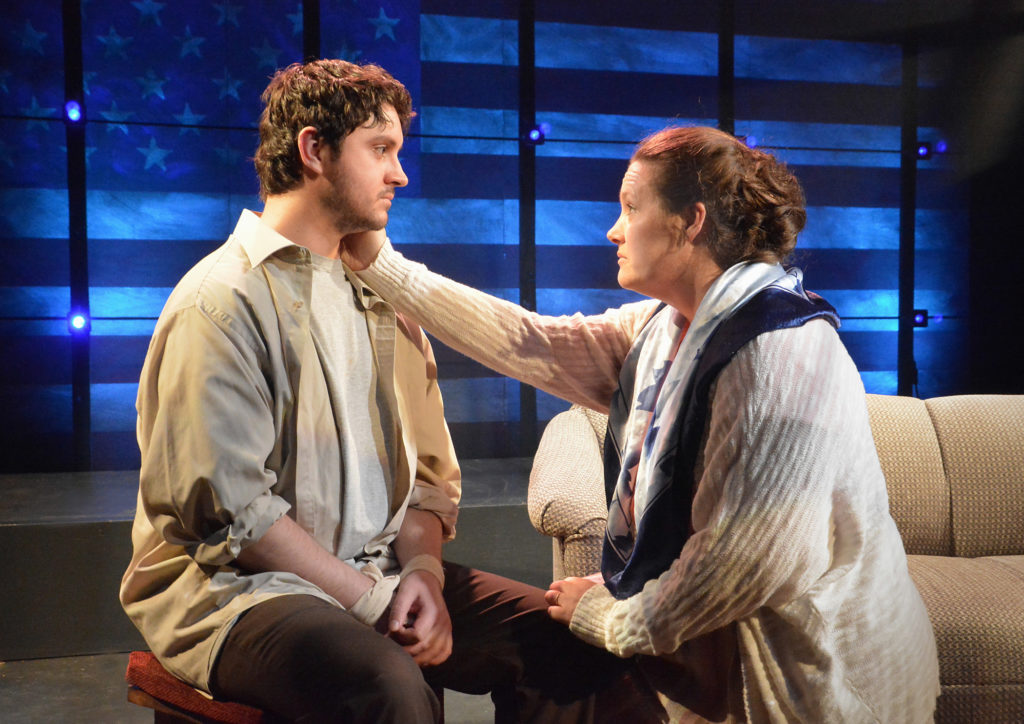 On November 4, 1979, several hundred Iranians, mostly students, stormed the American embassy in Tehran and took 60-odd hostages — 52 of whom were held captive for 444 days. It was a humiliating event for the U.S. government and, in general, a wake-up call for Americans heretofore unaware of the antipathy of many Iranians towards the United States.
Against the wishes of the Carter administration, a mother of one of the hostages, Barbara Timm, flew to Tehran to see her son. Hostage, by Michelle Kholos Brooks, re-imagines the exchange that took place among Barbara (Tracie Lockwood), her captive son Kevin (Zachary Grant) and two of his captors: Tehran Mary (Vaneh Assadourian), a media spokeswoman for her cause and Ebrahim (Satiar Pourvasei), a rifle-wielding guard swift to anger. The drama, some of which takes place in Barbara's mind, shifts between the embassy, where a handcuffed, blindfolded and barefoot Kevin has been doing his best to survive, and Barbara's Wisconsin living room, where she struggles to cope with both a controlling ex-husband and an angry mob outside her home. The latter has gathered to protest a public statement she made critical of the failed rescue attempt to free the hostages — a statement interpreted by "patriots" as her having taken the side of the revolutionaries.
As the drama progresses, scenarios begin to overlap; Kevin, always on Barbara's mind, is physically present onstage as she disputes with her former spouse about the latter's parental responsibility — or lack of it — and whether or not he betrayed her when they were teens, salaciously spreading the word about their intimacy. An argument also ensues between Richard and Barbara's current husband, Ken (Jack Clinton), who accompanied Barbara to Iran and has open-heartedly raised Kevin as his own.
Directed by Elina de Santos, Hostage aims to explain and garner sympathy for both sides, but it offers few surprises or depth. One of its weaknesses is the surfeit of soap-operatic family exchanges that filter attention away from more vital dramatic themes: how far a mother is prepared to go to protect her child and the distance its pivotal character, a Midwestern matron and a Republican, will ideologically travel before the play's catharsis (the dynamic most interesting to us). While these threads, as well as the propensity for intolerance of people on both sides of the cultural divide, are clearly most central, they get obscured for long stretches by melodramatic shouting matches between Kevin's two fathers or the past marital problems of Barbara and Ken.
Grant turns in a well-grounded performance as the palpably fearful Kevin, drilled in compliance and anxious for his mother to understand how precipitous his situation is. But other performances on opening weekend were less persuasive. Lockwood, usually an excellent actor, did not seem entirely comfortable as the maternal lioness the playwright aims to conjure. One problem is the script, which calls for her to assertively challenge Kevin's captors' motives and beliefs — a device for getting us to understand where they are coming from. Some of these confrontations appear as the artifices they are. None of the other actors were able to get past the polemical nature of their roles, either. One hopes they will evolve.
Designer Stephanie Kerley Schwartz's no-frills set features an American flag splayed across the back wall — albeit behind a scrim, an apt reference to the covert power wielded (this time not so successfully) by our government.
Skylight Theatre, 1816½ Vermont Avenue, Los Feliz; Fri.-Sat. & Mon., 8 p.m.; Sun., 2 p.m.; through June 24; (213) 761-7061 or (866) 811-4111.
---
Copyright Capital & Main