Long Divisions: TV Series Charts Inequality in American Life
EPIX's new documentary series America Divided bravely tackles America's myriad problems that stem from systemic inequality. Created by acclaimed filmmakers Solly Granatstein, Rick Rowley and Lucian Read, and executive produced by Lear and the singers Shonda Rhimes and Common, the series reveals a tale of two Americas that coexist in a twisted parallel universe.

EPIX's new documentary series America Divided bravely tackles our myriad problems that stem from systemic inequality. It is both ironic and fitting that one of the most moving moments centers on pioneering television creator Norman Lear (All in the Family, Sanford and Son, Maude) as he comes to a sobering realization 45 years after his issues-based shows broke new ground on the small screen. In this series' second episode, Lear, wearing a hidden camera, exposes a landlord's blatant racism towards potential black tenants as he examines housing discrimination in New York City. "I spent my career creating characters whose lives would shine a light on our divided society," the 94-year-old executive producer says. "The point was to move beyond the divisions. But being part of this experiment shows me that racism still stains our country."
Created by acclaimed filmmakers Solly Granatstein (60 Minutes), Rick Rowley (Dirty Wars) and Lucian Read, and executive-produced by Lear, Shonda Rhimes and Common, the series reveals a tale of two Americas that coexist in some sort of twisted parallel universe. What makes America Divided unique is that in order to broaden its reach and impact, the creators have employed celebrities as their investigative correspondents. Joining Lear are Rosario Dawson, who explores Flint's shocking water crisis; rapper Common, who looks at the disparity in Chicago's criminal justice system; Jesse Williams schools us on faulty education in Florida; Amy Poehler exposes the issues facing California's domestic workers; Zach Galifianakis straddles the political divide in his native North Carolina; America Ferrera travels to Texas to report on the plight of Central American refugees; and Peter Sarsgaard taps into the epicenter of the heroin epidemic in Ohio. (Each episode features a few stories that play out over multiple episodes.)
Usually celebrity activism seems shallow and does little to impact actual change, but in this case the filmmakers arm Lear and these "actorvists" with not only stellar journalistic support, but also document them on deeper journeys than are found in standard outings of "drive-by" celebrity activism. As the great House Speaker Tip O'Neill said, "all politics is local," and by deeply immersing the stars at ground zero of these issues they, and we, get to see and feel how these problems affect everyday Americans.
In some cases, perhaps aided by the star's presence, real change takes place. Williams and local parents get the school board to initiate reforms at a special assembly that would probably not have happened had there been no star and cameras forcing the issue. The outspoken Grey's Anatomy actor, who himself used to be a high school teacher, is a gifted reporter. In one scene he ambushes a white prosecutor who has helped criminalize a generation of black children. In another scene, Williams questions an African-American school resource officer, who we watch realize on camera that he is being used by his boss as a token to address a volatile issue for which he has no answers.
We also see the stars let their guards down. Ferrera cries when speaking to a woman with cancer, and Dawson hugs and mugs her way through her outrage, her earnestness sometimes becomes grating, while Sarsgaard's past as a recovering addict makes his journey especially poignant. Only Common's tale seems, well, common. On paper, his issue is one of the most egregious examples of inequity but, aside from a revelatory interview with Chicago's former police superintendent, little depth is given to a topic far better addressed in Ava Duvernay's riveting doc 13th, now streaming on Netflix.
But for the most part, America Divided does a fine job of uncovering issues that have been hiding in plain sight for decades, simmering all around us to seemingly just now boil over, due to a confluence of a divisive presidential campaign, a plague of police abuse caught on video and heated social media discourse. EPIX is making an aggressive play to get into the activist documentary space, but one wonders whether mainstream audiences will notice. It is one thing to preach to the converted, but unless you can explain issues and educate the masses, valiant projects such as America Divided may do little to bridge this nation's divide. Lear has spent a lifetime battling these issues and it would be unfortunate if his efforts were all in vain. As he says at the end of his segment, "I feel sadder for having done it, because this is our America, and it isn't what we promised." Let's hope America Divided's impact lives up to the promise of its passion.
A Woman's Art Is Never Done: The Feminae Exhibition
A striking juxtaposition between the past and present courses throughout the small gallery. Celia Blomberg's "International Women's Day March 8" can't help but make one think of 2017's Women's March, which occurred 37 years after the print's first appearance.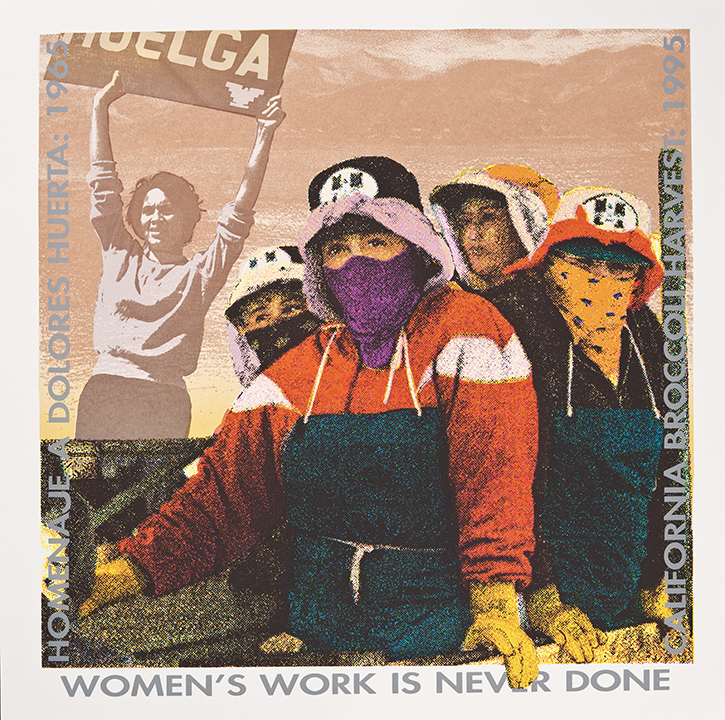 Among the 50-plus works in the Feminae: Typographic Voices of Women By Women exhibit is Yolanda Lopez's "Women's Work is Never Done." Lopez's title is particularly ironic, given the exhibit's gender-based subject matter. The show spans work from the past 50 years, making it easy to understand how much society is still grappling with its themes of gender inequality. Culled from the archives of the Center for the Study of Political Graphics, the graphic images of protest, persuasion and empowerment are truly works of art in their own right.
However, political posters aren't made to merely spruce up walls, but to help figuratively bring barriers down as well.
Two silkscreens from the 1970s, Liliana Porter and John Schneider's "This Woman is Vietnamese" and See Red Woman's Workshop's "So Long As Women Are Not Free People Are Not Free," are particularly powerful, underscoring, as they do, the fact that the subjugation and persecution of women crosses borders and cultures as an unfortunate shared global experience. These two pieces' stark simplicity exemplifies most of the work in the exhibit. In the former, a New York Times photo of a distraught Vietnamese woman with a gun held to her head is centered above these basic words typed out in a typewriter font: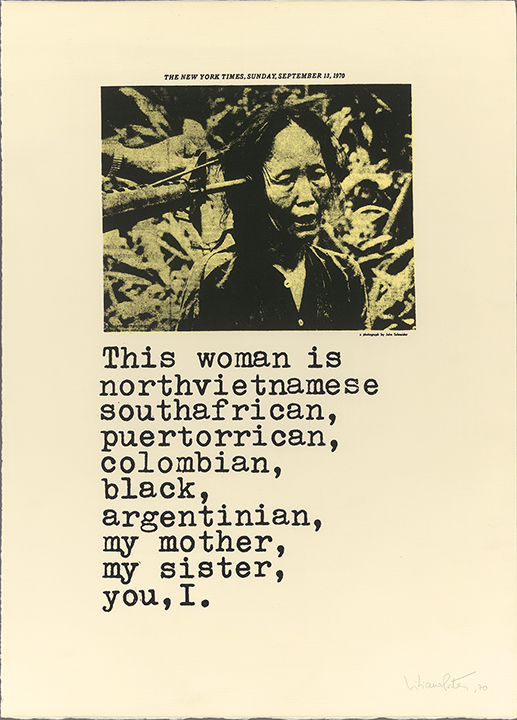 This woman is
northvietnamese
southafrican
puertorrican,
colombian,
black,
argentinian,
my mother,
my sister,
you, I.
By juxtaposing the photo with these words, the creators take the plight of this woman and immediately globalize her pain. In the latter, three female demonstrators are silkscreened in red onto a yellow background. They are marginalized by being stuck in the lower left third of the poster, but two of them are raising their fists skyward and their mouths are open, screaming in defiance. Its non-serif, eponymous type reads: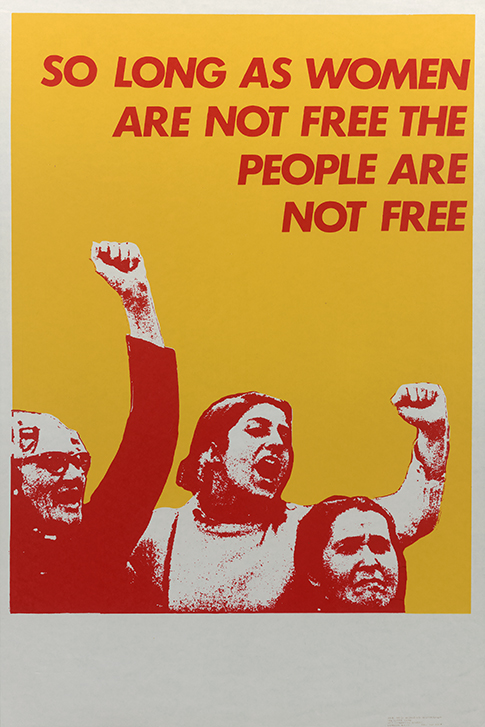 SO LONG AS WOMEN
ARE NOT FREE THE
PEOPLE ARE
NOT FREE
This piece's message takes the global message even farther, making the plight of women a human one — a common theme in the exhibition.
There is also a striking juxtaposition between the past and present that seethes throughout the small gallery. Celia Blomberg's "International Women's Day March 8" can't help but make one think of 2017's Women's March that would take place 37 years later. See Red Woman's Workshop's 1977 "Black Women Will Not Be Intimidated" could easily be repurposed to address the recent spate of blue-on-black brutality. Notable works by Barbara Kruger, Sister Corita Kent and the Guerilla Girls are also included.
Ironically , while it can be surmised that most of these works were made as populist posters to be distributed at the time as banners of protest, their beautiful simplicity and nostalgic elegance probably have resulted in the originals (mostly now found in art museums) sporting hefty vintage-resale prices.
But it is not just the art that has stood the test of time. The fact that the issues addressed in the show — feminism, choice, gender equality, war, immigration, police brutality or violence against women — are all issues at the forefront of debate in 2018 ultimately engenders conflicting feelings.
On one the hand, it is inspiring to see a vibrant exhibit that showcases such diversity in artistic styles, no doubt spawned by the diversity of the artists' own backgrounds. On the other hand, there is a realization that while there has been some progress over the past half century, there is so much work to be done.
Art Center's Hoffmitz Milken Center for Typography, 950 South Raymond Ave., Pasadena; through May 15.
---
Copyright Capital & Main