Long Divisions: TV Series Charts Inequality in American Life
EPIX's new documentary series America Divided bravely tackles America's myriad problems that stem from systemic inequality. Created by acclaimed filmmakers Solly Granatstein, Rick Rowley and Lucian Read, and executive produced by Lear and the singers Shonda Rhimes and Common, the series reveals a tale of two Americas that coexist in a twisted parallel universe.

EPIX's new documentary series America Divided bravely tackles our myriad problems that stem from systemic inequality. It is both ironic and fitting that one of the most moving moments centers on pioneering television creator Norman Lear (All in the Family, Sanford and Son, Maude) as he comes to a sobering realization 45 years after his issues-based shows broke new ground on the small screen. In this series' second episode, Lear, wearing a hidden camera, exposes a landlord's blatant racism towards potential black tenants as he examines housing discrimination in New York City. "I spent my career creating characters whose lives would shine a light on our divided society," the 94-year-old executive producer says. "The point was to move beyond the divisions. But being part of this experiment shows me that racism still stains our country."
Created by acclaimed filmmakers Solly Granatstein (60 Minutes), Rick Rowley (Dirty Wars) and Lucian Read, and executive-produced by Lear, Shonda Rhimes and Common, the series reveals a tale of two Americas that coexist in some sort of twisted parallel universe. What makes America Divided unique is that in order to broaden its reach and impact, the creators have employed celebrities as their investigative correspondents. Joining Lear are Rosario Dawson, who explores Flint's shocking water crisis; rapper Common, who looks at the disparity in Chicago's criminal justice system; Jesse Williams schools us on faulty education in Florida; Amy Poehler exposes the issues facing California's domestic workers; Zach Galifianakis straddles the political divide in his native North Carolina; America Ferrera travels to Texas to report on the plight of Central American refugees; and Peter Sarsgaard taps into the epicenter of the heroin epidemic in Ohio. (Each episode features a few stories that play out over multiple episodes.)
Usually celebrity activism seems shallow and does little to impact actual change, but in this case the filmmakers arm Lear and these "actorvists" with not only stellar journalistic support, but also document them on deeper journeys than are found in standard outings of "drive-by" celebrity activism. As the great House Speaker Tip O'Neill said, "all politics is local," and by deeply immersing the stars at ground zero of these issues they, and we, get to see and feel how these problems affect everyday Americans.
In some cases, perhaps aided by the star's presence, real change takes place. Williams and local parents get the school board to initiate reforms at a special assembly that would probably not have happened had there been no star and cameras forcing the issue. The outspoken Grey's Anatomy actor, who himself used to be a high school teacher, is a gifted reporter. In one scene he ambushes a white prosecutor who has helped criminalize a generation of black children. In another scene, Williams questions an African-American school resource officer, who we watch realize on camera that he is being used by his boss as a token to address a volatile issue for which he has no answers.
We also see the stars let their guards down. Ferrera cries when speaking to a woman with cancer, and Dawson hugs and mugs her way through her outrage, her earnestness sometimes becomes grating, while Sarsgaard's past as a recovering addict makes his journey especially poignant. Only Common's tale seems, well, common. On paper, his issue is one of the most egregious examples of inequity but, aside from a revelatory interview with Chicago's former police superintendent, little depth is given to a topic far better addressed in Ava Duvernay's riveting doc 13th, now streaming on Netflix.
But for the most part, America Divided does a fine job of uncovering issues that have been hiding in plain sight for decades, simmering all around us to seemingly just now boil over, due to a confluence of a divisive presidential campaign, a plague of police abuse caught on video and heated social media discourse. EPIX is making an aggressive play to get into the activist documentary space, but one wonders whether mainstream audiences will notice. It is one thing to preach to the converted, but unless you can explain issues and educate the masses, valiant projects such as America Divided may do little to bridge this nation's divide. Lear has spent a lifetime battling these issues and it would be unfortunate if his efforts were all in vain. As he says at the end of his segment, "I feel sadder for having done it, because this is our America, and it isn't what we promised." Let's hope America Divided's impact lives up to the promise of its passion.
'Skeleton Crew' Is a Play With a Moral Spine
Set in a Detroit automobile outfitting plant, Dominique Morisseau's drama grabs you from the start with its focus on blue-collar men and women, and their struggle for dignity and self-respect.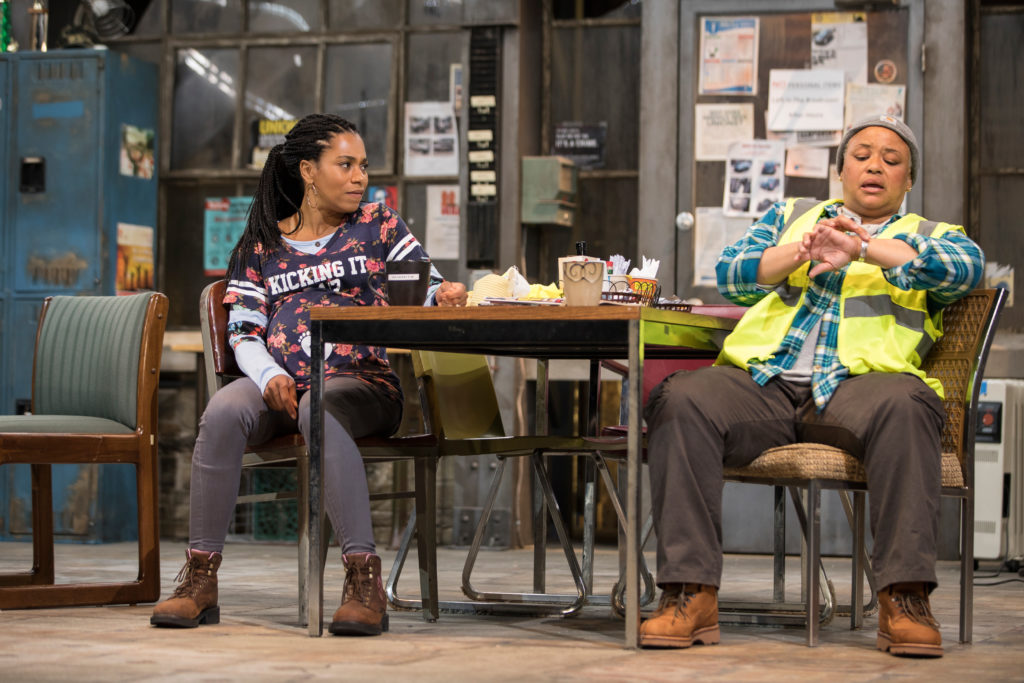 Working-class men and women of color are rarely front and center in today's media and, likewise, are presented all too occasionally on the American stage. So it's buoying to see that trend bucked in playwright Dominique Morisseau's percipient and well-crafted drama, Skeleton Crew. The play is the final installment in her Detroit  Project Trilogy; the first, Paradise Blue, is set in the 1940s amidst displacement caused by urban renewal and gentrification, while the second, Detroit '67, transpires on the eve of the 1967 Detroit riots sparked by a police action.
Directed by Patricia McGregor at Los Angeles' Geffen Playhouse, Skeleton Crew is a play with a moral spine. It takes place in 2008, when the shrinking U.S. auto industry is being further downsized. Morisseau's engaging quartet of characters — Faye (Caroline Stefanie Clay), Dez (Armari Cheatom), Shanita (Kelly McCreary) and Reggie (DB Woodside) – are employed at an automobile outfitting plant. Faye, Dez and Shanita are workers on the line while Reggie (who has a wife and kids, and has pulled himself together after a troubled youth) is their supervisor.
The first three customarily mingle in their break room (designer Rachel Myers' impressively cluttered, dingy and detailed set), trading the sort of familiar barbs and genuine concern for each other common among longtime co-workers. They also face off on philosophy: Upper-middle-aged Faye and the younger, pregnant Shanita take pride in their labor, while Dez, though a good worker, is a malcontent scornful of management and firm in the belief that everyone needs to watch out for himself. He's a thorn in Reggie's side, for while Reggie wants to be supportive of his workers, he must act at the behest of higher management. For his part, Dez resents Reggie's authority, and a palpable unease exists between them.
Besides this male matchup, we're made privy to Dez's attraction to Shanita, who mostly turns away his advances, but every now and then displays a hint of interest. Most poignant is Reggie's regard and affection for the lesbian Faye, which has roots in his boyhood when she loved, and lived, with his now-deceased mom.
These people's various predicaments intensify when rumors spread of the plant's shutdown — a disaster for all, but a particular calamity for the already near-broke Faye who, one year short of retirement, would lose her pension. The crisis forces each of these people to make a choice.
A sound piece of social realism, Skeleton Crew grabs you from the start in its focus on blue-collar men and women, and their struggle against odds for dignity and self-respect. Morisseau not only furnishes these characters a platform for their travails, she endows them with strong values, big hearts and the opportunity to choose between right and wrong.
Unfortunately, the performance I attended did not soar. Many exchanges lacked a fresh edge. The actors certainly had their characters down, but too often they appeared to be coasting on technique. (This seemed particularly true of Clay, who performed the role to great accolades in Washington, DC in 2017, also under McGregor's direction). Additionally, some of the stage movement was not entirely fluid; in confrontations, actors sometimes would just stand and face each other in an artificial way. And Cheatom's interpretation of Dez struck me as a bit overly churlish and depressive: I needed more glimpses of the intelligence and edge that would secretly attract the strong, self-directed Shanita.
The most compelling moments belong to Woodside, well-cast as a man trying his best in difficult circumstances to do the right thing.
---
Gil Cates Theater at the Geffen Playhouse, 10886 Le Conte Ave., Westwood Village; Tues.-Fri., 8 p.m.; Sat., 3 & 8 p.m. Sun., 2 & 7 p.m.; through July 8. (310) 208-5454 or www.geffenplayhouse.org