Decoding the Power of Symbols
When Cesar Chavez led a band of farm workers on their historic 300-mile march from Delano to Sacramento half a century ago, they prominently displayed banners of the Virgin de Guadalupe throughout the line. Why? Because that image held symbolic weight far beyond any other the group could carry.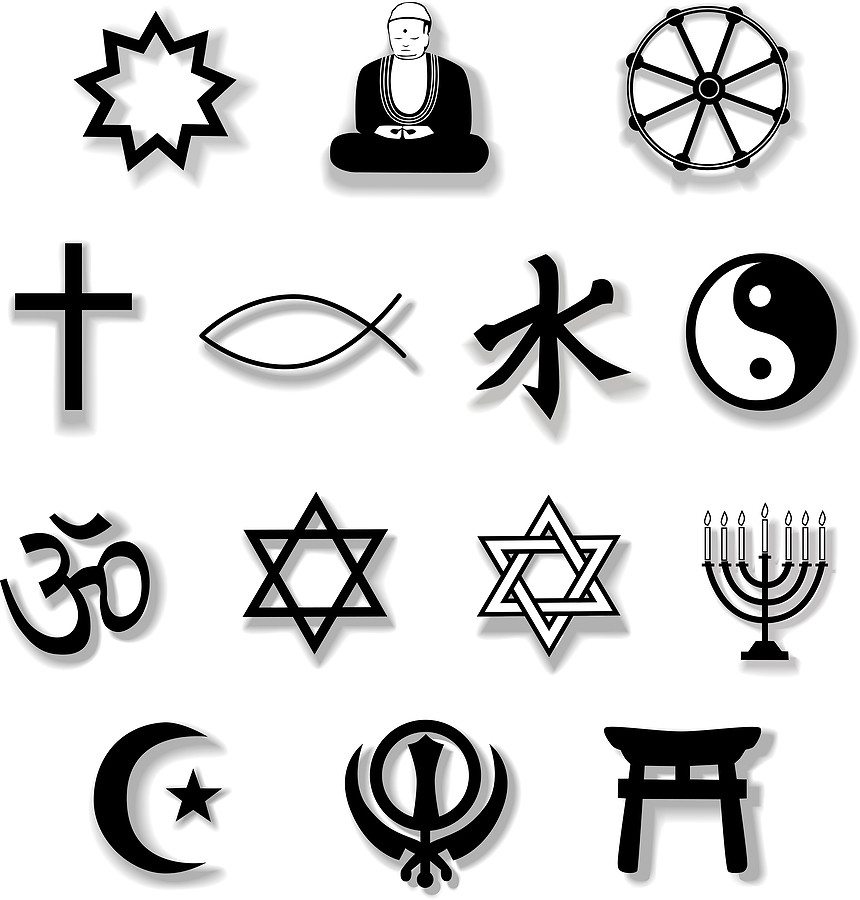 When Cesar Chavez led a band of farm workers on their historic 300-mile march from Delano to Sacramento half a century ago, they prominently displayed banners of the Virgen de Guadalupe throughout the line. Why? Because that image held symbolic weight far beyond any other the group could carry.
We often dismiss such symbols as empty of meaning or hollow of intention. "It's just symbolic," people say. But those images or slogans can hold a deep emotional meaning that communicates in a moment what discursive language would take pages to evoke. The Virgin speaks of justice dating back to colonial Mexico. She illustrates a story of peasants lifted from their caste and honored. She embodies an empowerment beyond the social system that had kept the people powerless.
Far from being sentimental ornaments, some symbols can be so powerful that people fight wars over them. Protestants and Catholics battled in many wars over the centuries, and part of that conflict was about an idea that today feels very obscure: whether the bread and wine of the Eucharist was substance or symbol. Today that distinction remains a teaching of various Christian factions, but few would consider dying over such a matter. In our time the killing often seems related to the beliefs and symbols in another religion, Islam.
So fights over symbols continue, but only if they clash in the same culture. The swastika will forever be associated with Nazi ideology. In other cultures – such as the American Indian or sub-continental India – that same symbol meant then and means today, something quite different. For them it contains meaning more akin to happiness or harmony. Context and content shape what symbols say for us and how we react to them.
In the Western world, the Star of David holds particular references and power. But a Jewish friend, traveling in rural Indonesia, where the people practice their own, native religion, asked his hosts if they had ever heard of Christianity. Vaguely, several affirmed. When he asked about Judaism, they shook their heads blankly. They'd never heard of that. For them, Jewish symbols carry no weight. It lives in a context those people know nothing about.
Symbols often come from cultural conditioning so subtle we do not recognize it. A friend told me that when she first saw the musical Hair on stage in the 1960s, she was repulsed by a controversial scene in which the American flag was desecrated. She said, "I had a visceral reaction." Slowly, she realized just how deeply respect for the flag was unconsciously ingrained into her ways of thinking and feeling.
Some symbols have become so deeply encoded in a particular culture that neither words nor behaviors adequately describe their substance. To the uninitiated, meanings remain obscure. Dog-whistle speech, with phrases like "law and order" or "voter fraud," carry meanings of a justified racism to listeners of that perspective.
I remember a presidential debate several cycles back in which a candidate looked straight into the camera and invoked the Supreme Court's Dred Scott decision. I had no idea what that meant and had to look it up. But to people opposing abortion, it was a dog-whistle argument in favor for overturning Roe v. Wade.
Most of us operate on the notion that "There are universal values, and they happen to be mine," as the political scientist Stanley Hoffmann put it. But, of course, they are not. My values and their symbol systems are not congruent with those of others. We hold symbols with differing meanings and behaviors. They motivate us or inspire us differently.
What symbols say to us, the weight of meaning they carry and how we use them, change. The serpent of Original Sin in the Garden of Eden can also be the sign of wisdom, as in the women's tradition in literature, or a sign of transformation – since snakes shed their skins – as in American Indian culture. Its image can be a historic artifact, like the flag from our Revolutionary War days, or a resurrected symbol of defiance, as it has become for many now in the Tea Party.
When the workers at a local hotel walked out during their lunch hour recently, I was privileged to join them in support. As one wave after another of the workers – mostly women, mostly housekeepers – walked out the front doors of the hotel, my heart was moved. Once they had all gathered, we marched back into the hotel lobby to present a list of grievances to the manager. As one worker after another stepped up and spoke directly to the manager about their complaints, I stood by awestruck at their courage. Finished, we all paraded outside again to ringing shouts of that old farm worker chant, "Si, Se Puede!" The symbolism could not have been more powerful.

'Skeleton Crew' Is a Play With a Moral Spine
Set in a Detroit automobile outfitting plant, Dominique Morisseau's drama grabs you from the start with its focus on blue-collar men and women, and their struggle for dignity and self-respect.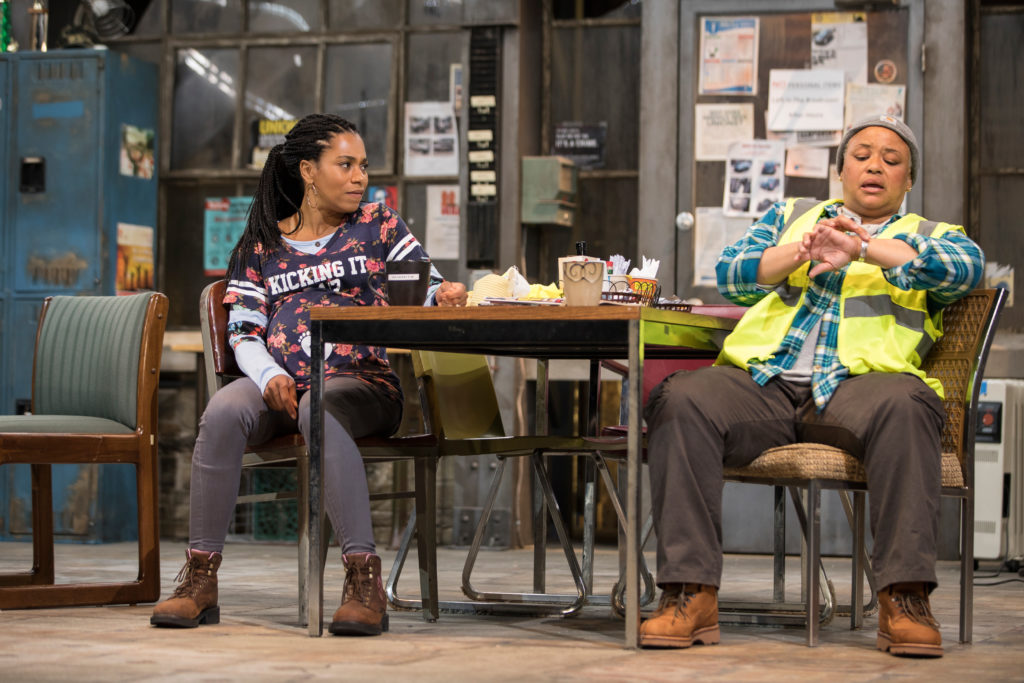 Working-class men and women of color are rarely front and center in today's media and, likewise, are presented all too occasionally on the American stage. So it's buoying to see that trend bucked in playwright Dominique Morisseau's percipient and well-crafted drama, Skeleton Crew. The play is the final installment in her Detroit  Project Trilogy; the first, Paradise Blue, is set in the 1940s amidst displacement caused by urban renewal and gentrification, while the second, Detroit '67, transpires on the eve of the 1967 Detroit riots sparked by a police action.
Directed by Patricia McGregor at Los Angeles' Geffen Playhouse, Skeleton Crew is a play with a moral spine. It takes place in 2008, when the shrinking U.S. auto industry is being further downsized. Morisseau's engaging quartet of characters — Faye (Caroline Stefanie Clay), Dez (Armari Cheatom), Shanita (Kelly McCreary) and Reggie (DB Woodside) – are employed at an automobile outfitting plant. Faye, Dez and Shanita are workers on the line while Reggie (who has a wife and kids, and has pulled himself together after a troubled youth) is their supervisor.
The first three customarily mingle in their break room (designer Rachel Myers' impressively cluttered, dingy and detailed set), trading the sort of familiar barbs and genuine concern for each other common among longtime co-workers. They also face off on philosophy: Upper-middle-aged Faye and the younger, pregnant Shanita take pride in their labor, while Dez, though a good worker, is a malcontent scornful of management and firm in the belief that everyone needs to watch out for himself. He's a thorn in Reggie's side, for while Reggie wants to be supportive of his workers, he must act at the behest of higher management. For his part, Dez resents Reggie's authority, and a palpable unease exists between them.
Besides this male matchup, we're made privy to Dez's attraction to Shanita, who mostly turns away his advances, but every now and then displays a hint of interest. Most poignant is Reggie's regard and affection for the lesbian Faye, which has roots in his boyhood when she loved, and lived, with his now-deceased mom.
These people's various predicaments intensify when rumors spread of the plant's shutdown — a disaster for all, but a particular calamity for the already near-broke Faye who, one year short of retirement, would lose her pension. The crisis forces each of these people to make a choice.
A sound piece of social realism, Skeleton Crew grabs you from the start in its focus on blue-collar men and women, and their struggle against odds for dignity and self-respect. Morisseau not only furnishes these characters a platform for their travails, she endows them with strong values, big hearts and the opportunity to choose between right and wrong.
Unfortunately, the performance I attended did not soar. Many exchanges lacked a fresh edge. The actors certainly had their characters down, but too often they appeared to be coasting on technique. (This seemed particularly true of Clay, who performed the role to great accolades in Washington, DC in 2017, also under McGregor's direction). Additionally, some of the stage movement was not entirely fluid; in confrontations, actors sometimes would just stand and face each other in an artificial way. And Cheatom's interpretation of Dez struck me as a bit overly churlish and depressive: I needed more glimpses of the intelligence and edge that would secretly attract the strong, self-directed Shanita.
The most compelling moments belong to Woodside, well-cast as a man trying his best in difficult circumstances to do the right thing.
---
Gil Cates Theater at the Geffen Playhouse, 10886 Le Conte Ave., Westwood Village; Tues.-Fri., 8 p.m.; Sat., 3 & 8 p.m. Sun., 2 & 7 p.m.; through July 8. (310) 208-5454 or www.geffenplayhouse.org